Valentine's Day Bundle: Watercolor Animals
Happy St. Valentine's Day! Perfect graphic for invitations, wrapping paper, packaging, blogs, banners, backgrounds, scrapbooking, prints and more.
Here is what you get:
6 watercolor animals ( PNG, 300dpi, transparent background)
24 additional elements ( PNG, 300dpi, transparent background)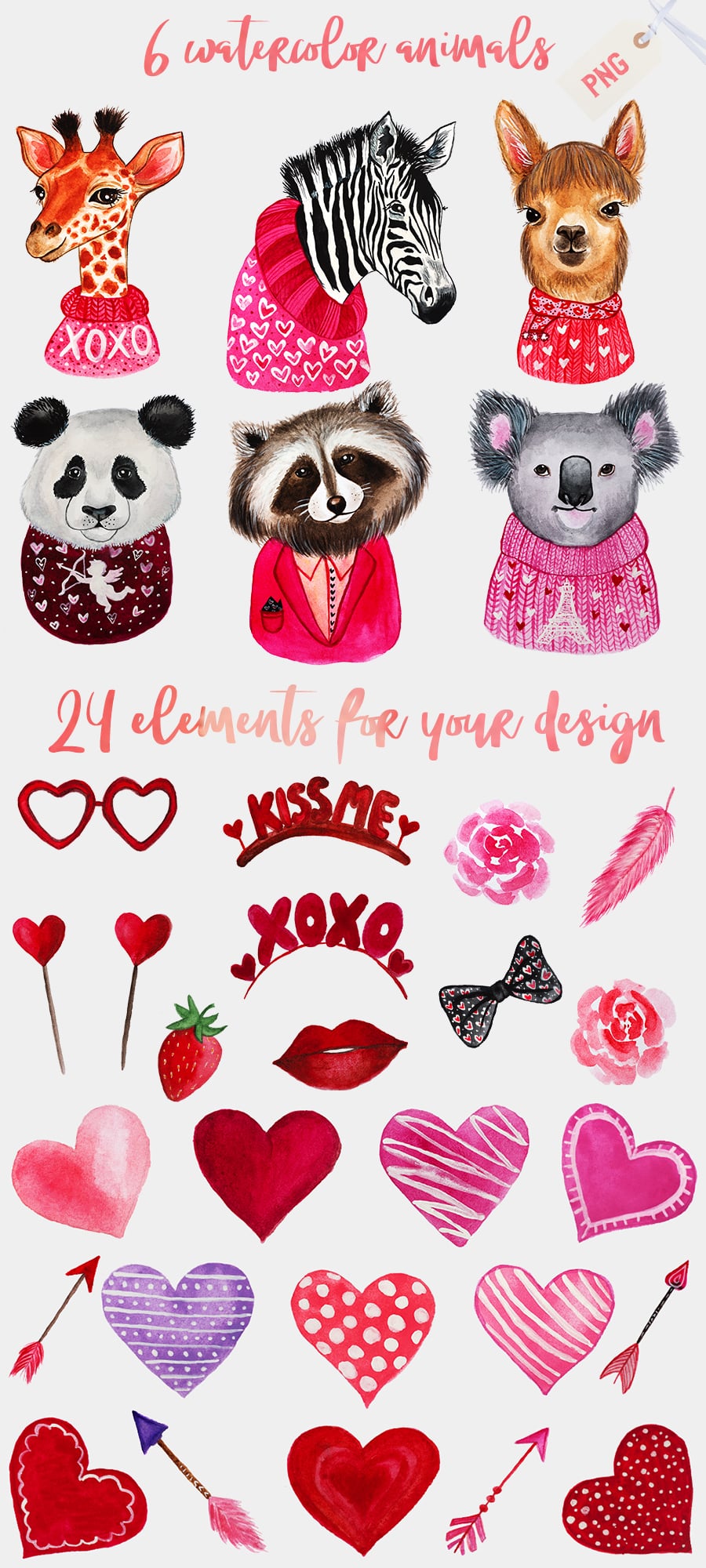 ---
Graphic package deals
If you're a artist working on numerous assignments , you see the need for the whole pack of design items available at hand. Hunting for those components separately, you may spend whole lot more time and money as a result. To get every one of the needed elements within a single pack, we advocate taking a closer look at graphic deals. A bundle can be described as a selection of components needed for graphic design, priced at thousands of dollars, yet offered at a drastically reduced price tag for a short time.
How to spend much less money on MasterBundles.com bundles?
There's a way to make the MasterBundles products cheaper. If you share this webpage via social networks – you automatically get the 5% discount for the graphic deals you like. That's a quite simple way to get an expertly designed tools for less money.
What kinds of graphic packages are available?
Given that each of the bundle deals differ from one to another, almost every graphic designer will find the required selection for any specific project. Browsing them you will uncover the selections including social media infographics, business cards, illustration swatches, UI kits, plus much more. At MasterBundles.com marketplace, there are more than 450 graphic package deals available. That said, you're not going to have a chance to get away from the website empty-handed.
What's the point of using bundle deals?
For a single design job, you'll need a lot of components – a few icons, a handful of images, a font, and so on. In case you'd want to shop for all of them on an individual basis it will cost you lots of money! And so, that's why knowledgeable designers look for some graphic packages to buy.
Alternative collections on masterbundles you should use
MasterBundles.com offers you a large assortment of different products. We offer not only graphics packages but additionally about 20 other different types of items. Fonts, WordPress themes, mockups, icons, photos, illustrations, presentation templates and a great deal more – on the MasterBundles you'll be able to obtain all of the graphic elements, required for a design project creation.
Watercolor package
The watercolor bundle is known to be the prettiest innovation in design. Hand crafted by painters on the paper, the pictures get scanned and included in a bundle as templates for design projects. Watercolor components are ideal for posters, DIY, wedding invitations, blogs, greeting cards and quotes.
Precisely what is MasterBundles?
If you feel as if you've lost loads of time while looking for different tools and components for your current design tasks, it is about time to explore MasterBundles.com. This is a marketplace offering the most widely used instruments (graphics, icons, fonts, presentations etc.) for graphic designers, online marketers, and web developers at a reasonable price for a short period of time. In order to not miss out on important info on the forthcoming promos, we recommend following our blog and subscribing to the newsletter.