Animals Illustrations
Animals Illustrations. This bundle is a part of BIG Graphic Collection: 22 in 1 with 4,000+ elements
Introducing Animals Go Wild – Completed Collection
You have the freedom creating awesome illustrations for shirts, frames, mugs, walls, pillows and more because of their simplicity and uniqueness! Choice from 10 animals and tons of accessories created just for them!
In the collection you will find :
10 Animals
Bear
Deer
Fox
Hare
Hedgehog
Horse
Owl
Raccoon
Squirrel
Wolf
Accessories
6x glasses
3x bowtie
2x scarf
2x tie
5x hat
2x moustache
3x necklace
1x tiara
1x stars for head
1x crown
3x flowers
2x bubblegum
Help file
Feel free to contact me if you have any questions!
Mock ups and backgrounds used are not included
Thank you! Enjoy!
Animals Illustrations Previews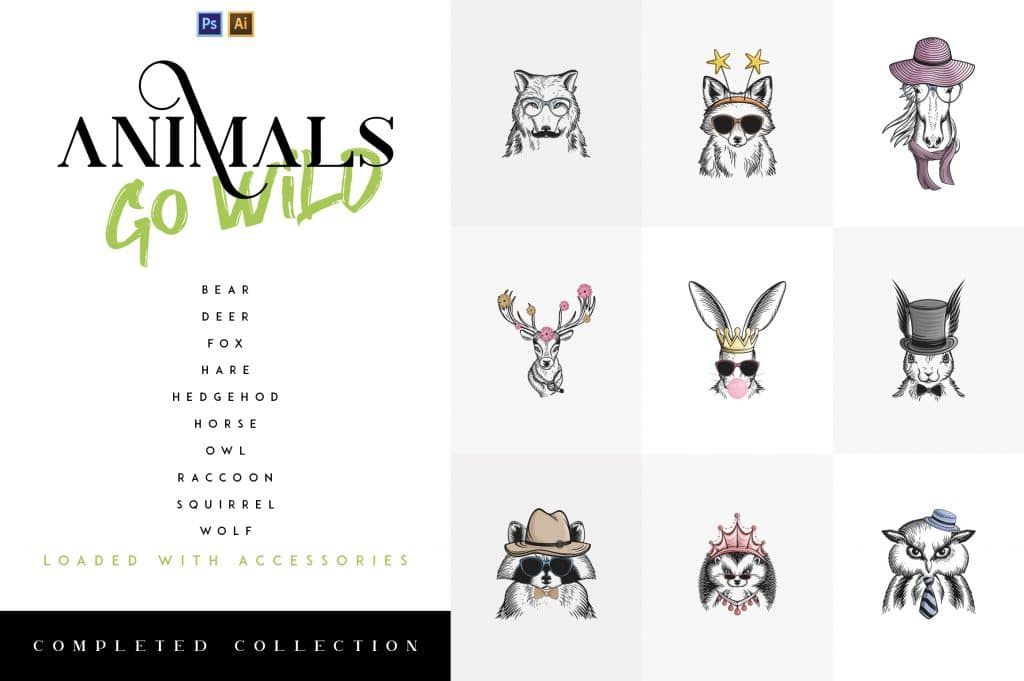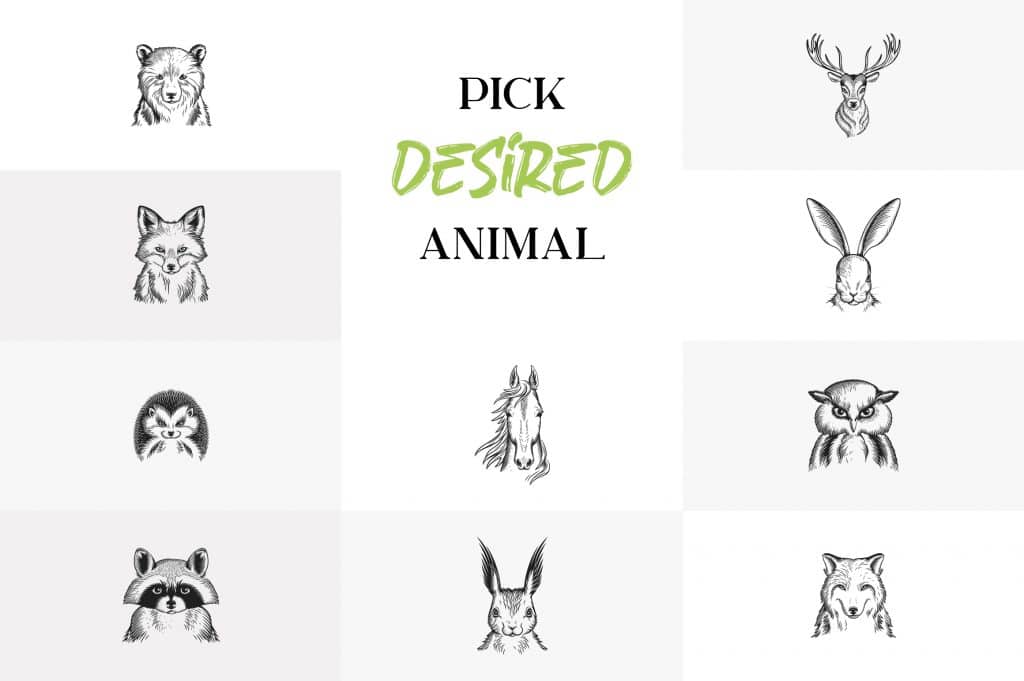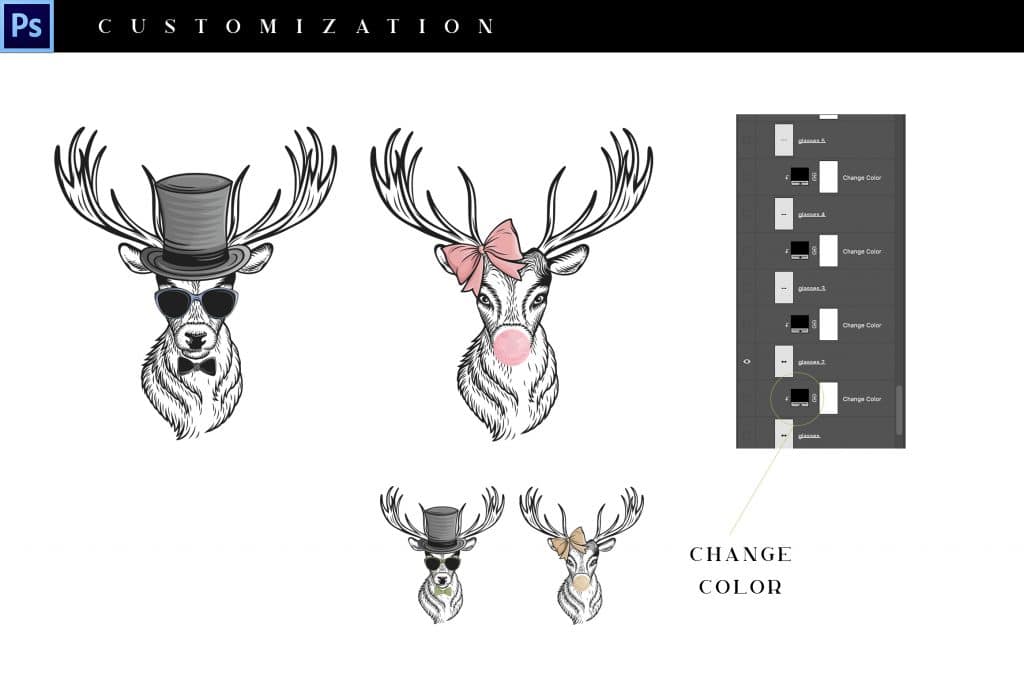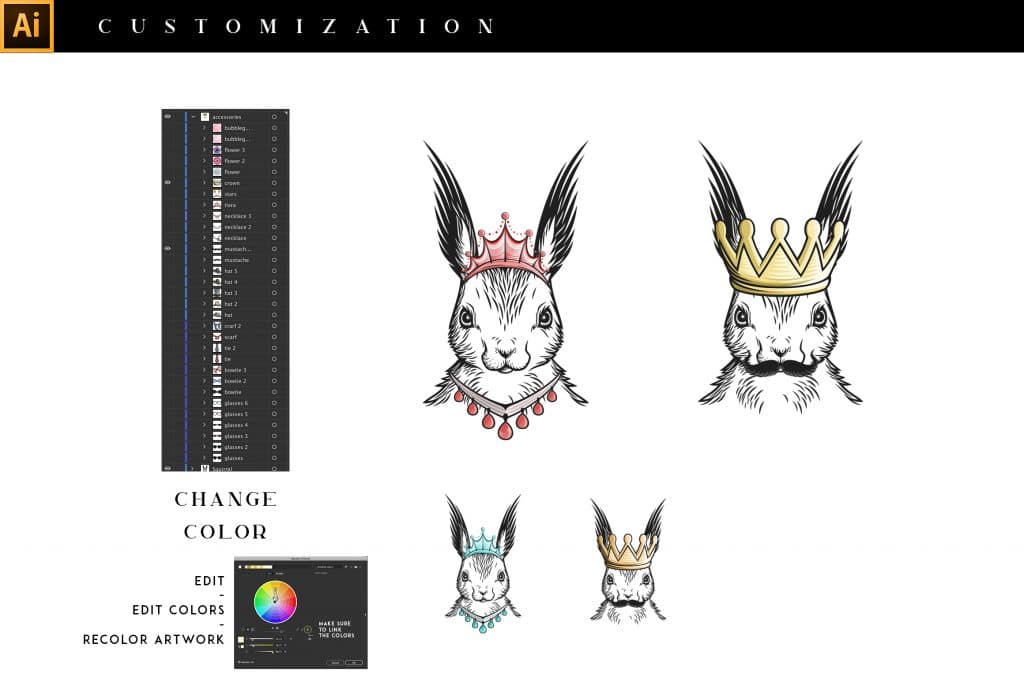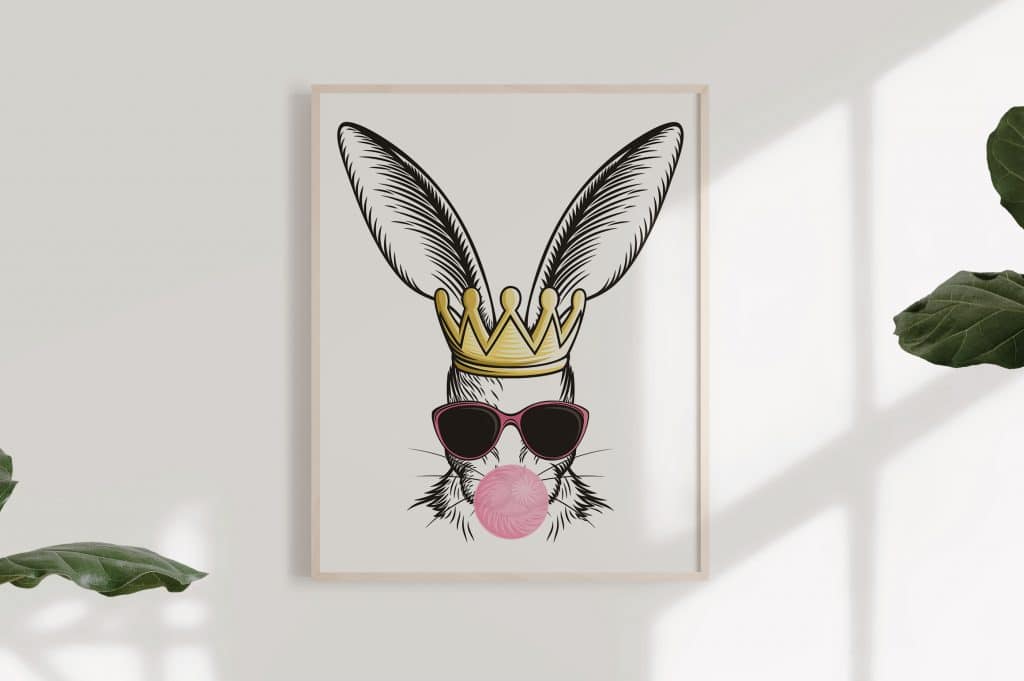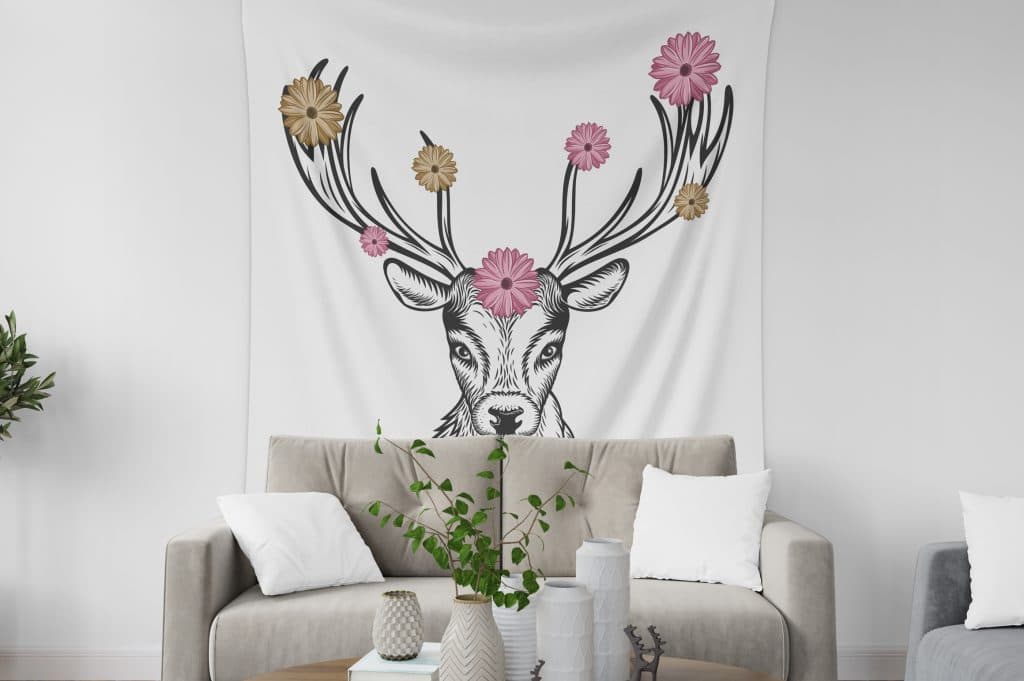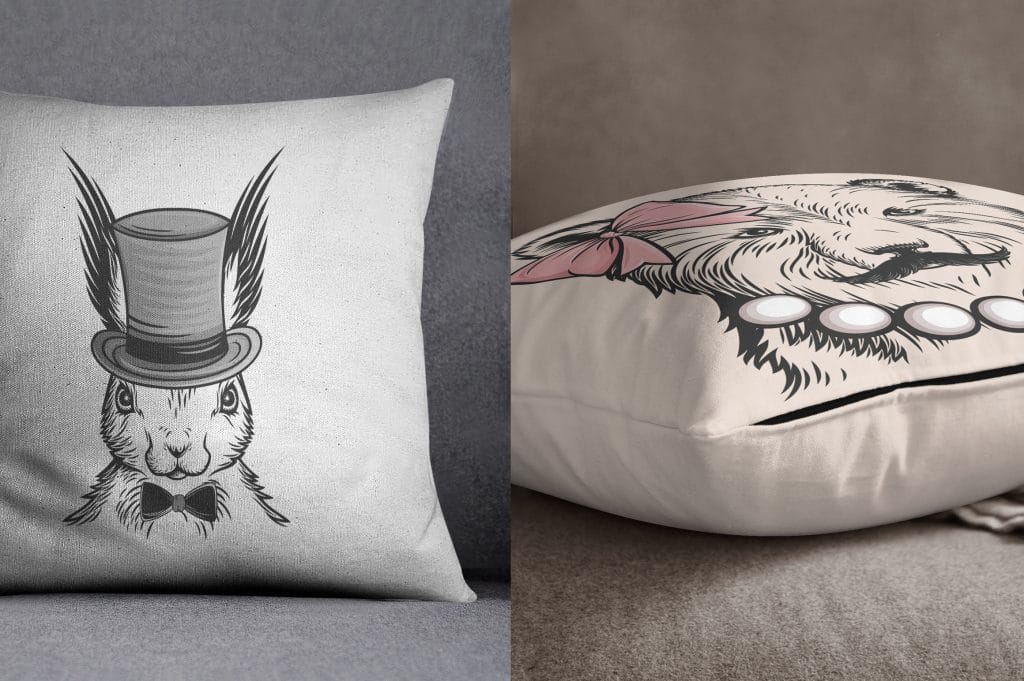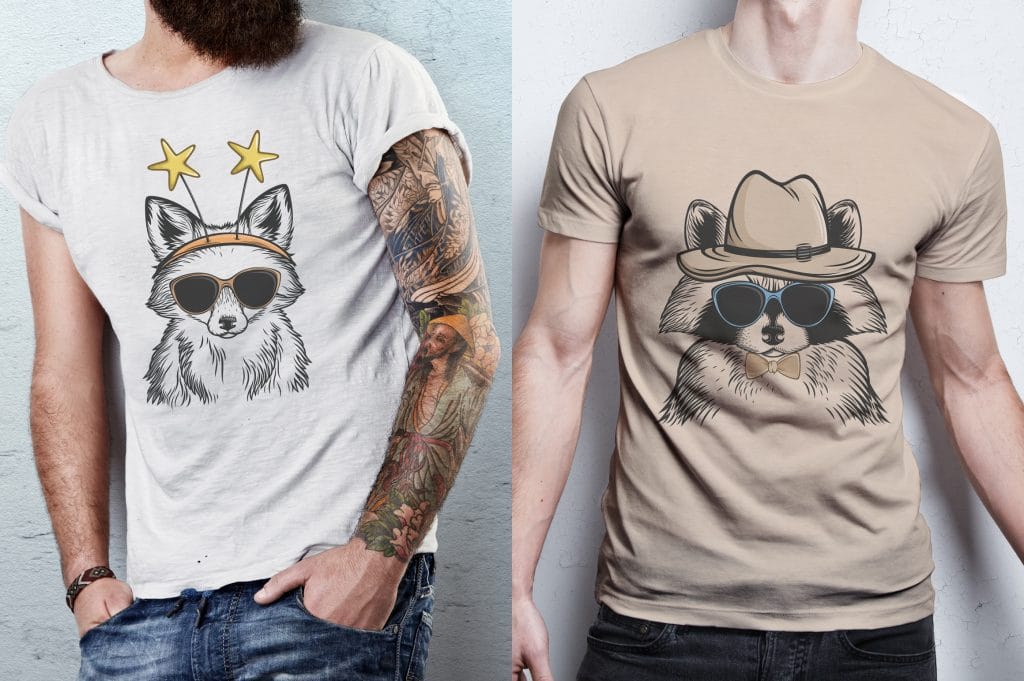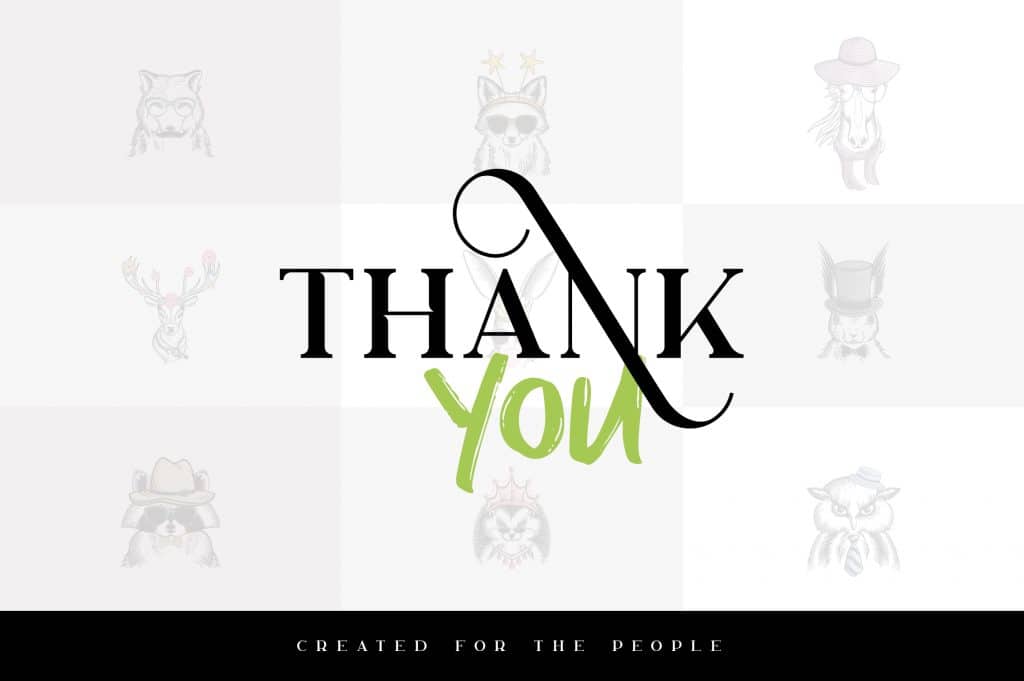 Best Related Animals Illustrations Deals
What's a graphic bundle?
Each and every designer, as a trained professional, should be able to sketch anything from the begining. It is unproductive, will take too much time. This is exactly why most of the web designers use ready-made visual elements – blend these graphic components, customize them and construct the design with them. Noone is going to buy all those elements as a stand alone, so that's exactly why they are put into graphic packages and offered as a single solution. Animals Illustrations
How do you spend less on package deals?
Do you want a 5% price cut on any collection from MasterBundles? What you need to do is simply share the page with a package deal on social websites (Facebook).
What types of graphic bundles are available?
Since each of the packages differ from one to another, every designer will find the required selection for a specific project. Checking them you'll discover the selections including illustration swatches, UI kits, business cards, social media infographics, and much more. On MasterBundles marketplace, there are actually more than 450 graphic packages to choose from.
Exactly why are graphic packages cost-effective?
For any design job, you'll need a bunch of elements – a few images, a font, just a few icons, and so on. If you would want to shop for every one of them on an individual basis it can cost you a lot of money! And so, that's the reason veteran designers always look for graphic bundles to purchase. They allow getting a big bunch of different elements for a very small price tag.
Alternative Bundles of MasterBundles
Besides graphic design bundles, you'll find a massive variety of various other collections on MasterBundles.com. The package deals of stock photos, fonts and logo templates are out there for your use. They deliver almost endless possibilities for the design of diverse web projects. On top of that, you may find the entire deals of WordPress themes, courses and e-books, cv templates, slides, and other components.
Photo tools
The designers who like to use photos are going to be notably pleased with the photo overlays graphic deals. They incorporate selections of elements of design that could spruce up and customize the images. Such kind of visual elements is normally placed over the photographs to produce some new look. MasterBundles.com includes a substantial set of packages, packed with photo overlay items.
Define a watercolor graphics bundle?

The watercolor package is found to be the lovliest development in design. Brushed by painters on the paper, the pictures get scanned and included in a package deal as templates for design projects. Watercolor components are ideal for blogs, DIY, wedding invitations and posters. All drawings are highly detailed and prepared for printing or digital use.
Instagram templates
You thought it is sufficient to just submit a few photos to have a well-known and successful Insta account. To bring in followers, your Instagram feed should look stunning and fascinating. Instagram templates will help you to make that happen and help to make your Instagram content captivating and identifiable. Accumulated into bundles they are often purchased for less money.
What is an infographics package deal?
If you need infographics for a future presentation in different market sectors from social networking and advertising and marketing to medicine and schooling, the package deal is just what you were looking for. With the infographics package you'll find yourself saving your time which can be crucial when it comes to work efficiency. Each and every element is available in an independent file which may be edited in Powerpoint, Keynote, Photoshop or Illustrator.
Meet MasterBundles.com!
If you feel like you have lost track of time when researching various resources and elements for your own design tasks, it is a high time to explore MasterBundles. It is a website providing the most in-demand tools (fonts, icons, logos, graphics, watercolors, presentations etc.) for web designers, entrepreneurs, and web developers at a reasonable cost for a very limited time. On top of that, you may use coupons and promo codes for particular offers. To not miss out on important info on the forthcoming promos, we advise reading our blog and subscribing to the email newsletter.