65+ Best Vintage Photoshop Actions 2021. Free and Premium
Intro
Sometimes we all dream about magic in our life. Food is ready in a minute, the house is clean in a second, dreams come true immediately, you take a picture you wanted from the first try, and all you have to do is just press a button to make it happen))
I wish. But one thing I know exactly! You won't need to spend hours editing photos, as I have here something special for you.
Probably you know what Photoshop is, well, I hardly can imagine someone who would never hear it in life. Or maybe you are an advanced user. It doesn't matter, as what I want to tell you about is useful for everyone who deals with photos and needs to edit it.
Photoshop actions! exciting? I know, and it's obviously a great thing. You need just one click to put a number of settings to your photos, without repeating each step one by one, which is boring and takes a lot of your time. I don't know the easier way to add some effects to your photos than using Photoshop actions and add-ons.
TOP 5 MasterBundles Photoshop Actions
| Product Image & Rating (Out Of 10) | Product Name | Price |
| --- | --- | --- |
| | 50 Artistic Photoshop Actions | |
| | 850 Photoshop Actions with 95% OFF | |
| | Photoshop Actions for Photographers | |
| | Artistic Tools: Photoshop Bundle with 88% OFF | |
| | Super Bundle: Photoshop Actions and Presets | |
Every action is ready to use, you just need to choose the one that catches your eye and that will work for your photo the best. I think no need to explain the one action might look good at one photo, but not fit another one, depending on the light, style and so on. So when you try a few actions on one photo you will definitely see how it works.
In this article, I will show you the very best 50 Vintage Photoshop actions with a brief description.
Moreover, you can download any action from the list below for free!
If you would ever ask me what is my favorite effect to use on photos, I would definitely say vintage! So let me show you Vintage Photoshop actions today. Do you know it's very popular now? Oh I need to remember when it wasn't ))
Memories, warmth, coziness and mild colors.. Stylish or old-fashioned dusty photos from the family album that are so dear to us. Those are my association about Vintage style. What are yours?
That charm, special unique feeling and touch of elegance you can get when adding vintage action to your photos!
No need to learn all those Photoshop features anymore. Thanks to people who don't mind to share their experience with the other, we can download and use any of there wonderful Photoshop actions for free.
What are the features of using Photoshop actions?
It's a great time-saver, as you don't need to repeat each step with every next photo to get the same style as previous
It's easy to use
It's free ( not all the actions you can find on the Internet are free, but I got a bunch of free vintage actions here)
as a result, you can easily create one style feed (which is so popular now for Instagram for example)
right Photoshop actions will give your photos professional look.
So don't hesitate, explore and start using it for your photographs.
No need to say that one action could turn your photo in a piece of art, but with the wrong action, it might look like a regular or even unattractive. Try few, to see which is the best for a certain picture.
Who knows, maybe after you try some actions, you will be inspired to create your own, play with settings, save it and share your own Photoshop action with other people!
And the next article may start with your works!
50+ Best Free Vintage Photoshop Actions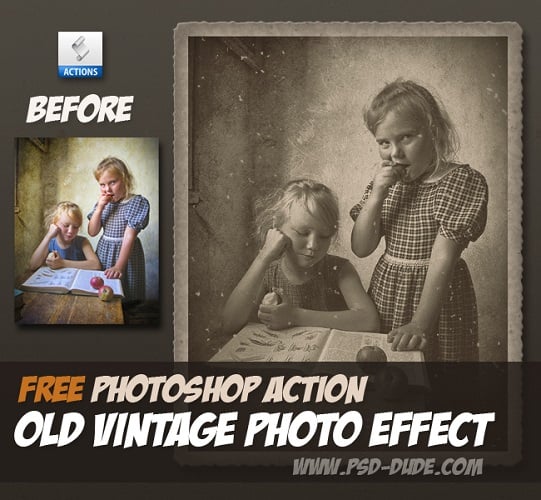 This action will turn your photo in a photo from the previous century in just one click. The effects become more realistic after you add some scratches, dust effect or sepia. It looks absolutely like photos from the old family album.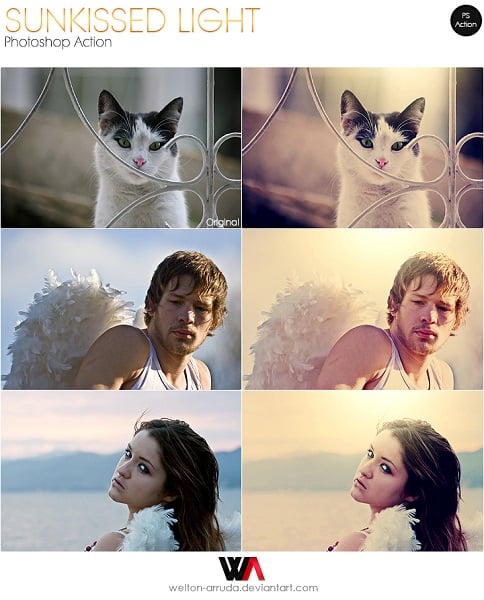 Sunset light is so good for taking romantic pictures. But if you missed it, here is cool Photoshop action to help you add a sunset lighting to your photo to make it perfect. Add more sun, even if the day was not sunny at all.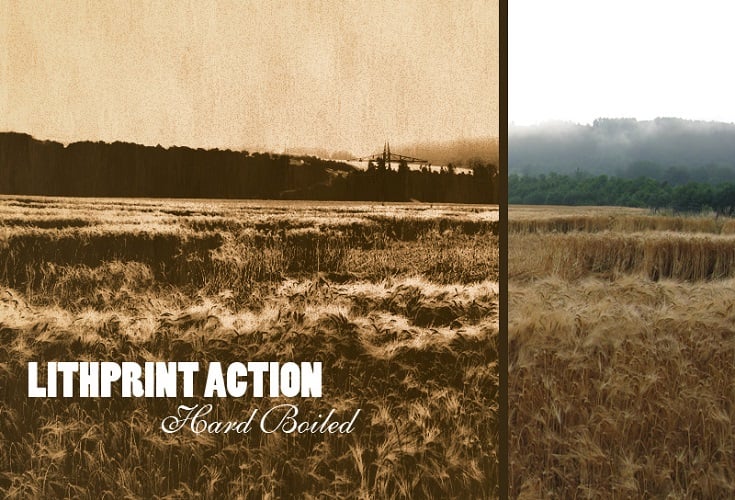 Speed up editing process, and turn your photo into the old one, as a result, you will get the photo in brown colors. It will look different, depending on the photo you use as a source, but with a unique charm for sure.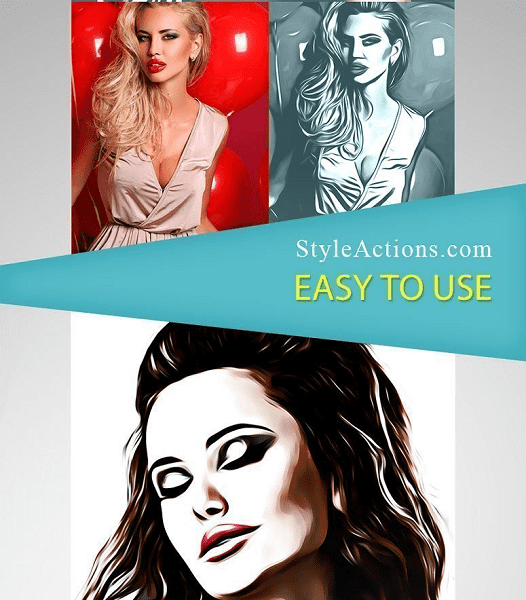 This action will turn your photo in an art in a minute.Would anyone believe you can get such a result if you're amateur in using all these Photoshop features? See what mild colors you get, this action is worth to try for sure.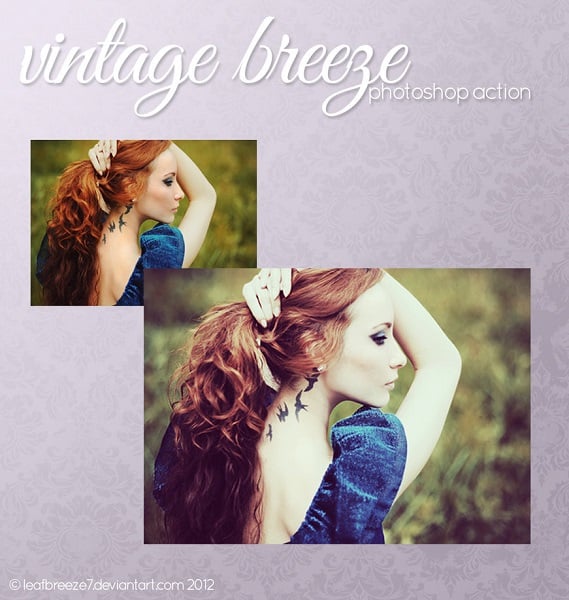 You will get the most realistic vintage effect. This action is absolutely adjustable and will make an awesome vintage effect on your photo fast.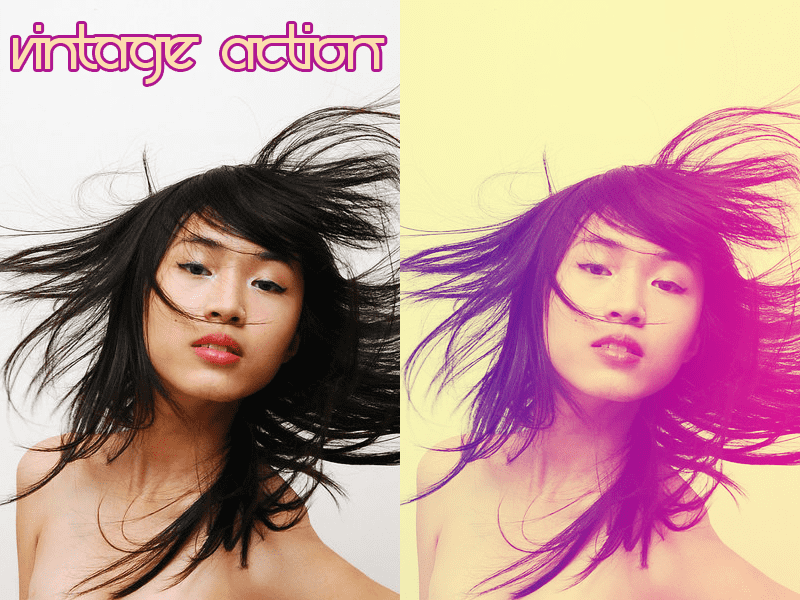 Forget about spending hours o get that awesome vintage effect with this cool Photoshop action. Make lovely photos in a matter of click.


Choose from a variety of vintage color effects and make your photos look stylish. It's easy with this superb action. Hurry to try it.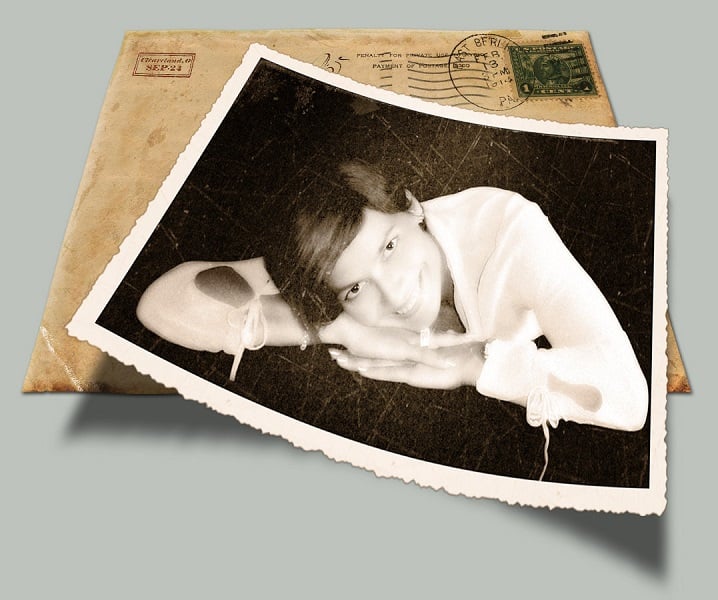 Remember when your grandparents showed you photos from their early years? With a flew of time it turns to yellow scratchy pictures. Now you can make that effect on any photo you wish, without waiting years))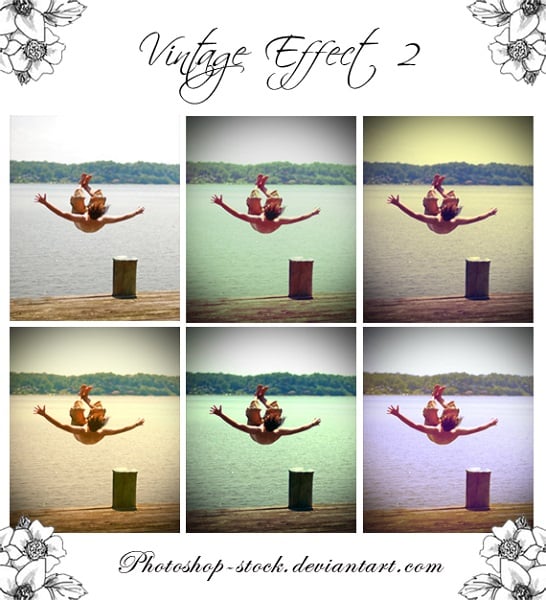 Warm or cold? I mean what color palette you prefer to use for your photos? Using this action you can experiment with both, and see which one makes your photo more classy.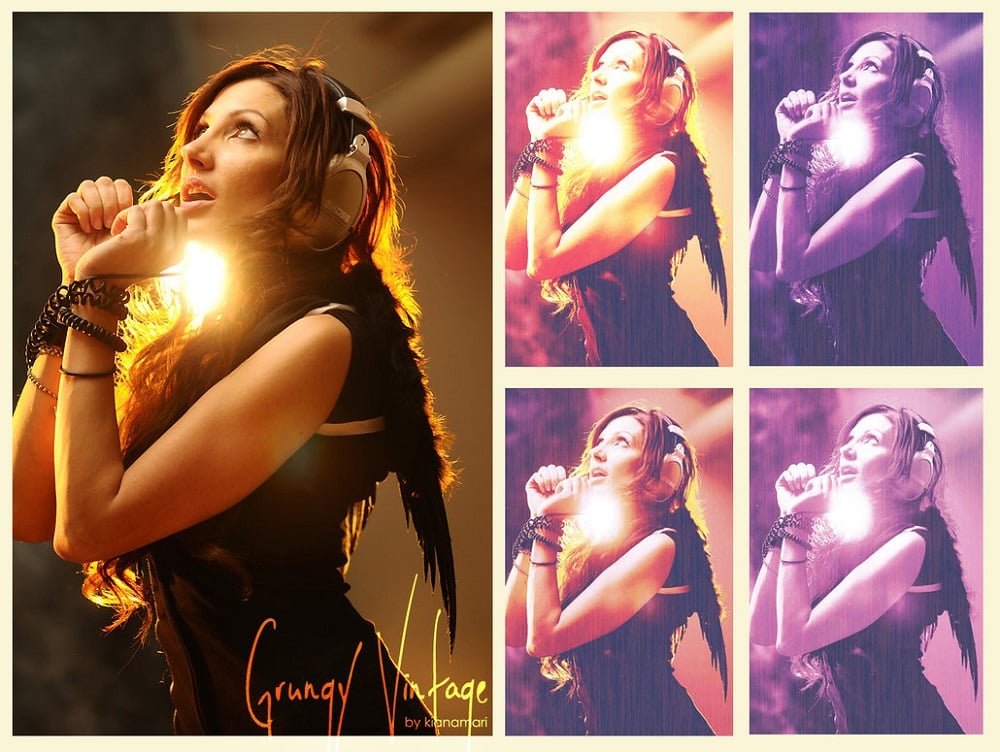 Grungy Vintage action can be used for color photos and for black and white also, very prudently) It will give a beautiful effect to your photos, and make it stylish.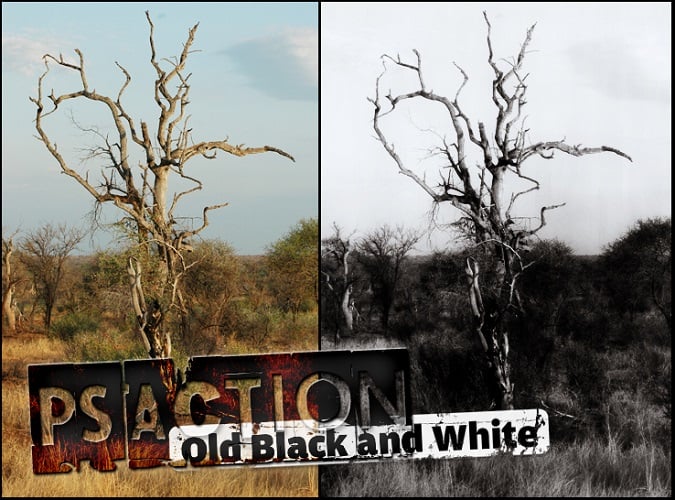 I love black and white photos. I would say you see everything just the way it is when other colors are not included. For a portraits or just photos of nature, to give it a dramatic look. This old black and white action is a cool choice to retouch any photo.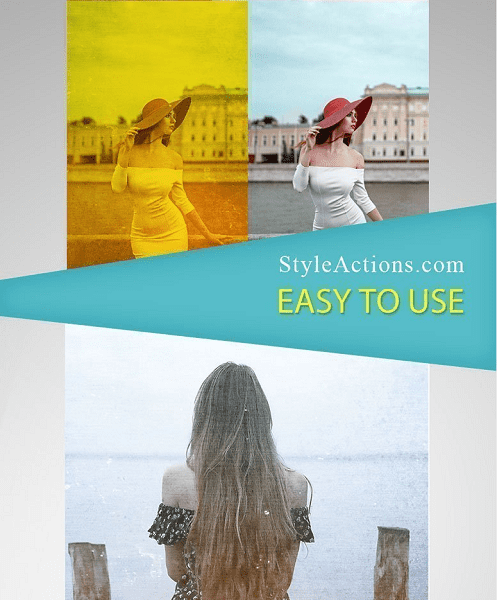 You can try to see a few different ways your photo might look only using one Photoshop action. Warmer colors, scrapes, and other stylish effects you play with until you get the effect you've been looking for.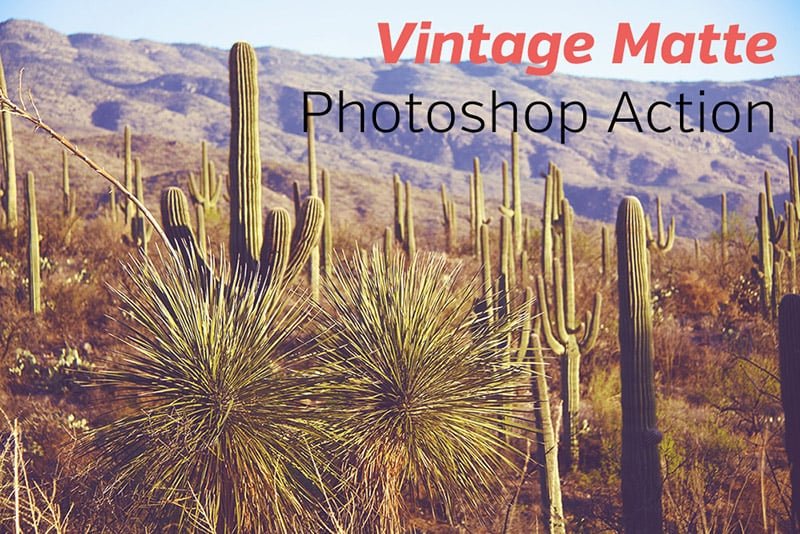 You will create just amazing photos when you experiment all possibilities of Vintage Matte Photoshop action. And the great plus is you won't spend hours trying to find out all the details about working with Photoshop, as all the necessary effects are included in this stunning vintage action.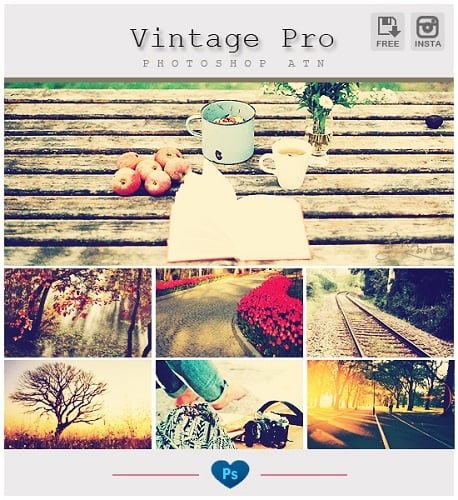 The action will complement your lifestyle photos and is a perfect solution for you if you enabled to create a cool Instagram feed for example.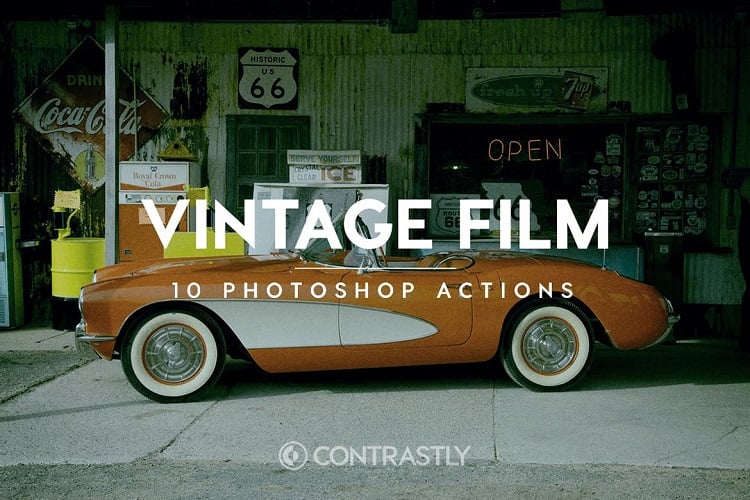 Are you a movie lover and have seen plenty of old ones? If so, you will appreciate this Vintage film actions. Try these, and get the photos with stunning vintage flair.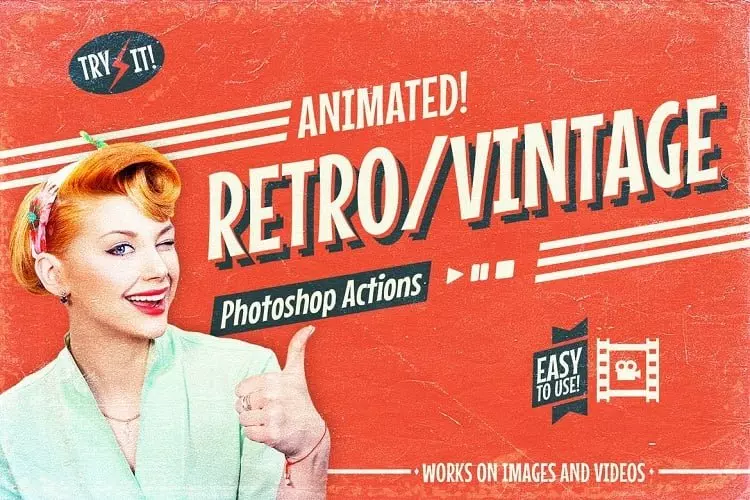 If you want to add an extra feeling to your photos, you can achieve that when applying this action, in a quick way it will make your photo look different.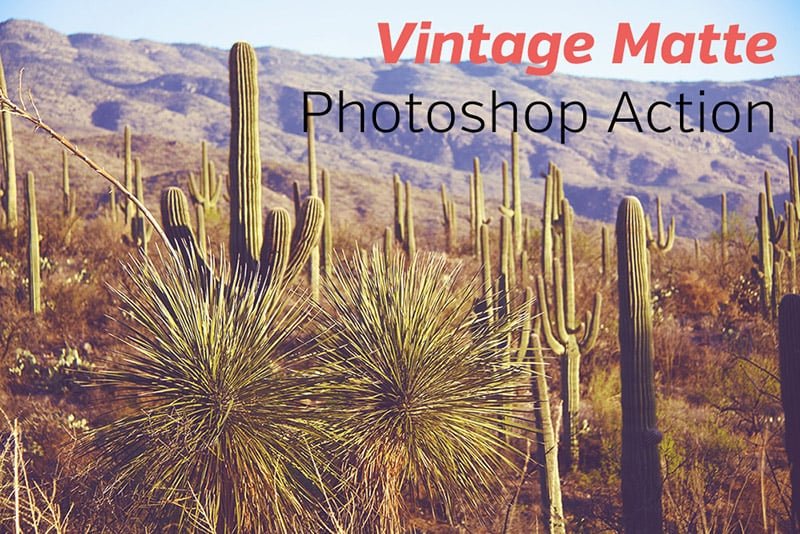 One of the best things about Vintage action is that it will give professional look to almost any kind of photo, no matter if it's high quality or no. Isn't it cool?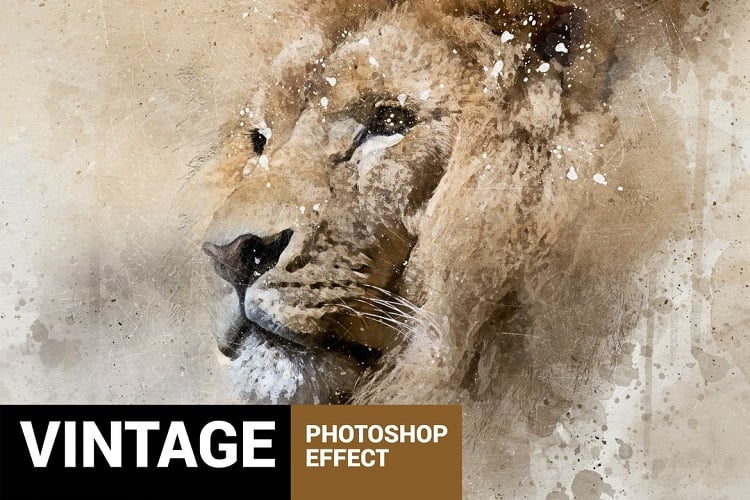 Crafted for you to achieve a nice vintage effect. The action is available in different languages, and help you to achieve a watercolor or pencil art works result. Few clicks, few minutes and a stunning photo is ready.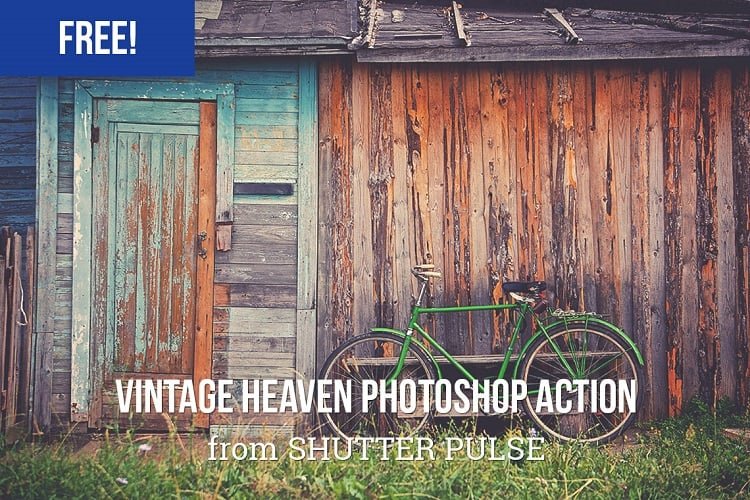 Give your photos mild retro look, change colors and brightness. You can get that with the heaven Photoshop action, which works best for portraits and lifestyle photos.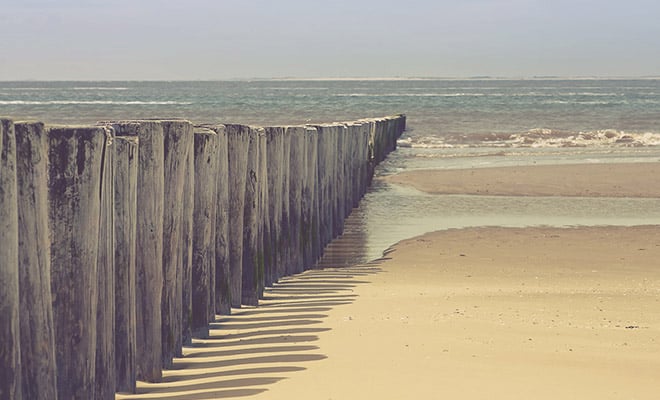 I love the possibility to do something faster when it's possible. So when I want to give my photos a vintage look, I can use from the variety if Vintage actions.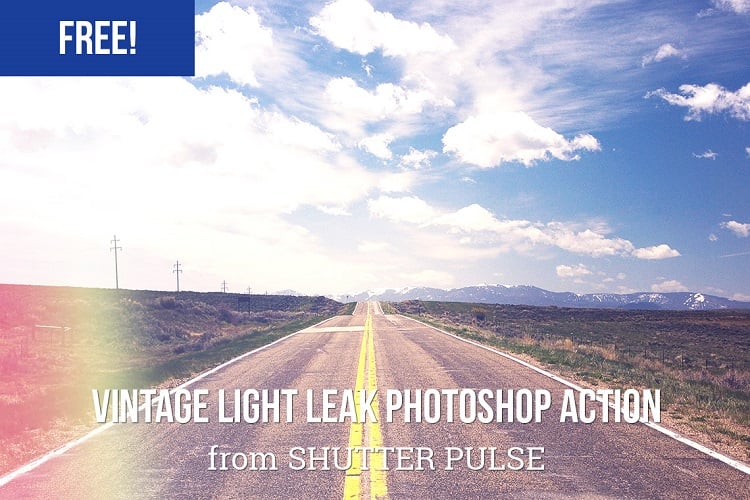 Carefully created, and ready to be applied to your photos Light Leak photoshop action is here for your needs. Finish edit of your photo professionally.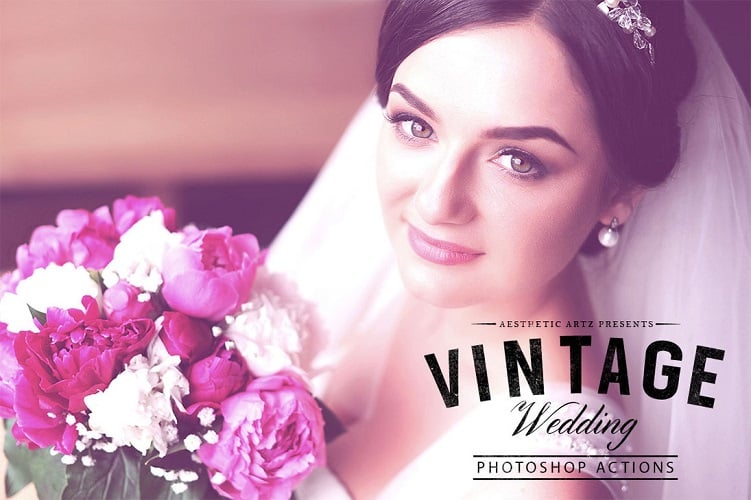 Who don't like weddings? It's a perfect event and a memorable day. And of course, an important part of this special day is taking a lot of beautiful photos. And you can give these photos that unique feeling with Aesthetic vintage wedding action. Just a few clicks and your wedding photos turn into a piece of art.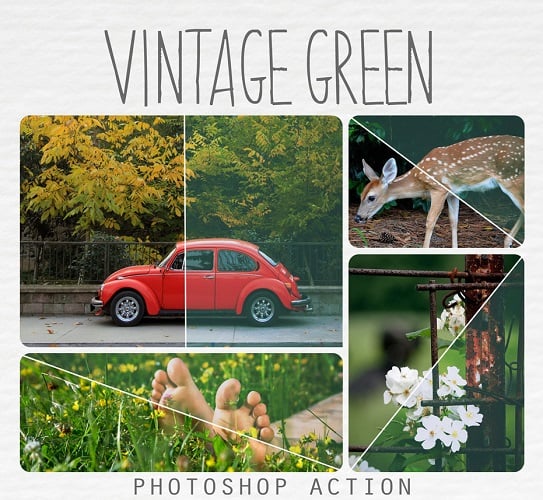 Sometimes natural green color is not needed in your photos, especially if you add a vintage effect to it. Download and play the action. The amazing mild dark green effect is what you get in the end.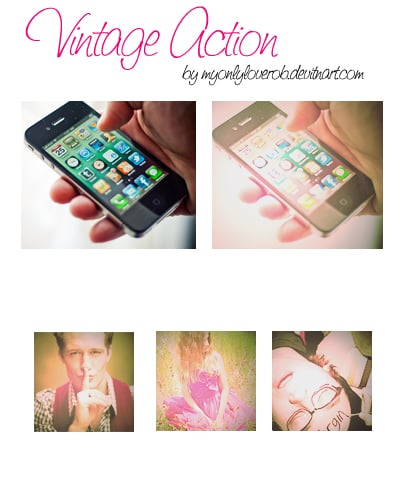 After you get a cool photo, you can always make it better and change colors to milder pastel tone. All you need is to apply this action, and you are done.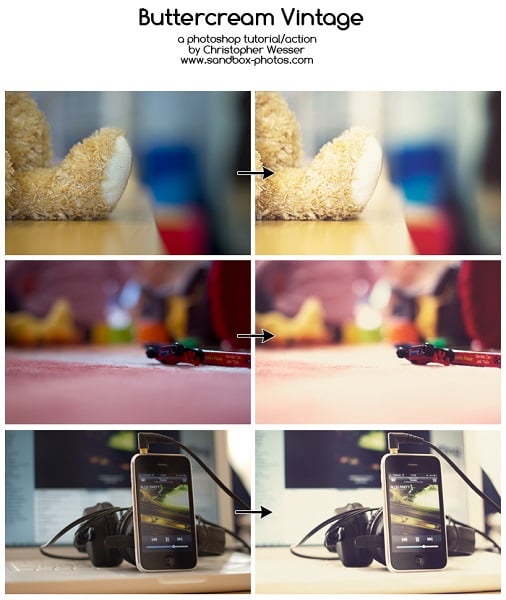 Looking for another Vintage action? Try Buttercream action. It's a perfect decision that creates a Wow effect to your photos. Mild and soft colors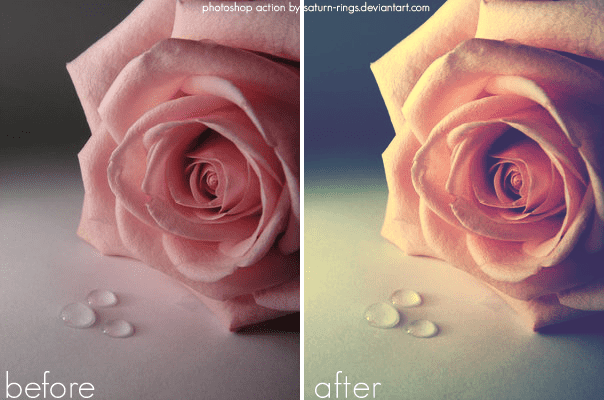 You might be looking for this delightful action, that could turn your ordinary photo into an awesome one. Moreover, do it fast. Exciting? Feel free to download this wonderful action, and check it on your photos.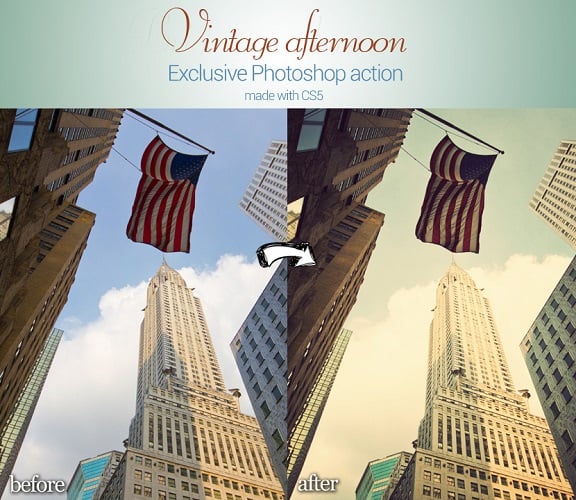 If you practice photography or know something about it, you probably know that light for taking pictures is the mildest in the afternoon. This Photoshop action will give your photos awesome afternoon light effect while adding a vintage effect to it.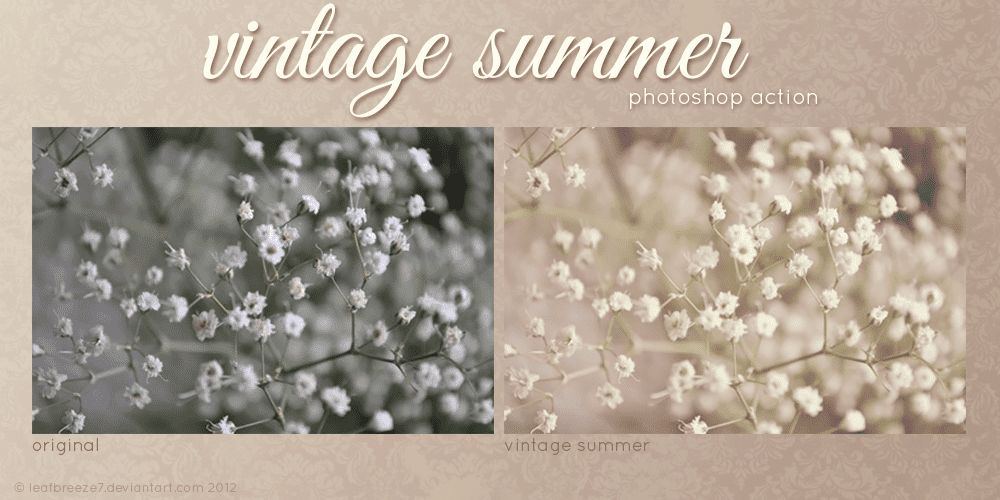 If you love summer the way I do, you will appreciate this action. You will be in love with the result you get, and the action work great even for small resolution photos.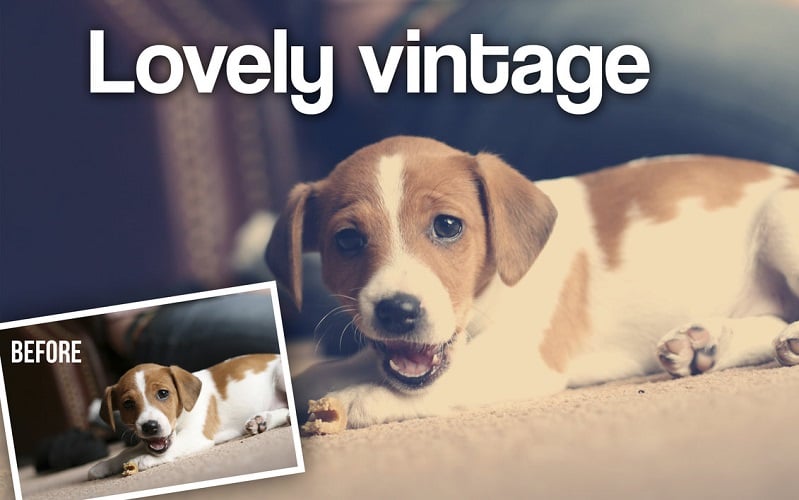 Enhance that charm of your photos by giving them this Lovely vintage action.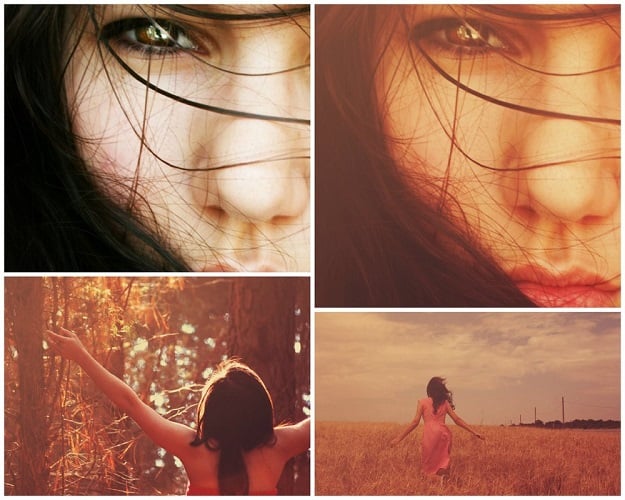 Want to add some charm to your photo? All you need is a good original photo, this action will complement it in the best way. Warm colors help to create a special atmosphere and will remind you of sunny summer days.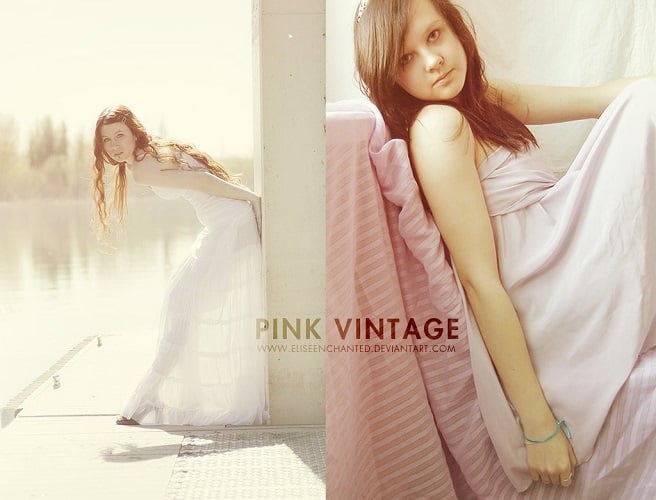 If you use Instagram, you might see many beautiful profiles, and all the photos in it are in one style. How is that possible? Photoshop actions! You just use it for your photos and your awesome and stylish feed is ready.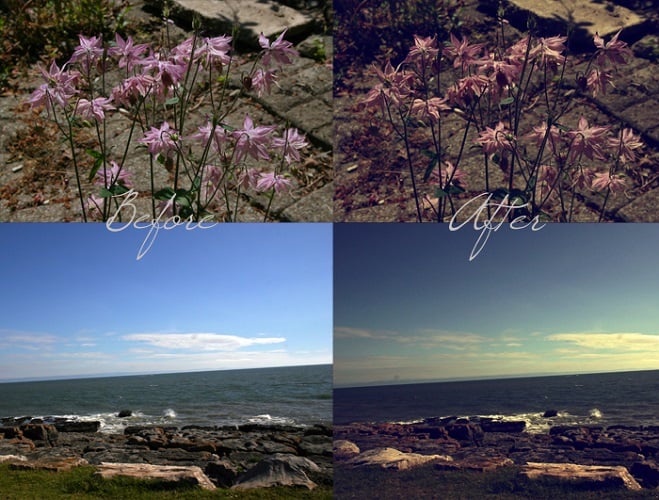 Turn your ordinary photo into a classy retro style image. All you need is to use this fantastic action, and voila! You will be impressed with the way your photo changed in a matter of few clicks. Besides it absolutely free!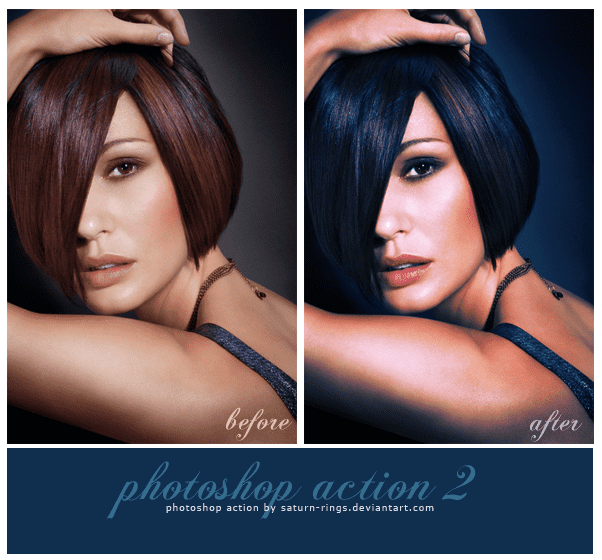 Want to post cool photos, and feel like Vintage effect on the photo is something attractive for you? Check this cool action, that complements your original photo with deeply saturated colors.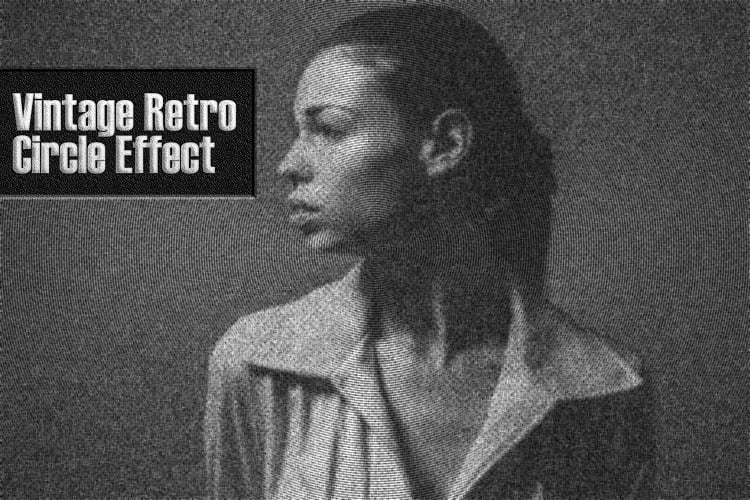 No need to spend a lot of time editing photos trying to give the same effect. Instead of repeating the same steps, try this vintage action to give your photos the look you might see in an old movie.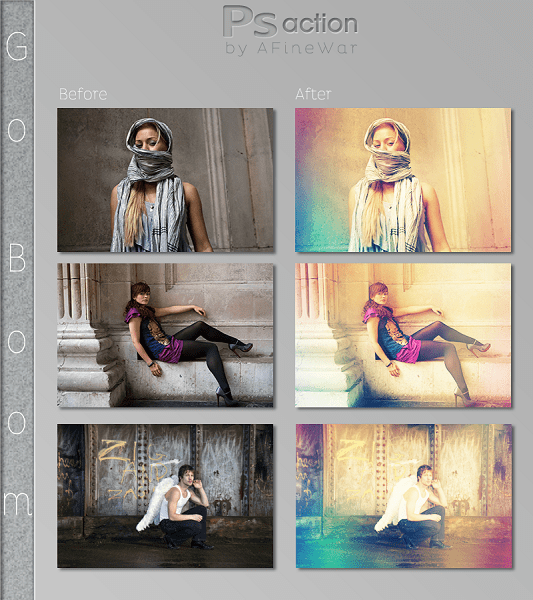 Work with photos and get the result like a professional. With this freebie, you will turn any photo in a masterpiece faster than you ever did.It can be used for portraits, nature photos, logos, and many more.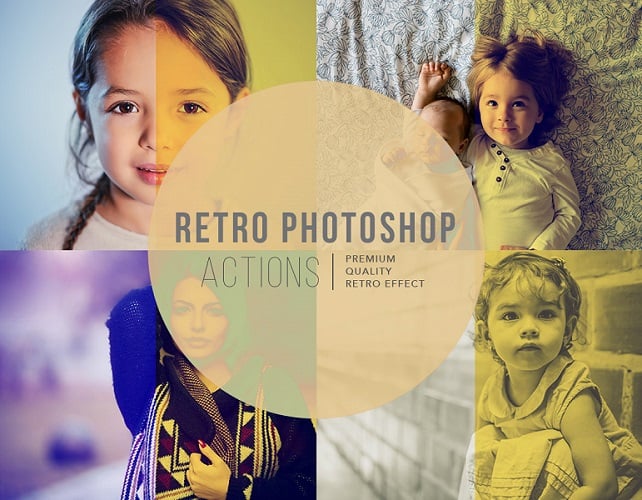 Get a Vintage effect within seconds is possible for those who have a link to download photoshop action they need. If you are looking for nice Vintage action, you are in a right place. Grab the link and download the action for free.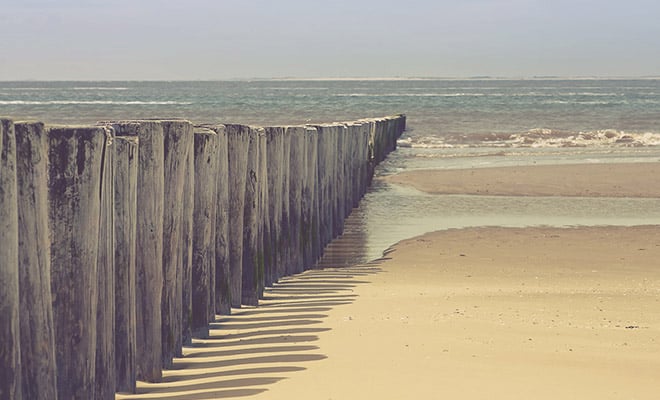 That's magic, you might think. It's Photoshop action, I would say. Don't waste your time trying to edit a photo in the best way, download this nice action and save your time for something else.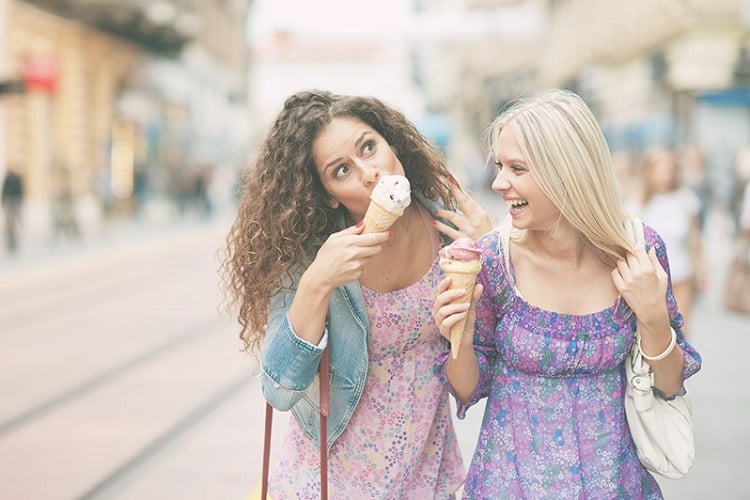 Check this another vintage photoshop action. You know it will give a unique feeling to every other photo, so try and see where it works the best. Besides you can see the process of creating the whole action if you follow the link.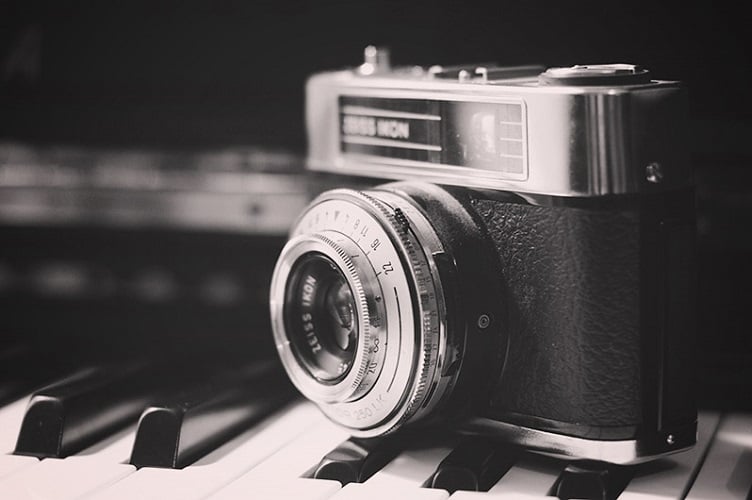 Black and white images always catch my eye. It makes you concentrate on the deep sense of the photo. No words needed, we all know there's some special charm of black and white.
Speed up your editing process with this attractive freebie.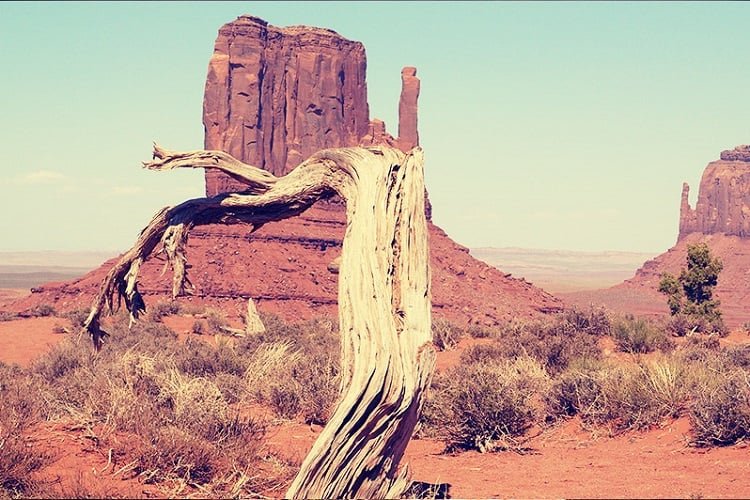 Work faster without losing quality. The result of using this action is delightful. Add it to your photos to make sure.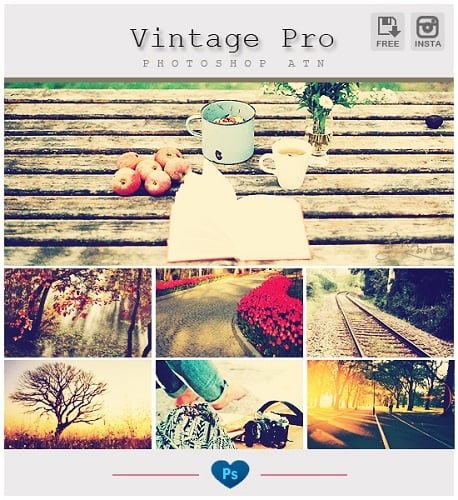 Increase your productivity and edit photos like a pro not spending a lot of time, but having great edited photos. Download this Instagram Vintage Pro action, and make other people wonder what's your secret. Feel free to share.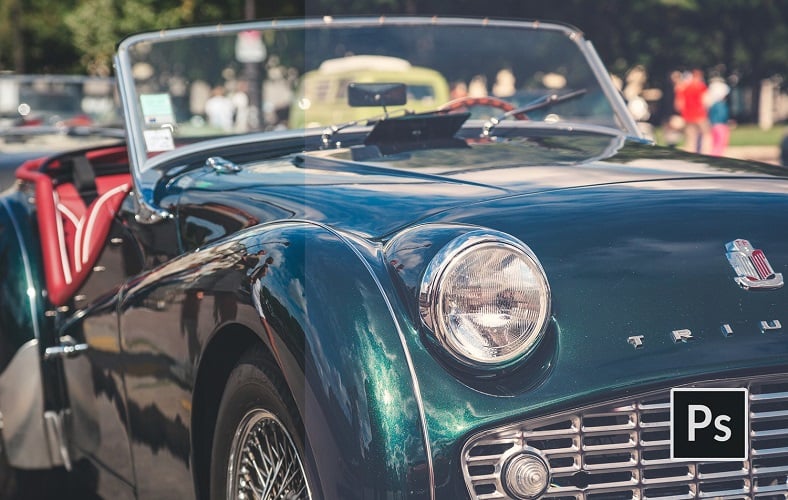 Edit a bundle of photos faster than ever and get some really cute creamy photos.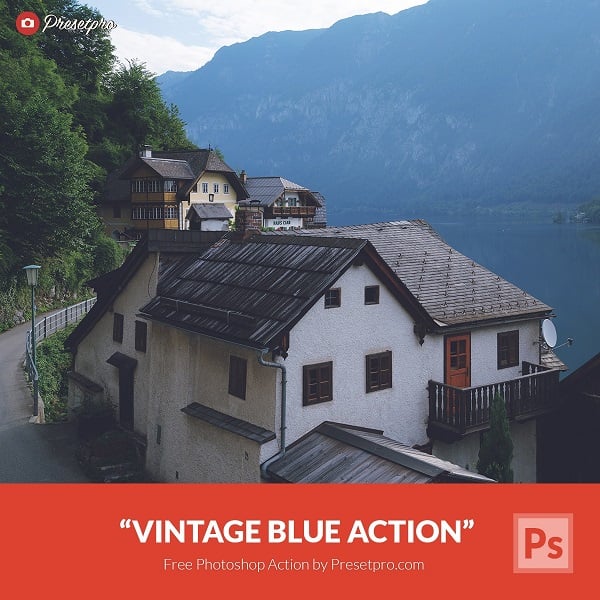 Vintage is definitely so popular now. Well, it is popular always, and I understand why. Nobody can stand that amazing attractiveness of vintage photos. I got this Vintage blue action. It will work well for nature photos, landscapes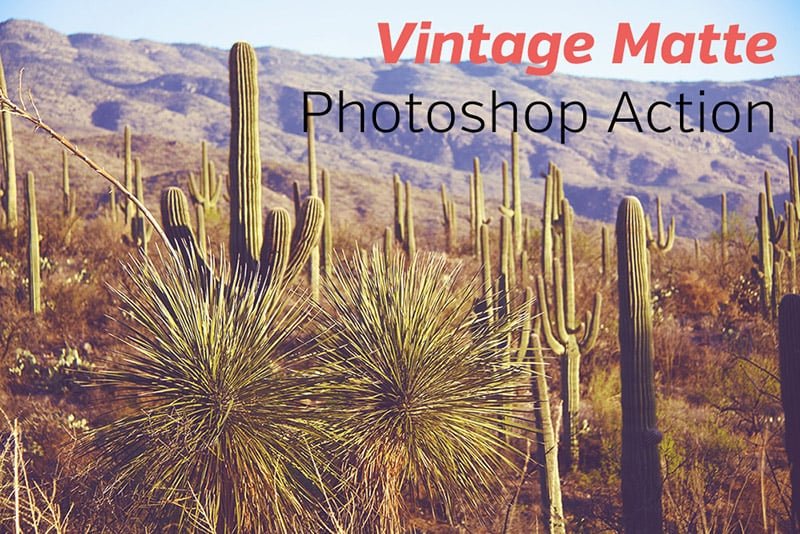 Mild colors, matte effect, breathtaking photo and all that you will get without wasting hours. Just try this Vintage matte action. I'm sure you'll love it as I did.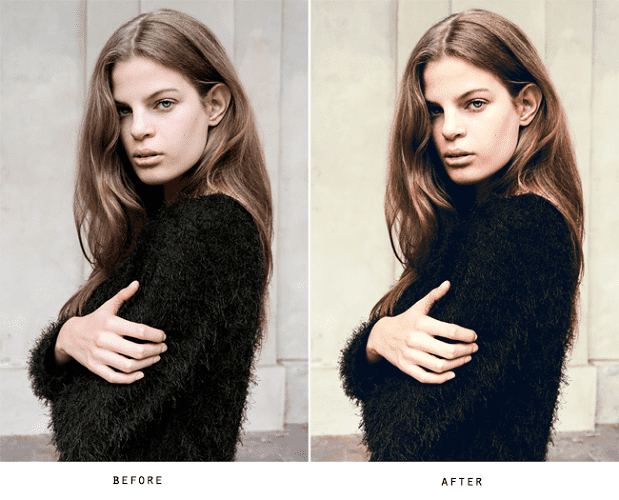 The process of editing photos might be boring and take you plenty of time. But not with ready to use action, that can change your image and make it look more professional with ease. Bring this vintage effect to photos and explore what a huge time saver it is.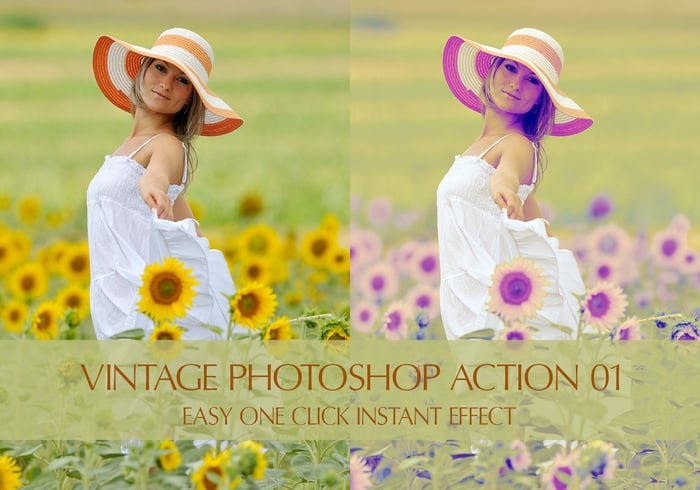 Get some fun while editing your photos. It's never been easier than with astonishing action like this one.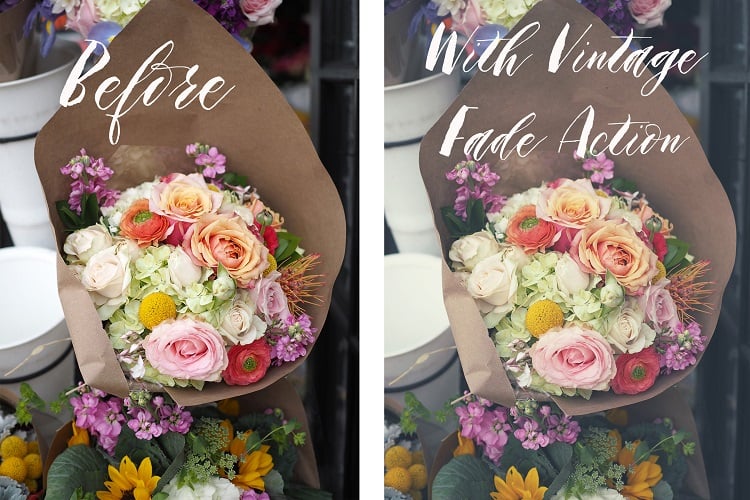 You might check many other actions, but vintage action will never leave you indifferent. Special charm and atmosphere is a distinctive characteristic of Vintage photos, which you get using vintage actions.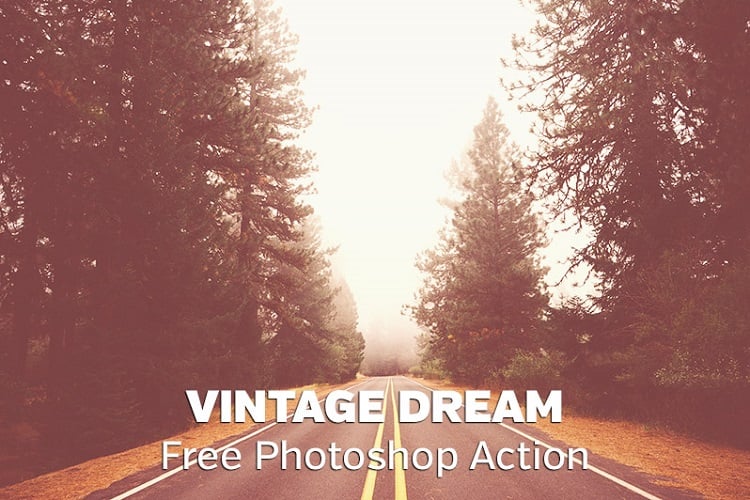 Add more interest to your shots. This action provides you with all the necessary settings for an awesome result. Apply a dreamy vintage look to your pictures within a few minutes of work.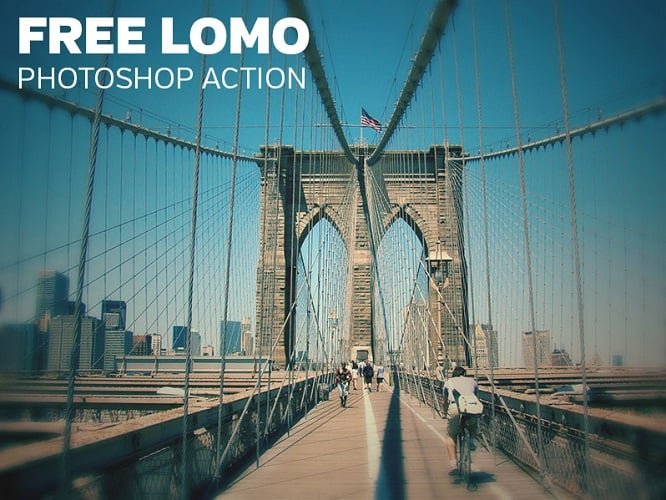 Even when your photo seems perfect, you can try different actions on it, and get more impactful visual instead. Let it play with new colors. The action works well with a great variety of photos. Try and make sure.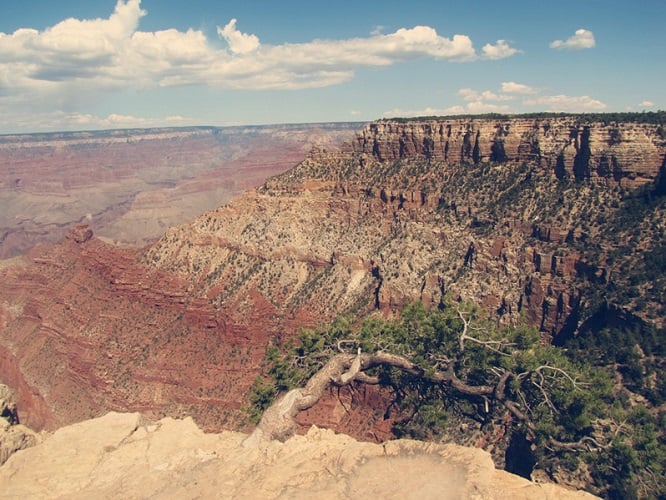 You'll love the vintage effect you get on your photos when using the following action. Will work nice for high-quality pictures and resolutions, and your photos will stand out. I promise.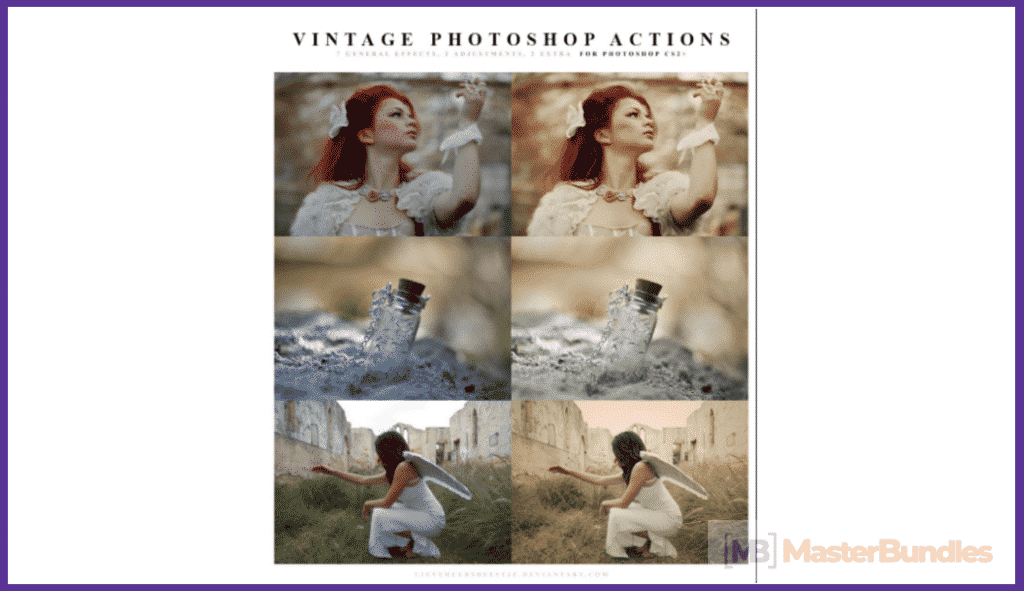 This one is for those of you who admire truly fancy stuff. This very effect will make your pictures mesmerizing, so go ahead and download it, it is totally free.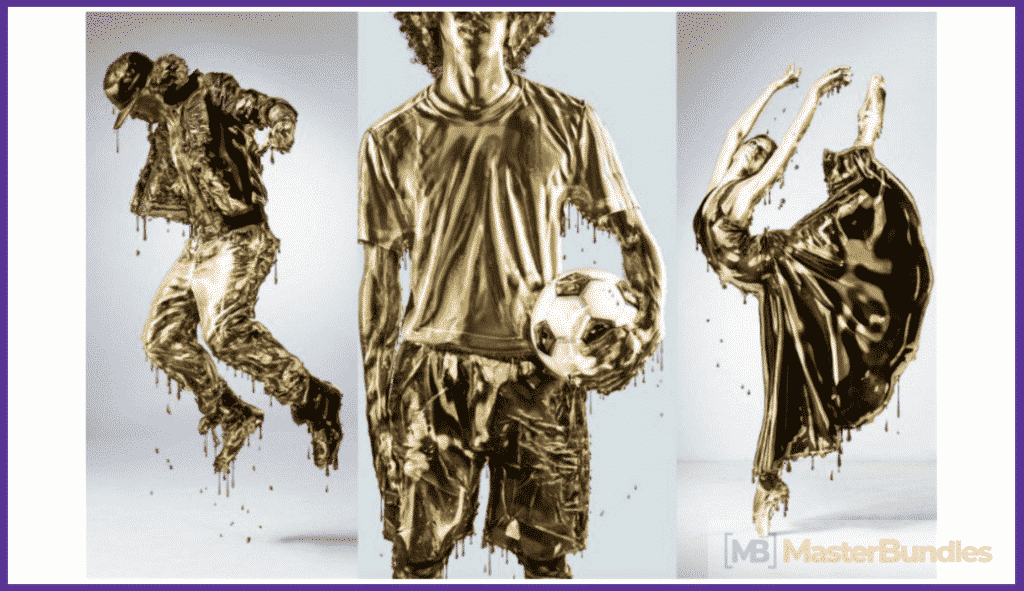 Another marvelous free option that will help you turn a simple photo into a masterpiece, so why don't you get it?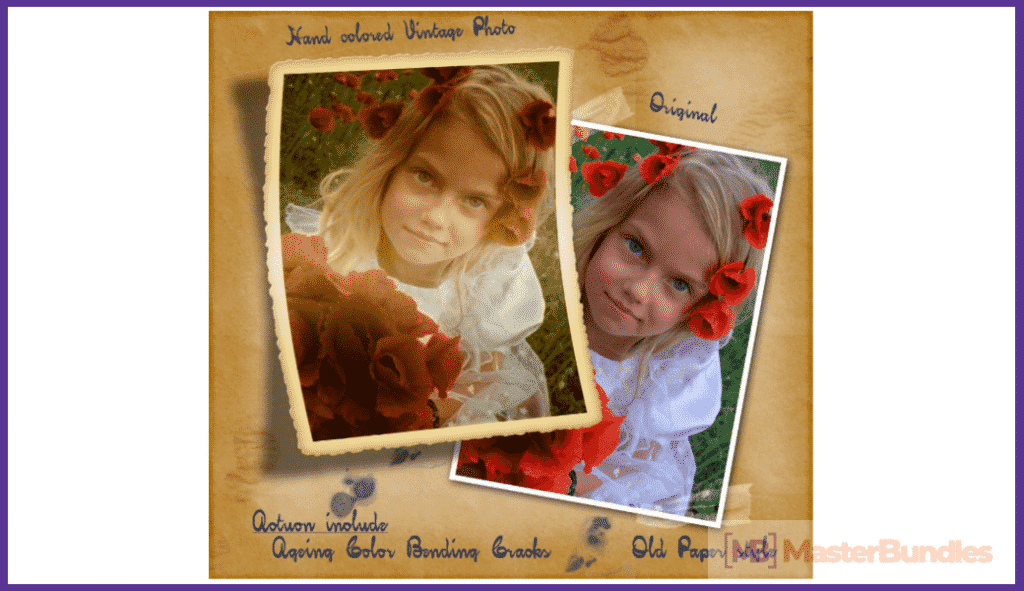 One more free action for all of you who would like to add some magic glow to their photos. So go ahead and take a closer look at it.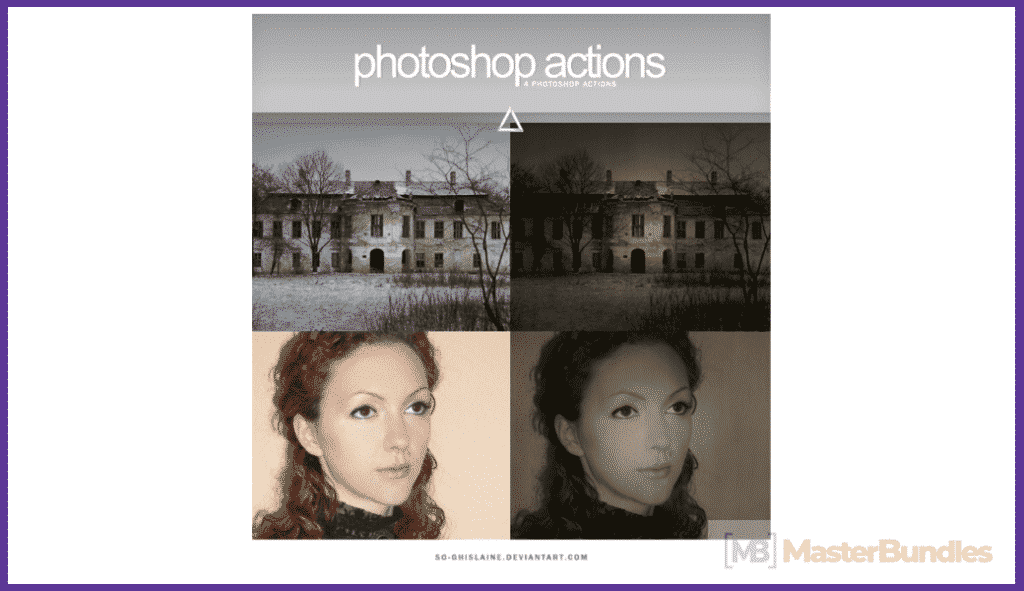 Do you want to find out how to create hypnotizing photos? Well, in that case, just download this free action.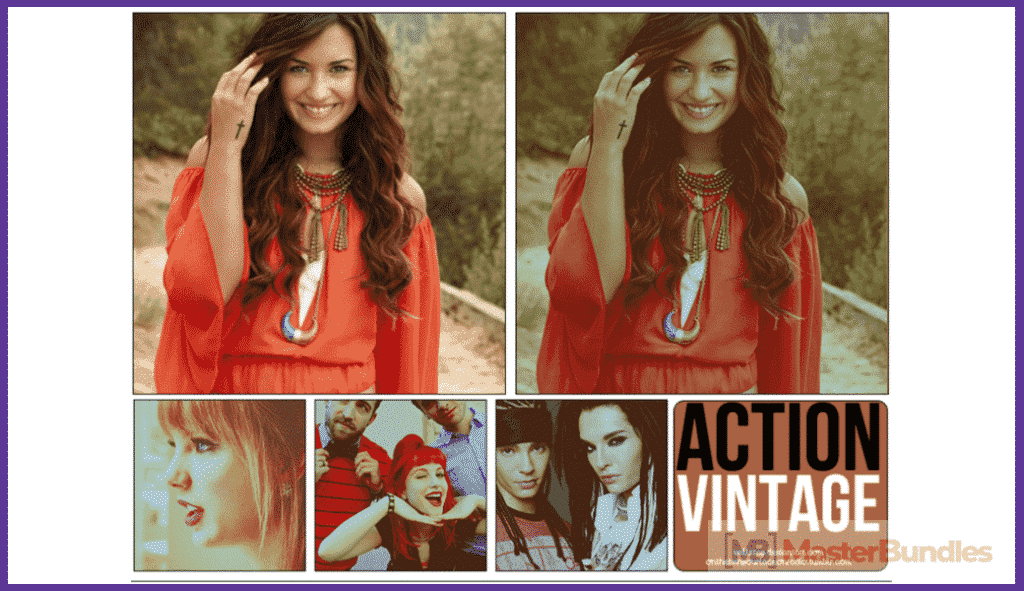 Another freebie for all the old-fashioned stuff admirers out there. Give this elaborate beauty a chance to prove itself to you.
Premium Photoshop Actions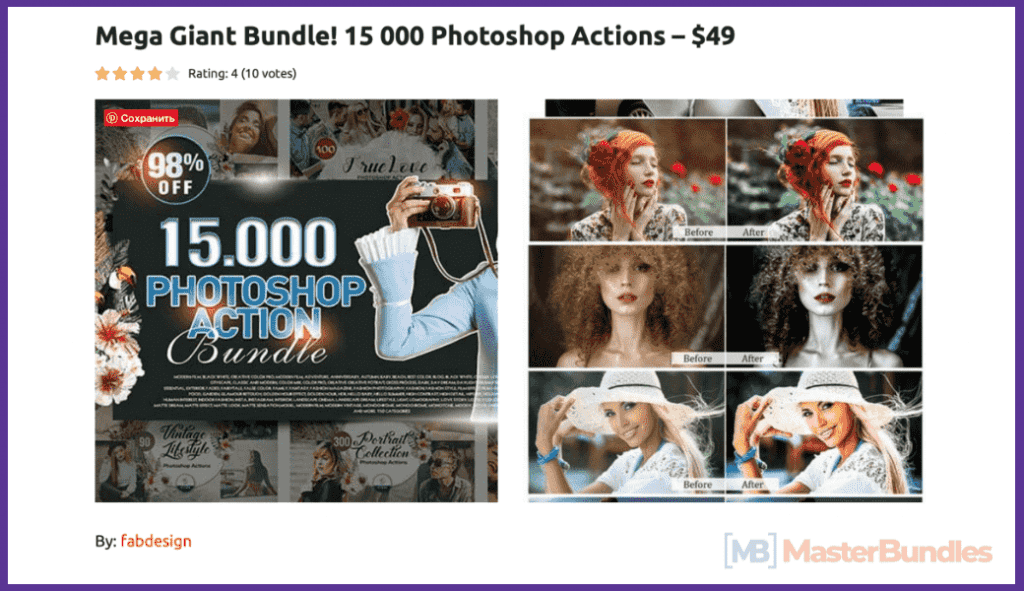 Price: $49
This one is a huge bundle that will back you up in literally any situation or emergency. So to buy or not to buy is not even a question.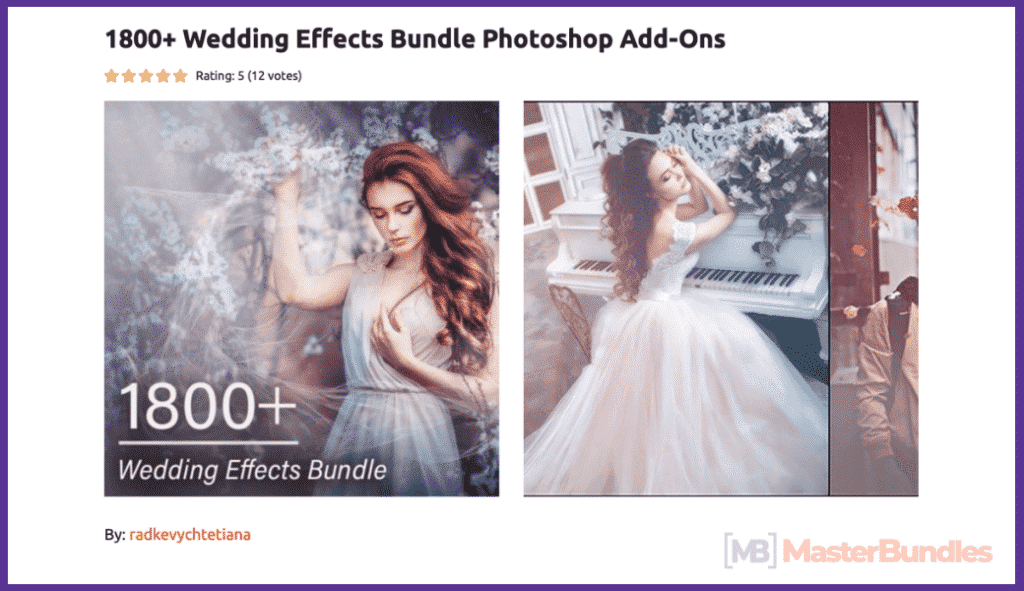 Price: $29
A stunning collection of effects for all the wedding photographers out there. Well, stop hesitating and take closer look at this baby, it's really worth it.
Price: $18
Another cool bundle of Photoshop actions for all occasions that you simply cannot miss. Well, without further ado, just go ahead and take a closer look at it.
Price: $32
This one is something you cannot do without. This very giant collection of flawless effects is no doubt a must for any self-respecting photographer, so why don't you let this gorgeous baby make your photos simply mesmerizing and unforgettable?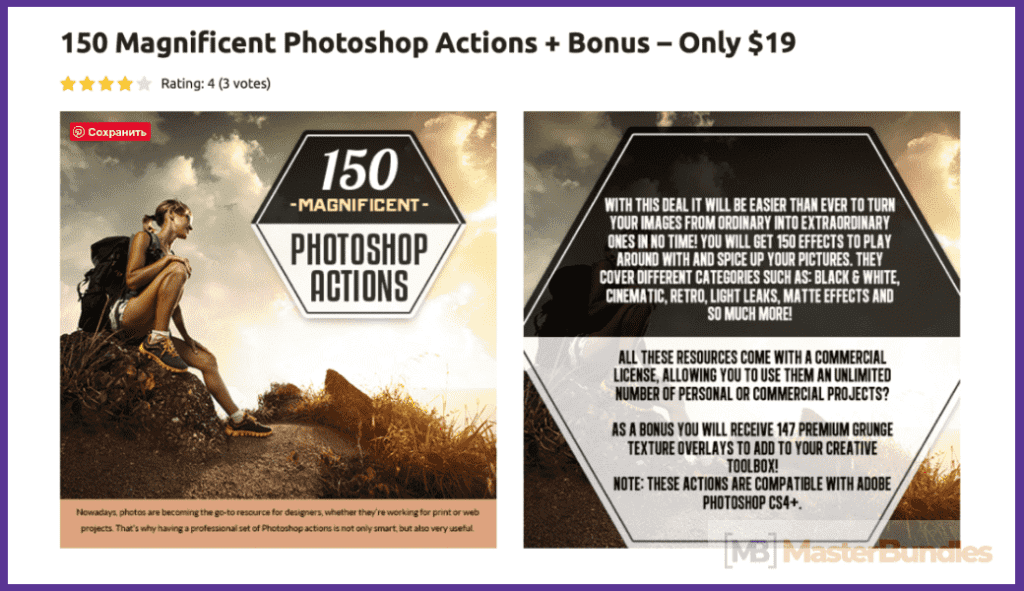 Price: $19
This very bundle is for those photographers who are always seeking something unconventional and one of a kind, so if you are such a photographer, then you definitely want to look at this cutie.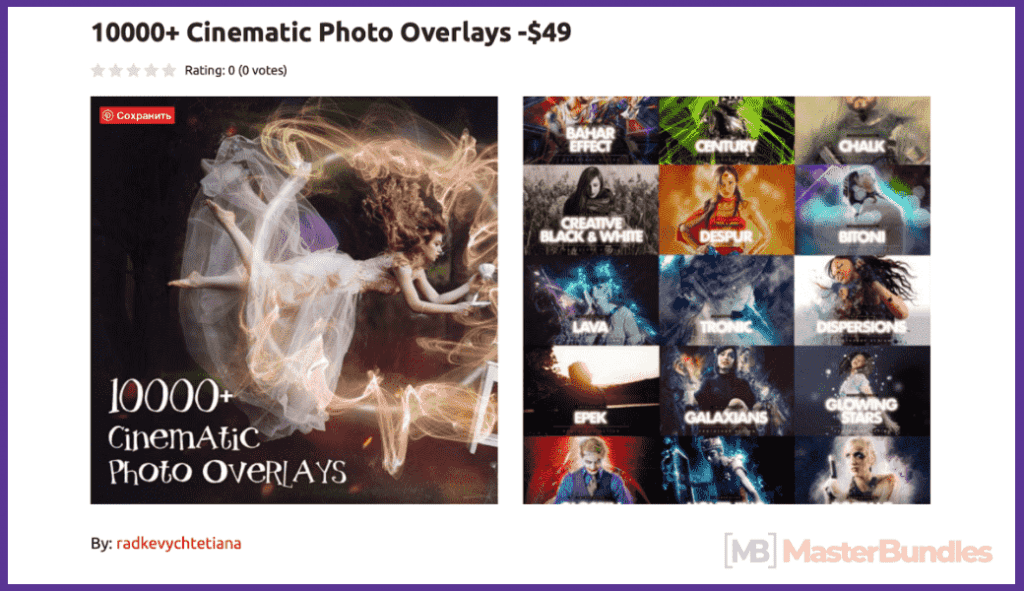 Price: $49
A truly magnificent option for those who would like to get as many effects as it is possible and for the lowest price. This giant bundle is surely the very thing that will back you up in various situations, so you might want to look closer at it.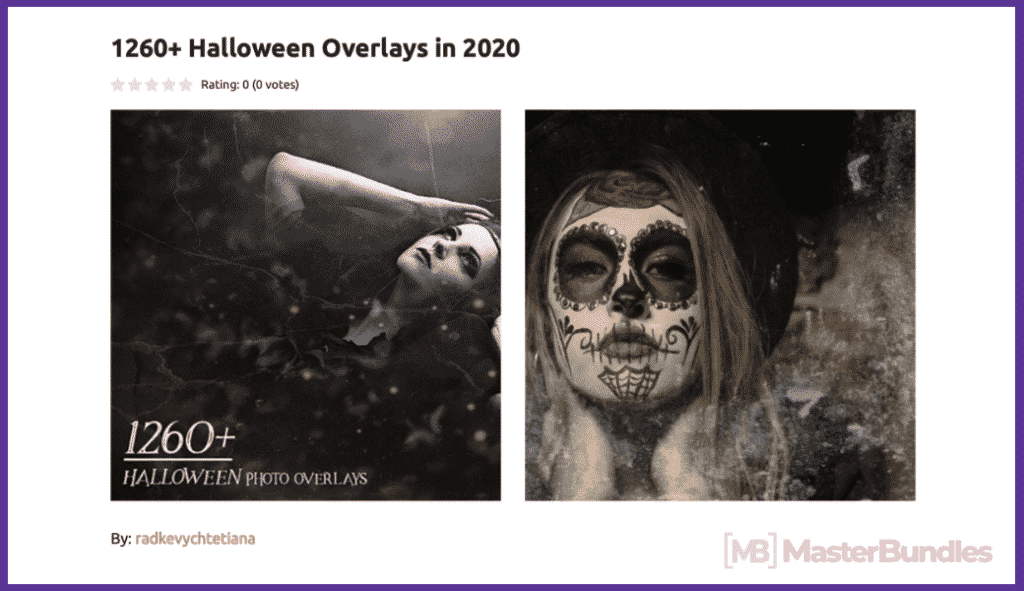 Price: $25
Are you looking for a spooky Halloween vibe? Well, you can stop your search, because this bundle is already here. So make some mesmerizing spooky photos using the effects from this very collection.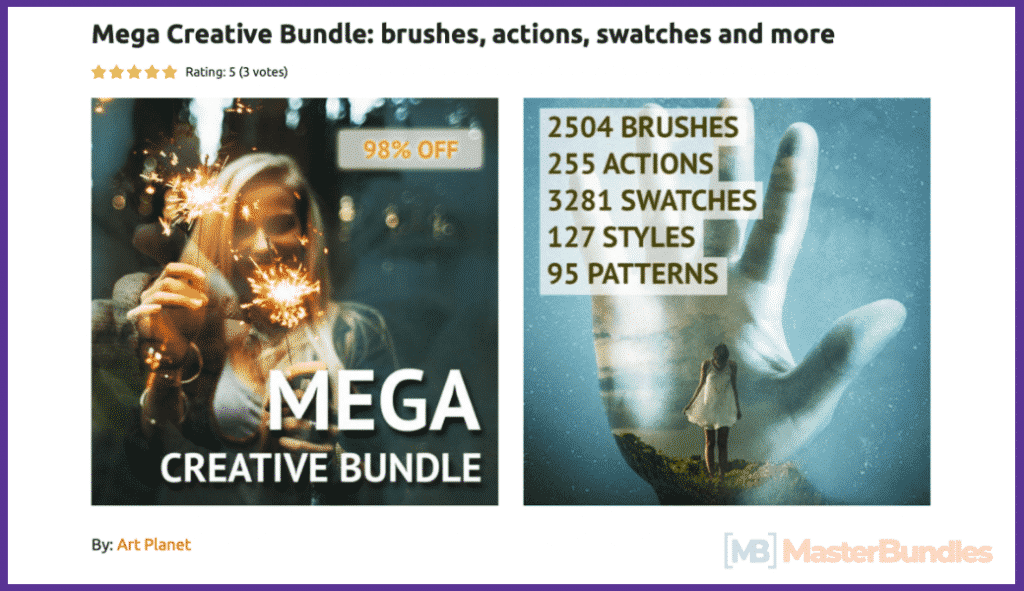 Price: $29
If you want to get more than just actions, then this mega bundle is surely the way to go for you. It contains a whole bunch of cool effects, patterns, brushes, and many more, so why not?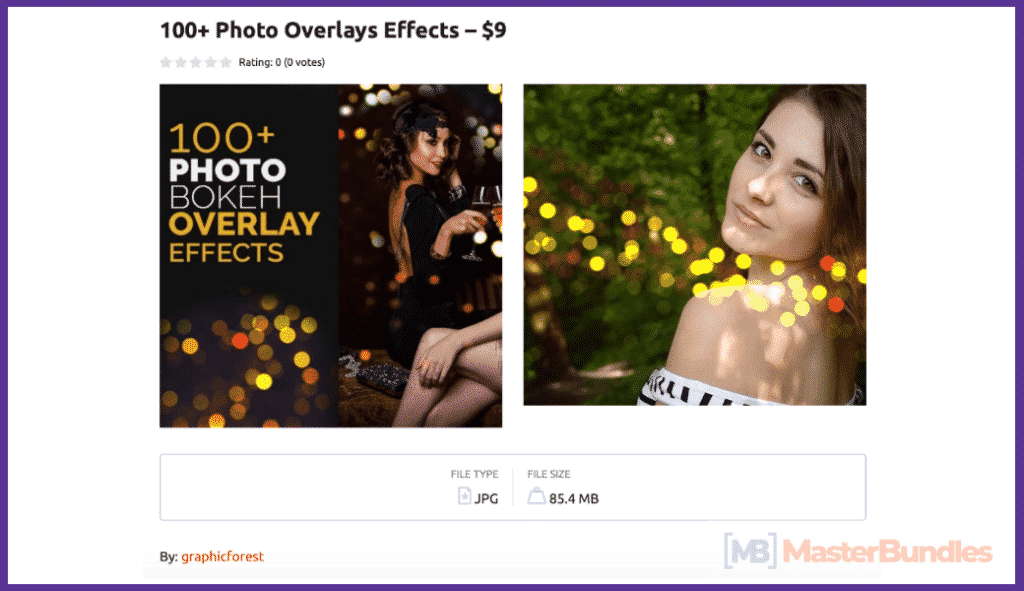 Price: $12
A lovely collection of magical effects will surely be super handy for you, so take a closer look at it and get it you definitely won't regret it.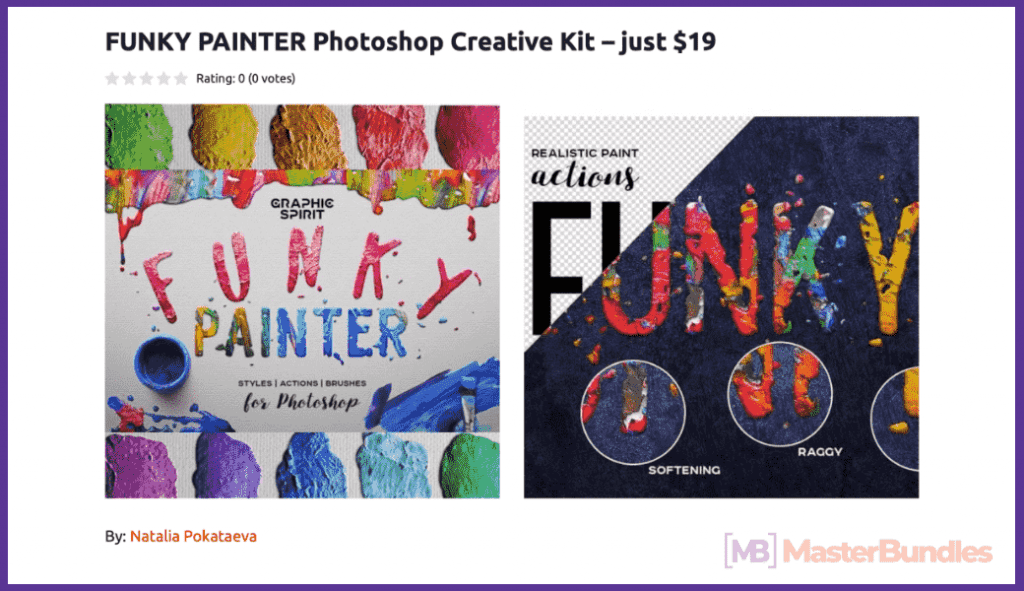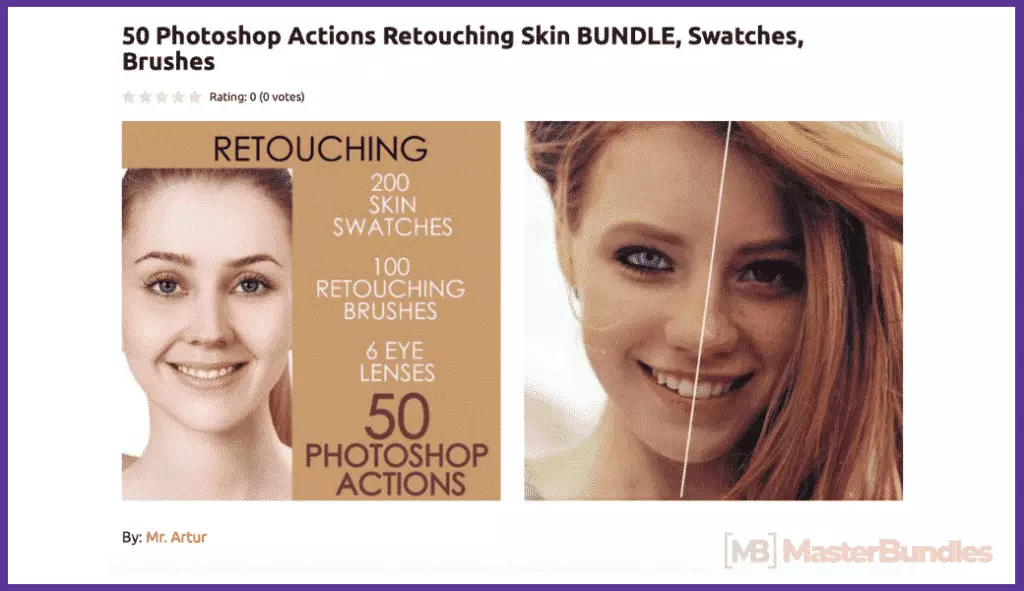 You can choose from the ready-made actions and get awesome photos without repeating the same actions or playing with all those settings trying to see the necessary effect. Just try different Vintage Photoshop actions, see how it work for your photos and enjoy what you get in the end, thanks to all those kind and generous people who are big fans of exploring Photoshop and working hours to create these unique actions and don't mind to share with others.
Why not use all these advantages, especially when it is helpful, time save your time, efforts, and meet your needs. Not only beginners use Photoshop actions, but also professional photographers and many many other people. Why? It's a huge timesaver and make your work more efficient and optimized.
I'm sure you will be in love with these superb actions. Feel free to choose!

Creating stunning digital products but can't find a way to sell them? We've prepared a steb-by-step eBook on how to create ans sell stock photos and vectors. Don't hesitate to grab it now on MasterBundles website. By the way now this eBoook is available on Amazon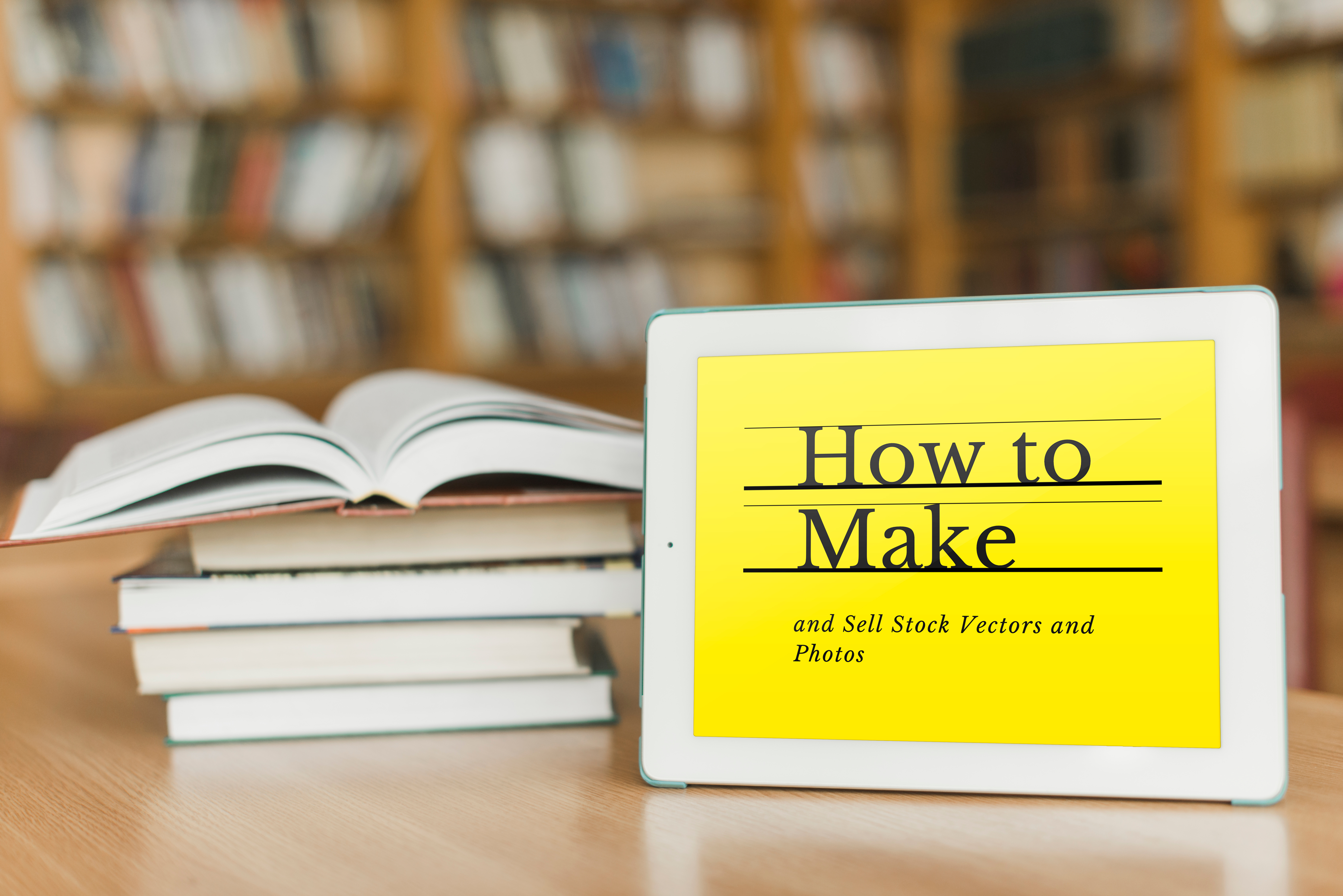 Hope this article was helpful and you have found what you needed.
Photoshop Actions FAQ
🎨 Where can I find more Photoshop effects?
You can find a vast variety of effects for photoshop as well as graphic elements, stock photos, fonts, web templates, and many more at MasterBundles.
🎨 Free or premium?
The answer to this question depends on your budget. In fact, there is a lot of decent free Photoshop actions, yet premium ones are usually fancier.
🎨 Can I sell my own effects?
Yes, you can. Visit MasterBundles Sell Your Deal section in order to find out more.
Please take a moment to pin this post to Pinterest.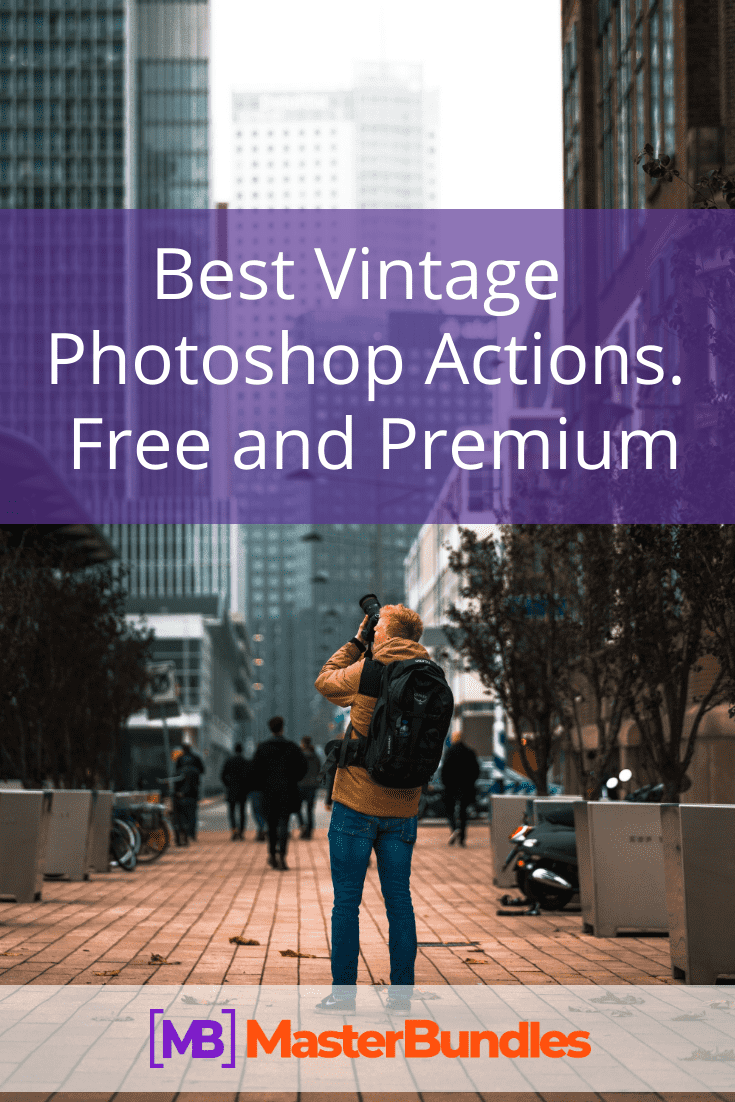 It seems that everyone knows about the actions in Photoshop! And that's true, but to know doesn't mean to be good at it. That's why there's a need to find out more about it, to learn and to be inspired. Actions in Photoshop are something that can make it easier for you to work on some bright and unusual projects. By writing this article I have found out a lot of useful information, although everything seemed to be clear already for a long time! All information is taken from only proven sources.
About actions and the Actions panel (helpx.adobe.com/photoshop/using/actions-actions-panel.html).
Barbara Obermeier. Photoshop Elements 2020 For Dummies. For Dummies; 2019.
Scott Kelby. How Do I Do That in Photoshop?: The Quickest Ways to Do the Things You Want to Do, Right Now! Rocky Nook; 2016.
Michael Freeman. The Photographer's Eye: Composition and Design for Better Digital Photos. Focal Press; 2007