Table of contents
Every photographer processes the photos before posting them or sending to the client. Of course, if you have lots of years of experience, every single one of your photos will look gorgeous. But even then most of the photographers still put some efforts in Photoshop processing and make sure that even the smallest inaccuracies will be fixed. Perfection in every detail is what differs a masterpiece from just a good photo.
Professionally shot photos sometimes need only minor proceeding. However, some pictures are finished only after adding some special effects. Those are not ordinary photos, but some kind of digital paintings, collected from several parts and decorated with overlays. Such kind of staged photos allows photographers to create pictures that look natural but are impossible in ordinary life. They are quite popular, so I guess you saw lots of them.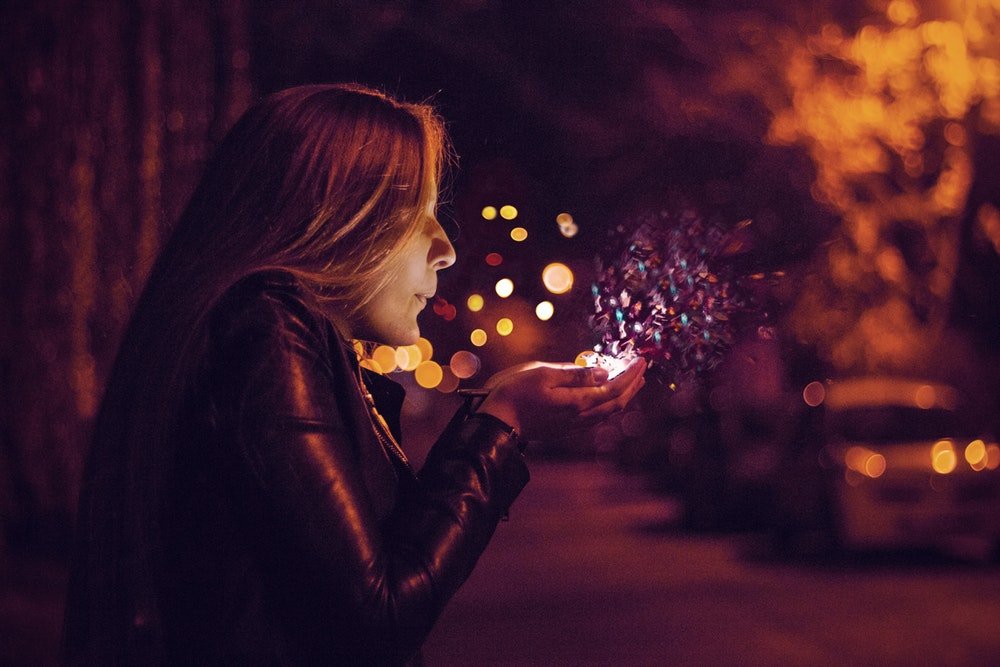 Besides that, there are effects that could make any photo, even if it is not really amazing, look interesting and step out of the line. Why would you need it? Oh, come on, don't you want to make your Instagram feed marvelous? Wouldn't that be great to have all the pictures in your Facebook proceeded in one style? You can create such a style and save it as one of Photoshop actions.
Photoshop actions are a set of, well, actions, that you do to change your picture. You record all the steps, save them and that can use for all the photos you make. An impressive collection of settings could make your photos so eye-catching, that every other photographer would like to buy them from you. For example, there is an Instagram travel blogger, whose name is Jack Morris. His account, @doyoutravel, has 2.7 million (!) of followers because of unique style he processes his photos. Lots of people offered him money for the collection of settings he uses, but he refused.
Instagram has all the customization settings built-in, but it would still be better to work with the photos using some professional software like Photoshop. So now I'm going to show you how to create unique Photoshop actions of your own. And after that, I will describe a few ready-made solutions for people who don't have enough time or skill to create actions or overlays by himself.
How to create a vintage effect with Photoshop actions?
As an example I will show you how a vintage effect is created on photos. In fact, "vintage" – is everything that is at least 20 years old. So, "vintage photos" are those that have inaccuracies and specific coloring of the photos made on an old camera. The main features of the vintage style are:
Specific yellow tone of photos. As they were made on photographic paper it become yellow after some time. Most of the old photos are a little yellowish, did you noticed?
Scraps and dots. The old photos are usually damaged in some way, so white scraps, dots and scuff marks will make it look really old.
Contrast. It has to be low – only modern cameras could catch deep contrasts; old ones weren't capable of that.
Grain. Even the high-quality old filming tape had its imperfections, so the photos were a little grainy.
Vignette. It is an effect when the picture becomes darker from the center to the borders. Because of lenses imperfection, old cameras did that effect to all the photos.
Let's start and create a cool Photoshop action that will make any of your photos look vintage. For this article, I will be using Photoshop CC 2017. If you use older or newer version there could be some minor differencies. First of all, choose the picture you want to change and open the Actions window. To do it you have to click at the Windows > Actions, and it will appear on the work field.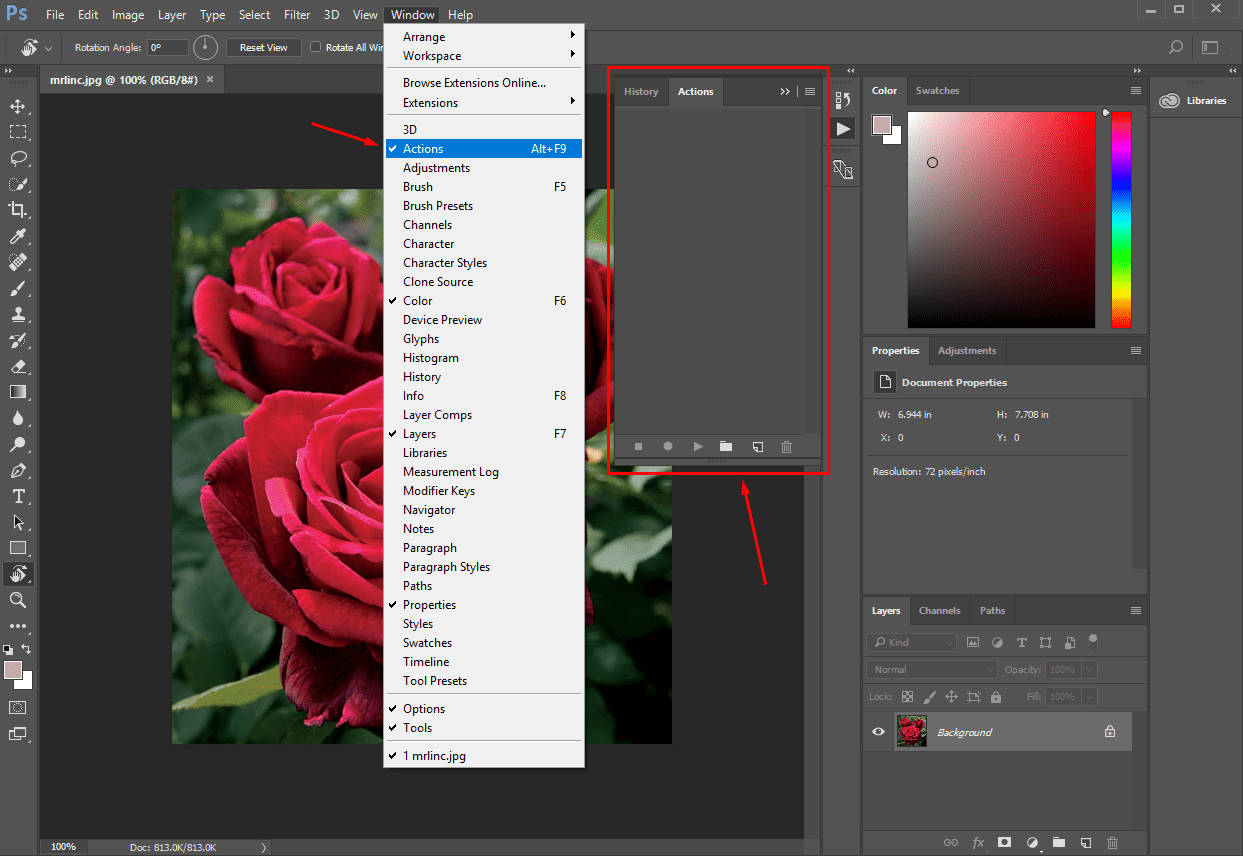 Create a new actions folder – click at the folder icon and name it somehow. I choose the title "Vintage" but it could be any name you like. Just remember that in a while you can forget the details and it will be hard to figure out the folder purpose if it will be named by numbers.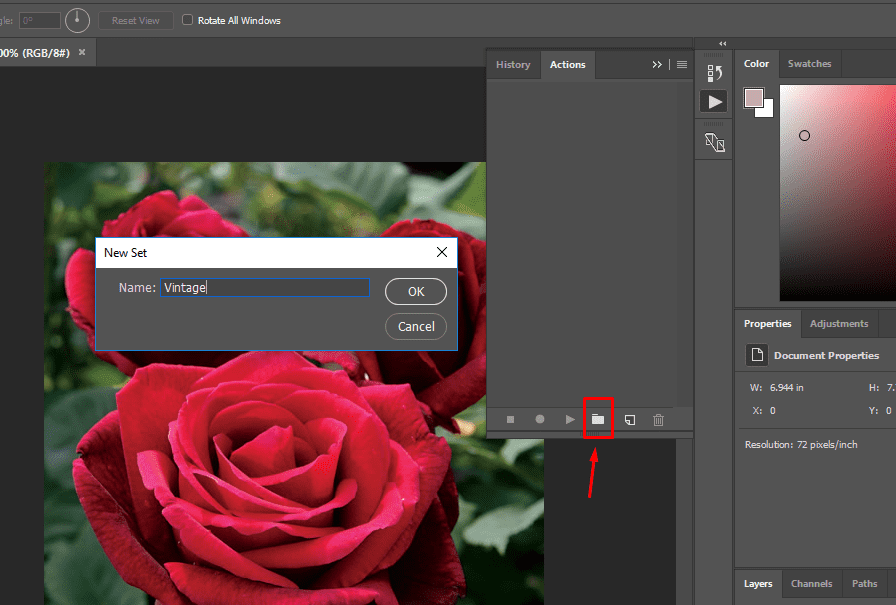 Start the new action in the created folder. To do it, click the sheet-shaped button, name the action and hit the "Record" button. Now all your actions will be recorded and saved until you will click the "Stop" (a button in the shape of a square).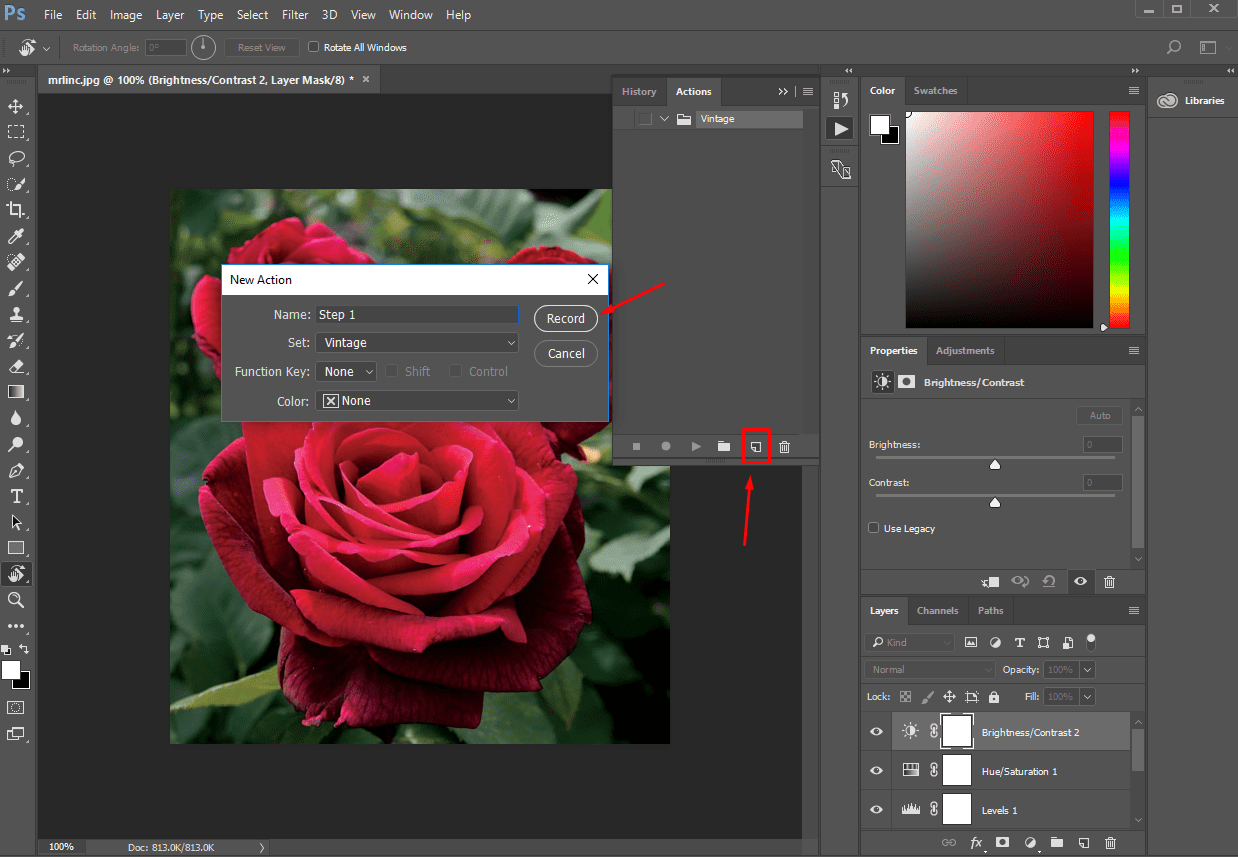 Choose the "Filter" tab and click Noise > Add noise. Play with the "Amount" value, so the look will be grainy. But do not overdo, it won't look good if there will be too much grain. For my picture, 7% will be quite enough. Besides that, set the "Uniform" distribution. When everything is finished – push the "Stop" button. Do it every time you finish performing a step – you will always be able to start a new one and delete step you consider to be redundant.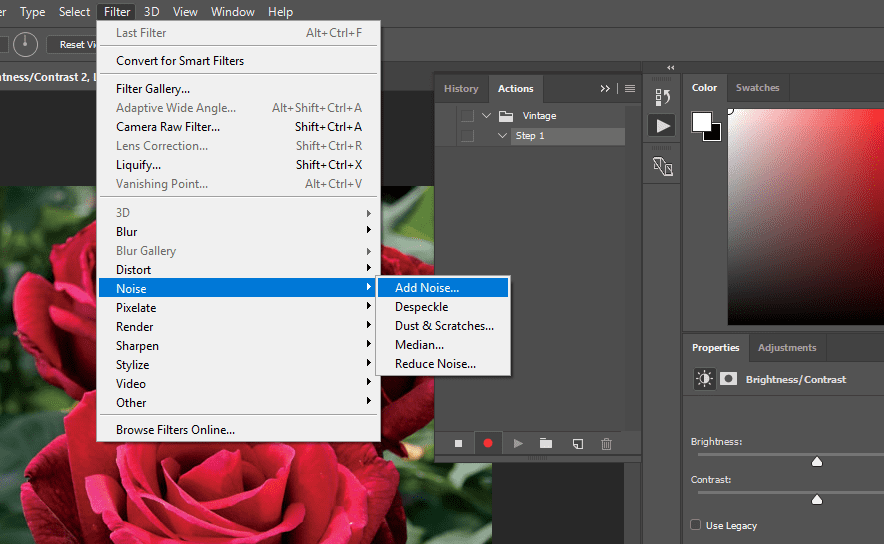 Now it is time to add some curves. Go to the right side menu and open the Adjustments tab and hit the button with "S"-shaped line. Change the shape of the straight line so that it will also look like "S". Don't hesitate to fit the resulting view to your taste.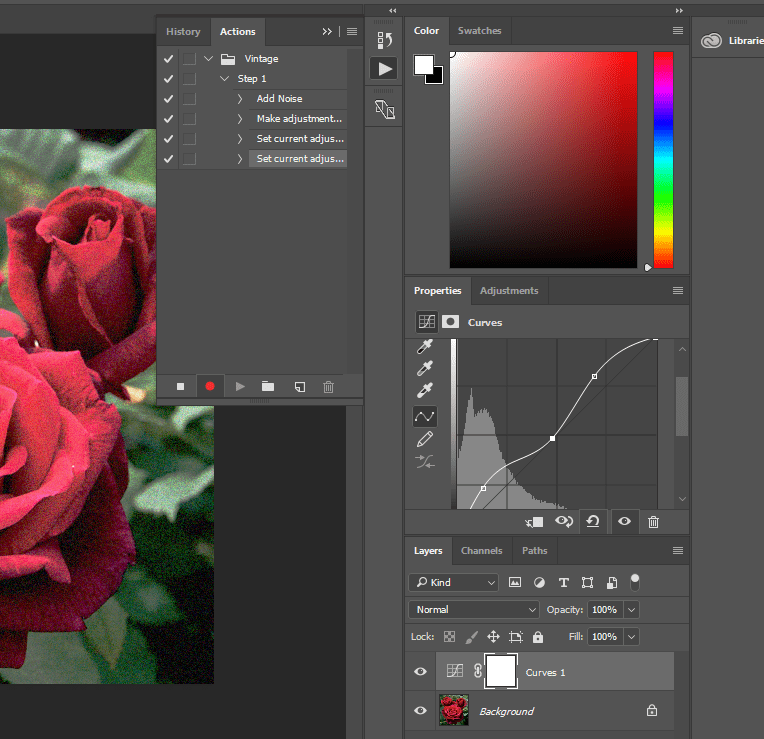 Open the Adjustments tab once again and hit the "Hue/Saturation" button. Lower the saturation, so the picture will look paler. I choose to set up -40 value, so you can try it and look if it fits you.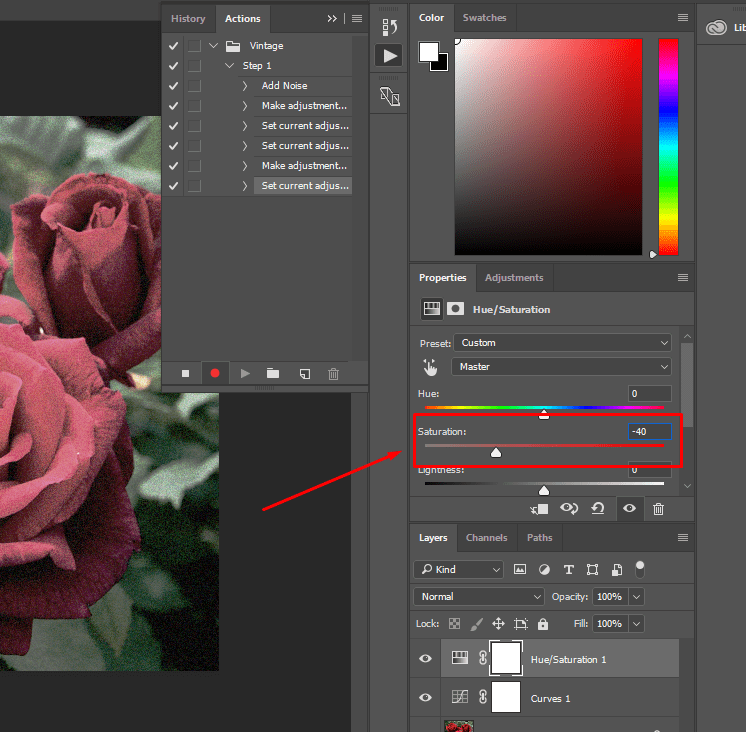 The last part is to change the color balance. Go to the Adjustments tab and click the "Color balance" button (the one with the balance symbol). The values can be different, but to make the picture more vintage add more cyan, green and yellow. I set cyan/red to -15, magenta/green to +4 and yellow/blue to -17. Your perfect values could differ.
Voila! Click the "Stop" button and the Photoshop action will be recorded. Here's the result.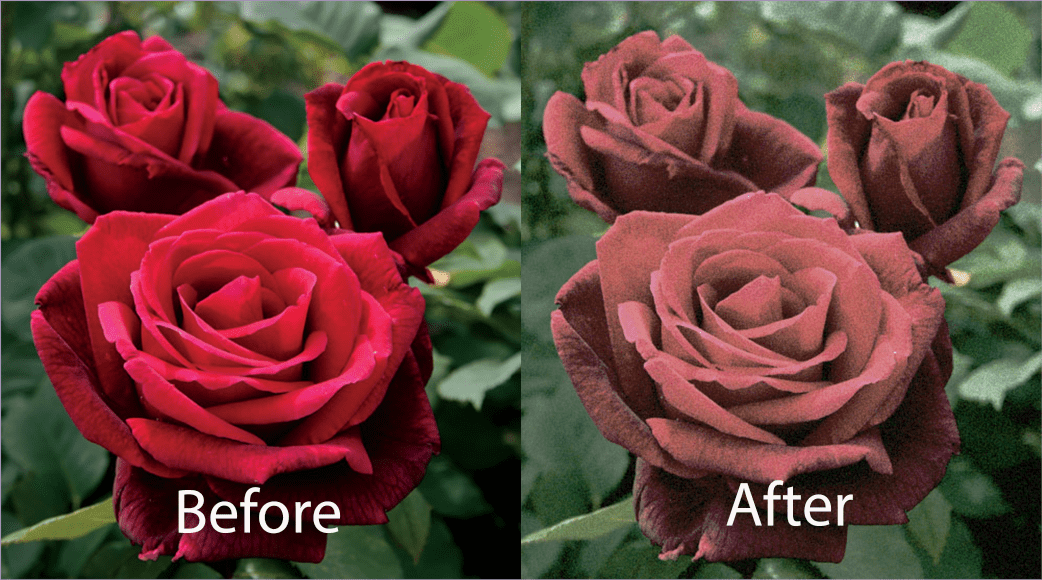 Afterward, I took another picture and started my "Vintage" actions for it.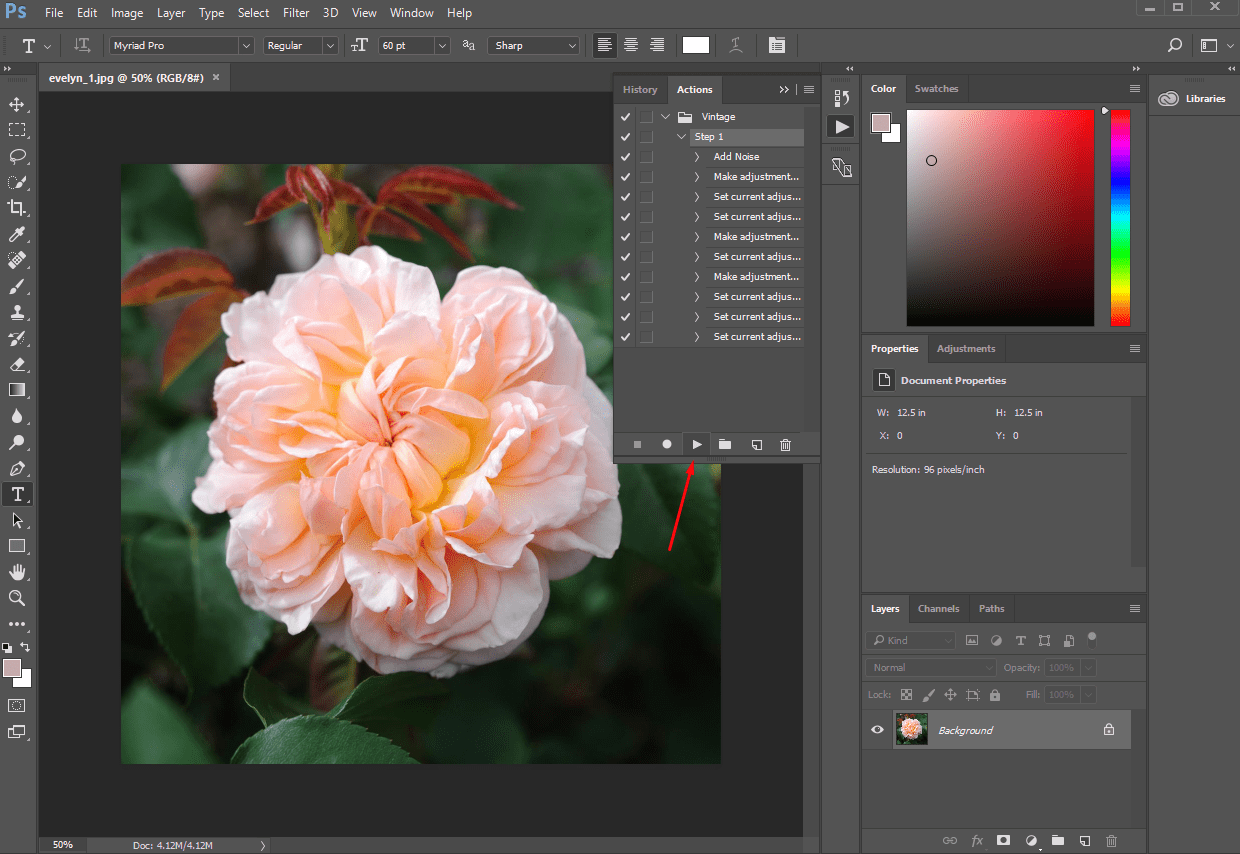 Here's what I've got.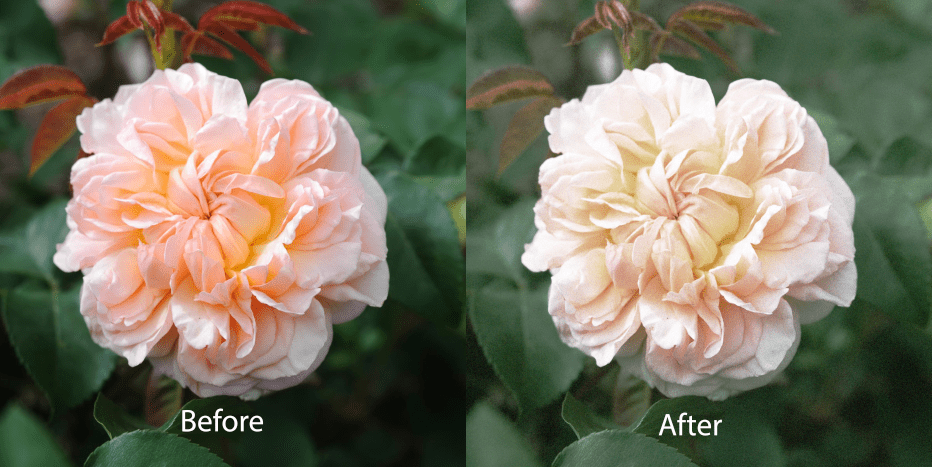 Pre-made Photoshop actions
As I said previously – you can create actions by yourself, from scratch, but there is an option to get some ready-made ones. Some designers create sets of actions that could be used by everyone and for any type of photos. To use ready-made actions set – click the menu button of the Actions window. Choose "Load actions", select the file you downloaded and that's it! The action is available. This is really fast and convenient, isn't it? Your photos become attractive in the blink of an eye, without any efforts from you. If you don't want all the actions to be performed – you can select only the ones you like. Usage of pre-made Photoshop actions sets is very user-friendly.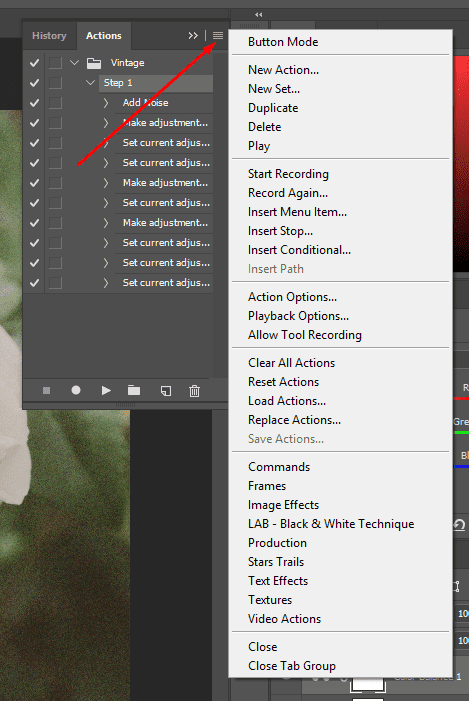 Originally such items are sold separately and it is not very profitable to buy them – you spend a big amount of money. That's why professional designers who want to buy some tools or elements look for bundles. The bundle is a kind of box that contains different products and is sold as a single item. Usually, the "life cycle" of a bundle is limited and that's why they are much cheaper than all the goodies inside would cost together. Buying bundles are much more profitable than separate products, so I will recommend a few of them, offered by MasterBundles website.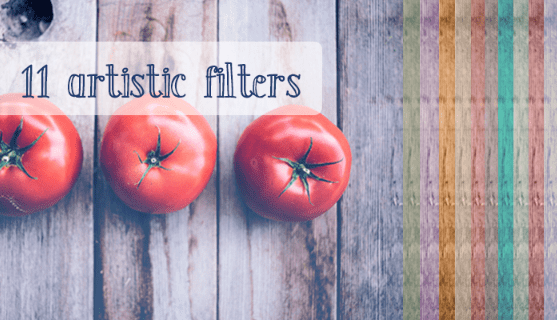 This nice bundle has 5 sets of different Photoshop actions and each of them contains 10 items. There are artistic, vintage, portrait, summer and candy effects and I assure you – color customization has never been easier before. The actions work perfectly with Photoshop CS3 and above. Bundle includes files that will fit any .jpeg and .raw file. All those Photoshop actions make your photos look very light and colorful. It is a real summer set that makes you feel the warm sun heat and carelessness of vacation.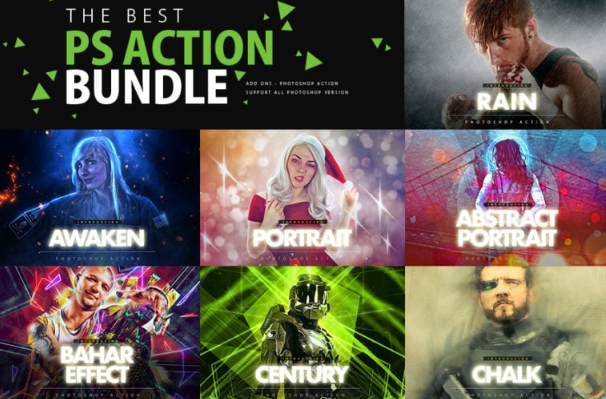 Want to make portraits shot by you look like movie posters? This bundle will definitely help you to do it without any issues. It contains 25 Photoshop actions sets that transform a simple studio photo into a super-hero film poster. Help your clients or friends feel as a Batman, Wonderwoman or Green Lantern. Besides that, such kind of style will be great for commercials, advertising and promotion campaigns. The bundle includes detailed instruction and a link to video tutorial, explaining how to use Photoshop actions.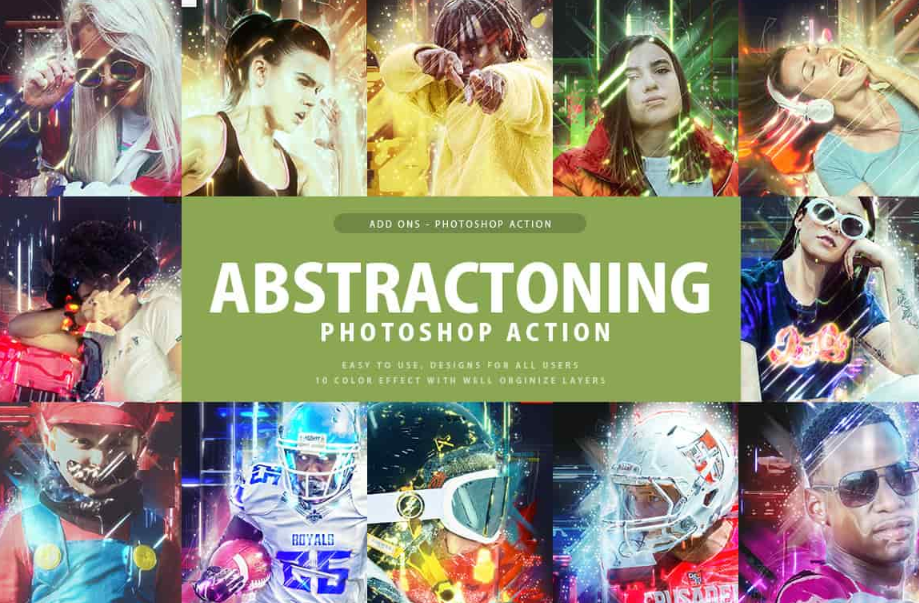 This bundle is gathered for some action photos customization. Pictures of dancers, sportsman, bright emotions, kids playing – the Photoshop actions gathered in this bundle will make the photos even more dynamic and dramatic. There are 10 collections inside, including the liquid, splash, knitting, engraving and pencil sketch effects. I'm more than sure that you will love the way your photos look after processing it with this cool actions.
Conclusion
Photoshop actions is a simple, creative and beautiful way to make your photos shine brightly and rock as a superstar. And what's the best its feature to my mind? You almost don't have to do anything at all! Just choose the right set and get your gorgeous photos! Easy as a cake.