Do you sell flowers or gifts? You need to be present online! Are you looking for a stunning flower shop design for your client's site or simply search for a gulp of inspiration to launch your own online project? Then the following collection flower shop themes will just come in handy to you.
Intro
The eCommerce sites selling flowers, gifts and holiday supplies stand out from the rest of the online selling platforms. The visual appeal of your flowers shop site is the first thing that people will notice while landing on your web page. Is it easy to navigate your content? Do the special deals and new arrivals capture the users' attention as they scan your content? A web page that's built with usability and convenience in mind grows the chances that even the first-time visitors will leave only after completing some sort of actions on your site.
So, how to select the best eCommerce theme for your flowers shop? First of all, make sure that you pick a responsive template. The availability of Ajax-based features will be a great advantage, which will boost the usability of your web resource. That's always a good idea to work with designs that are loaded with the essential eCommerce tools, including plugins, widgets, content modules, etc.
In order to help you make the right choice of the best ready-made eCommerce themes, we've hand-picked 15 of the most impressive OpenCart, PrestaShop, WooCommerce, Magento, VirtueMart, and flower shop Shopify themes.
How an Online Flower Shop Should Look Like?
When it comes to creating any sort of online store, one has to think not only of its functionality but also its design. In terms of design, every entrepreneur who's going to launch a website, first of all, should keep in mind general tendencies and latest trends. That being said, when you are choosing a web template for your store, you have to make sure that it's not only user-friendly but designed according to the latest trends as well. So here are some of the ultimate trends in tendencies you want to know before getting a template:
Minimalism
Oversized Fonts
Split Screen Content
Whitespace
Interactivity and Motion
3D Digital Artwork
Once you figured out the trends, it's the very time to narrow your choice to those themes and templates that will work the best for flower stores. Well, what are these themes? Certainly, a template for a flower shop has to be designed in light colors and have an adorable layout. In other words, a stunning minimalistic template designed in black and white colors with elaborate futuristic layout simply wouldn't work for you no matter how great the template itself is. So while you are looking for a flower shop template, don't forget that it has to be something fancy and adorable.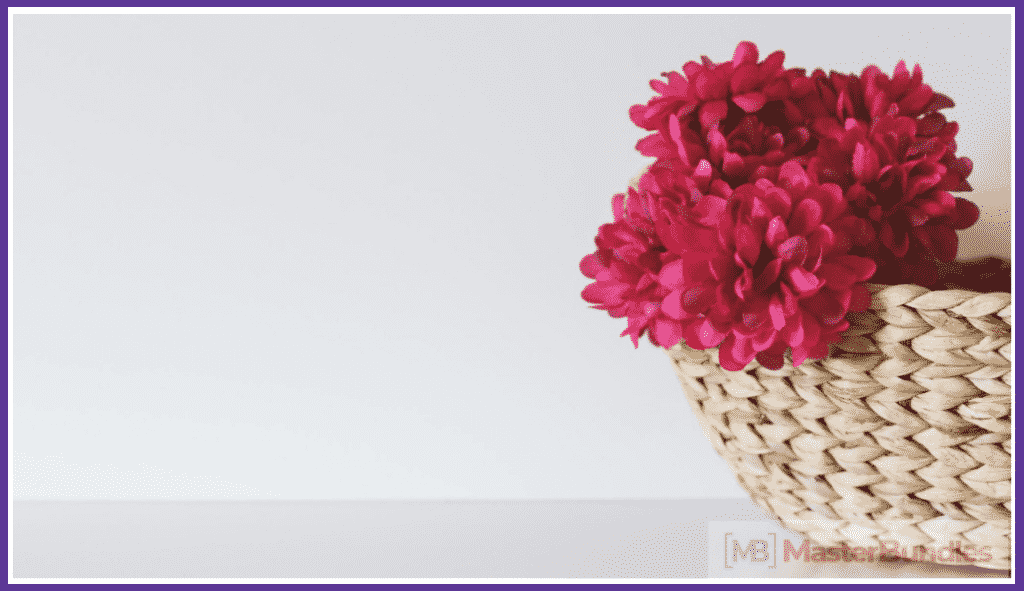 In terms of colors, light blue, pink, yellow, peach, turquoise, violet, and classic white will work the best for such a website. Of course, the template shouldn't be monotonous, thus, the themes designed in combinations of several colors such as pastel blue, pastel violet, and white will be a great choice for a flower store. Apart from that, themes with elements with flower patterns and floral clip art will be a stunning solution as well.
Flower Store's Functionality
Certainly, thinking about your store's design you cannot forget about its functionality. It goes without saying that your website's layout has to be user-friendly, so people would quickly find the very bouquet they want and easily proceed to checkout. In addition to that, you have to make sure that your website is fully responsive and cross-browser compatible since many people prefer using their phones or tablets instead of desktops because it's more convenient and faster. Luckily, pretty much all the modern themes are fully responsive, yet you still have to be careful not to get the one that doesn't work on mobile devices.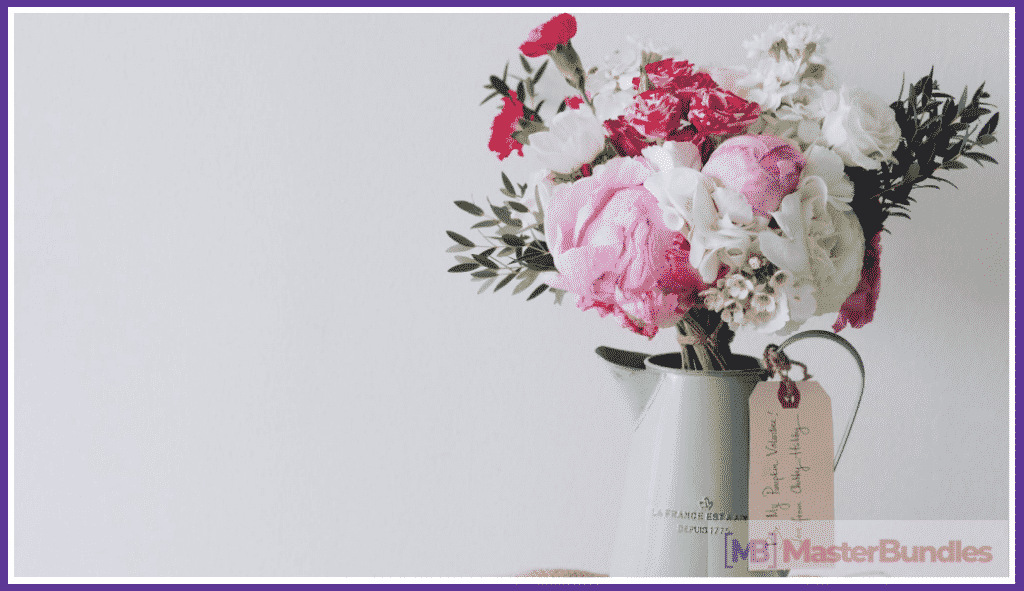 Another important feature that your theme has to have is WooCommerce or any other e-commerce plugin compatibility. Without an e-commerce plugin, you simply will not be able to sell anything on your website, which means that there wouldn't be a point of having it. So make sure the theme you are going to purchase has this feature, so you can easily launch your store.
10 Best Flower Shop Website Templates You Will Fall in Love with
Of course, I've found some lovely flower shop themes for you, so without further ado, here they come.
1. Florium – Flower Store Modern Multipage HTML Website Template


Price: $75
Designed in purple colors, this very theme will no doubt make your website one of a kind, so stop hesitating and give this cutie a shot.
2. Phuler – Flower Shop WooCommerce Theme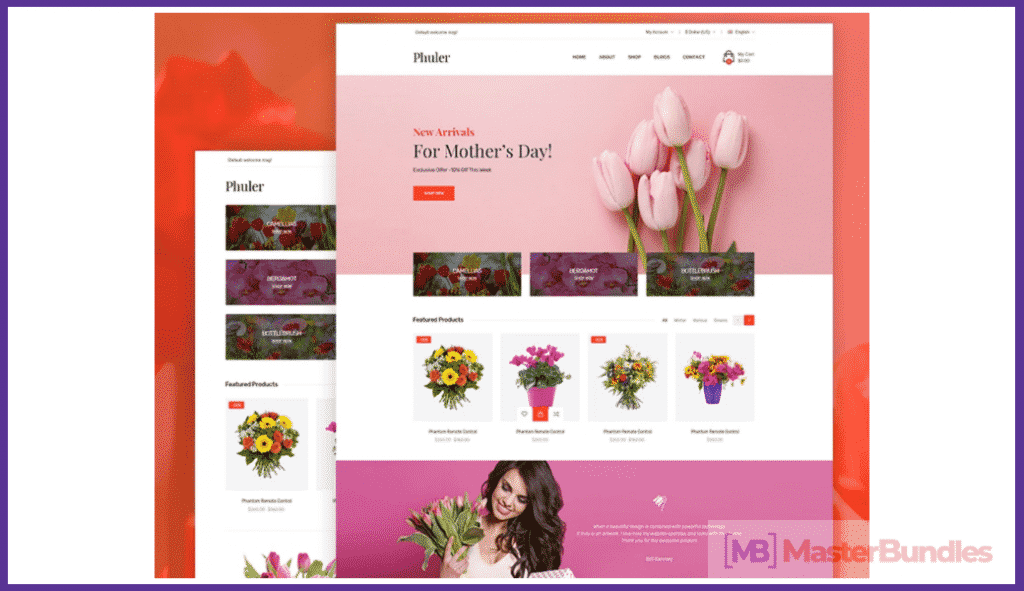 Price: $110
Phuler is another simply breathtaking option on our list. Not only is this theme fancy but also equipped with a vast variety of cool features, so go ahead and take a closer look at Phuler.
3. Giftmart – The Gift & Fashion Responsive Shopify Theme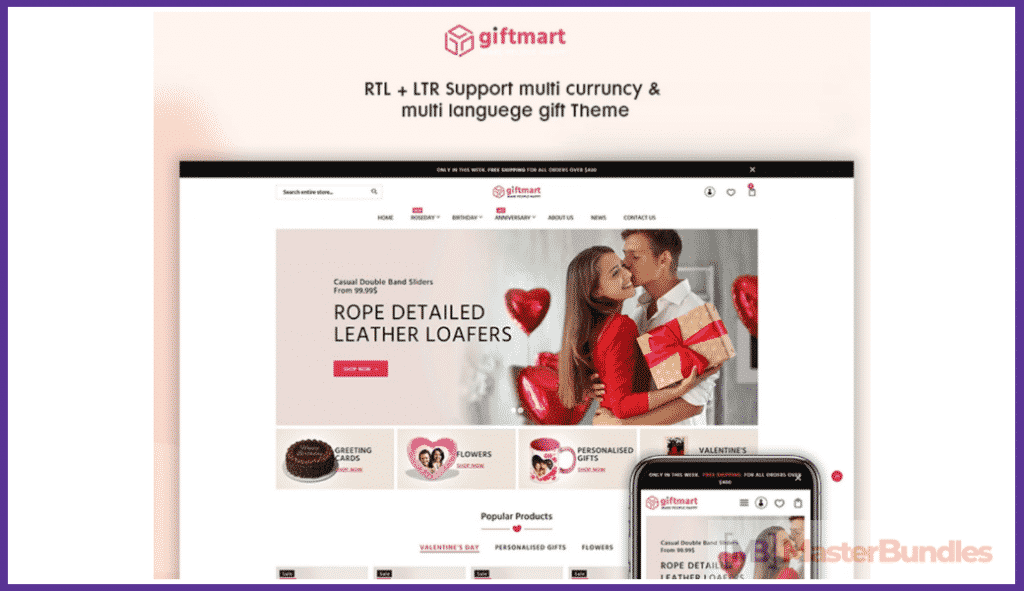 Price: $118
Giftmart is a simply perfect solution for a gift shop as well as your flower store. The theme is fully responsive and has a long list of great features, so give this baby a chance to prove itself to you.
4. Floura – Flower and Gift Store Website Template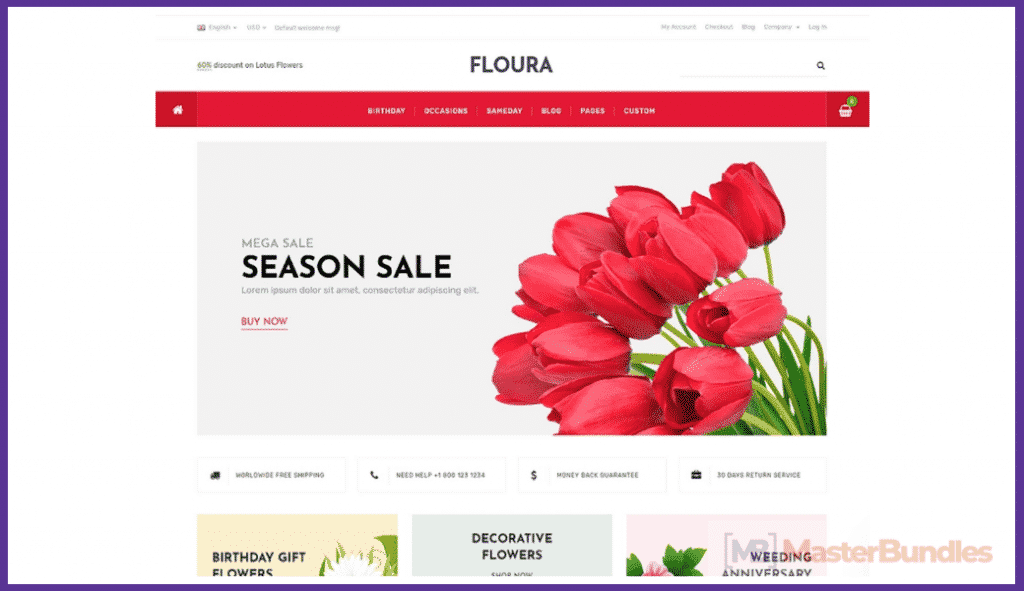 Price: $72
This modern minimalistic theme will no doubt bring your online store to the top, so if you are still hesitating, just follow the link below and have a closer look at Floura.
5. Pts Flower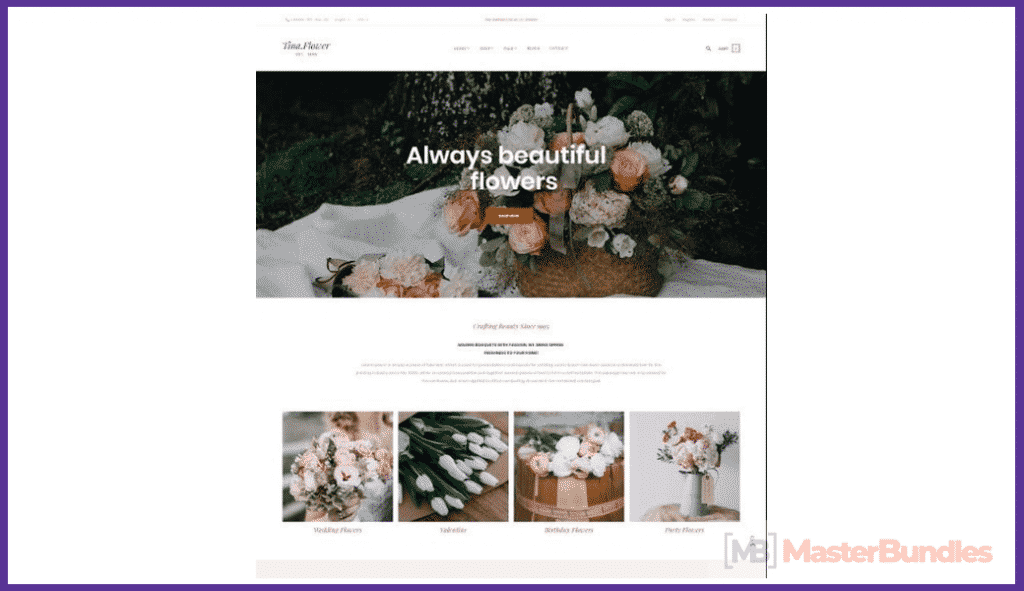 Price: $78
One more lovely option for those of you who are looking for something truly special. So if you are one of these people, take a good hard look at this one.
6. Daisy – Florist WordPress Theme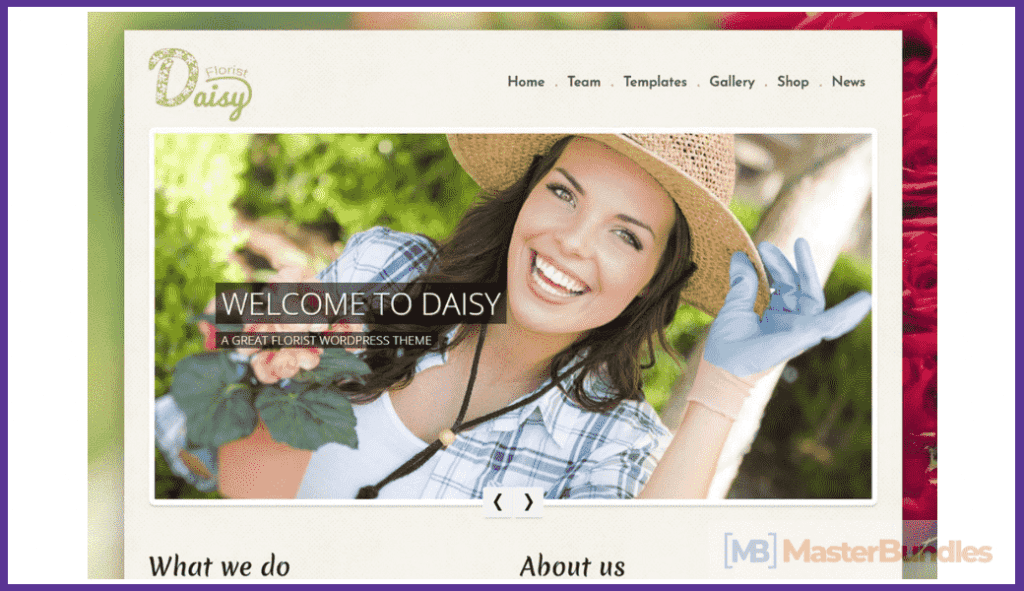 Price: $79
Another cute option for the florists who know what they need. This very theme is equipped with pretty much everything you might ever need for your store, so go ahead and download Daisy.
7. Carnatia WordPress Wedding Theme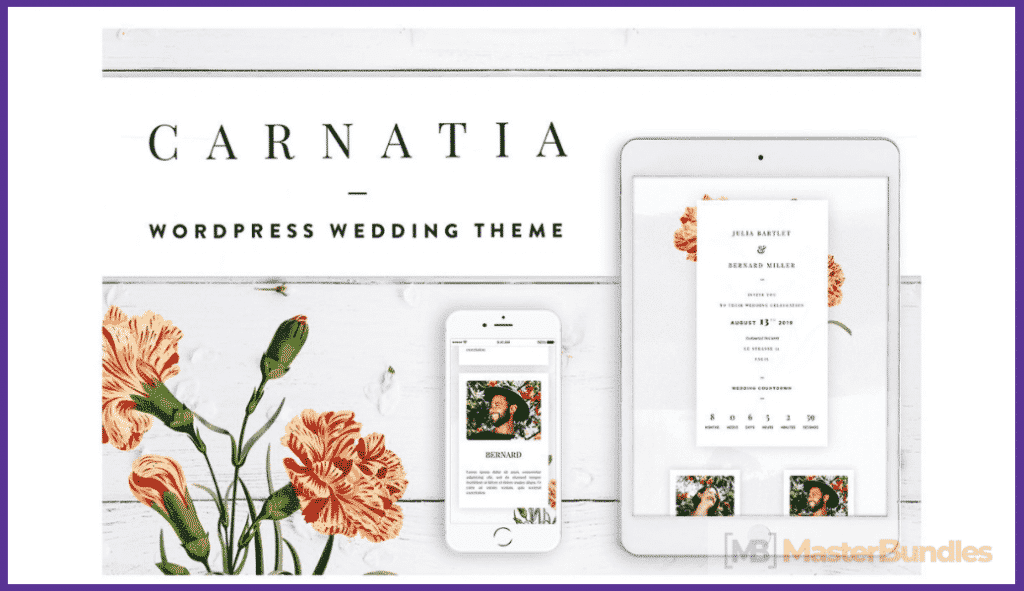 Price: $25
Carnatia is quite an affordable option for all the beginners out there, so if you are going to launch your very first online shop, this florist theme is surely for you.
8. Flowers Boutique and Florist WordPress Theme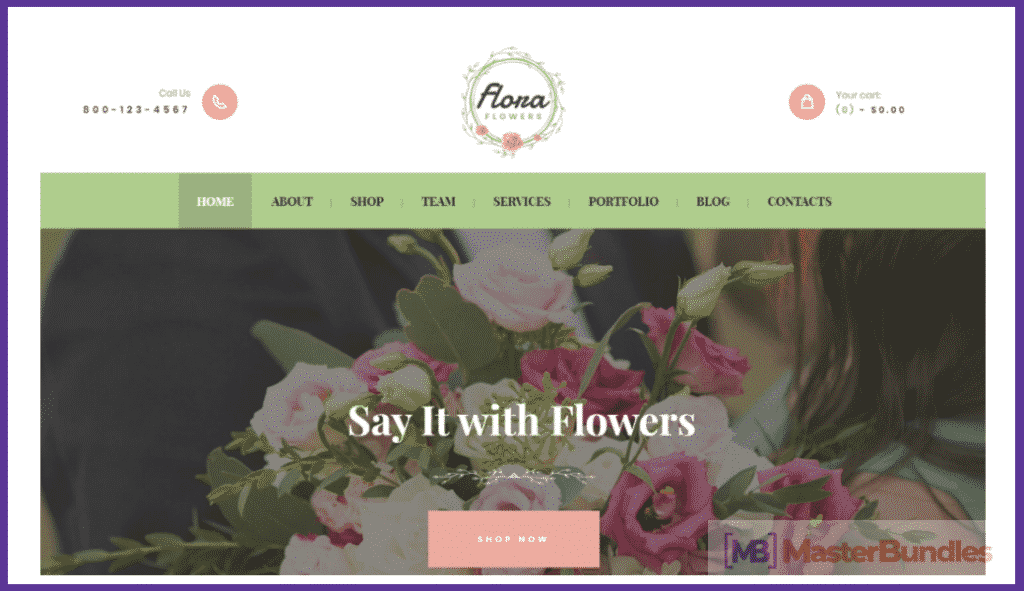 Price: $59
Another elaborate and sophisticated theme that is equipped with a decent set of useful features. So if finding a beautiful and functional theme is your goal, then this cutie is no doubt the way to go for you.
9. Rosebud – Flower Shop and Florist WordPress Theme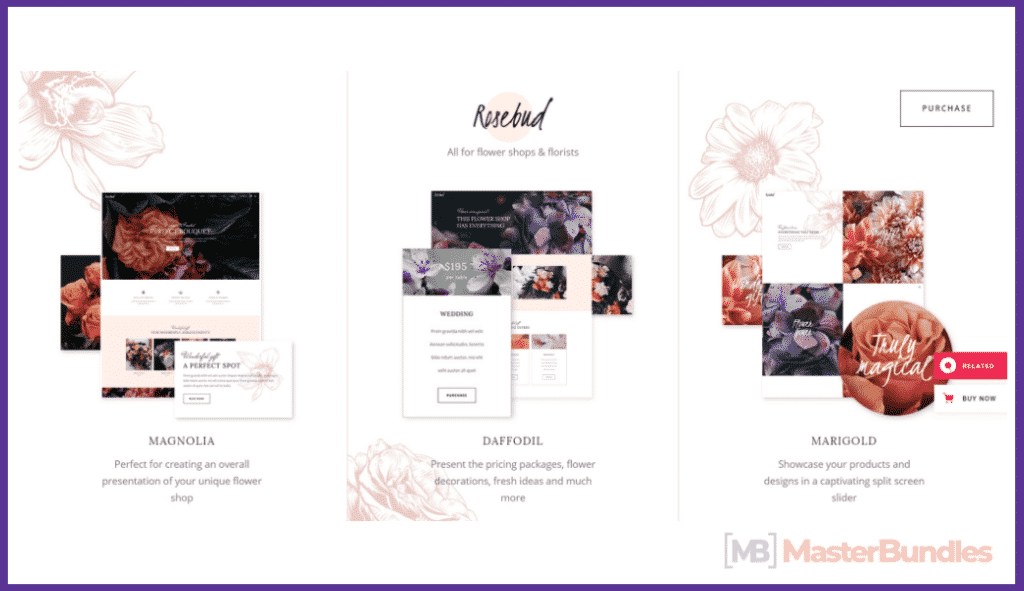 Price: $69
Rosebud is perhaps the most elegant theme on this list. Its classy layout and elegant details make this beauty the one and only.
10. Fiorello – Florist and Flower Shop Theme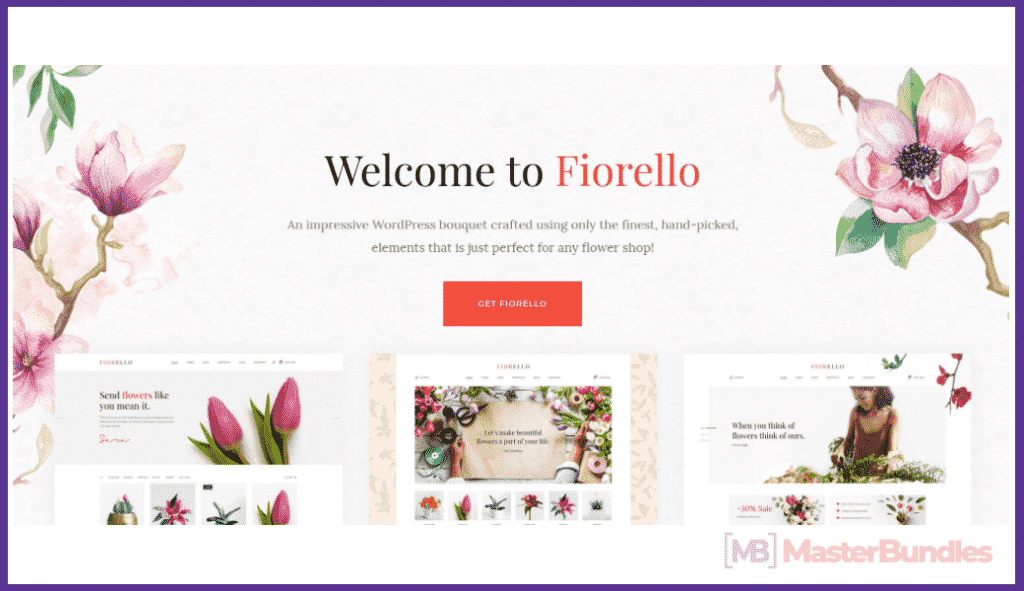 Price: $69
Fiorello's breathtaking layout with lovely watercolor elements will simply mesmerize you, so do not think too much and have a closer look at this cutie.
TOP 5 Flowers Bundles
| Product Image & Rating (Out Of 10) | Product Name | Price |
| --- | --- | --- |
| | Botanist Bundle: Illustrations, Textures, Frames & Shapes | |
| | Watercolor Peonies Clipart | |
| | Flower Studio: Modern digital Clipart | |
| | Watercolor Peony Flowers Digital Paper Pack | |
| | Beautiful Watercolor Flowers Collection with 540+ Elements | |
Check More Flower Shop Website Templates…
Flower Shop OpenCart Template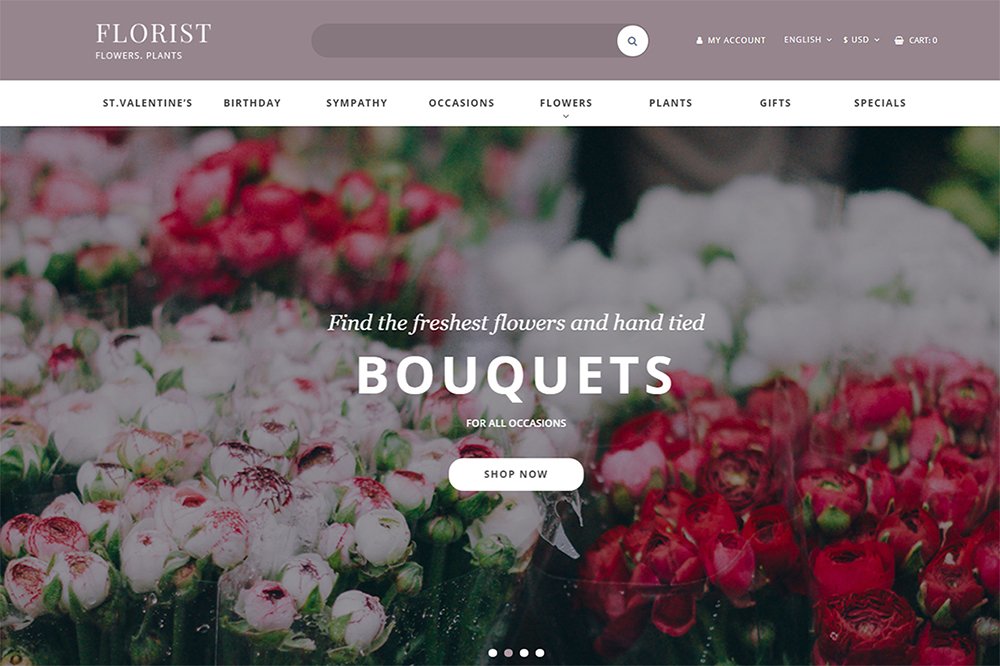 The theme is the ideal example of how a flower shop site should look like. Spacious layouts of the theme's pages are optimized for the flawless and smooth performance in all web environments. The high-resolution images lure the site visitors' attention with the appealing presentation of your offers. The theme features a fully editable page structure, which is enhanced with the advanced eCommerce tools and features that are needed for the launch of conversion-oriented web projects.
Dreamy Flora PrestaShop Theme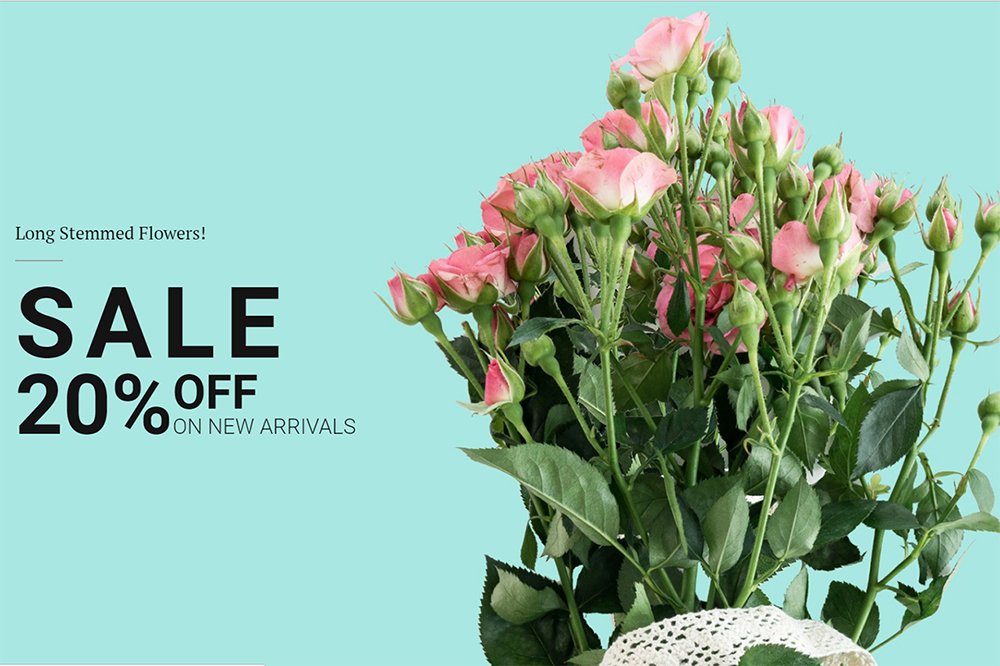 The template will be the perfect fit for a range of eCommerce sites selling flowers, gifts, and holiday stuff. It is optimized for a speedy performance on all devices and web browsers. Built with usability in mind, the template is easy to browse. The fully editable MegaMenu provides the online shoppers with quick access to all the major categories of products that are being sold on your site. Smart product filters, catchy banners, and Ajax-based search make it really quick and easy to find the necessary products on the web page.
Moon Flower – Flower Shop WordPress Theme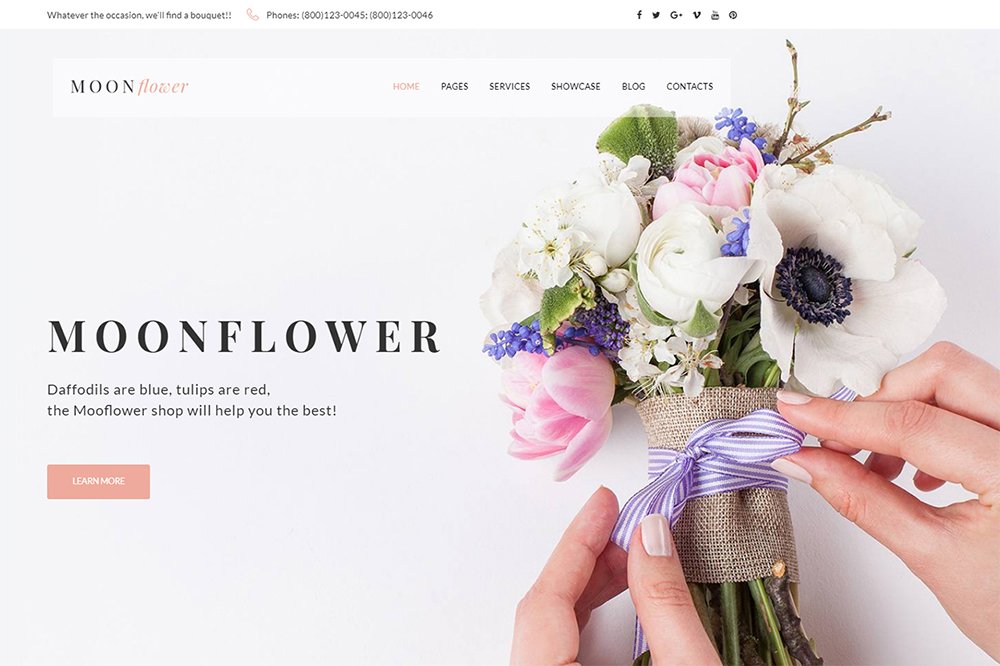 Moon Flower is an impressively usable WordPress template that is intended to be handled by the webmasters of all skill levels perfectly well. This is made possible due to Power drag-and-drop page builder, which allows you to bring any kind of changes to the theme's layout without even touching a line of code. A rich collection of content modules, a library of presets, and additional configuration options are included for the quick and worry-free modification of your flowers site.
Flower Store WooCommerce Theme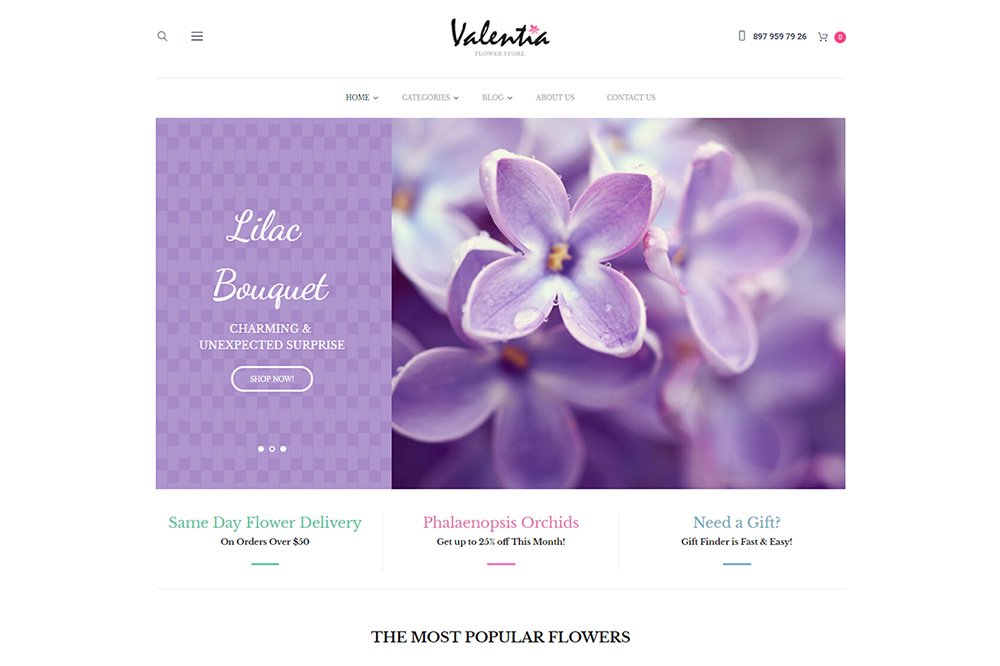 Valentia is a clean, usable, and 100% editable WooCommerce template that is intended to be used for the launch of flowers web stores. There is no need to spend extra time at the learning curve since the template is impressively easy and intuitive to install and customize. It contains WordPress Live Customizer that reveals the results of the theme's layout modification in the real-time. Thanks to the drag-and-drop functionality, you will be able to bring quick changes to the theme's structure code-free. Thanks to the availability of GPL license, you will be able to install the template on the unlimited number of domains.
Amaryllis – Flower Shop WooCommerce Theme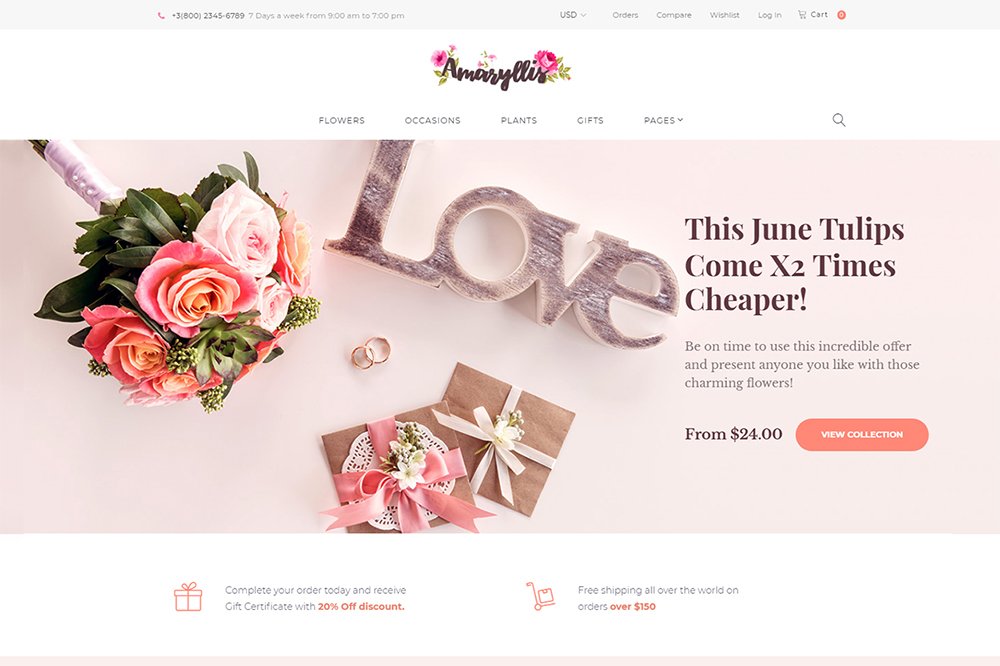 The flower shop WooCommerce template is built with Power drag-and-drop page builder, which allows you to take control of the layout structure of your web store without the need to tweak a line of code. The template runs on Cherry Framework 5. It contains a number of custom Cherry extensions, which allow you to enhance your site by means of widgets, popups, sidebars, search bars, etc. The theme contains a fully-fledged WooCommerce package that contains all pieces of functionality that are needed to boost the performance of your web store.
Bouquets & Floral Arrangement MotoCMS Ecommerce Template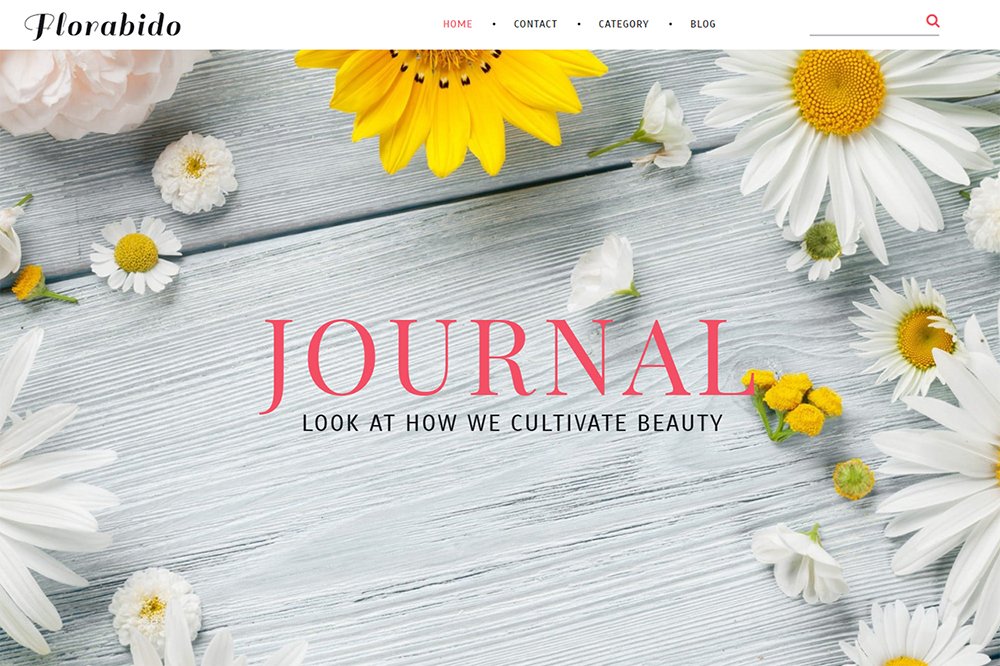 Using this website template, you will be able to launch a functional and good-looking eCommerce web page that sells flowers, gifts, and holiday supplies. The layout is built in the clean, flat style. The integrated drag-and-drop store builder allows you to come up with the ideal presentation of your brand or personal project on the web in a matter of days. The 100% responsive layout of the template is SEO-friendly and comes loaded with a bunch of essentials like white label plugin, social integration, sliders and galleries, lazy load effect, etc.
Flower Shop Magento 2 Theme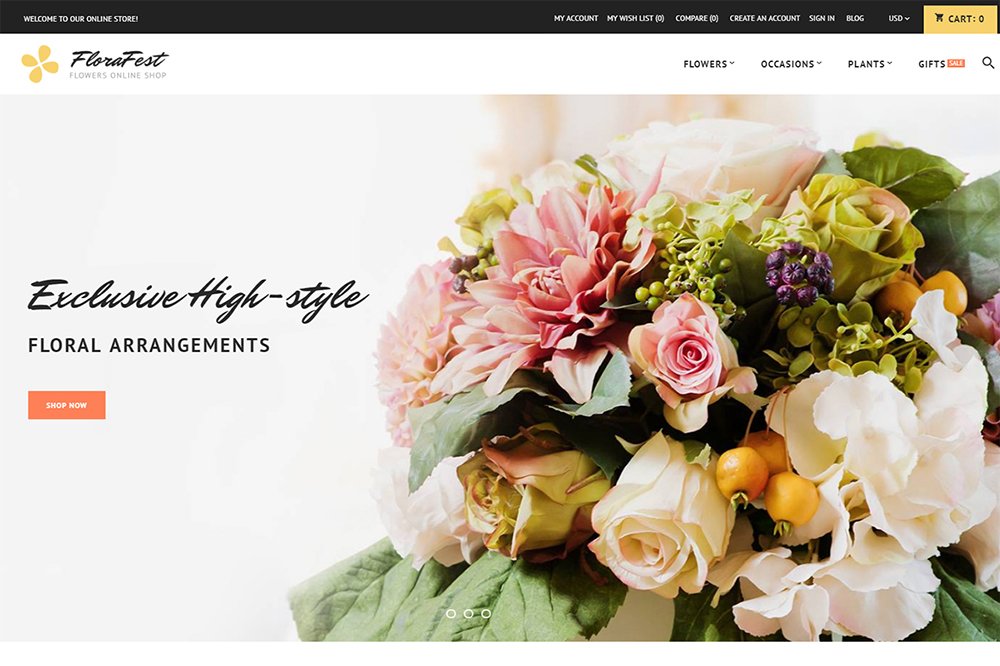 The template is released to be compatible with Magento 2-based web stores. The clean design of the theme's layout is enhanced with the retina-ready images that provide for the effective presentation of your offers on the screens of the last-generation devices. The theme's pack contains a number of Ajax-based options, which are intended to provide online shoppers with the seamless and quick browsing experience.
Flower Shop Responsive Shopify Theme


Using the template as a foundation for your flower web store, you will be able to take control of every element of your future website. The theme comes loaded with a bunch of customization options and eCommerce tools that are intended to be used on the conversion-oriented web projects. The theme is integrated with social media sharing options and widgets that are intended to reveal the latest updates from your social media profiles right on the pages of your site.
Flower Shop Responsive VirtueMart Template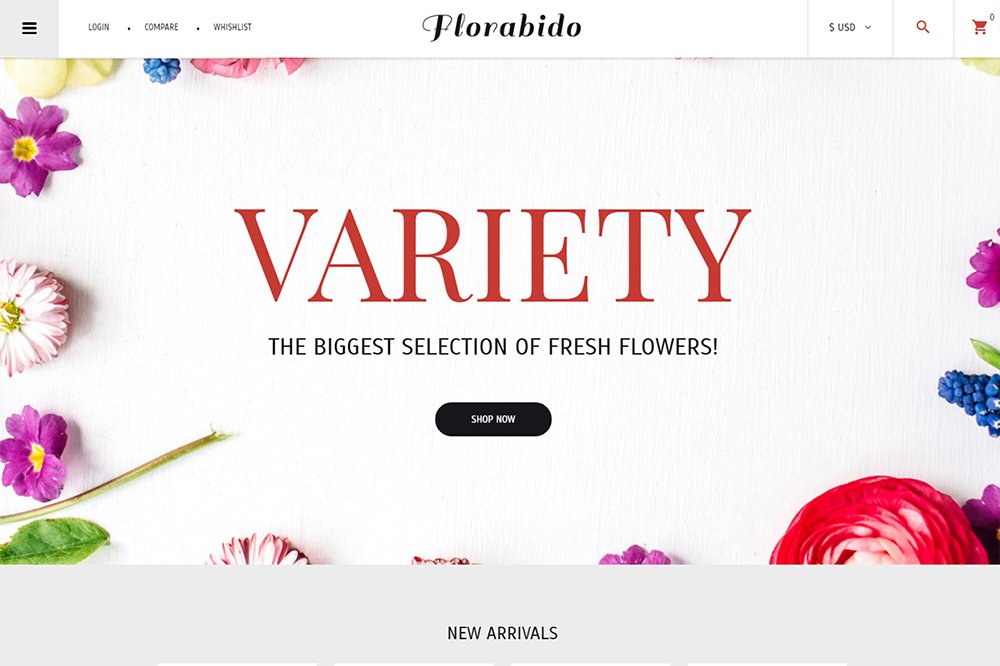 The masterfully crafted VirtueMart template is well-documented and packed-full with modules, ready-made layouts, pre-designed pages, eCommerce tools, and other solutions that are needed for the launch of a web store that converts. The theme includes several working contact forms that will help the online audience get in touch with you in a few clicks. If you want to enhance the visual appeal of your site, then you can go ahead and use parallax scrolling animation or HTML plus JS effects just the way you wish.
Flower Shop OpenCart Template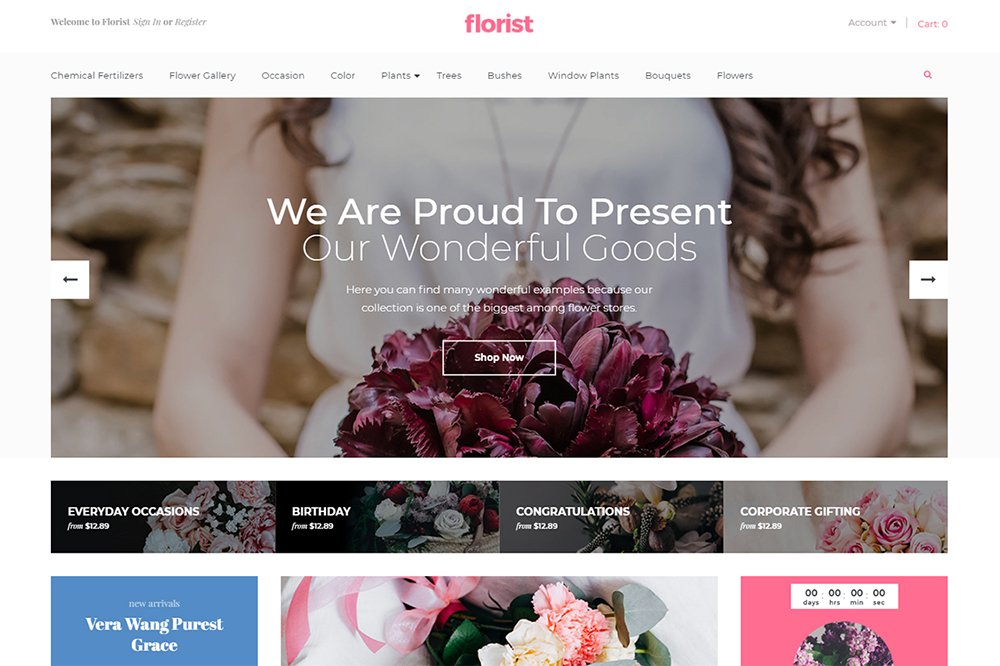 Florabido – Bouquets & Floral Arrangement PrestaShop Theme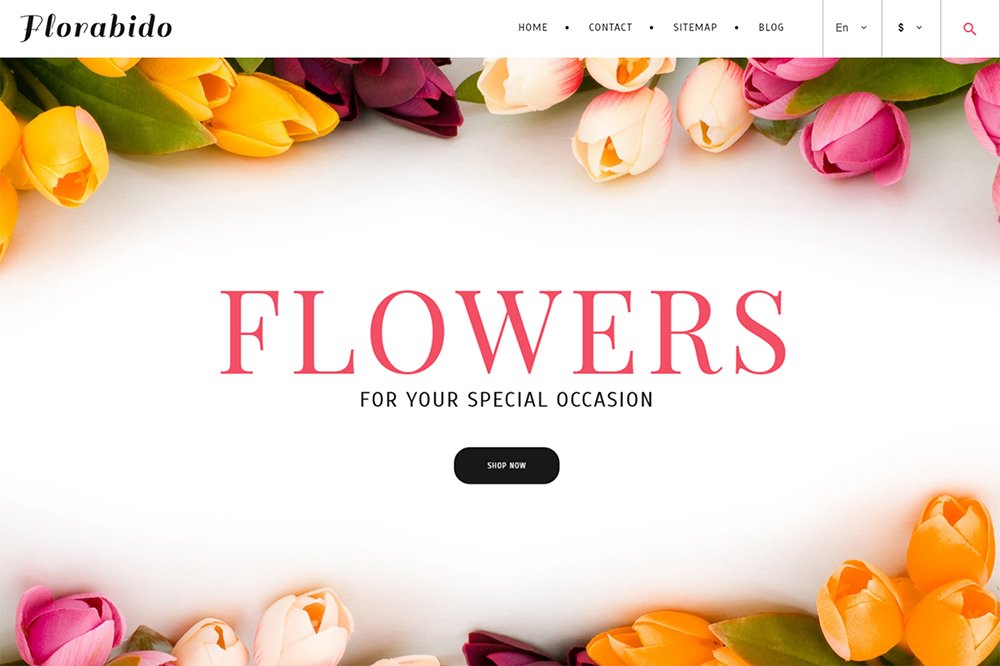 Use the theme to manage content-rich web stores like an expert. The fully responsive layout of the template is clean and easy-to-follow. Thanks to the integration of Ajax-based elements, browsing your site's inventory will be really quick and effortless. The template contains such eCommerce elements as Product Quick View, Ajax Cart, Wishlist, Compare, Special Price Countdown, etc.
Flowers Joomla Theme


The fully responsive and 100% editable layout of the template will provide the web users with the enjoyable online shopping experience no matter what device or web browser they use to access your site. In order to capture the customers' attention with your offers and let them take a closer look at your deals, the theme is integrated with the Product Zoom functionality. Advanced filters and Ajax search make it easier to come across the necessary items that meet your search intentions.
Flowers Joomla template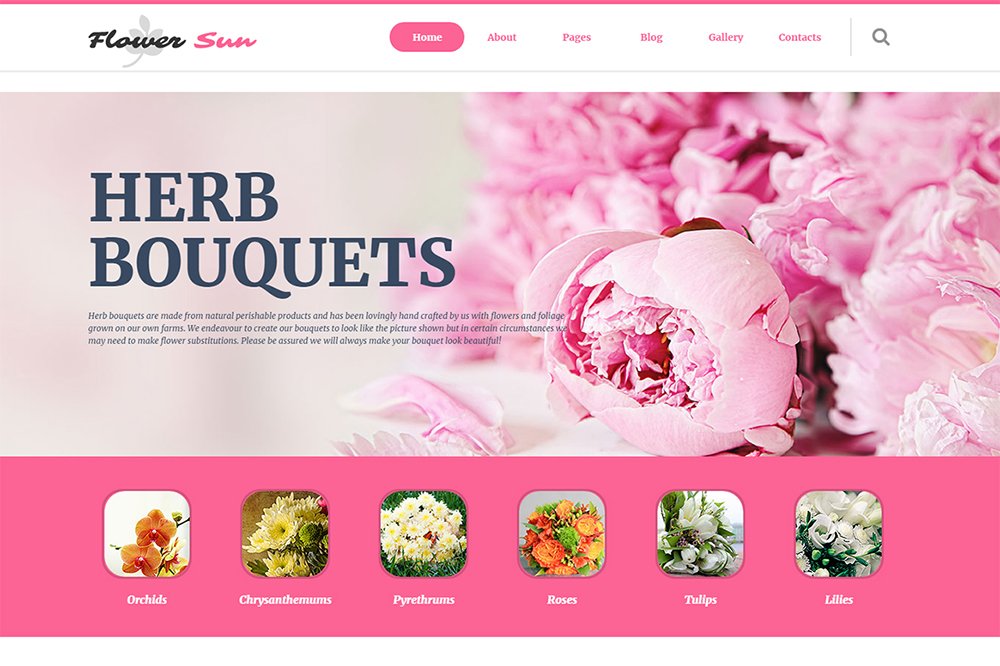 Flower Sun is a visually pleasing Joomla theme that was enhanced with a pack of powerful customization options. You can personalize the theme's layout by means of the theme color picker, a collection of UI elements, pre-designed pages and layout options, Google web fonts, icons, widgets, etc. The theme is optimized for all types of smartphone and tablet screens. It contains parallax scrolling animation, which can bring the feeling of depth to the pages of your site.
Flower Shop Responsive MotoCMS Ecommerce Template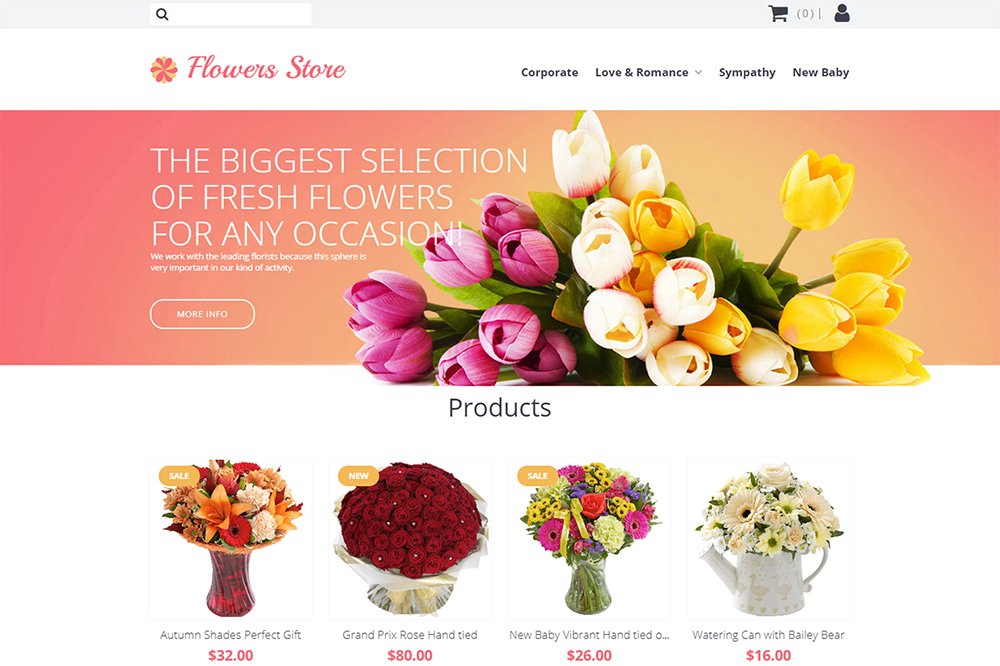 The drag-and-drop admin panel of this flower shop responsive MotoCMS template makes is the ultimate solution for everyone looking for a quick and functional foundation for their eCommerce web projects. The theme supports the impressive products showcase, advanced filters, Multilanguage and Multicurrency options, Statistics on the customers' behavior and their orders, etc.
Flowers PrestaShop Template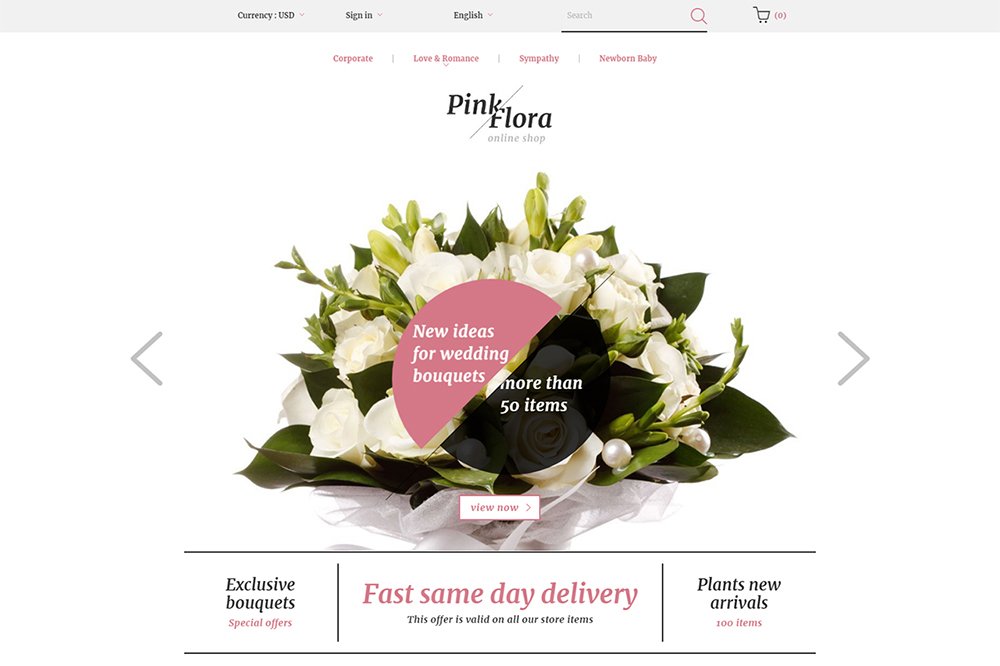 Here comes the last but not the least impressive flowers eCommerce template from this collection. The theme's download package is enhanced with a collection of plugins and extensions of the premium-quality. The features set contains all tools and elements that are needed for the development of an effective eCommerce project, including product badges, Ajax search, Multilingual and Multicurrency support, social media widgets, etc.
Conclusion
These are 15 of the best-selling and top-trending flower shop eCommerce themes that were released in 2018. The fully editable layouts of most of them are intended to be modified even by the non-techies without many efforts. Bringing a personalized touch to the ready-made web solutions will be much easier thanks to the availability of pre-designed layouts and pages that are included in the download packages. Additionally, you can save extra cash on the purchase of premium extensions for your web store since most of the themes are pre-loaded with the essentials kits.
Video About 15 Beautiful Flower ecommerce Templates For Spring Mood
FAQ
🌼 Where can a find a template for my flower shop?
There is a lot of marketplaces where you can find a decent template for your store. Among the most trustworthy ones are TemplateMonster, MasterBundles, Creative Market, and ThemeForest.
🌸 How do I quickly find a decent florist theme?
In order to find the very theme, you need quickly use filters, with their help you will easily find the very type of template you need (WordPress theme, HTML template, etc.) as well as preferable design.
🌺 What should I look for in a theme?
Before purchasing a theme, you want to make sure that it is fully responsive, cross-browser compatible, and compatible with major e-commerce plugins.
🌷 Premium or free?
This choice depends on your budget but surely premium themes are premium for a reason, which means that, as a rule, these templates are better than free ones.
Please take a moment to pin this post to Pinterest.