It's the most wonderful time of the year… Are you familiar with these words? I bet you are! Because the most wonderful time is coming soon and it's Christmas time and winter in general. So, I want you to be prepared for this season with snow, snowflakes, and snowfall effects you can add to your website or wherever. And today you'll find out where and how to use a winter background pattern, what are snowing effects, how to make snow in Photoshop, you'll get some sources from which you could download winter background pattern vectors, you'll find out which websites use snow, and of course, I'll give you some great sets of snowy items you could use in your website or for any other reason. So, enjoy and bear in mind everything you're reading about.
Where and how to use a winter background pattern
As for the usage of a winter background pattern, I can say that you can use them first of all, on your website. Also, you can use winter pattern on greeting cards if you want to congratulate someone on Christmas, phone cases if you're selling such stuff and want to sell something on Christmas or in winter in general, on cloths if you have a shop, sell cloths and want to give your customers some winter mood, on mugs, caps, whatever. By the way, if you want to download some winter holiday backgrounds, come and visit our Christmas Background Images where you can find more than 100 images to decorate your website with amazing Christmas images. As you can see, you can use a winter background pattern in any sphere, wherever and whatever that comes to your mind. Just add snow effects and some of your imagination and create masterpieces that decorate your website or things that can bring you income on holidays. To use winter patterns, first of all, you should download some of them and simply insert them wherever you need in some apps like Adobe PhotoShop or similar ones and work with them. Your imagination has no borders and limits. The using of winter background patterns can bring your website more winter mood and using them on different stuff can add your customers Christmas feelings and thus more income to you. Also, if you're interested in different patterns, visit our page Patterns & Textures. Here you can download various patterns, textures, backgrounds, etc. on any topic.
Snowing effects
As you may have heard, there're snowing patterns that can be used on different parts of websites, on photos, etc. The snow effect is reached with the help of little white snowflakes that look real on a photo. When you're looking at the photo of such kind, it may seem like these snowflakes are falling. The snowflake effect can be used on photos of winter character. For example, to some real snow laying on the ground, you can add some snowflakes and so reach the snow effect.
Winter backgrounds from DepositPhotos
Check out cool DepositPhotos deal: 100 Royalty-free Photos – only $69!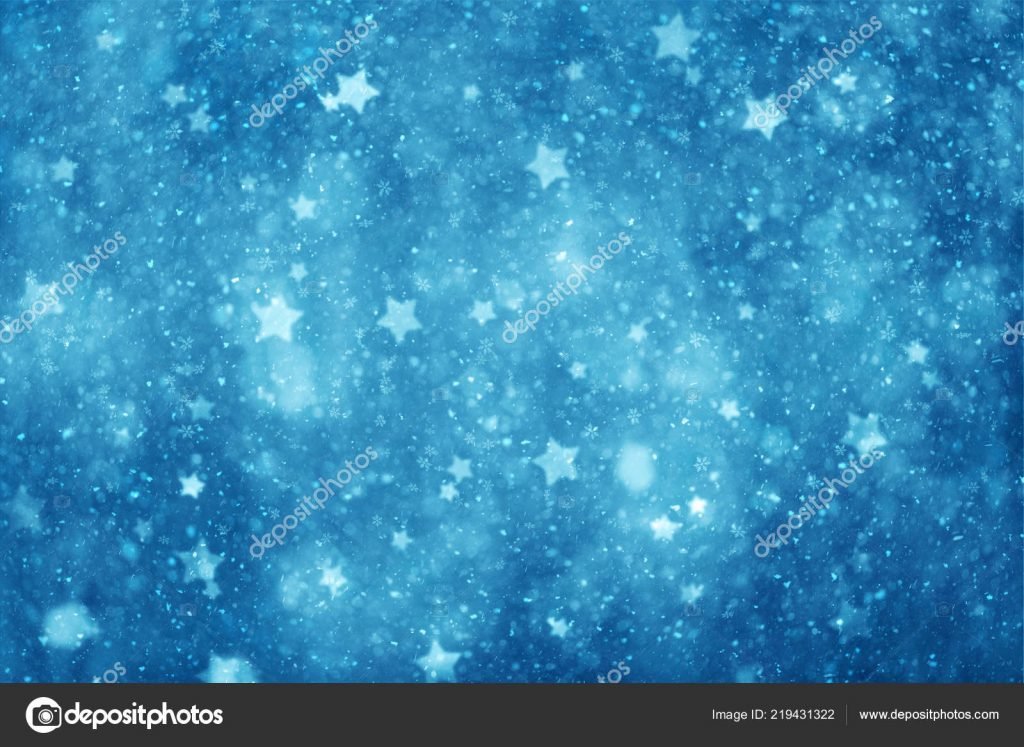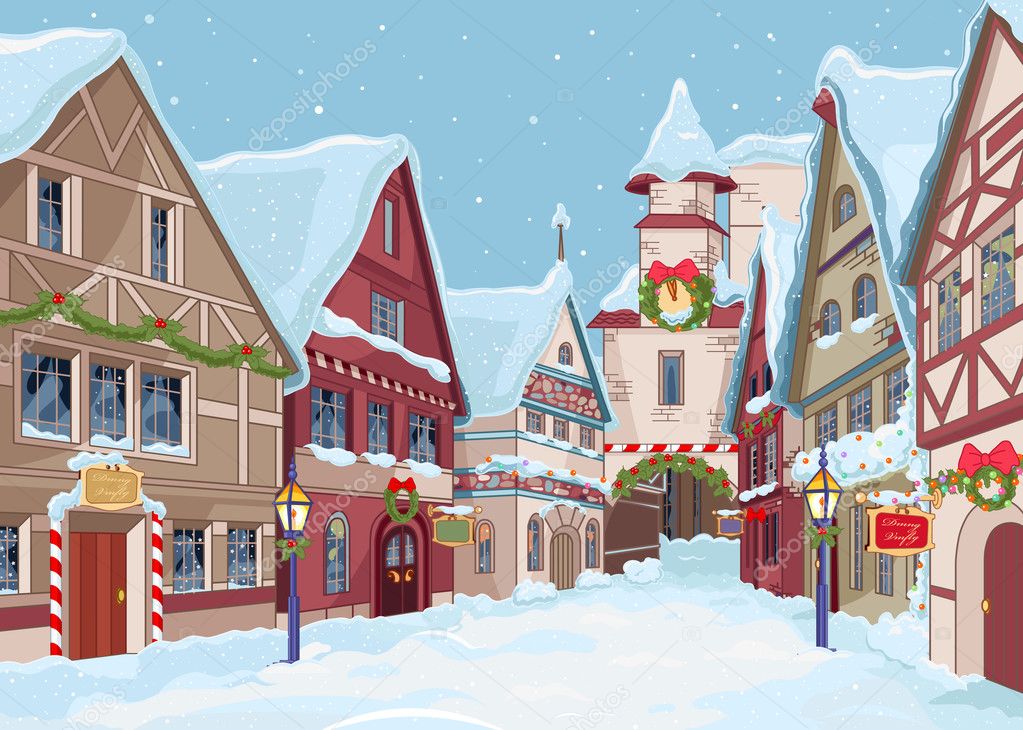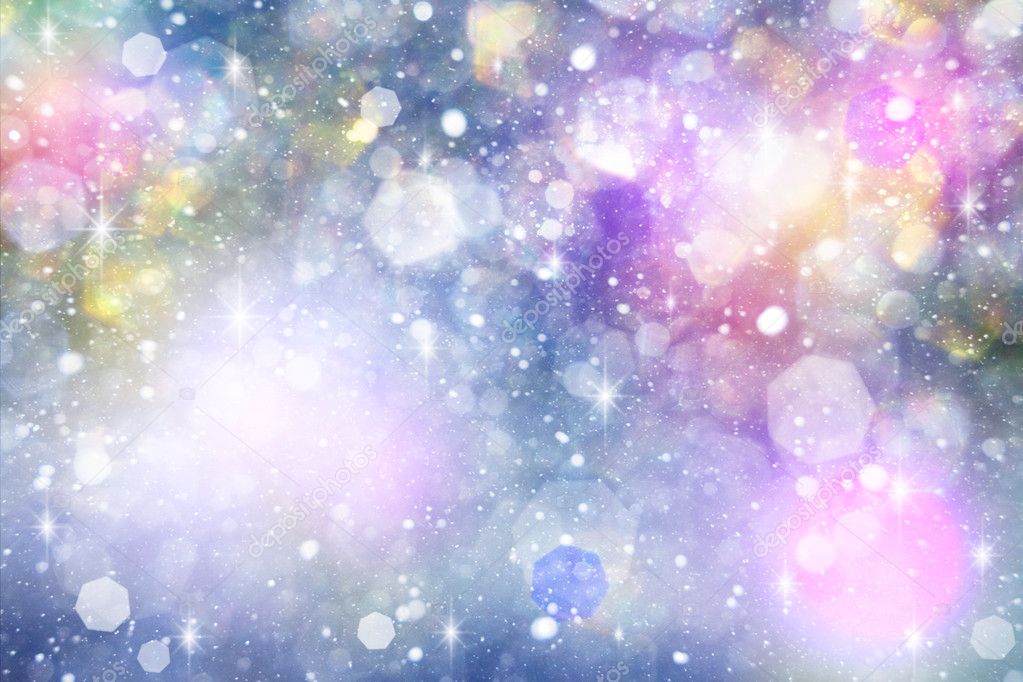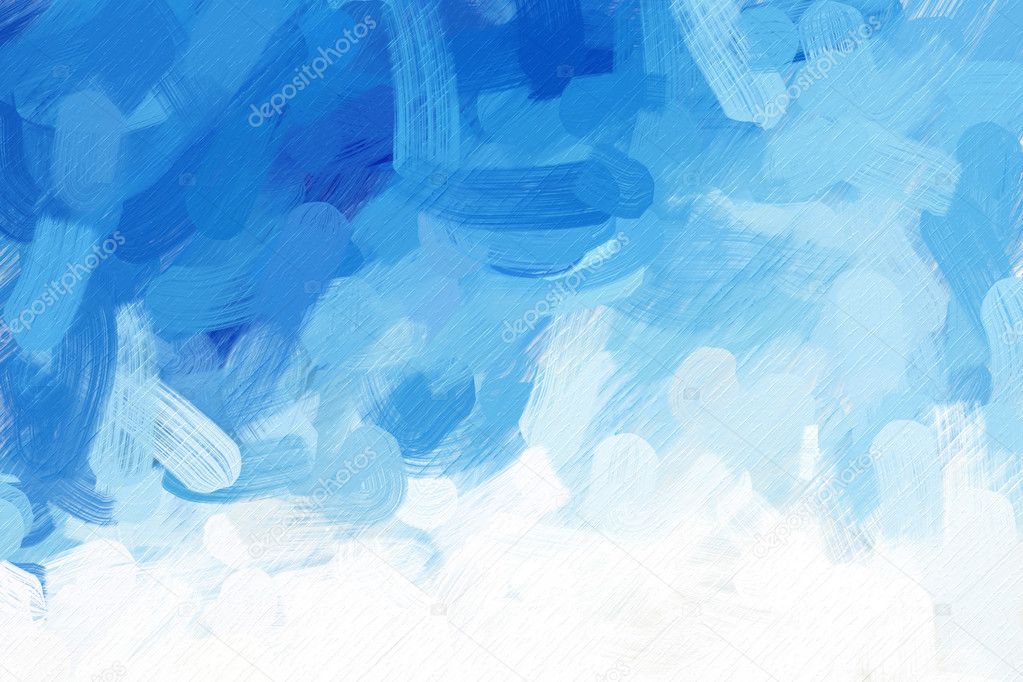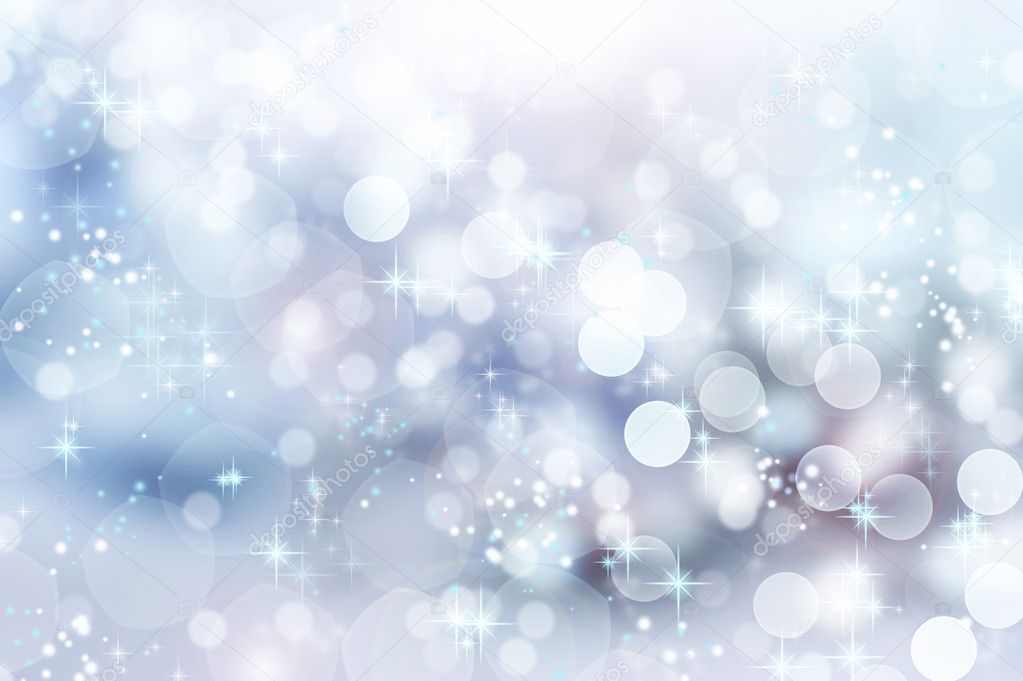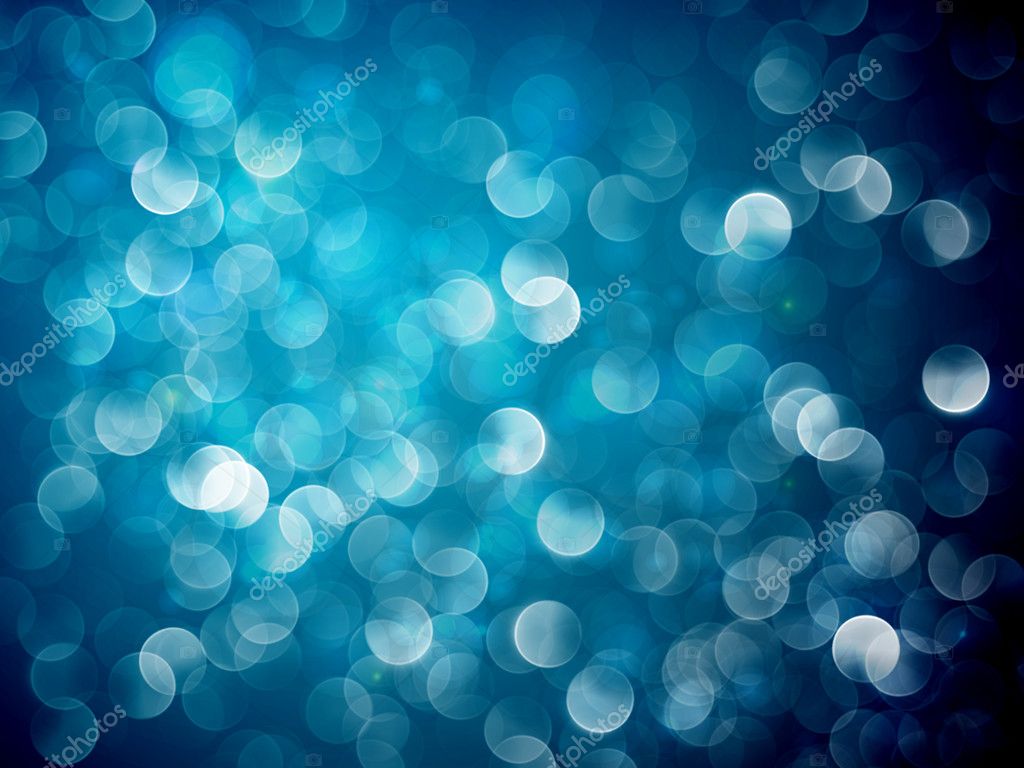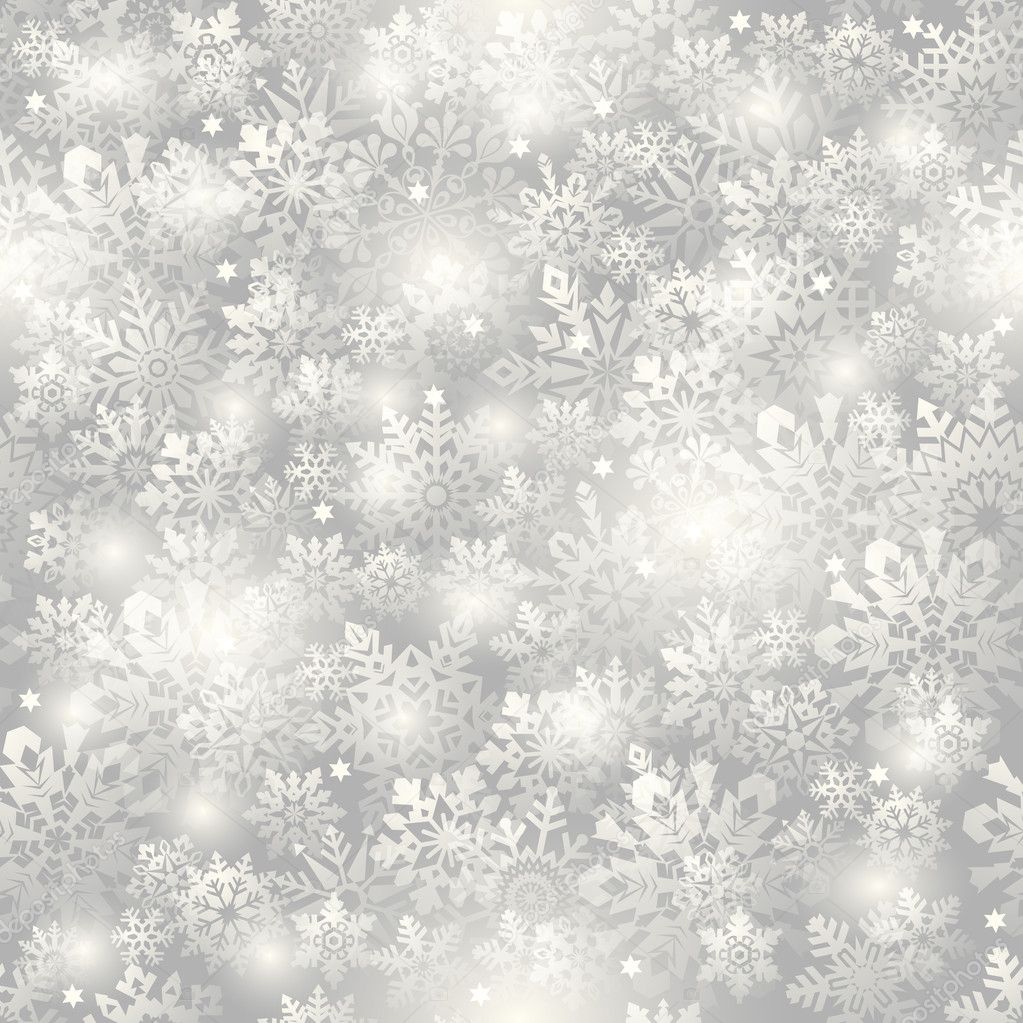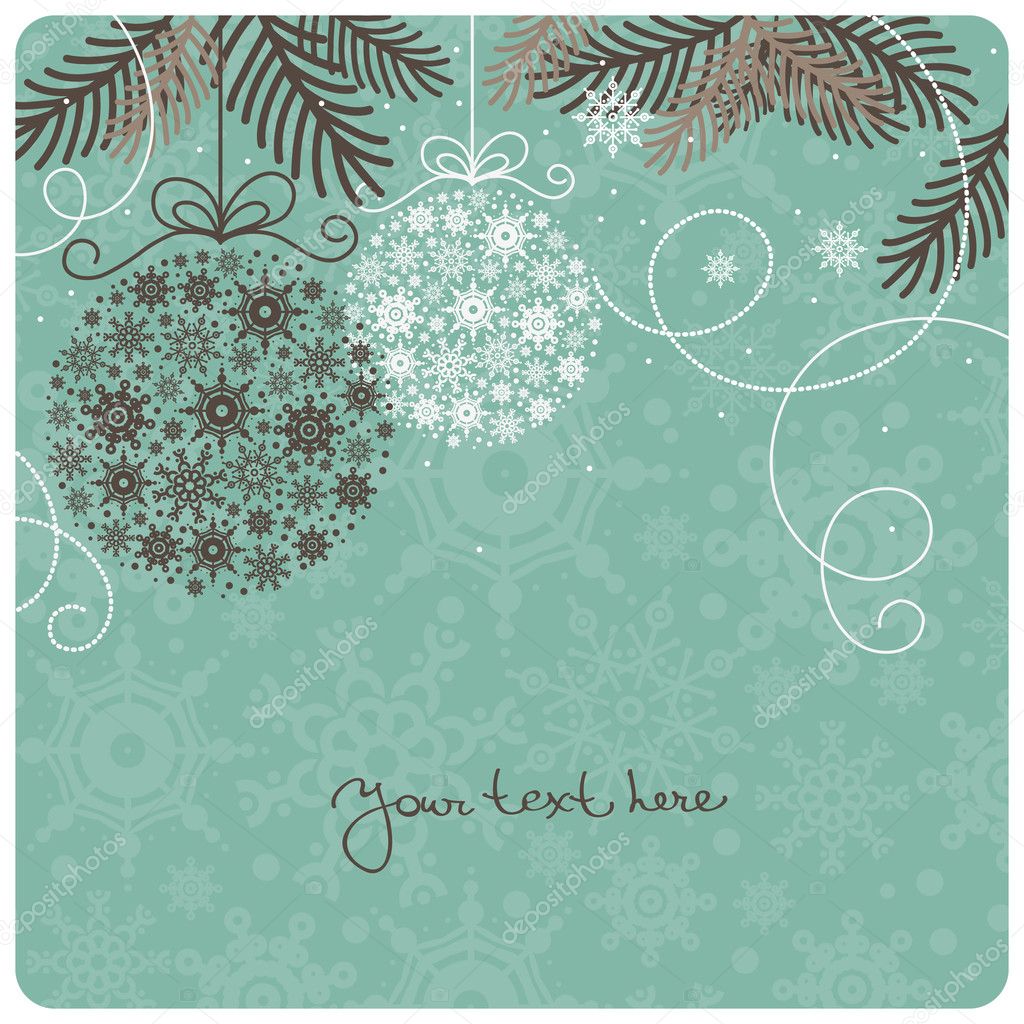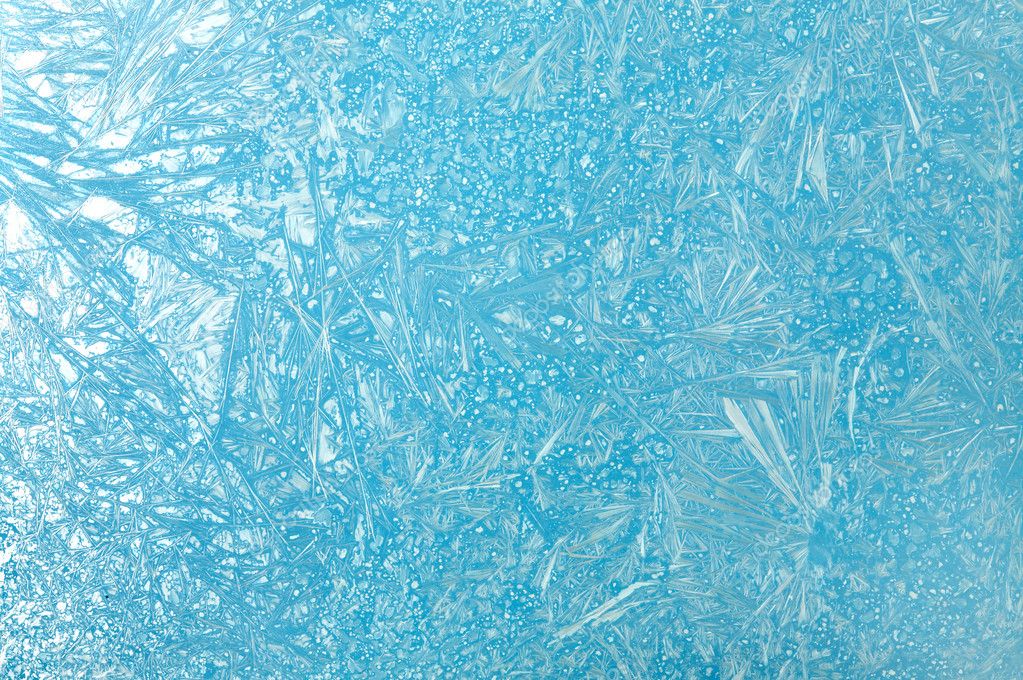 The showcase of winter graphics
Now you know a lot about winter background, snowing effects and winter background pattern. Let me give you some great winter sets of illustrations, graphics, and backgrounds. Check them out and choose the best ones for this winter season.
Magical Winter Clipart: 14 Christmas Watercolor Clipart Bundles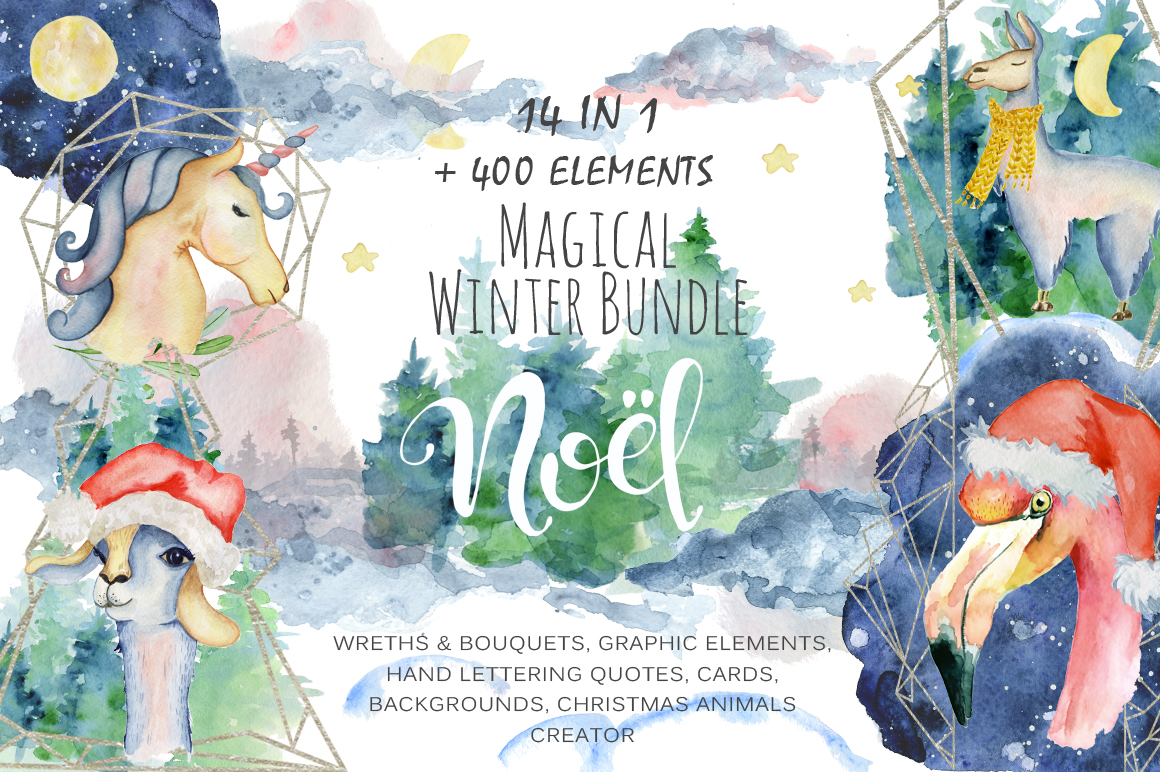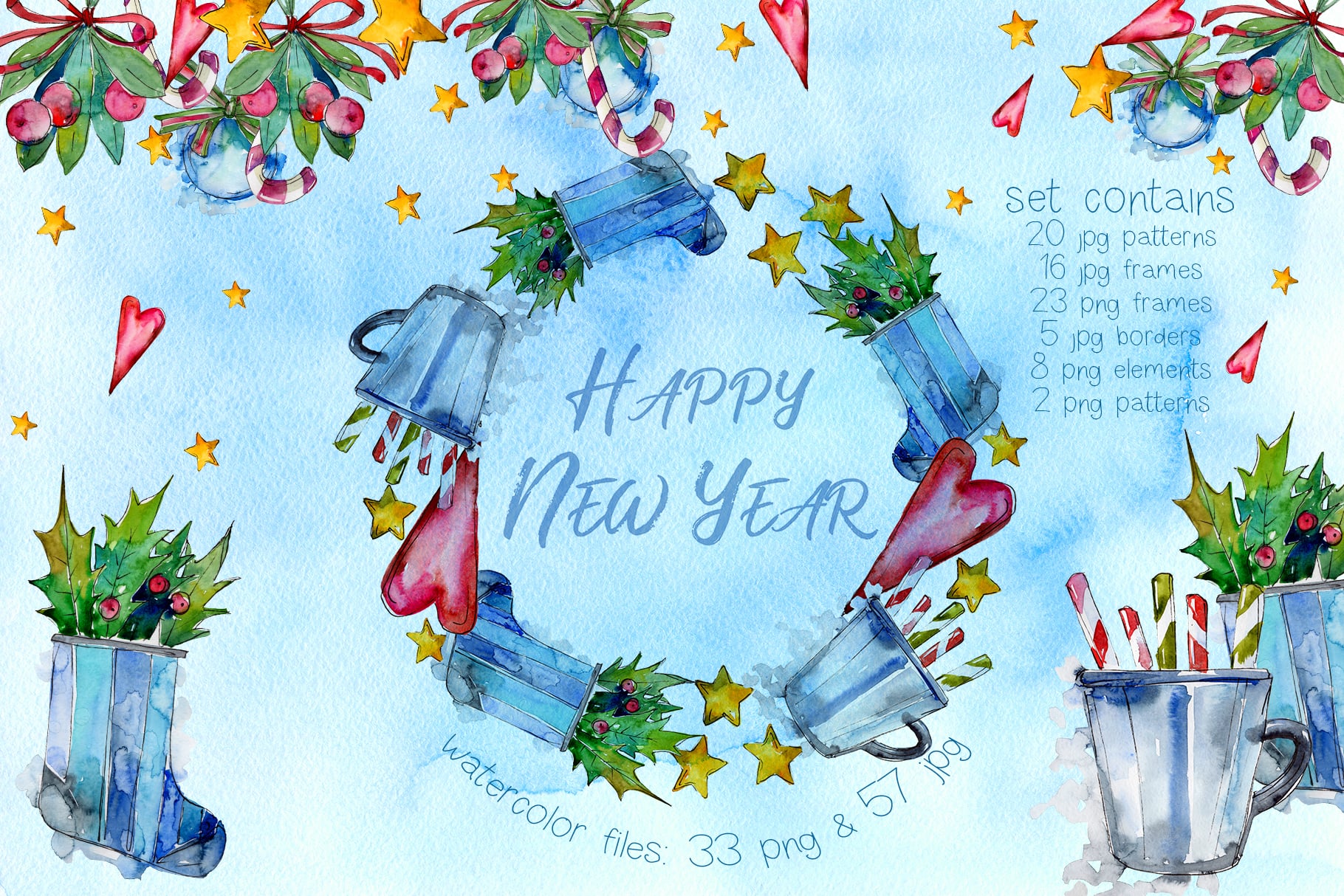 If you need some winter and Christmas graphics, check out this Winter holiday watercolor set. The set contains 90 files including 33 png and 57 jpg elements. Within the set, you get 20 jpg patterns, 16 jpg frames, 23 png frames, 5 jpg borders, 8 png elements, 2 png patterns. These elements you can use for DIY materials, blogs, printing on cloths, mugs, phone cases, greeting cards, whatever. All the elements have high quality because all of them are painted by hand, and every item comes as a separate file. You can even change the color and size of the elements. The png items have 300dpi and come without background, and jpg elements have a 3500x3500px resolution. Add more winter mood with these elements.


If you need a huge set of winter and Christmas graphics, you should definitely try using this ALL-in-One Winter Graphics Bundle! You save a lot of money buying this set because you get many items in one pack. Here what you exactly get: 20 vector winter illustrations, 10 png illustrations with transparent background, 36 layered PSD objects, 408 png snowflakes with a transparent background, 260 background with the transparent background, 450 overlays with transparent backgrounds, and 620 Lightroom presets. Now you can see how many items you get within this bundle. The materials you can use on greeting cards, modifying Christmas photos, setting an awesome background on your blog, cards, whatever. A lot of elements have a variety of colors. Use this bundle to make winter and Christmas great and unforgettable.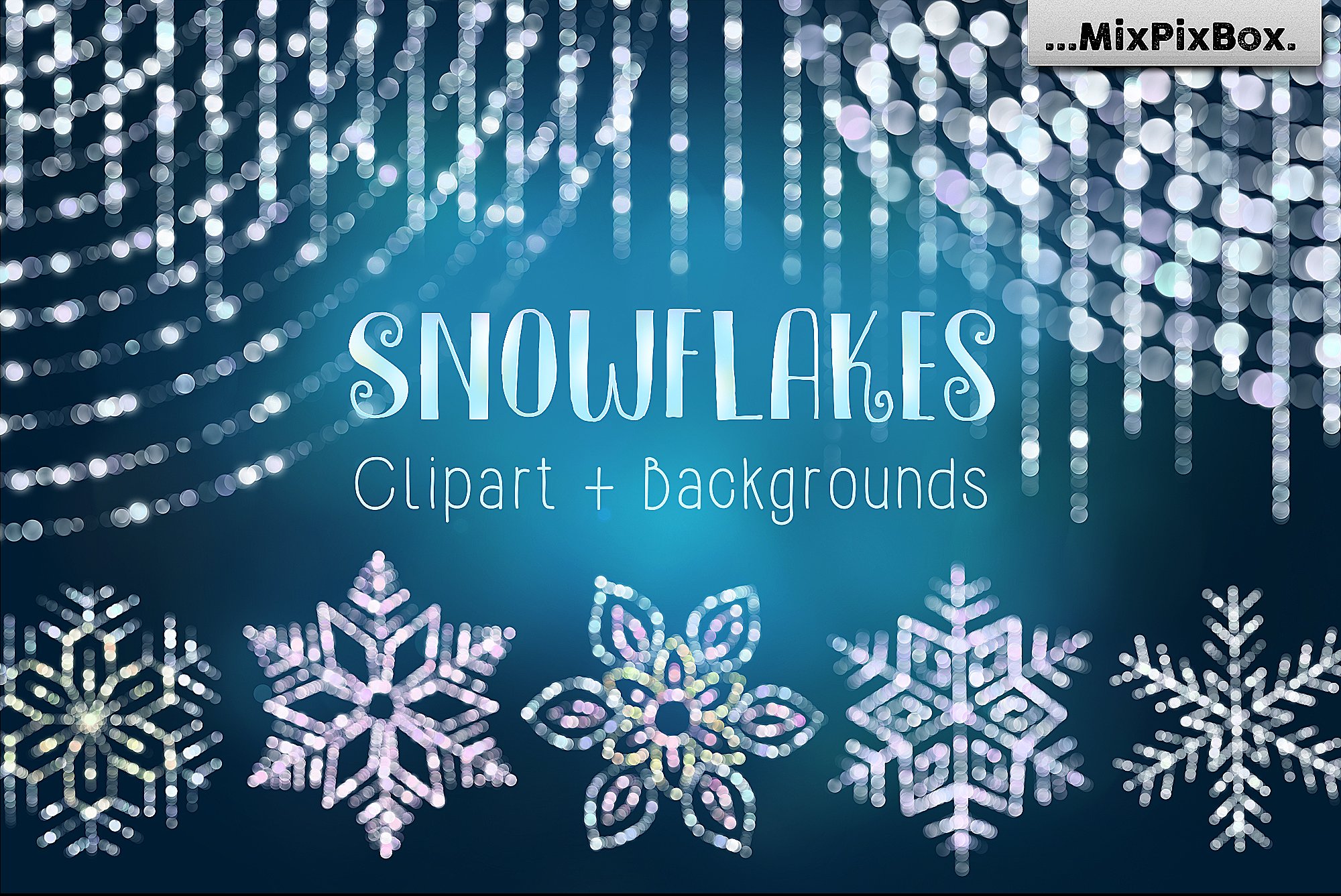 If you're looking for different kinds of snowflake elements and backgrounds for this wonderful time of the year, check out this Snowflakes Clipart & Backgrounds that contains 66 elements. With the pack you get 28 Snowflakes having a resolution of 2000x2000px – 300 DPI, 12 Frames with a 4000×4000 px, 3400×4500 px – 300 DPI resolution, also 26 additional elements having a 4000 px – 300dpi resolution. All items are in PNG format and have a transparent background. Check out how many snowflake variants the bundle offers you and add some magic to your photos, blog, whatever with them. Let's make our winter closer with this pack!
Winter background pattern vectors
After some great work in Photoshop, let's enjoy some freebies! Check out the following winter backgrounds and add them to your blog, greeting cards, whatever that comes to your mind!
Check out this winter background pattern that has a white background itself and some snowflakes of different colors and shapes. Great for any purpose!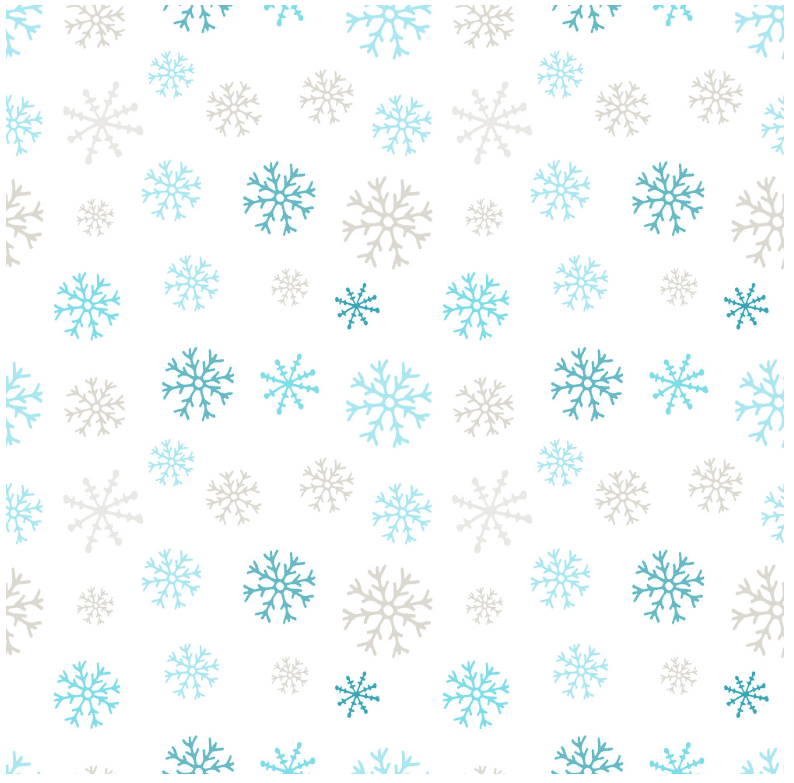 With winter comes also our lovely Christmas! Check out this Christmas tree background pattern that can make your holiday nice and unforgettable. These lovely little trees will definitely create a Christmas mood.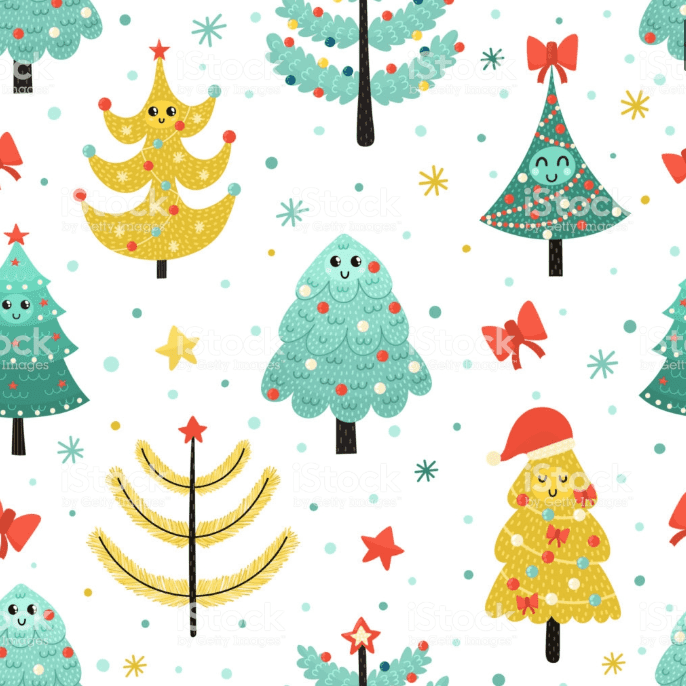 If you like some traditional kinds of winter background, check out this snow pattern. It has a bluish background itself and a lot of tiny and little snowflakes. It really creates a winter chilly mood.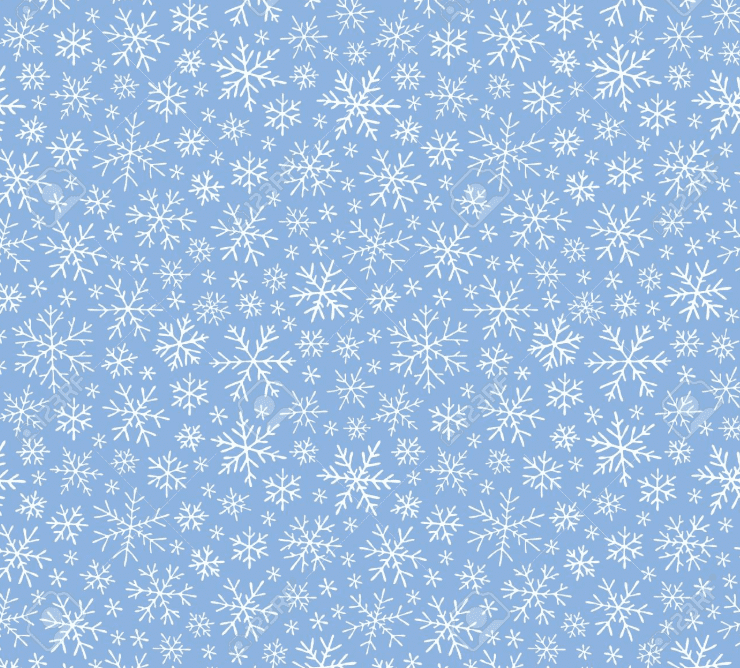 This winter background is created for use on really big screens and large areas as for a blog background, different kinds of winter presentations or maybe even for Christmas cards. Minimalism is what present here and no other unnecessary objects needed.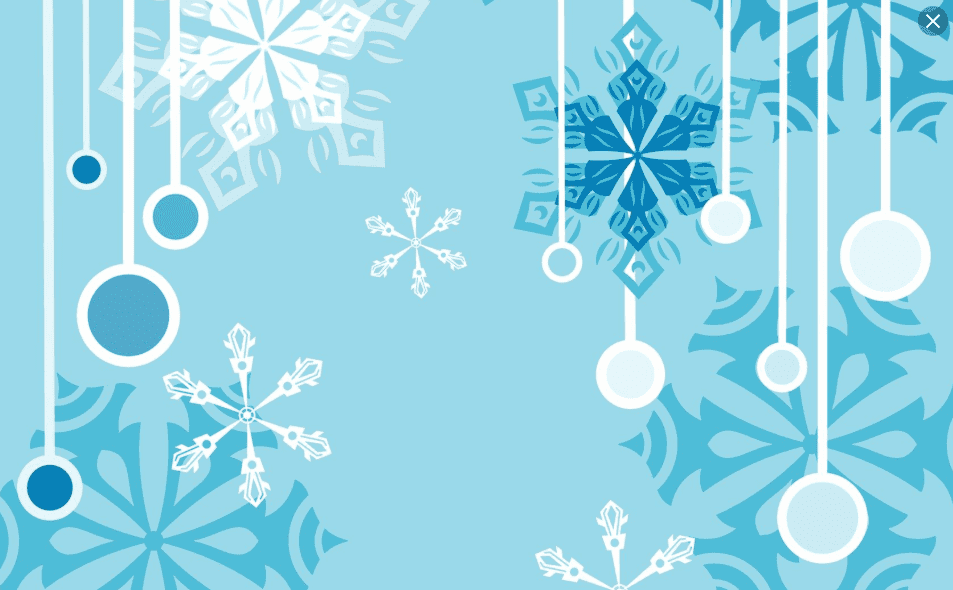 Do you have a red Christmas sweater with white deer on it? I bet you do because everyone who loves Christmas does! Check out the same Christmas winter background with a red background itself and white deer, Christmas trees and snowflakes of different sizes and shapes. Use it wherever you would like to.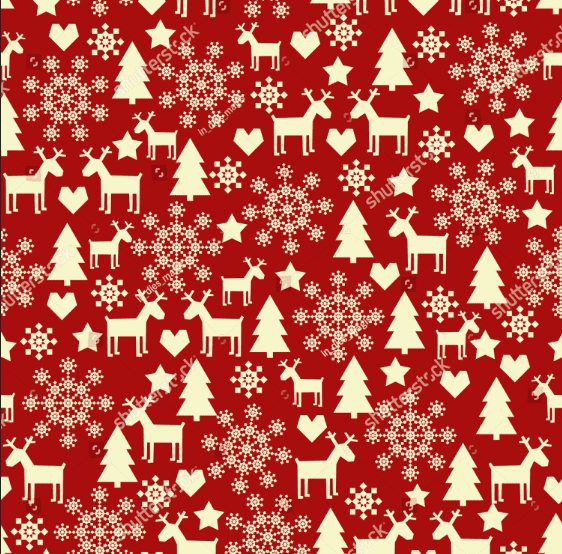 The showcase of websites where winter topic is used
There're not many websites that use a winter topic, winter background, snow effects on background or photos but they exist. More often this design is used on websites of ski schools, online shops where skiing equipment is sold, etc. Check out some of these websites.
The website Snow Effect uses such a snowflake effect on the hero area which is broad and the snow is falling online, so you can see it literally falling. This website is created to show you how a snow effect can work on your website and how vivid these little white snowflakes can be.
The Mammoth website uses snowy pictures on the hero area as well. The website is created for skiing and here you can see a snowing effect on different photos. It highlights the topic of skiing.
The Ski School Silvia Grillitsch website also uses some snow photos on the hero area and other parts of its website itself. It highlights the purpose of such a website – to train children and adults for skiing.
The British Columbia website on its section Skiing and Snowing in BC uses a vivid photo in its hero area. It also emphasizes the idea of the article.
Backcountry uses snowy photos in its hero area as well. It highlights the purpose of the creation of this website. It's to sell some stuff for skiing and tell more about skiing itself.
As you can see, most of the websites use a winter topic to present the snow effect, skiing schools or skiing equipment. You can see this on the photos that are situated most of all, in hero areas and within the articles as well.
So, today you've found out what are winter background patters, snowing effects, you can even make snow in Photoshop by yourself following easy steps! You got some winter background pattern freebies that you can use for the winter season as well as for Christmas one! You've seen some websites that use winter themes and photos. And what's most important, you have some winter and Christmas sets from MasterBundles, the best and trustworthy source when you need a lot and cheap. Let's make our winter season wonderful and Christmas holidays unforgettable using the items mentioned above. Have a great holiday season!
What trends in combination with winter backgrounds can ruin your site?
Today, more than 50% of users consider site design a critical factor in determining trust in business. Therefore, design – is not only an indicator of the external attractiveness of your company and the expression of your attitude to potential buyers, but also the difference in which users distinguish your company among many similar. Due to the design, users will remember you.
Most site owners want their design as much as possible correspond to existing trends. And not everyone thinks that the use of too many such trends in combination with the theme of the site can be quite unsuccessful. Winter backgrounds are especially often used on thematic sites. And this design is important to constantly dilute with some unusual details. Follow these tips to ensure that your design has always been in a trend, while looking amazing, and luxurious:
The use of bright colors. These colors often attract users' attention, and it is a very good opportunity to stand out. And if you have decided to use these colors, then do not forget to choose the right color scheme. If your company is associated with certain colors, it is better to use them. You can also pick up more pastel colors to these colors. And in this case, the combination of winter background and such colors will look great. You can also use bright colors to focus on the control elements.
Too many small details. In most cases, the winter background is already a huge number of small details (snowflakes, for example). And it is this combination can make the usability of the site worse. If you still decide to use small parts, then use such parts only as indicators. And be sure to keep an eye on readability.
Non-standard layout. Non-standard layouts makes a certain variety of site design. Such layouts are more attractive and interesting to consider users. But because of this, the user, sometimes, can not understand the structure, and elements can fail to overlap each other and create chaos.
Small-scale typography. And again, this refers to the fact that winter backgrounds, and textures are made up of very small details. So avoid fonts smaller than 13pt. Fine typography looks stylish, attracts attention and feels stronger because it allows your eyes to move freely. Proper use of small fonts allows you to create contrasts. Otherwise, they can make it difficult to view the content.
Scrolling. Scrolling has gained popularity with mobile devices that make it easier to scroll. So it ensures endlessly downloading content while increasing engagement. But there are users who prefer to get to the end of the page without scrolling. So give the user the opportunity to choose how to view the site. Test the impact of different scrolling techniques on the behavior of your users and choose the appropriate option.
Pop-ups. In order to provide important information to the user, pop-ups can cause annoyance and negative feelings among users. However, with the right approach, they will attract attention and increase conversion. In this case, use a more blurred winter background.
Background music with video. This is a very popular trend, but you have to be very careful with it. The first problem is finding the winter video background. It is quite difficult to find a quality and suitable option. The second problem may be that the music can simply scare away the visitors. Very often the automatic playback of video is annoying to visitors. They do not like long videos, annoying sound and poor quality content. They want to choose when and what to watch / listen to. If you have decided to add a winter video background, then shorten the video, set the music to silent mode by default, but allow users to turn it on by clicking, it is also recommended to create buttons play and pause.
Photoshop tutorials
Many people tend to be creative, and unique. This makes it necessary to create your own unique product. Backgrounds, patterns and textures are no exception. There are a lot of available lessons on the Internet. I do not encourage you to do everything as it is written, but instead recommend using these tutorials to make your own special product. Thus, your winter background may be the only one, and you can definitely attract an audience with originality:
How to Create Happy New Year Greeting Card with Xmas balls on Snowflakes Background in Photoshop CS6. This is a very detailed tutorial that results in an excellent card. You can add your elements and make it even better!
How to Create Realistic Snow Overlays with Photoshop. This is a cool tutorial as to impose realistic snow on the photo. And you can just make a video background at the end of it.
How to create a Winter Christmas Background. This tutorial includes a video lesson. And by the way, it is very convenient, because the video is much more convenient to create the desired.
Photoshop Snow Effect – Add Falling Snow To A Winter Photo. Another lesson on creating a snow effect in a photo.
How To Change a Photo from Summer to Winter in Photoshop.
How to Create a Winter Scene in Photoshop. This is another very clear and detailed lesson.
How to make snow in Photoshop
Now you know what the snow effect is and you can make this snowflake effect in Photoshop by yourself! First of all, download Photoshop from the official website if you haven't got it yet. Then download any photo from any free resource or other according to the winter theme. We'll lay on a photo some snow. So, follow all the steps below to create a snow effect in Photoshop.
Step 1
Go to the Photoshop app and press File, Open on the left upper corner and choose the photo you've downloaded before. On the right lower corner you see the Layers section. Press Create a new layer. Now you have 2 layers: the photo itself as a background and the additional layer.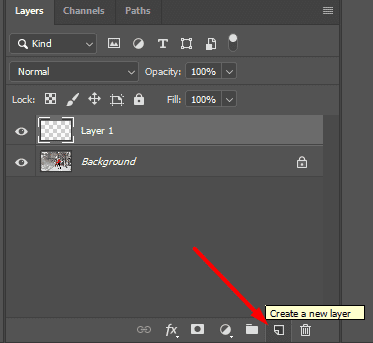 Step 2
Select the new layer and press Edit on the upper panel, Fill. In the Contents section choose Black, press OK. Then you'll see that your picture became all black. It's the snow layer and we'll add some snow now.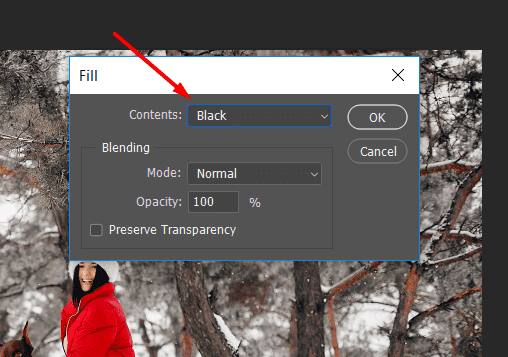 Step 3
On the upper panel choose Filter, Noise, Add Noise. Just like in the picture.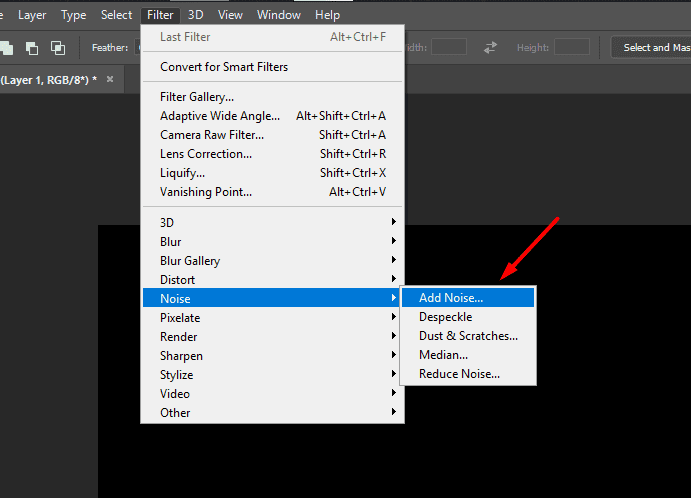 Step 4
Now you have the Add Noise dialogue box. In the Distribution section, choose Gaussian and tick Monochromatic. You can drag the slider in the Amount section and see what's happening. You're creating noise. Drag this slider wherever you want to and press OK.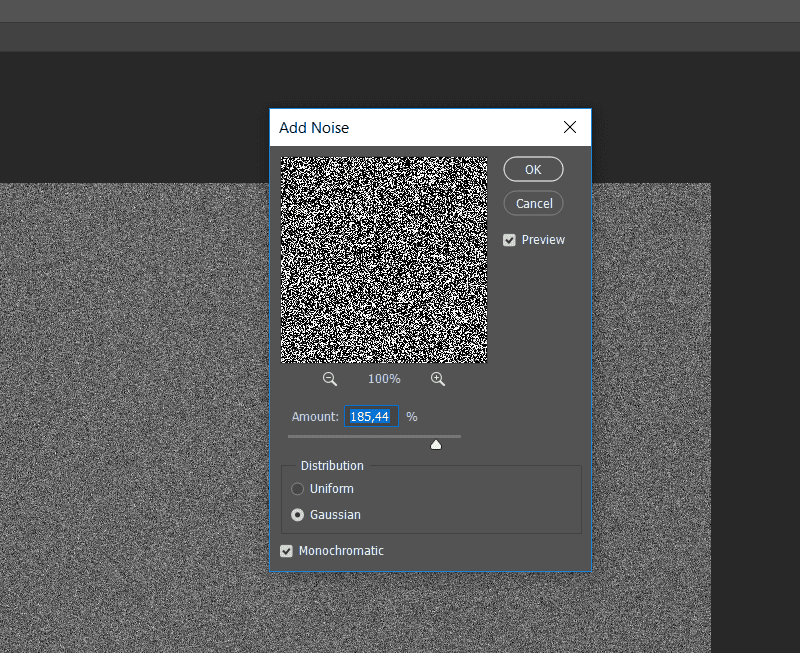 Step 5
Now let's make this "snow" a little bit more real. Go to the upper panel, choose Filter, Blur, Blur more. Just like in the picture below. Now you're getting closer to the snow effect.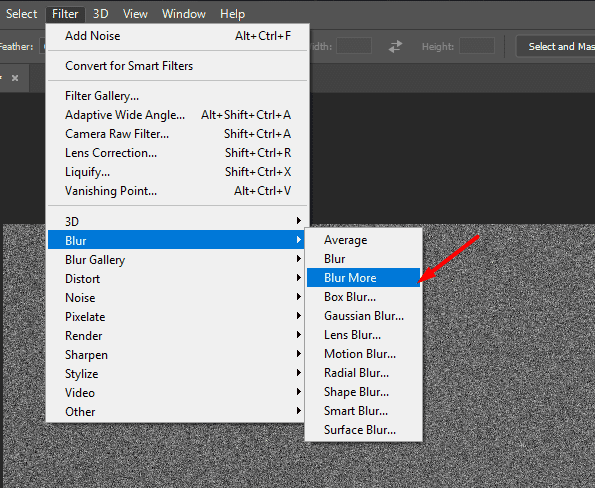 Step 6
On the upper section click on the Image section, choose Adjustments, Levels.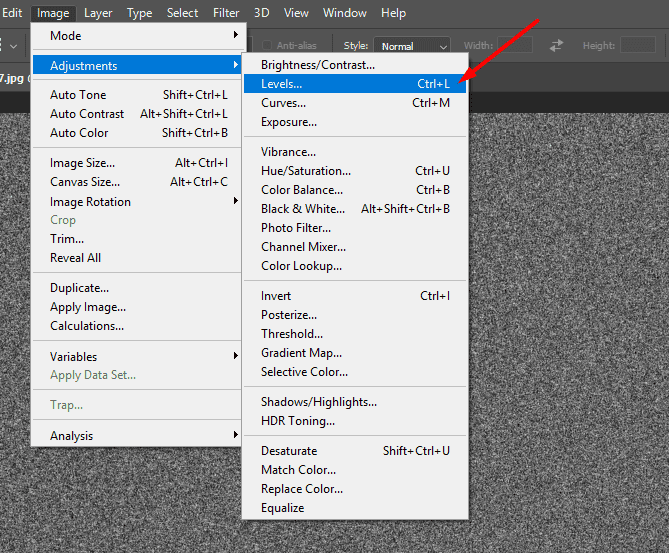 Step 7
In the Levels dialogue box, drag the sliders as it's shown on the picture until your noise begins to look like the starry sky. Press OK.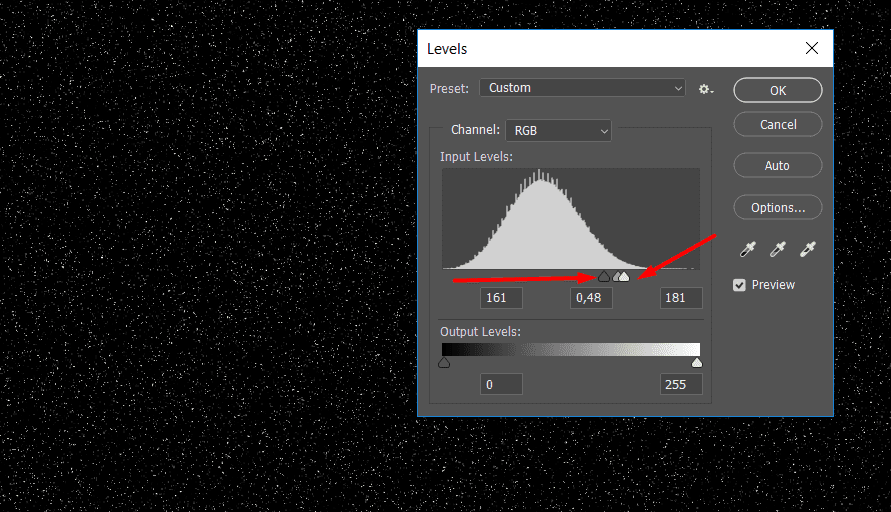 Step 8
Now go to the Layers section that's located on the right side. In the section where it says "Normal", choose Screen. Just like in the picture below.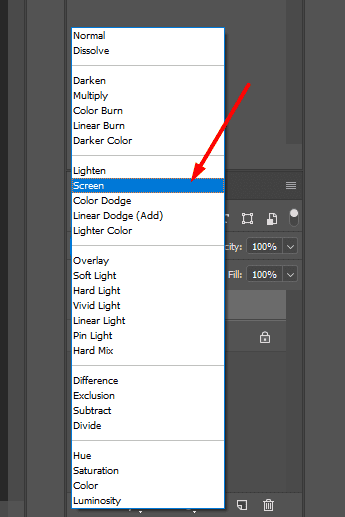 Step 9
Now you have your two layers together: the main picture and some snow on it looking like fake a little bit because it seems like it's not falling down. We'll make our snow more like real.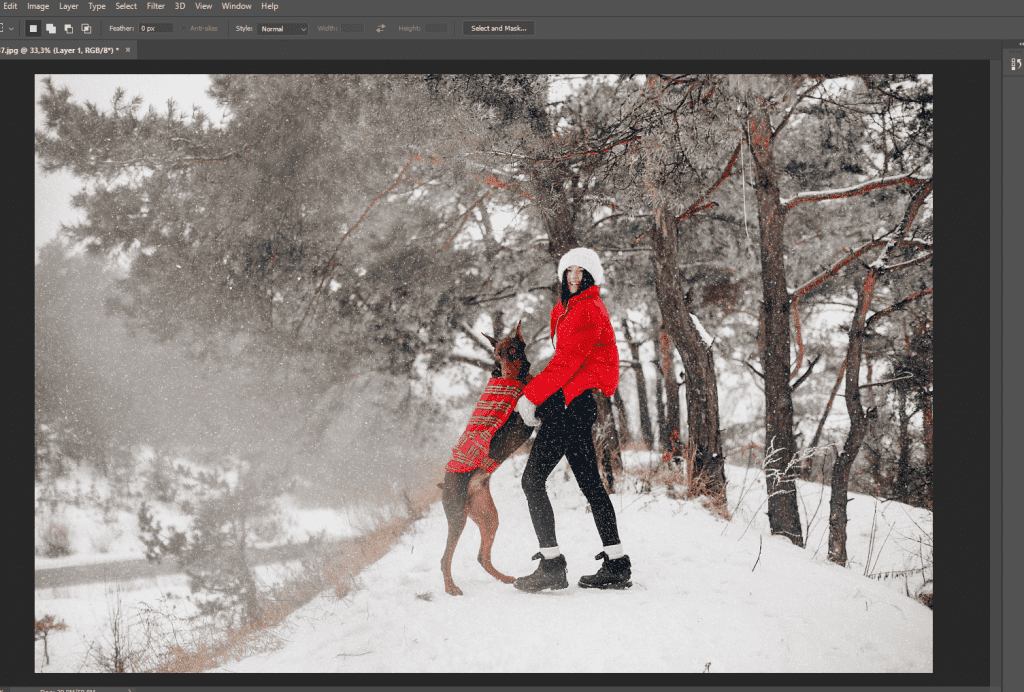 Step 10
To add to our snow more vividness, go to the Filter section located above and choose Blur, Motion Blur just like on the picture.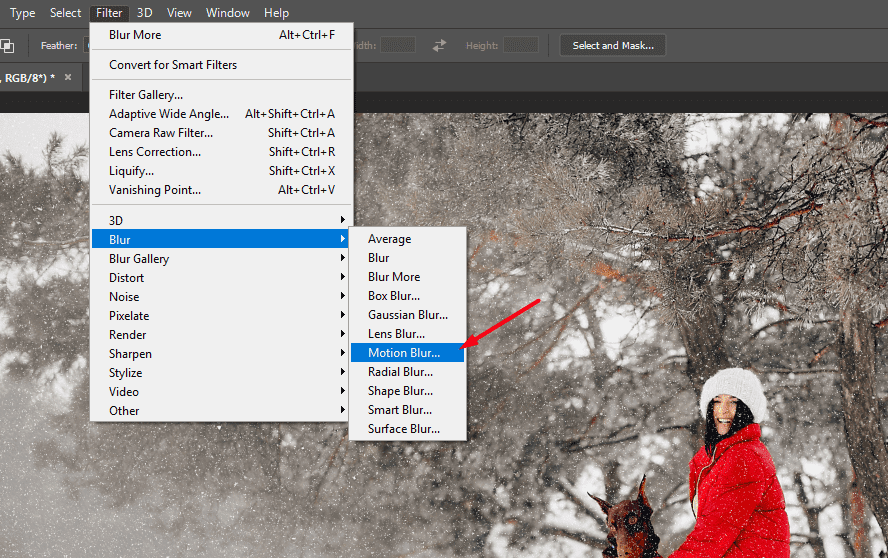 Step 11
The Motion Blur dialogue box appeared. Set the angle of snow that's falling. I choose 67 degrees and you can see that snow is falling from the right to the left side. You can choose another angle in the Angle section. Also, set the distance in the Distance section on the level you need. I set 8pixels to make it look like a calm snowfall is outside. The higher this distance is, the more fierce the snowfall will look. Play with these sections as you want. By the way, as you've already noticed, the changes you can see right away not even pressing the OK button. But now it's time to press it now.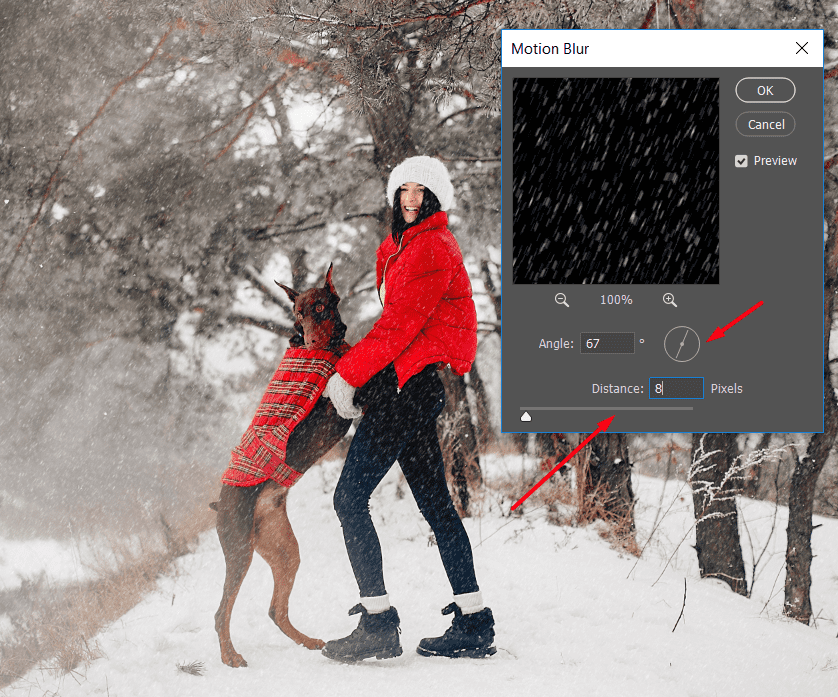 Step 12
If you want to add more snow, go to the Layers section, press the right button of your mouse, choose Duplicate Layer just like on the picture.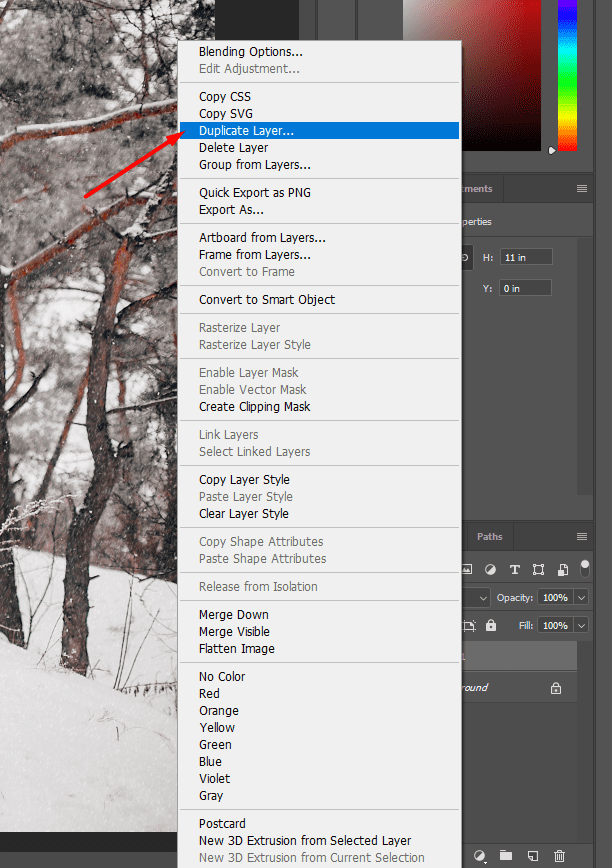 Step 13
In the Duplicate Layer dialogue box, you can rename the layer. Press OK. You'll get more snow on your picture.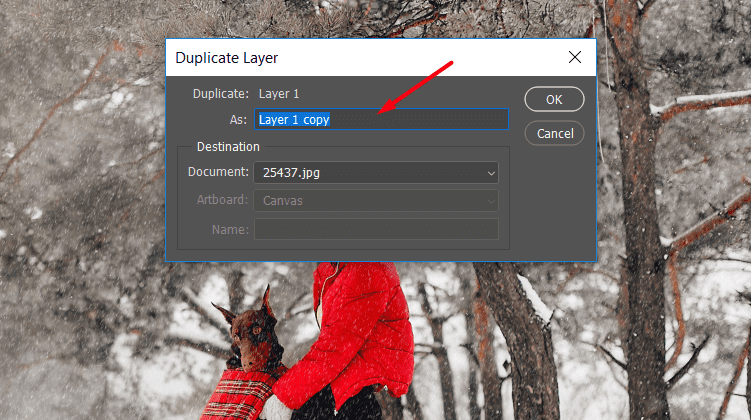 Step 14
To make our snow more like the real one, go to the upper panel, choose Edit, Transform, Rotate 180 degrees.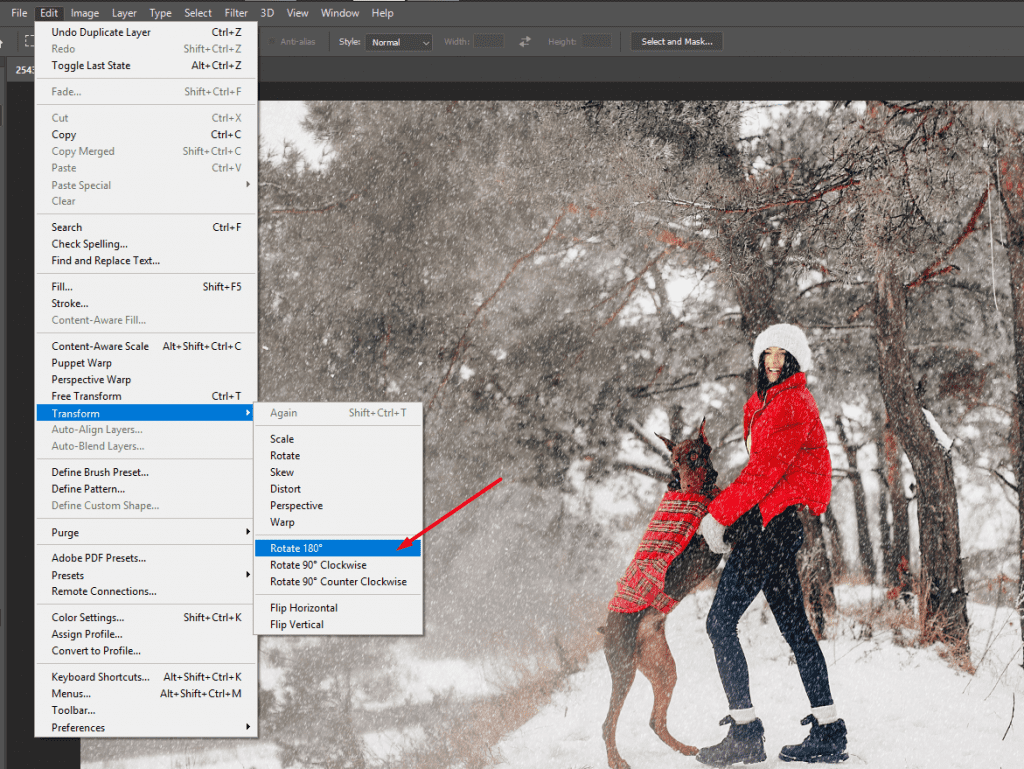 Step 15
If you have more than one layer, it won't fix other ones. Now select another layer, go to the upper panel, choose Edit, Free Transform like on the picture. Now drag the layer on the picture until it looks more like a real and random snowfall. If you have more than two layers, do that to each of them. In this way, the snow will look more natural.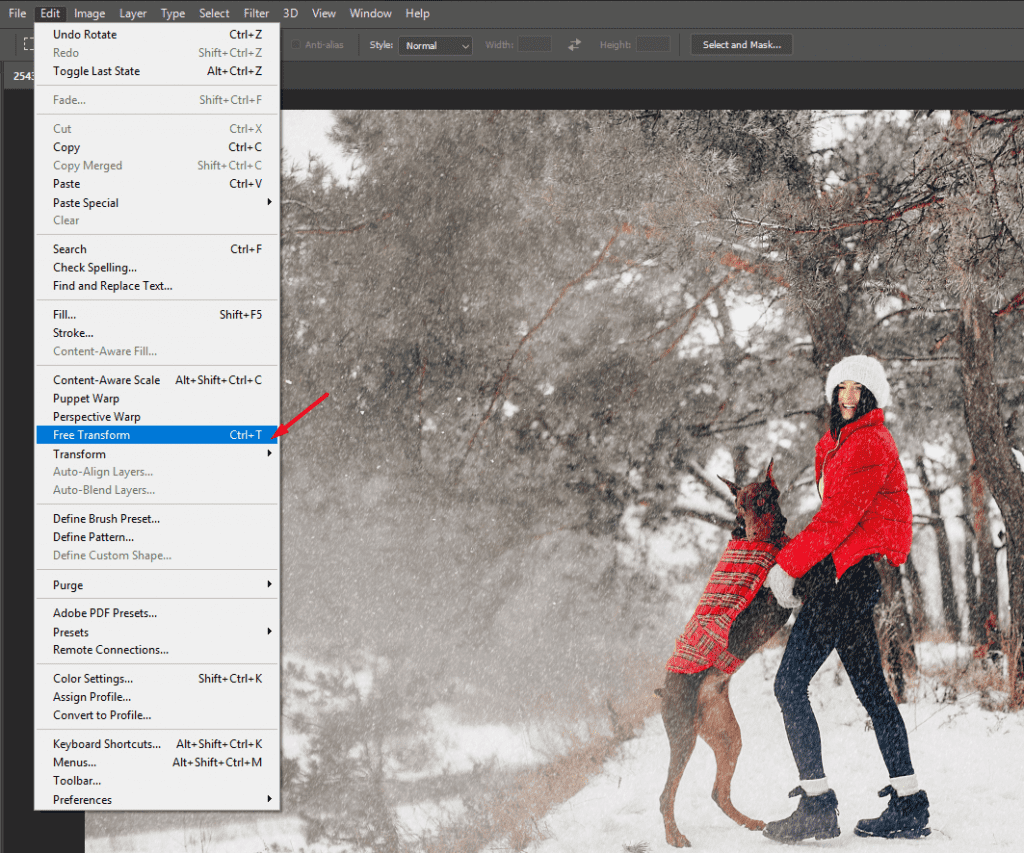 Step 16
Don't forget to press Commit Transform on the upper panel to finish the previous step. Just like in the picture below.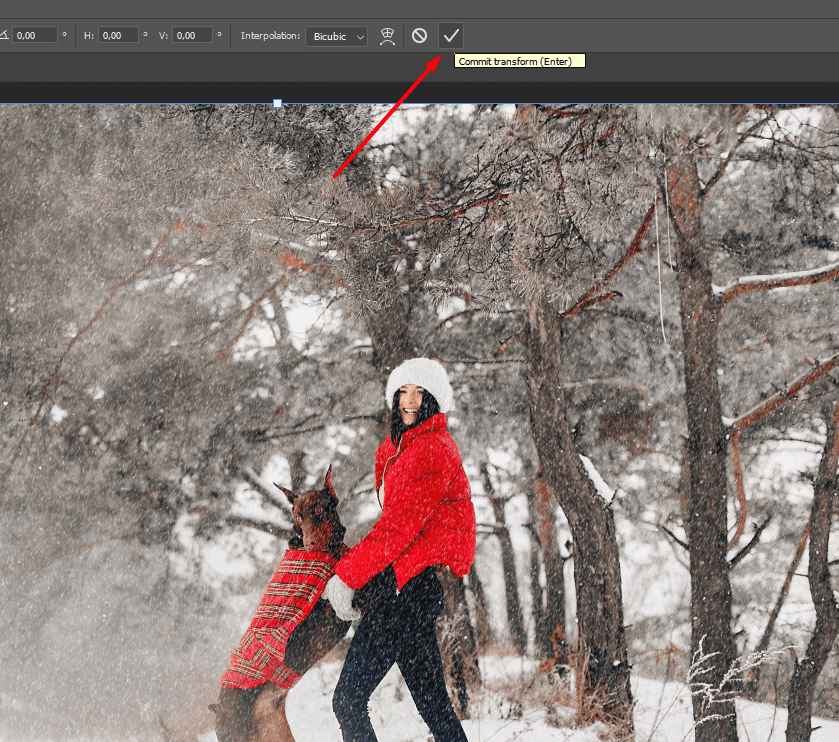 Step 17
If the snow obscures any face on the picture, you can erase some snow from it. Go to the panel on the left side, choose the Eraser tool, and swipe the snow away.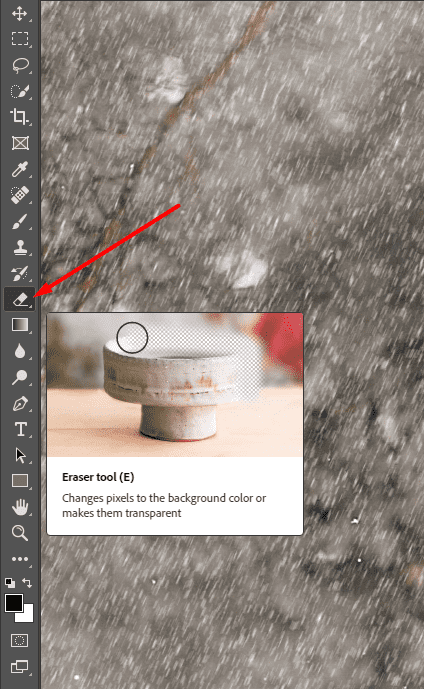 Step 18
Now, check out the difference.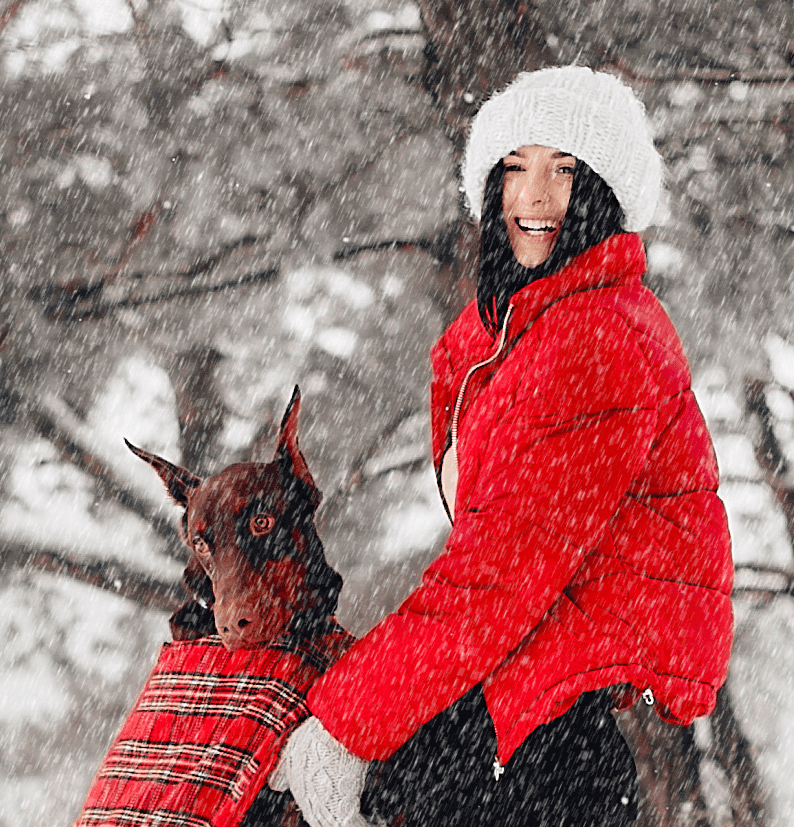 As you can see, it's really easy to make snow in Photoshop. All you need to do is to have the app itself, any photo and follow the easy steps above. Check out what we've done and got the snowfall picture. And don't forget to save the picture you got.
100 Winter Backgrounds FAQ
Where can I find winter backgrounds, textures and patterns?
First use MasterBundles, because it is not just a site with images, it is a cool resource with different bundles. You will find lots of images, overlays, effects, patterns, textures, presets, and so forth. You can also use resources like: ShutterStock, FreePik, Vecteezy, Pinterest.
Can I additionally use effects on winter backgrounds?
Of course, and often it is absolutely necessary! After all, as it was said in the post, it is very difficult to combine existing trends and winter backgrounds. And so the most reliable way out of this situation is to apply effects on such backgrounds and patterns. For example, you can make them more transparent, or remove the contrast. It all depends on your imagination and possibilities!
How to choose the right background?
Everything depends specifically on your wishes – this is what concerns the image itself. If you consider other characteristics, then of course pay attention to the dimensions of the image, and its quality.
Please take a moment to pin this post to Pinterest
Was this page helpful?
We will be happy if you decide to share this article with your friends on Facebook. Just click on the button and you're done
Thanks for your response!
You have already left your review.
The theme of using different backgrounds is very relevant, because it is one of the trends and not only in web design. And you should agree that using winter textures, backgrounds, and patterns is a risk, because you never know what will be the reaction of users, and how the website will look like in combination with this background. So when writing this article, many sources were analyzed to share with you only accurate and true information.
Background Textures. (https://designshack.net/background-textures/)
Background Patterns and Textures. (https://janebwebsitehelp.co.uk/background-options/)
How To Use Textures In Web Design. (https://www.smashingmagazine.com/2011/10/whys-hows-textures-web-design/)
Clarence P. Hornung. Background Patterns, Textures and Tints. Dover Publications; 1976.
Rebecca Atwood. Living with Pattern: Color, Texture, and Print at Home. Clarkson Potter; 2016.
Peter Bone. Creating Icons for Websites and Apps. Designtuitive.com; 2012.
Matt Kloskowski. Photoshop Compositing Secrets: Unlocking the Key to Perfect Selections and Amazing Photoshop Effects for Totally Realistic Composites. Peachpit Press; 2011.