MasterBundles sold 100 000 bundles
May 24, 2021
We are happy to tell everyone that the young but rapidly developing marketplace MasterBundles sold its 100 000 bundle, and we are very proud of this. We selflessly and faithfully work, and we try to make everything for your convenience. Our team has done a lot to ensure that we achieve this figure. We sincerely want to thank each participant in this process, each member of the team, developers, vendors, sellers, and customers. Everyone who has anything to do with MasterBundles.

Stacy Summers, CPO at MasterBundles.com, says: "It is only the beginning. And ahead of us are new achievements, an increase in the assortment and the sales number. We won't stop there and will develop the marketplace. The 100 000 product we sold was the Wedding Instagram Template. And this is not surprising, because now the wedding season and holidays are in full swing. This Bundle belongs to one of our most loyal and old authors, DesignStudio, on which we congratulate him very warmly!"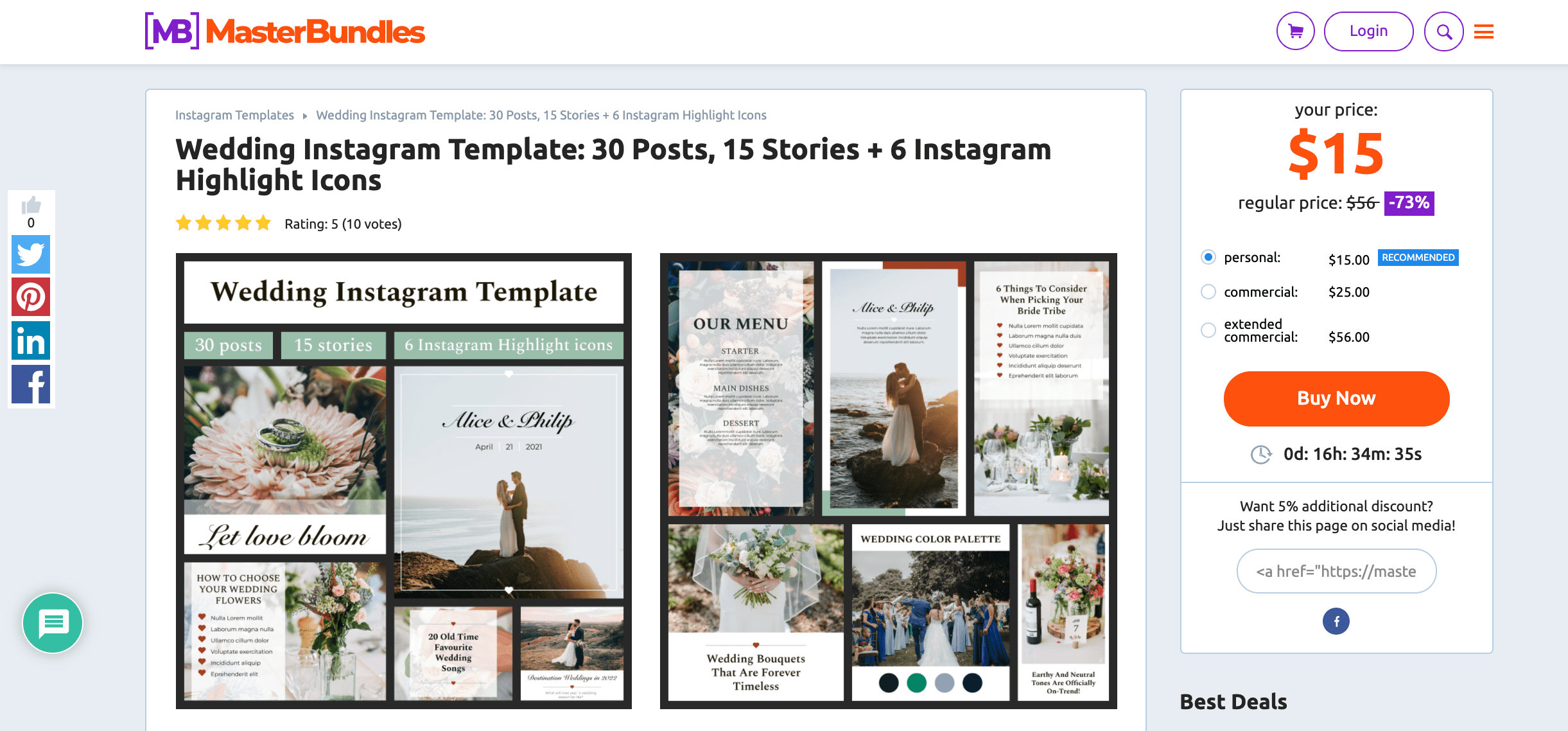 Not surprisingly, our sales have reached such a number. Digitalization is progressing today, every self-respecting businessman, entrepreneur, and the company goes to a new level, presenting its services on the Internet. And do it qualitatively, and you can also save by using the goods from our service.
By buying deals you save up to 99% of the value of the product. Unique products and promotional codes help you get the best templates for working on different platforms. We also have promotions on purchasing products in bundles. Our customers have seen it more than once. Feedback on discounts, and in general about the work of our marketplace, the versatility of our products can be read at the link: https://www.trustpilot.com/review/masterbundles.com.

The number and diversity of our vendors are also constantly growing. Product improvements, their rapid distribution bring new suppliers to us over and over again. We do not just sell the finished product; we take care of each product, introduce and select SEO optimization manually, advertise in mailings, popularize and take it to a new level. Therefore, it is easy, pleasant and very profitable to work with us. If we talk about the selection of suppliers, then we allow the implementation of not only the titans of graphic design but also young authors who are just starting their business.
MasterBundles is not just a service; it is a digital trading platform. On our marketplace, you can find a variety of a wide product, such as:
backgrounds;
illustrations;
fonts;
simple images;
topics for WordPress and other platforms;
presentation templates and more.
This is a paradise not only for buyers but also for sellers themselves. Join us and feel all the positive aspects of working with us.
What Is MasterBundles?
MasterBundles is a digital marketplace that distributes graphic design products such as fonts, stock images, illustrations, backgrounds, presentation templates, WordPress themes, and many more. The company also encourages young creators to sell their products through the Sell Your Deal service as well as help them build their careers in design. You can find out more about the company here.
Media Contact
Company Name: MasterBundles
Contact Person: Lisa Koenhoven
Email: Send Email
Phone: +18885980331
Country: United States
Website: https://masterbundles.com/