MasterBundles Sell Your Deal Allows You to Make Money on Your Graphics in Three Minutes
June 09, 2020
Luckily for all the young graphic designers, MasterBundles has launched a feature that helps graphic designers sell their graphics on a trustworthy marketplace. Sell Your Deal is a service that allows pretty much anybody to upload their graphic design products such as fonts, web templates, backgrounds, mockups, stock images, and many more and start making money on them.
Liza Koenhoven, a MasterBundles CMO, says: "You can easily upload your goods using this very feature, in fact, it would take you just a couple of minutes. After the marketplace approves your product (usually it takes about 2-4 hours), it becomes available for the customers, which means that you start making money on your graphics."
Main Features
The service is super easy to use and has a set of features that will make your experience using it even better. Thus, let us take a look at some of these features.
Advice on Demanded Products
The system analyzes the most demanded products on the website and in case there are few items that correspond to those requests, they are displayed on the add bundle page so that vendors know that these goods are in high demand.

Auto-Pricing
When you add your goods for the first time, you might not know how to put the correct price on it. In this case, you can use a particularly useful auto-pricing function. In order to do this, just select the category for your product and the system will show you the average prices on similar goods on the site. You can accept them or correct them, the final decision is still up to you.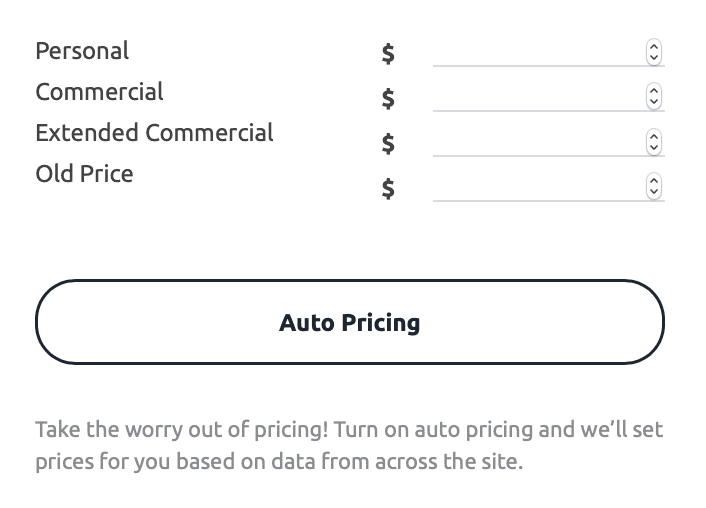 Zero Price Products
In order to boost your popularity and create a trustworthy vendor reputation, you can start with distributing your goods for free. It is just as easy to add as a paid product. You do not earn anything on it, but it can be a stripped-down version of your main bundle and you can advertise your premium products in its description. Thus, through a free product, you can attract more potential buyers.
Money
You receive 50% of your item's cost every time somebody purchases it. If you are a trustworthy vendor with a good reputation, the percentage of your part can grow. All the profits you get are paid via Payoneer. In order to get your money, you have to send a request using the Payoneer app or website.
Why You Need This
During the economic crisis due to Coronavirus, every dollar matters and this very service is a great way to earn some extra pocket money. Besides, you might be super bored in the quarantine, so why not create some graphics and make some money?
MasterBundles, a digital marketplace that specializes in elements for digital design, has launched a feature that helps graphic designers sell their graphics on a trustworthy marketplace. In fact, MasterBundles has been in business since 2018 and in less than two years it became one of the most trustworthy online platforms where you can purchase fonts, design bundles, stock images, presentation templates, and many more.