MasterBundles Has Launched Vendors Rating and Here's What You Need to Know About It
July 07, 2020
MasterBundles is a rapidly growing web design marketplace where every independent designer or small design studio can distribute their products. In fact, the company gives young designers a great opportunity to sell their graphics through a reputable marketplace and make good money on it. Collaborating with a big company is a great way to start for every beginner and more than 2500 vendors that sell their products through MasterBundles know that perfectly well.
Thus, the company encourages its sellers to cooperate by means of various bonuses. Therefore, this year MasterBundles has launched a new feature – Vendors Rating, which is basically the list of top 10 vendors of the marketplace. This feature gives the potential buyers the idea of the studios and independent designers they are going to purchase graphics from. At the same time, designers that make it onto the list get different bonuses and awards. For instance, at the end of the year, the most popular seller will get a super-prize but what the prize is going to be is a secret for now.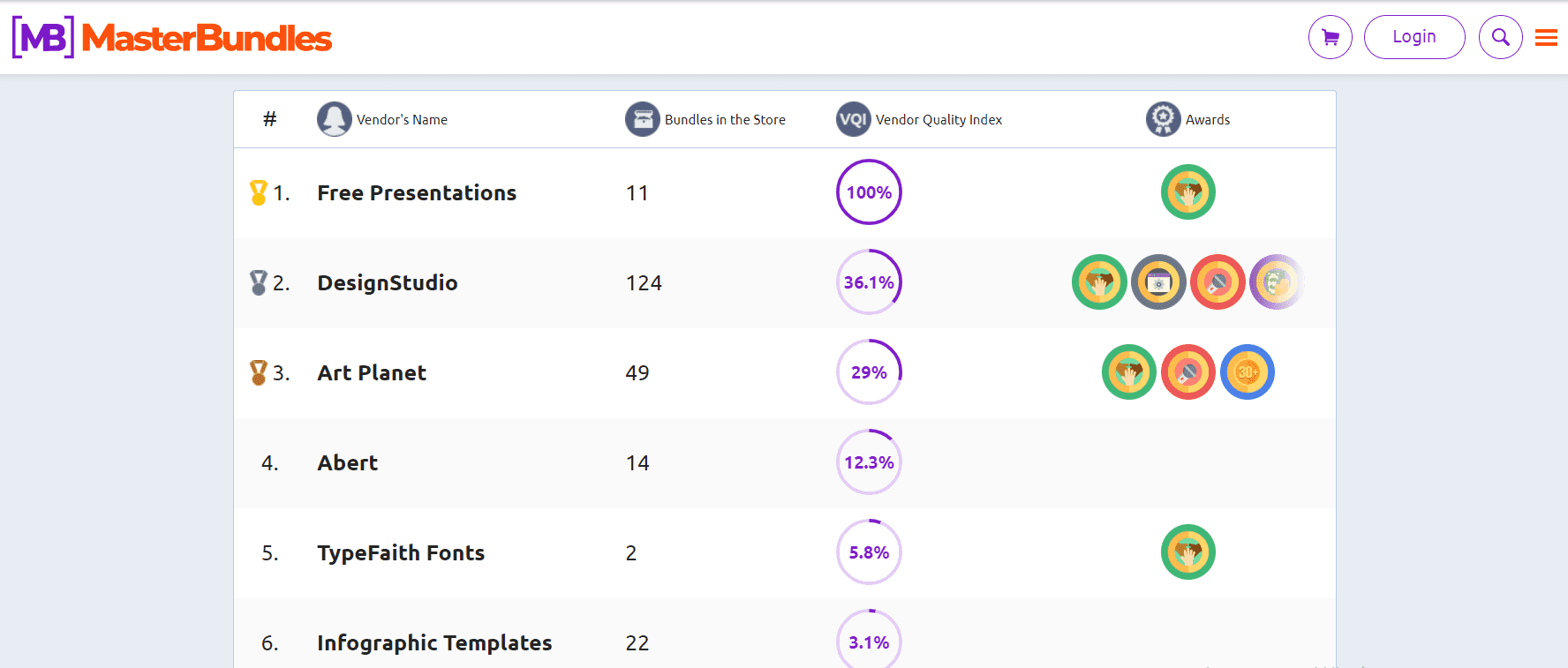 How Does It Work?
Basically, the vendor rating includes a link to the designer's store, number of products, VQI (vendor quality index), as well as achievements. Thus, in addition to the actual sales, designers also compete for various achievements, which appear on their pages.
In case you are a regular customer who wants to learn more about a seller or a designer who'd like to know more about other sellers, you can click on the vendor's name on the list and you'll be redirected to their store page where all the necessary information is stored. For example, DesignStudio is the leader at the moment. You can see that they have uploaded 124 bundles and their VQI is 36%. VQI is a formula with a large number of variables that allow you to evaluate the quantity and quality of products, as well as the level of customer satisfaction after buying any of their bundles. So now you have an idea about this studio and the products they make. Using this way, you can check any other company or designer that collaborates with the marketplace.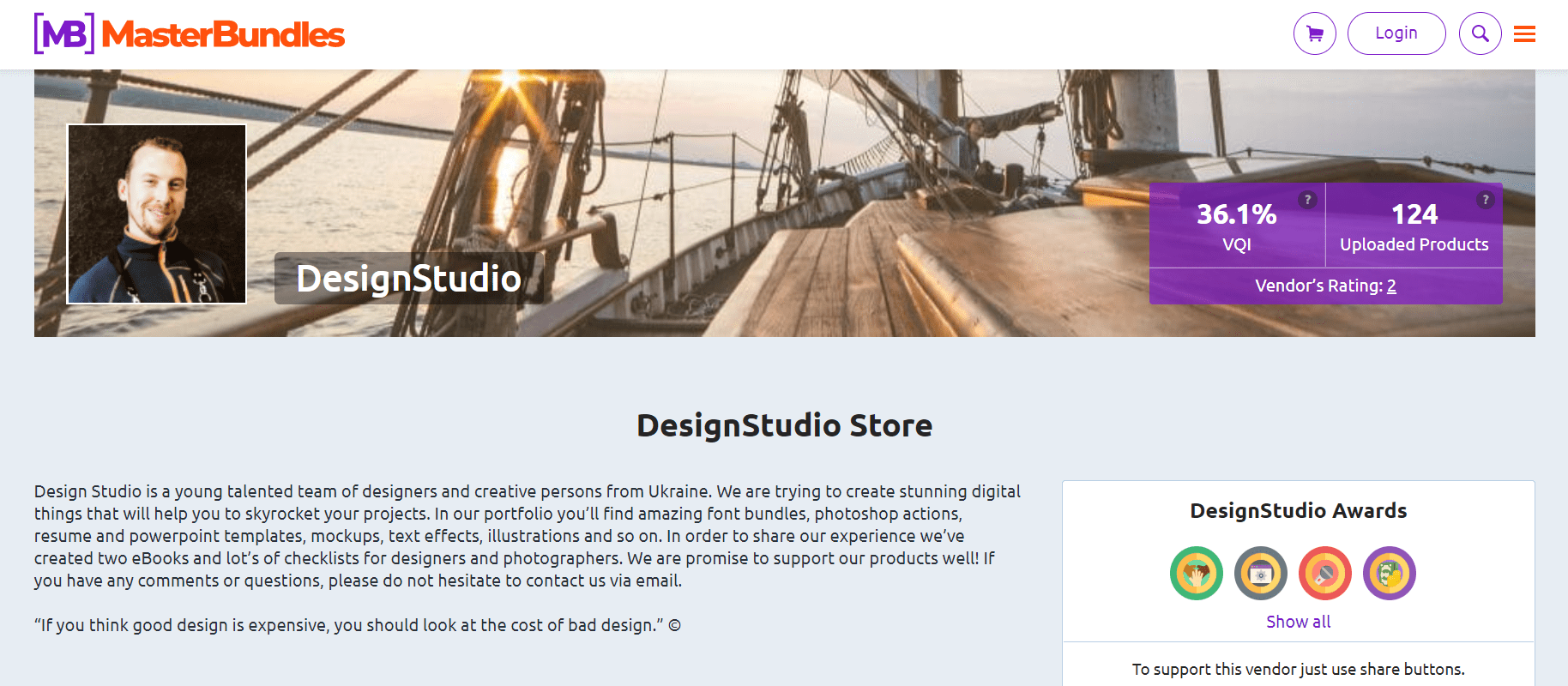 As you can see, this new feature is rather useful for both buyers and vendors, which makes MasterBundles one of the fastest-growing marketplaces that attract more and more designers as well as clients from all over the world.
How to Become a Vendor
In order to start selling your graphics on MasterBundles, the only thing you should do is to register on Sell Your Deal page and upload your goods. It's very simple and doesn't take much time. As soon as you upload your first item, you get your author's page just like this one. After that, you can start making money and competing for achievements and rewards from the marketplace. Everything is pretty clear and easy to understand but most importantly you don't have to worry about legal issues since you sell your design products through the big company. So do not hesitate and give it a try.
In case you want to find out more details about becoming a decent vendor as well as to learn some cool tips and tricks on how to boost your sales, make sure to check out this article. Those of you who want to learn more about the marketplace before starting the collaboration can find all the necessary information here.
MasterBundles, a digital marketplace that specializes in elements for digital design, has launched a feature that helps graphic designers sell their graphics on a trustworthy marketplace. In fact, MasterBundles has been in business since 2018 and in less than two years it became one of the most trustworthy online platforms where you can purchase fonts, design bundles, stock images, presentation templates, and many more.