Get a $25 Bonus for Adding Products to Your Store
16 February 2023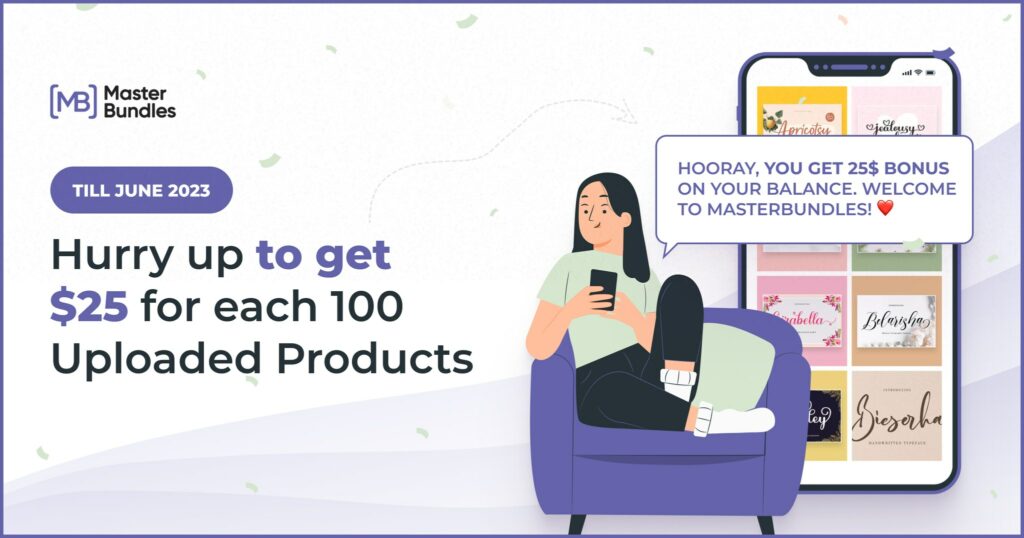 Bonus for our vendors! Get $25 for adding products to our marketplace.
We are a young but fast-growing marketplace that is developing in a highly competitive niche. This is the reason why we are trying to stand out and provide the best possible experience for our vendors.
Also, we want to fill our catalogs with first-class products as soon as possible.
Today, we're offering a bonus for adding products to our site.
You'll get $25 for every 100 new items added to the site.
Offer is valid till June 2023.
Promotional Terms and Conditions
This bonus program applies to products added after February 16, 2023.
A vendor will receive a $25 bonus for every 100 items added.
All products must be added through the Sell Your Deal form.
Once you have added 100 products, you need to notify our manager. Send an email to deals@masterbundles.com with subject "Where's my money – $25 bonus".
Please keep in mind you can withdraw your funds starting from $50. To withdraw, we can add up your bonus money and the commission you earned from the sale of products.
Not all products qualify for the promotion on equal terms.
Product Requirements
In order to get the bonus, your products must meet the criteria:
Logos: for logos to be eligible for the promotion, bundle them into small packs of 5 or more items
SVG & T-shirt designs – 5+ items in the pack.
Icons – 10+ item packs take part in this promo.
Presentations – your presentation must have 15+ slides.
Illustrations, patterns, textures and backgrounds – 5+ items in the pack
Flyers, business cardsSocial Media, Certificate templates, Coloring Pages – 5+ items in the pack.
Fonts – 1 font is valid for this campaign.
Resume – 1 item is valid for this campaign.
You can add AI generated products!
Once you've added 100 products, contact us at deals@masterbundles.com, and we'll credit your vendor account. This can be withdrawn from your payouts page as normal once the minimum payout requirements are met.
You can take part in the promotion an unlimited number of times.
What Is MasterBundles?
MasterBundles is a rapidly-developing company that specializes in web and graphic design. The company sells, web templates, WordPress themes, stock images, clipart, patterns, vectors, fonts, as well as many more. It also collaborates with free-lance artists and designers and gives young creators opportunities to grow and make money on their art via Sell Your Deal service.