We are all fascinated by those breathtaking pictures taken from space. In fact, the space is so mysteriously beautiful that we cannot help but be hypnotized by the fabulous images of galaxies, nebulas, and star collisions. These images indeed represent the magnificent space art, which is actually unreachable and extremely dangerous for humans and this is exactly what makes them so stunning.
A Brief History of Space Images
Despite the fact that space images are considered to be art the reason they actually appeared was science. Astrophysicists watched the night sky through telescopes as a part of their investigations that were supposed to prove or bust theories of the universe birth. So they took lots of pictures of space objects by means of powerful telescopes because needed those images for their researches.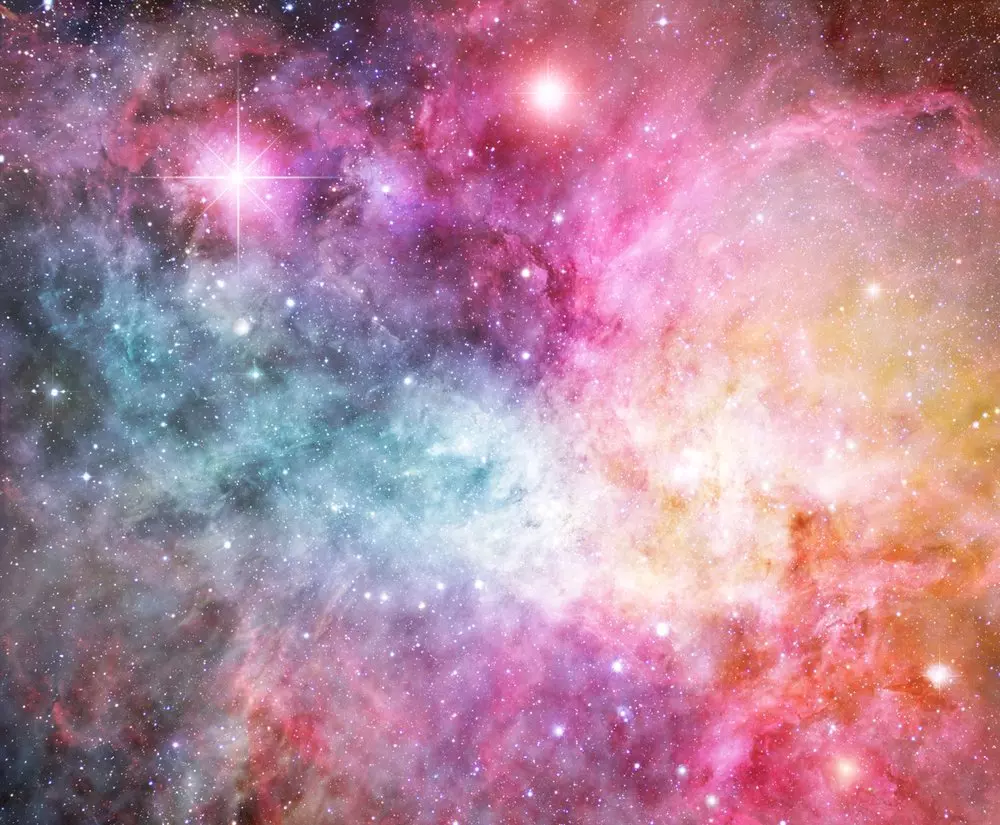 Source: DepositPhotos
The fun fact about space images is they are actually black and white simply because you cannot take color high definition pictures and videos of the objects that are thousands and millions of light-years away. Thus, the black and white space images are being colored by scientists after they have been taken. Certainly, the scientists do not just randomly color these pictures just to make them look fancy. They actually color the images according to the chemical elements that a particular space object consists of as well as according to the temperature of an object. What is more interesting that blue spots on these fancy galaxy images are the hottest and the red ones are the coldest.
As you can see, creating a pretty space image that you can use as your desktop background is actually a big deal and a lot of work. So next time you see a fancy galaxy image, have a moment of appreciation for those who took and colored that picture.
Where and How to Use Galaxy Background in Web Design
Different textures are rather popular in web design for the reason that they can really make a site special and unique. Certainly, with no exaggeration, fabulous space textures are among the most popular ones in the field of web design. Perhaps the most common (and probably the only) way to use space images in web design is galaxy background.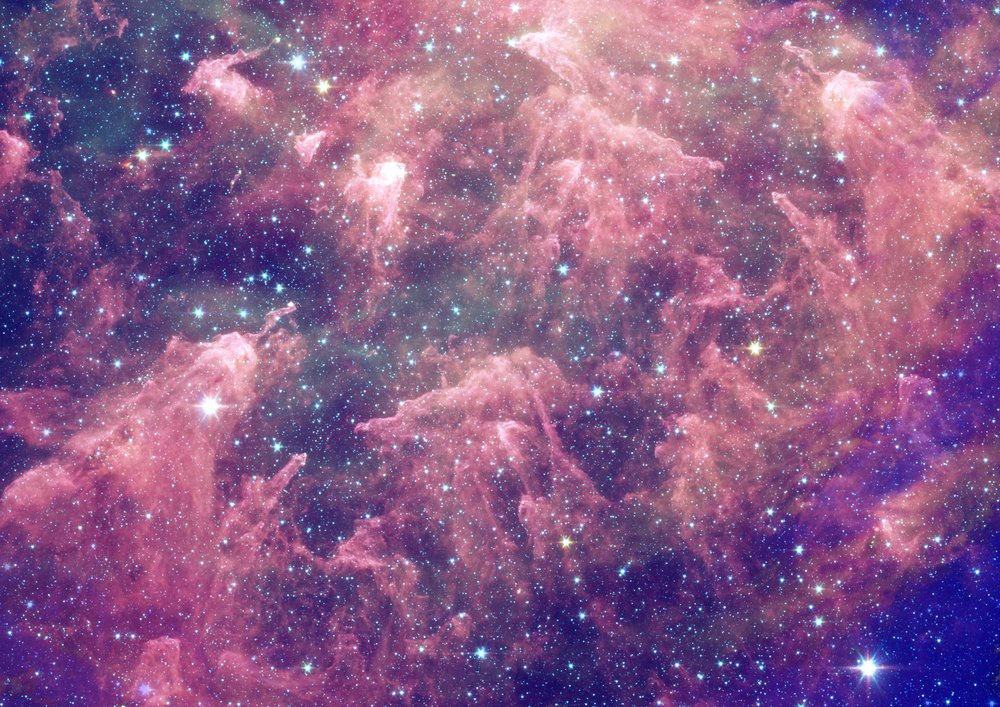 Source: DepositPhotos
In fact, galaxy backgrounds can work for various types of websites from personal blogs to online shops. Such a background will not only make your website fancy but a little mysterious and magical as well. Remember just a couple of years ago when Tumblr was at its best, space backgrounds and galaxy images were the ultimate must-haves for fancy and mysterious blogs? Well, Tumblr might not be as popular today as it was earlier, but space textures still got it.
At the same time, such a background will not work for such websites as a baby clothing online store or a huge corporation official website, yet it will definitely suit a tattoo salon site, a creative portfolio, or a personal blog. While working with space textures you have to make sure that they will suit a particular website, its style as well as its main message. Space background can both ruin and bring your site to the top and it only depends on how and where you use it, so you want to be careful with it.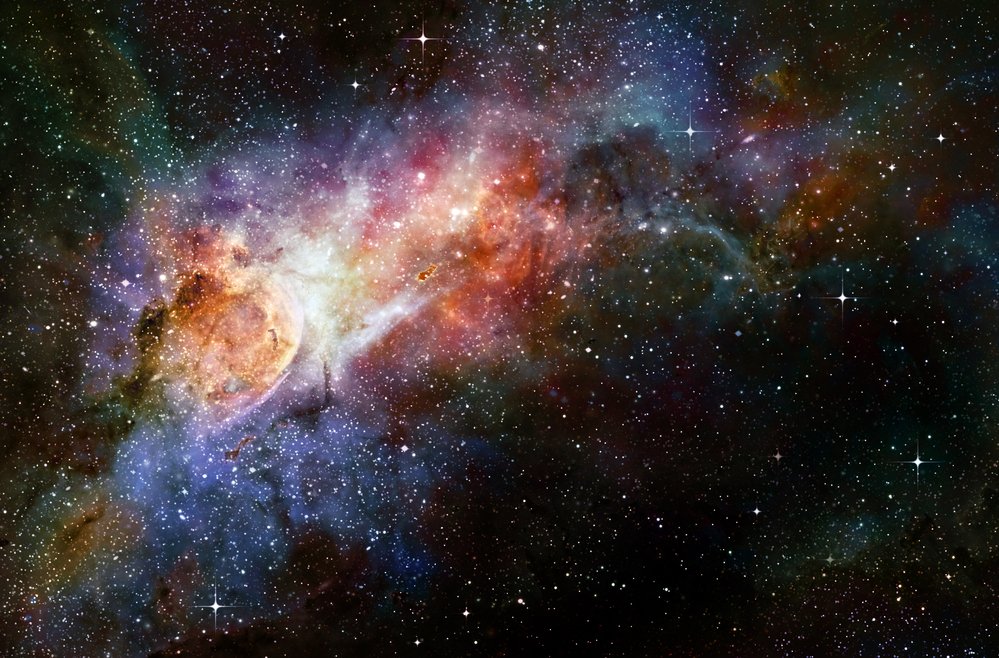 How to Create a Star Field
Well, using actual space images in your projects might be a problem, since some of them can be subject to copyright. Yet it should never scare you or stop you from using galaxy backgrounds in your projects since you can create them by yourself in Adobe Photoshop. So let us figure out how to do that.
Create a new document in Photoshop.
Fill the document with black color (Edit > Fill > Color > OK).
Add noise (Filter > Noise > Add Noise), choose the 100% amount, and check Monochrome.
Head to the layers panels and select your background layer.
Duplicate the layer and hide the new one.
Blur your first background layer (Filter > Blur > Gaussian Blur) using the amount of 0.5 pixels.
Make little stars (Image > Adjustments > Levels > Input Levels) and then enter the following values 200, 0.42, 255.
Make large stars (Filter > Blur > Gaussian Blur) using 2 pixels value.
Adjust your stars (Image > Adjustments > Levels > Input Levels) and enter these values – 170, 1, 172.
Add more blur using a radius of 1px.

That is pretty much it. You are done! Congratulations!

Here is a short video guide if you need some visuals.

Galaxy Brushes for Photoshop

If you want to create something more elaborate, you might be interested in some galaxy brushes for Photoshop. These pre-made brushes will help you create a more or less accurate galaxy images for your space background as well as save you a lot of your precious time. You can find both free and premium brushes on such resources as MyPhotoshopBrushes. So if you are interested in creating some galaxy backgrounds for your projects or just for fun, go ahead and get some fancy Photoshop brushes.

Free Space Backgrounds

Another way to get a free space background is to download one from a stock images website like Unsplash, for example. These images are royalty-free, which means that you can use them in your projects or just enjoy having them as your desktop background. So go ahead and check some dope free space backgrounds on stock images resources.

Galaxy Background Bundles

If you are really fond of dope fancy backgrounds, you might want to check out some premium, yet rather affordable, space background bundles from MasterBundles. So here are some of the best space bundles for web design.

Price: $4
This bundle contains a pretty decent for its price amount of high definition space images for all occasions, so you might want to give it a try.

Price: $4
This very space bundle has lots of high-quality galaxy backgrounds that will simply stun you with their beauty. The bundle is quite affordable, so it will be a great option for beginners.


Price: $4
Another cool and affordable galaxy bundle in navy colors. This very bundle is the ultimate must-have for all the web designers out there.


Price: $24
If you want to spice up your space background just a little bit, then why not add some aliens to it? Well, this very bundle is the way to go for that. It comes with over 800 detailed alien overlays, which gives you a pretty wide choice. So do not hesitate and give it a shot.


Price: $4
This one is another affordable option just out of space. Designed in purple colors, the images within this very bundle will definitely make you fall in love with them. So make your future projects magical with some dope backgrounds from this very bundle.


Price: $4
If you are looking for something less traditional, then Brown Galaxy might be the way to go for you. Lots of beautiful background images designed in various shades of gold and brown will no doubt fascinate you. So go and check out this very magnificent bundle.


Price: $4
Last, but surely not least, Pink Galaxy Space Backgrounds bundle. This is another affordable option that contains dozens of fancy pink space backgrounds that will definitely make your website simply awesome. So why not give it a shot?
Well, there are a lot of cool and what is more important affordable space web design bundles for your current and future projects, so go ahead and get some.

Price: $29
Galaxy Colors Collection is a really huge bundle with more than 1500 elements for literally all occasions. So if you are a web designer who has a whole bunch of creative projects, this very bundle is definitely the way to go for you.
More info

Showcase of Websites Where Galaxy Background Is Used

Well, we have already talked about how popular space backgrounds are, which means that it is the very time to check out some real websites that have this very background. So here they come – websites where galaxy background is used.
Air Social

12 Wave

Alessio Santangelo

Brandon Johnson

As you can see, space background is a great solution for personal websites and portfolios, especially if your occupation is connected with space science or if you are a creative person who loves space.

Final Word

Space images will never stop fascinating us because what else can be more beautiful, more sophisticated, more magnetizing, and more hypnotizing? Certainly, such a stunningly beautiful thing as a space background is widely used in web design and I do not even have to explain why. In fact, there are many great resources like MasterBundles where you can find some drop-dead beautiful space backgrounds for your web design projects. So next time you start a new project, consider using some space patterns in order to make it truly special and unique.
Have you used galaxy backgrounds in your projects? Share your experience in the comment section below!