30 Best Floral and Flower Pattern Background Templates
Today, creating beautiful and trendy projects is much easier with pre-made solutions. You can use the best flower pattern background for logos, presentations, social media posts, website design, prints, postcards, flyers, and other purposes.
Our collection comes filled with a cute, floral atmosphere and moves us to a pleasant springtime. Get inspired, use these products in 2023, and delight your clients with fresh designs.
Best Floral Background Patterns
Patterns can transform your design and make it richer by repeating drawings. Floral fragments are no exception because they create summer and spring motifs and add tenderness to the project. Flip through rather 10 best premium flower repeating background patterns and choose the best compositions.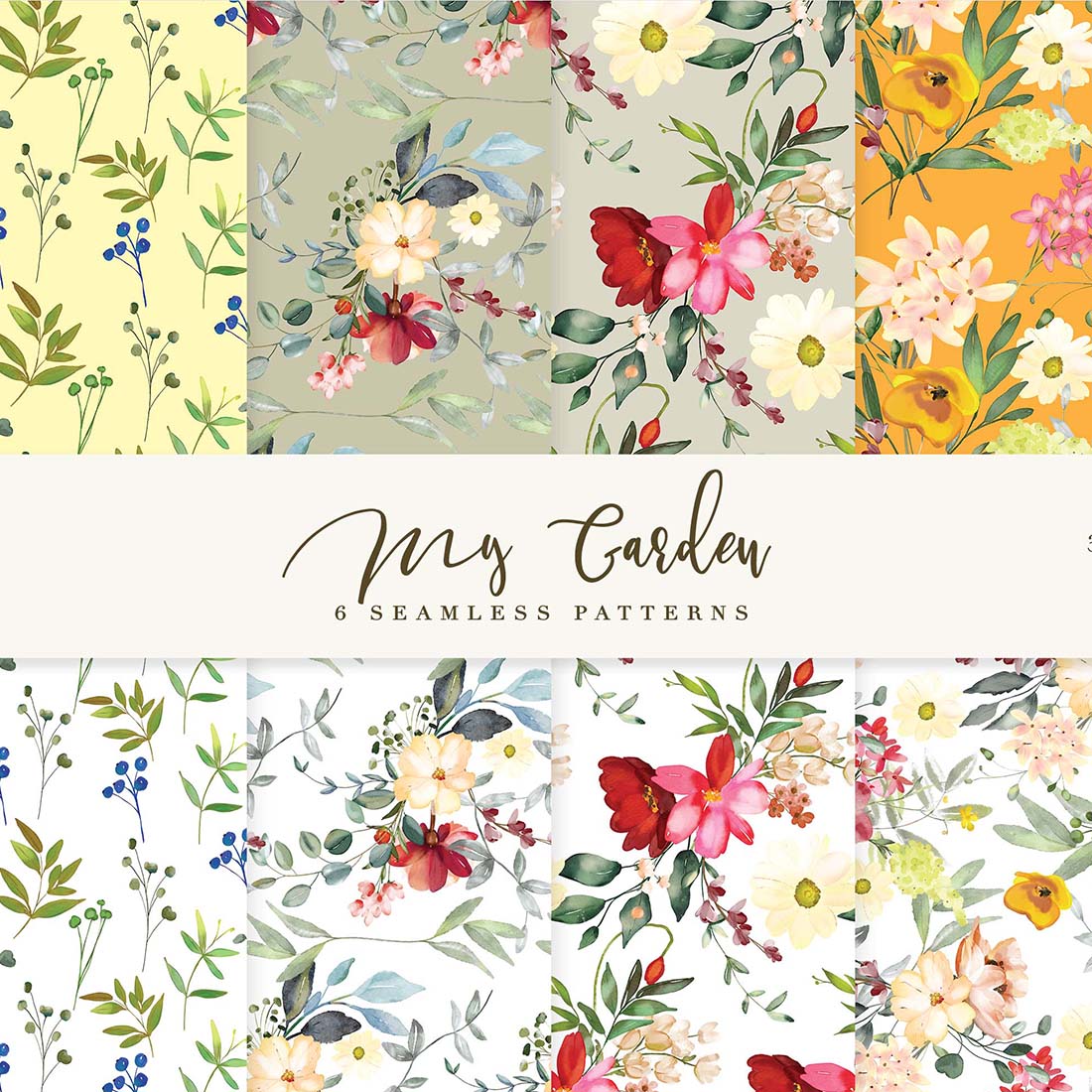 Watercolor Floral Seamless Pattern Collection
| | |
| --- | --- |
| Price | $7 |
| File type | JPEG, PNG |
| Date | February 11 2022 |
| Colors | |
| Rating | |
Take these simple floral design patterns and work with an easy-to-use program to edit and customize the image to suit your style. Select between personal, commercial, and extended commercial licenses to create designs of any complexity and focus. The set contains 6 high-quality patterns suitable for web projects and prints.
Show More
Luxury Gold And Blue Floral Seamless Pattern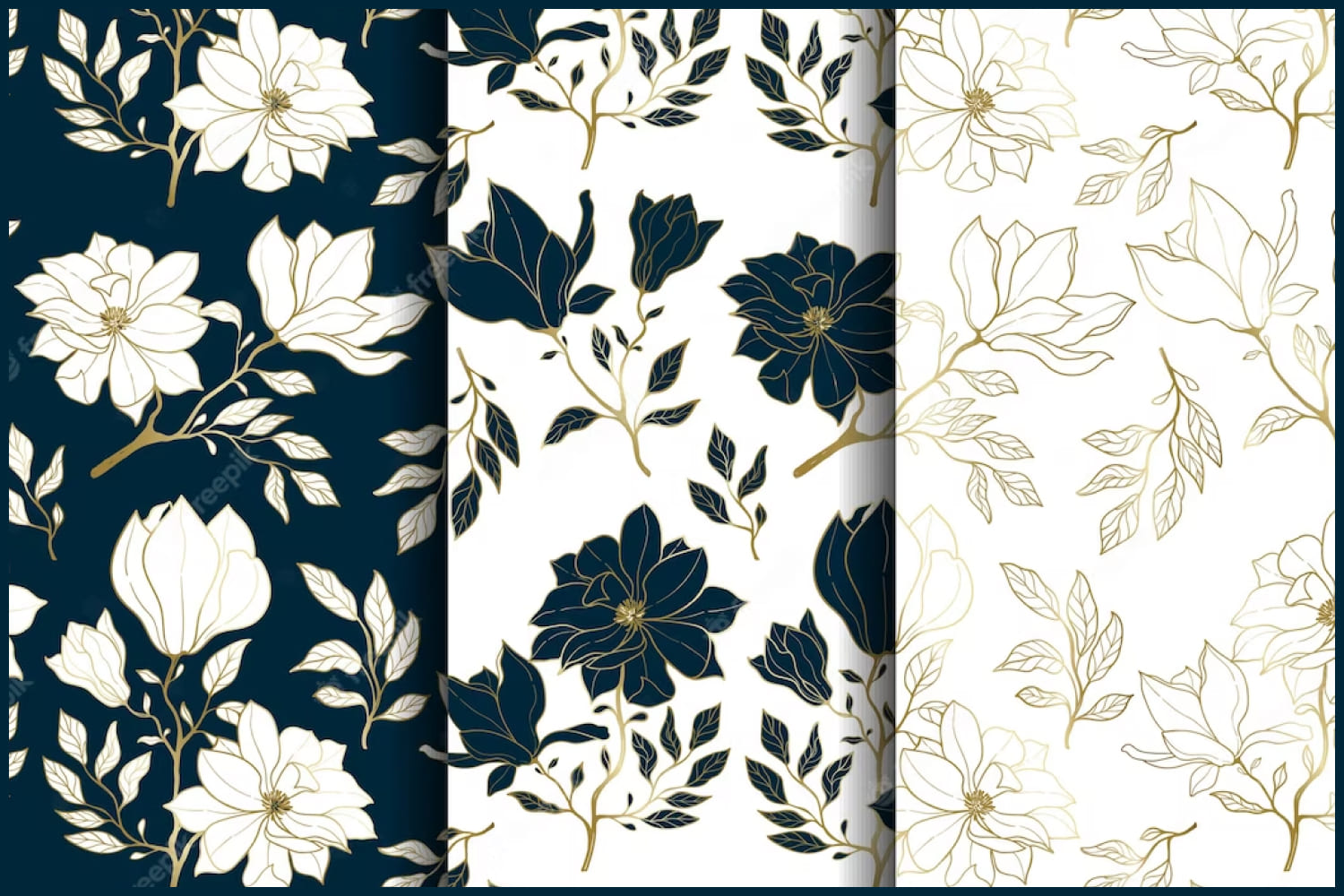 Unleash your creativity with high-quality materials. This set of 3 flower background patterns is available in EPS and JPG files. The design allows you to be on trend and follow a minimalistic style. The product suits postcards, invitations, wallpapers, posters, banners, business cards, presentations, and stories/ posts on social media.
Hand-drawn Pastel Floral Collection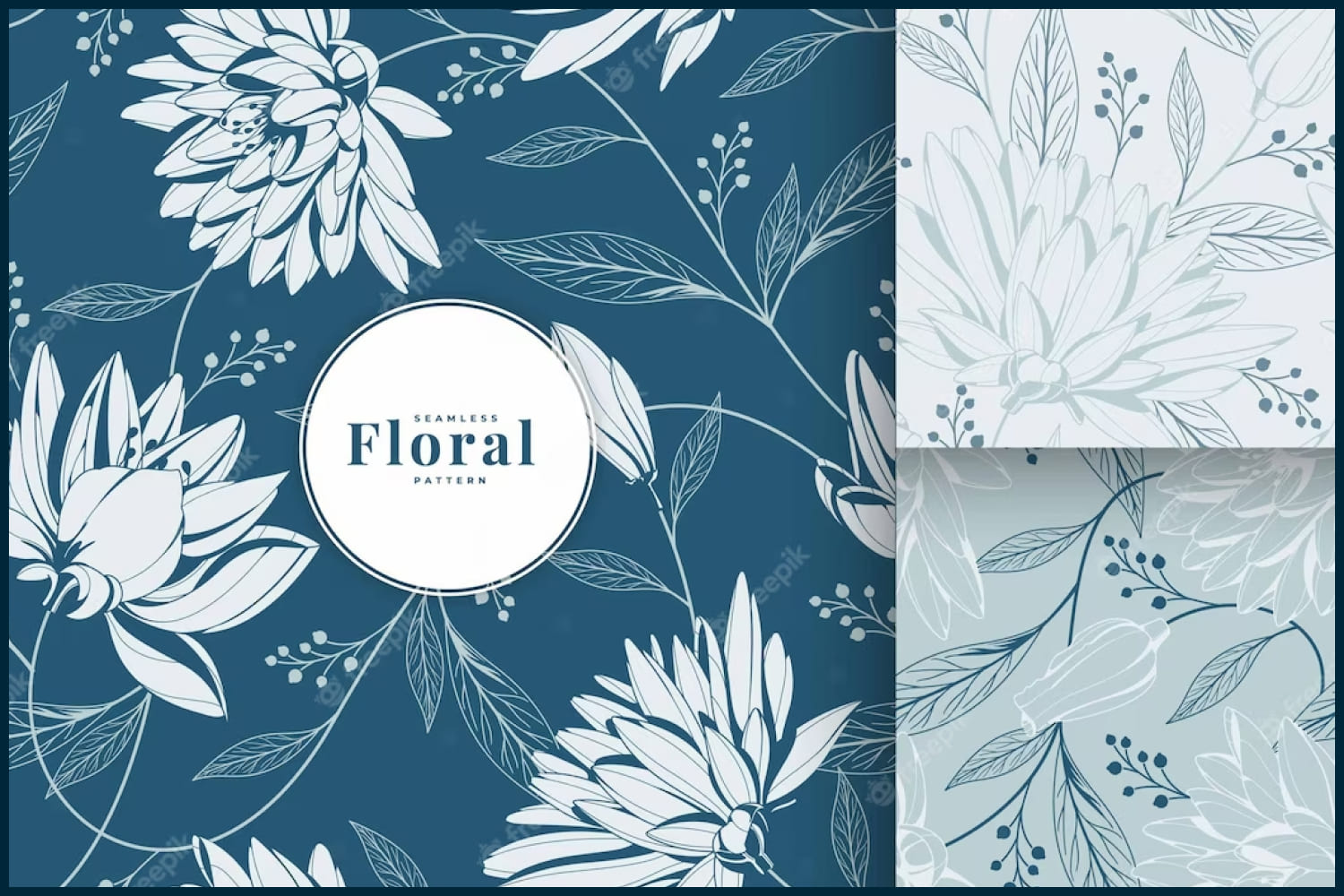 This is another premium collection available on a commercial license. The minimalist split flowers, subtle stems, and repeating elements will make your designs look more professional and intense.
Vintage Spring Floral Pattern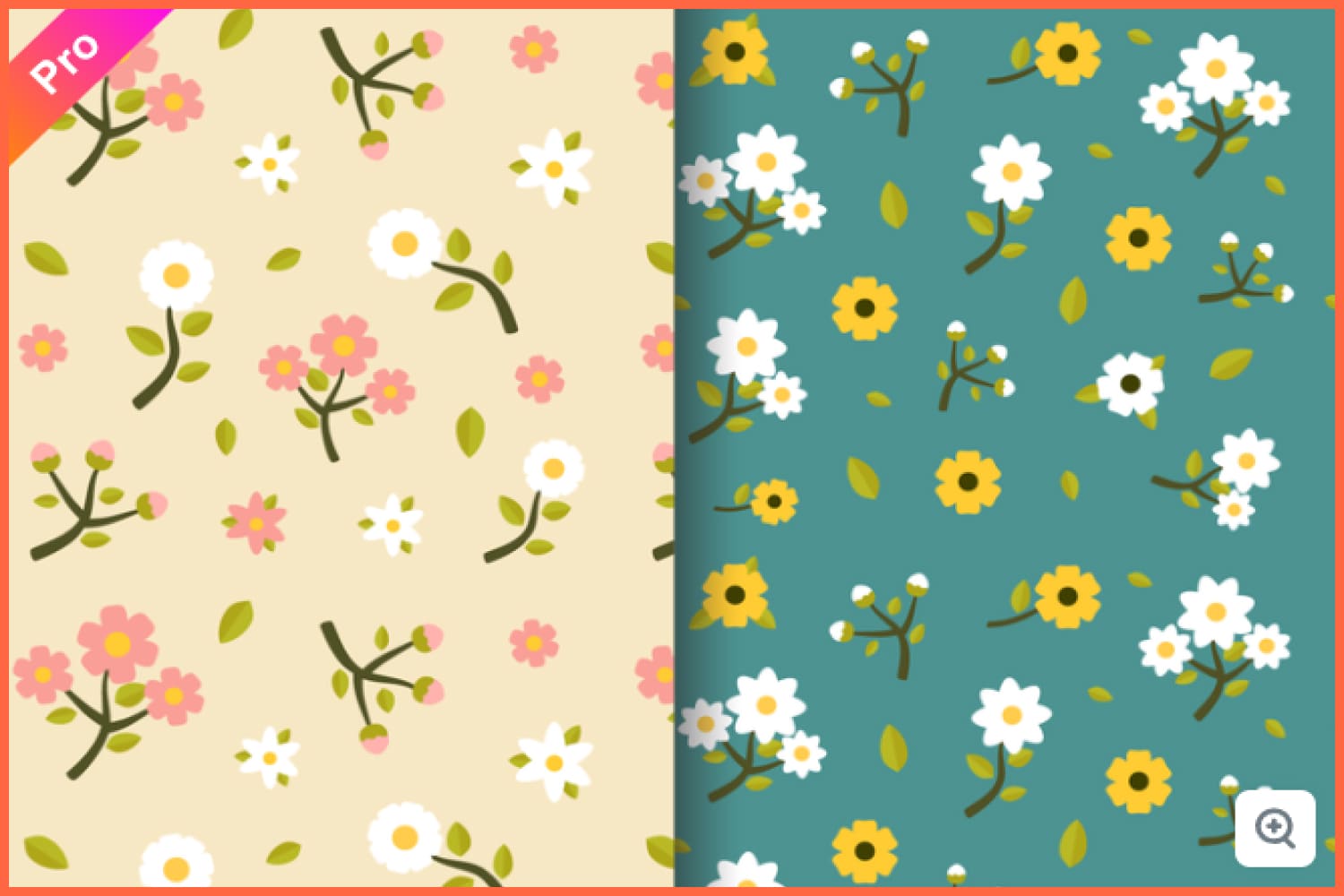 Take a look also at this offering of children's floral patterns in two color schemes. Use the pro-license and produce digital designs of any focus. Make this product the background of a presentation, website, banner, or business card. It's great for kids' events, clothing brands, and accessories.
Winter Floral Seamless Pattern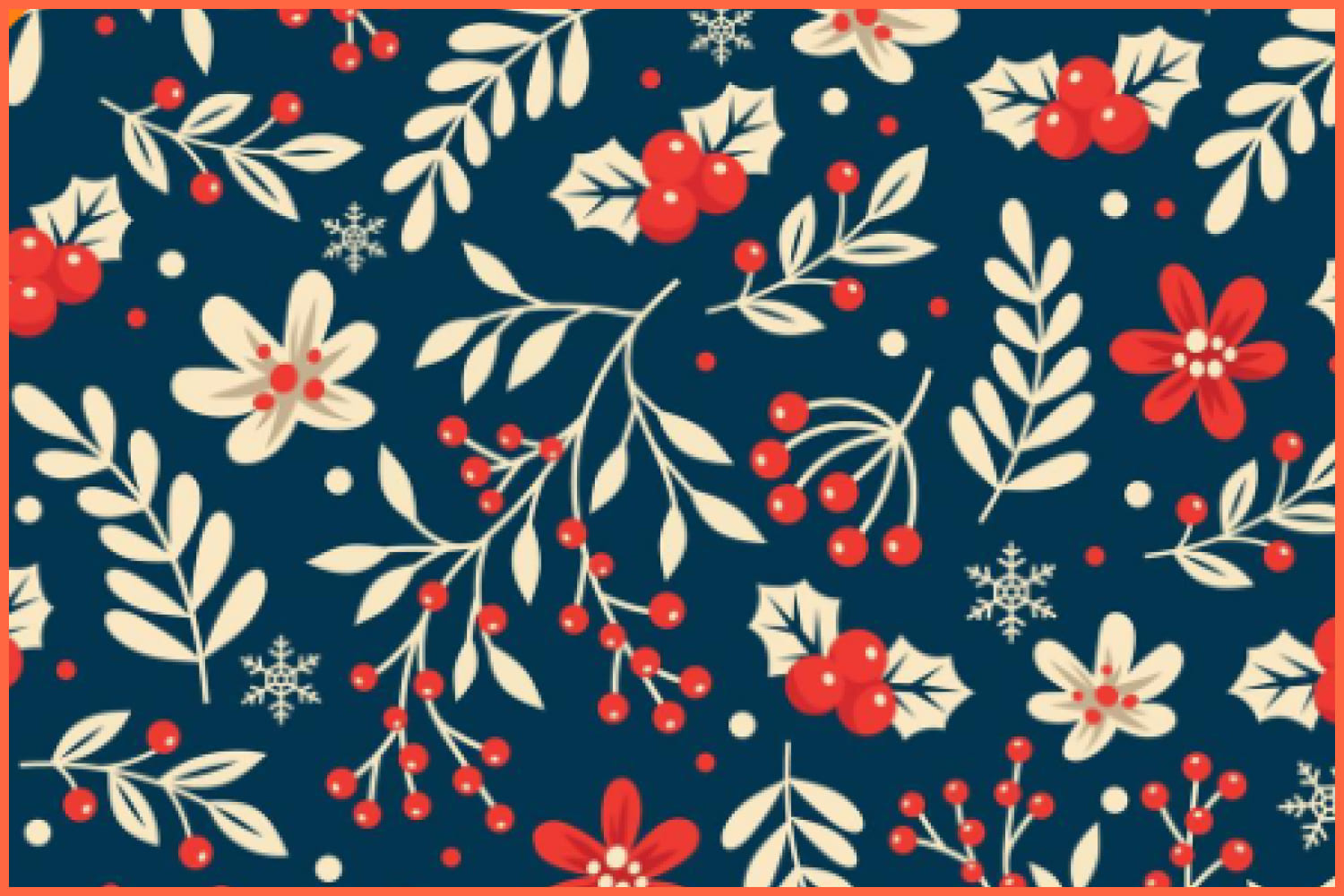 This clearly drawn seamless design with berries filled with vibrant colors. Try it for organizing your social media designs, business cards, postcards, flyers, and winter-themed projects.
Tropical Leaves Seamless Pattern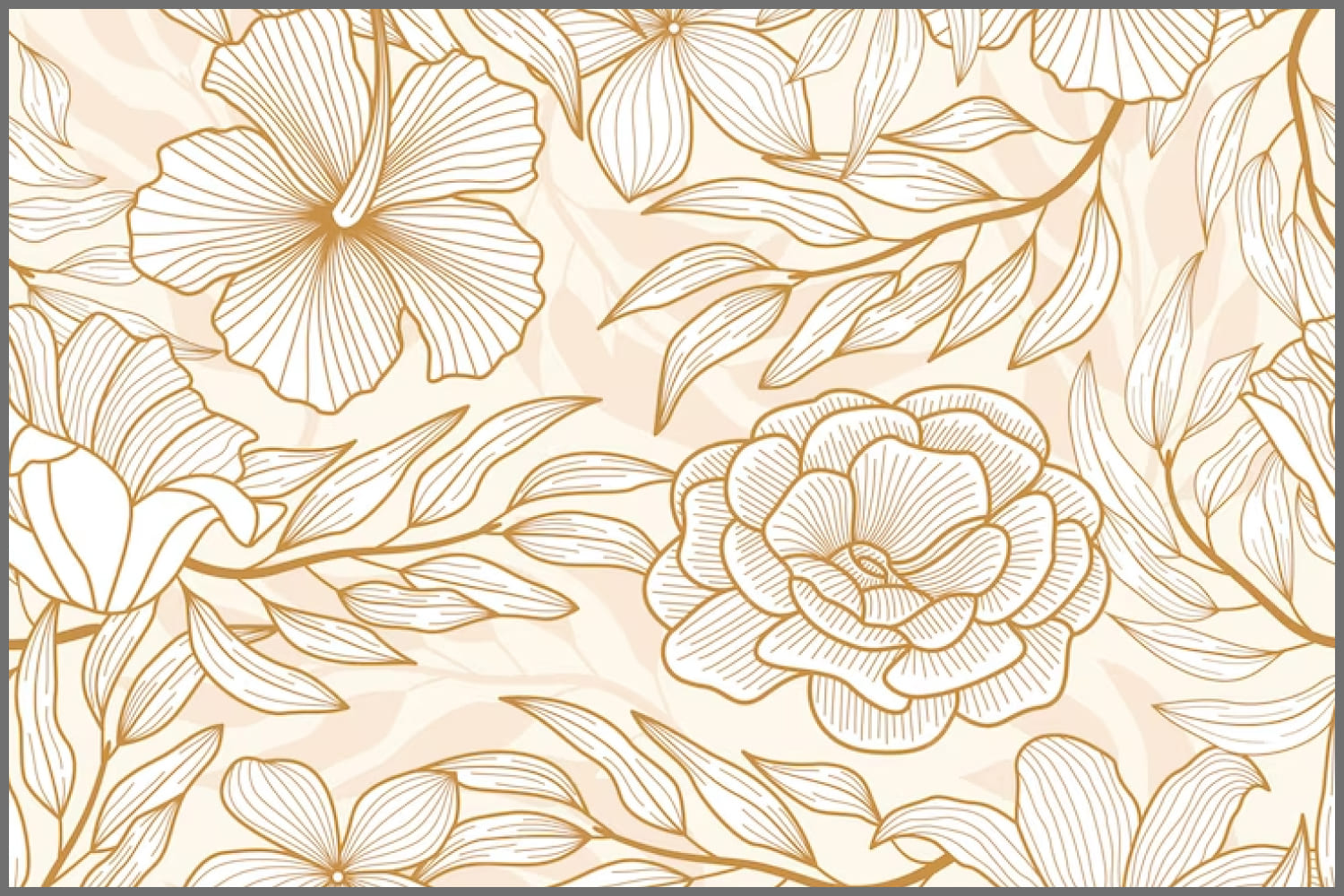 Here's another seamless vintage flower background pattern with neat hand-drawn details. They will give your project a retro feel and bring out the full potential of your floristry brand, clothing, accessories, etc.
Free Floral Background Patterns
Our free deals also vary in style, feature quality, and fit for wedding salons, florist studios, and other businesses. Browse, choose the best color combination, and transform your brand's design.
Spring Lilic Watercolor Floral Pattern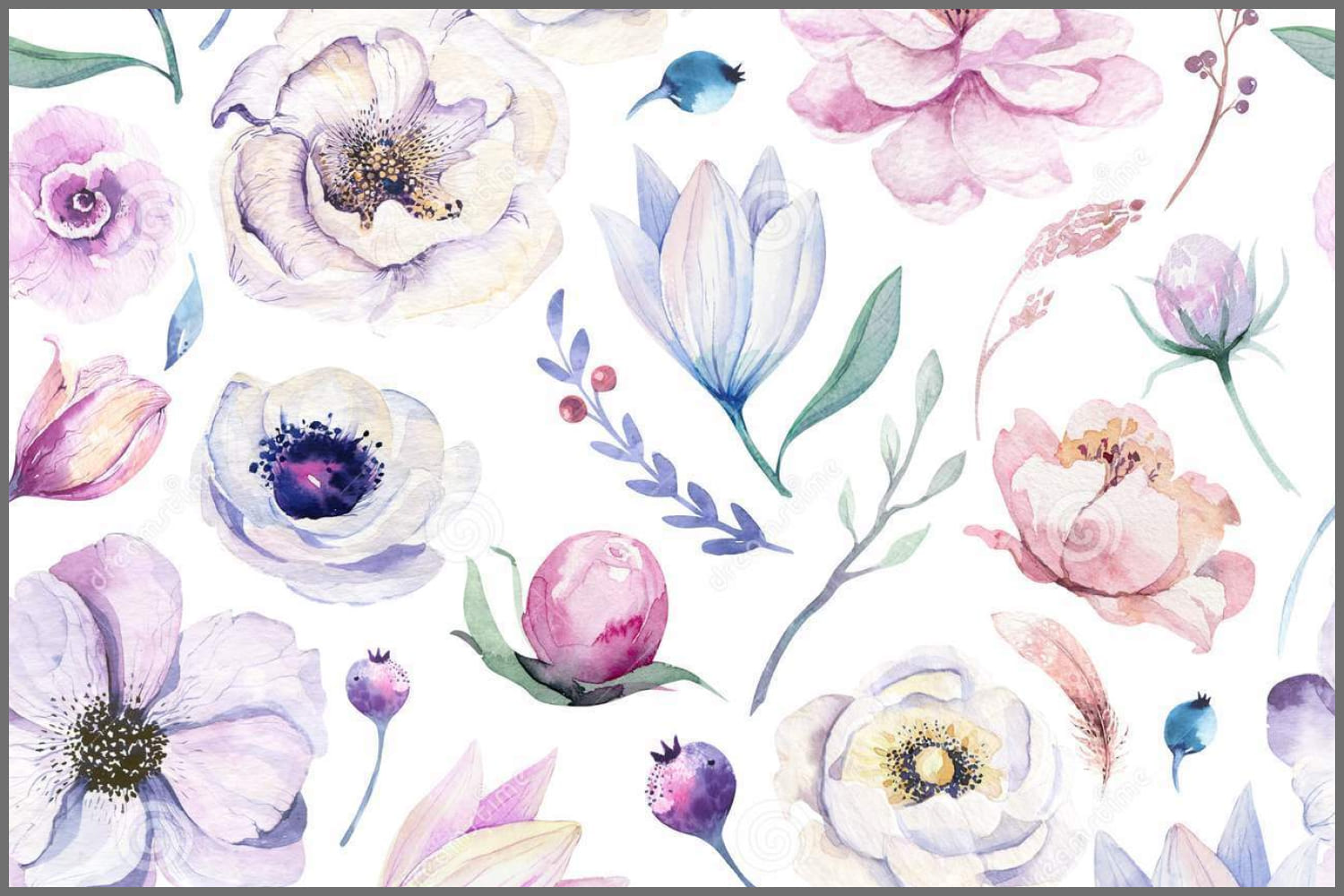 This is a perfect watercolor product for wedding projects. Pompous roses, buds, berries, and leaves intertwine to produce an incredibly eye-catching design. You get the illustration in 6 sizes and can download it completely free.
Ditsy Floral Pattern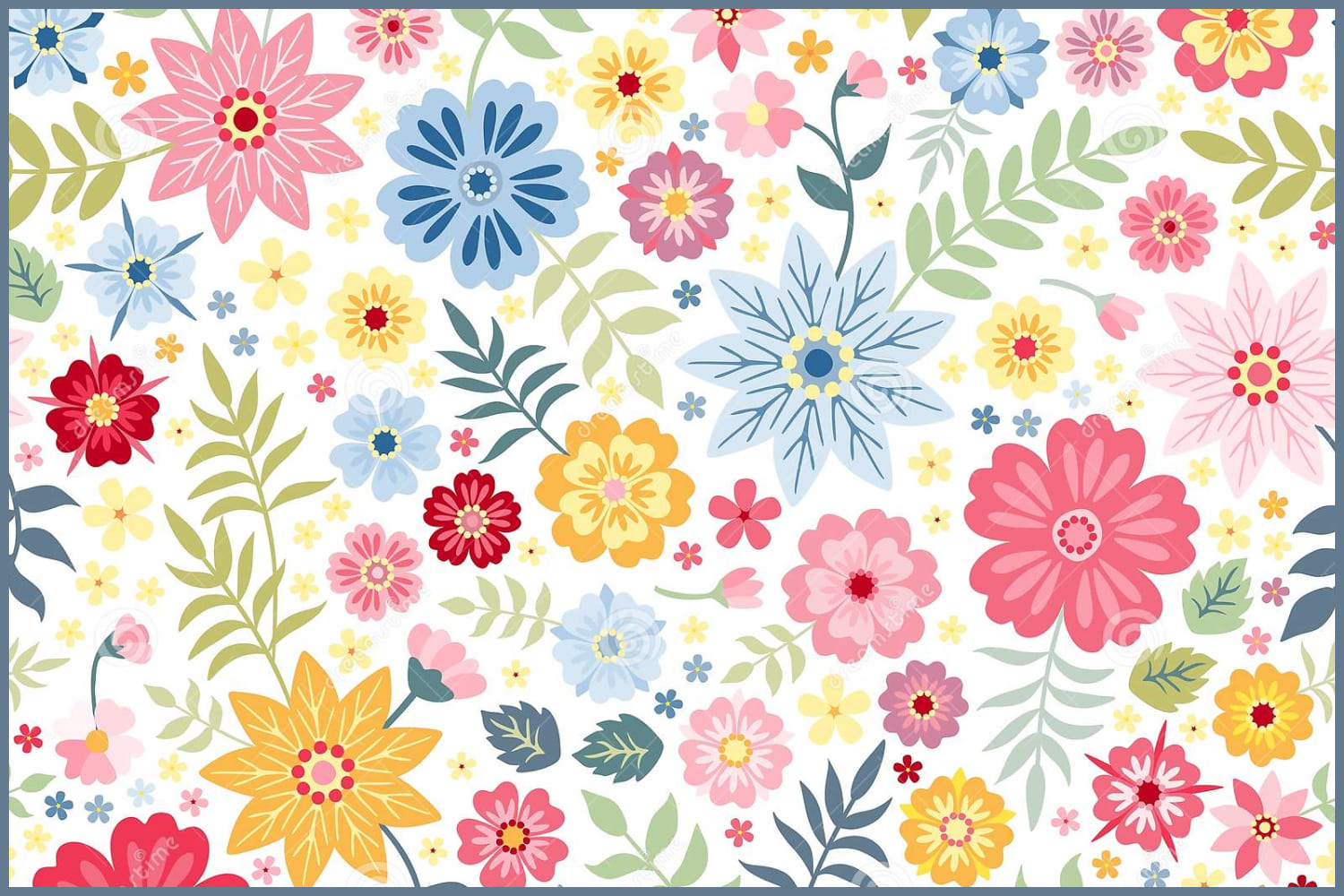 These cute florals look amazing in prints, especially when it comes to children's motifs. The product is available in EPS, and TIFF formats and ready to print.
Hand Drawn Floral Design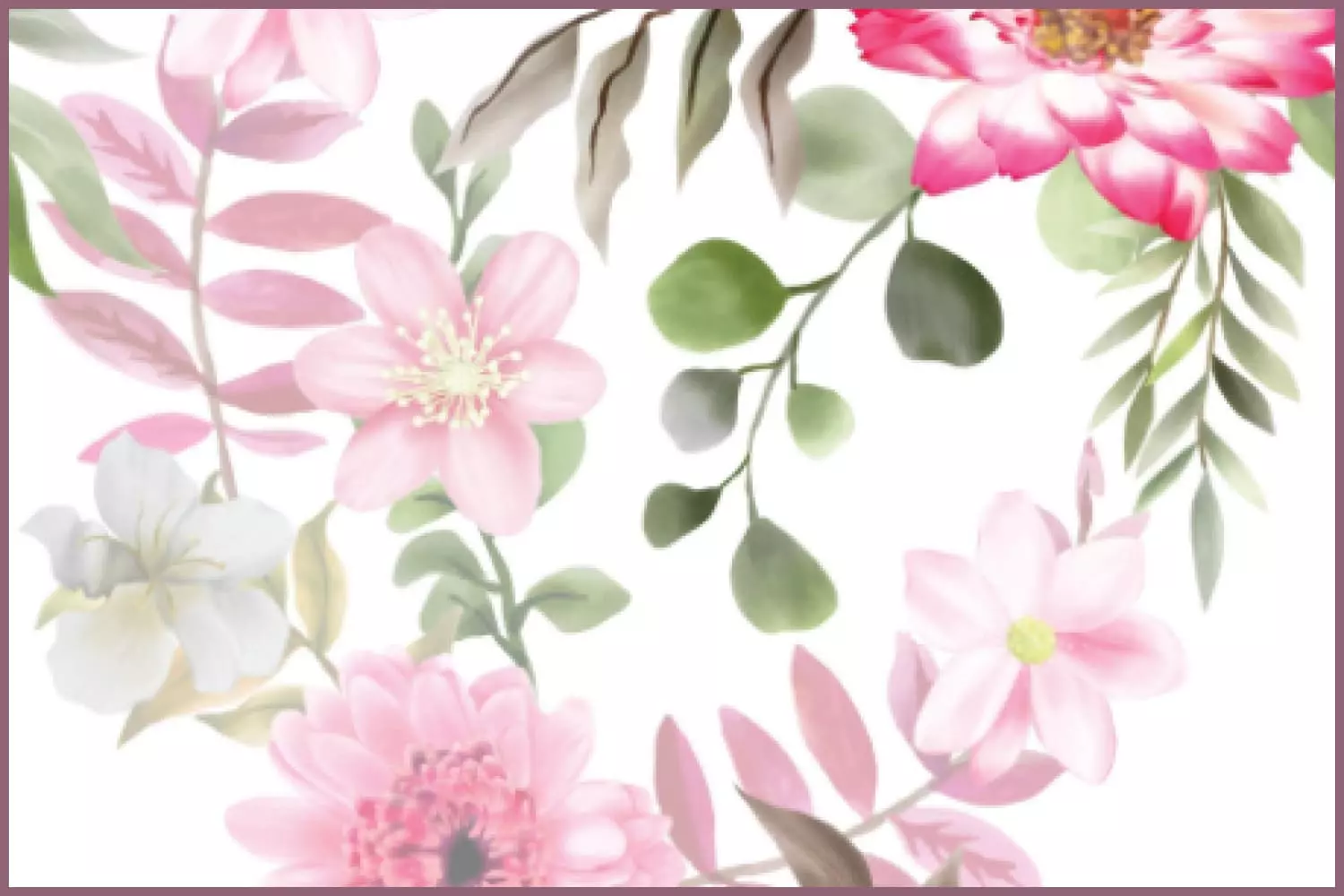 Here is a beautiful, stylish, and watercolor design with a free license. Apply it for wall art, packing, postcards, invitations, flyers, presentations, and social media.
Floral Concept With Vintage Style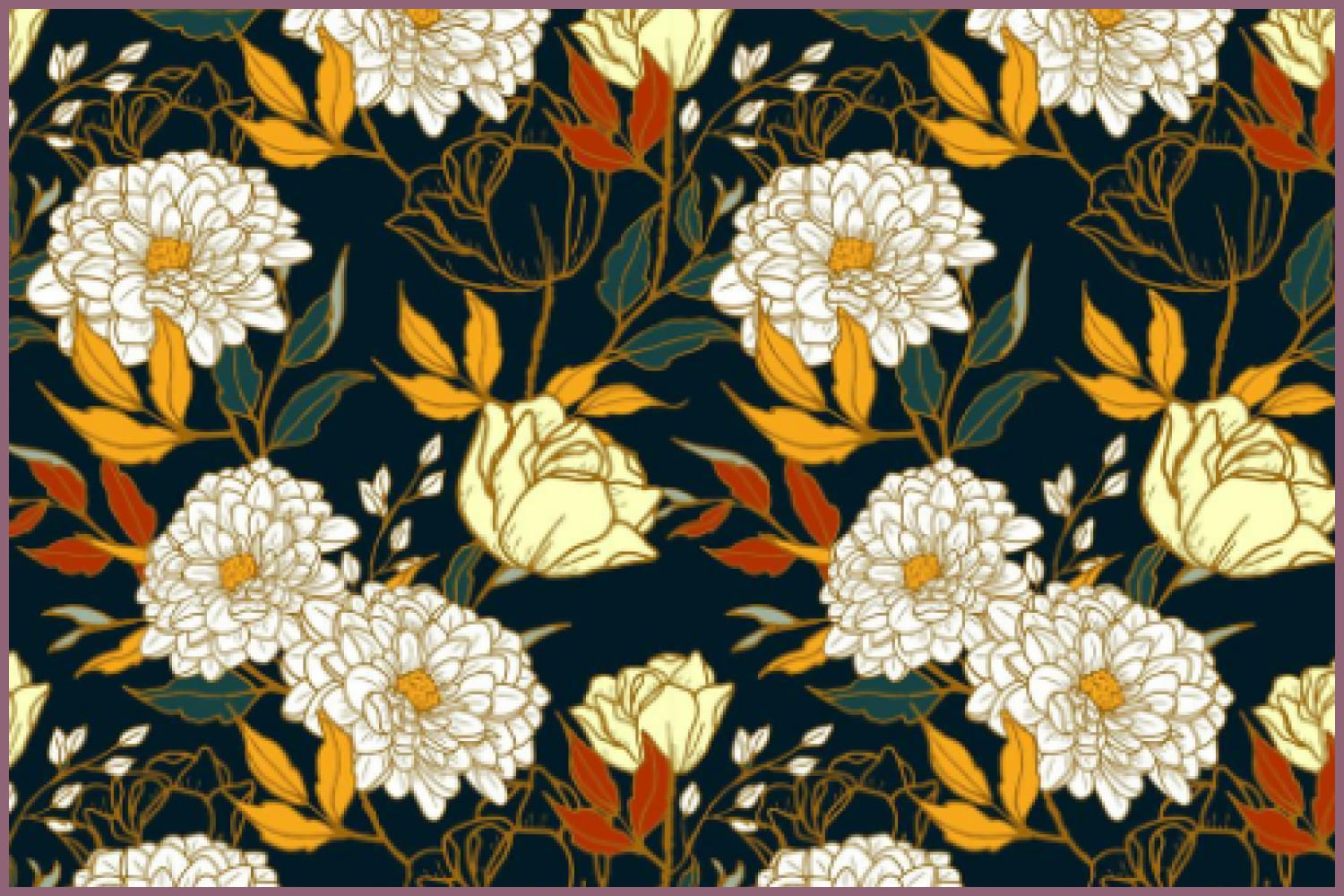 This vintage product should also be in your collection. Peony adds delicacy and lushness. The item is perfect for designing business cards for a florist studio, antique store, or interior posters.
Engraving Hand Drawn Botanical Pattern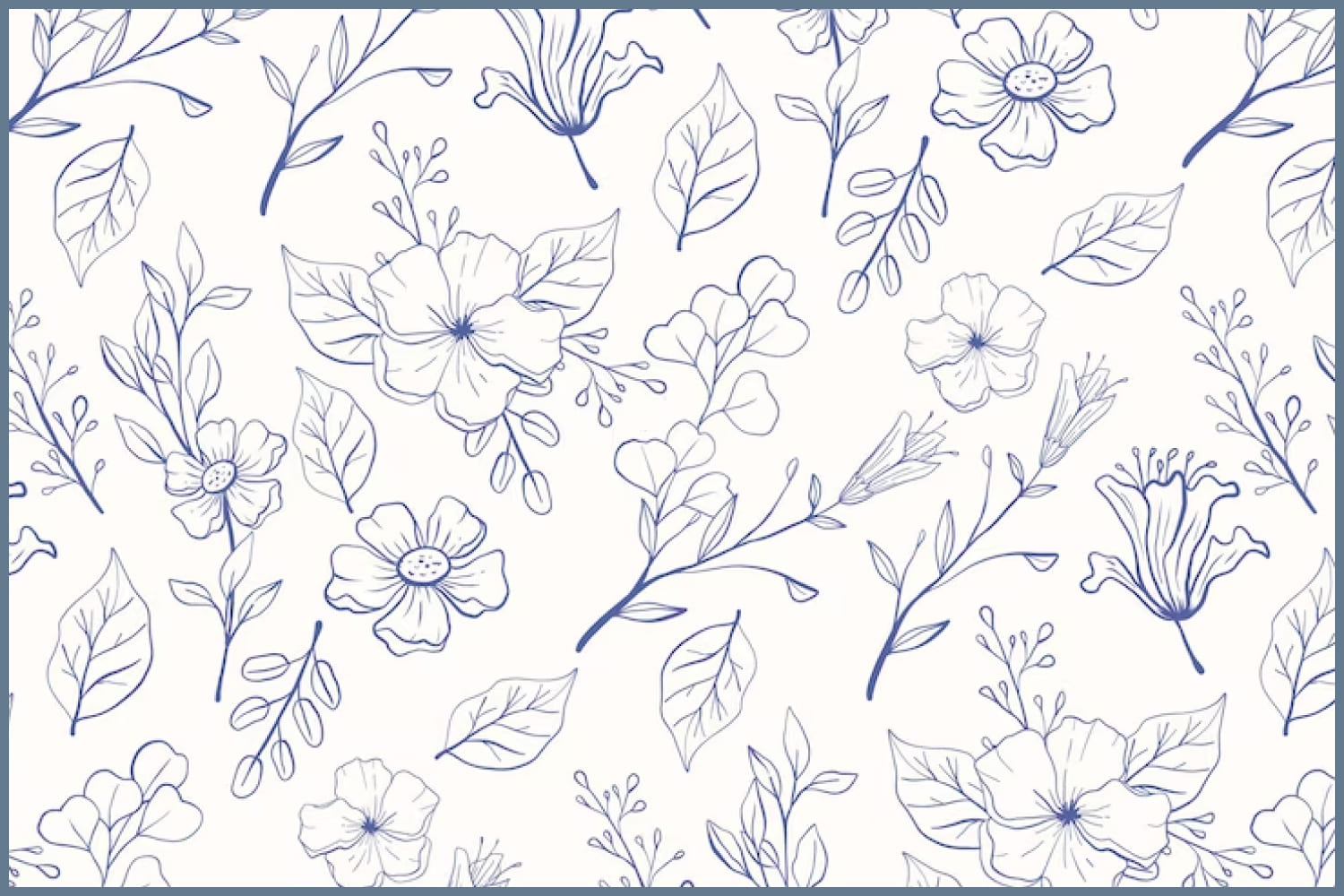 Note also this free botanical pattern. Choose between AI, EPS, and JPG file formats. Edit the photo, add color, and saturation, and make the project more vivid.
Vintage Leaf Set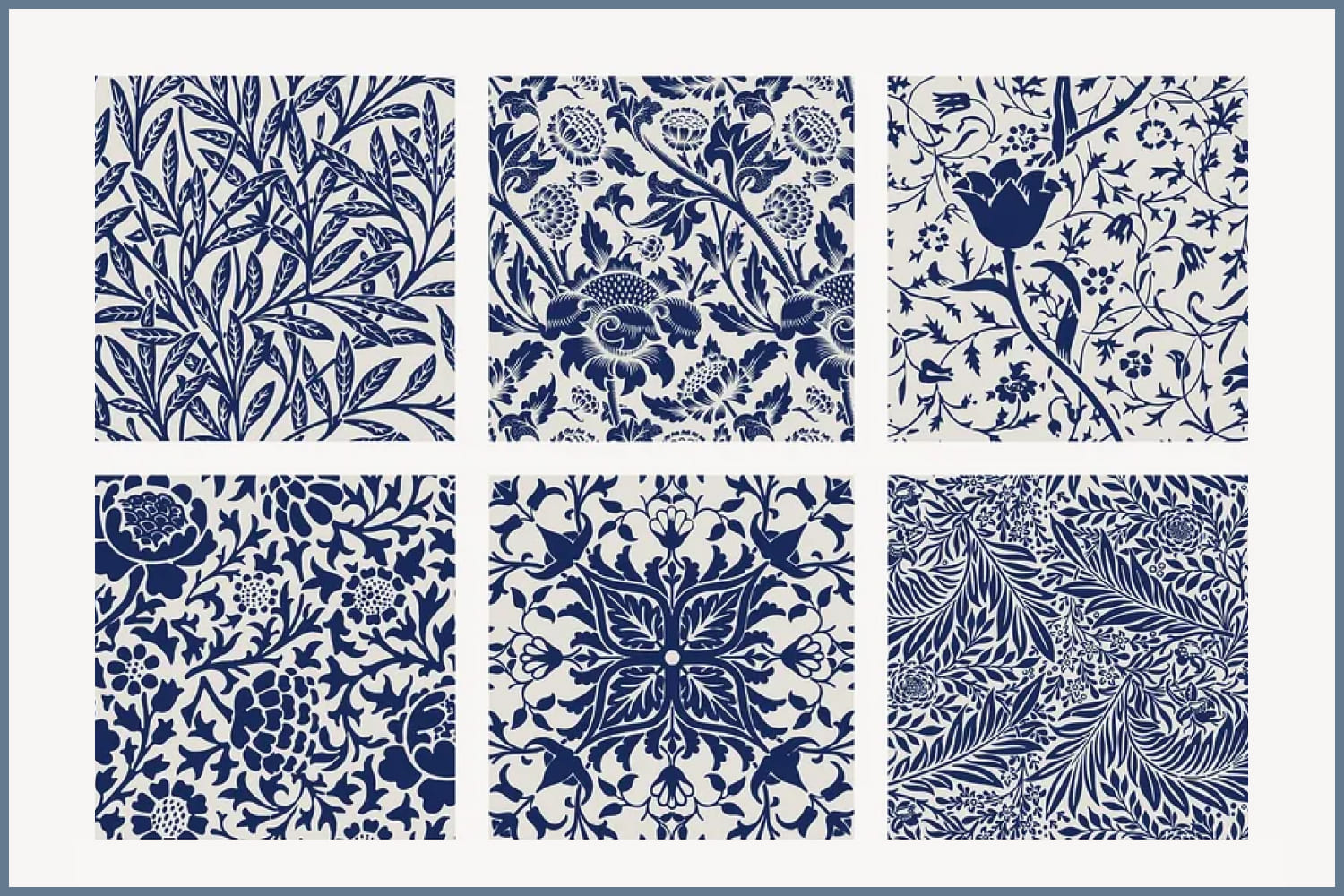 This set is sure to be useful for you because 9 images are available for various purposes. They come in JPEG and EPS formats. Plus, the products will fill your work with vintage and light notes of the past. If necessary, you can change colors and create beautiful designs for cards, invitations, and presentations.
Cute Floral Background Patterns
Finding the perfect background for a presentation is often more difficult than picking up info, as the design makes all the difference. Check out our best floral design background patterns to help bring out your personality and make your projects special.
Hand Drawn Summer Background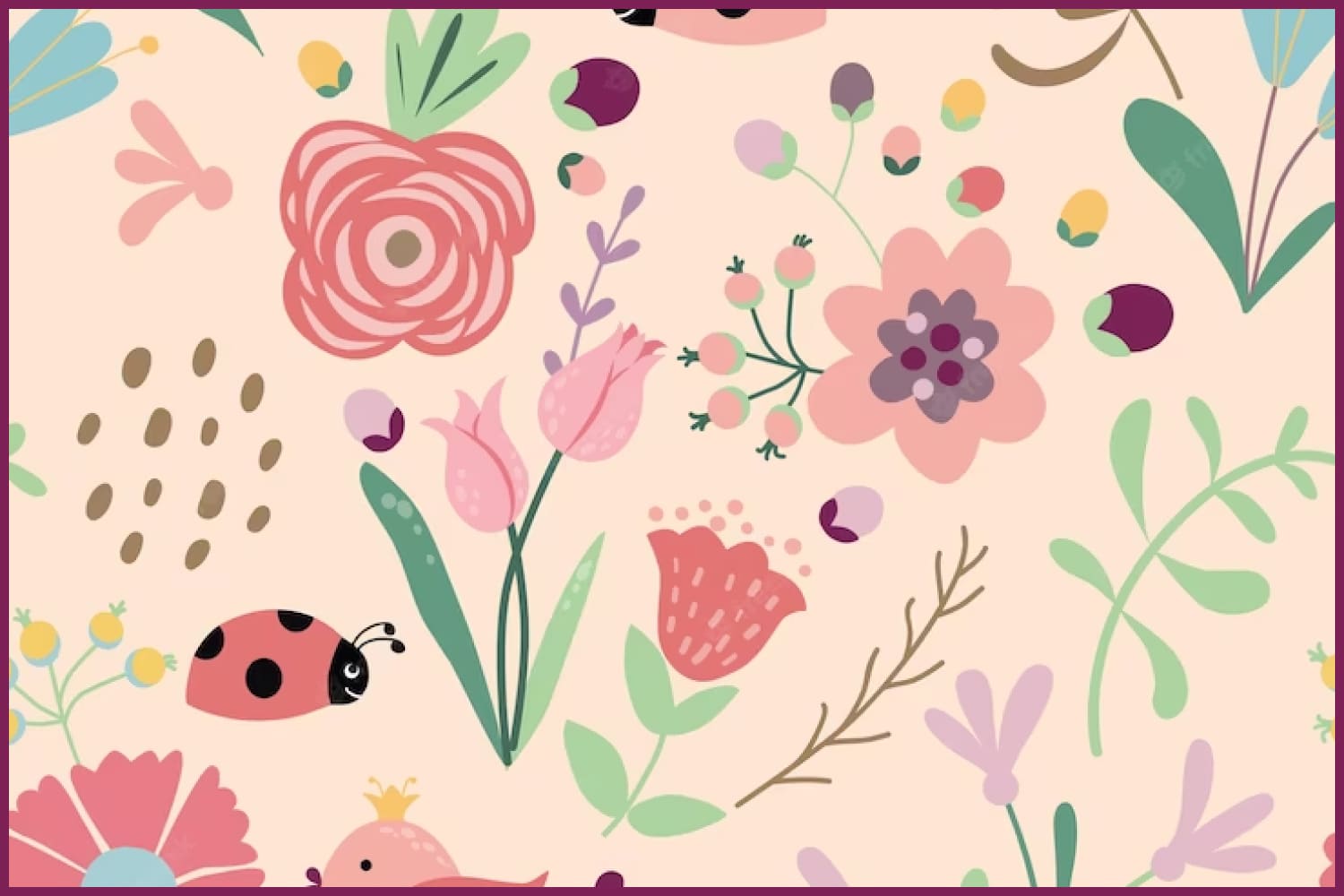 Take this seamless summer background for children's presentations, toy store websites, social media posts, etc. Cute ladybugs, beautiful flowers, and birds will catch the attention of not only kids but also adults.
Background In In Pastel Colors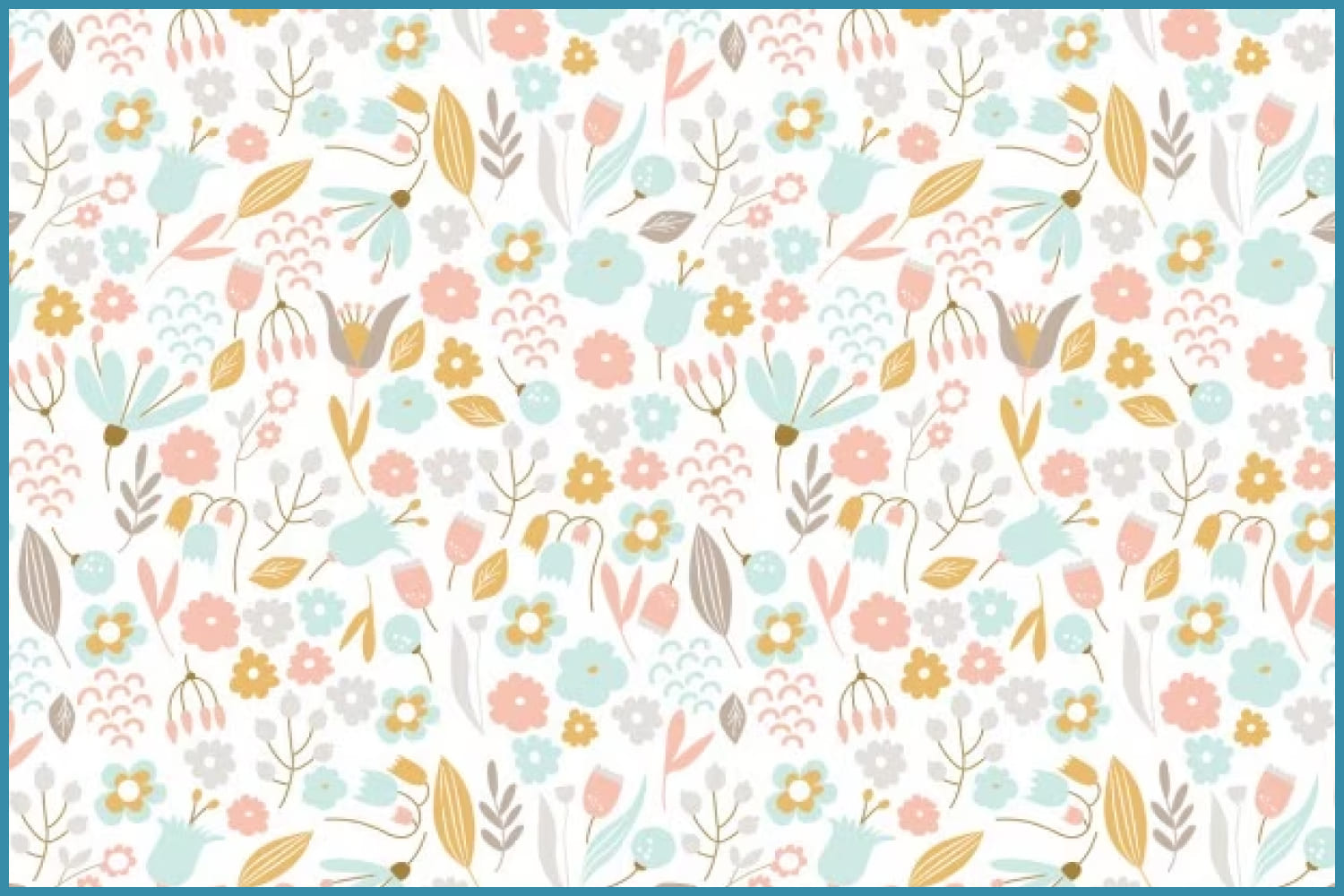 Pastel colors make any design more sophisticated and delicate. Here is a flower background for pictures in EPS and JPG formats with a free license. Use it to design flyers, postcards, packing, business cards, social media, or textile prints.
Cute Flowers And Hearts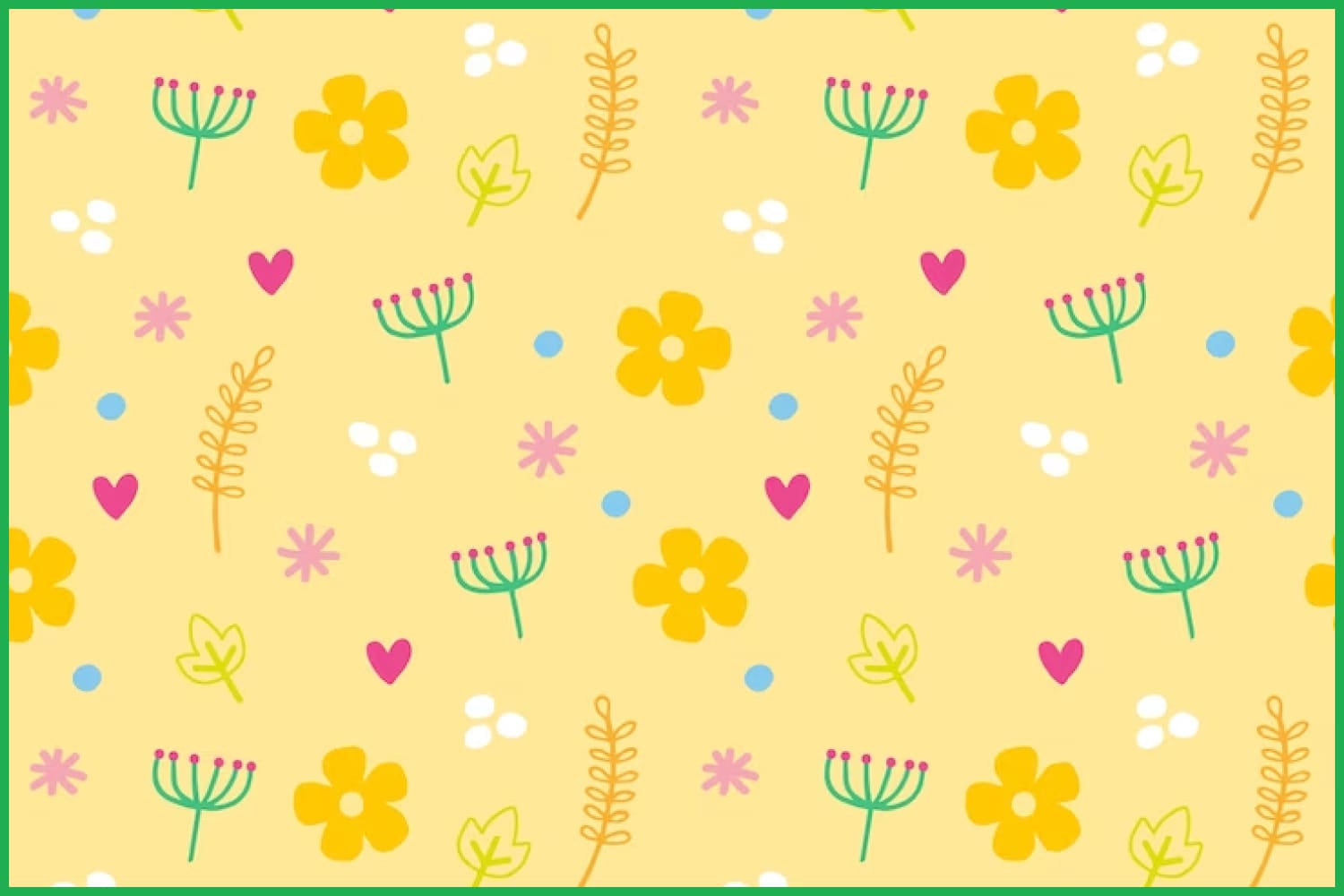 Edit this kid's cute background in your favorite program and create awesome invitation designs for a children's party. The background with florals and hearts looks cute for presentation backgrounds as well.
Floral Vector Patterns and Textures
Welcome also to a selection of the best vector textures and leaves patterns that adapt perfectly to your project goals. Create summer designs, and spring presentations and transform your branding packages.
Seamless Floral Vector Pattern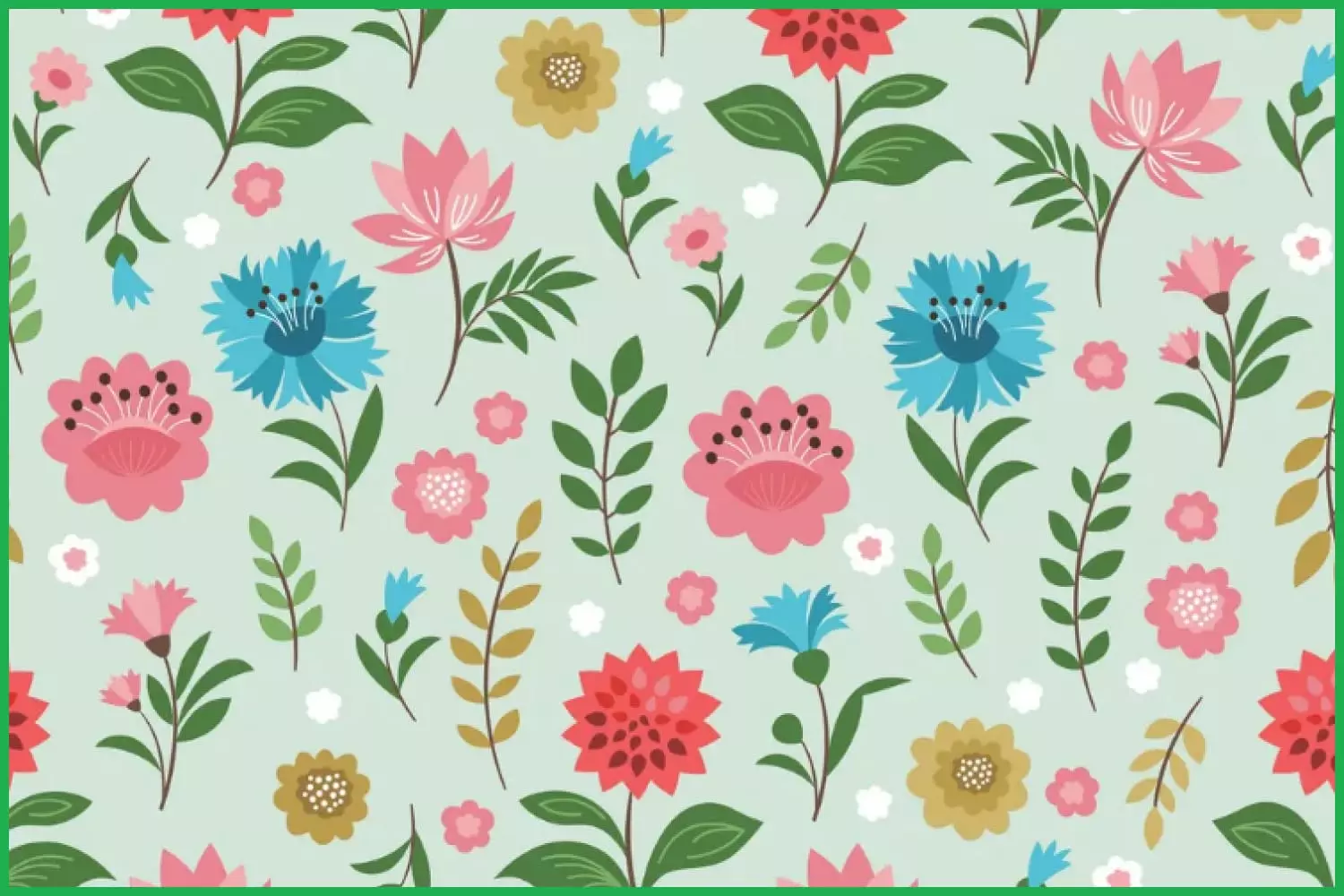 This is a beautiful floral vector pattern to use for clothing designs, gift wrapping, greeting cards, and even scrapbooking. It has a standard and extended commercial license.
Floral Seamless Image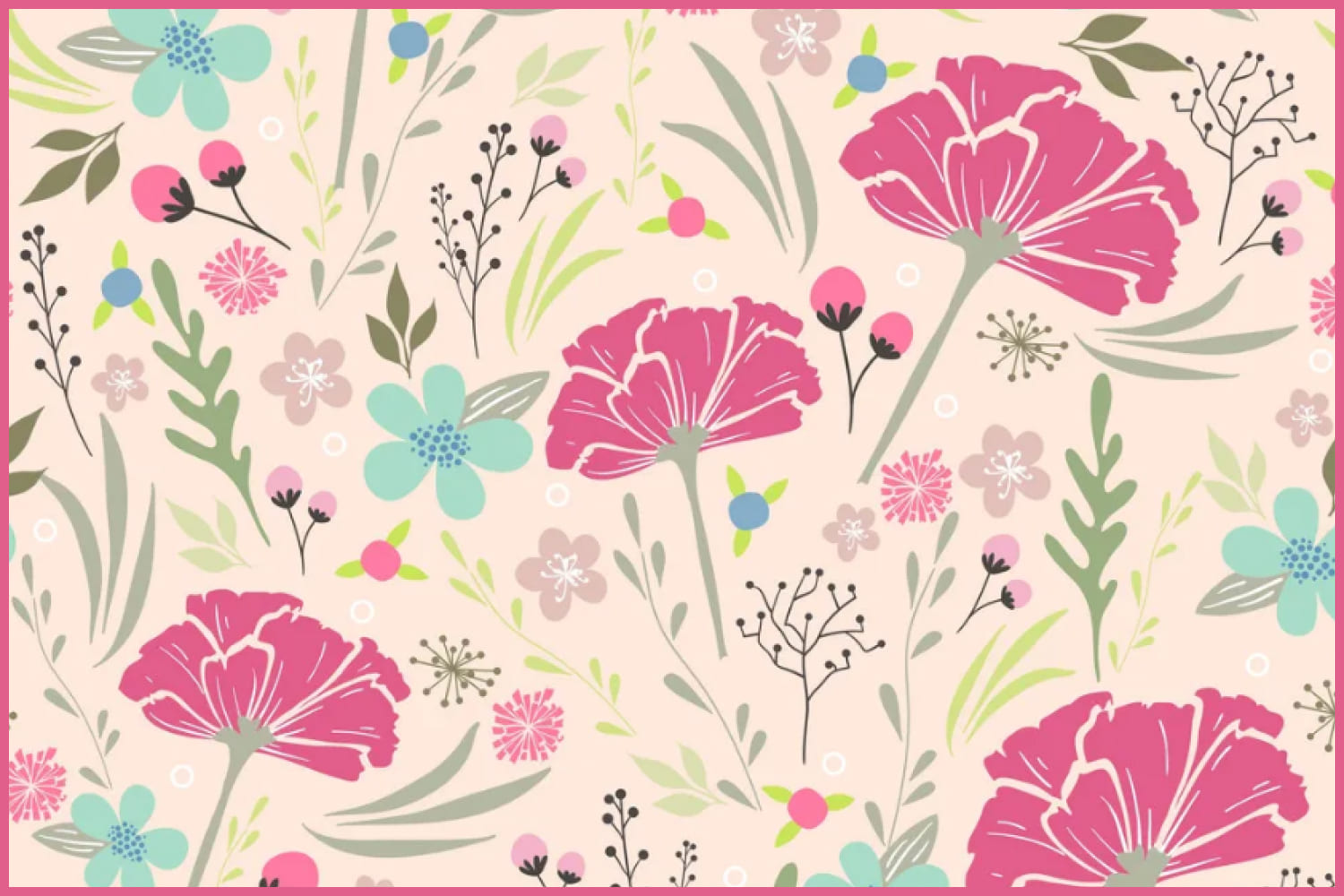 This is another eye-catching item for postcards, invitations, wall art, and other design ideas. Try it for both personal and commercial purposes without any restrictions.
Botanical Background Vector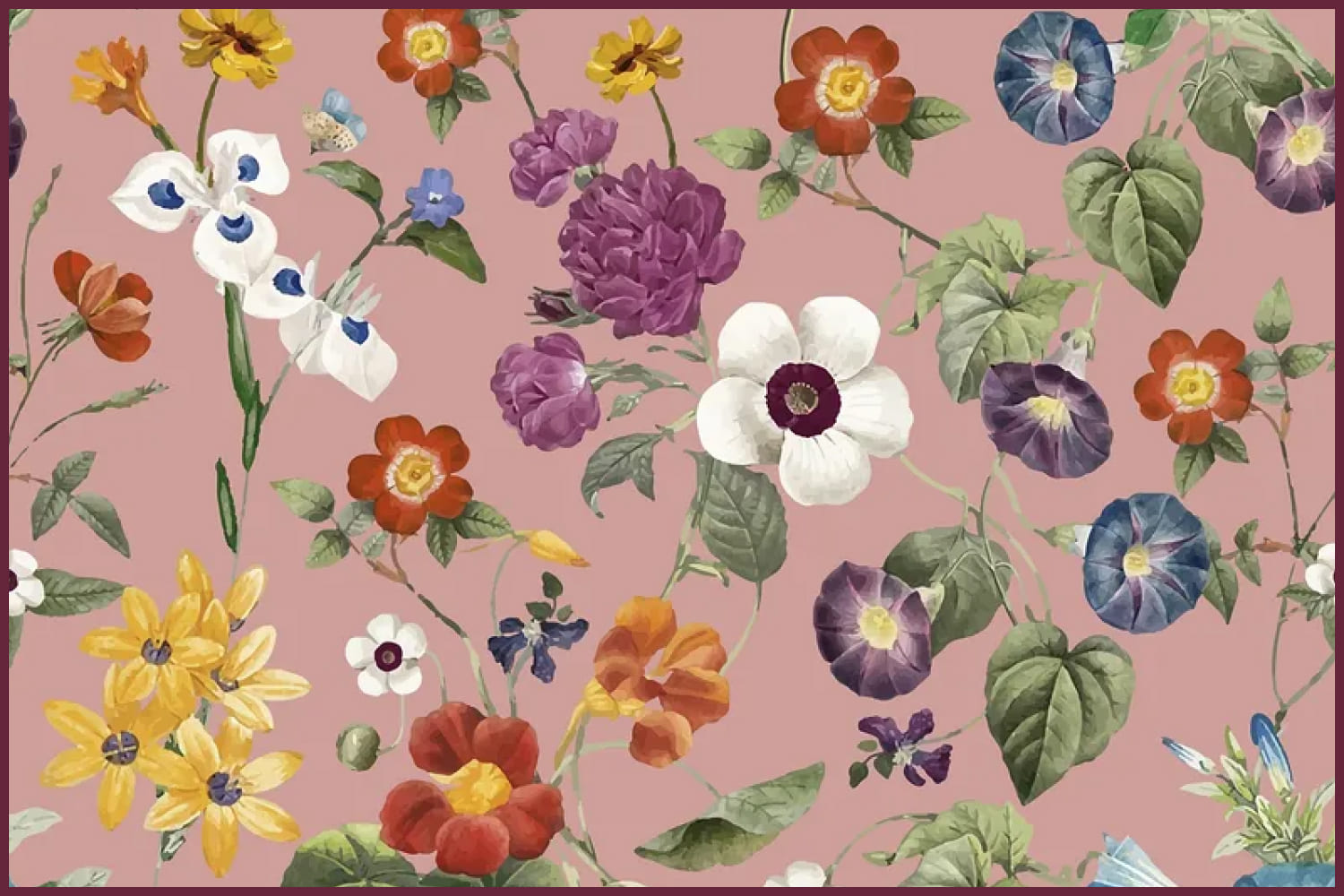 This pink floral seamless pattern works for all kinds of creative solutions. It fits perfectly into the design of clothing, as well as decor, stationery, and other purposes.
Aesthetic Flower Background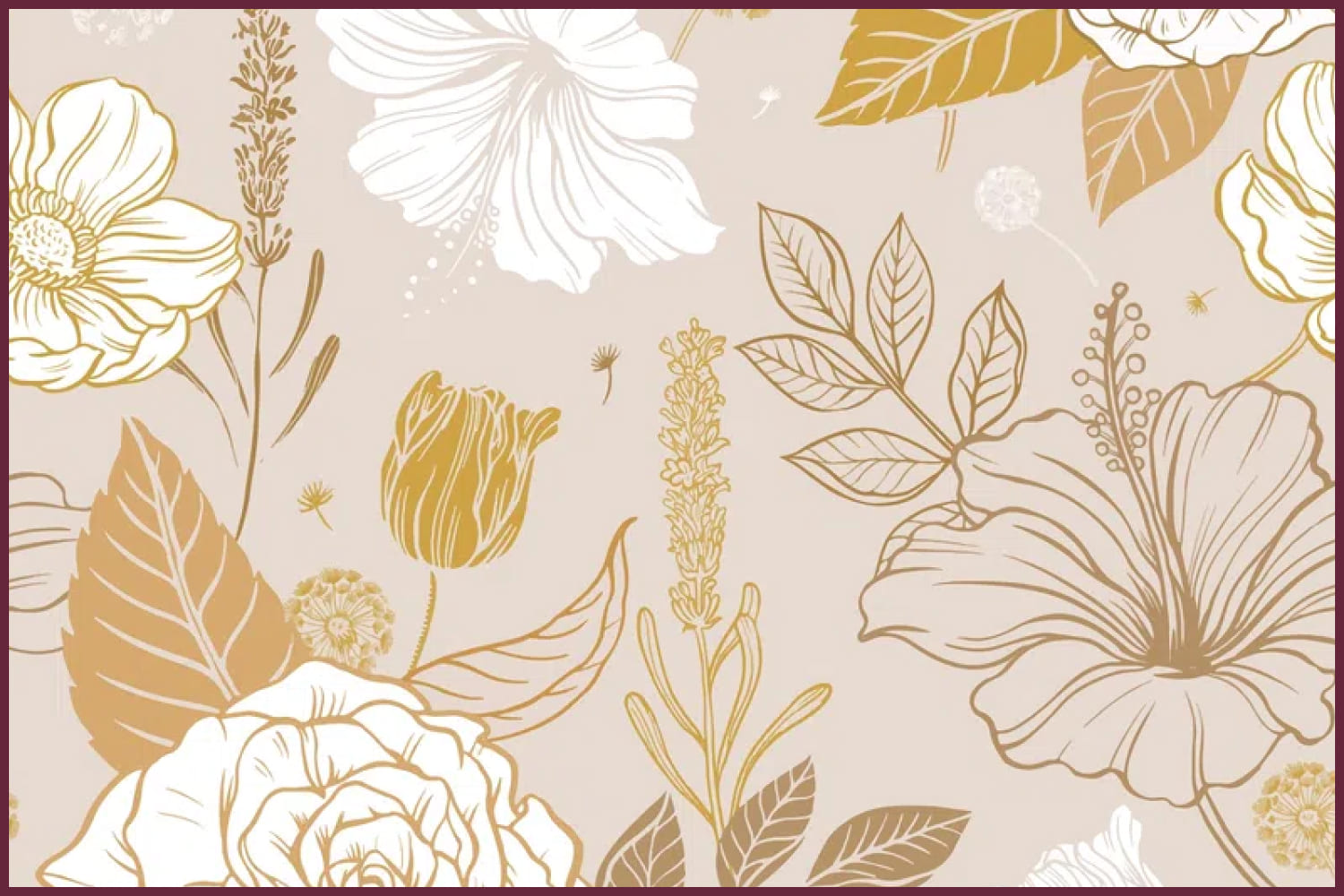 It's an elegant pattern with golden flowers filled with retro style. You can apply it for a wedding photo zone background, floral course presentation, agency website, and social media stories. Also, opt for a personal or commercial license.
30 Seamless Vector Floral patterns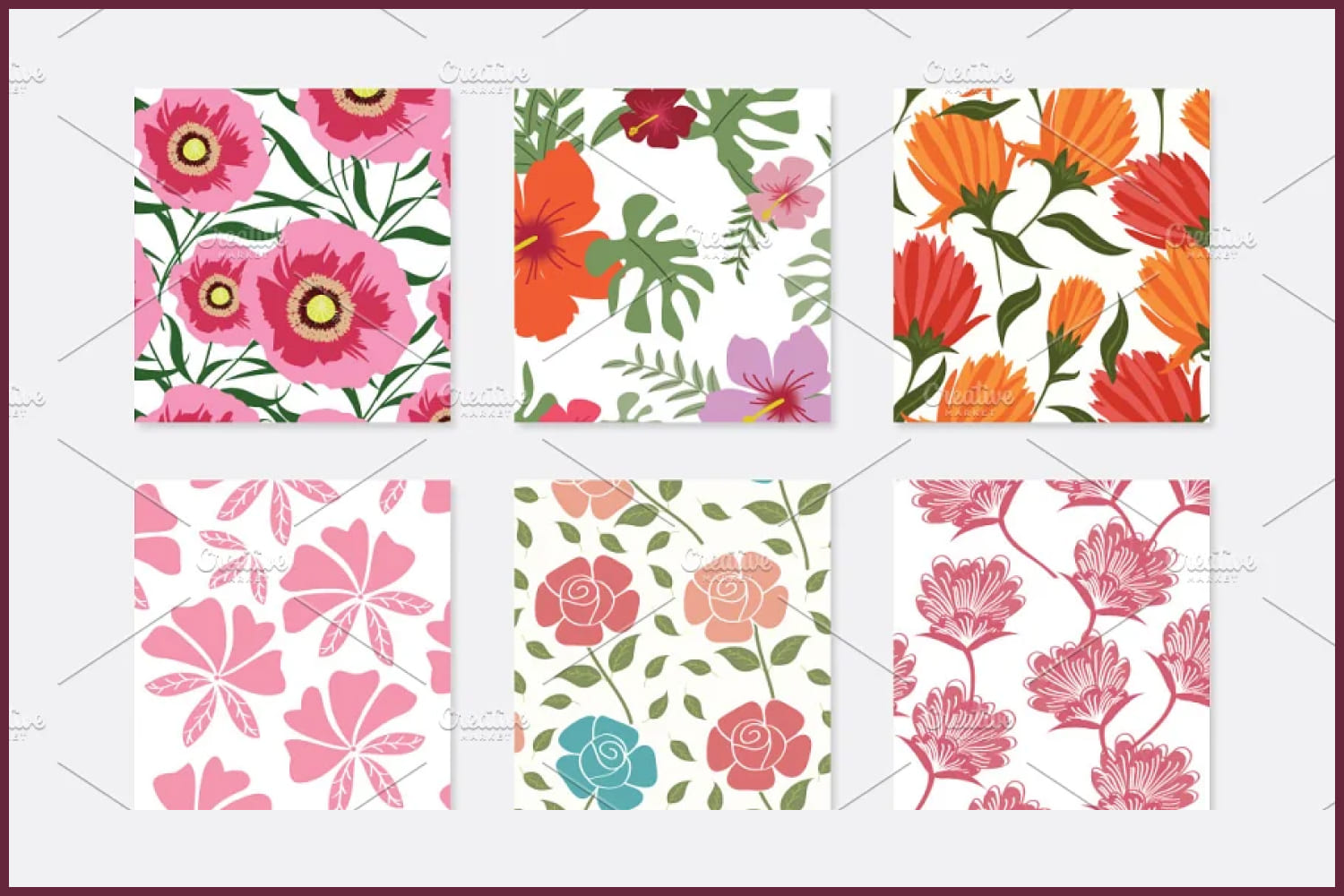 This set of 30 seamless floral patterns and textures is perfectly compatible with Adobe Illustrator tools meaning the customization possibilities have no limits. Select between brighter or pastel options. This variety makes it a lot easier to choose a style.
Top Floral Background Clipart
Floral clipart has a wide range of applications. They are excellent for creating presentations, posters, banners, logos, promotional materials, web pages, etc. Nature textures and clipart are also popular because they add vibrancy and authentic elements to the visuals. Flip through our offerings, choose the best combinations, and fill your project with sophistication and tenderness.
Floral Background Clip Art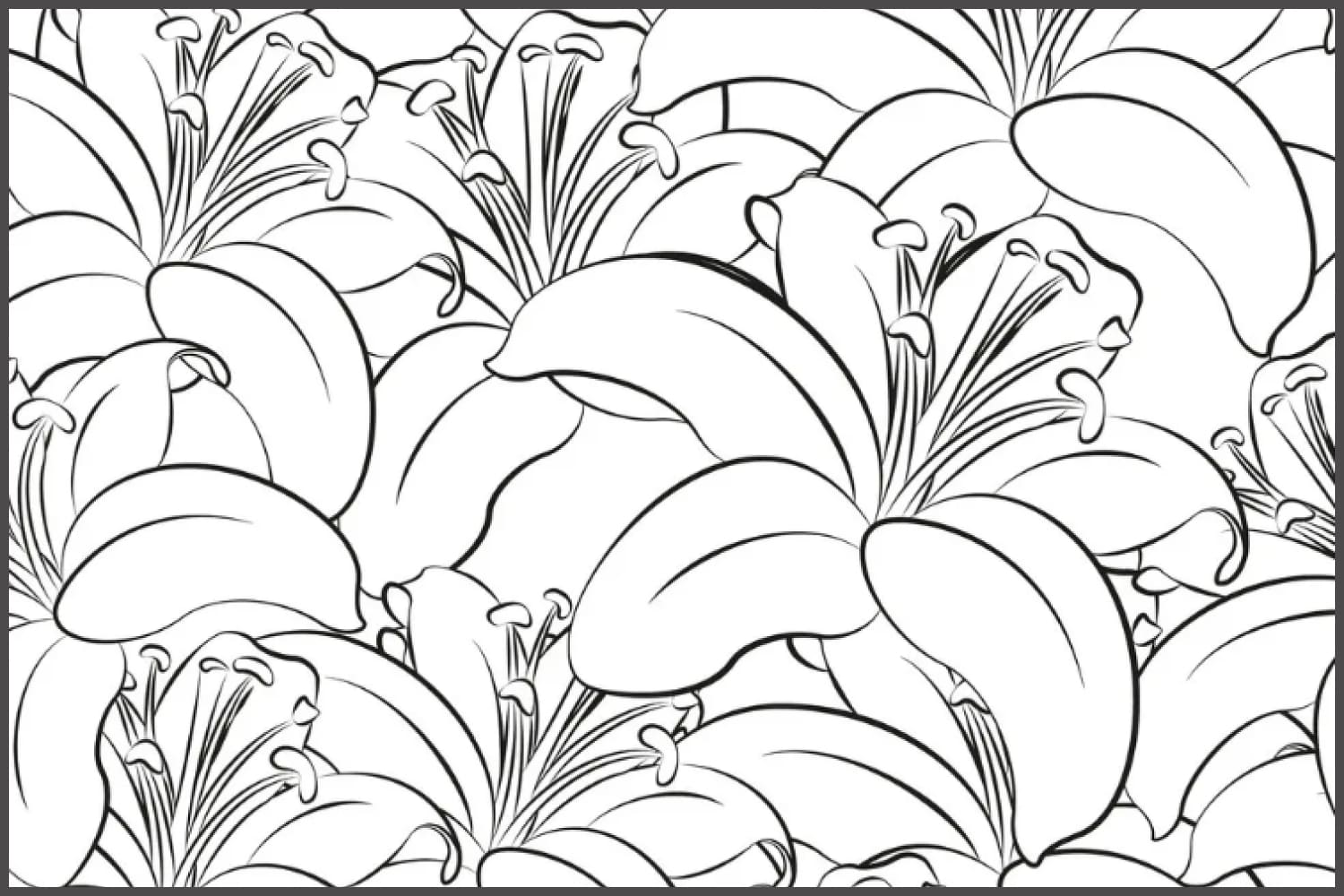 Take also this transparent floral design for minimalist website design, postcards, flyers, and presentation backgrounds. Use the offering for personal and commercial use.
Purple Collection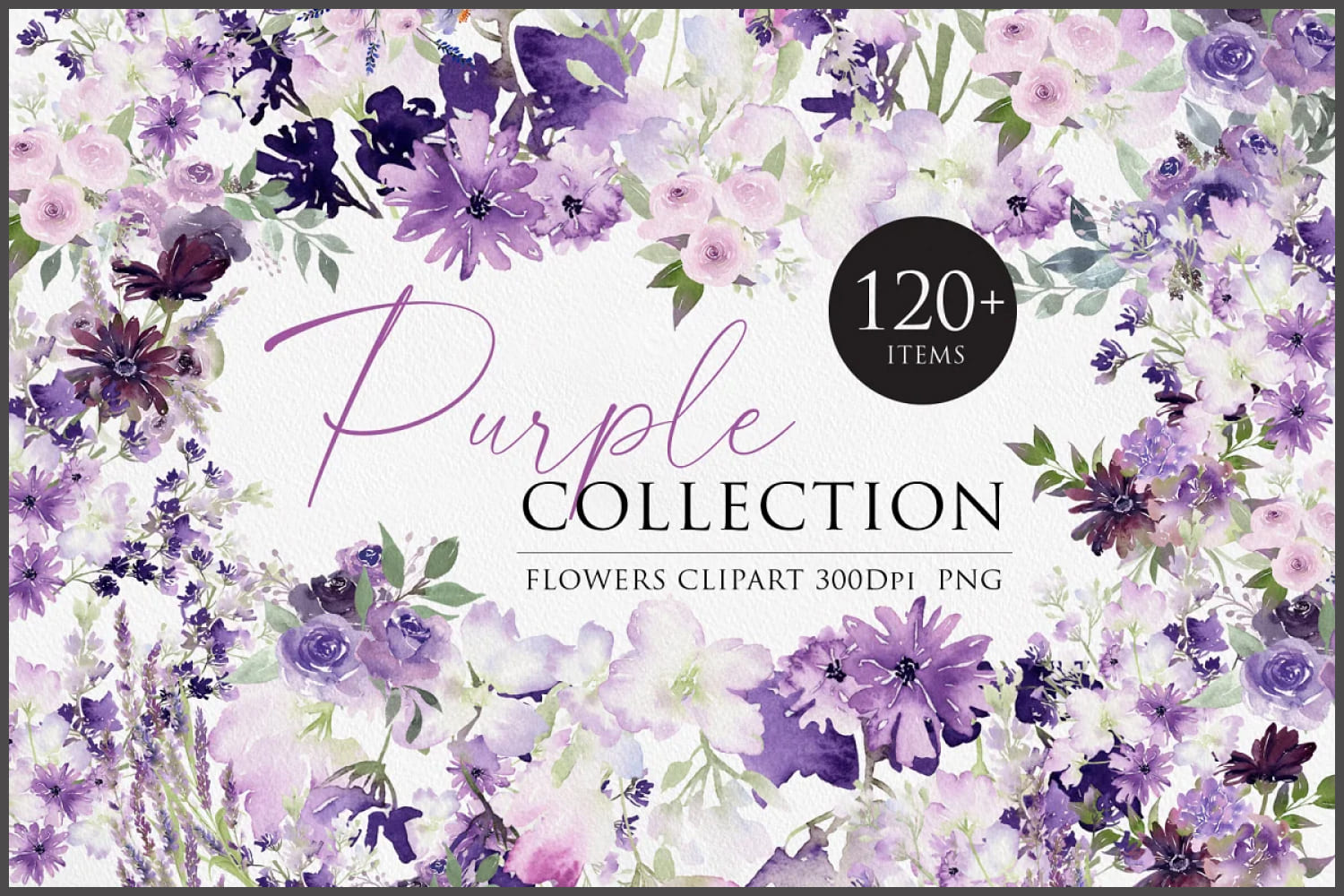 You'll find more than 100 high-quality and very attractive clipart in this bundle. They are available in PNG and JPG formats with transparent backgrounds and 300 DPI resolution.
Boho Wild Floral
This awesome bundle contains 78 botanical-themed elements in PNG format. Use them to decorate clothing, cards, social media, and even websites.
How to Use the Flower Pattern in Web Design
Since we have already come to the conclusion that the floral pattern is the ultimate classic that will never go out of fashion, let us think about the ways one can use it in web design. As a matter of fact, such a background can be used for pretty much all types of websites. The pattern will work for personal websites, blogs, portfolios, corporate sites, online stores, promo websites, and many more. There is a huge variety of ways to use this pattern in web design, so let us have a look at some of them.
Backgrounds
A floral background is definitely the way to go for a bright and fancy blog or creative portfolio website. Such a background will emphasize your creative personality as well as make your site simply flawless and breathtaking.
Banners
If you need a lovely banner for your website, then a flower pattern is surely something you want to consider. This very pattern will work for any kind of a banner, which makes it a great solution for you.
Logos
Do you need a flawless romantic logo? Well, some lovely flowers are no doubt the way to go. Do not hesitate and create your breathtaking floral logo now!
Fonts
Flower pattern inspired fonts will make your romantic website even lovelier and fancier. So make your site flourish with a nice and neat floral font.
As you can see, there are many ways to use a floral pattern in web design. Thus, if you are eager to create a truly lovely site, then why not use some pretty floral patterns? We hope that in our collection you'll find the best options to change your design, fill it with romance and add a delicate floral touch. Save them, buy and experiment with shapes.
If you'd like to enrich our product collection, then hurry up and fill out the Sell Your Deal form and send in your artworks! Become a part of the creative team and get timely payments.
Disclosure: MasterBundles website page may contain advertising materials that may lead to us receiving a commission fee if you purchase a product. However, this does not affect our opinion of the product in any way and we do not receive any bonuses for positive or negative ratings.