Happy Halloween Bundle: 29 illustrations
Hurry up to get this gorgeous bundle of 29 Halloween illustrations! Cute ghosts, magic potions, ravens, witches, books of spells and charming bats will add some magic vibes to your projects.
These illustrations are so awesome that we can't take our eyes off them 😍
They are just perfect for everything – book illustrations, postcards, Halloween invitations and posters, stationery, phone cases and every other project that needs a little sparkle. All illustrations are delivered in PNG format with transparent backgrounds for your convenience.
The good news is that you can take home this beautiful collection of Halloween illustrations for just $13! Make sure you get it before the magic disappears 😉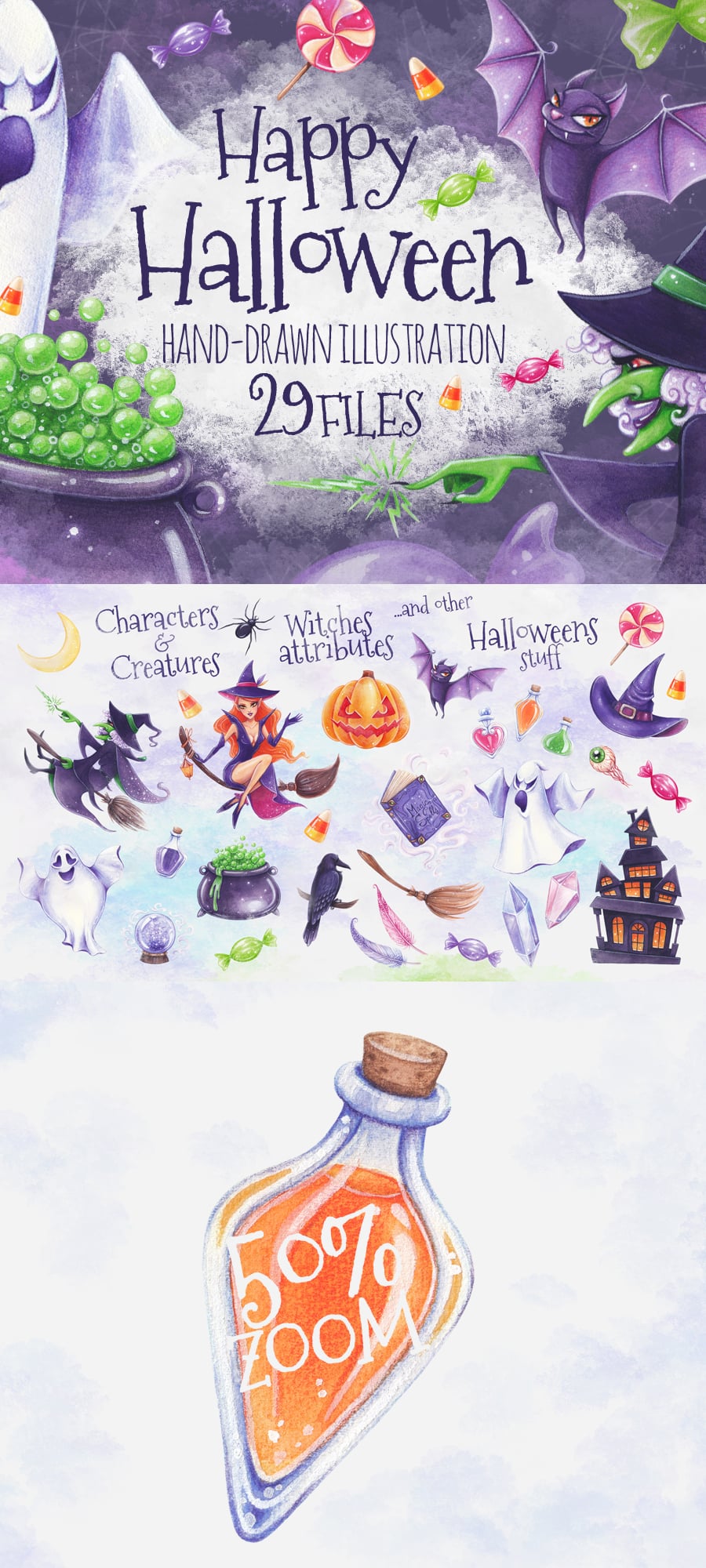 Deal terms:
* Delivered as an instant download, after completing your purchase.

* Can be used for both commercial and personal projects.

* Cannot be re-sold or shared in any way.
---
TOP 5 Halloween Bundles 2018
---
What exactly is a graphic bundle?
If you are a graphic artist working on several tasks concurrently, you comprehend the need for the entire package of design elements available at hands. Searching for them separately, you spend whole lot more cash and time as a result. To obtain all the needed elements within a single pack, we highly recommend experimenting with graphic package deals. A bundle is actually a selection of digital components meant for graphic design, valued for thousands of dollars, yet offered at a bargain price tag for a very limited time.
Types of graphic package deals
The assortments of components gathered into a graphics package are generally categorized according to their kind and/or main objective. There could be packages with business card templates, mockups, infographics, wedding invitation templates and icons, etc. You will also find graphic bundles particularly for St. Valentine's Day, Halloween or Christmas.
For what reason are graphic packages profitable?
The benefits of graphic deals for designers are pretty evident. But if you are new to them and still have questions, the following info will probably be of great help for you. Including a great number of the components in a single bundle, the collection provides you with a chance to use different of them for many different tasks. On top of that, the price is often greatly reduced which allows you to stretch your budget, yet have the whole set priced at hundreds of dollars.
Any ways to make deals even cheaper?
You can make the MasterBundles.com bundles even more affordable. Yeah, I am aware bundles are already inexpensive, however, there is still place for saving. Share this web page via social media – you automatically get the 5% discount for any of the graphic packages you prefer. That's a quite simple way to get a professionally created tools cheaper.
Deals of MasterBundles
The package deals of stock photos, logo templates, patterns, fonts and textures are out there for your use. They deliver limitless opportunities for the design of different projects. Additionally, you'll find the entire offers of WordPress themes, training and ebooks, cv templates, slides, and other components.
What exactly is MasterBundles?
MasterBundles.com is a marketplace that gathers top design products from over the web and lets you buy the design elements you'll need in your design work for a cheaper price .. Bundle deals this site carries are restricted in time, and that's the reason why they are so low-priced. To prevent missing the sale you're going to be really pleased with – subscribe for the weekly email newsletter, showing you the most recent offers. MasterBundles.com boasts a great blog with the useful design features explained. Should you be looking for a website packed with excellent offers – MasterBundles is there for you!