WebExpo 2018 – September 21-23, Prague
We are media partners of the Web Event of the year in the Czech Republic.WebExpo will bring this year 63 international and local experts from well-known companies such as Facebook, Twitter, Google or IBM among others,to share solutions on UX and Design Thinking, Web Development, AI & Machine Learning and AR/VR that you can learn through practical talks and 7 hands on workshops. Learn more in its program.
Regarding the tickets, you can buy your ticket to WebExpo 2018 for €33 less by purchasing it before September 10!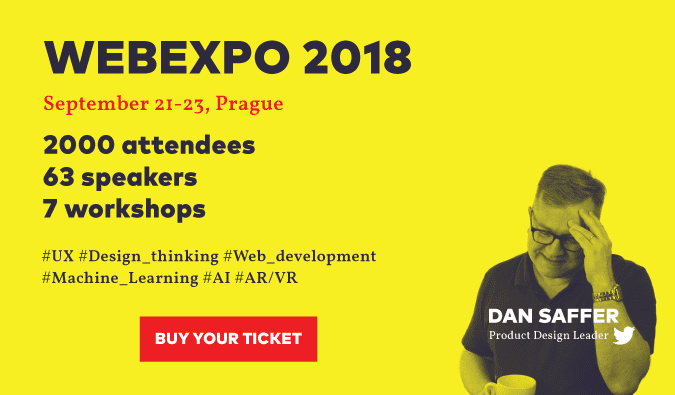 Some interesting speakers for us:
Dan Saffer – how do you find the best design opportunities the future of your organization? At Twitter, they've been using a combination of methods to plot out a set of possible futures for themselves, looking a few years into the future for product opportunities. He will explain their methodology and process so that we can use it in your work.
Val Head –  2018 is the year of Machine Learning. But, how does it affect the role of web designer and developer? Val will show to build AI-Driven features.
Douglas Powell – He is a Distinguished Designer at IBM, directing the program to scale design and design thinking across the global tech company. He will present a discussion about how to measure the value of design for an organization.
Diamond Ho – Ever wonder how a designer at Facebook designs for 2 billion people around the world? It's all about using design thinking methodology and working cross-functionally. In her session, she'll make a (hypothetical) case study to learn about how they design product experience at Facebook.
Pamela Pavliscak – Workshop: Emotionally intelligent design: If your smartphone could recognize when you have a bad day, wouldn't use it? Pamela Pavliscak will teach at WebExpo how to prototype emotionally intelligent technology.
Susan Lindner – Workshop: Create a 7 Day PR plan: Susan, CEO of Emerging Media, brings a super practical workshop tips to create an effective communication strategy for your organization in 1 week. With specific tips, nothing like "press releases are dead". The best of it, you won't need to spend money hiring a PR Agency.
The organization informs that they will have different activities to encourage the networking such as workshops, meetings with speakers after each talk and meeting areas.