UX vs CX: Understand the Key Differences
The age of user-centric marketing has made it impossible for companies to survive without an optimized user experience (UX) and customer experience (CX). UX vs CX are commonly used interchangeably in today's business world.
While UX and CX complement each other, there are important differences between them. This article explores the difference between UX and CX and how they work together to ensure the success of your business.
What Is User Experience?
All of the end users' interactions with a product or service are what is referred to as the user experience, or UX. That's why UX always comes first. The product is usually a mobile app, website, or software. However, sometimes companies need UX designers and copywriters to develop physical products (real-life objects). Regardless of whether it's a new website or the latest model of a coffee machine, UX focuses solely on usability.
The key aspects of analysis in UX are how enjoyable it is to use a product and how quickly one can learn intuitively to use it. The organization of content—effectively, the organization of the design elements—on the page, navigation, and learnability are all at the forefront of any UX design process.
The best sign of great UX is happy users before, during, and after their experience with a specific product.
What Is Customer Experience?
All of the experiences the client has at all the stages is referred to as the customer experience or CX. When it comes to UX vs CX, CX goes beyond product experience alone and extends the idea of UX. CX designers are hired by companies to analyze and assess how consumers feel about their brands and improve how effective their interactions are. In addition to usability, CX takes into account an organization's advertising strategy, brand recognition, customer service, pricing, delivery methods, and effectiveness of the sales process.
The best sign of great CX is happy users at every step of the journey, who are dedicated to the brand and left with a perfect overall impression.

What's the difference between UX & CX?
The key difference between UX and CX lies in:
Primary focus. In CX design, the focus is on the experience of clients with the company as a whole rather than their users' involvement with the product directly, like in UX design.
Target audience. While CX designers target people with purchasing power, UX designers are more concerned with people who will use the software or service.
Metrics of success. The success of CX is usually assessed by customer feedback overall and how many loyal customers a company has. The retention rate, user lifetime value, user effort score, and customer loyalty score are all measures of CX. UX effectiveness is typically measured based on a product's usability and how every user rates the experience of it (metrics include app store ratings, usability testing results, and support team's records of how consumers describe their experience).
Ultimate goal. A UX designer's main goal is to design impeccable interactions between a user and the product, while a CX designer's main goal is to elevate overall brand perception and increase customer retention and loyalty.
UX vs CX Differences in Infographic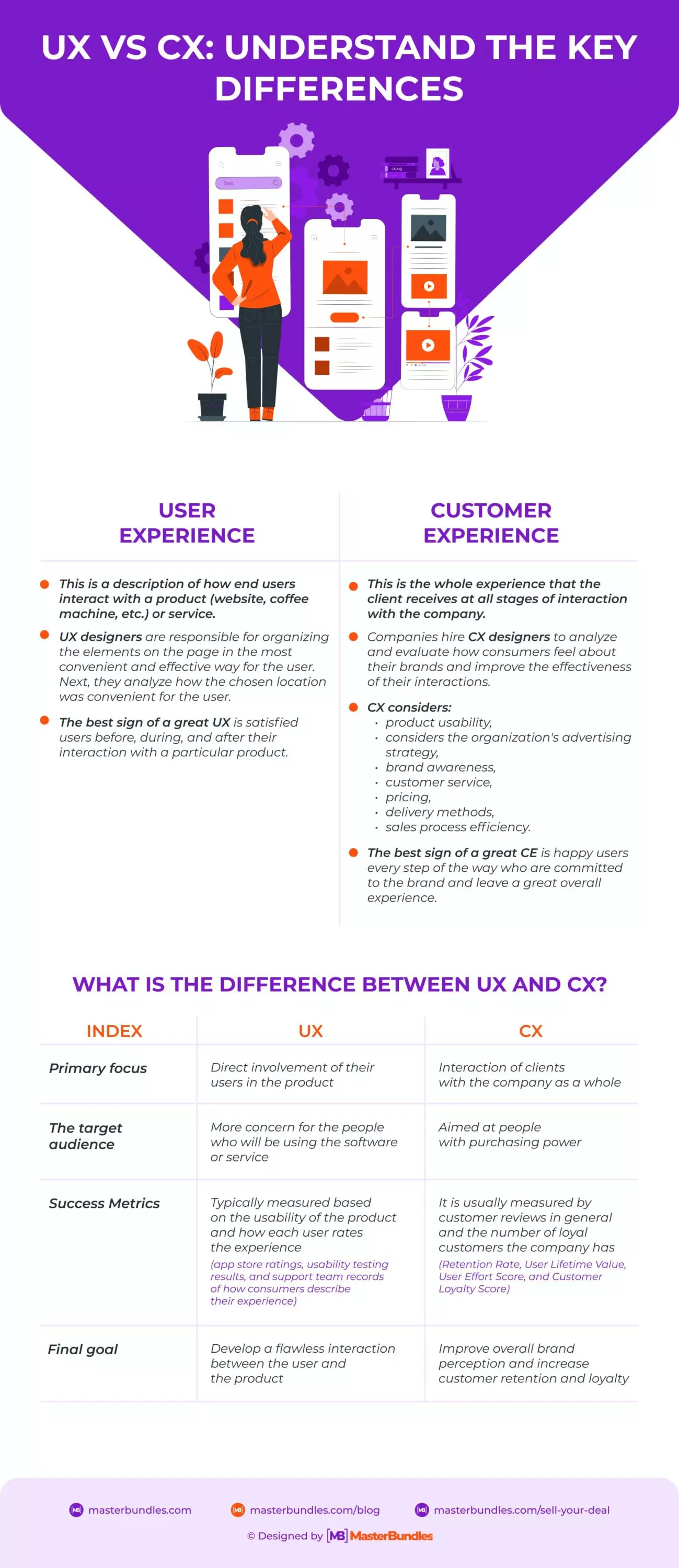 Conclusion
UX versus CX: What is more important? After learning about both concepts, you should know that both play a pivotal role in customer retention. Creating the best UX and CX experience for your customers is what you need to do as a business. A 100% customer satisfaction rate is what matters.
Some Awesome Video About Black Friday Clipart
Webeo:Futures – UX and CX: the difference
Welcome to Webeo:Futures! In this video, we will cover how UX and CX are different.
Was this page helpful?
We will be happy if you decide to share this article with your friends on Facebook. Just click on the button and you're done
What are your concerns?
Thanks for your response!
You have already left your review.
Disclosure: MasterBundles website page may contain advertising materials that may lead to us receiving a commission fee if you purchase a product. However, this does not affect our opinion of the product in any way and we do not receive any bonuses for positive or negative ratings.