Top 10 New Facebook Features in 2021 That Will Be Useful for Your Business
Despite the increasing popularity of Instagram and Snapchat among young users these days, Facebook is not going to fall behind. On the contrary, it's still considered a leader in the social media market.
According to early 2018 stats, the number of active Facebook users per month exceeded 2 billion! Over the past two years, the number of FB users has increased by more than 500 million, which make the platform the fastest growing social network out of all.
And now imagine how many potential customers are out there browsing Facebook right now? If you learn how to promote your FB business page correctly, they're all yours. Sounds good, isn't it? As for business page features, the list is endless: streaming services, targeted ads, photo galleries, stories, livestream, online live chat and many more.
If you want to get the most out of your Facebook business page, in particular, attract visitors, redirect them to your site and turn them into leads, one needs to be optimized. You should stay aware of all the newly emerging features, especially when they seem to make updates almost every few weeks, if not more often.
These are top 10 relatively new business page features from Facebook that every business owners or marketer has to know about in order to boost the page activity and for last increase sales. Category #1 – Entertainment
1. Facebook "Watch Party"
Watch Party is a recently launched widget for co-viewing broadcasts and videos. According to Facebook developers, users can discuss the video in real time, which is supposed to remind us of how we tend to watch movies with friends in real life. Any Facebook user can invite friends to watch the video in a streaming service by just clicking on the Watch Party button located in the features field when making a new publication.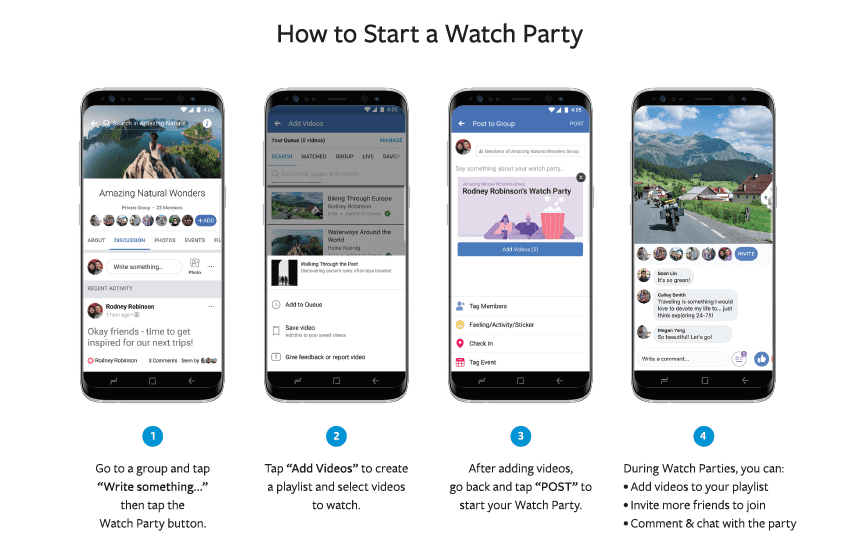 Facebook Watch first started a year ago in the United States, and came out quite successful. According to Facebook Vice President Fiji Simo, the service reached 50 million users per month. In general, Facebook Watch is a video platform for distributing exclusive content – TV shows, and broadcasts. Now it's trying to compete with YouTube and Twitch that successfully attract millions of users' content and monetize it. The video platform already cooperates such such giants as Buzzfeed, CNN, Business Insider, Quartz, NowThis and many more.
How can "Facebook Watch" help your business?
As stated by Techcrunch, live broadcasts in social networks get 6 times as many comments as a regular video does. While watching a video together, users will be able to comment it in the same way as during live broadcasts. The new functionality can significantly increase the users' engagement when watching regular videos, and most importantly, their comments won't be lost, as it often happens in a live stream. Also, you'll be able to react on a video by using an "emotions" feature.
Finally, at the end of 2018, Facebook added the ability to schedule the "Watch Party" sessions. This not only helps business page admins attract participants beforehand but also let users learn about the upcoming watch parties and make a decision in advance.
2. Get More Out of Facebook Stories
Facebook Stories are short photo and video collections shared with friends and followers that automatically disappear 24 hours after publication. They pop up at the top of the news feed, which makes them very visible immediately for everyone right after opening Facebook.
The Stories feature is not a new concept for social media. Snapchat launched Stories back in 2013, Instagram did that in August 2016. Just five months after launch, around 150 million people already used Instagram Stories on a daily basis, which ended up in 600 million monthly active accounts.
Believe it or not, but the potential for monetizing Facebook stories is even greater.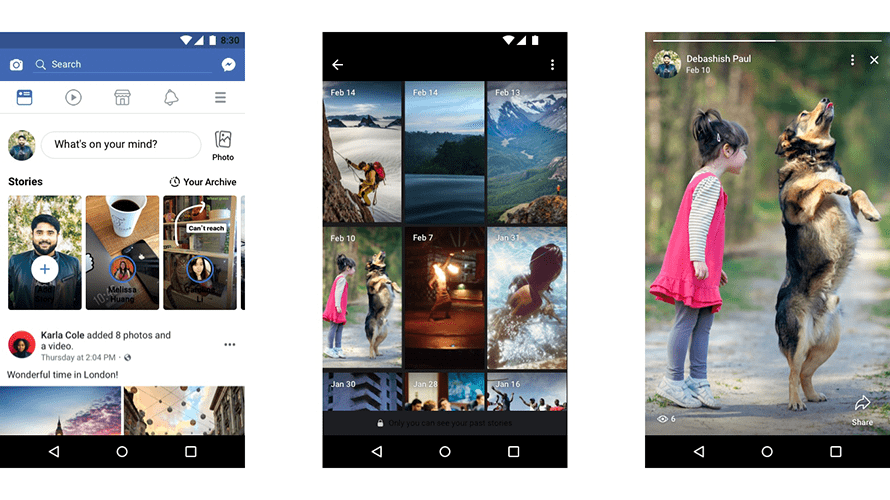 You should try Facebook Stories for several reasons. First of all, Stories are a great way to get noticed since they are much easier to see at the top of the mobile phone screen than posts. The second reason has to do with the audience trust. Stories are closest to real life: honest, funny, open, and without retouching/editing. Openness and honesty are what people expect from brands today. Third, they allow businesses to get honest with their potential buyers. In addition, Stories urge users to respond quickly at the moment they see them. That's because they simply can't save a publication, postpone viewing it for tomorrow, or respond later.
Finally, Stories allow brands to experiment with different types of creative content to see which one gets the best user experience. Based on this data, the company can build effective Facebook marketing.
How can Facebook Stories help your business?
For most people, Stories are just a form of fun content. However, those using Facebook for business, consider one a great tool to help build and develop relationships with their audience based on the "know → like → trust" rule.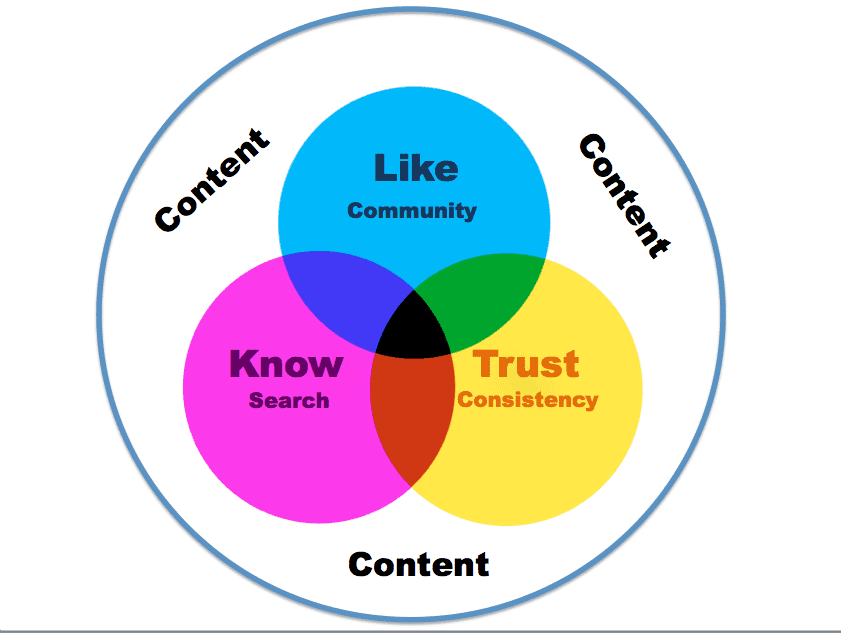 7 Ideas How Stories Can Help in Marketing
Successful Facebook business page stories aren't always about your product but rather about you, as a company and a brand owner. To gain trust, show the audience your expertise in a relevant topic. Besides..:
Build relationships with opinion leaders like influencers and experts who have power over your audience. Answer their stories;
Demonstrate your experience. Share tips and short instructions in a video format and/or a series of images with text overlay. This trick ensures your expertise at some topic and gives your audience additional value of your FB page. Involve people: encourage participation, ask what advice they find most useful and whether they can give their own advice.
Open what's behind the curtain. Let people take a look at your day – this is the easiest and most effective way to earn the customers trust. Take your audience to various places you attend during the day, or make "behind the scene" shots of how your office life, the work of your employees etc.
Send viewers to your website. Attract people with the 15-second preview of your content and then leave a link to the main video or article on your blog or website. Use the call to action strategy.
Make exclusive offers. Implement limited offers in your Stories to encourage your subscribers – let people know they are special and that you value their loyalty.
Share users' content in your Stories. One more way to let customers feel special is to share their image or video in your stories. This is not only a social proof of your product or service quality but also an indication of how your brand does appreciate the customers' trust.
Collect information about the customers' interests and needs. Ask them to share their opinions about your products/service or the company itself. Ask about their lifestyle, what they care about, and what they really want.
Category #2 – Marketing & Advertising
3. Creator Studio
Facebook is literally surprising with its last updates. One of the bombing news lately was the launch of Creator Studio – a page control center and an excellent tool to help you: a) manage content: create, publish and schedule publications; b) analyze statistics and audiences; c) respond to messages and comments, including Instagram; d) upload multiple video on one page at a time; manage video monetization, and also e) get access to new features.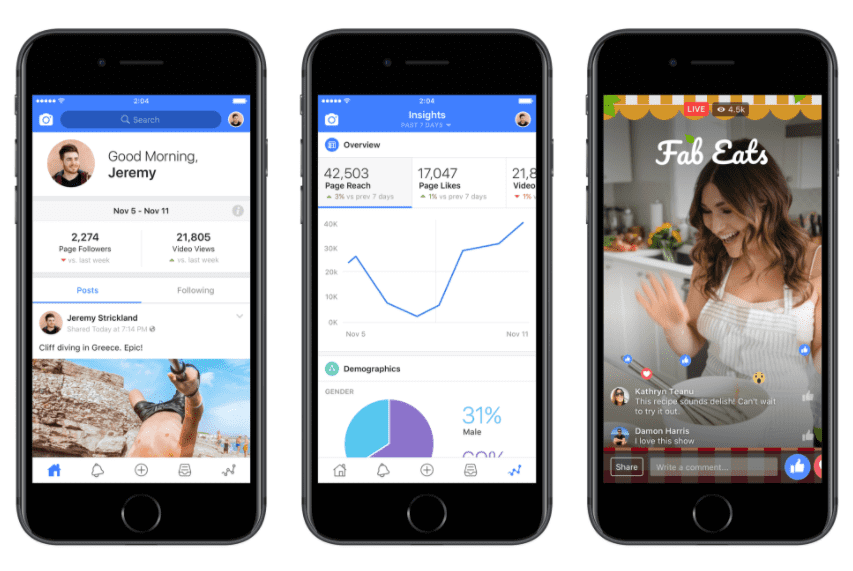 Creator Studio can be downloaded as an app to your mobile device or PC. The app includes the following features:
Live Creative Kit – a tool for running and "decorating" livestreams. You can add an introduction and conclusion, titles, interactive stickers that can be used by viewers, as well as frames;
Community Tab – a hub with all the saved Facebook and Instagram comments, as well as messages from Messenger;
Camera & Stories – a mode for shooting stories with cool effects, frames and the possibility of cross-platform publishing;
Insights – metrics for analyzing profile, content and audience activity.
Aside from it, Creator Studio will also give you an access to the Sound Collection. Here you can find free tracks and sound effects that can be used when creating Facebook videos. The choice of sound effects is so versatile that you can even find a NASA's stellar collection of space sounds! Cool stuff, isn't it?
How can Creator Studio help your business?
Creator Studio is a valuable tool for your business page allowing you to track and manage the efficiency of your content on multiple FB pages that can be simultaneously managed. It gives an idea of how your audience interacts with your content and facilitates interaction with followers. Creator Studio captures the value of video for Facebook and can become the content management hub.
4. Facebook Premieres
The other recently launched and tested Facebook feature is Premieres. This is a new video format allowing video creators, publishers and shows post the pre-recorded video as livestream. Yeah, sounds like a deception, but let's have a closer look at this controversial feature. Publishes will have a chance to post premade videos as if they are happening live and schedule them for any date up to 7 days since the record time. Such a format is convenient for big companies and brands who need to make important announcements about the upcoming new products, services, events, etc.
How does it work? You upload a video and schedule it for a certain date. Later, Facebook makes an announcement post (including an image of your choice) offering users to subscribe to your premiere updates. 3 minutes before the lifestream launch, they'll see a countdown. The actual broadcast will look like a video post where viewers can leave comments, share and react to video in real time.
How can Facebook Premieres help your business?
No doubt, putting lifestreams of such kind is another way to attract more viewers to your company's page. You can make a big noise out of any big event related to your brand. The only rule for using Premieres is trying to choose the most significant events out of hundred small ones in order to avoid spamming. So, what can be on the top-events list? Something like a launch of new products, crazy sales, or website novelties. For less dramatic things, use Stories or regular posts.
5. Square Images
Facebook is famous for its Ads Manager and the opportunities one provides for businesses to target their advertisements based on detailed users data. If you already had any experience with posting ads on Facebook, here is one more tip to take into account. We advice placing square-sized image ads instead of ones of a rectangle shape. Why? Because it works way better for tiny smartphone screens than other available formats. We all know that mobile browsing overtakes desktop for a couple of years already; thus, you need to make sure that ads work as effectively for mobile app users as for others.
Go to Facebook Ads Manager, create a linked ad jus like you normally do but with a non-standard image size format. Instead of standard 1:1.91, upload an image with 1:1 dimension. Speaking of image resolutions, the best one is 1080 x 1080 pixels. What you can do is to test the ads with both original rectangle image size and the square image size. It will help you compare the look of each ad and test which ones perform better.
How can square images help your business?
Not for vain, Instagram as the first fully mobile social media platform introduced us a square-size image format. From the mobile perception, a square picture looks "bigger" and easier to read or look at. So when it comes to running ads, you should take into account that square image advertisements are more noticeable for the user's eye than other formats. Just make sure you installed the recent version of Facebook – else, the image will be shown incorrectly.
6. Facebook Pixel
Facebook pixel is a useful tool for optimizing advertisements, retargeting settings, and a conversion tracking. In other words, it's a fragment of code allowing you to collect sales data on your site in order to target (and then retarget) your ad for the particular audience. At the same time, Facebook decides for yourself about the placement and conversion costs. The tool is especially valuable for eCommerce store owners.
You'll need to insert the code into the website header and into the head tags of each website. This is how it looks like: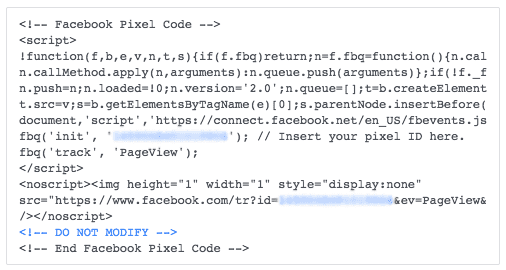 How can Facebook pixel help your business?
Facebook Pixel is an updated tool providing businesses an opportunity to segment your audience more effectively, and therefore more accurately customize your Facebook advertising campaigns. You'll be able to track a lot of user actions and, accordingly, make your ads more personalized. If you do not install Facebook pixel, your your ad campaigns will be "inferior." Tracking such a detailed performance will be almost impossible and you'll have no chance to optimize ads for your targeted actions.
7. GIF Ads
Facebook was one of the few platforms to withstand animated banners for so many years. The social network developers said they didn't want to implement the popular GIF format because they feared to make the news feed "too chaotic." But the fortress has fallen. Since 2015, brands got a chance to publish GIFs in their publications and ads.
According to TechCrunch, "the social network took off the restrictions when the audience got used to video advertising. A popular fast-food restaurant chain Wendy's and a Brazilian Coca-Cola brand KUAT were the first ones on Facebook to publish animated images. The first company placed an animated banner showing the process of making their own branded salad, while the latter one made a Nyan-Cat meme with the Kuat logo. Unlike video ads, GIF ads require much less investment, although they can be even more addicting to viewers than video content. Fortunately, there exist a plenty of free GIF makers, including the well-known Giphy. Simply upload your own images and videos to a GIF maker and save your file. When placing an ad in your Ads Manager, make sure you select a video, not image.
How can GIF ads help your business?
GIF advertising will certainly become a popular advertising tool for brand owners allowing them to be more emotional and playful with customers. No doubt, any Facebook user would enjoy the live news feed, where, in addition to static pictures, they'll see creative emotional animations.
8. Messenger
There is no way for a business to use the Facebook-based messaging platform with over 1.3 billion users all around the world.
There exist 2 ways to attract customers using Facebook Messenger:
Target advertising in the user's feed. Such announcements appear in the news feed but when clicking on a link, the user will be engaged into a dialogue with a company instead of getting to the website. This allows businesses to convert users into potential clients.
Advertising in the messenger. The user gets a personal message from the brand as if it's a friend. This feature connects to the Facebook account. Such ad messages can include links, buttons, and images.
There exist several types of ads that you can work with: Sponsored messages (promote in current conversations), Display Ads (target specific audiences), and Click-to-Messenger ads (initiate new conversations via Messenger).
With a help of Messenger, your company employees may respond to message requests from potential customers. Or you can automate the process by connecting a bot using a special ManyChat service. It lets you send ads to certain groups of people or to all users you have been already engaged in the dialogue on a business page.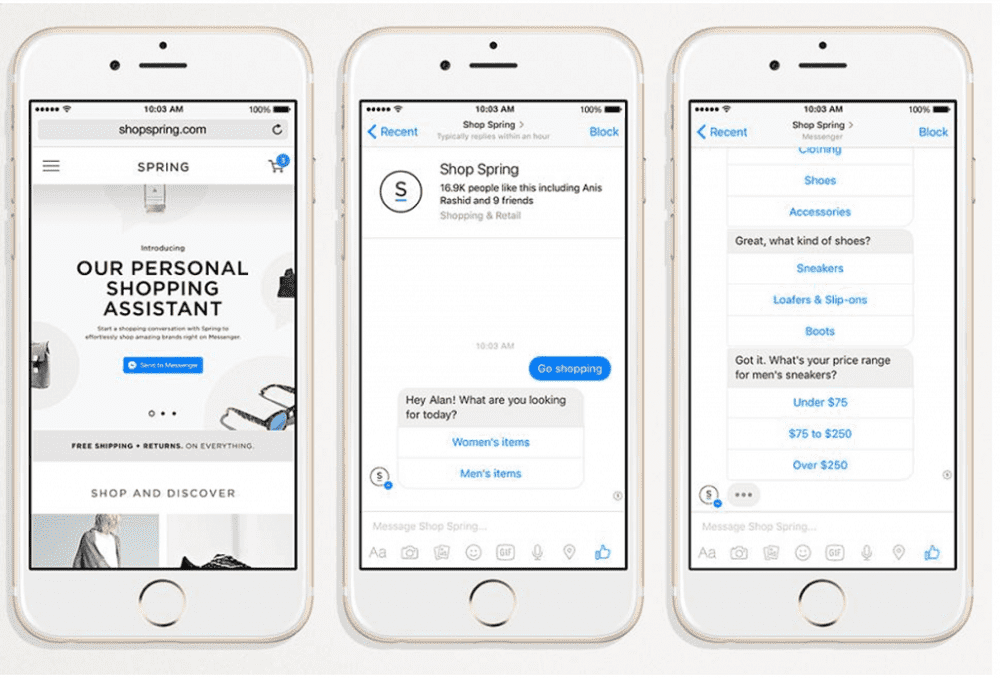 How can Facebook Messenger help your business?
The ability to communicate with your audience directly is an extremely powerful tool, especially that Facebook would prefer users to stay on its platform rather than switch to e-mail communication. In the recent Facebook survey, every second participant said he'd prefer buying from companies that can be reached via messages. Also, according to Genius Marketing research, the chance of seeing an ad through Facebook Messenger is 3 times higher than a regular email newsletter, and equals 75-83%.
Category #3 – Transparency
9. Facebook New Ads Restrictions
In order to place ads on Facebook and running successful ad campaigns, you need to follow the social platform advertising policy rules. All ads are reviewed for violation of any those rules before being posted, in particular, they check the image, text, as well as a targeting and landing page of your URL. If the page does not function properly or correspond to the creo of the ad, or it violates any of the Facebook rules, you will be denied in placement.
Here is a major list of ads that will lead to a denial:
Ads with redirecting links;
Advertising products with low-quality or offensive creatives;
Misleading advertising;
Ads of famous brands replicas and copies… and many more.
More information on the Facebook's advertising policies can be found here by the link.
How can Facebook Restrictions help your business?
Well, first of all, you MUST read the policy and in any case stay aware of the current Facebook restrictions. Posting controversial or offensive content (in case Facebook lets you do that) leads to many bad consequences, including the situation when customers will not trust you anymore. This ends up in great loses in revenues and a broken brand reputation, which is so hard to build these days. To avoid it all, monitor and analyze your ad content.
View Info About Other Businesses
How to find out how successful your competitors advertise on Facebook? Years ago, this was a very complex algorithm involving third-party services and so on – but not anymore. Facebook has recently launched the Info and Ads section, which allows everyone to view the currently active advertising campaigns of all business pages.
To find out what ads a specific public page is currently running, open the "Info and Ads" tab in the group's main menu where all active advertising campaigns are being displayed. Those can be sorted by location. You can also see the date when the page was created and see whether its name has ever been changed. This feature allows you to keep track of the groups that gained subscribers by running unfair contests, and then simply changed their names.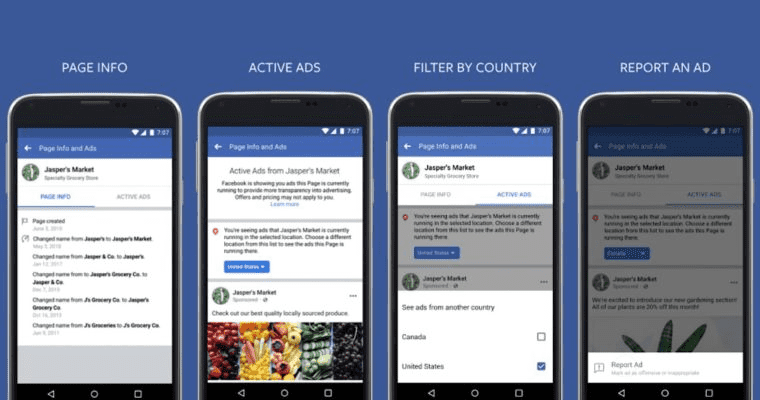 According to Facebook representatives, the reason why such information is free to view is that advertisers "need to be more transparent to users."
How can the "Info and Ads" section help your business?
"Now you can keep track of what messages your potential competitors send to the audience and which triggers they use to make it more effective. If you carefully analyze this data, you can make a better offer and entice customers to your company. But watch out because competitors might do the same! Considering the innovation, before launching an advertising campaign, you better analyze the competitors' message and make sure it does not repeat yours.
Do you believe these top 10 features will make a difference for the online presence of your business on Facebook? Have you already used any of these functions yet? Share your experience in the comment section.
Top 10 Best Facebook and Instagram Bundles
Related Product Categories