Are You Ready? – SaaS Nation`04
Our partners will bring together the most active representatives of the community on November 15 in Kiev. They will network, get food for thoughts and cases for solving problems.
SaaS Nation vol.4 will transform your idea of ​​doing business and promoting a SaaS product!
Is the lineup of speakers as cool as they promised — you decide:
Olman Quesada (Head of Business Development, AppSumo) — brought up the team from 2 to 20 employees and helped more than 200 SaaS companies to successfully launch on AppSumo.
Alexandr Galkin (Co-Founder & CEO, Competera) — 13 years experience in IT business, last 6 years developing international SaaS in Ukraine.
Yuriy Oparenko (Product Designer, Intercom) — works as a product designer in London office of Intercom, where he is responsible for the design of automation products such as Operator.
Eugene Lata (VP of Marketing, Serpstat) — went from an assistant CEO to the head of marketing and built the work of inhouse team consisting 20+ people.
Stanislau Litvinau (Founder & CEO, Affise) — went from the creator of affiliate programs to the founder and CEO of his own SaaS-platform for affiliate marketing — Affise. Since 2016, the company has grown to 100+ employees, 1000+ customers and 6 offices around the world.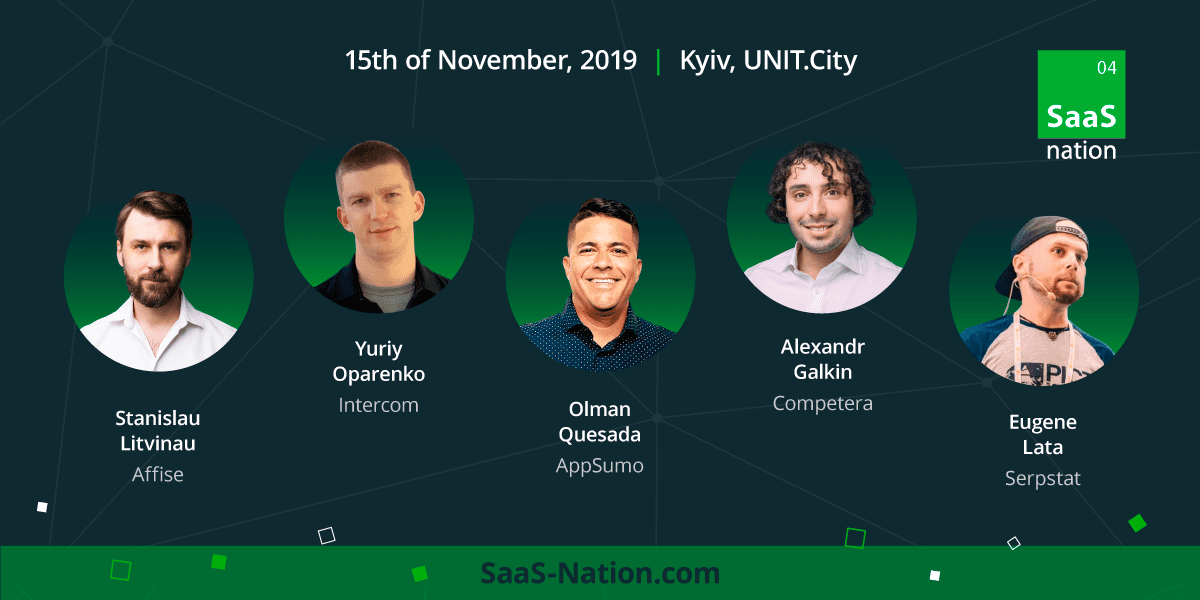 The conference program includes Welcome and Networking coffee breaks, speaker presentations, SaaS Expo with the participation of leading SaaS companies. For Premium category ticket holders there would be also a buffet with speakers and partners.
What will they talk about?
The speakers will share tools in marketing and sales that help them in their daily work with the product. They will tell about the experience of entering new markets. They will reveal the recipe of finding investments: which tools work, which doesn't, how to segment investors, what kind of metrics to show, what criteria and benchmarks are currently on the market for b2b SaaS companies, MID and ENT. They also will share their experience in building marketing and sales departments. Early stage companies will be interested to hear about the principles of product design development and get a list of useful tips for improving the usability of their site.
Powerful networking is provided to all participants, because SaaS Nation is not only a conference about SaaS-business. This is the largest community in Eastern Europe. Our closed facebook group has more than 1000 participants, telegram chat – 800+ active users. This is a platform that has become the basis for networking, the exchange of experience and useful ideas among experts in the field and those who are only faced with typical SaaS problems.
Convinced? -5% with promotional code MasterBundles
!Prices go up on October 3!
The organizers are Netpeak Group and Octopus Events.