So, I know that sales, bonuses, and discounts are the things you really enjoy to read about. However, this time, I'm going to introduce you another item to think of. Yep, right now, it doesn't have an eye-catching discount or something like that. What does it have tho? Affordable price, outstanding quality, bright design, and a cool list of features – these are just to name a few! To make a long story short, in this post, I'm going to make a quick review and the name of the special guest is Multify.
What is Multify?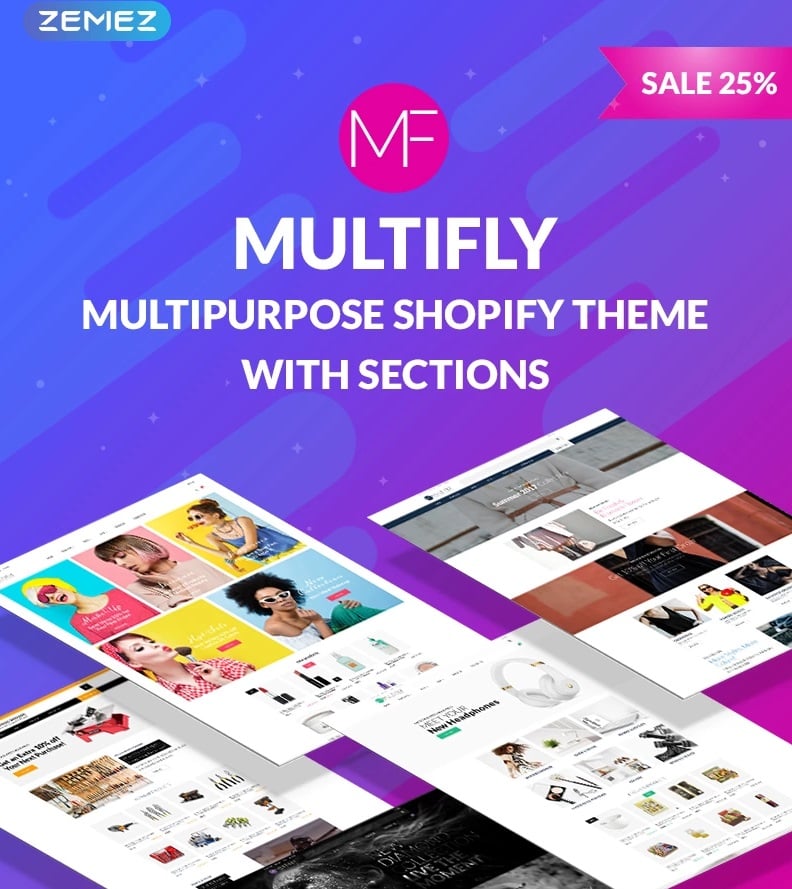 First things first, let's introduce the subject of today's conversation. Basically, Multify is a modern website theme, which was made for eCommerce purposes. Powered by Shopify, the theme is absolutely multipurpose and here's what makes the online audience like it. Multify was made by the TemplateMonster's ZEMEZ team.
By the way, using this multipurpose theme would be a wise choice not just for shop owners but also for those users, who build online projects for the customers.
Main Features
To start with, I should emphasize the fact Multify is code-free, which means stress-free. It can be used by shop owners of any skill levels. You don't have to waste time reading long manuals or watching tutorials. Fortunately, Multify is handy and intuitive. It's quite creator-friendly and has a simple but powerful interface.
The Theme's Price
The regular price for the template is $159. Still, talking about the discounts, I wasn't 100% honest because right now Multify comes with 25% off. Its price on sale makes $113.
Which Sections Does Multify Come With?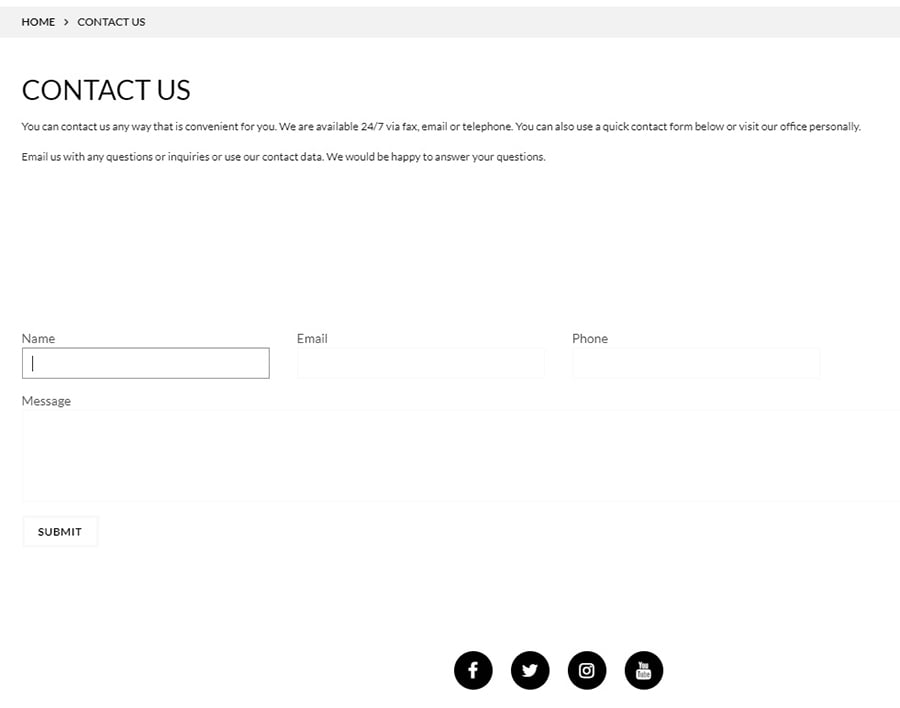 As the name of the product says, Multify is a multipurpose theme. It means that you can make a lot of websites for different business niches using a single theme. Every section is a set of ready-made templates. They are pre-designed by pros, so you can use the templates the way they are without trouble.
On the other hand, you can always change any detail because Multify is a really easy-to-manage product. All its components are versatile and fully customizable. In a word, one section consists of such basic pages as:
Contacts,
About Us,
Maps,
Gallery,
Home Page,
Shop,
Blog, etc.
Now let's move to the topics. Which sections a user will find in the pack of Multify?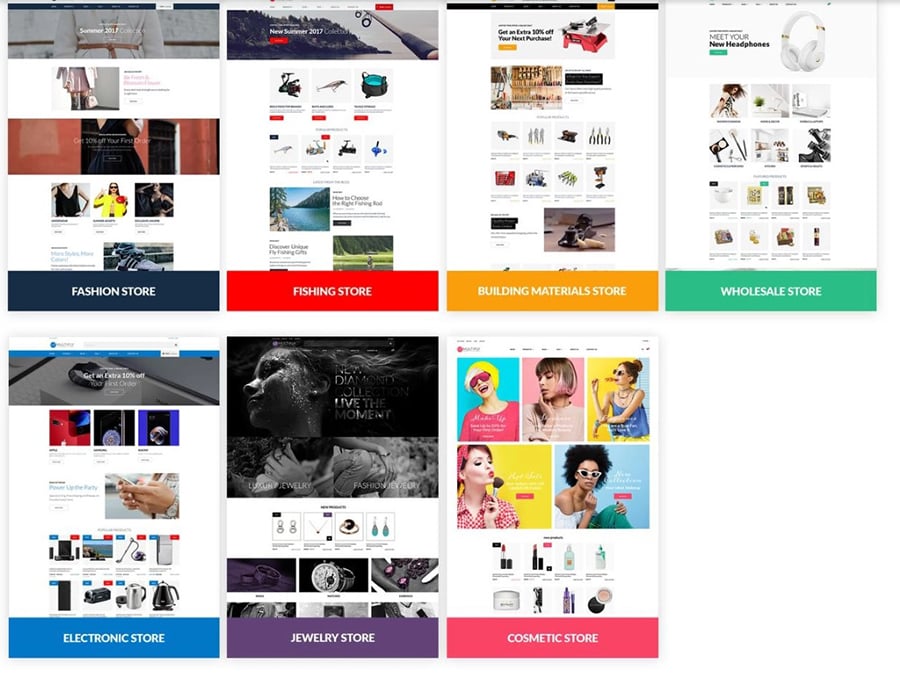 Here they are:
2 completely different styles for a full-fledged fashion store,
building materials store,
electronics store,
cosmetics store,
jewelry store,
and, of course, the template for a wholesale store.
A Bit About The Builder of Multify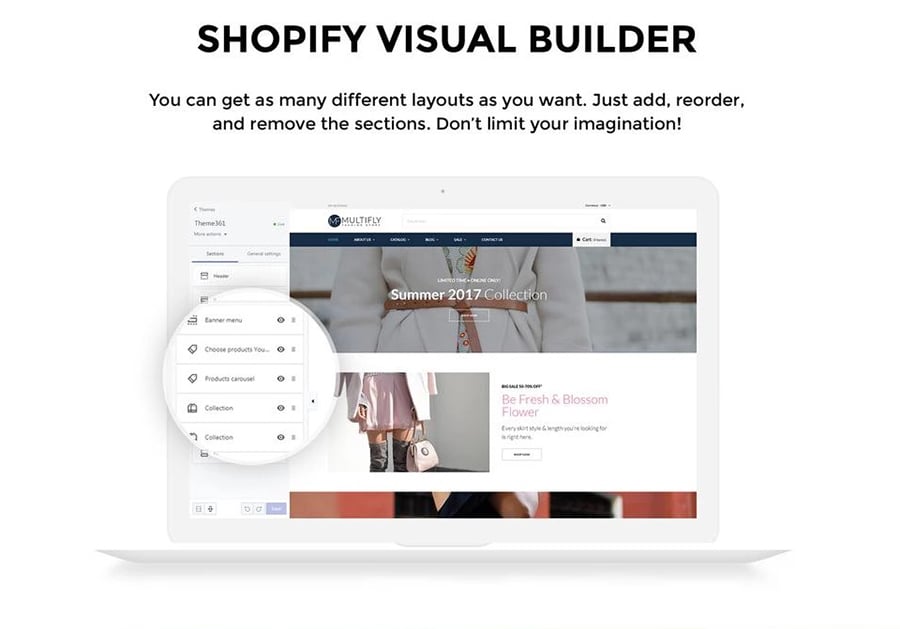 Needless to say, drag-and-drop functionality has already become #1 must-have for any website owner. It doesn't matter if you are a pro or a beginner. Having an editor with d&d is the thing everyone requires. Which tool does user get buying Multify theme?
Talking about web content creation, the Multify contains Shopify Visual Builder. The main features of the plugin allow you:
editing site's design using drag-and-drop functionality,
creating the new pages and styling them the way you want,
adding, reordering, and removing the sections,
using lots of pre-packed UI elements that are already added to the editor's library,
previewing the performed changes.
To put it briefly, Multify does provide a user with the desired WYSIWYG experience.
Other Must-haves
I'm not going to name every single must-have feature Multify has but here are the ones you might be looking for:
gallery,
blog articles,
newsletter,
social integration,
commenting system,
crossbrowser compatibility,
SEO-ready code,
extremely responsive and mobile-friendly design, which fits any browser,
and a trendy menu with categories and subcategories.
Actually, Multify fits not the shop purposes only. It's a stunning Shopify blog template as well!
Product Showcase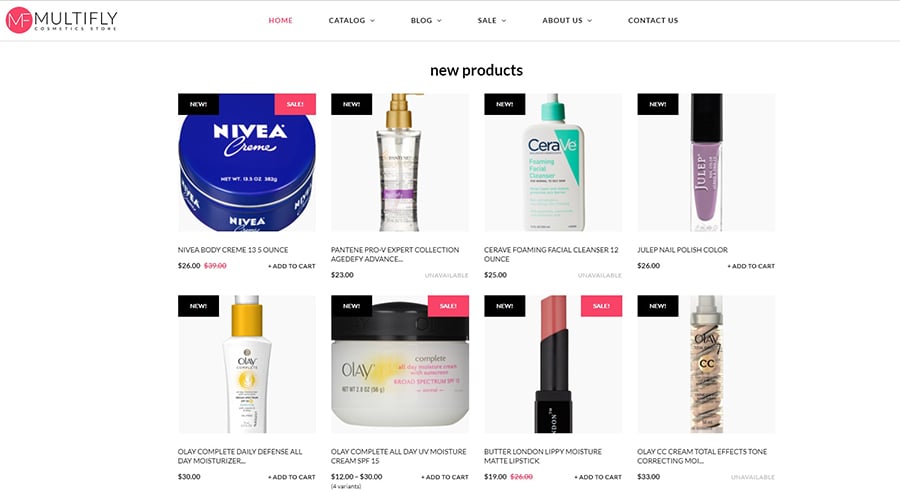 Multify is totally an eCommerce product. Thus, the theme has everything and anything to showcase your goods in all their beauty. You can introduce the products with the help of the next things:
pre-design banners that come in 2 popular sizes;
Featured Product option to place your goods where you think it's appropriate and to list the needed products in a well-organized group;
Collection List to place your top items on the main page;
Instagram Feed to attract new customers using one of the most popular social media;
Slideshow, which is still the most popular feature for online stores;
Single Product feature to draw the prospect's attention to a particular item that you want to sell faster;
Products Carousel to let people review your best-selling products and do it without moving to another page;
Lookbook Section to increase your sales by depicting the products in a professional way;
Collection Tabs to display not the banner only but also all the main products from it;
Scrapbook Section to interest the visitors with the unusual display of the products;
Products Countdown to make item promotions even more effective by showing how much time there's left.
Logolist feature to help the shoppers find the products by their logos.
No doubt, Multify has lots of voguish features to grab the attention of a shopper.
What Else?
Don't you think that these were all the loots Multify's package consists of? There are much more possibilities! Here are 10 more features you will find inside the theme's pack:
the possibility to sell your goods in the most popular marketplace – Amazon;
the possibility to get more new shoppers thanks to a multilingual design that's also great for SEO;
multi-currency features;
Parallax scrolling to guide shoppers through the website's content in an interactive way;
quick contact form to let a prospect contact you anytime they need;
a bundle of eye-friendly, readable web fonts;
smart sorting options to keep the design of the web store clean;
Product Quick View to save shopper's time;
Facebook shop;
Ajax-based cart and wishlist to make the site navigation visitor-friendly.
Navigation
There's no secret that the first rule of any successful web store owner wants you to make the website as comfy as possible. You should provide the shoppers with a friendly navigation. With it, people will be able to find the needed item, page, and service really fast. For these reasons, Multify has MegaMenu plugin.
Shortly, MegaMenu is a stylish web shop extension, which is meant to customize beautiful menus for a website. With minor tuning required, tones of options to choose from, and the ability to show categories and posts, MegaMenu is a cool and easy-to-use plugin. When used smartly, it can easily boost site's SEO!
There's one more feature to make the navigation of Multify-based site even more comfortable. The theme offers your shoppers to shop by many features. Among them, there are such variants as brands or popularity.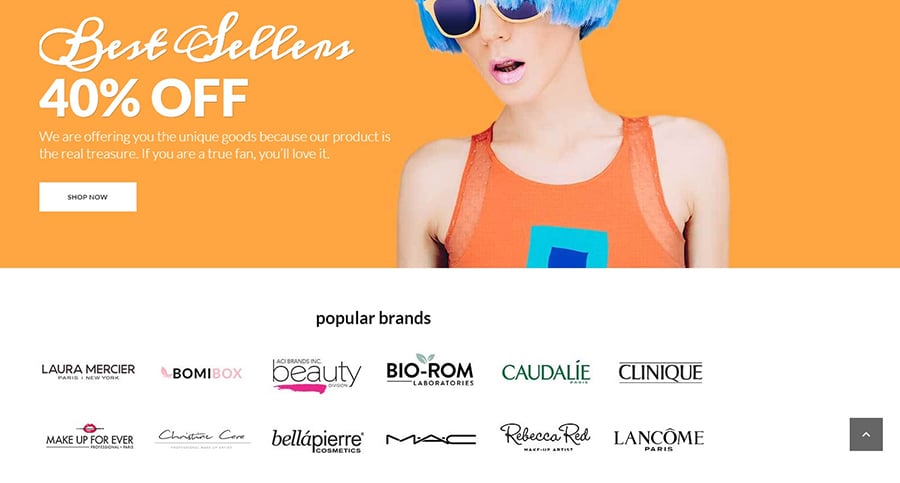 Multify's Support
Being a TM's product, Multify has a free and friendly technical support. It's available 24/7 and, what's even better, its lifetime! In addition, the support is multilingual, so the theme can be used by shop owners all over the globe.
It supports the next languages:
English,
French,
Spanish,
Russian,
and German.
Let's sum everything up!
Without a doubt, Multify is as user-friendly as possible. It meets any fresh requirements and it's compatible with the search engines. Besides, Multify provides its owner with WYSIWYG editing experience and here's what any modern user is looking for! The theme has lots of advantages for your Shopify store. To sum everything up, take a quick look at the infographic below.
Video About Multify Review: That's How Regular Price and Outstanding Quality Can Deal Together