8+ Free Monogram Makers Online
Contrary to popular belief, monograms are not a vestige of the past. A monogram is a motifmade by combining two or more letters to form one symbol. Historically, a monogram was somewhat of a watermark used to identify its owners' personal items and stationery. Today, monograms are widely employed for branding purposes as recognizable symbols for personal or company logos.
Is it possible to create a monogram yourself? Hiring a professional designer to make a monogram will provide you with a bunch of options to use in your corporate style and promo materials. However, developing a unique design concept will cost you a pretty penny. Creating a monogram design using monogram maker online from MasterBundles will not only save your money but also let you take control over the process.
Before purchasing any graphics resources, you can try a free monogram maker to figure out the style and layout for the monogram. Using a monogram maker app, you can choose the font, placing, colors, and other details to fit your project perfectly. So, you'll end up with several monogram options to use for a variety of occasions.
How To Use Free Monogram Maker?
Whether you use a premium or free monogram maker, you will find it extremely easy to put a monogram design together. All of the monogram generators have the same principle of work:
Type in your initials or any other characters you want to appear in your monogram.
Play with the style, font, and colors. It's better if you create several monogram versions to choose from.
Most monogram makers online allow you to download your finished monogram in a .PDF or .JPEG file.
Below you will find free monogram makers to experiment with monogram layouts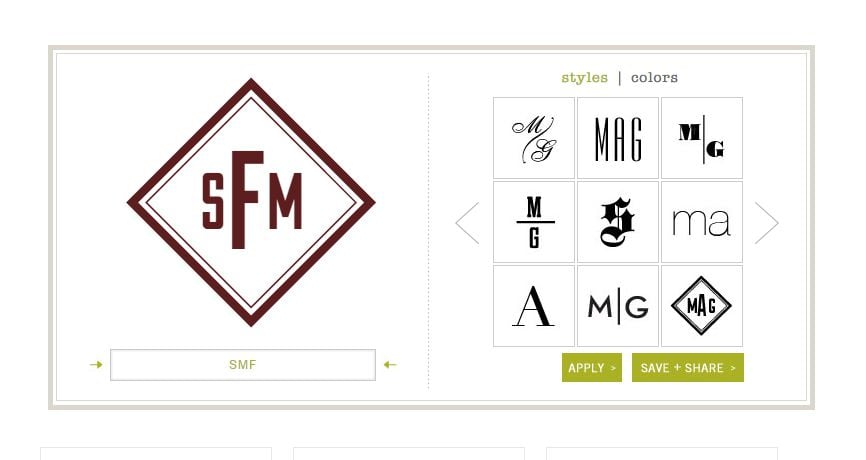 Mark and Graham monogram maker offers 27 monogram styles and 16 color options to select from. At that, this free monogram maker is unbelievably simple in use. All it takes is to enter 1-3 letters into the text input field, pick a style and color, and voila. Any changes are easy to make, s you can see the result of your alterations in the preview window. Finally, you can receive the finished monogram by email or share it on Facebook, Twitter, or Pinterest.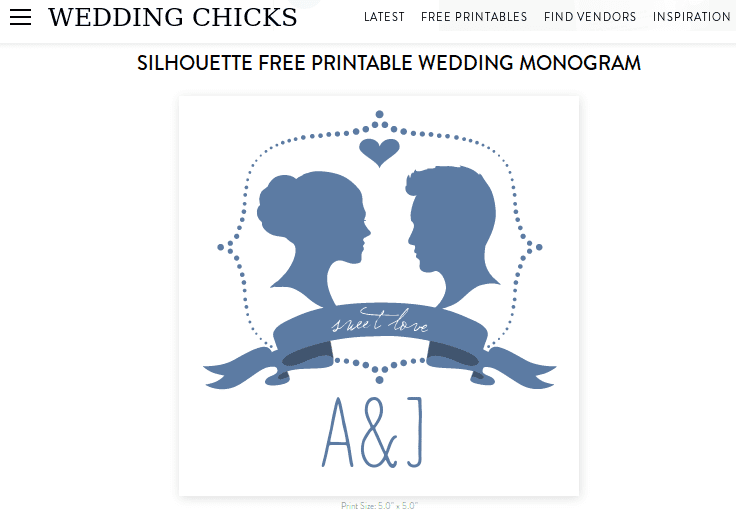 Today, monograms are often used as elements of wedding design, on invitations, greeting cards, and envelopes. If you're looking for something unique to add to your wedding decorations, try
16 monogram styles in Wedding Chicks monogram maker online. All monograms are easy to customize. Feel free to alter the color scheme, select custom initials and edit the text of your monogram in a separate window. It is possible to print or save the finished monogram as a .png file.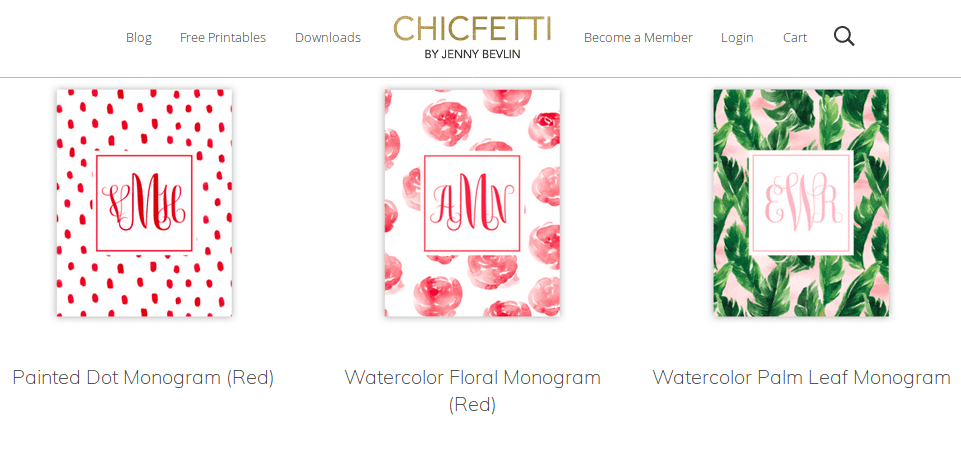 Chicfetti offers its users a monogram maker online completely free of charge together with customizable printables. Select one of the 6 general monogram and 3 wedding monogram designs to create something unique. Feel free to add extra images and text and combine them with illustrations, frames, and shapes. It came as a pleasant surprise that this monogram generator has a video tutorial to help you understand how all of its features work.
Premium Monogram Makers To Use For Your Creative Projects
Below you will find a selection of five beautifully crafted premium monogram makers to use for your personal and business projects. If used right, these items can be an asset to a creative project of any complexity.
Why should you invest in a premium monogram maker? First and foremost, a premium monogram bundle provides you with multiple layout combinations and design options. Secondly, you get to keep the designs and fonts, so you can later recycle them in other projects. For sure, the monogram maker bundles below cost every penny and worth your time. So, take a look!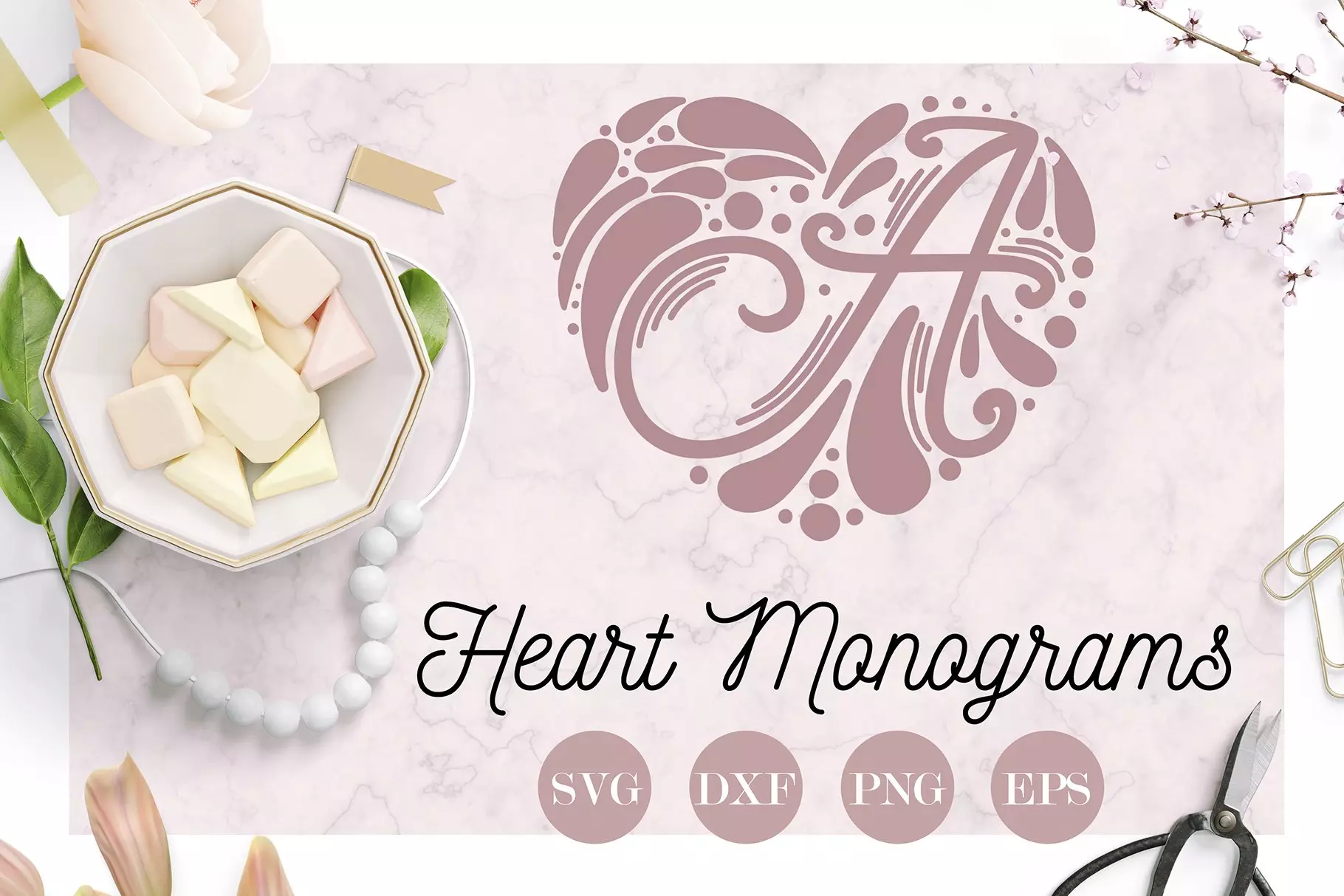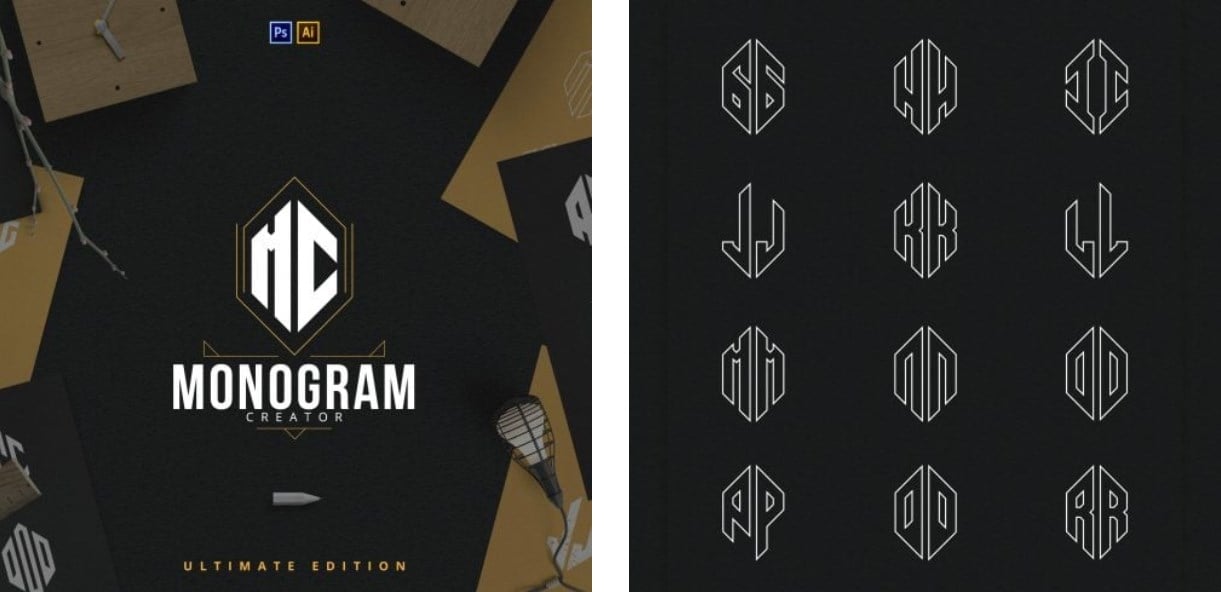 If you want to create a futuristic monogram, 6-in-1 Ultimate Monogram Creator is just the thing! This bundle contains 6 unique monogram styles in 15 free font combinations arriving in PSD, Ai, and EPS files. This way, you can use any graphics software you see fit to customize a chosen monogram option.
Basically, you get 6 monogram maker templates consisting of 2- and 3-letter combinations in clean, outline, and rough versions. All it takes is to play with layers: just hide the unnecessary and reveal the needed ones. Pre-made ornaments and suggested color combinations will help you make the final design more versatile. With 82% discount, this item costs $14 only, so don't miss your chance to get this monogram maker online!
Price: 82% OFF – only $14
If you're looking for a monogram wallpaper maker, then pay your attention to Watercolor Monogram Collection. Trendy aquarelle style monograms can be used for a variety of purposes from web design, blogging, merchandise to branding and wedding designs. What's cool about this watercolor monogram bundle, it looks classy and sleek. The bundle comes with extra graphics to help you create stationery designs.
Here's what you get in the bundle:
26 uppercase watercolor alphabet variations (PSD and PNG files, 4000x4000px);
26 lowercase watercolor alphabet variations (PNG files, 2000x2000px);
10 watercolor numbers
2 ampersand variations (PNG files);
15 wreaths (PNG files, 4000x4000px).
Apart from the alphabet variations, you get 85 high-resolution watercolor elements (PNG files, 300 dpi) with 63 floral elements and 9 watercolor strokes. Up next, arrive 4 large backgrounds and 9 smaller backgrounds. Finally, there is a set of high-resolution ready designs that come in PSD files with JPG files:
2 wedding templates;
2 business card templates;
2 tag templates;
Price: 93% OFF – only $11
Spring Vibes: A-Z Logo Designs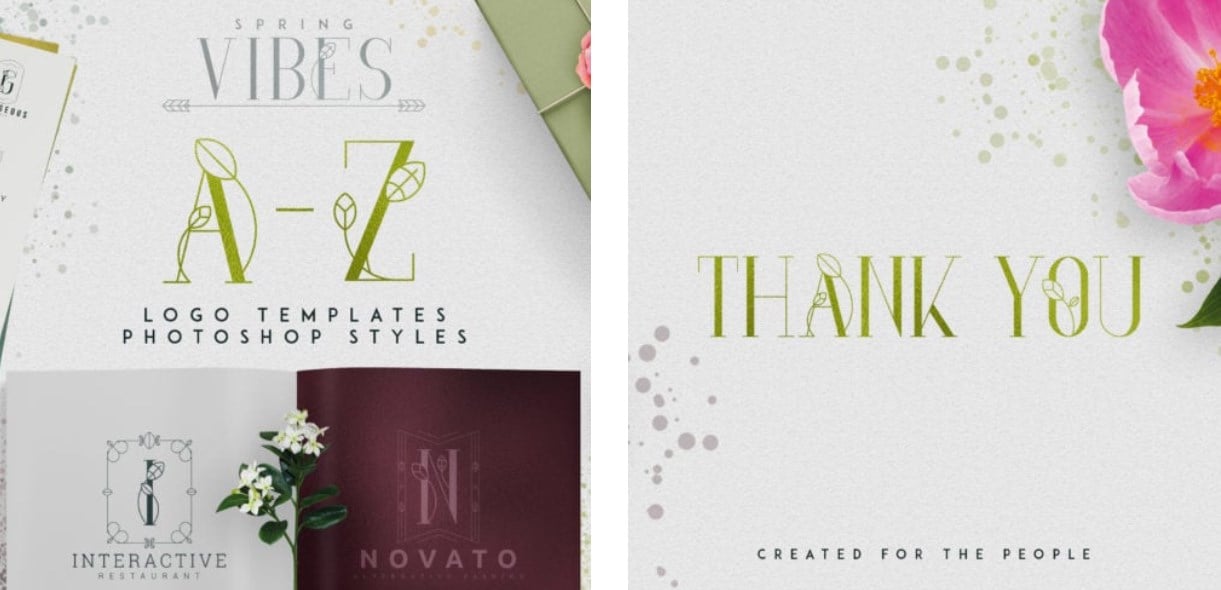 It goes without saying that monograms are tied to logo design. Spring Vibes: A-Z Logo Templates offers its users a unique set of monogram designs decorated with floral elements. Vector logo designs and letters come supplied with a free font and are easy to customize. In the package, you will find 26 сustom logo designs and 20 Photoshop styles that arrive with a bunch of file formats (.PSD, .AI, .EPS, .ASL), so you can alter them in Adobe Photoshop and Illustrator. With 88% discount, you can now get these files for only $14.
Price: 88% OFF – only $11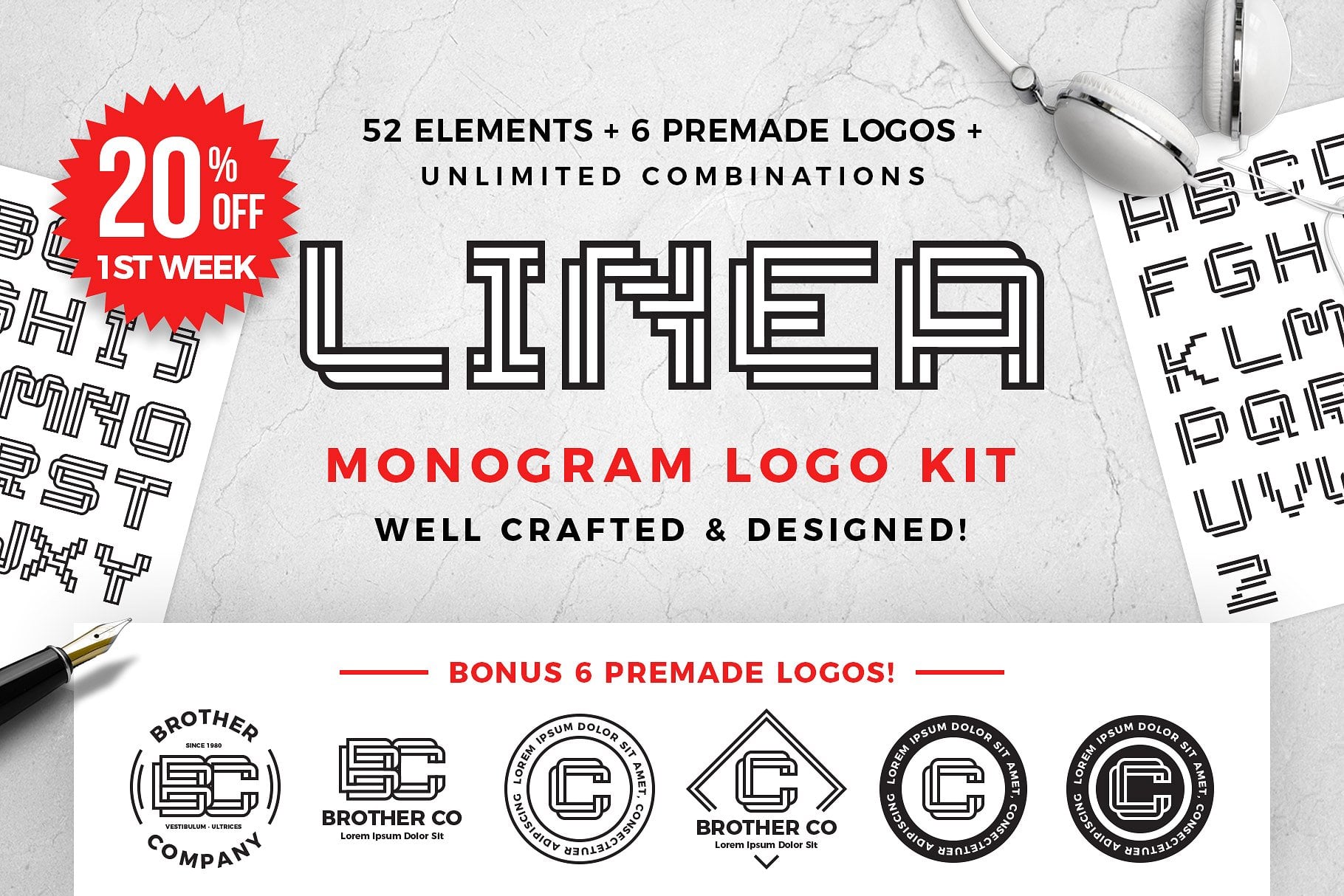 LINEA Monogram Logo Kit is a set of futuristic monogram and logo designs to use for multiple purposes. These robotic designs can help you create a modern vintage logo or even artwork on your blog. Also, this bundle will be a great fit for a monogram wallpaper maker to create movie posters and promo materials. In the package, there are 52 Monogram Elements + 6 FREE Premade Logos that come as bonus, all of them editable in Adobe Illustrator (.AI and .EPS files). If you want to test drive this awesome kit, download the FREE version for personal use only.
Price: $15 Standard License / $125 Extended License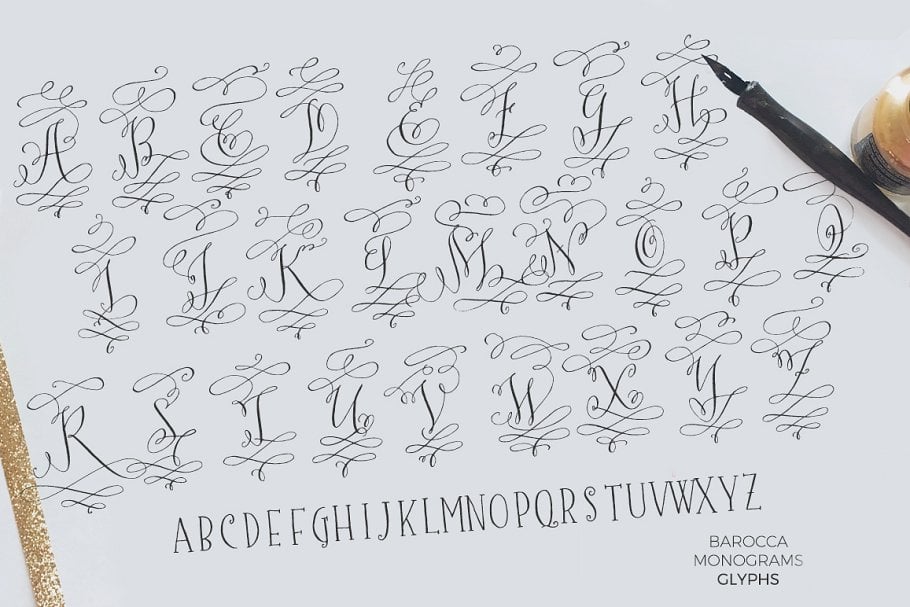 Barocca Monograms offer you a set of romantic monogram font decorated with glyphs and other intricate elements. The author created calligraphic letters using antique French nibs & sepia ink upon rag paper. In the bundle, you will get a set of Barocca Monograms fonts in OpenType (OTF) and TrueType (TTF) font formats. Also, you can obtain an additional font license allowing you to create 250 items for sale. If you have questions regarding the use of the font, a pdf tutorial is included.
Price: $29 Extended License
Video About Monogram Maker