How To Use Calendar Template As Effective Marketing Tool?
Modern life is pretty hectic, so calendars have long become a part of daily routine. It's so amazing how people use them for a variety of purposes! Whether you're planning significant events like birthdays or anniversaries, create timetables, set reminders, or schedule appointments, you turn to a calendar template. Paper calendars are becoming more of a rarity, as they are less practical in day-to-day life.
Come to think of it, very few people circle dates in a calendar hanging on the wall. With online calendars, remembering important events has become so much easier. A well-structured calendar template will let you make plans ahead of time and not be taken aback by the event. If you're looking for a reliable graphic resources provider with a vast selection of calendar templates, MasterBundles can come in handy. Whether you need a word calendar template, or any other printable calendar template, you'll find all of it here.
How to Use Printable Calendar Template For Branding
Apart from utilitarian purposes, calendars can be used for branding and promotional purposes. Advertising your business and raising brand awareness is so much easier when keeping the calendar in sight of your existing or potential clientele. It doesn't matter if you choose a weekly or monthly calendar template. The good thing is, a ready-made calendar template can be customized in any way you see fit to create the promo material for a business.
Great Examples Of Branded Calendars
Most definitely, you can recall a few businesses that have successfully made annual calendars a part of their branding strategy. BMW, Pirelli, Australian firefighters are just a few ventures that managed to turn their corporate calendars into effective marketing tools. So, what's the secret to making it work? Let's take a closer look at the examples to understand how calendars work. In terms of marketing.
Pirelli
Pirelli Calendar, also known as The Cal, has been an annual publication since 1964. One of the largest tyre manufacturers, Pirelli used its calendar as one of the brand building options. Over the years, The Cal has featured the works of many world-famous photographers. Making the calendar appearance has become quite prestigious for the photographic models chosen for every issue.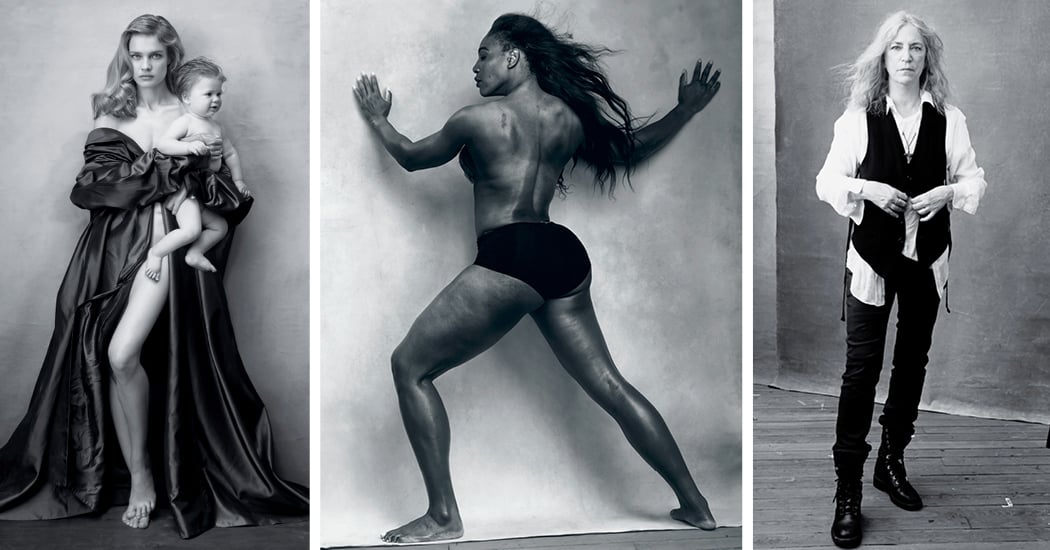 Pirelli Calendar 2016
Mostly fashion models have made their appearances in The Cal, but lately the choices have shifted towards influencers, athletes, actresses, etc. Each Pirelli Calendar is a masterpiece as calendar templates and photography chosen for its creation, instantly draw the audience's attention and become the talk of the town.
BMW
BMW is one of the world's oldest automotive companies founded in Munich, Germany. This multinational company is not only famous for its luxury cars and motorcycles but also for well-invested promo campaigns. BMW JOY is one of the most famous promotional campaigns that has positively influenced the desirability of the brand.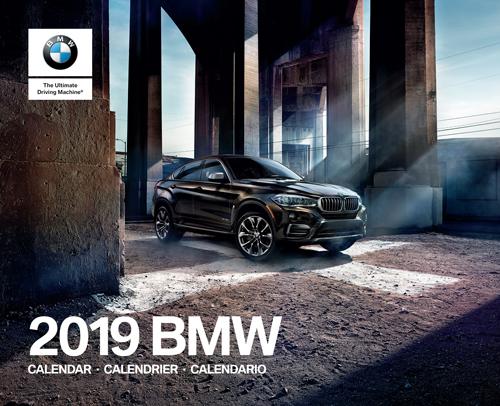 BMW Calendar 2019
Designer merchandise, event marketing, and high-quality point-of-sales materials is what makes BMW stand out. In its annual calendar, BMW uses uniquely crafted monthly calendar templates demonstrating the flagship car models, parts, and accessories. At that, a branded calendar can be used as a promo material, but also a gift for clients. BMW calendars come in a variety of forms and designs: pocket calendars, table and wall calendars.
Australian Firefighters Calendar
Australian Firefighters have been doing a yearly charity calendar since 1993. For 2019, they are featuring cats and shirtless employees of Australian fire brigades. As a rule, the calendar template is pretty basic, as the key focus is made on the photography. Thanks to the promotional campaigns on social media and news outlets, each new calendar release goes viral quite fast.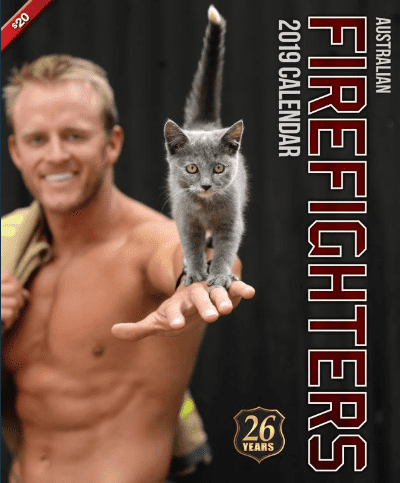 Australian Firefighters Calendar 2019
The calendar started for a noble cause to support the Children's Hospital Foundation and raise funds for childhood burns research and treatment. To date, the Australian Firefighters Calendar has raised over $2.8 million for various charities. Similar monthly calendar templates are used by Colorado firefighters in the US.
How To Use Calendar Template for Branding?
What's great about ready-made calendar templates is that you can customize the digital copy at any given time, and then put it on paper. Graphic resources providers make it possible to select monthly calendar templates and weekly calendar templates among numerous options. Take a look at some of the freshest 2019 calendar templates below:
Free February 2020 Printable Calendar & Wallpapers – Spread The Love!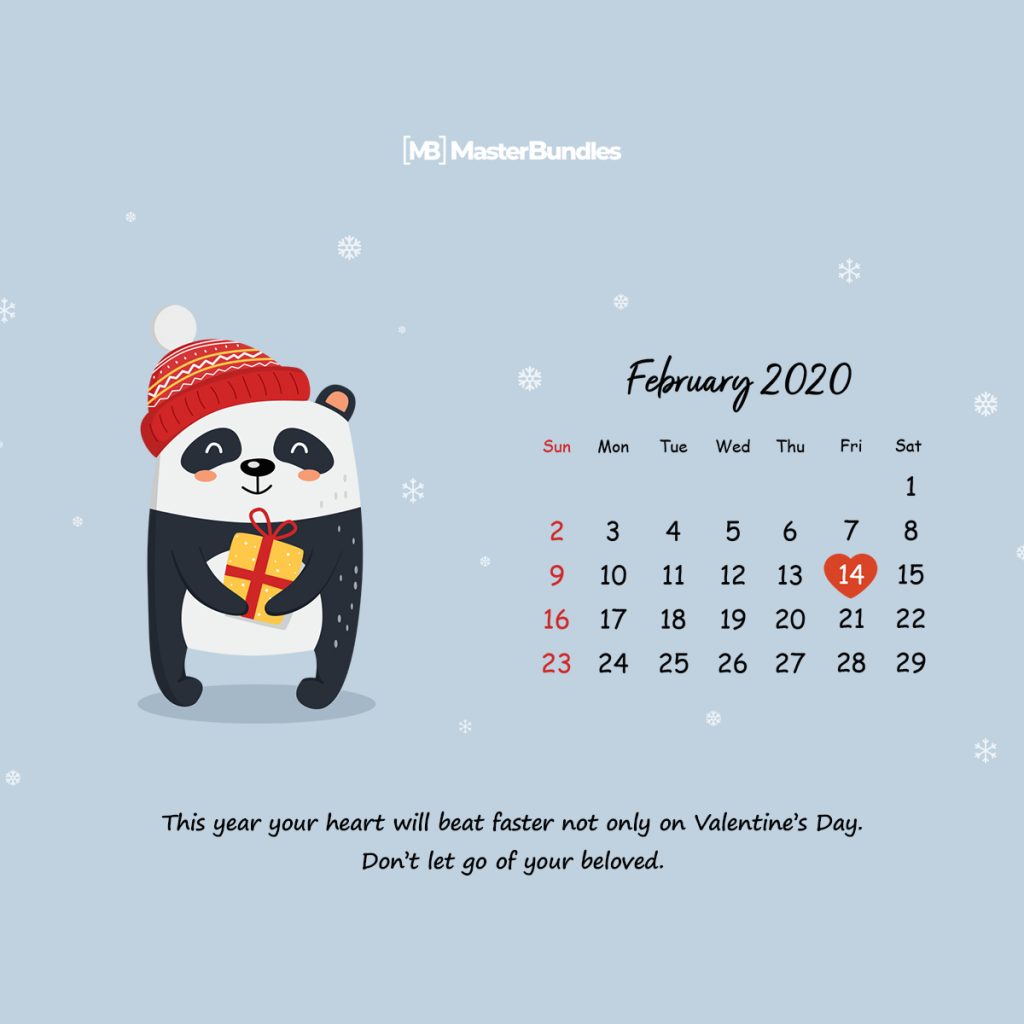 2019 Printable Calendar Template – $9 ONLY


Price: 64% OFF – $9 only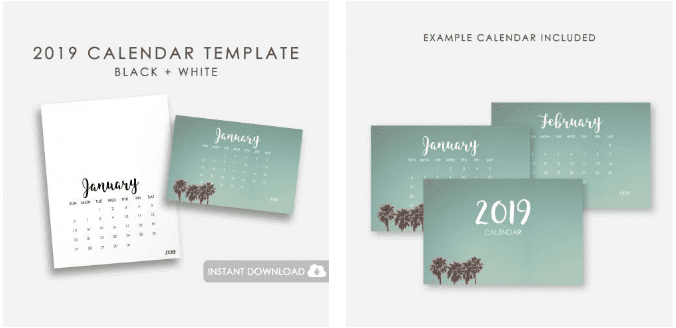 Using a printable calendar template, photographers and designers can create eye-catching promo materials to sell or give away to clients. What's good, 2019 calendar template comes with an extended license that allows using it for commercial purposes.
For only $9, you get a set of high-resolution JPG and PNG files with PDF previews, with two font options in black and white. A monthly calendar template like this allows embedding photography, artwork, and graphic design. It's quite versatile, so purchasing it is a really wise investment.
Letter size 8.5 x 11 inch;
Editable to any preferable size;
Monday- and Sunday-start versions;
Calendar contains 12 months (January to December 2019).
2019 Printable Calendar: Black & Gold *Updated*
Price: $10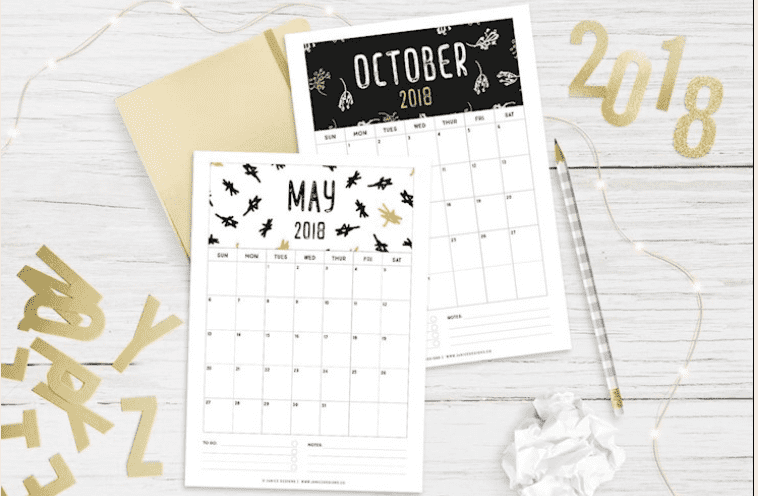 This printable calendar template for 2019 in black and gold can become a nice present for friends or family. This item is not just a calendar – it's a monthly planner. Feel free to file monthly calendar sheets it in the current binder, keep them on your desk or hang it on a wall. It's possible to use a wire binder to keep all the sheets of this printable 2019 calendar together.

Printable 2019 Desk Calendar (Motivational)
Price: $9.99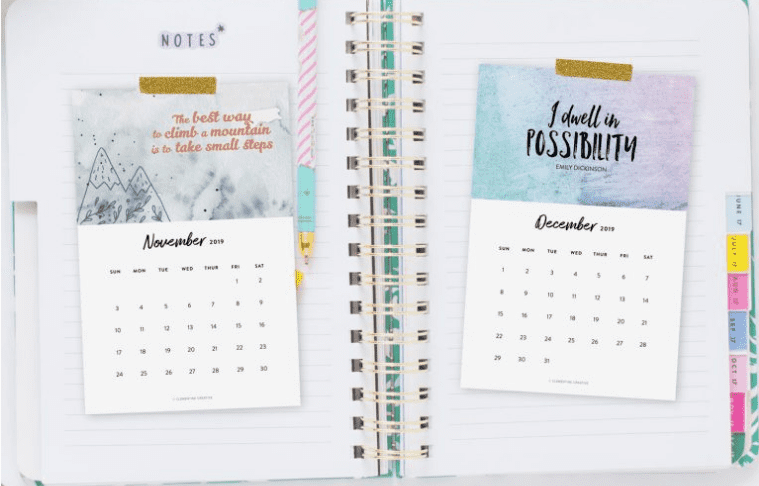 This printable calendar template is perfect for putting it on the wall. Each month has a unique watercolor style illustration supplied with a motivational quote. You can download it for free, but use it only for personal purposes.
Calendar card size 4×6 inches (10 x 15,5 cm);
Two cards print-out for one page;
Monday- and Sunday-start versions;
Calendar contains 12 months (January to December 2019).

Calendar 2019 – Infographic PowerPoint Template
Price: $17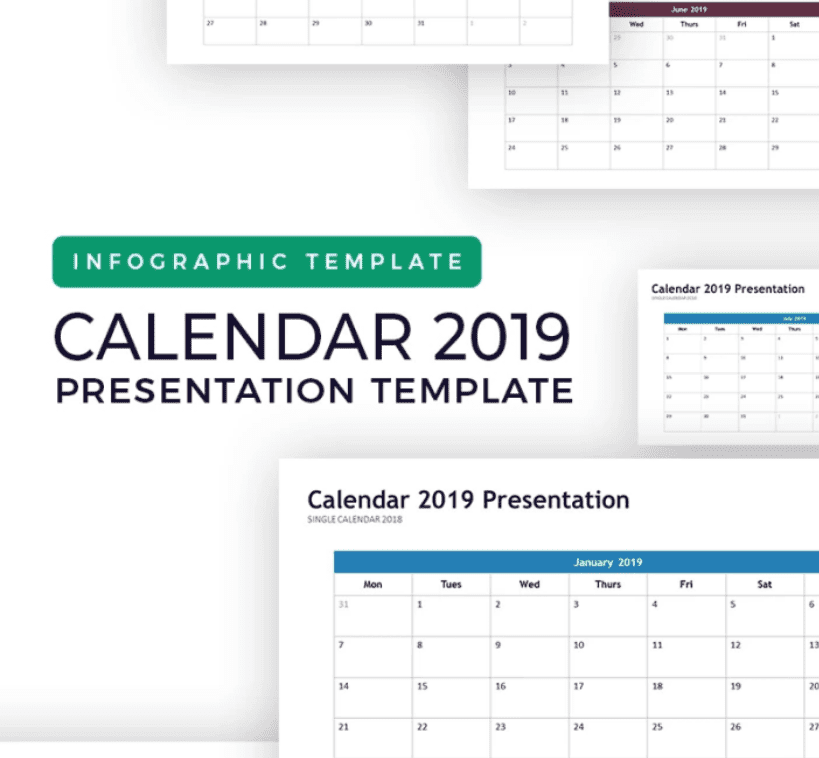 Nowadays a PowerPoint presentation is the best way to present some information to the audience. It is a good tool that allows you to include images, text, graphics, and many other elements. Yet, there are so many presentation themes and spheres that you should have various presentation templates for each of them. And when it comes to schedule presentations you need a good template too. And this is why we present you a Calendar 2019 PowerPoint Template.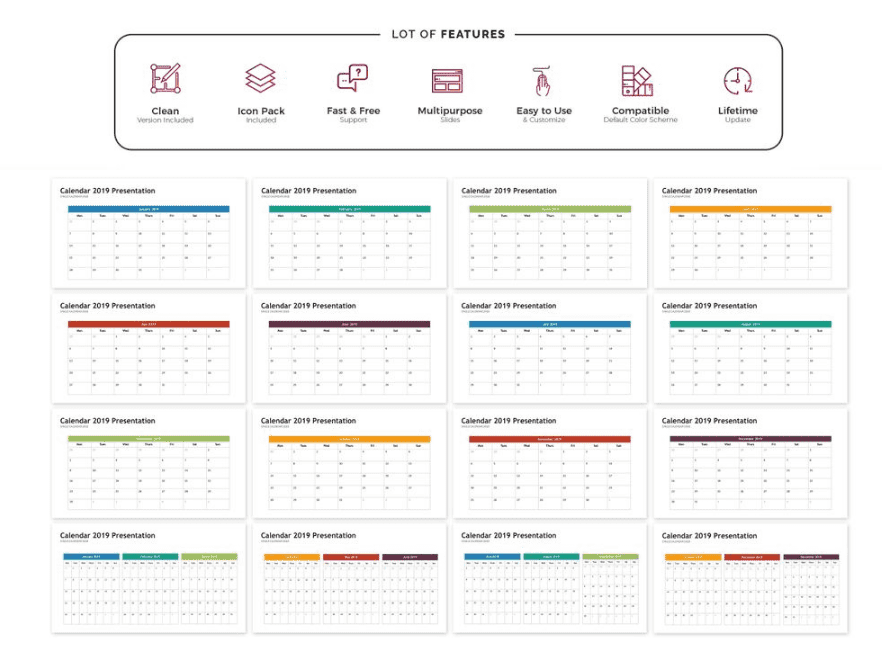 It is a quite simple, yet very informative template and it includes many layouts and design options. It includes an icon pack that will be a useful addition to the design of your presentation. Calendar 2019 has light and dark backgrounds and includes only free fonts for development of this template. It is also fully documented and includes useful information on this PowerPoint Template. It is easy to use and customize and if you want to edit presentation made with Calendar 2019 all you need is a PowerPoint. Moreover, it includes fast and free support and we will be glad to find the best answer to your question. And of course, you will get lifetime updates. So download the Calendar 2019 PowerPoint Template presentation and make all your schedules easy to learn and present.
Why Should Businesses Use Calendars As Promotional Tools?
Believe it or not, in the time of digital apps and planners, many people still prefer using printed calendars. Below you will find a few obvious reasons to invest in calendars as promo tools.
Calendars Can Actually Be Useful
Whether you're giving away a free Word calendar template in a graphic bundle, or handing out printed calendars in the street, chances are people will actually use them. Being a very routine thing, calendars are often looked at. Unlike flyers or brochures that are thrown away in most cases, a pocket or desk calendar has a chance to linger in your prospects' homes. These items bear your brand's imprint making the potential customers predisposed to purchasing your goods and services.
Multipurpose Nature of Calendars
Using versatile calendar templates can help to promote your services. Combining a calendar with a planner, reminders, or important dates will make the calendar more attractive to customers. So, they will have more reasons to use it in everyday life. For instance, a pest control service or an agricultural business could create a calendar with dates recommended for planting and harvesting crops. This way, clients would know when it's time to use their services.
Longevity and Predictability
Twelve months is a long period of time, so chances that calendar will be used are pretty high. Since most businesses print out calendars annually, it's easy to predict the time of their replacement. So, in terms of a marketing strategy, a business owner always knows when it's time to start distributing updated marketing materials to the target audience.
Video About Calendar Template As Effective Marketing Tool
Related Product Categories