Geometric Patterns. The use of different forms in design helps to save the artist's original intention and convey it correctly to the recipient. There are three main types of shapes – geometric, organic, and abstract.
Organic ones are irregular and imperfect, with wavy outlines, often curved. But this type helps you to create a vivid and realistic design.
On the contrary, abstract forms help to make the picture idealized. The art that is based on the abstract is mostly very indistinct for understanding. It gives us room for thought, and we can find our meaning in the author's original idea.
Geometric patterns are a trend nowadays as this kind of graphics allows you to play with symmetry and asymmetry, mixing forms, colors, and sizes.
You can use each of them as independent fundamental layout elements, or you can successfully combine one with another. There are many design tools you can use to reach the perfect image, and here we are going to look more deeply at geometric ones.
Basic Geometric Forms and Their Meanings
At this point, it is important to understand what are the main shapes that you can use for creating geometric patterns and what are the meanings of them. The examples below will help you imagine what model you can use to depict a specific sense and mood.
Circles
If you want to reach the fulfillment of the form, then circles will be the best helpers. They represent the sense of something finished, calm, stable, and moving endlessly. That is why designers usually use this form for logos creation.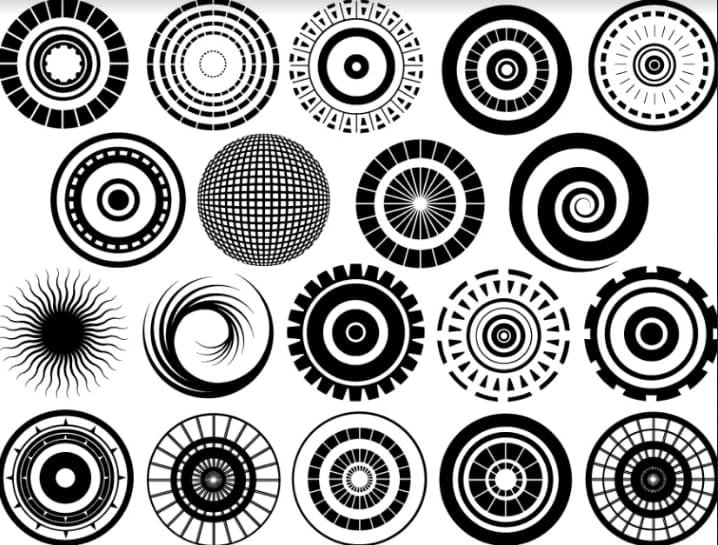 Squares
Square is a shape that you should use carefully. They depict the idea of stability, but the image that is overwhelmed with empty rectangles may seem quite boring, so usually, they are filled with color, letters, or lines.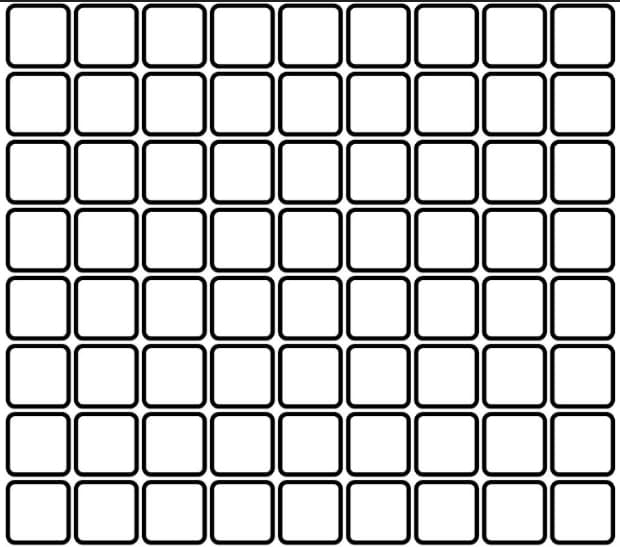 Triangles
Triangles can point to a certain object or even direction. For example, if they mark to the right, it means future, progress. And to the left means, some refer to the past and old traditions.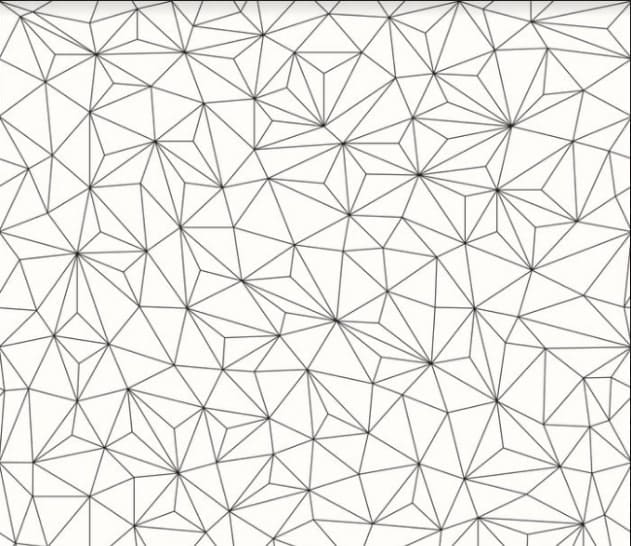 To sum up, geometric patterns are quite variable and are a win-win design, as combining them and their meanings can be outstanding options. And now, when we know each shape's sense, we can check how we can use them differently.
Best Geometric Patterns to Download 2021
Plaids Patterns in Red, Blue and White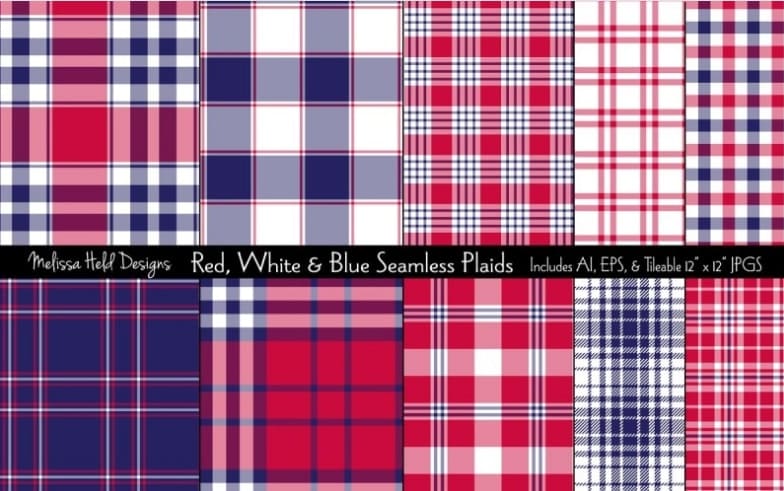 You can use these designs to create the atmosphere of a national holiday, thanks to the brilliant combination of squares, lines, and colors, the pattern makes sense of comfort. They will be a perfect solution for your cover images, gift wraps. You can set them as a background for a themed post on social networks.
Native American Red, White and Blue Patterns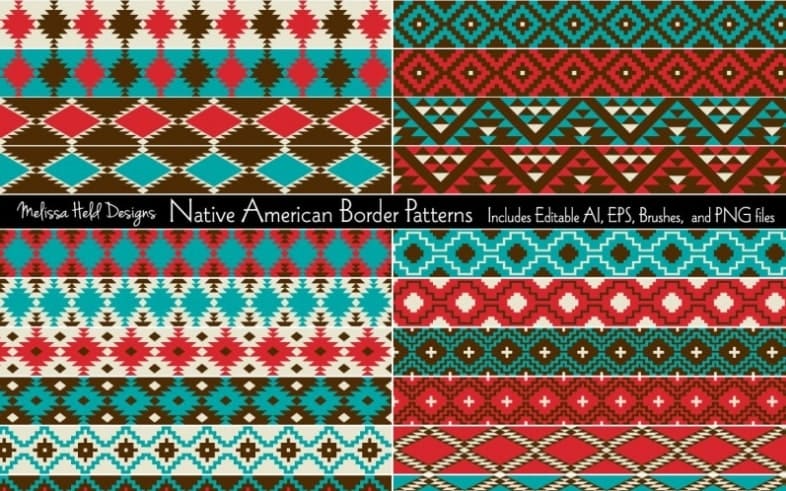 This pattern combines square and round shapes well, creating an overall feeling of domestic comfort and a festive mood. You can use it to design mailings, postcards, for background in presentations. It will also look great as a decoration for holiday brochures.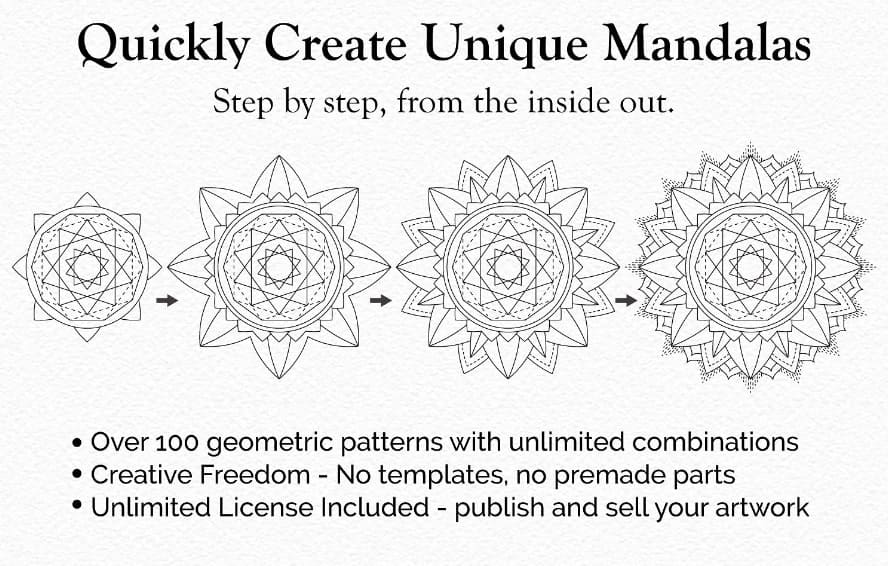 It is not a secret at all that mandala is one of the most popular geometric patterns nowadays. You can find various videos on social networks, where designers skillfully create a beautiful design in a few minutes. Thanks to its symmetry and a combination of absolutely different types of shapes and sizes, it evokes a sense of mystery and mysticism, something sacred. Mandala will be an excellent design for cards, posts, and thanks to the flexibility of forms, you can achieve completely different effects in its message.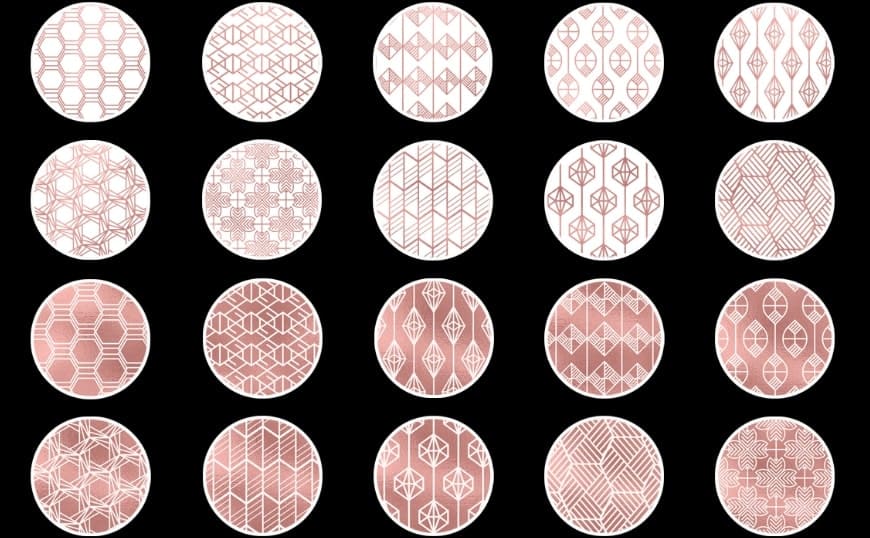 Soft color combinations and shape gradients – everything is beautiful in this pattern. A very delicate design will look great on the product page. You can use it for gift offers. Due to the smooth interweaving of lines, it is a perfect way to show your warmest feelings for the closest people.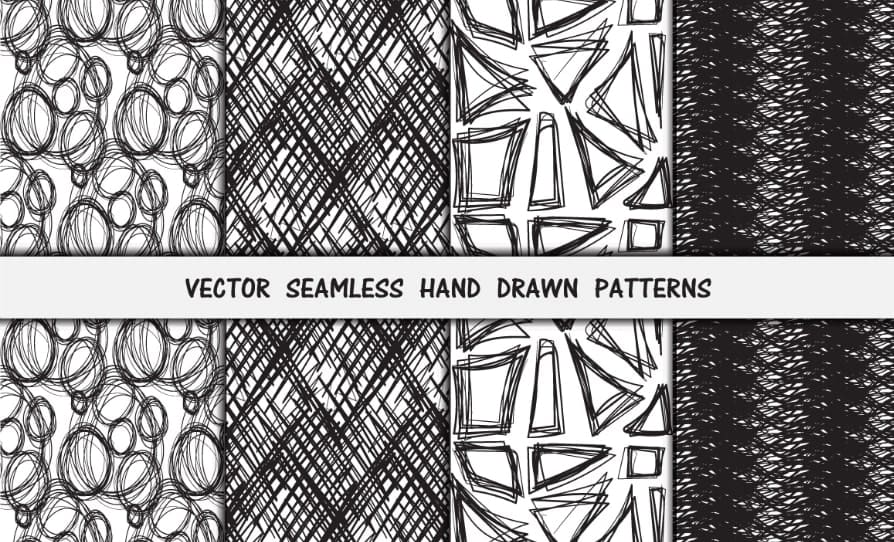 This option seems special. However, we see all the same circles, triangles, lines. But you do not need to be a design expert to see its unusualness. Sharp sloppy lines, layering, mess – all this creates a feeling of slight chaos and negligence. The pattern will be a good solution for special occasions as it is really easy to feel who you can present a gift with such a wrapper or on which page it would be better to place such a frame.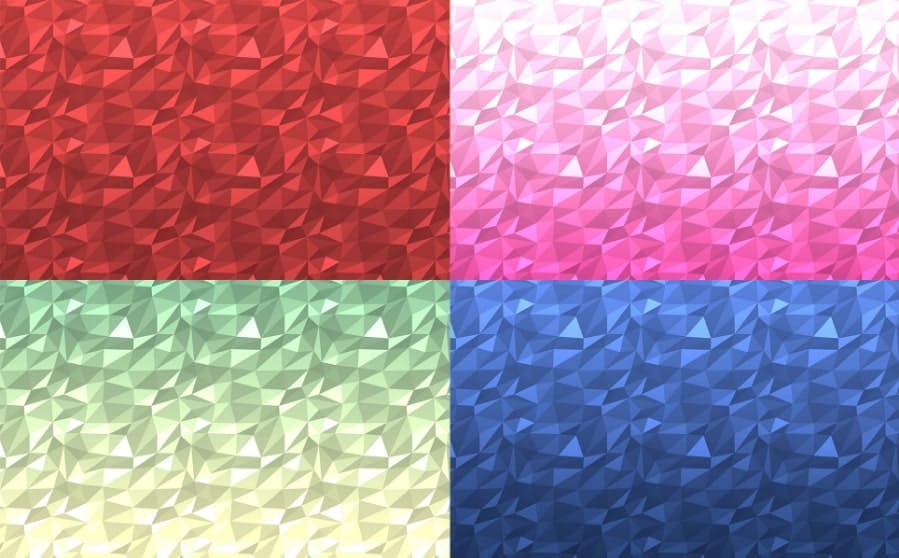 This kind of pattern seems simple at first glance. But if you look closely, you can see its elegance. It combines absolutely opposite features: sharp triangles and a soft gradient, randomness, and order of colors. By the way, such patterns look very good as background pictures for both your desktops and other geometric compositions.
Stars Green and Dark Blue Patterns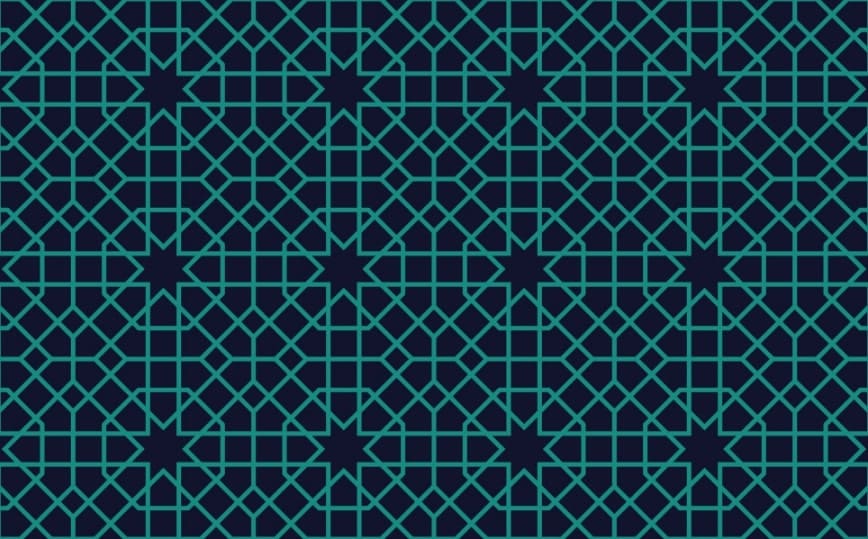 This design consists of harmoniously crossed lines. There are many different elements here. We can find such forms as polygons, stars, and even mandala elements that are shaped like a circle. It is a universal solution for those who want everything because they can unite various figures into one harmonious geometric pattern, which does not look clumsy but attractive.
Fretwork Gold-Silver Metallic Patterns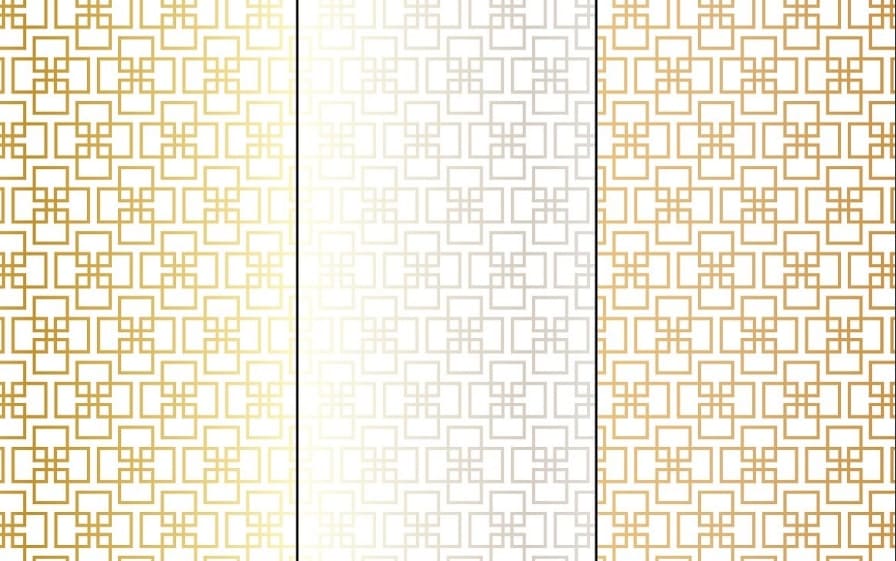 These patterns are unique because of their shapes' combinations. They resemble ancient Greek outlines with which people decorated their homes, vases, fences. In a word, it is an integral part of the culture. Such a pattern will look good on any type of postcards. The unusual combination of classic lines and metallic colors with a neon tint is suitable for decorating gifts and interior decor.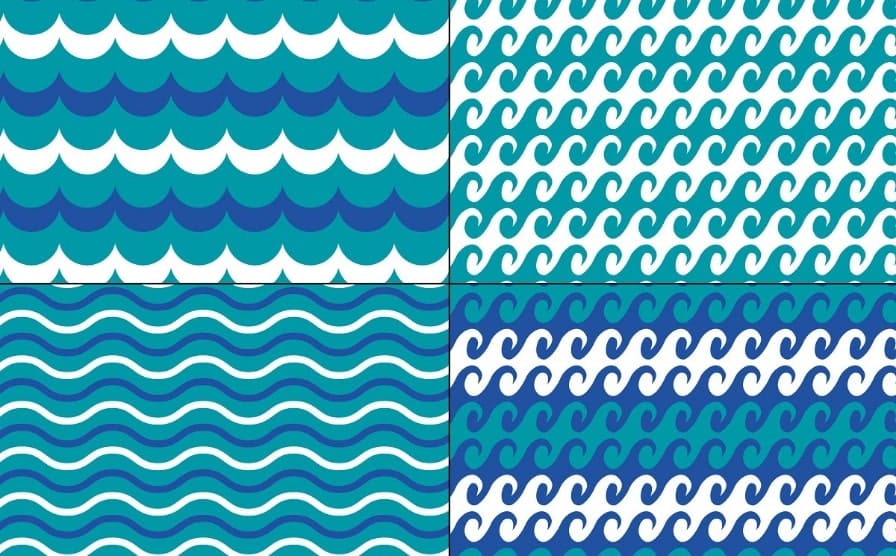 In this option, round and straight lines are combined to form waves. Soft colors and shapes convey the calmness of the sea. Although it is not a plane and classic pattern, it will be a brilliant design for a gift wrapper, and you can also use it as a decoration for fishing or uniform shops.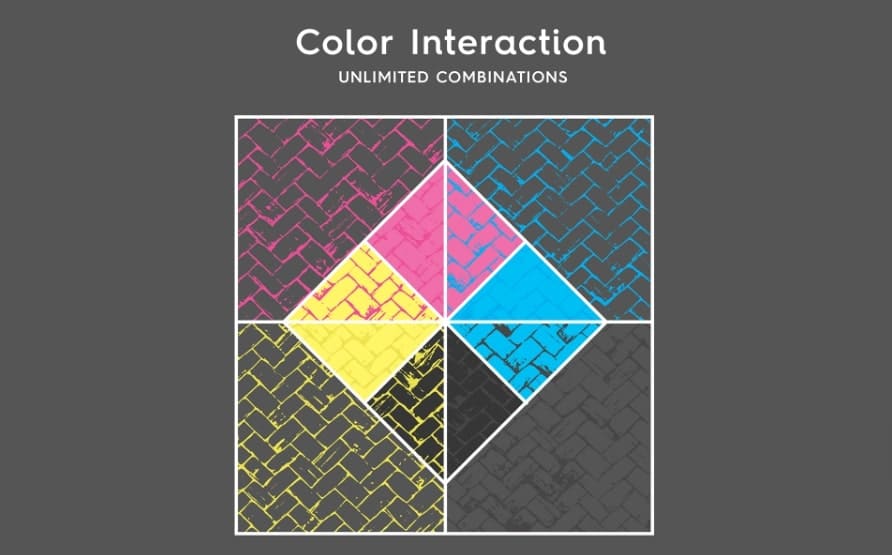 Why not use such an unusual option to create your design? Weaving is now relevant in the fashion world, so that this pattern will look relevant. Artists can supplement such an arrangement with an unusual color scheme, contrasting colors. Moreover, a symmetrical design does not oblige the use of monotony. Therefore you can play with several colors.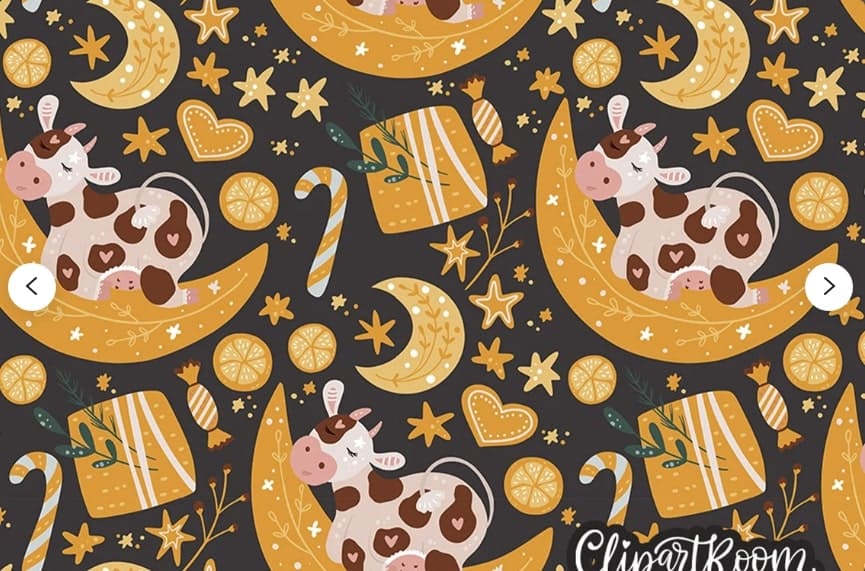 These cute cows look very festive. The holiday atmosphere is emphasized by sweets, hearts, stars around, and oranges. The circle elements that we can see here give a feeling of fulfillment. You can imagine the whole family sitting near a fireplace, drinking tea, laughing by looking at the pattern. It is filled with domestic love and comfort. All this seems very touching and will not leave indifferent either a child or an adult. It will deeply touch anyone who gets a special gift in a special package, or a cute card that will deliver your friend a Christmas mood.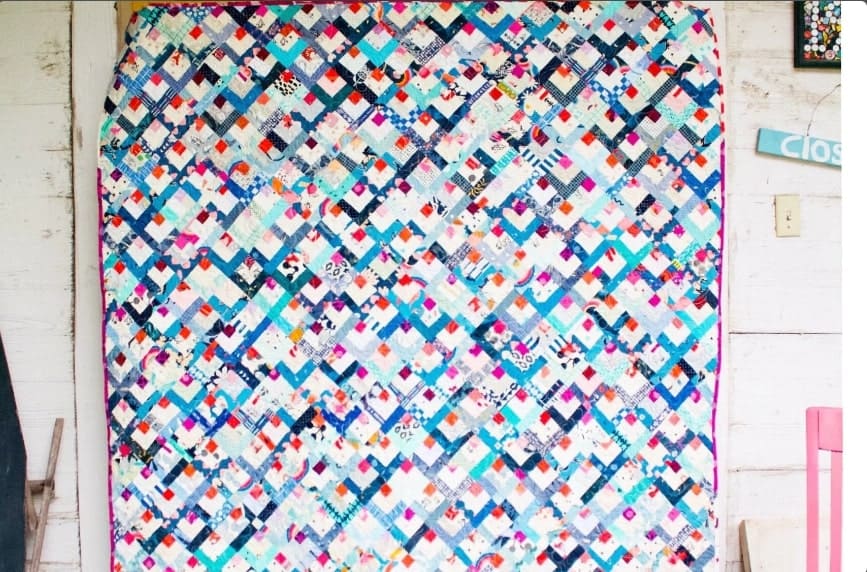 Can you imagine yourself sitting somewhere in the countryside, wrapped around with a warm plaid, looking at the mountains, and holding a cup of a hot coffee? Take a look at these shapes. It gets easier, as there are squares of different shapes, sizes, outlines. A warm blanket or even bed linen with such a pattern will instantly take you into cozy thoughts.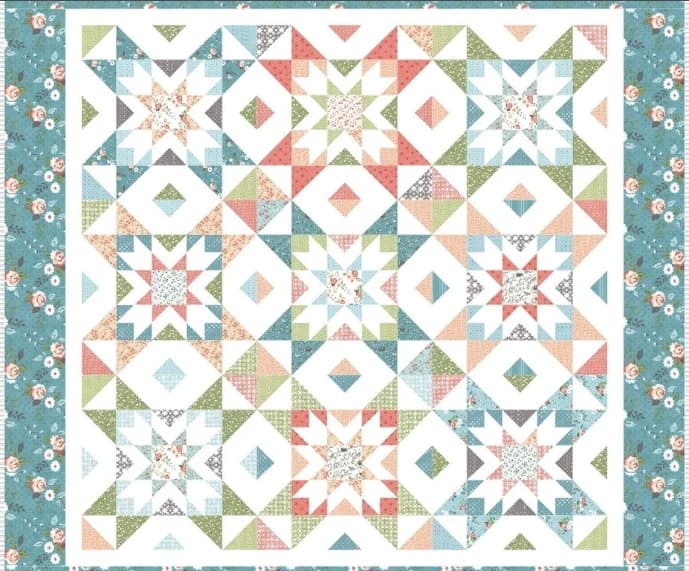 You can use this pattern for different purposes and occasions due to sharp lines, triangle, and square forms. It combines the warm and cold shades simultaneously so that you can create unique backgrounds, postcards, beautiful headers for your items and articles. It will look outstanding for winter and spring holidays, so don't hesitate to decorate your gifts with this unusual beauty!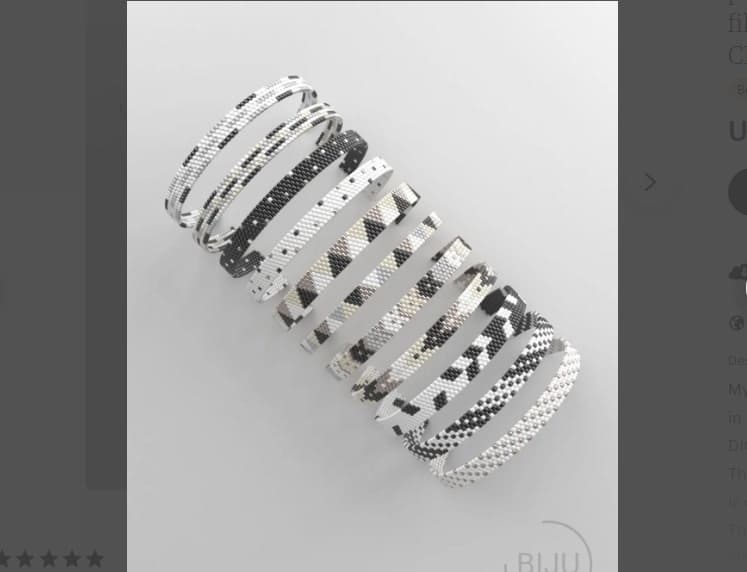 Unobtrusive minimalist patterns always look good and have remained relevant for a long time. This trend can be traced, especially in the design of accessories. Needlewomen appreciate such simple ideas, as bracelets and baubles are highly valued among both teenagers and adults. The variety of shapes does not oblige you to use only one geometric figure in the final product. Therefore you can give free rein to imagination and make a special gift, giving it the desired meaning.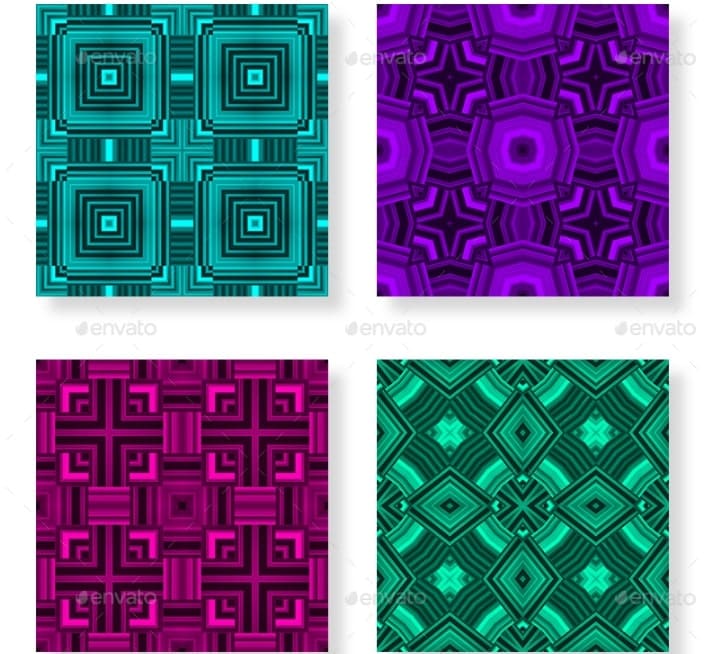 This design is quite unusual. You can find a wide variety of forms and shapes used, but it always looks chic. The patterns here are created with a single type of geometric figure, or there can be several figures combined. Neon colors create a futuristic mood, so it is a great idea for technology-related gifts covers, digital products backgrounds. You can use it for jewelry boxes designs, as the fractal is a naturally created form, so by choosing a matching shade, you can make it look awesome with any products made of precious and semi-precious stones.
Melting Diagonal Rhythm Pattern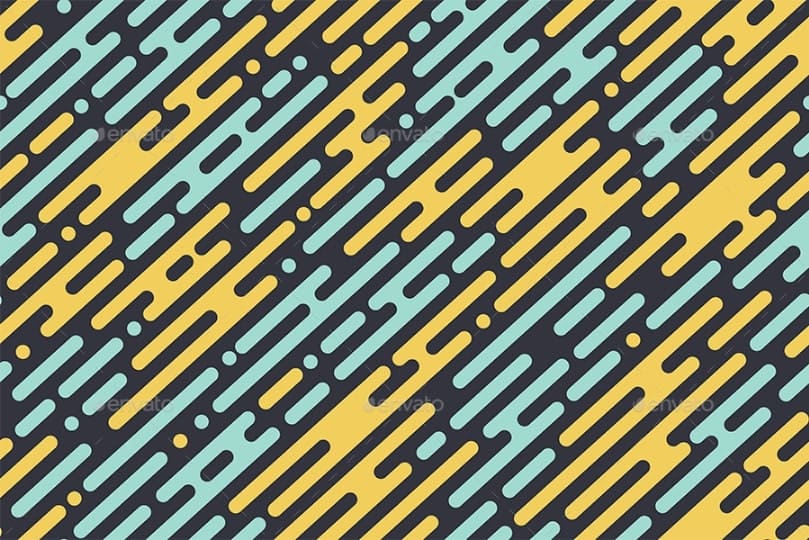 Dots, circles, thick straight regular line… Separately seems to be an extremely boring thing. But this background proves that it can be mixed in one dynamic pattern. You can feel like the lines flow slowly into somewhere. Calm colors without any sharpness seem like a music beat, so it is good to use it for your song or album covers background.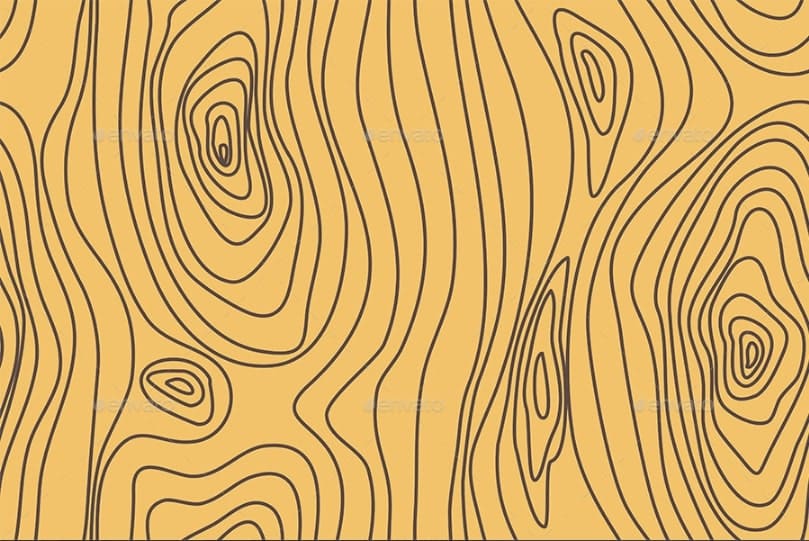 This one is a wonderful option for lovers of Arts & Crafts. The natural outlines, oval, and circle split figures with soft brown shades – everything looks and feels harmonious. You can implement this design in the layout of a building materials or wooden products store. It will also look great on covers for handicrafts.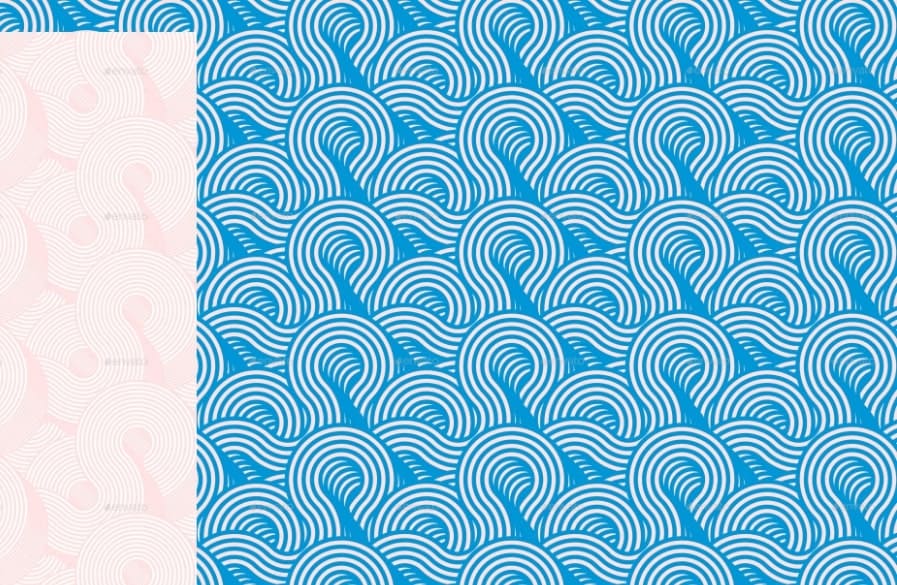 The circle is the main geometric shape in this design. Plenty of intertwined curls resemble sea waves, knitted patterns. This design will be a great addition to any creative project, as it creates a sense of calmness and excitement at the same time, complemented by a combination of warmth and cool shades.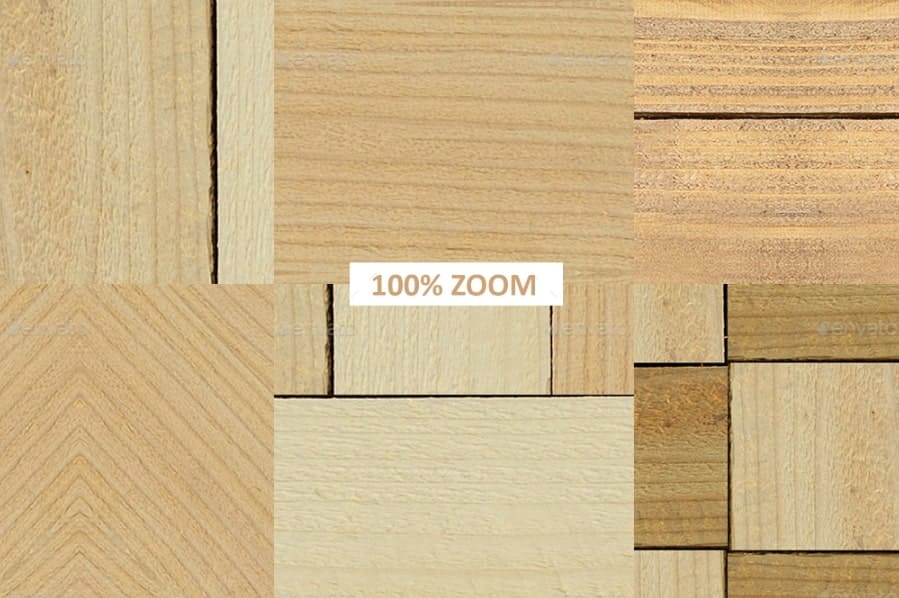 Wood patterns are something that is perceived by our subconscious as calm and cozy. This design will look great as a decorative element. It can be used for contrast in a minimalist technological style, like a piece of nature in a stone jungle. The harsh transition lines go well with the soft colored rectangular lines within them. Such an option is an attractive solution for your decor ideas.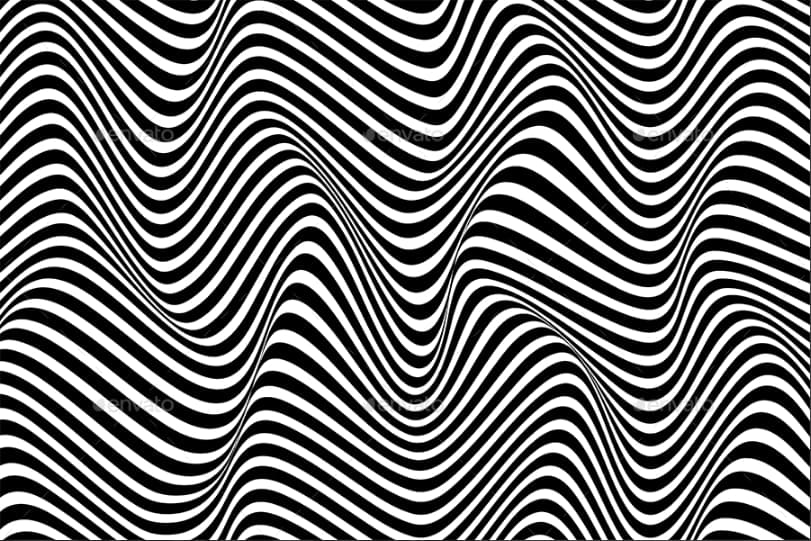 The most famous fashion designers often use this design. It looks equally good both in clothing and in the interiors and exteriors projects. The pattern has soft lines with sharp contrast, basic classic colors that can be easily combined with bright color details and restrained ones. Also, this pattern is often used in clothing design, the so-called zebra pattern. So by choosing this option, you will always be in trend.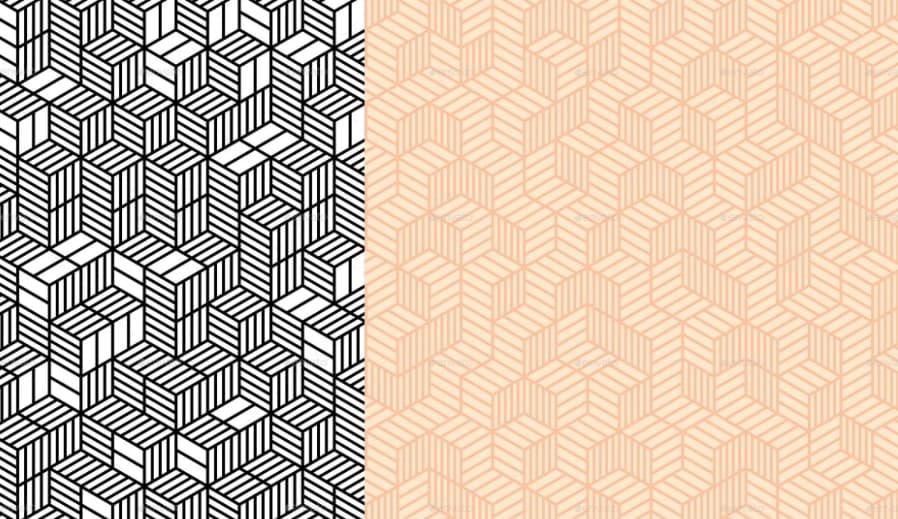 The classic black and white combination will always be a good tool for creating a new design. This pattern will make it even easier! Cubic figures with sharp corners look modern, simple, and unusual. Since these shapes are intertwined, they look like a complete picture. You can use it as a social media header cover, as a backdrop for your products, or even as part of another design.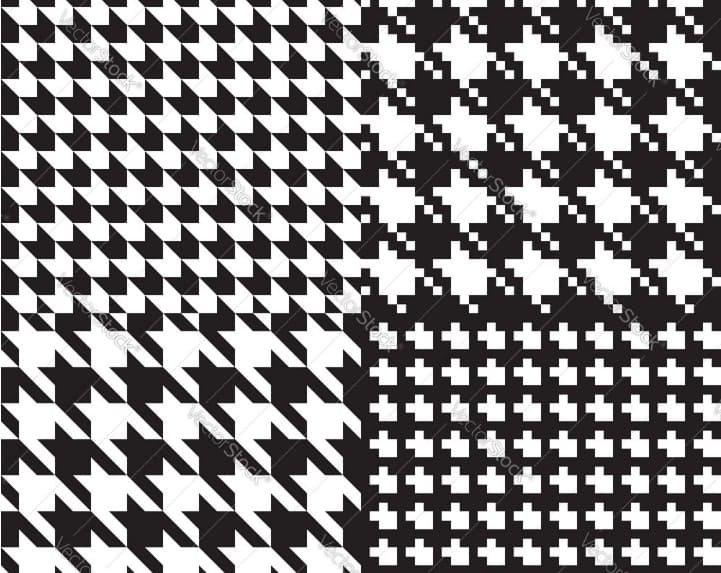 This kind of design is common in the fashion industry. Symmetrically angled triangles and squares look good in any color scheme, but black is a must. Various skirts, shirts, bags, shoes are decorated with such patterns. It is far from the first year that it remains relevant, and women of fashion choose such clothing items repeatedly. That is why selecting such an element for making a new design, you will definitely make the right choice.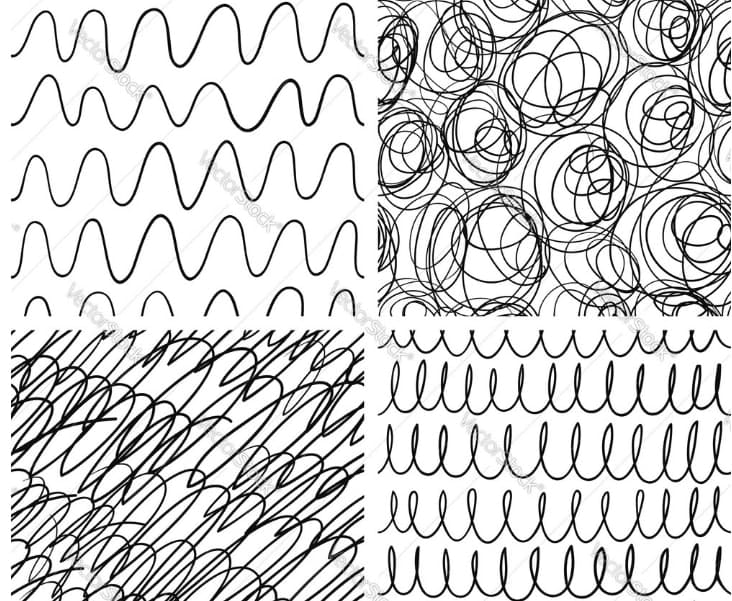 An incoherent row of various shapes, hand-drawn, of different sizes, asymmetrical, uneven, multi-contour… Why not? This option is perfect for decorating notebooks or even their covers. You can also use a similar pattern for posts on your social networks, your profile backgrounds. This pattern will emphasize the unusual thinking, add the necessary note of clutter to a perfectly ordered design.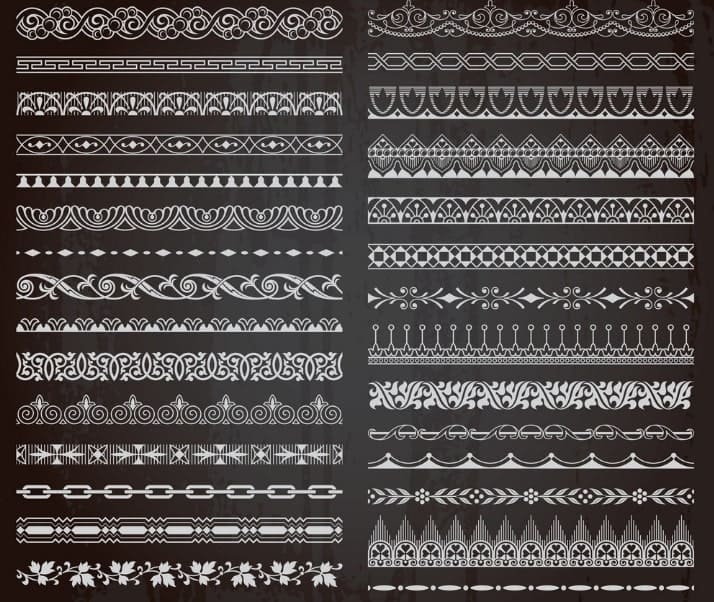 This design looks very solemn and rich. It combines all kinds of geometric shapes mixed in a single picture. They are introduced together with elements of natural forms. A variety of bends, small details make it special. You can use it to frame your innovative products, artwork in your sketchbook. It will also look outstanding as a picture border, photo frame, or even ribbon for decorating gifts.
Abstract Colorful Mosaic Pattern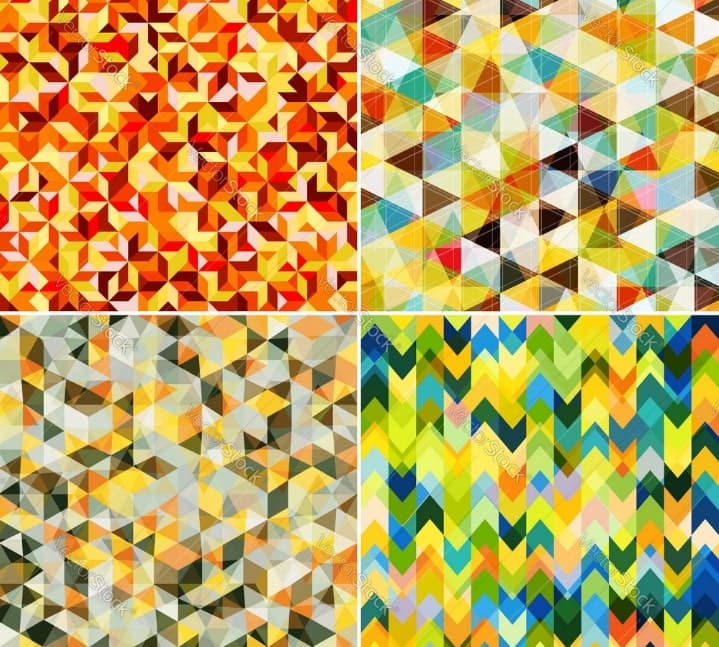 This design is based on a combination of different shapes and colors of triangles. Due to the smooth gradient, scattered randomly throughout the composition, such a pattern looks organic and festive. You can apply different color variations for your gift cards, wrappers, and match combinations according to the holiday. Warmer shades are suitable for autumn and summer holidays, colder and lighter ones – for winter and spring. Great option!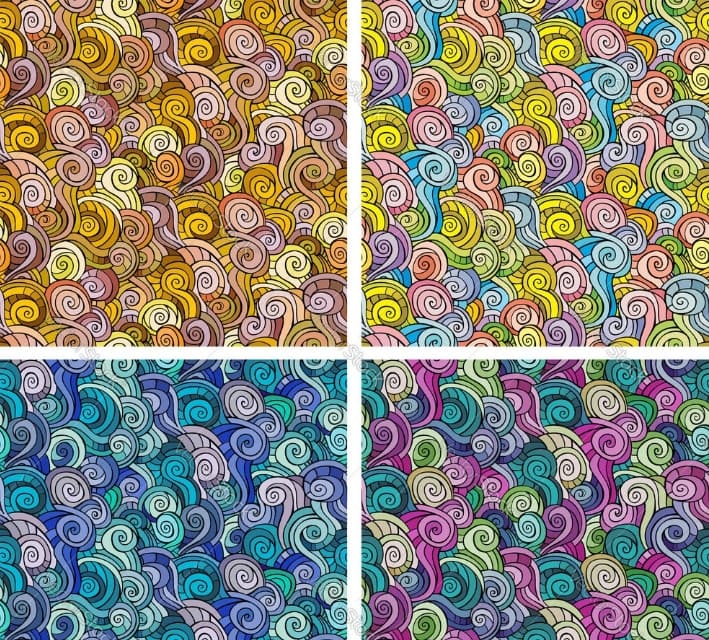 It is a bright and unusual pattern. It is created using combinations of circles and rectangles with soft lines. Since there are no sharp lines and corners in the drawing, it looks very pleasant, cozy, and unique. The varied color palette enlivens the picture. Therefore it evokes a sense of cheerfulness. This option can be both an independent design element and an addition to the main image.
Ethnic Bright Abstract Pattern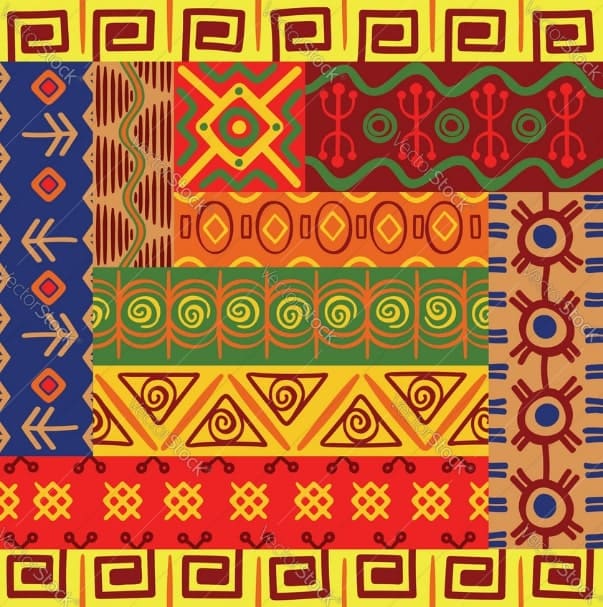 Such a colorful pattern looks very attractive. It uses various geometric shapes, and they look harmonious and relaxed in a coherent composition, despite the contrast and catchy colors. You can apply this design to your greeting cards for national holidays. Also, this option would be a great idea for bedding, blankets, and even shawls!
Blue And White Flower Patterns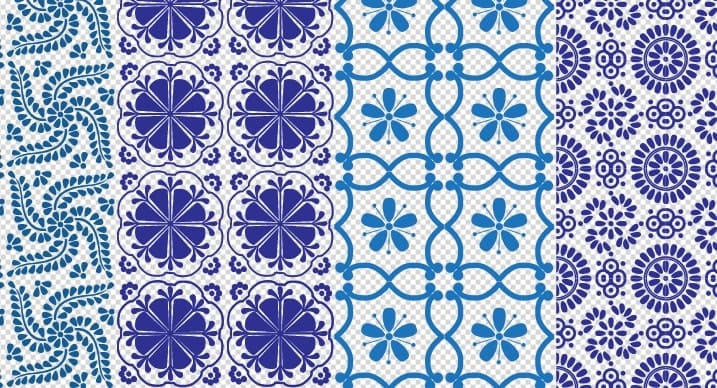 The multitude of shades of blue in a round, oval and dotted ribbons create this unusual pattern. They form flowers that are symmetrically and orderly arranged. You can use this design to decorate various porcelain items. It will look great on tiles or even pottery. It would also be a great idea to use for wrapping Christmas presents thanks to the cool winter colors.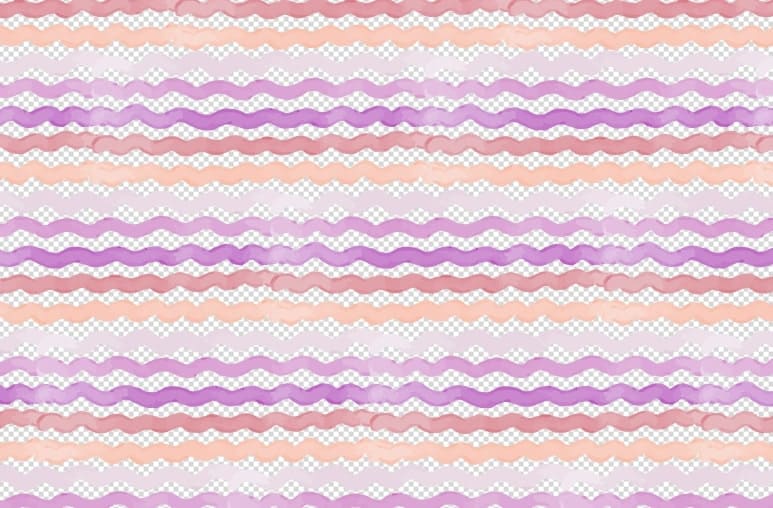 Watercolor is one of the favorite tools of designers. It allows you to create translucent and varying degrees of saturation shadows and shades. Therefore, it always looks soft, unusual, and modern. This design will be a great cover page for your social media profile, for background posts, or as a basis for creating your postcards.
Star Dust Pink And Blue Pattern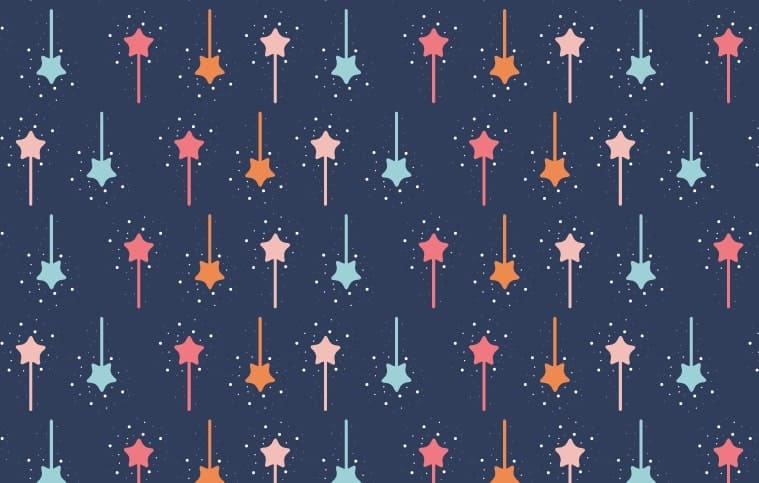 This design uses triangles, lines, and points as a base. It looks magical, dynamic because the figures are located in certain directions, creating a sense of movement. Any child will be happy to receive a mysterious magical gift in such a beautiful wrapper. Also, this option will be a good addition to the festive post-congratulations on Halloween.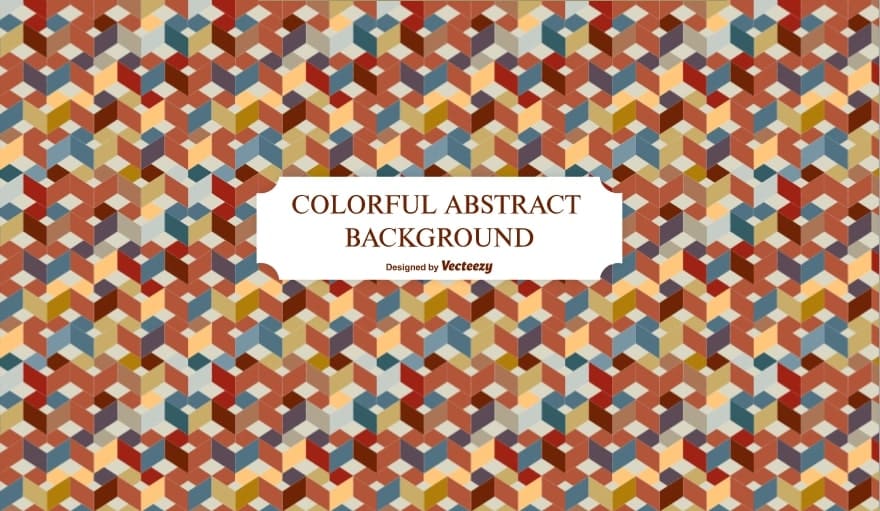 This design looks very unusual. It combines different cubes, small and large, but all in cool shades of brown, gray, and blue. That is why this pattern evokes an autumn mood. You can use it for your fall paintings or the background of your fall planners. Also, you can please your friends on a festive autumn occasion with such a beautiful gift wrap.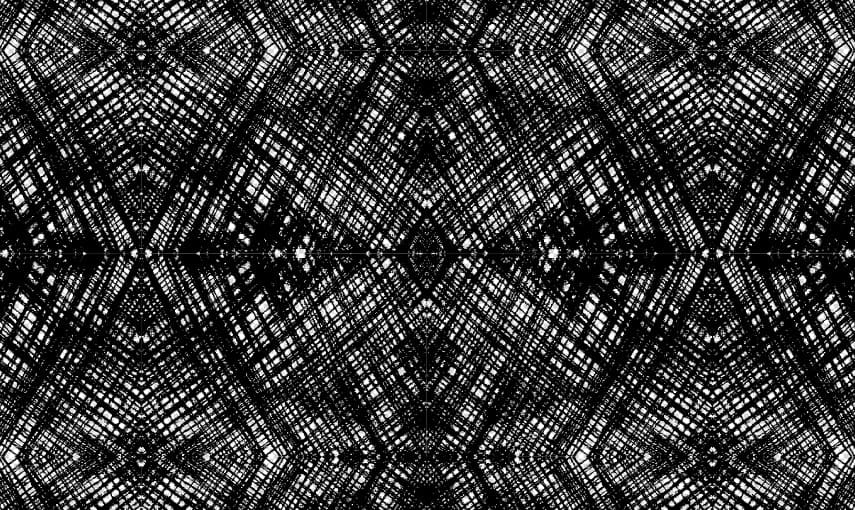 At first glance, such a design may seem dull and even aggressive. But in fact, it is very original and with its idea. Many sharp dark lines, crossed among themselves, resemble drawings of the mentally ill. You can successfully use this option in various social projects dedicated to the rehabilitation and support of people in need. Also, you can use this design for themed games cover.
Retro Black and White Geometric Patterns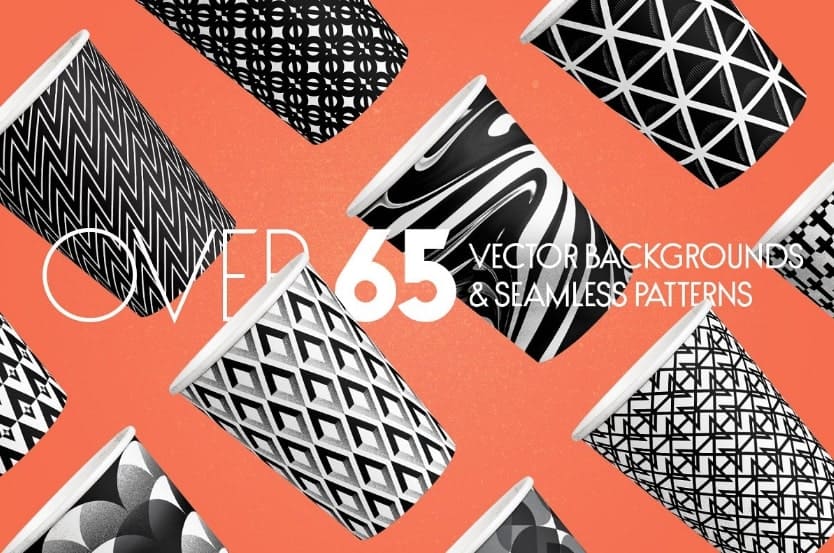 Clear and blurry lines, circles, squares, and triangles form this retro 60s / 70s design. It represents the noir style. It emphasizes the balance between black and white in the composition. Techniques like these are great for your branding. You can use them for background covers, mug prints, branded T-shirts, and even uniforms. Also, this pattern will look good on business cards and flyers.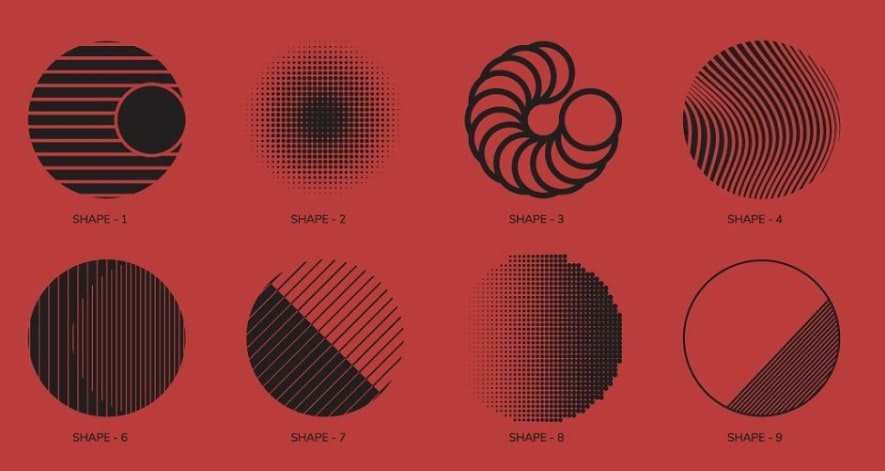 This design is perfect for the cover of music releases. The red background and black shading form a very unusual tandem. This option looks mystical and unique, resembling a red moon. Therefore, you can also use it for Halloween icons, postcards, and wrappers.
Abstract Blue and White Blurred Patterns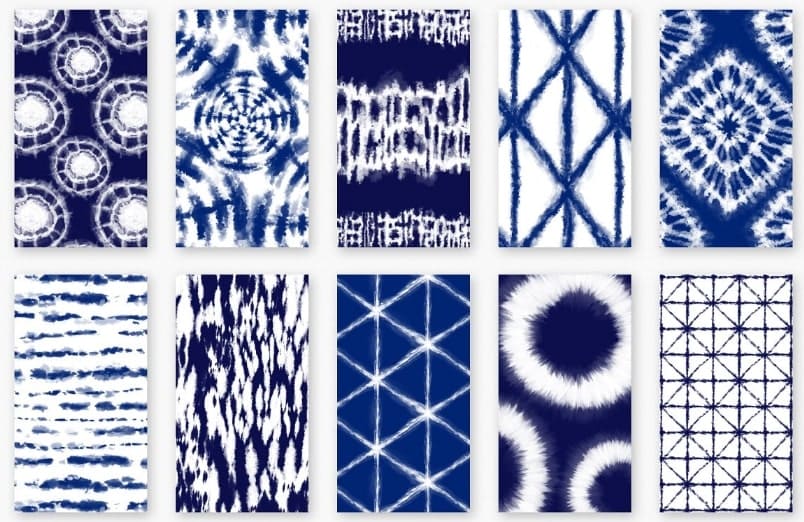 Blurred and clear lines are uniquely combined in this pattern. They resemble winter stained glass windows. Therefore, this option is perfect for the New Year and Christmas cards. Also, this design will look stylish on T-shirts, tablecloths, and scarves.
Let's Sum Up!
We have observed 35 different geometric patterns. All of them are unique; however, artists use common features to depict a certain idea. The forms that designers usually use are quite simple – basic circles, triangles, and squares.
The most common feature is using lines and a connecting component. They look organic at any pattern and bring uniqueness to any of them. So you can safely use this tool in your designs based on any of the methods and complementing it with your own.
The other element that could be a good helper is hatching. This technique will give special shades to your patterns, different contrasts for shapes, and stylistically combine several separate elements into a coherent picture. With the help of hatching, you can create shadows, volume, and even the direction of your geometric shapes. Besides, by competently combining it with lines, you can improve or even radically change your pattern's meaning and purpose.
In conclusion, it is important to say that geometric patterns are always a good choice to use. Due to its variety, you can apply completely contrasting solutions – and they will look awesome! You can keep it simple or add the new tones to it, make them mysterious or chaotic but always remember to keep the right meaning in mind.