Currently on SALE for a limited time! RRP $57. Save $18! Hurry and purchase yours today!
NOW Available in A5, A4 and US Letter!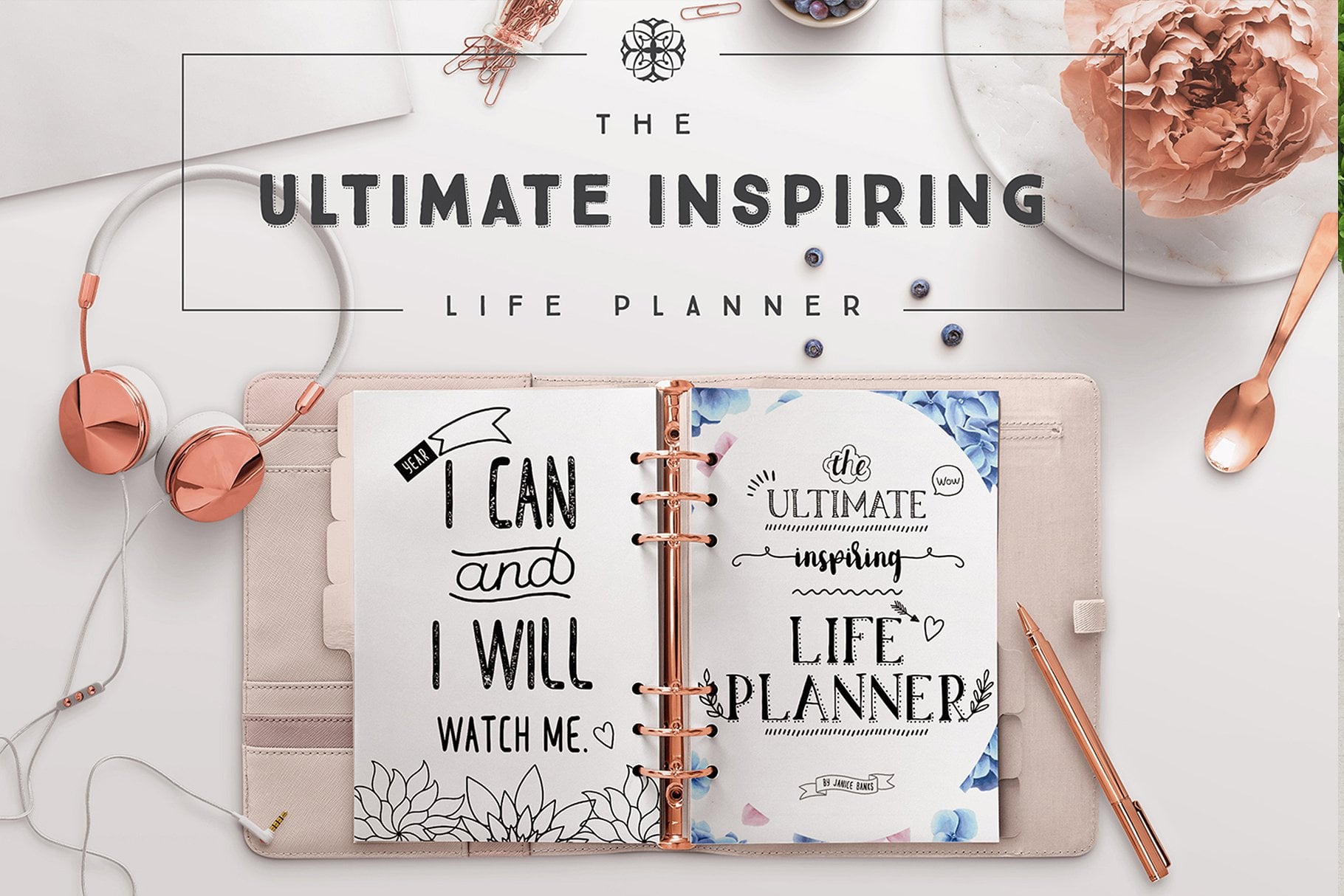 Are you ready to focus and achieve more this 2019?
This quirky, fun and playful life planner has everything you need to help you to have clarity around your goals, projects, schedule and life.
The Ultimate Inspiring Life Planner is a gorgeous planner which will help you to achieve your goals and more. I created this collection to be as useful as possible so you can have a great start to your year. It's a massive 85+ printable collection that has EVERYTHING YOU NEED to help you to have clarity around your goals, projects, schedule and life.
Do you want to learn a new skill? Lose weight? Craft a new project? Or improve your financial goals?
This gorgeous life planner is beautifully and professionally designed to inspire and motivate you to plan your goals.
This life planner consists of 85+ printable planners; everything you need to help you to have clarity around your goals, projects, schedule and life. You will also find 18 pages x motivational quotes to inspire you and keep you motivated as you plan your monthly, weekly or daily goals. Have a look below to see what's included in this collection.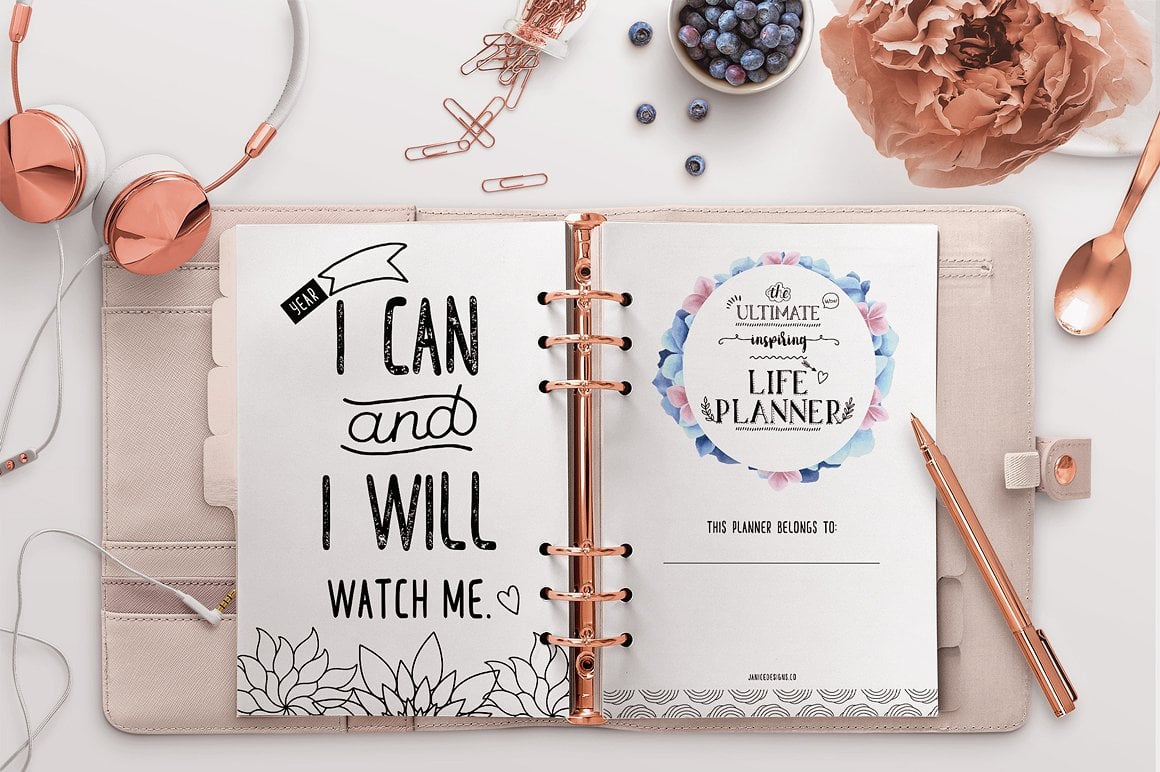 WHAT'S INCLUDED:
85+ PAGE GOAL SETTING PRINTABLES:
Goals & Planning
5 x Cover Pages to choose from
This Planner Belongs to..
Vision Board
20 Resolutions
Goals Overview Planner for the Year
Yearly Planner
Plan of Action
Goal Tracker (for various tasks)
To Do List
The Priority Planner
Monthly Planner
Weekly Breakdown Planner
Weekly Planner
Daily Planner
Work Day Organizer
Project Planner
Current Projects
Habit Tracker
Blog Post Planner
Video Post Planner
Weekly Blog/Video Post Planner
Social Media Weekly Focus
Blog & Social Media Stats Trackers
Ideas & Inspiration
Ideas & Sketches
Financial Planning
Monthly Budget
Expense Tracker
Revenue Tracker
Bill Pay Checklist
Savings Trackers
Health & Fitness
My Health Goals
Before & After
Food Log
Fitness Tracker
Weekly Weight Loss Tracker
Twelve Week Tracker
Wellbeing Journal
Personal
Ways to Make More Money
New Hobbies & Skills
I Am Thankful For..
Brain Dump Notes
Books I Want to Read
Movies to Watch
Pre-Travel Planner
Travel Details
Packing Checklist
Travel To Do List
Vacation at a Glance
Don't Forget!
Birthday Reminders
Christmas Expense Tracker
Stay in Touch
Password Tracker
Cleaning Schedule
Monthly Decluttering Schedule
Chores Checklist
Pantry Inventory
Meal Planner
Grocery List
Bucket List
Inspiration & Motivation
18 x Motivational Quotes
Printable Bookmarks/Top Tab Dividers (BONUS)
You will need a PDF Reader to view or print your printables.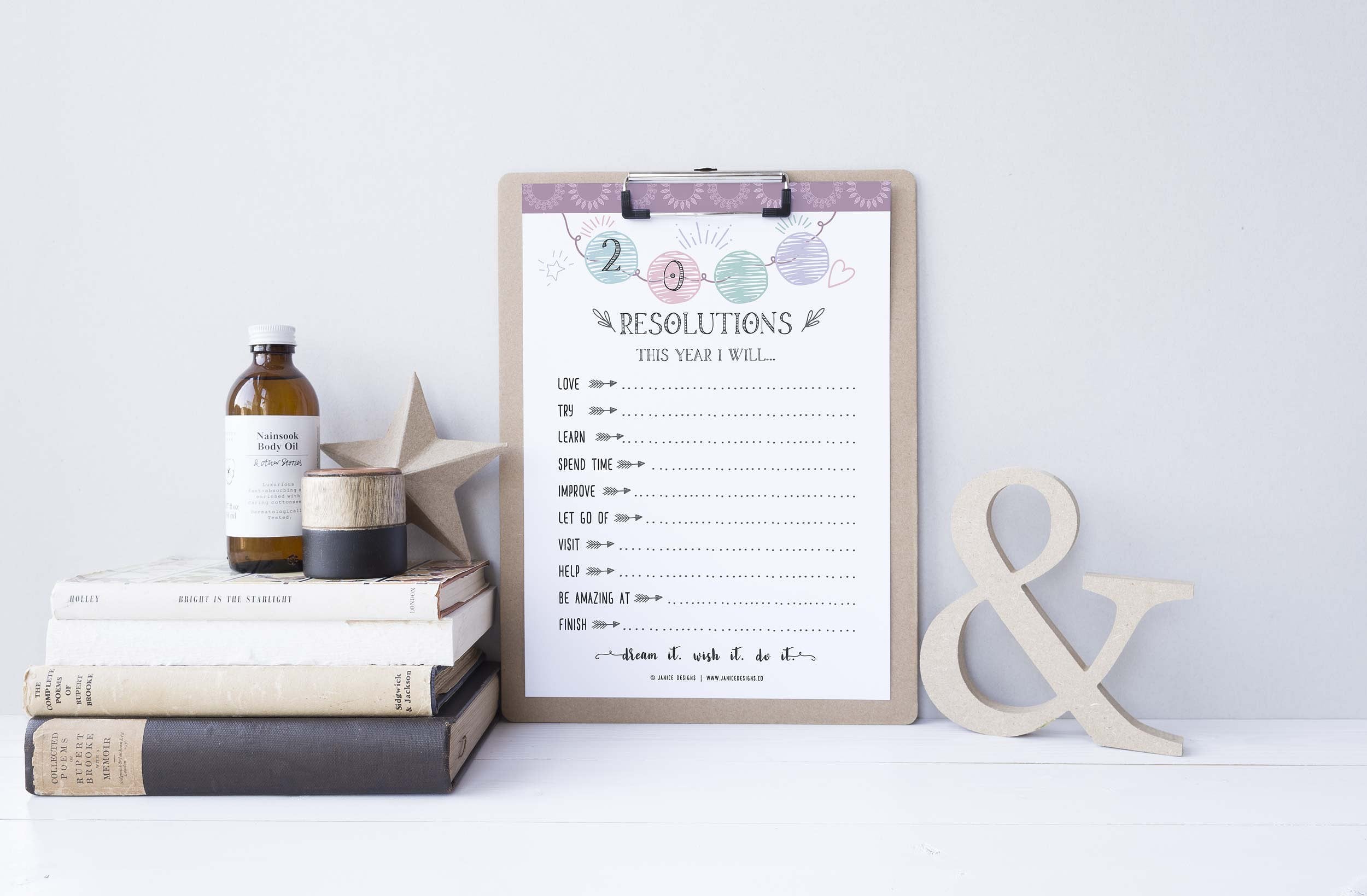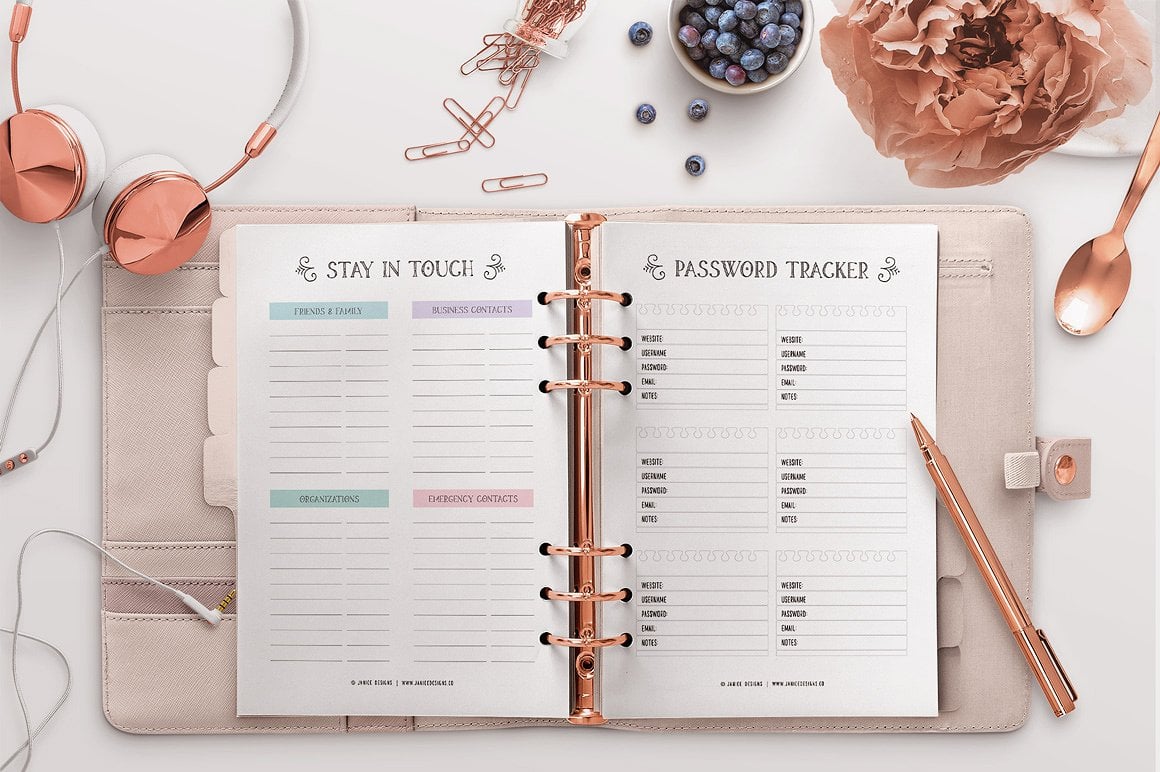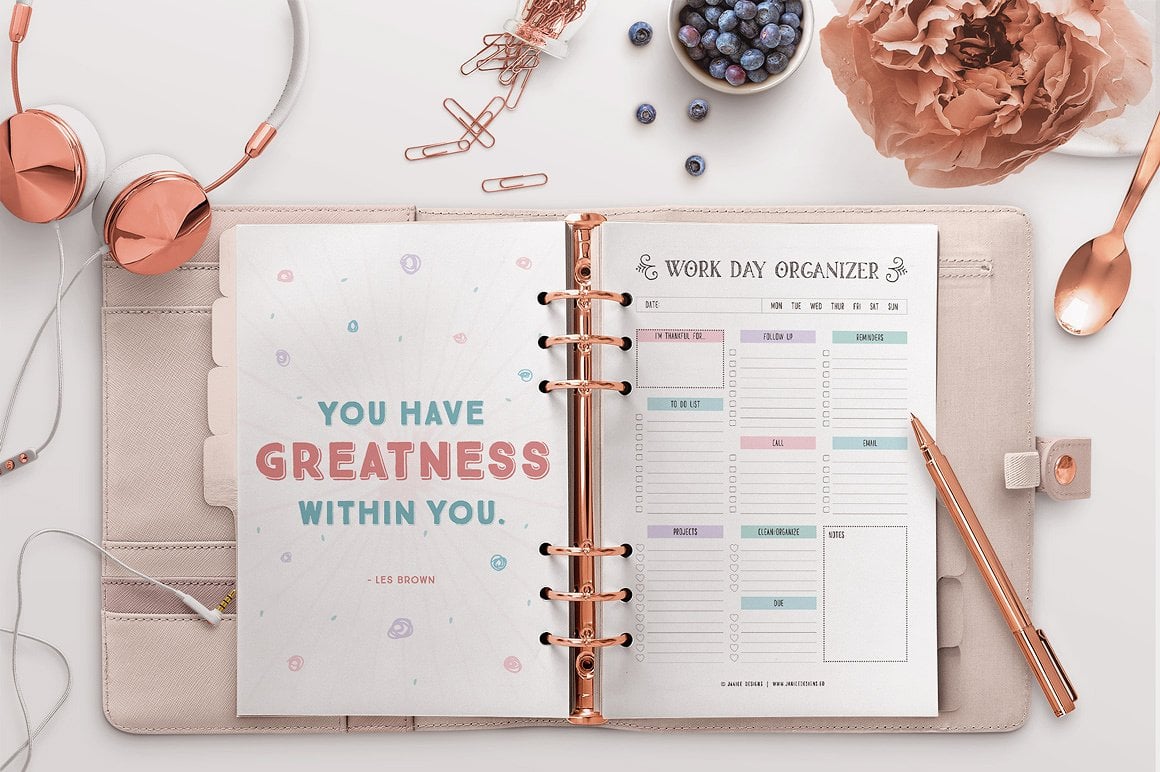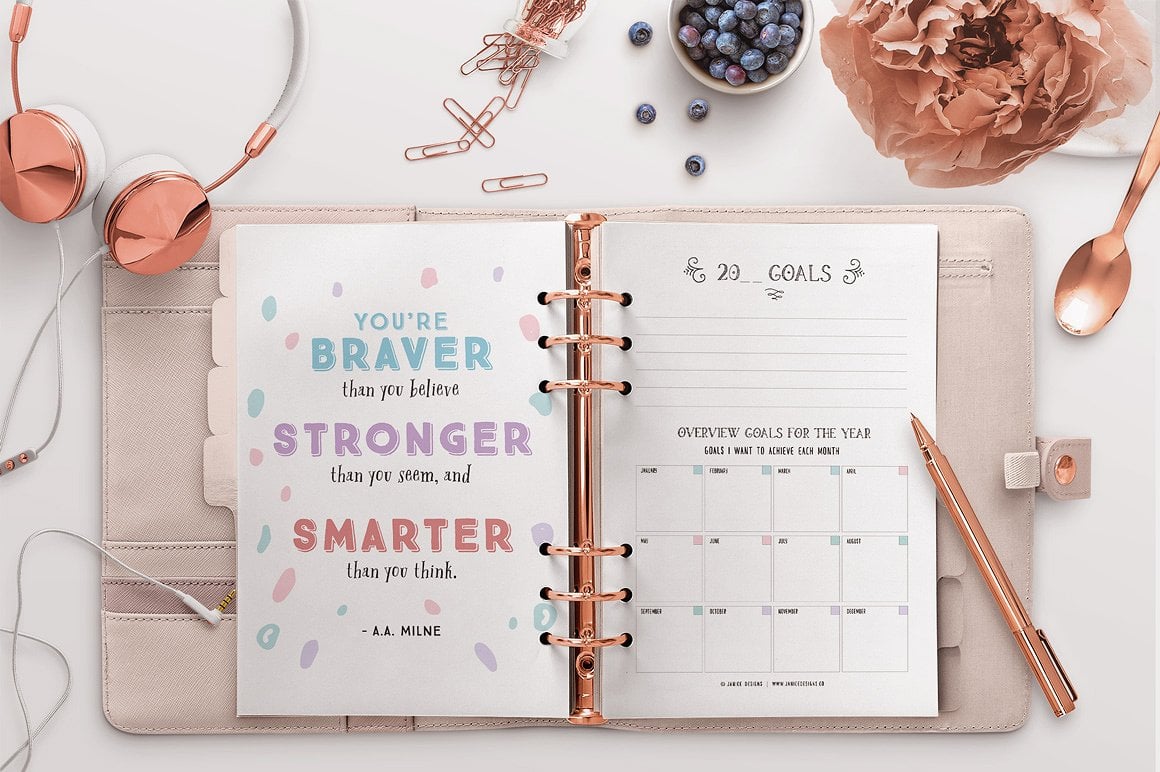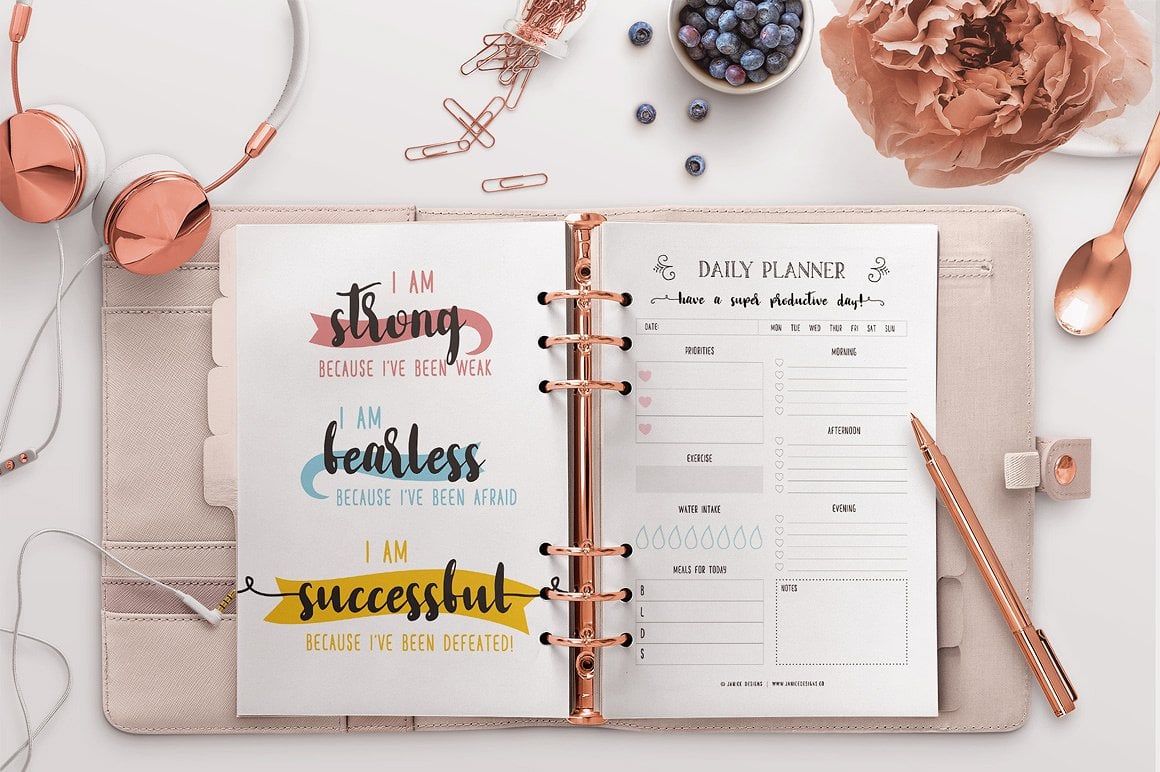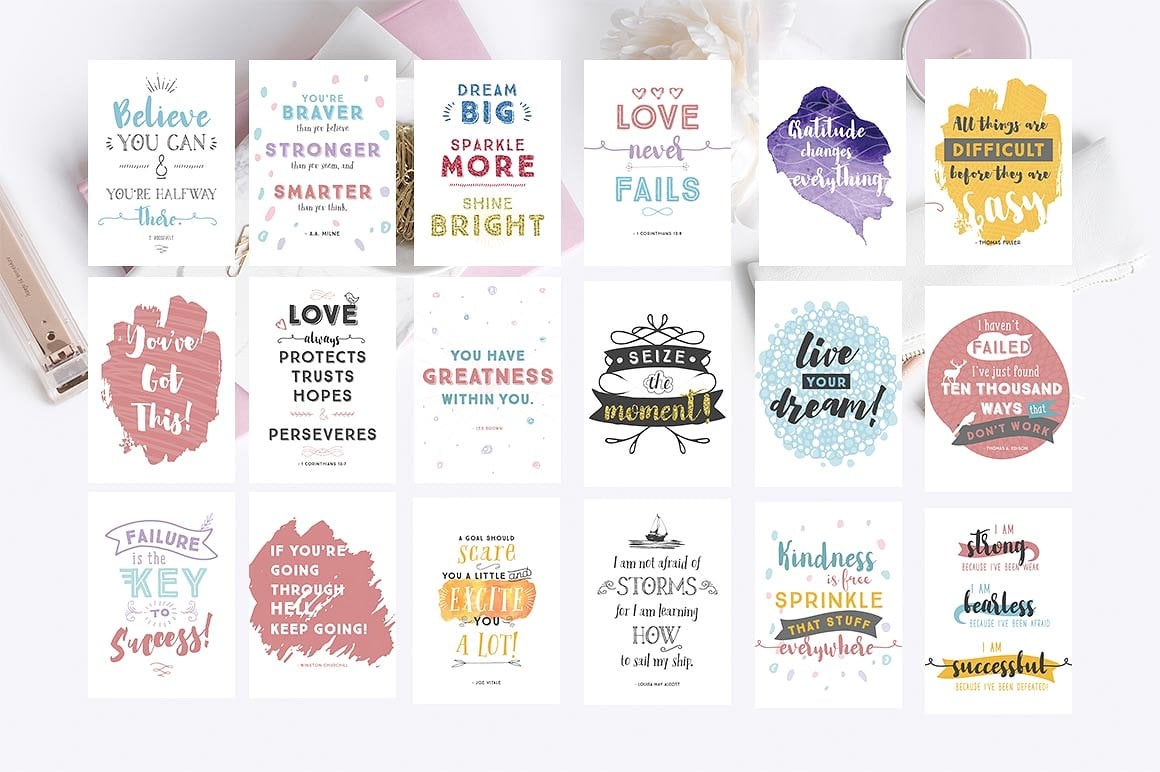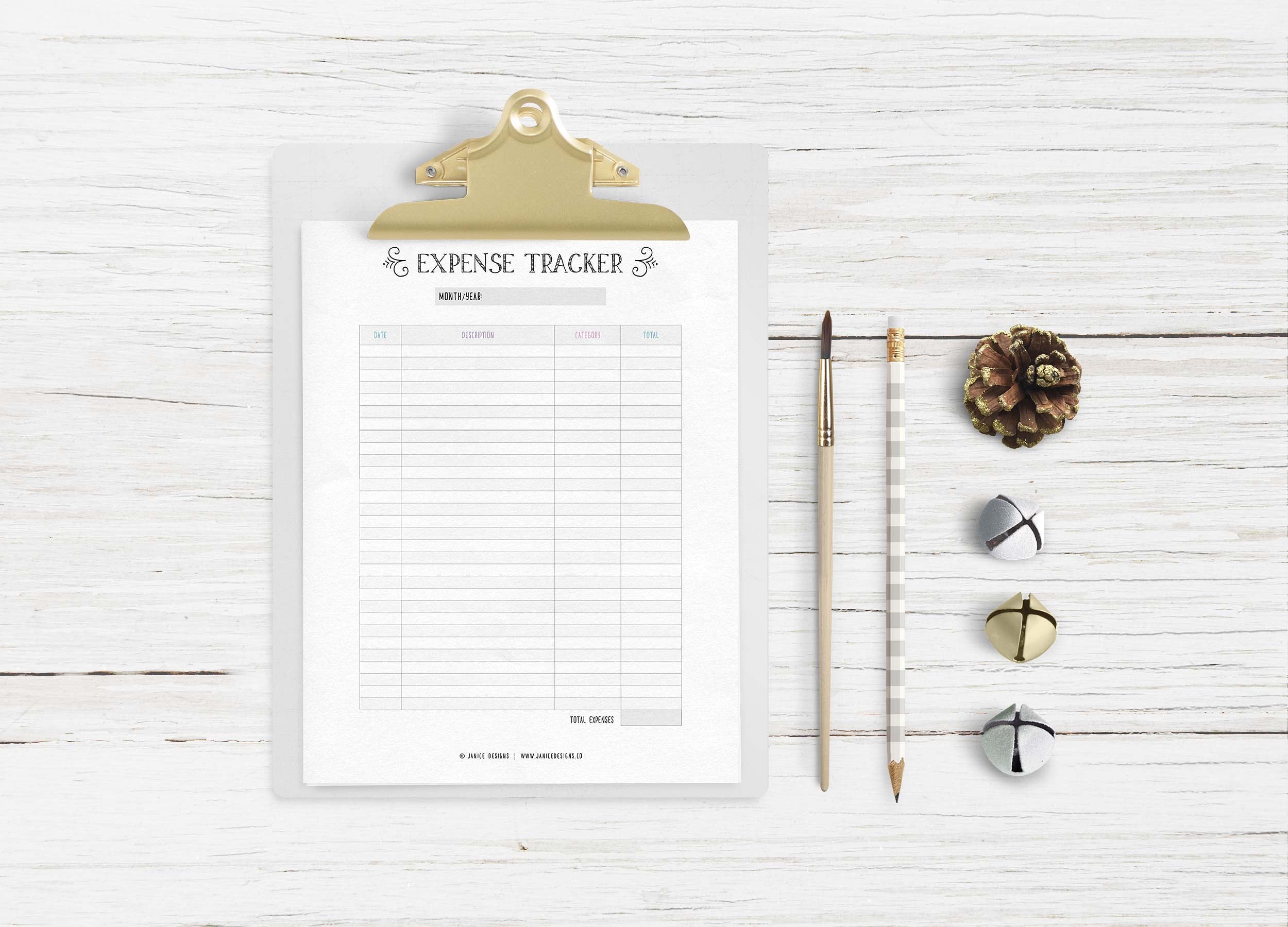 Graphic bundle The Ultimate Inspiring Life Planner- 85+ Printable Pages
If you're a web designer working on several projects concurrently, you understand the significance of the whole bunch of design components available at hand. Hunting for them one at a time, you may spend much time and expense as a result. To get all of the needed components within a single pack, we highly recommend taking a closer look at graphic packages. A bundle can be described as a selection of digital design elements required for graphic design, priced at thousands of dollars, however offered at a drastically reduced price for a short time.
Are The Ultimate Inspiring Life Planner- 85+ Printable Pages of any use?
The advantages of graphic deals for web designers are pretty evident. But if you are new to them and now have concerns, the following information and facts is going to be of great help for you. Along with a great number of the components in a single pack, the selection provides you with a chance to use different of them for many different tasks. Besides, the cost is usually greatly reduced which lets you save some dollars, yet receive the whole set worth hundreds or thousands of dollars.
Types of The Ultimate Inspiring Life Planner- 85+ Printable Pages
The assortments of elements accumulated into a graphics package are often sorted according to their main objective and/or kind. There may be bundles with business card templates, icons, infographics and wedding invitation templates, etc. You may also be able to find graphic bundles specifically for St. Valentine's Day, Halloween or Christmas.
The best way to spend significantly less funds on MasterBundles bundles?
Would you like a 5% extra discount on any bundle from MasterBundles? All you have to do is merely share the page with a bundle on social network (Facebook).
Alternative The Ultimate Inspiring Life Planner- 85+ Printable Pages Deals on MasterBundles.com
MasterBundles could offer you a large selection of unique products. MasterBundles sells not only graphics packages but also roughly 20 other various kinds of items. Fonts, WordPress themes, mockups, icons, photos, illustrations, presentation templates and a great deal more – on the MasterBundles.com you'll be able to find most of the products and solutions, essential for a design.
Precisely what is MasterBundles.com?
MasterBundles is a website that gathers design products from around the internet and lets you buy the design components you need in your work for a lower price. Packages this fabulous website sells are restricted in time, and that is the reason why they are so inexpensive. To prevent missing out on the deal you will be excited about – subscribe for the weekly email newsletter, showing you the most recent offers. MasterBundles also has a big blog with the interesting design news and features explained. Should you be hunting for a handy website full of great design products – MasterBundles.com is there for you!