Description
I am pleased to present you Spring Secret hand painted set, inspired by mid-century modern style and dedicated the mystery of flowering.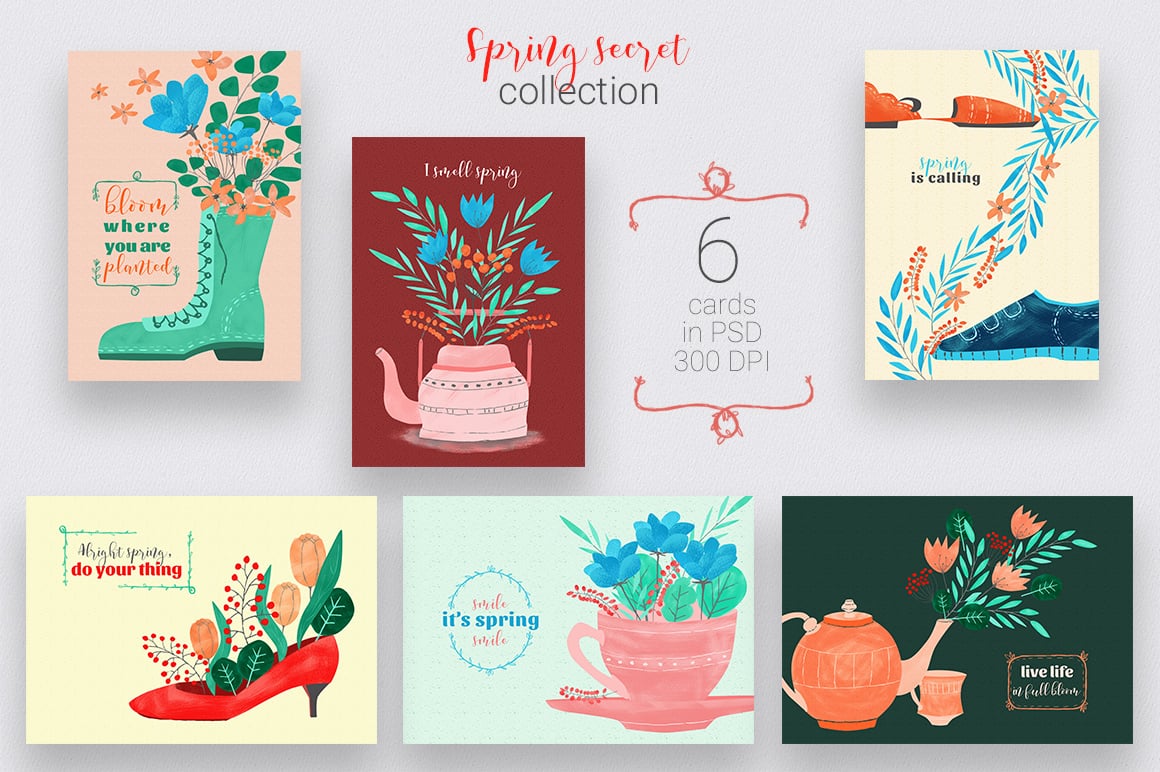 This hand-textured set is suitable for creating elegant stationary designs, printing on items. It is perfect to illustrate blogs, spring sales, and advertising, for wraps and prints. Pre-designed pieces help you to create an awesome design quickly and efficiently.
Do not forget click and scroll down to see everything!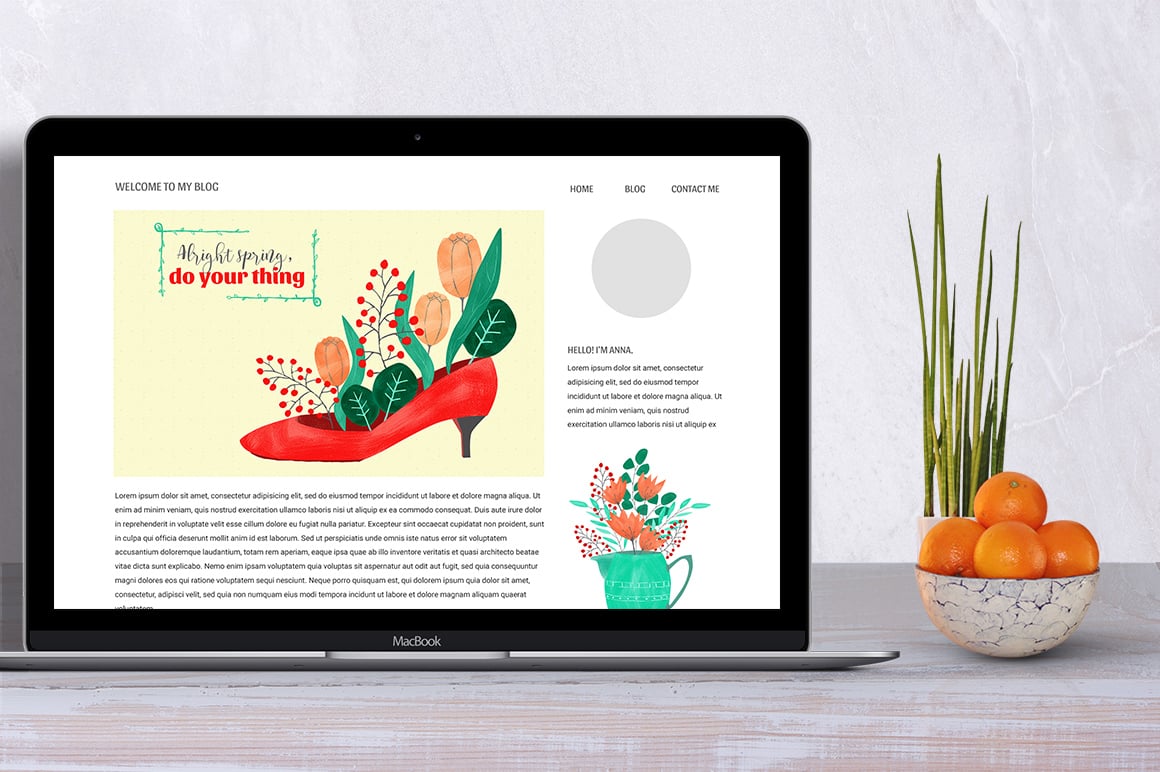 What inside?
Set includes 42 elements in PNG, 300 DPI:
22 x branches, leaves and flowers
6 x crockery items
5 x shoes
9 x frames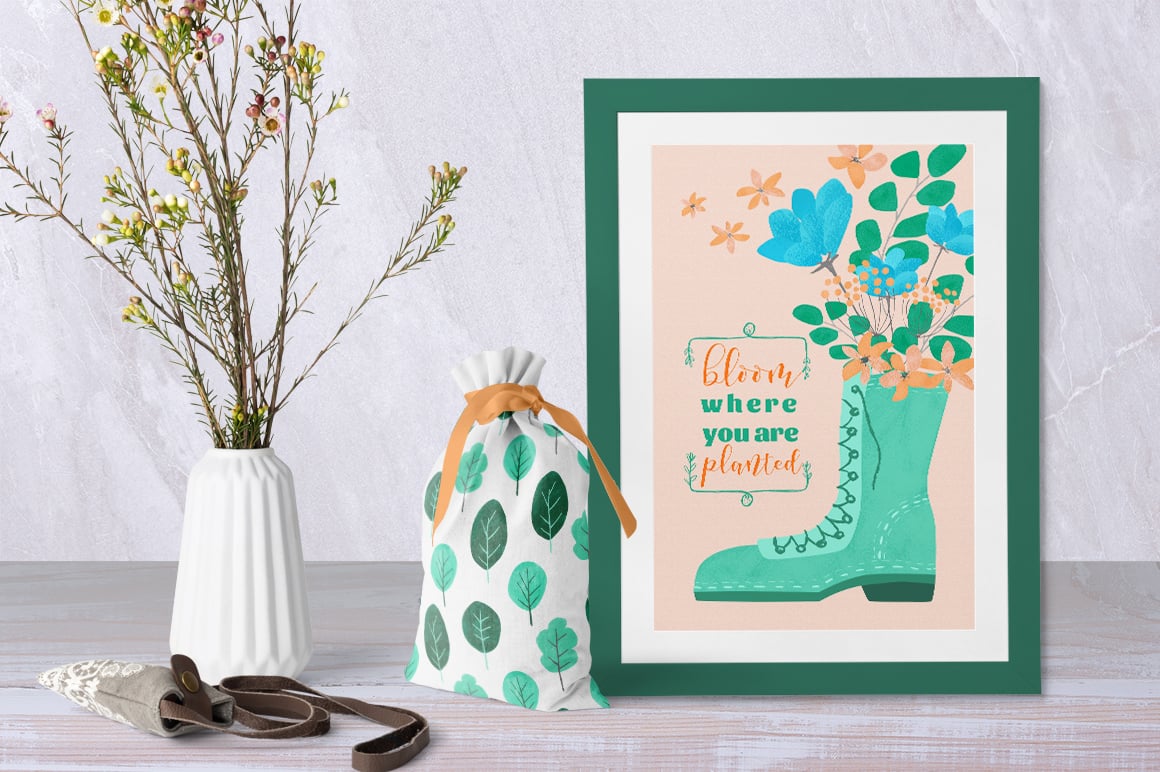 Pre-designed PNG, 300 DPI:
10 x compositions approx. 2500×3000 px, 2500x2500px
6 x patterns 4000×4000 px (+JPGs with color variation)
Ready-to-Use designs in full-layered PSD, 300 DPI (+JPG):
6 x card templates in B5 format
1 x TXT file with links to download used free fonts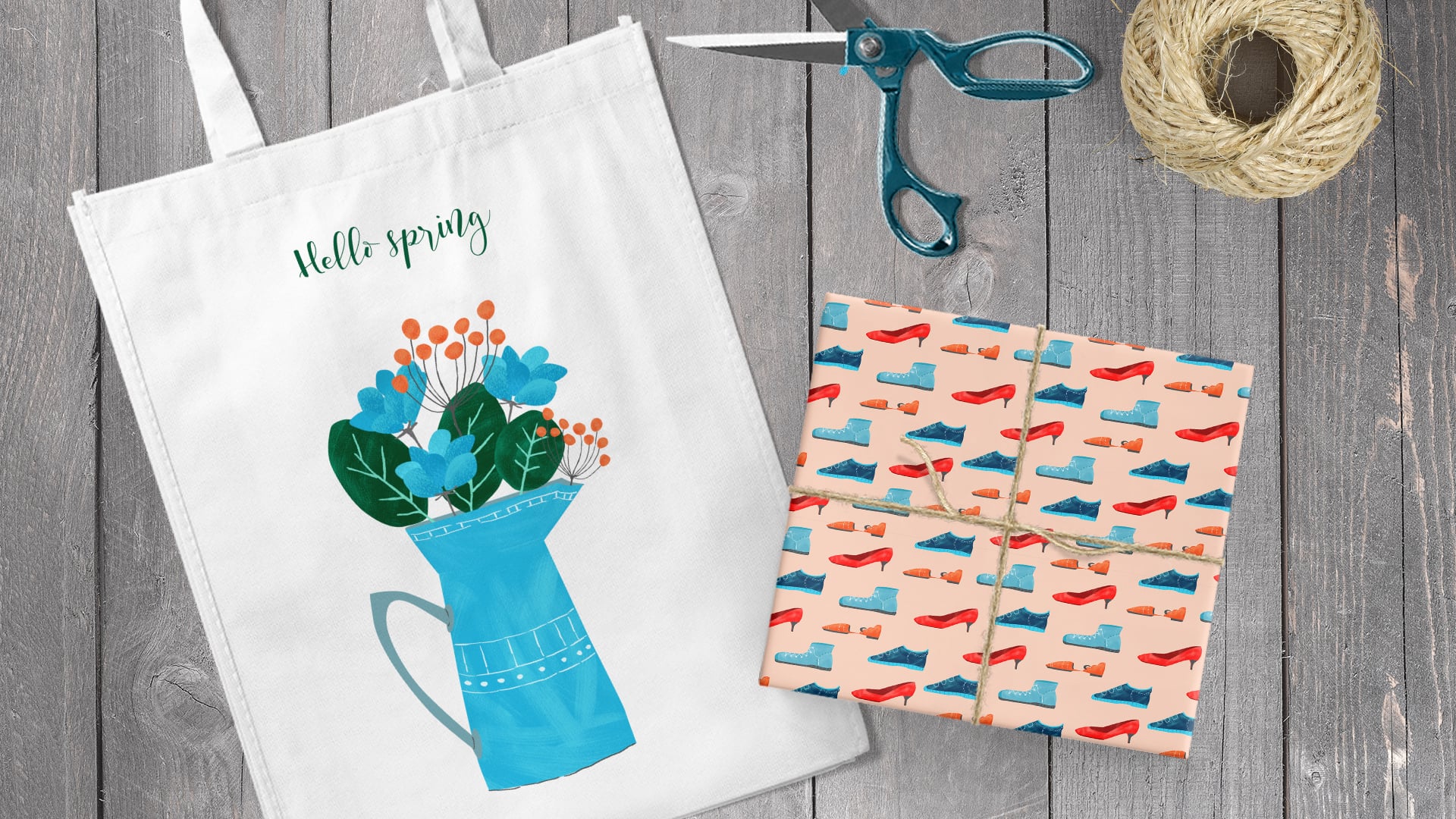 File format
All the elements are supplied in raster PNG, 300 dpi format. PNG files can be opened with most photo editing software, but for designing Adobe Photoshop is required. Templates are supplied in raster PNG, JPG and PSD formats, 300 DPI. For opening PSD files Adobe Photoshop CS6 and newer is required."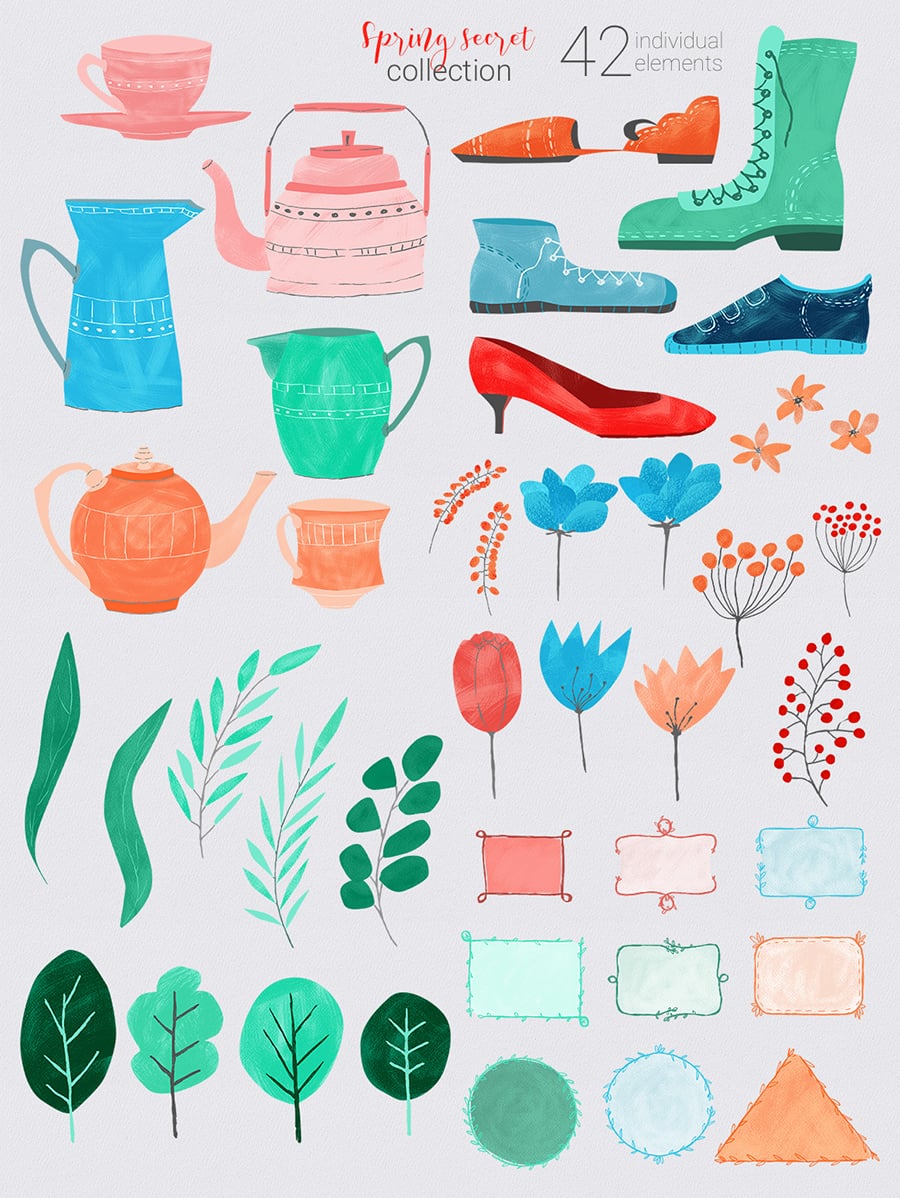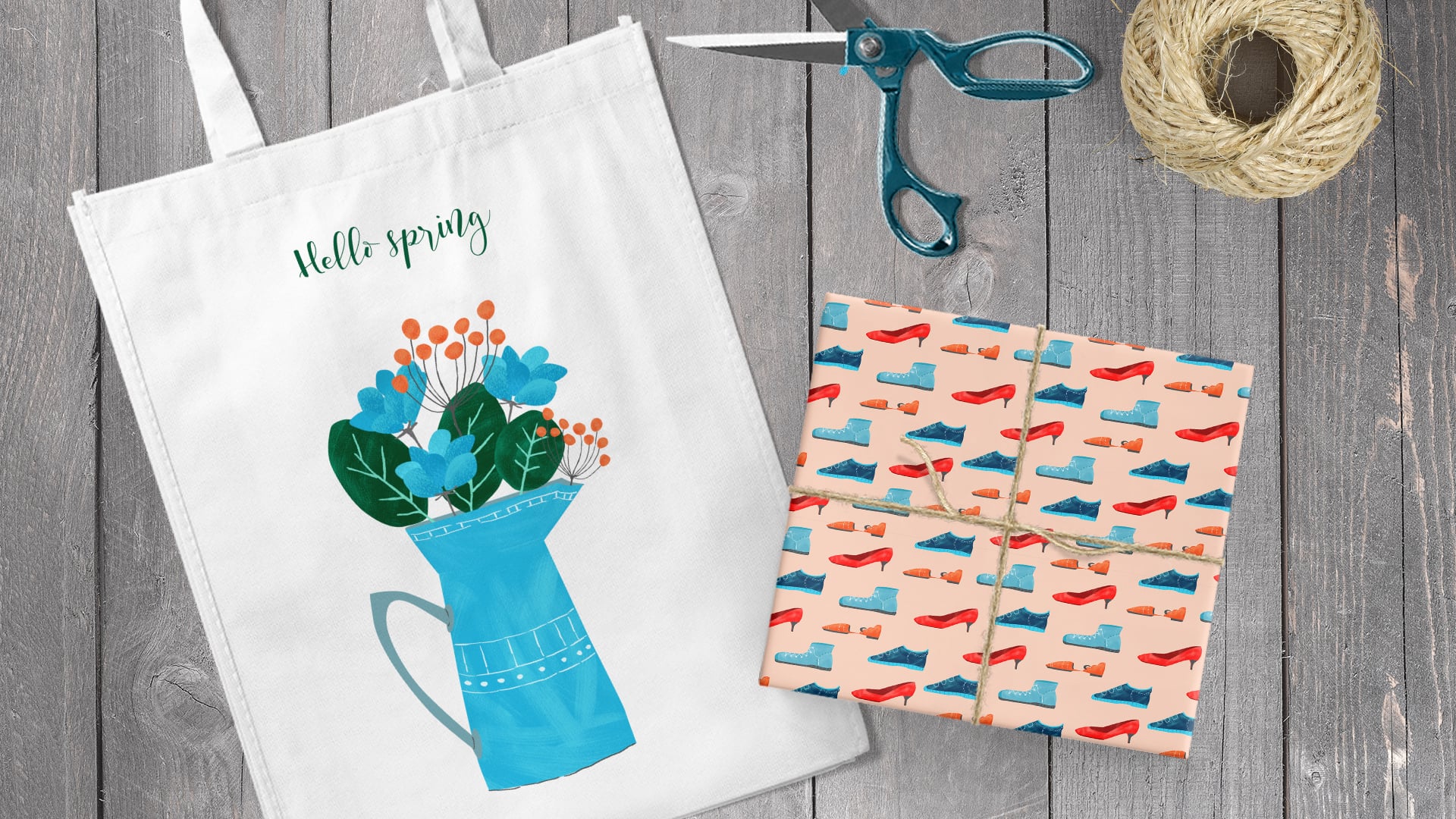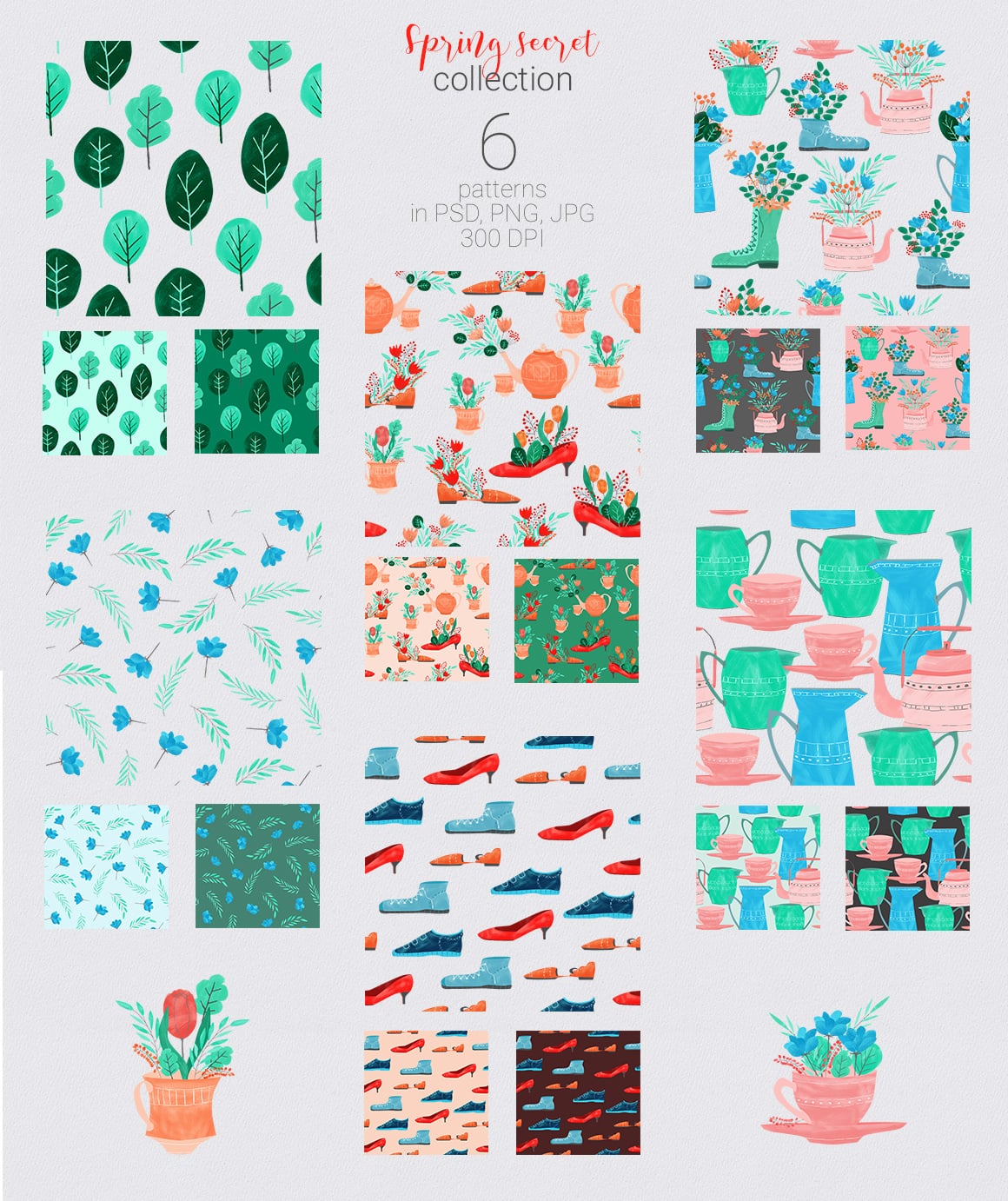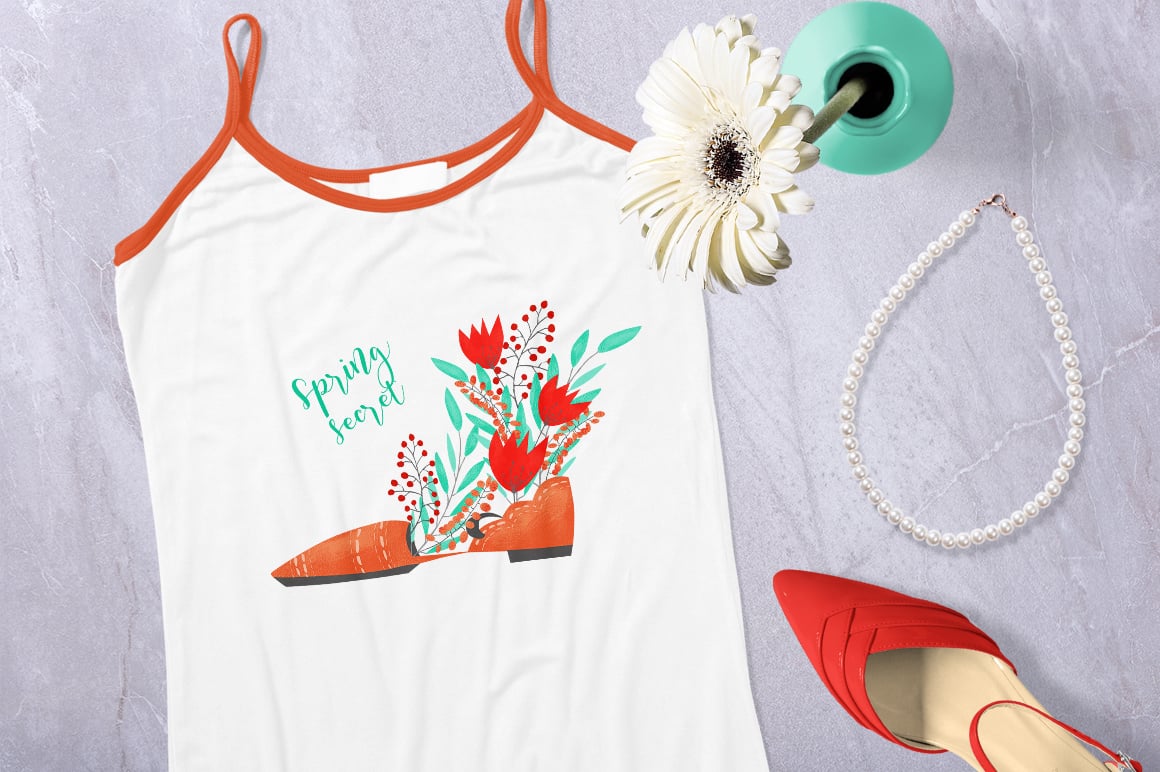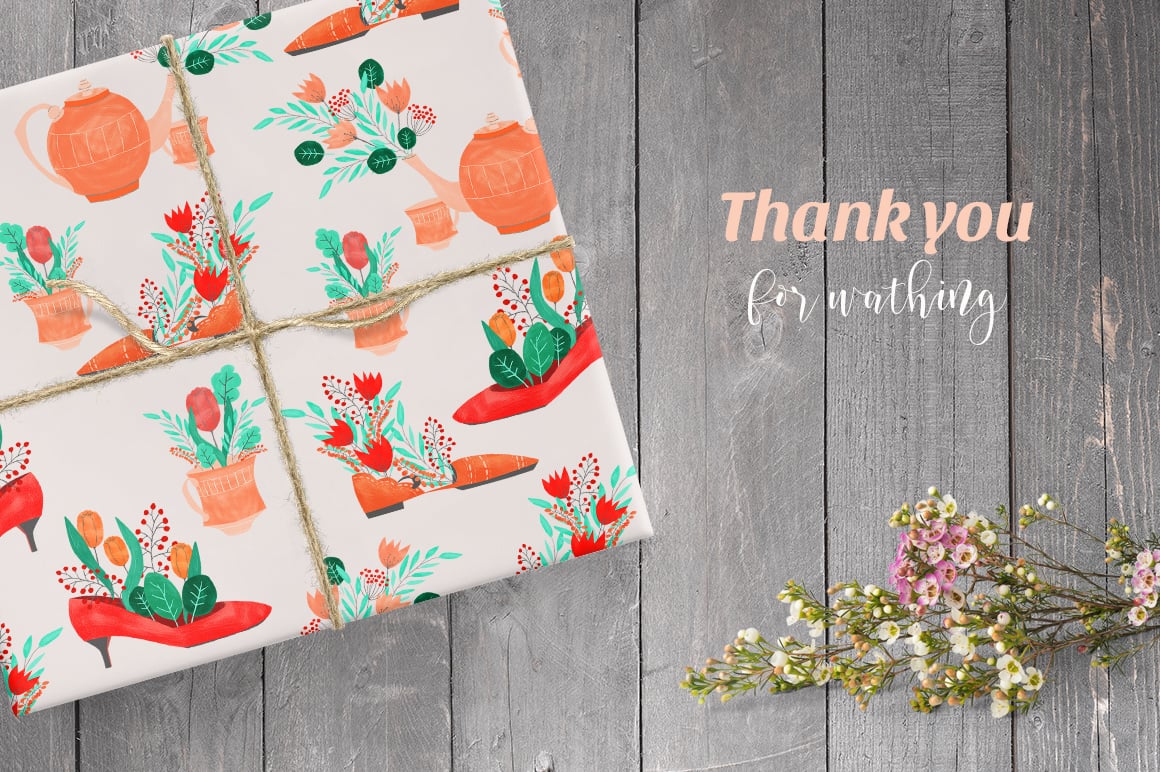 Just what is a Spring Secret Collection deal?
Every designer, as a skilled professional, undoubtedly can sketch anything from the begining. It truly is unproductive, takes too much time. For this reason many of the web designers make use of ready-made graphics elements – incorporate them, modify them and construct the design with them. It is silly to buy those elements one at a time, so that is why they are combined into graphic bundles and offered as a singular solution.
How can you benefit from using Spring Secret Collection?
For any single design job, you will require lots of components – a font, a handful of photos, some icons, and so forth. If you would want to buy every one of them separately it will cost you a lot of money! So, that's the reason experienced designers always look for graphic packages to buy.
What kinds of graphic bundles are available?
The collections of components gathered into a graphics package deal are generally categorized as outlined by their kind or main objective. There will probably be packages with business card templates, mockups, wedding invitation templates, infographics and icons, etc. On top of that, you will likely be able to find graphic bundles tailored for St. Valentine's Day, Halloween or Christmas.
How could you save money on Spring Secret Collection?
You can make the MasterBundles.com products even cheaper. Just share this page in social media – you receive the 5% discount for the graphic packages that appeals to you. That is a super easy way to get a professionally developed tools for a lower price.
Other collections on masterbundles.com you should use
MasterBundles.com offers you a large selection of different bundles. MasterBundles offers not just graphics packages but also something like 20 other various kinds of items. Fonts, WordPress themes, mockups, icons, photos, illustrations, presentation templates and a lot more – on the MasterBundles.com it's possible to find all the items, necessary for a design project creation.
The definition of a watercolor graphics bundle?
The watercolor package deal is known to be the prettiest trend in artistic desgin. Hand crafted by designers on the paper, the images become scanned and added in a bundle as templates for design projects. Watercolor components are just ideal for wedding invitations, greeting cards and posters.
Instagram design templates
It is not sufficient to simply post a few photos to get a well-known and profitable Insta account. To bring in followers, your Instagram feed should look fabulous . Instagram templates will assist you to reach that goal and make your Instagram posts eye-catching and familiar. Compiled into bundles they could be obtained for less money.
Define the Infographics package deal
If you ever need infographics for a future business presentation in any kind of market sectors from social media and marketing and advertising to medicine and education, the package deal is just what you have been hunting for. With the infographics package you will find yourself saving time which is essential when it comes to productivity.
Photo tools
Another package also suitable for photographers belongs to photo bundle deals. On MasterBundles you will discover a bulk of solutions for photo retouching. If you want Lightroom presets, PS actions, photo overlays, or any other tools for dealing with photographs, you've come to the best place.
All-in-one solution
MasterBundles.com is a marketplace that gathers design products from over the web and lets you buy the components you need in your design work for a lower price. Bundles this website sells are restricted in time, and that's the reason why they are so cheap. MasterBundles also has a big blog with the interesting design features explained. If you were hunting for a handy website full of excellent deals – MasterBundles.com is there for you!