A great set of 20 Watercolor Space Textures!
20 JPEG files, size: 4500 × 3500 px at 300dpi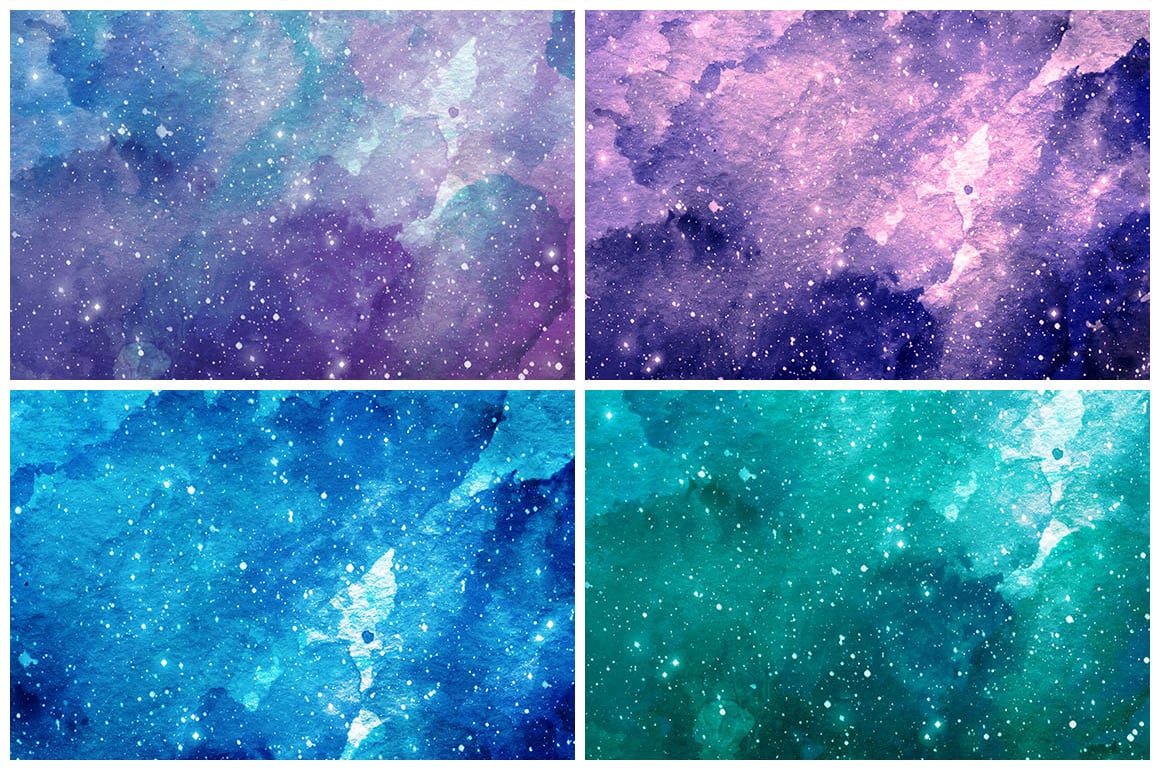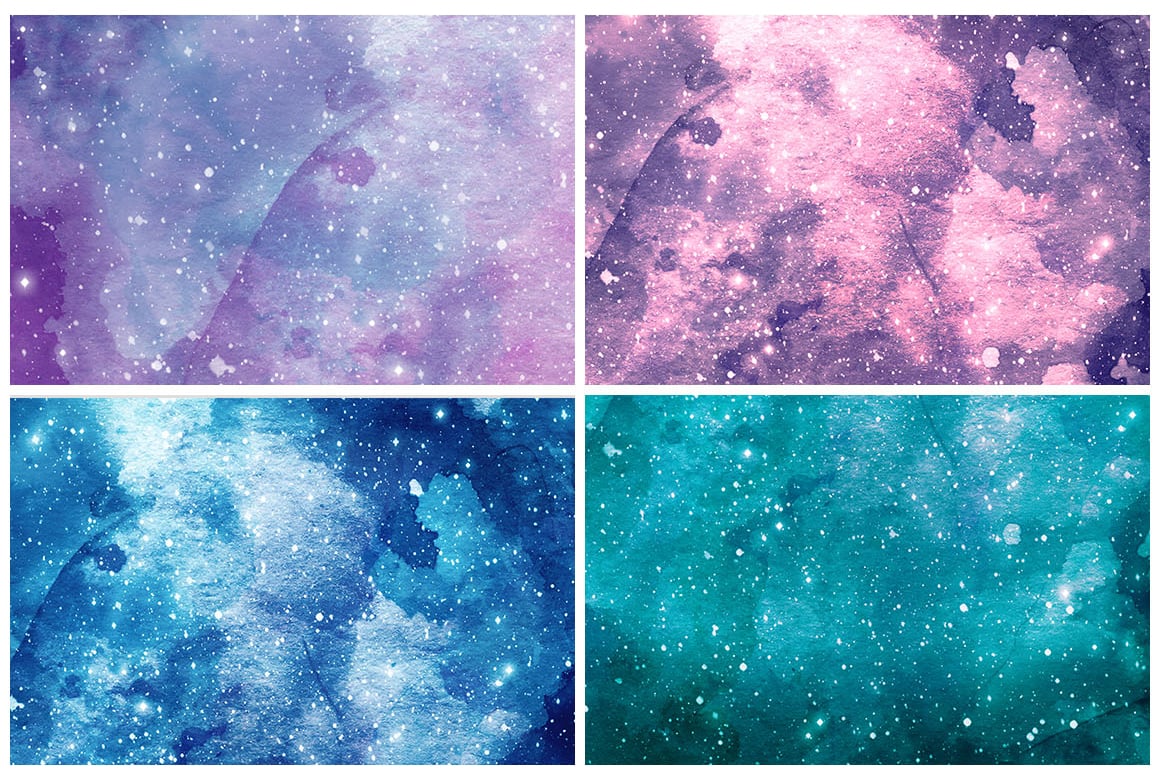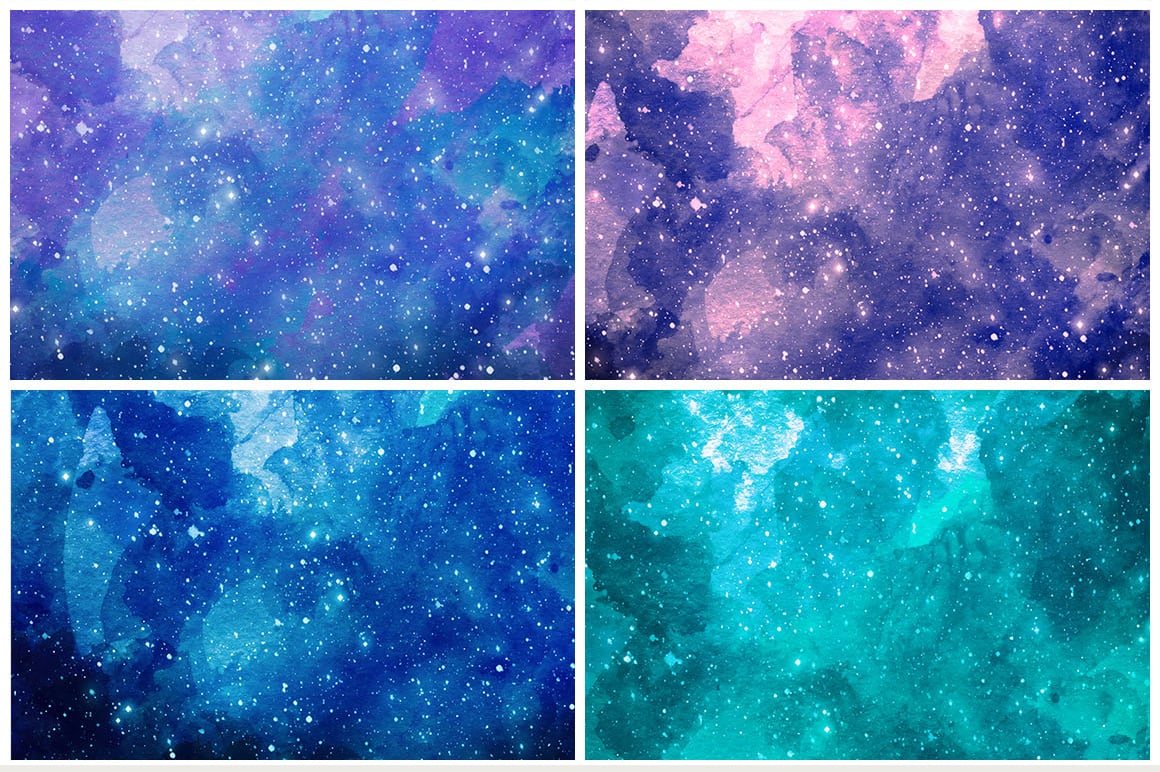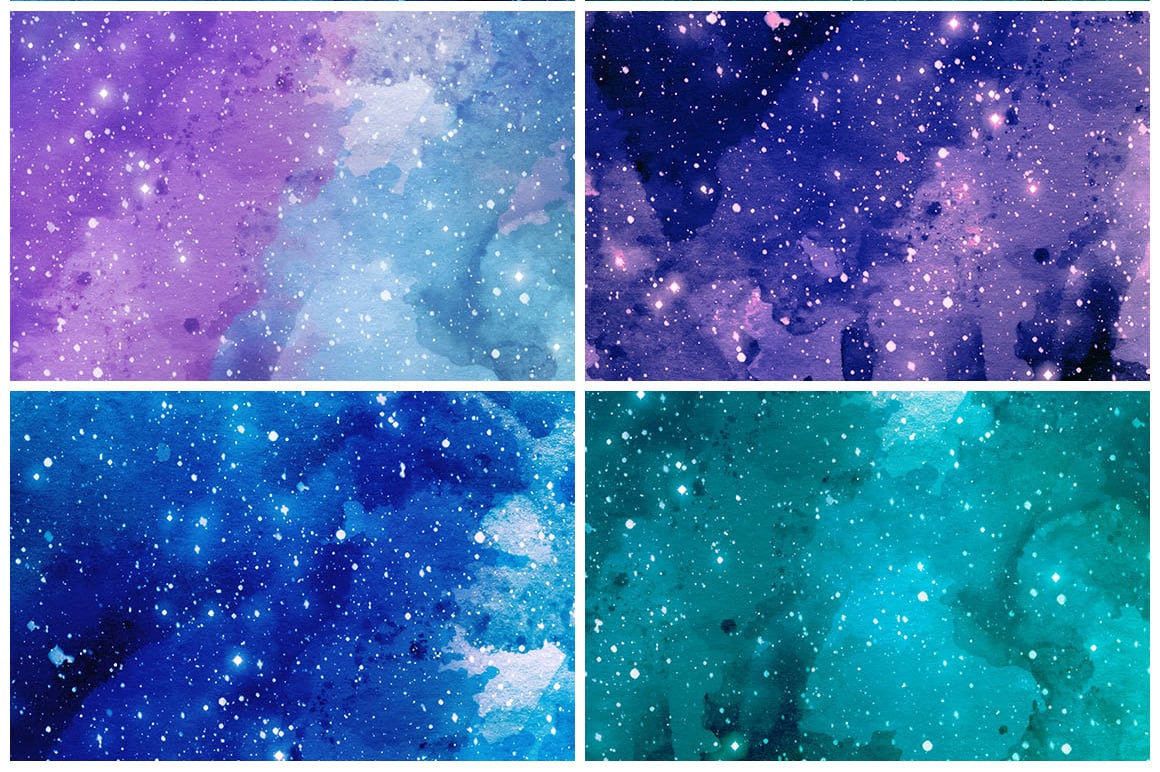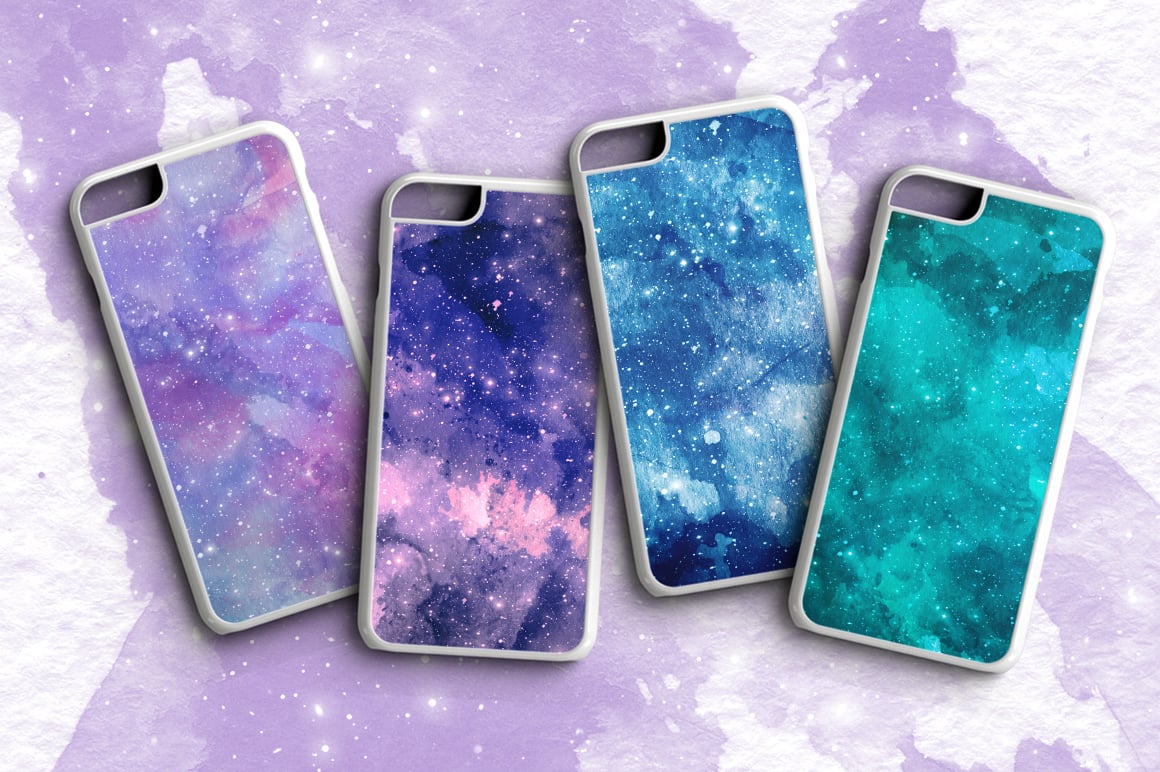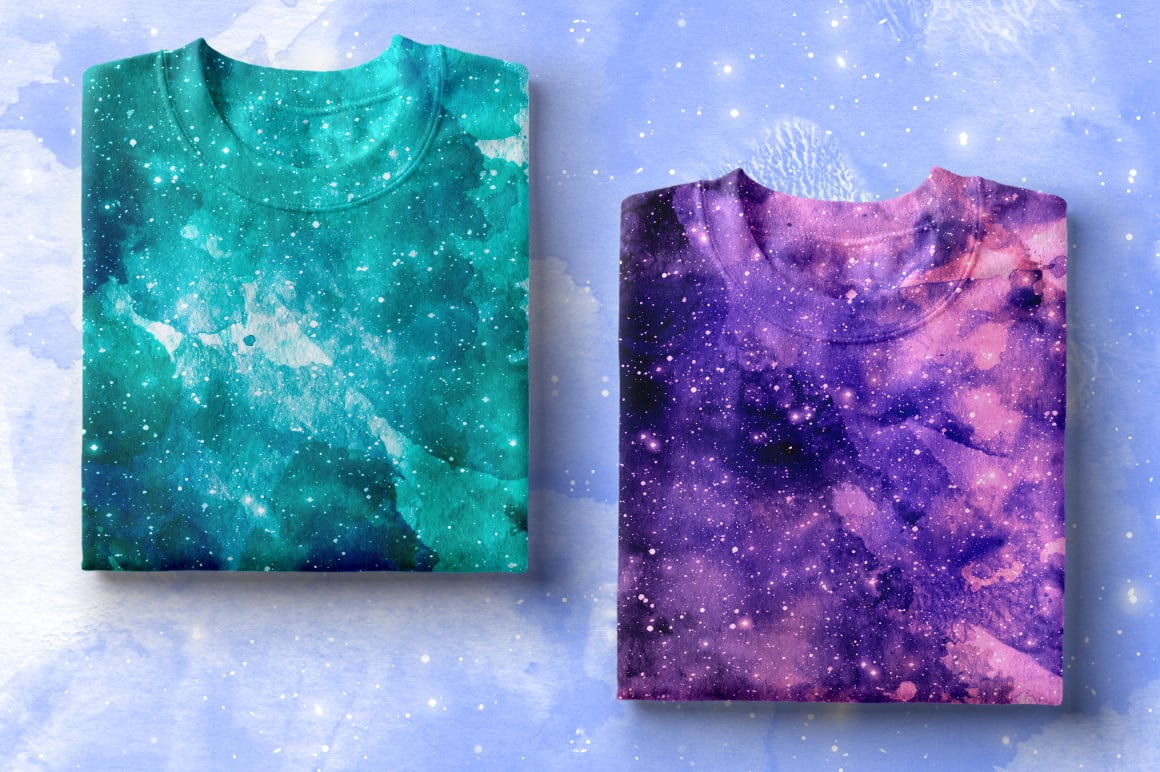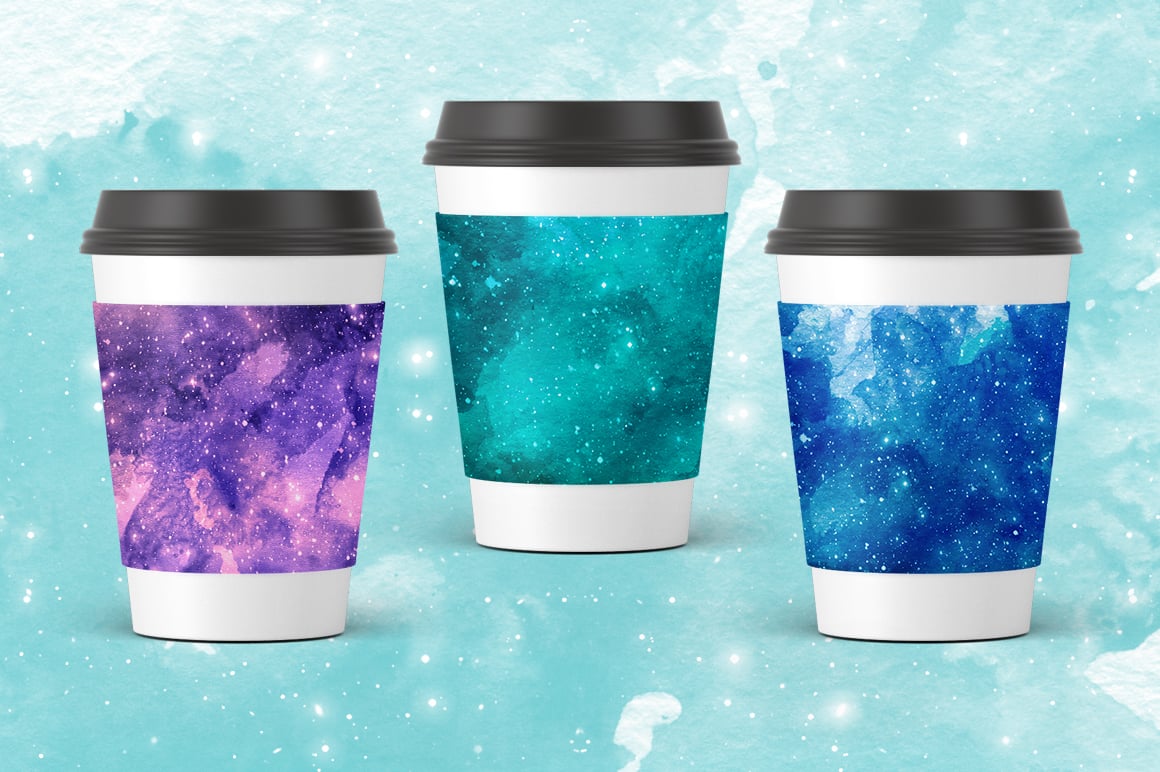 Generally speaking, textures are graphic patterns that recreate a certain real-life object or surface. For example, we see plenty of folded paper and wood textures in many different designs. Concrete, skin or rock ones are also really common. Textures often are made up of repeated images yet they seem like they are natural and random. The use of textures is not restricted to creating backgrounds, their qualities can be incorporated into any layout component. With texture patterns, we can easily create an illusion of certain natural qualities, create levels, and make accents.
So what a 20 Watercolor Space Textures is?
A pattern is usually seen as a background that consists of recurrent pictures. Patterns are most valued for being light and adjustable to various display resolutions. It's very easy to create outstanding colorful backgrounds and emphasize individual objects thanks to patterns. A lot of website designers select patterns over HQ pictures to create website backgrounds since they are highly diverse, eye-catching, and simple to work with. Pattern layouts enable you to make vibrant and efficient designs. Including an attractive pattern or a sophisticated texture can completely change the feel and look of any design. The costs of patterns and textures range from 4 to 50 dollars determined by their complexity and originality. We offer the most diverse sets on our website. They differ in price range, so everyone will find a product to fit their resources.
The Definition Of 20 Watercolor Space Textures?
The product bundle is actually a set or collection of items. They're gathered to one single "package" and are advertised collectively, as one product. Often, there's certain topic or intent that brings together the design items within a bundle, but that's not required. The time, while the design bundle is available, is very limited (around 5 days) and that's the key reason why the price tag of it is less than those products would cost you when marketed individually. Deals are very profitable and make it easy for graphic designers to save a sufficient amount of money.
So why the 20 Watercolor Space Textures quality is essential?
In order to use a cool and attractive design which will attract the viewers – never ever try to save money on materials and tools. High-quality patterns and textures could make nearly every design rock, so stay clear of unprofessional works. Lousy color picking or low-resolution graphics could easily spoil the perception of your project. Some very nice patterns and textures will demonstrate how much focus you pay to the details and score you lots of extra points.
What if I didn't find the product I want in the bundle?
The Masterbundles website offers lots of various deals. If perhaps it seems like a particular deal doesn't provide what you require, check out the other ones! When you browse our selection, you will definitely discover a solution to fulfill your creative needs. The packages vary in design, complexity, and selling price, what's in common is the fine quality of our UI elements. Use the site menu to lead your way through our collection and enjoy!
Can I acquire any alternative bundles on MasterBundles?
Above and beyond font deals, our marketplace boasts many spectacular packages. Find out more about web template packages, graphic bundles, icons, textures, and patterns. There are additionally electronic books and training courses, stock photography, logos, illustrations and add-ons, mockups, and other categories. We have thematic X-mas and Valentine's product bundles, postcards and powerpoint presentations. And also, obviously, our favorite under $5 deals!
What's MasterBundles.com?
MasterBundles.com is an internet marketplace. On our website, professional graphic designers promote their creations at the best prices. We offer the very best deals on the market, and our bundles are highly reviewed by customers. Check out our blog, it really is filled with practical and inspiring content for professional web designers. Furthermore, in case you sign up for our newsletter, you'll be the first to be informed on our special discounts. There are always coupons and promotional codes available to lower the prices to a bare minimum.