We are glad to present you a watercolor set of Rustic Summer patterns. These patterns are suitable for textile and fabric design, decorative products, packaging, scrapbooking. Enjoy! 🙂
Set includes high resolution seamless patterns in 4000x4000px, 300 DPI:
10 x JPEG with white & dark background
5 x PNG with transparent background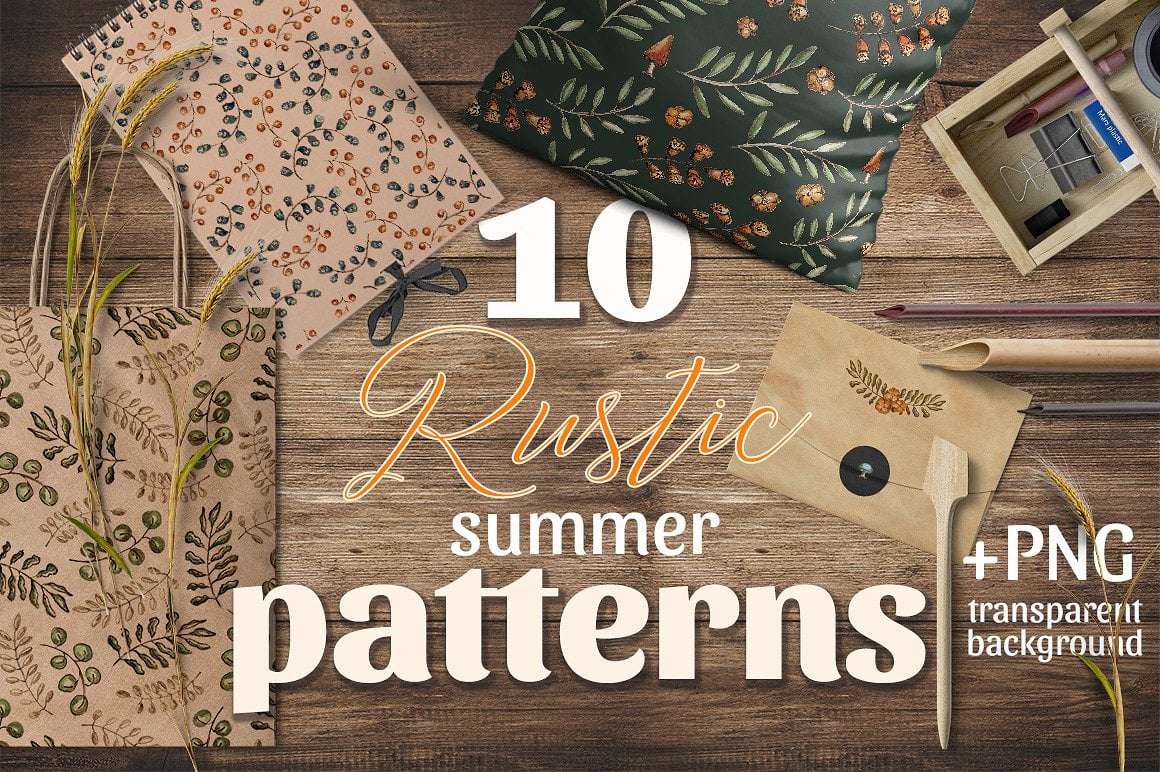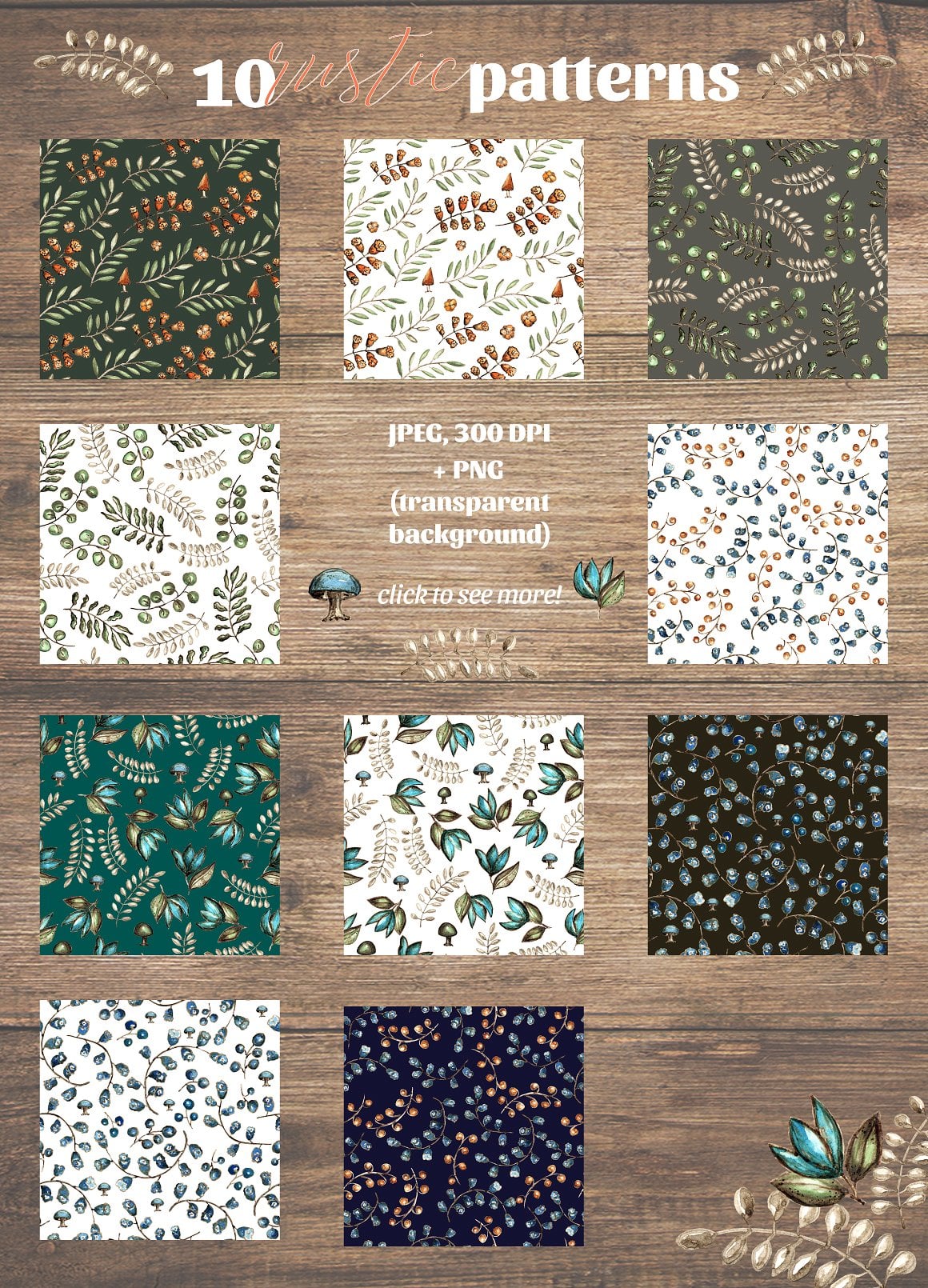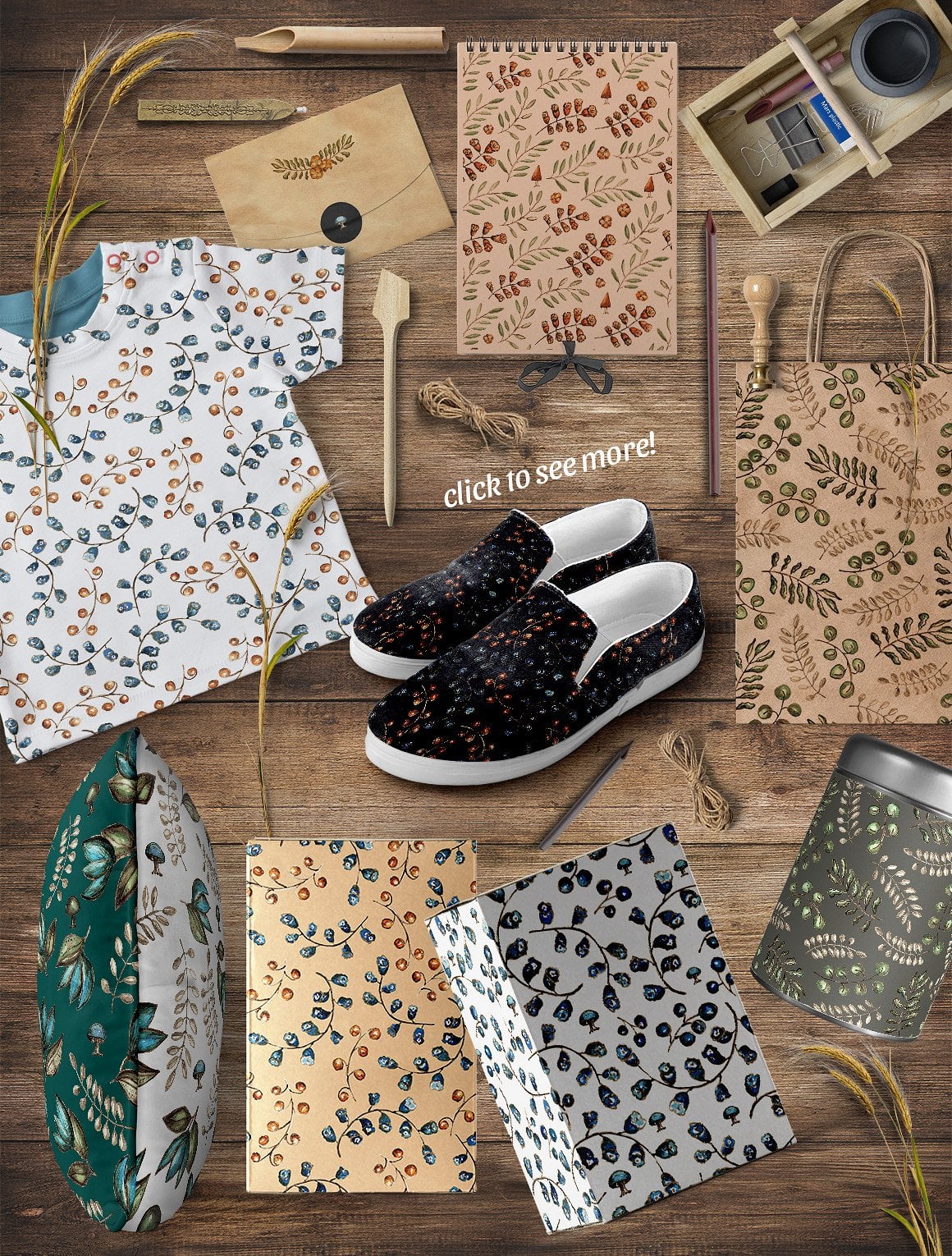 Define a design texture 10 Rustic Patterns?
Every piece of art, no matter if it is a statue, website or drawing item possesses two or three dimensions. In addition to shapes, size and colors it additionally comes with some characteristics of the working surface that can be perceived by eye. When looking at the picture we might say that it's matt, soft, tough, fine or glossy. Now you know what a texture is.
Who needs a 10 Rustic Patterns?
The design pattern can be described as visible composition you can observe everywhere you go and every day. Actually your home is full of patterns, for instance, on the wall-paper that decorate the walls of the home's living room. The pattern is an element of the image which is replicated on to produce a bigger, symmetrical and geometric picture.
Both patterns and textures happen to be commonly used in works of art. Web-site designers like to use them due to the fact patterns and textures are a great background for a web page – they do not sidetrack the website visitor but highlight the content of the page. It is expensive to buy them on an individual basis, which means that typically patterns and textures are sold in package deals.
What's a Bundle?
A bundle is a set of graphics or some other design components that can be purchased together. The very best aspect of these product bundles is their price. A package will amount to a lot cheaper than every item if sold on their own. Usually, a set will feature all you need to complete a design task. These special deals are limited in time, so don't miss your chance to get excellent design tools and get a better price.
Why textures and 10 Rustic Patterns are important?
In order to get a awesome and attractive design intended to impress the viewers – under no circumstances try to save on tools and components. High-quality textures or patterns can make almost any design excel, so steer clear of non-professional products. Lousy color choice or low-resolution graphics could very well wreck the perception of your project. Some very nice patterns and textures will show how much focus you pay to the details and add you lots of additional points.
What if I didn't locate the item I need in the package deal?
MasterBundles features lots of various deals. In case you feel that a certain package doesn't offer what you need, have a look at the other ones! If you look through our selection, you will definitely come across something to meet your artistic needs. The sets differ in design, difficulty, and price range, what's similar is the fine quality of our graphics. Use the website navigation to make your way through our collection and enjoy!
What other packages does MasterBundles.com offer?
All of the offers you come across on the Master Bundles are developed by experienced graphic designers and have passed thorough quality control. The packs include typefaces, graphic themes, templates for WordPress, icons, illustrator tools, mockups, Facebook templates. You can also find stock photographs, illustrations, PPT templates and resumes, logos and backgrounds offers. There are special offers with the price tag of lower than 5 dollars and holiday themes packs.
What is MasterBundles.com?
MasterBundles.com is a large market place, offering bundles of a variety of web items. Everything you can want to set up a design project or a web site is sold here and you can get it for quite a lower price. MasterBundles has also got a blog, where you can always find relevant info and most up-to-date news. The life span of a bundle is rather short, so as to stay in touch and not miss the particular product bundle you need – sign up for a newsletter and get announcements about all the updates.