Best Free Menu Templates for Google Docs
It's proven that restaurants that invest financial resources in creating eye-catching menus are more profitable from the first days of their opening than their counterparts who ignore these recommendations. Printable templates for menus keep customers coming back again and again to try all the cuisine offered. In this case, the actual design of the menu is a science, so you need to treat this issue very carefully to get it right.
What should you do if you do not have the skills to create a menu design and no money for a professional designer? Use services with ready-made Google Docs menu templates. This is a great solution for new restaurants, coffee shops, and sushi bars. They give you the opportunity to choose one of the thousands of templates and edit it in a virtual constructor for almost no cost. In some cases, you can even download your favorite template in PSD format and edit it later in Photoshop.
We have created a collection of 10 beautiful restaurant menu templates in Google Docs that you can use for any purpose.
What Is a Menu Template?
A Menu Template is a ready-made document created by a designer. It usually contains pre-made customizable details (such as color scheme, a few fonts, and text blocks). It can contain different numbers of sheets, column-divisions, and blocks. Do everything you need to do with such a template including customize it according to your taste and the theme of your restaurant or cafe.
Why Use a Menu Template In Google Docs?
The first and most important reason to use a menu template is that it is extremely convenient. You may edit the template from Google Docs in real-time, from any device, and with any number of colleagues. Several people can easily make changes and add comments to the menu simultaneously, without interrupting each other.
How to Create a Professional Looking Menu in Microsoft Word & Google Docs
First of all, it is necessary to choose the right menu template for your business. It should be comprehensible, beautiful, readable, and clearly divided into categories of food and drinks.
Change the Color Scheme
Make sure you pay attention to the color scheme. It is desirable that in the design of the menu the same colors are used that coordinate with the interior of the restaurant. Drawings will not be superfluous, and their genre will depend on the concept of the restaurant. Some experts advise making the menu multicolor. This kind of template is suitable for restaurants and cafes with a "fun" design. Think about how visitors to a restaurant whose interior is designed in a strict and luxurious style would react to such a casual menu? Be sure to match the style with your customer demographic.
We advise you to choose 2 or 3 main colors that match each other and adjust the hues. Or you can make the menu in monochrome design (using only 2 basic colors – one for the background and one for the fonts). If you still have some difficulties with the color scheme, use the rules of the color wheel.
Image by MasterBundles
Add Your Menu Items
A menu is a kind of advertisement for a restaurant or cafe. It would be amazing if you can do it in the form of a multi-page book with pictures and illustrations of various dishes. Statistics show that visitors most often order those dishes that are advertised with a photo. Be sure you choose the same font for titles and descriptions of dishes.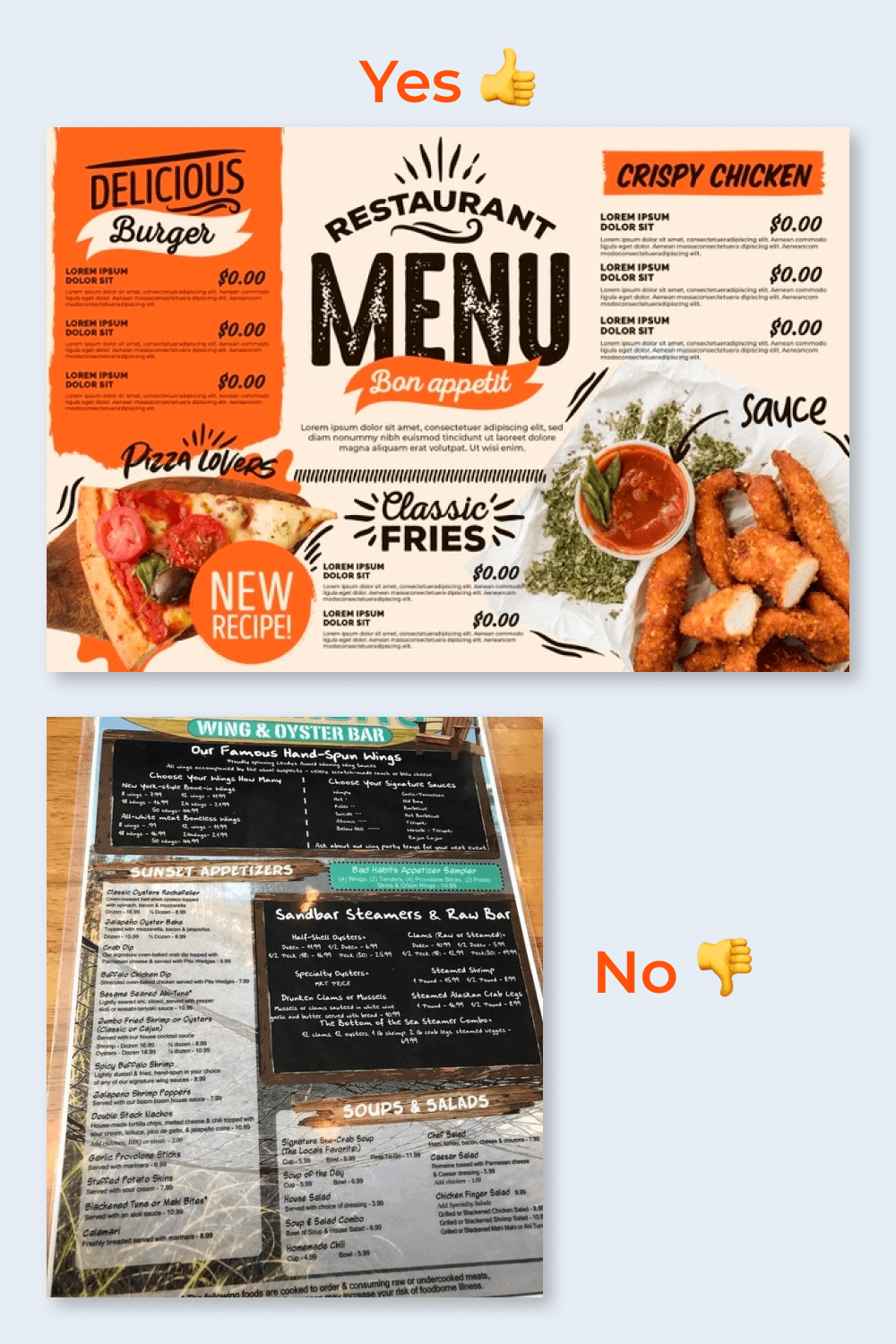 Image by MasterBundles
The text in the menu should be concise, but at the same time make the visitor buy one dish or another. Pay special attention to the wine list and desserts.
Change Font Sizes
A significant part of the design is the font. It should be readable and match the overall style of the restaurant. It is desirable to use simple sans serif fonts. Choose 2 or 3 basic fonts. If you choose too many different fonts, the menu will look absurd. On the contrary, if you use only one font, it will be difficult to put emphasis on certain information.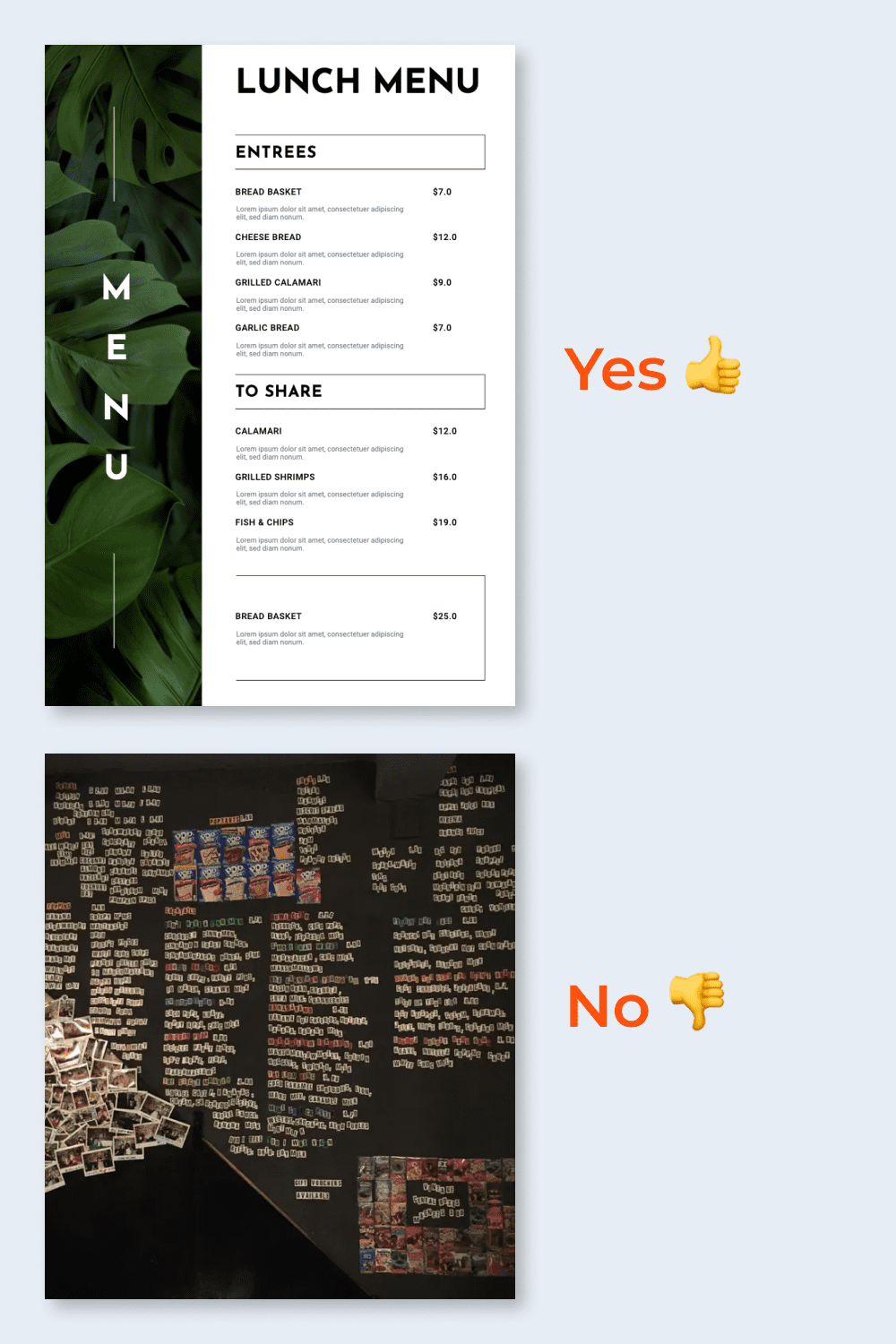 Image by MasterBundles
You can choose fancy and handwritten font styles if this suits the restaurant theme. However, in this case, you should also think about the readability of the text.
Bold fonts, spacing, and other highlights should be in harmony with the rest of the text and not spoil the overall look.
Add Social Media Icons
Social media has become a very important instrument for promoting your business. So you can't neglect such a useful tool when making a menu. Add Social Media Links to the special block in the menu, and make it bold for the visitors to notice and follow your place on Instagram, Twitter, Facebook, etc. In addition, you can add QR codes that people can scan and go directly to your social media pages.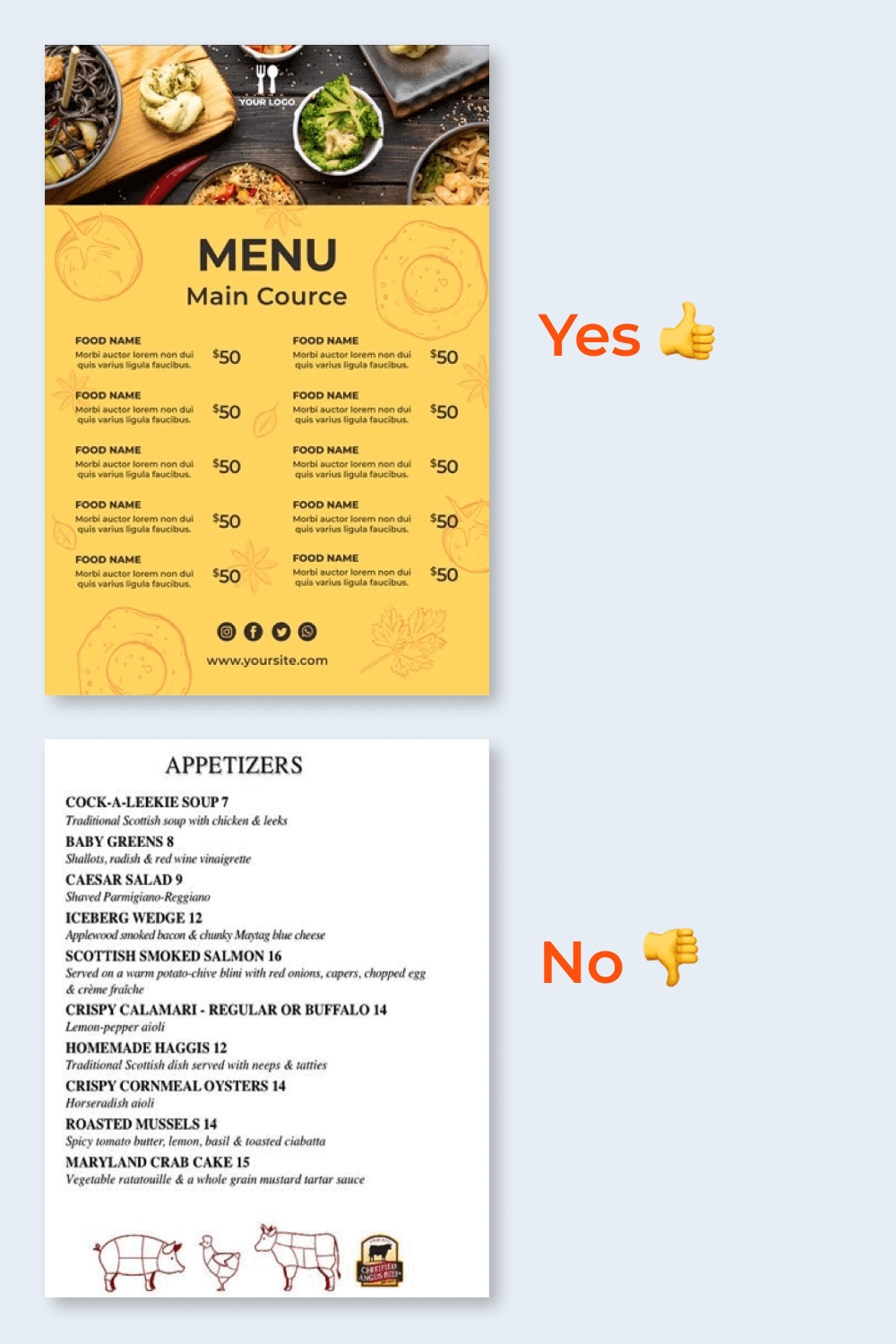 Image by MasterBundles
Double Check Your Menu
It is an important document and one of the many faces of your restaurant. Don't be lazy about checking everything twice or even more. Give it to your colleagues to read it with a fresh glance to find any errors if there are any.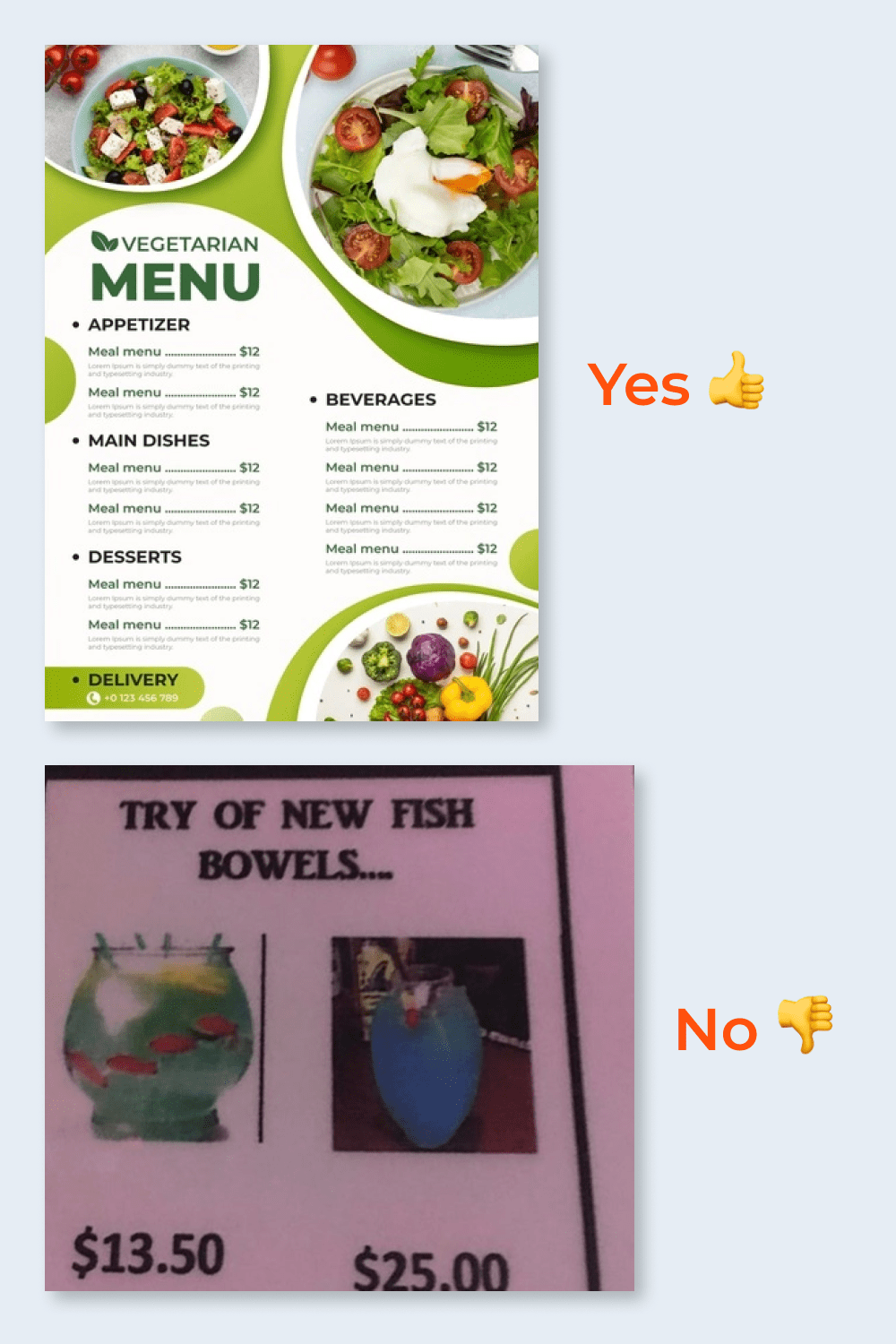 Image by MasterBundles
Include Item Prices
When planning the menu, you must understand what kind of people will come to your place. On this basis, you need to build a general pricing policy for the restaurant. Do not rush to include dishes with cooking processes you do not know. Take into account supply disruptions, seasonality, and rising prices. Staff service errors can also result in your menu not working as you intended, so be sure to rule them out in the first place. You should always guarantee excellent food quality and accurate timing. Don't forget that all efforts will be in vain if your staff can't sell culinary masterpieces. Constantly test new layout models.
Image by MasterBundles
Don't neglect the simplest advice: look at your competitors' designs. Does it fit in with the general concept of the place and what visitors order more often? Don't be afraid to borrow successful models, but the idea of blatant copying, of course, is not worth it. Correctly compiling a menu for a cafe or restaurant can only be done after an analysis of the market and accurate calculations of costs.
5 Benefits of Using the Best MS Word & Google Docs Presentation Templates With Pro Designs In 2022
We are all familiar with the functionality of MS Word, but let's take a closer look at its alternative – Google Docs. Is this alternative just as worthy?
Always Saved
What's nice for you is that you do not need to remember to save files in Google Docs. They will be automatically saved after you enter each character. This means that if you have a power outage or your computer hangs up, all your work will be saved.
Simple and Easy To Work With
The functionality of Google Docs is very similar to the familiar MS Word, so you can easily adapt to it.
Version History
All changes to the Google Docs menu template are saved, and you can go back to any step. This allows you to stop worrying about the safety of your masterpieces. To open the history of changes to your document, go to File > Version History > View Version History.
Access Settings
The Google Docs cloud service makes collaborative work on documents much easier. Now there is no need to exchange copies, versions, and so on with your colleagues. All you have to do is send them a link to your file with certain access rights, and everyone will work in one document simultaneously and see the live changes online.
In order to make the link accessible for your document, you need to click "Access settings" and copy the link.
Built-in Services
Google Docs has services that make working with texts easier. You can find them in the Tools menu.
Best Premium Menu Templates Google Docs and MS Word
Best Free Menu Templates Google Docs and MS Word

The right design is very important. You can tell right away when the customer doesn't understand where to look with his confused eyes. At best he will ask the waiter about the menu options; at worst he will leave. So don't treat the menu as an unnecessary cost or a plain piece of paper that has no value.
FAQ
Can I Format My Menu's Text?
Sure, almost all the menu templates, free and premium, allow you to format the text. You may set the size, boldness, and location of your text.
Should I Use Microsoft Word or Google Docs for My Menu?
You may choose any editor. Almost all the menu templates made in Word may be edited on both platforms.
What Should Be in a Menu?
The main information you should include in the menu are the names of the meals, serving size (weight), and prices. You can also add social media links and contact details of your restaurant (especially if you have a delivery function).
Can I Make Customizations to My Document Template?
Yes, you can customize the templates easily.
How Do I Add Background Images to My Word Documents?
Launch Word and choose Page Layout from the menu. In the Page Background section, click Page Color > Fill Options. In the dialog box, select Image. Then add the image you want and click OK.
How can I improve an already-existing menu through the use of templates?
You can copy the information from the already-existing menu to a new template that you like. Or you may find some inspiration when looking through the different menu templates and try adding some new details to your existing menu.
What is the main motivation for me to use the templates?
First, the templates are the most convenient and fastest way to create an outstanding menu for your restaurant or cafe. Secondly, you don't need to pay a designer to create a unique menu, and it will be much cheaper 😉
Some Awesome Video About Menus
Please take a moment to pin this post to Pinterest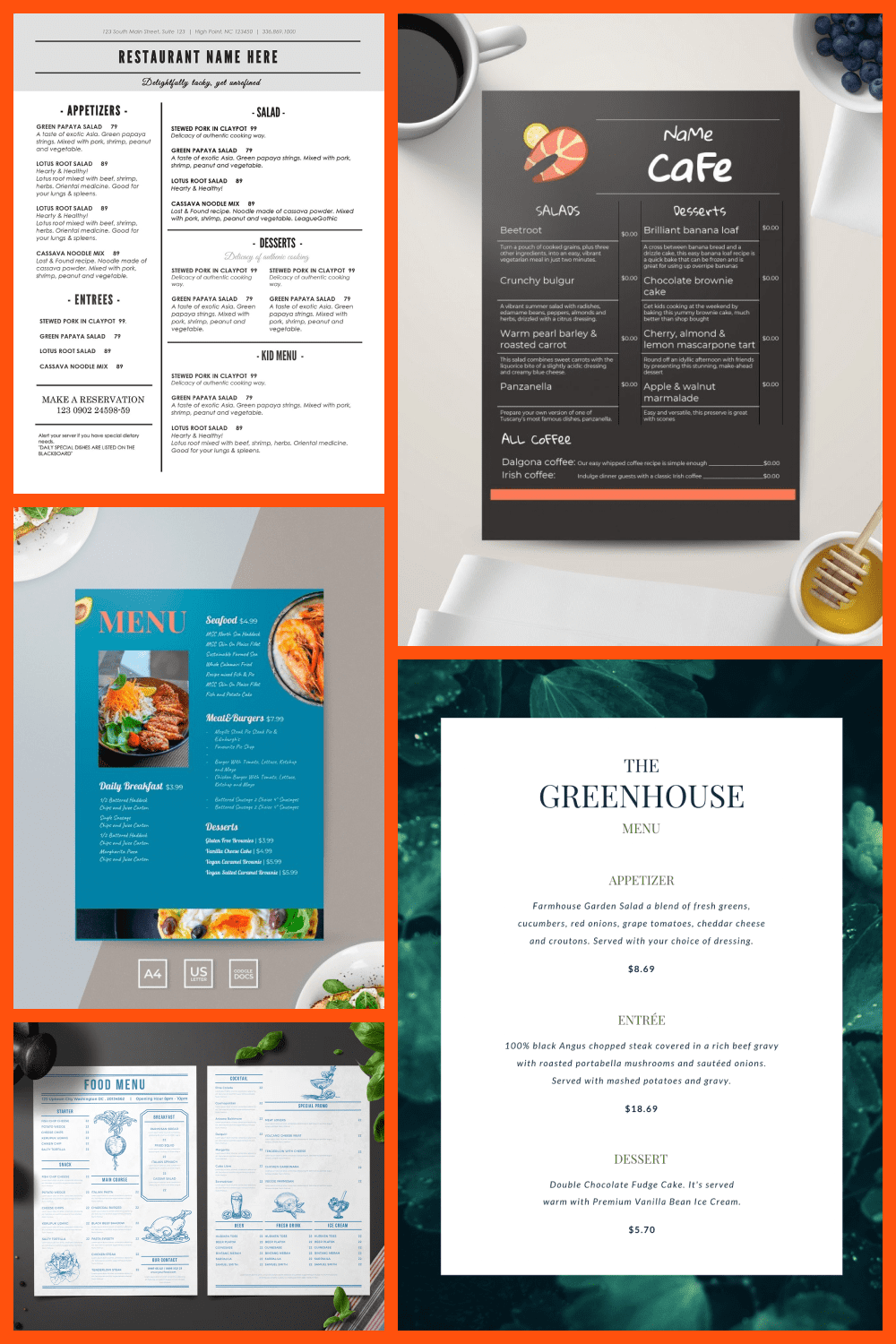 Disclosure: MasterBundles website page may contain advertising materials that may lead to us receiving a commission fee if you purchase a product. However, this does not affect our opinion of the product in any way and we do not receive any bonuses for positive or negative ratings.