For all of the Romeos and Juliets of the world, don't give up on true love. Today we've rounded some of the most romantic top 15 heartwarming wedding & dating templates. Pick the most beautiful website design to show the people in your life how much you care. For more inspiration, enjoy more wedding templates. Whether you want to create a lovebook, wedding planner or dating services website, these 15 templates is a true gift for you.
Most of us are not professional developers and don't know where to begin. So what can you do about it? The answer is obvious. Make sure, a pre-designed website template is the cream of the crop in terms of creation of beautiful websites without the headache of any coding. With so many easy-to-use content management systems (CMS) on the market, anyone can create a nice website. That's the fact. Moreover, you can create a nice website without investing a ton of money in it. The trick is, however, to choose one which will meet your site needs in the future.
With so many CMS choices, a person with absolutely no coding experience can launch a basic website in just minutes. Well, WordPress continues to be the top-dog platform which powers millions of websites. That said, WordPress is used mostly for creating everyday blogging or news sites while Joomla, for example, works best for eCommerce web projects and social networks. Or say, MotoCMS is another WYSIWYG website builder worth a mention. It's capable to create professional-looking websites with minimal fuss.
And that's only the tip of the iceberg. There are many more CMS platforms offering experience outside the norm. It's wise to choose a CMS that will serve your needs best. Just take time to determine your goals and ways to achieve them. When you decide to work with a certain CMS, you're selecting a partner for a long-term relationship.
It's not a secret, that there's a boundless ocean of beautiful website templates available out there. Indeed, there are many resources that offer to download such templates for free. It's usually … cheese in a trap. We suggest you check these top 20 heartwarming wedding & dating templates and get the best solution for less. Don't miss a chance to create a nice website even with a skill gap. When you feel you need support, be sure a friendly 24/7 customer assistance can help you get rid of all your worries.
Make sure, you don't need to spend a lot of money to make your website feel special. The website templates below can help you get started. Not sure which one to pick? Just take time to learn more about them. This will be a great point for you.
Kate & Alex – Wedding Planner Responsive MotoCMS 3 Template
Celebrate your love story with this awesome MotoCMS 3 template. Use it to create a heartwarming presentation of any romantic event. Thanks to the responsive layout, your love story will look sharp on any modern device. No matter which love story you'd like to tell, with this easy-to-use template that's simple as that.
Datelletto – Dating Agency MotoCMS 3 Template
If you're starting a dating or social networking website, Datelletto is just the thing for you. Crafted with care, it features a clean, responsive design, built-in control panel, powerful drag-&-drop editor, and more. Create a fully functioning and modern dating website with no headache of coding. Don't miss it.
Cavyalia – Wedding Services MotoCMS 3 Template
A wedding is a very special occasion in every couple life and a wedding service is a perfect way to organize it right. This modern template offers a truly intuitive navigation, pastel color scheme, responsive design and multilingual support. Just drop your sticky content, change settings and drop your video. Enjoy the result.
Jennifer & Robin – Wedding Planner Landing Page Template
This lovely template can help you create a landing page for a wedding service in a new and contemporary way. Even with a skill gap, it's easy to display wedding photos in a modern, minimalist and slick design. Organize your project within minutes, arrange the order of the text and images, change color palette to capture the attention of your target audience.
Jen+Ben – One-Page Wedding WordPress Theme
Looking for your ideal best selling WordPress themes? Grab this 100% GPLv.3 licensed wedding template that can be used for as many projects as you want. Take advantage of the powerful drag-&-drop page builder and create unique web pages with no pain. Create a truly eye-catchy wedding story design with this easy-to-use WordPress theme.
Wedding – Wedding Planner Responsive Joomla Template
Need some inspiration for your wedding web project? Here's another awesome specimen of top 20 heartwarming wedding & dating website templates worth your attention. Customize the color scheme of your site with a single click thanks to a theme color switcher. Enjoy its clean and sleek design and have fun making your own unique wedding planner website.
Iridescent – Marriage & Wedding WordPress Theme
With Iridescent, you can build a professional-looking website without touching a single line of code. Choose from a large set of layout options and experiment with your page structure. Besides, you can add multiple content types to your page to make a compelling case. Take advantage of this premium WordPress theme today.
BBW Dating Club – Dating Responsive Website Template
If you're looking for a simple but awesome dating template, BBW will be your choice to make. It's very lightweight template with a modern look and feel. Thanks to a clean and sleek layout, it provides the perfect design for any projects. Besides, you can easily tweak the overall look of your theme with a few clicks only.
Digital Wedding Invitation – Wedding Invitation PowerPoint Template
Looking for something more than a traditional wedding invitation? Get this elegant template to allure the guests to your wedding. Create an elegant wedding invitation online in no time. It comes with 6 beautiful sliders, bright color options and amazing animation. Have fun. Enjoy the results.
Bridal Store – Wedding Shop Responsive MotoCMS 3 Template
Are you planning to run a bridal store? Great. This user-friendly and easily customizable template can get your bridal store up and running. Built on the Bootstrap framework, it features responsive layout which adjusts awesome to all modern devices. In addition, it's multilingual, well documented and clean coded.
Callum – Wedding Online Portfolio WordPress Theme
Grab Callum and create a stunning gallery of your photo projects in a matter of minutes. Choose from a large set of layout options and experiment with your pages. Take advantage of the custom widgets that enrich your theme with advanced functionality. On top of that, the theme has an optimized structure that fits the Google guidelines & helps you reach the top of search results.
Sweet Date – Dating Responsive Website Template
This bright WordPress theme can fit the needs of a dating agency thanks to its catchy design. Parallax effect delivers an incredibly joyful overall impression on your visitors. The theme is cross-browser compatible, responsive and compatible with several web forms. Experiment with the overall look of your theme to meet your particular needs best.
Wedplanica – Wedding Agency Web Template
Take a look at this clean specimen of top 20 heartwarming wedding & dating templates. Its nice and appealing design fits well for a wedding agency. The images are framed, which helps to draw the visitor's attention to them. Even with a skill gap, you can easily create a new unique look for your wedding website. With responsive design, your website operates virtually the same way on various modern devices.
Wedding Planner – Wedding WordPress Theme
Admit it, the background of this WordPress theme looks rather unusual. Its cherry red design can help single out your wedding website from the crowd. Handwritten fonts, origami elements and hearts make the layout romantic and modern at the same time. Besides, the theme is easy to customize and manage. Give it a try.
Wedding – Elegant Wedding Agency WordPress Theme
In this age of digital competition, you need to draw a visitor in for a good cause. With this elegant WordPress theme, this can be as simple as that. White flower bouquets incredibly refresh the overall look of the theme. What's more, this creates a really festive atmosphere. So, catch the excitement. Have fun.
Dating – Dating Agency WordPress Template
Dating is a slick and modern looking WordPress theme to trust. Its responsive design looks awesome across multiple devices and screen sizes. Being the part of Monstroid family, it offers a bunch of advanced features to help you achieve your every desire. Check for more noteworthy features that come jam-packed in it.
Belle Fleur – Wedding Landing Elementor WordPress Theme
Belle Fleur is a perfect solution for wedding planner websites. Featuring an elegant and clean design it is aimed to attract more clients to your resource. Besides, embedded blog functionality allows you to build a reliable presentation of your service and increase the traffic at the site. In the meantime, Elementor Page Builder with Jet plugins will help you create content without writing code. Try this WordPress theme to take your website to a completely new level.
Amour – Wedding Multipage Clean Bootstrap HTML Website Template
This Wedding Multipage Bootstrap HTML template will definitely impress you with advanced functionality and visual elements. Inside the package, you'll find a variety of pages that will help you present your project with all the advantages. A ton of high res images, various gallery types, steep CSS3 animation effects and transitions will make your site look engaging. Meanwhile, such features like working contact forms, blog, Google map, and others will contribute to the top-notch user experience.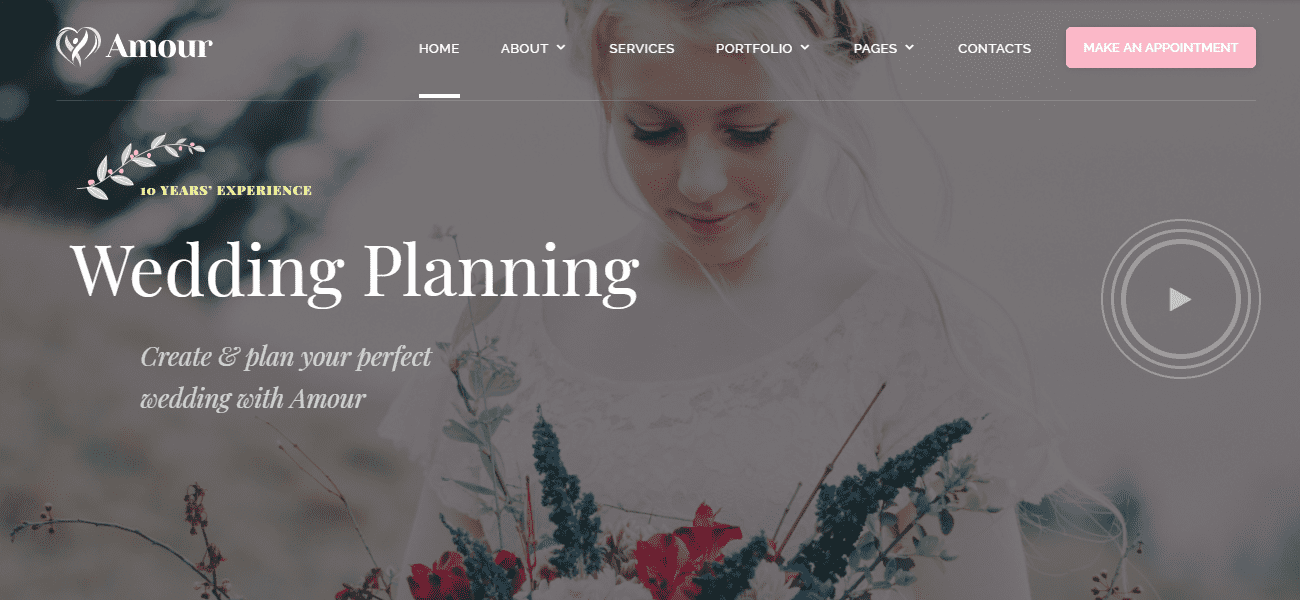 Details | Demo
Perfect Day – Wedding Planning Multipage HTML Website Template
With Perfect Day Multipage HTML template, you'll be able to stand out in a crowd presenting a variety of services. You can offer wedding dresses, accessories, decor, jewelry, and planners in the same place. That being said, you help your clients save time getting everything needed for a wedding at one point. Except for a modern and responsive design, you'll get different pages, Parallax animation, various gallery types, and other components. Back to top button, drop-down menu, live search, and working web forms will help you provide a high-class user experience.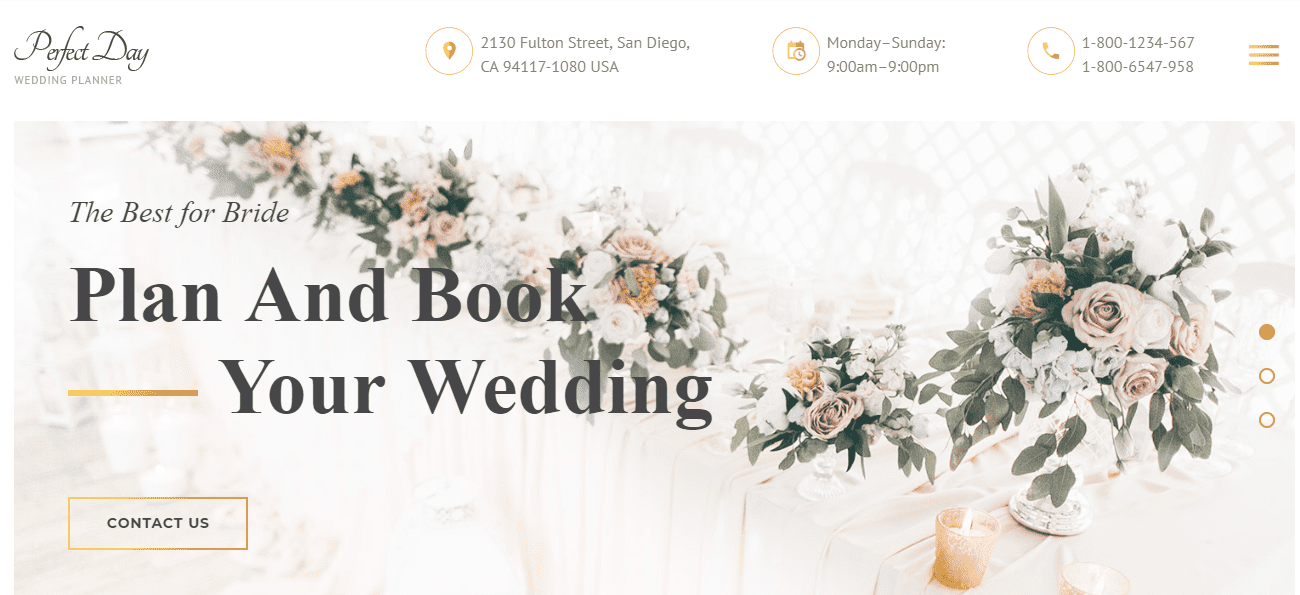 Details | Demo
Dating App MotoCMS 3 Landing Page Template
If you develop the dating application and need a high-quality landing page template, you've come to the right place. This MotoCMS 3 theme can boast with an exceptional simplicity of customization process. Drag-n-drop content blocks available in the pack will help you structure the content without any coding skills. Besides, you'll get everything needed for adding advanced functionality to the application site. Pre-designed blocks, social integration, MailChimp widget, Google Analytics, and other elements are at your disposal.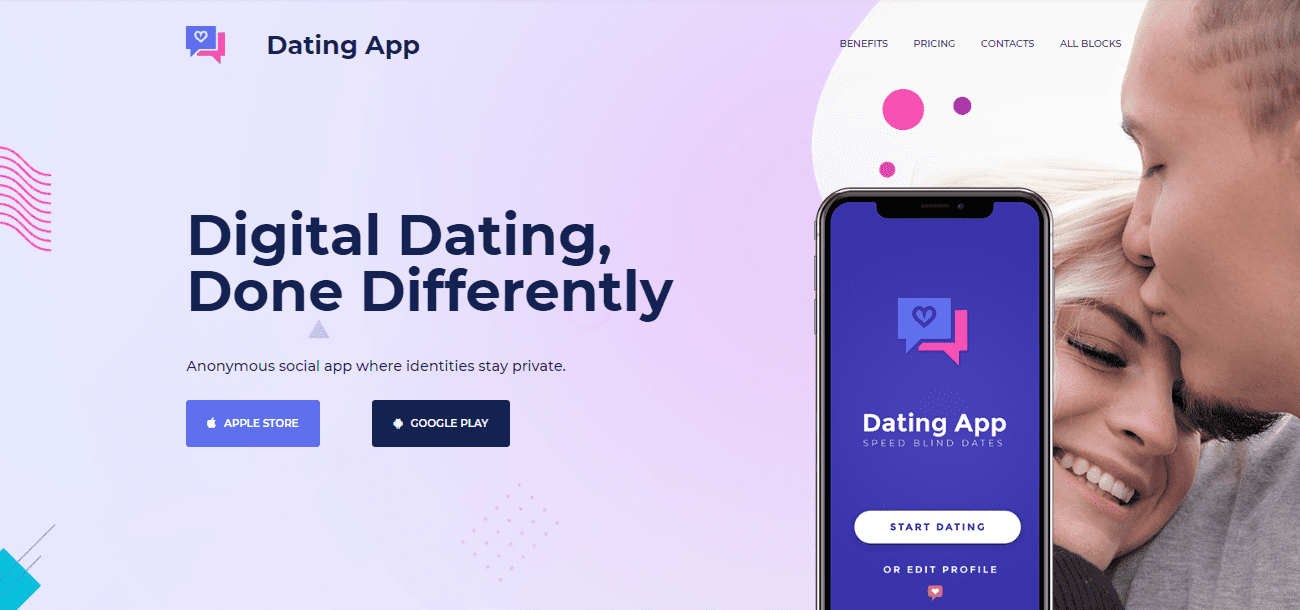 Details | Demo
Alegria – Wedding Salon Elementor WooCommerce Theme
Take care of a professional presentation of your wedding salon online making use of this Elementor WooCommerce template. With Alegria, you'll get the unlimited possibilities for building a website of your dream. Elegant ready-made pages, Elementor Page Builder along with Jet plugins, blog functionality, and others are available in the package. Being WordPress 5.0 compatible the theme delivers advanced solutions for code-free website customization.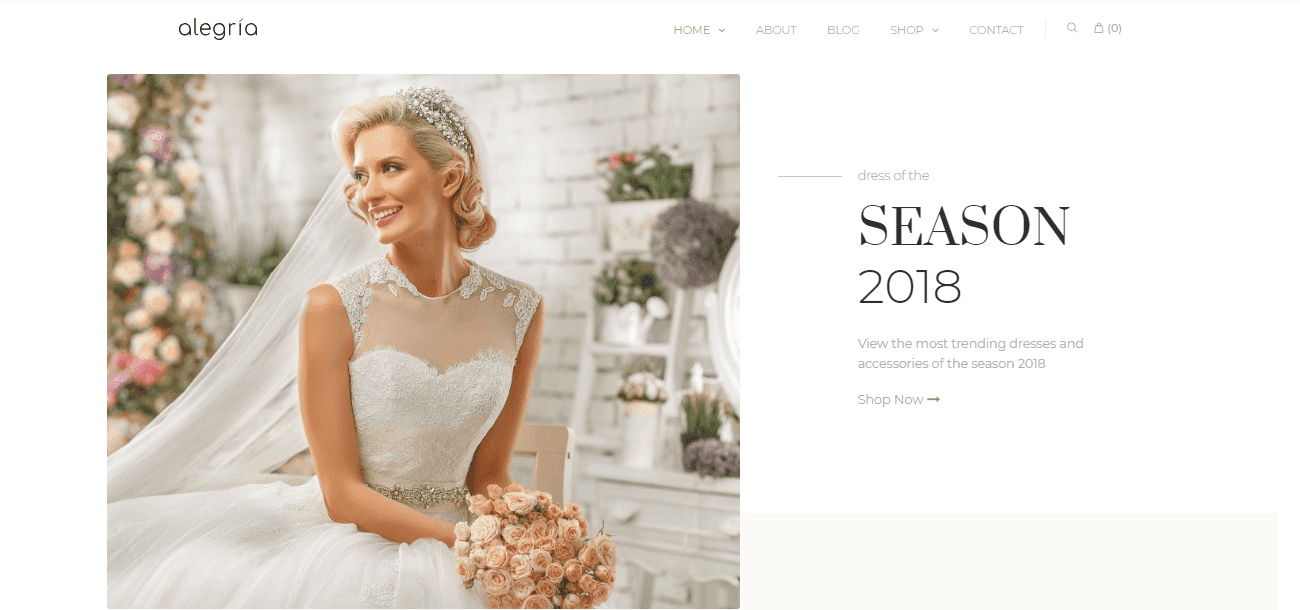 Details | Demo
ForeverLove – Wedding Landing Elementor WordPress Theme
Are you looking for an elegant and stylish template for a landing page of your wedding company? Take a closer look at ForeverLove Elementor WordPress theme with a fully responsive and engaging design. Featuring TM Gallery widget it will let you present your works in the best light. Meantime, integrated Elementor Page Builder and Jet add-ons will make the customization process hassle-free. With ForeverLove, you'll make sure that website building is for non-techies as well.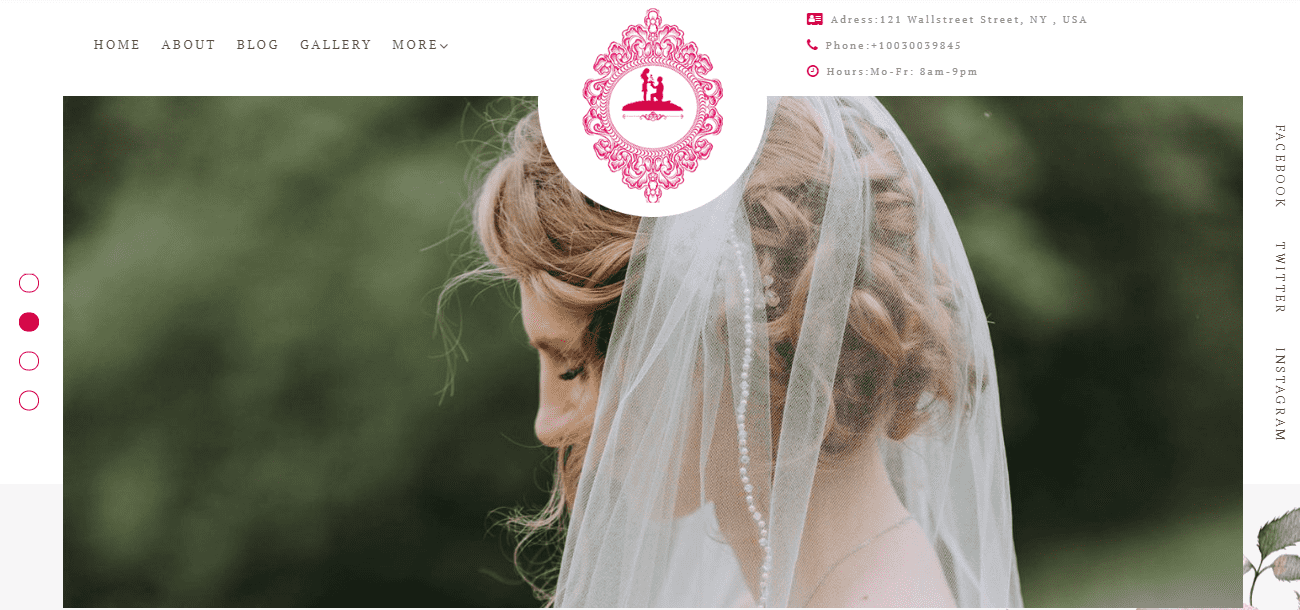 Details | Demo
Bon Bon – Wedding Agency Joomla Template
Bon Bon is perfect for real fans of Joomla templates. It offers even a wider range of features that will help you create a fully-fledged, user-friendly website. Multiple UI elements presented by pricing tables, accordions & toggles, counters, progress bars etc. allow adding any type of content. Meanwhile, optional pages, slider, gallery, color switcher, and other tools will make your site sound uniquely yours.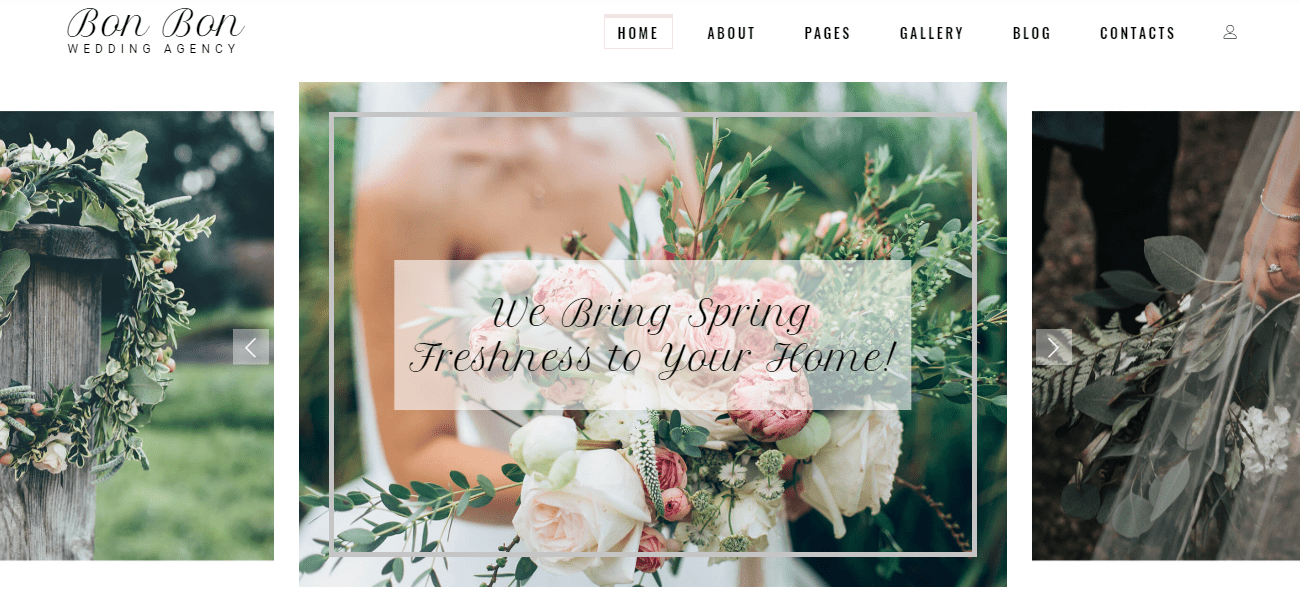 Details | Demo
DatingRoom Joomla Template
This is another Joomla template specifically developed for dating agency websites. It will impress you with a clean layout and a great number of helpful features. Built-in Parallax animation will strengthen the visual effect, while Mega Menu will let you arrange categories and subcategories with various content showing-off. Besides, font icons, theme color switcher, advanced search, 14 pre-designed pages, and Facebook Like Box are also available.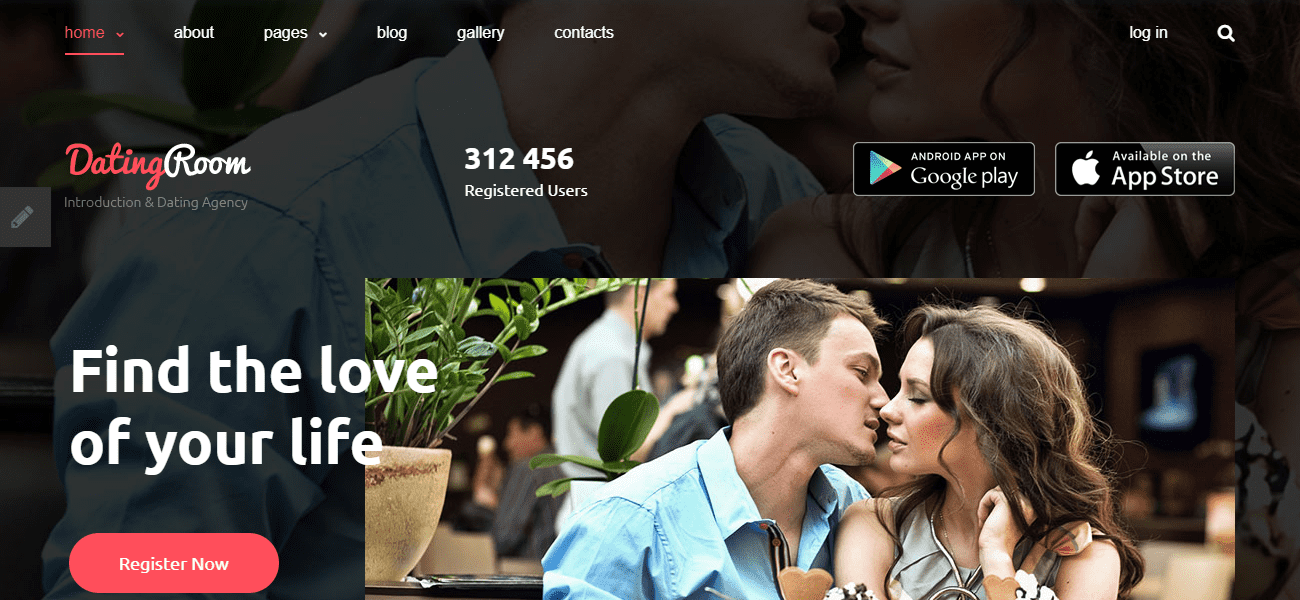 Details | Demo
Wedding AG Joomla Template
Wedding AG Joomla template is perfect for those who want to create an engaging portfolio website on the fly. Featuring different UI elements and additional pages it lets you save much time while customizing the site. Inside the package, you are going to find social login, website slider, gallery, newsletter subscription form, and other elements. All of them are intended to make it possible to build a professional-looking website by non-techies as well.


Details | Demo
Brides – Wedding Magazine Multipurpose HTML Website Template
With this multipage and multipurpose HTML theme, you'll be able to beat your competitors. Using multiple UI blocks and elements along with 35 ready-made HTML pages you can present your services at their best. Additionally, apply the back-to-top button, Parallax effect, Ajax search, and working web forms to provide a top-notch on-site experience. Brides template is a great deal if you want your project to stand out in a crowd online.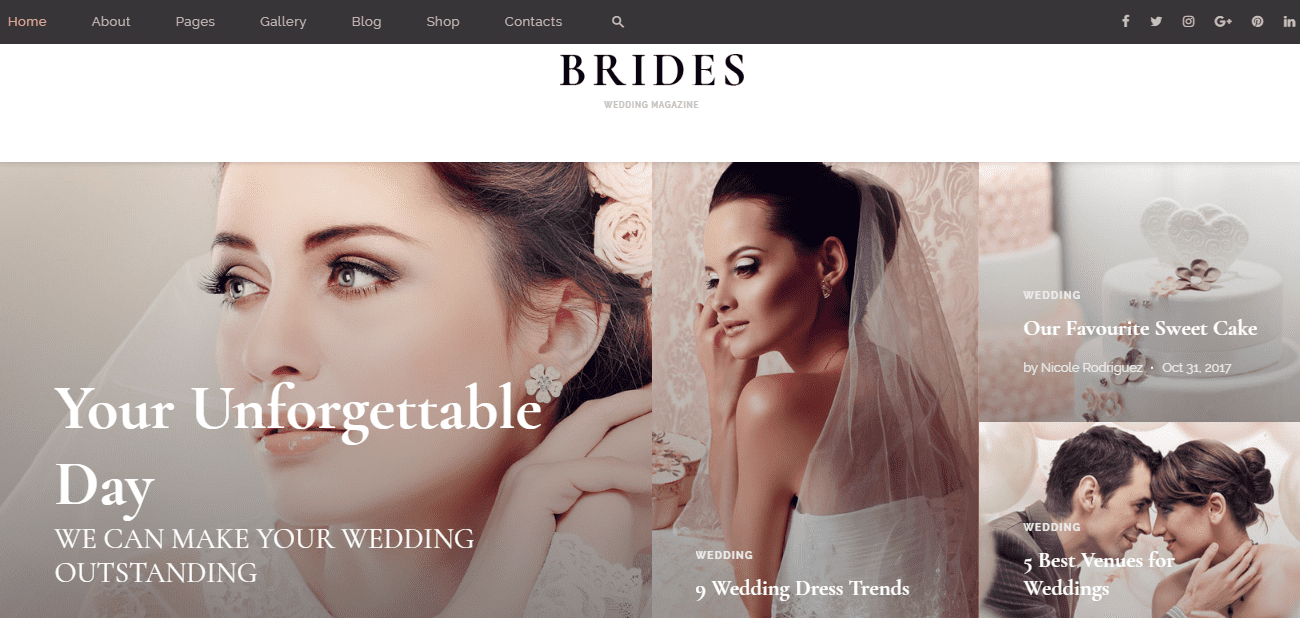 Details | Demo
That's it. We hope you can find what you need here. Well, top 20 heartwarming wedding & dating templates can be the beneficial inspiration for those who seek for the best. Make your wedding or dating website extra special.