Social media automation will be useful not only for gurus who dedicate all their time to running their accounts on Twitter, Facebook, etc., but for everyone who wants to save time for more important things.

As you may have suspected, not all of your followers see your posts. But the truth is much worse than just 'not all'. According to numerous experiments and studies, 5-6% reach is the best case scenario for tweets. Of these, only 20% will click on the link, if there is any (less than 1% of all your followers). Things are better with regard to Facebook with its 16% reach, but the numbers are still far from perfect.
Even if all your followers are real, active, and interested in your content, they could be subscribed to hundreds of similar accounts, so their newsfeed is constantly updating. In such a flood of information it's easy as a pie for your readers to miss your extremely important tweet.
1. Propaganda Vintage Typeface – $19
Propaganda
Propaganda Bold
Propaganda Light
Propaganda Black
What do you typically do to fix this? You write posts for each of your social accounts, publish them manually, wait a bit, and repeat the cycle. It could take you a lot of time, much more than you can afford to spend.
Service for quick selection of cool gifts
Just enter Instagram nickname and get 9 personal gift ideas
Oh, we can't find a gift for your friend... Let's try for somebody else
Oh, it seems you are trying to choose a gift for a non-existent person
But there is a way of breaking out of this vicious circle. Today we are pleased to introduce you toEdgar – an online tool for social media scheduling with an ultimate function of post recycling.
How it works
Edgar provides you with your own library of social media posts distributed by categories. As a scheduling tool, it allows you to appoint a publication on a specific date.
Create a category, e.g. 'Friday morning', or 'Quotes about success', and load it with updates.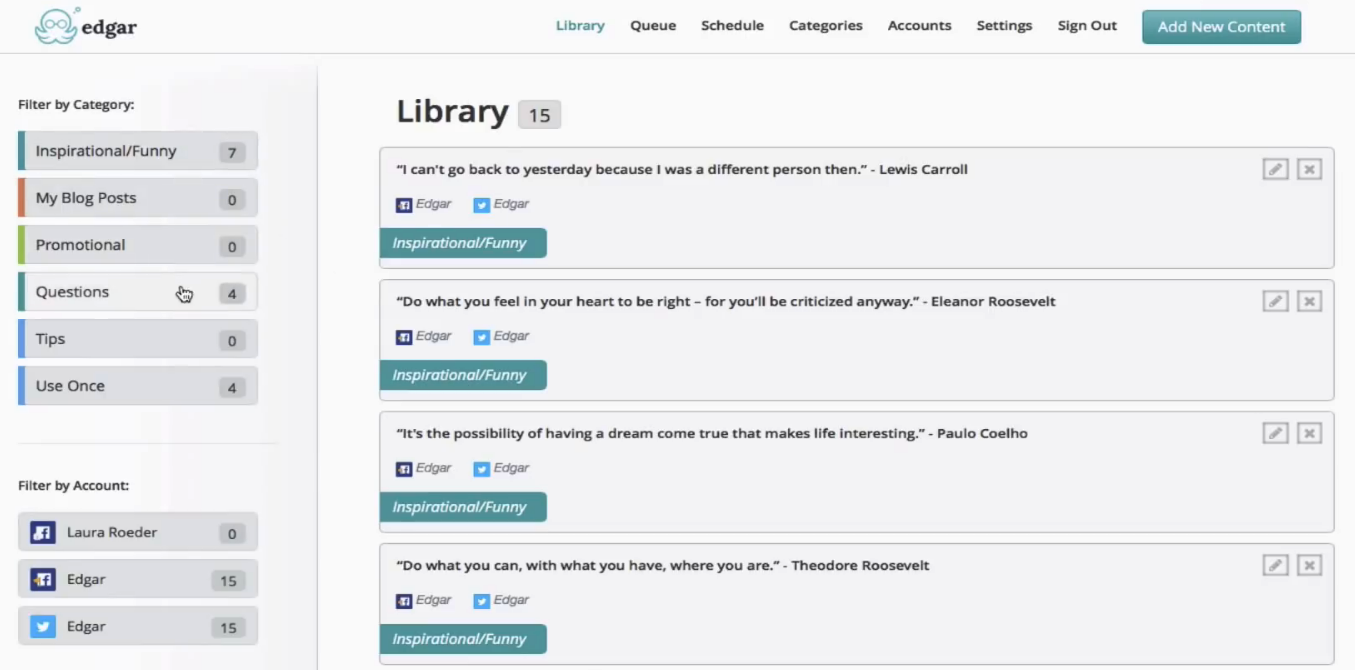 When your schedule is out of new posts, Edgar moves your old posts to the top, and starts publishing them over again – and they get a chance to be seen by another 5% of your followers. It could be considered a cheesy tactic in almost any other situation, but in the case of social media with its horrible post visibility rates it's the only viable way of increasing your organic reach. So, it's totally OK to reuse your content.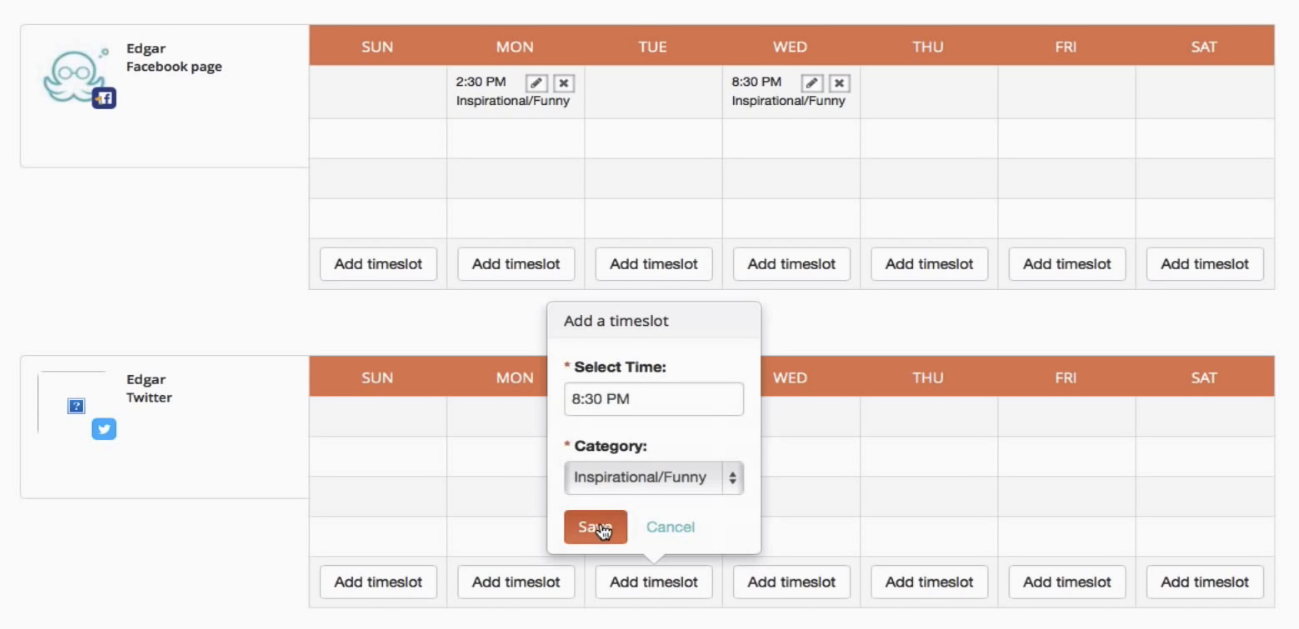 Tip: Provide several headlines and featured images for each shared blog post, and save them separately. Thus, even the same links will look unique. The more posts are in the schedule, the more diverse will be your social media feed.
"Does it work?" is the main question here. Users report about almost 100% percent increase in social media traffic after they started using Edgar, so we can be sure that it does.
Drawbacks
No one is perfect, and Edgar has its drawbacks too. First of all, it doesn't have a trial version, so you have to pay for your first month right away. But you can get a refund if you stop using the service during the first month of subscription.
As of now, Edgar works only with Twitter and Facebook profiles and pages; and LinkedIn profiles and company pages. But wait, these are the three most popular social networks taking the lion's share of the market, so focusing on them is a good idea, anyway.
Now, when you know that Edgar is not free, let's look at its subscription plans.
Pricing
Currently Edgar offers two plans:
Starter ($49/mo) – you can upload up to 1000 posts to your library, and connect up to 10 social media accounts.
Premium ($99/mo) – you can upload up to 5000 posts to your library, and connect up to 25 social media accounts.
Frankly speaking, for most projects 1000 posts should be enough, but if you feel like you'll need more, it's never too late to upgrade.
Tip: Add only "evergreen" posts to your library: reviews, tutorials, resource roundups. News is better being published while it is, you know, new. Thus you will save your post quota, and keep your library clean.
Post recycling doesn't fit media projects with little to no evergreen content, such as pure news websites. If your project is one of those, we recommend that you start with the cheapest plan.
Conclusion
Whether you are going to use it as a regular tool for social media scheduling, or to increase the viewability of your posts, Edgar will help you achieve a higher social media reach, and free a lot of time for creative work.
Start using Edgar by following this link.
By the way, what automation tools do you personally use in your business, and how do they help you achieve your goals? Please share your experience in the comments.
Was this page helpful?
We will be happy if you decide to share this article with your friends on Facebook. Just click on the button and you're done
Thanks for your response!
You have already left your review.