Table of contents
Even if you live in a desert or big city you are still surrounded by flora. Dry and prickly bushes, trees growing on the sidewalks and in the parks, flowers that your mom or granny keeps on the window sill or balcony – you see those almost every day. The images of nature, animal and floral patterns are the most common pictures for any human being. From the moment people learned to create floral patterns on cloth – they started to use it for lots of things. Clothes, furniture, accessories, house design – people decorated themselves and their surrounding with floral patterns from the beginning of the 14th century. And now, when a great part of our life is spent on the internet, we also use it for the website design.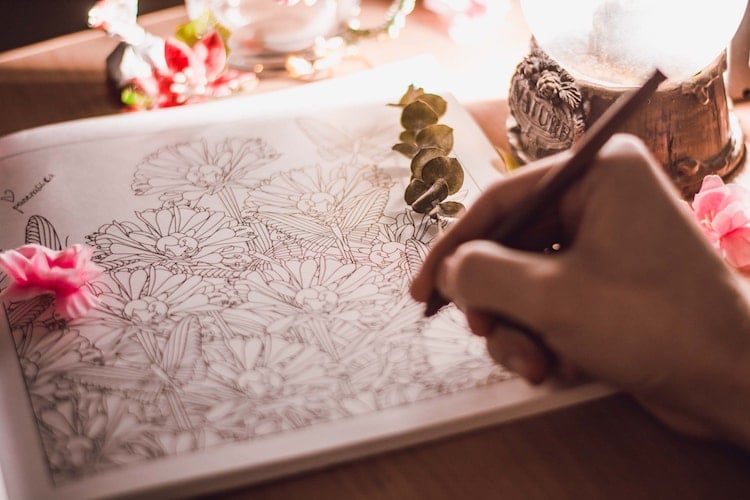 Clothes, furniture, accessories, house design – people decorated themselves and their surrounding with floral patterns from the beginning of the 14th century. And now, when a great part of our life is spent on the internet, we also use it for the website design.
A short history of floral pattern
It could be surprising and a little funny but the global history of flower pattern evolves through some concrete flower images. In different countries grow different plants but the secret of painting flowers on the cloth was a treasure. So, till the end of 17th-century European nobles used the fabrics made in India or China, which used some certain flower patterns. Only after the Industrial Revolution, a fabric with floral patterns became cheap enough to widely use it not only for the expensive dresses but also for wallpaper, furniture, and house accessories. But let's take a brief look at the "evolution road" of floral pattern.
Peonies Floral Pattern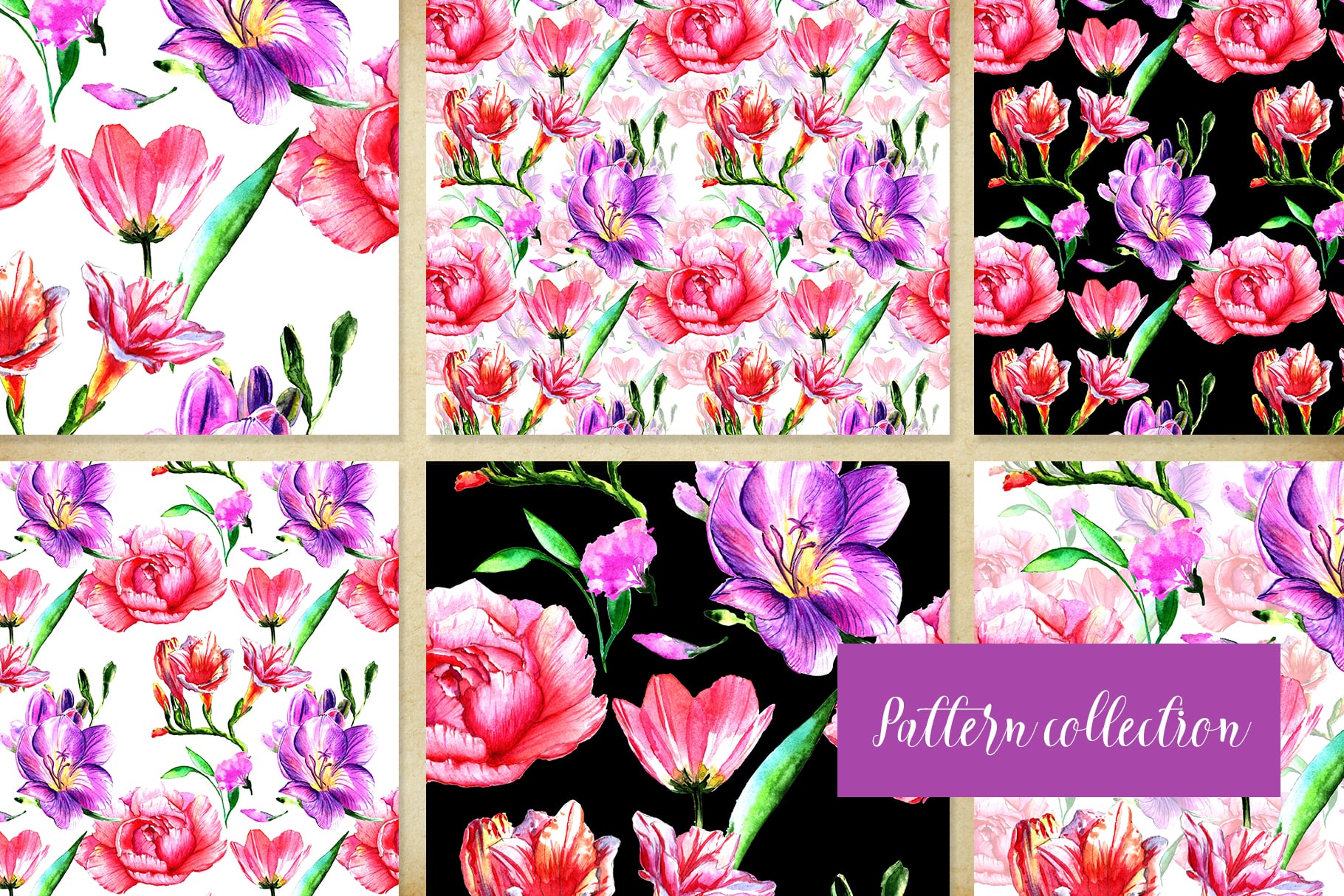 The first people who started to paint flowers on the silk were Chinese. And of course, they preferred to do peonies, which were stated as the "emperors of flowers". Painted silk was extremely popular in 600-900 AD in China and merchants brought it to Europe. That is also a Japanese floral pattern they took from Chinese who were their closest neighbor. Before that time peonies were known only in China, so in this case, the floral pattern helped to make a flower widely known in Europe.
Tulips and pomegranates Floral Pattern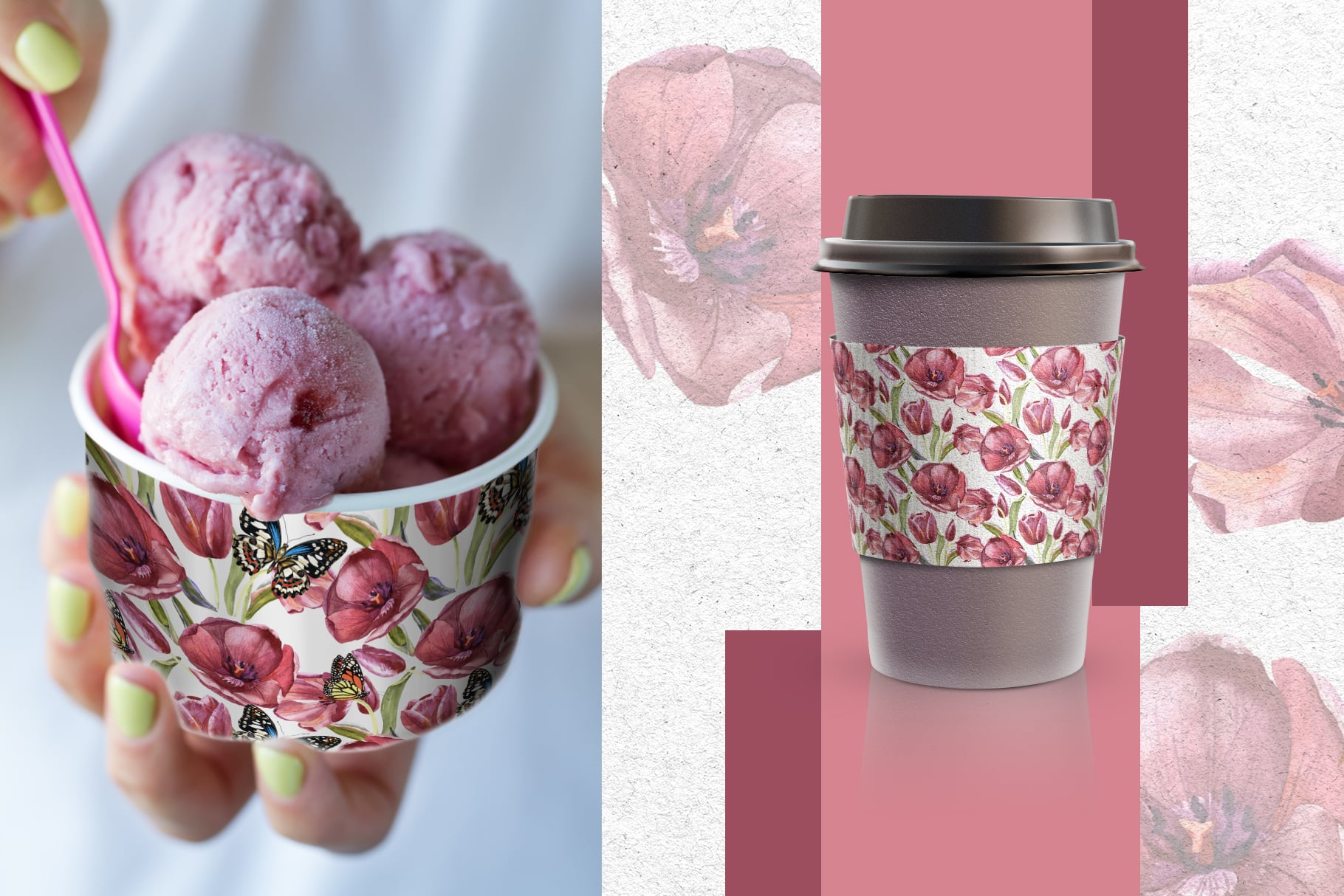 The next ones to dictate the fashion trends in Europe were Persians. They created heavy velvet fabric with tulips and pomegranate floral patterns which was actively bought by Italians in the 17th century. Trade contracts between the Ottoman Empire and Italy filled the markets of Europe with beautiful fabric and that affected the way nobles' appearance. Not only women changed their look but also men (yeah, guys want to look marvelous and trendy too).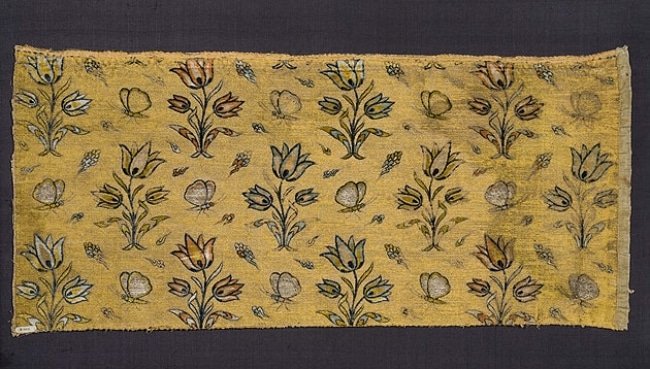 Revolution in floral patterns: chintz
It is an exception in "flower evolution" of floral patterns. Indian chintz brought by England and Dutch merchants in the 18-19th century didn't show some single specific flower. It was brightly decorated with dozens of different flowers instead. Local merchandisers had no idea how do Indians paint that fabric. The secret was broken in 1759 and after the automation of the process that fabric became affordable for and middle class, not only for the rich ones.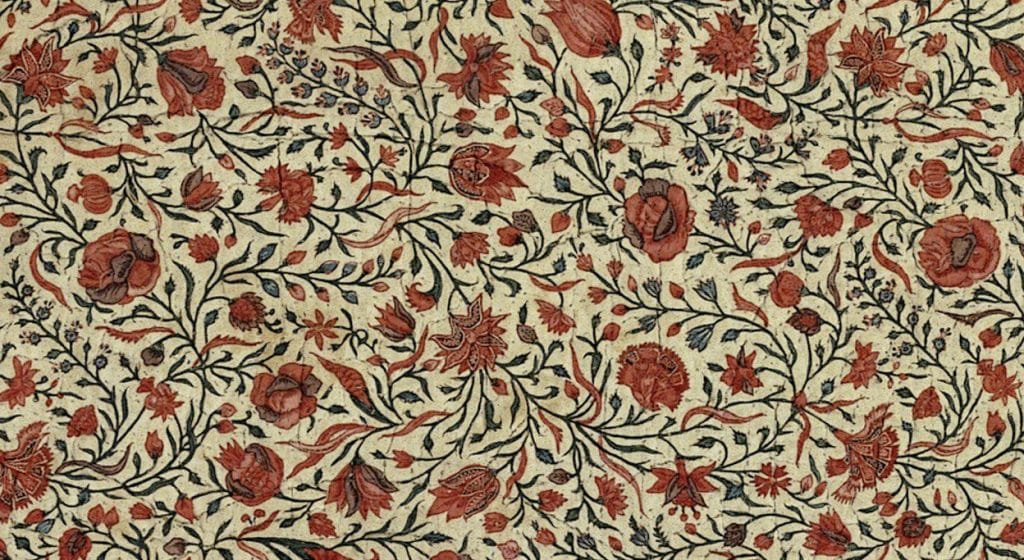 Daisies, carnations, and roses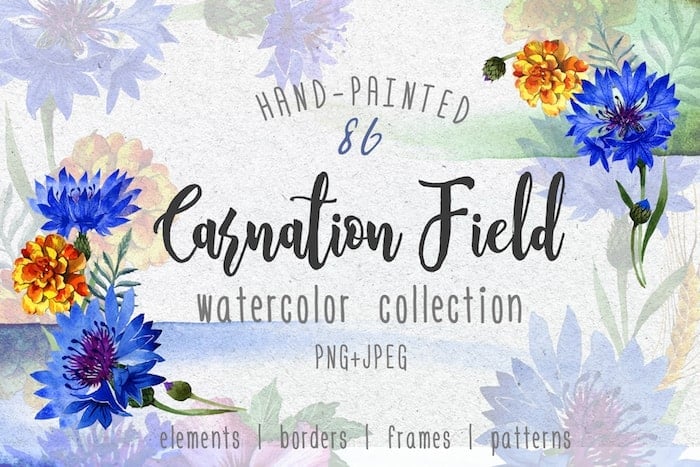 In 18th-century precious silk brocades and printed cotton was decorated with the floral patterns of daisies, carnations, and roses. In 1780th bright colored fabrics were very popular and the images of flowers were made big and colorful. However, during the next decade, small flowers on the light background came to popularity.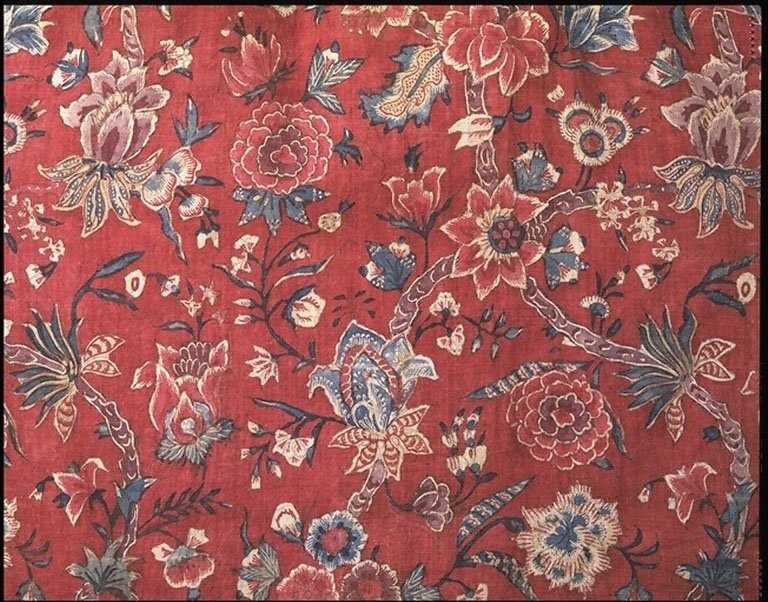 Sunflower
In the time of Queen Victoria reign poet and artist William Morris made a simple and common flower a popular pattern. Sunflower started to appear on fabrics, wallpaper and fireplace tiles, jewelry and home accessories like napkins and tablecloth. Despite its simple form and common look sunflower is a very elegant flower that could decorate anything. That Victorian floral pattern is sometimes used even nowadays.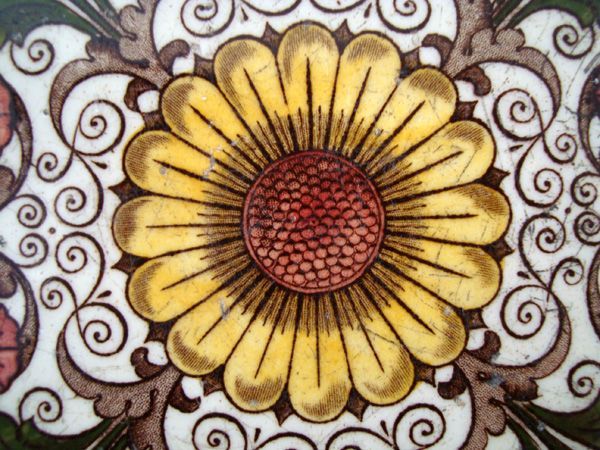 Flower Power of 20th century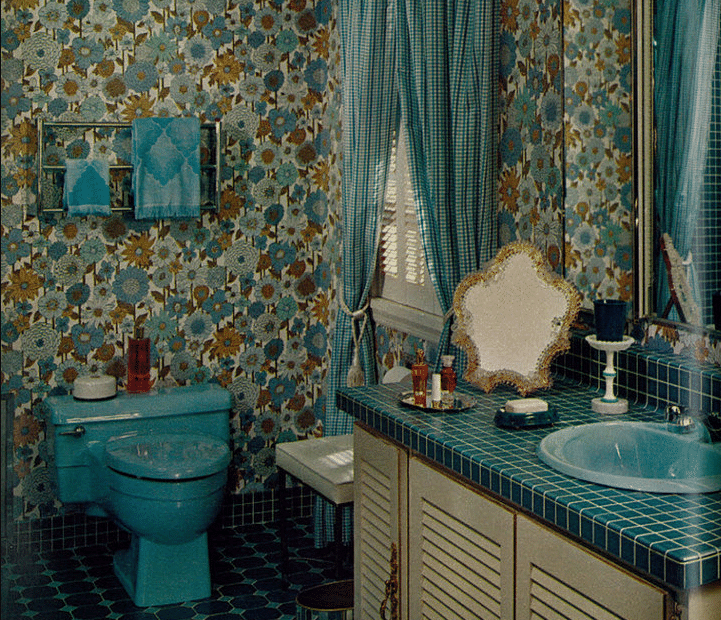 Floral patterns became especially popular in America in the 20th century. I bet everyone has seen that "granny" sofas or armchairs covered with light fabric with little flowers. However, floral patterns were used for wallpapers, bathroom tiles, and rugs too. Those patterns were bright and usually combined with similarly bright geometry patterns.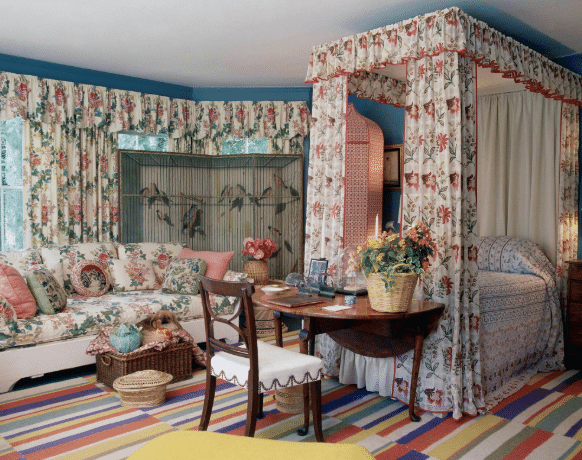 Actually, as you can see, the floral pattern was used during the whole human history – in painted, embroidered or printed form. And thus there's nothing to be surprised of, that it is now used not only for the physical objects but for the virtual too.
What could you use a floral pattern for?
It could be obvious but it is never bad to repeat some obvious things. Sometimes the facts that are obvious for you will be a surprise for another person. In website design, you can use the floral pattern not only for the background (yep, I know it is the first thing that comes to mind when you hear about using floral patterns for web design). I will list the ways you can use it and who knows – maybe this will give you insight?
Floral pattern background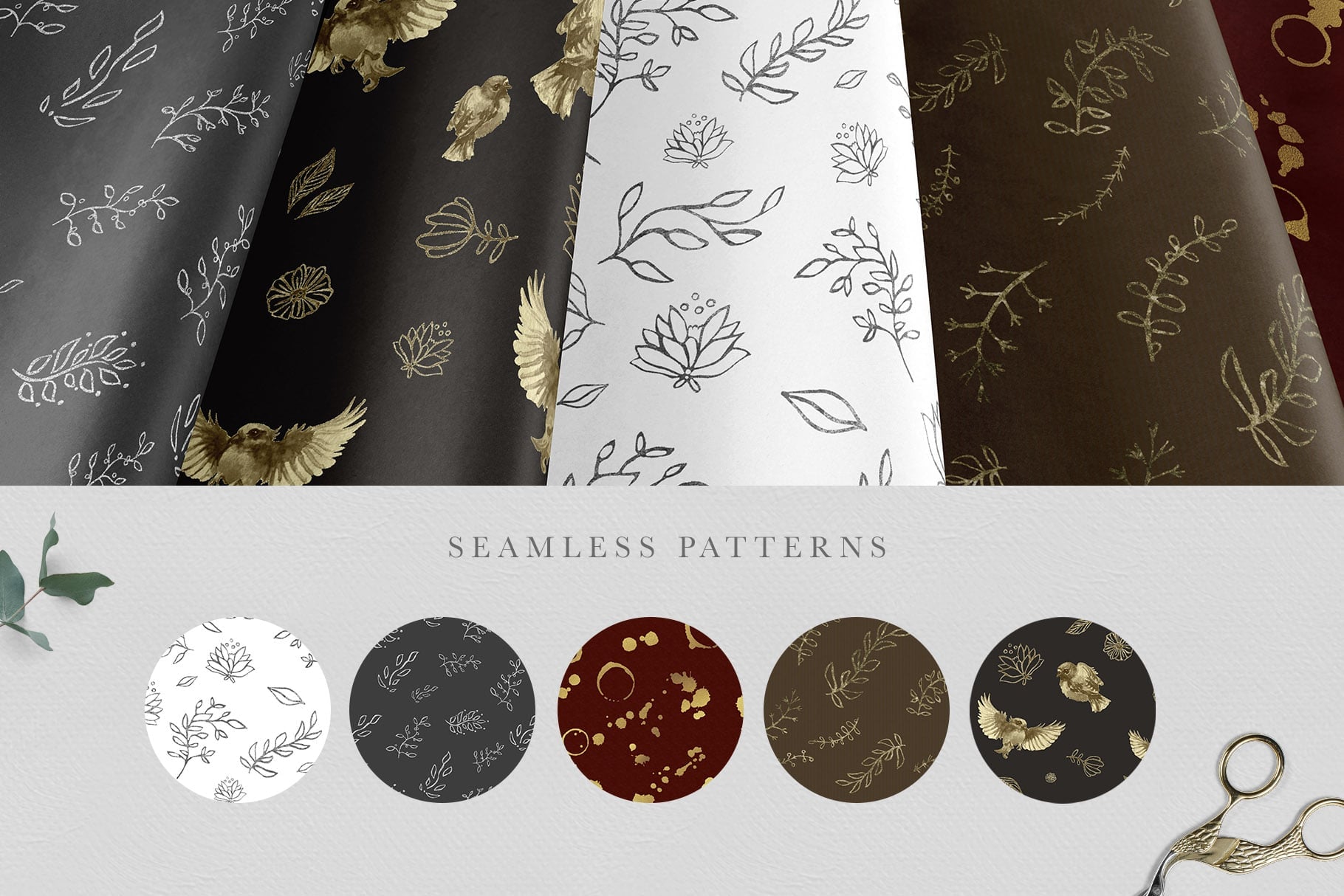 Even now flowers are used in interior design for wallpapers or wall paintings. The website we create is our little "home" on the internet, so there's nothing strange that we want to decorate it with the floral pattern too. Flowers or leaves won't suit for every type of website but nature gives us so many forms that you don't need to use, literally, flowers. Patterns inspired by the leaf veins or tree bark could also look very cool.
Floral pattern vector icons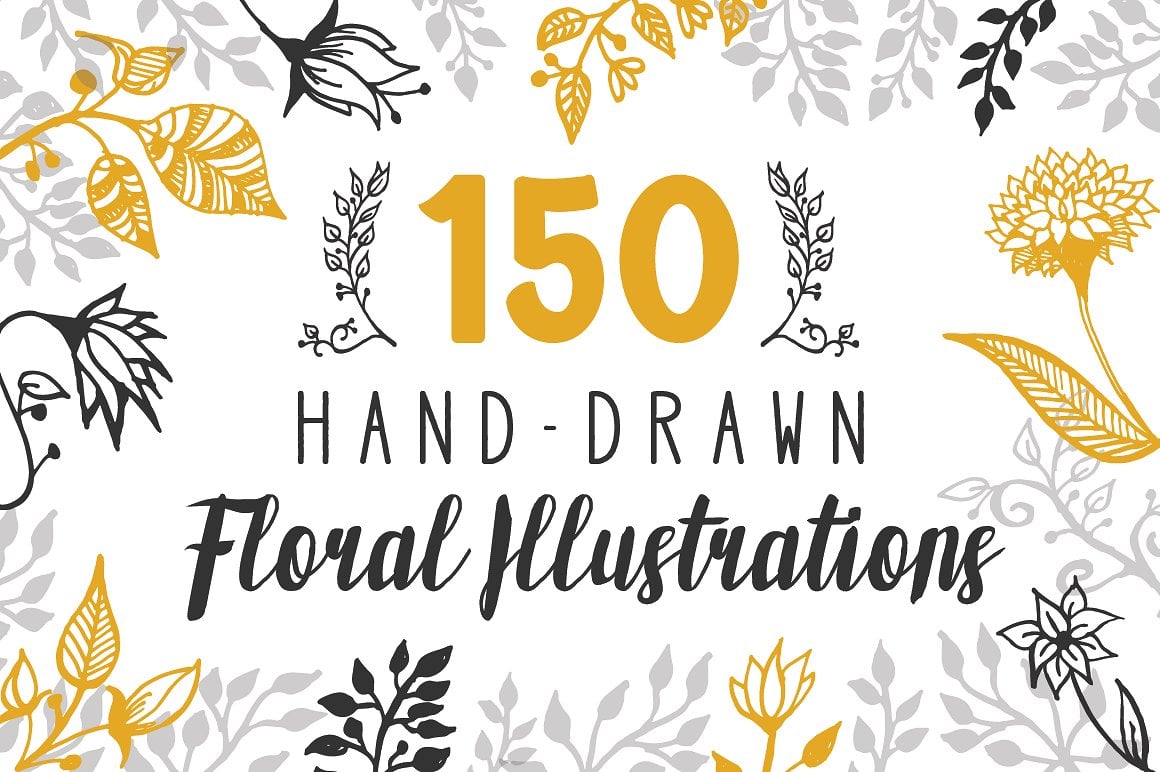 To decorate the page and replace the dull "dots" in a bulleted list with more interesting and attractive pictures. It is very important not to overdo. If there will be a huge bunch of different pictures the design will look messy and overcrowded.
Vector floral pattern logo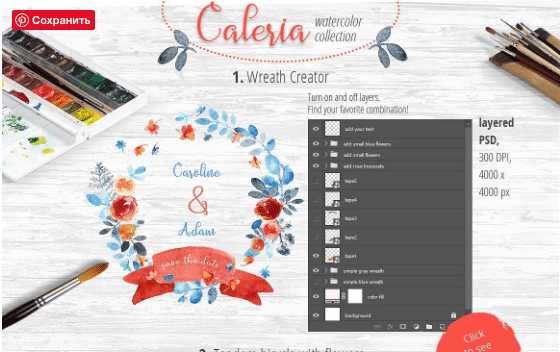 The situation is the same as with the icons here. The logo is one of the faces of your company and it is important that it looks laconic and makes the viewer understand what do you do. Floral patterns, in this case, could help to express some emotion or idea.
Floral pattern font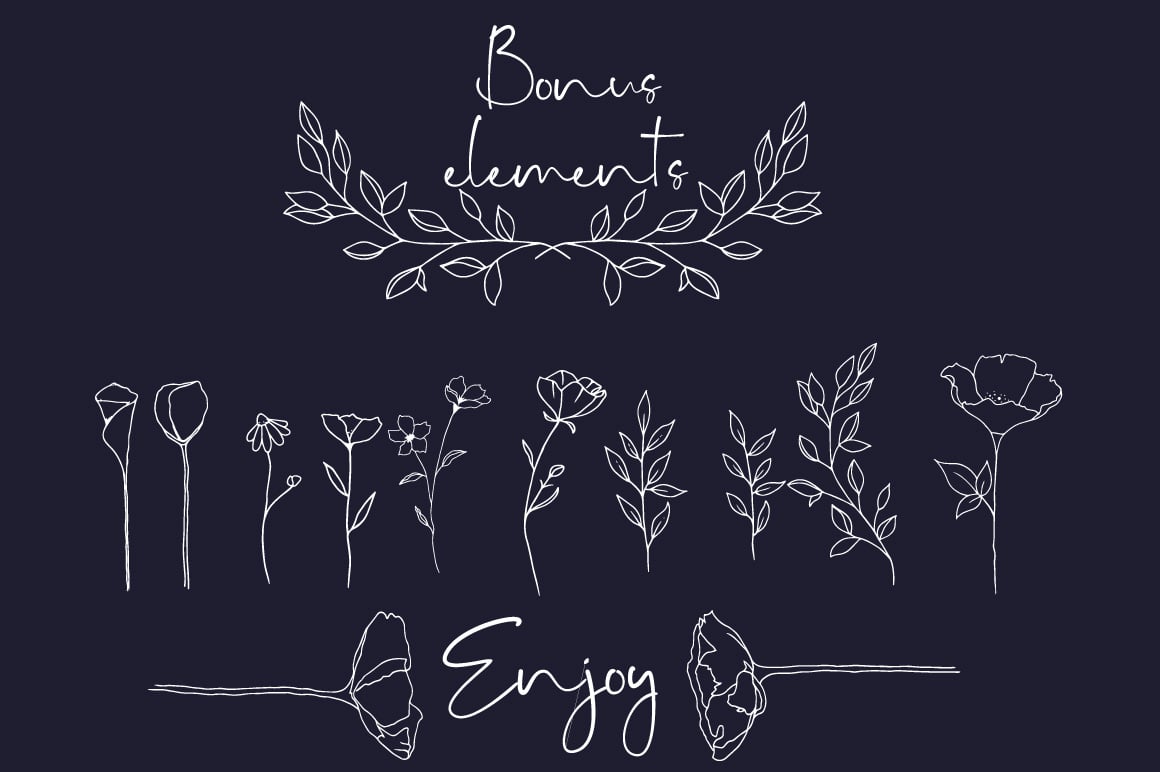 Plants inspire artist for creation for a very long time. Web artists are no exception. That's why there are lots of floral pattern fonts where creators use flowers and leaves as a decoration for letters. And once again – don't overdo. A beautiful header typed with flower font will be quite enough, there's no need to use it for all the text on the page.
Floral pattern website design examples
When you want to create something it is much easier to start when you saw how the other people did it. I'm not telling about stealing someone's idea but about going through the examples to work out your own solution. Of course, there are lots of websites which use floral patterns in their design. I'm going to show you a few of them so you could understand in what way to apply floral patterns to your website's look to make it stylish and up to date.
Ginger&Blooms


This company creates flower compositions for weddings and beautifully decorated with floral patterns header perfectly presents the essence of their work. The flowers on the picture are added from photos, but they are customized in the way they start looking as hand-painted images. Such a variant of floral pattern usage creates an elegant and sophisticated appearance which is just what a florist firm needs.
Café Frida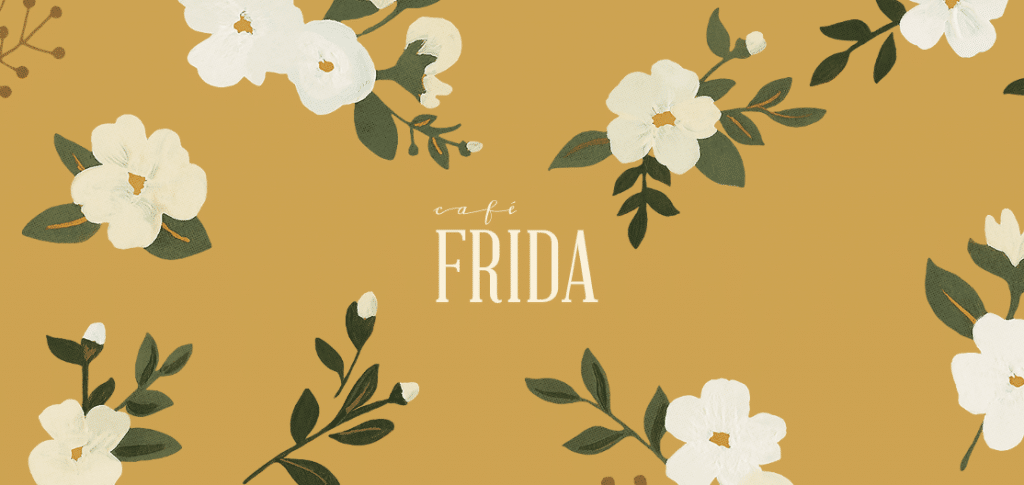 That is my favorite way of using floral patterns. Hand-dawn flowers spread without concrete order over the field – beautiful like hand-painted fabric. That background makes this Canadian café website look cozy and trendy at the same time. Smooth animation effects added by the developer add some dynamics and the feeling of motion.
Church Street Flowers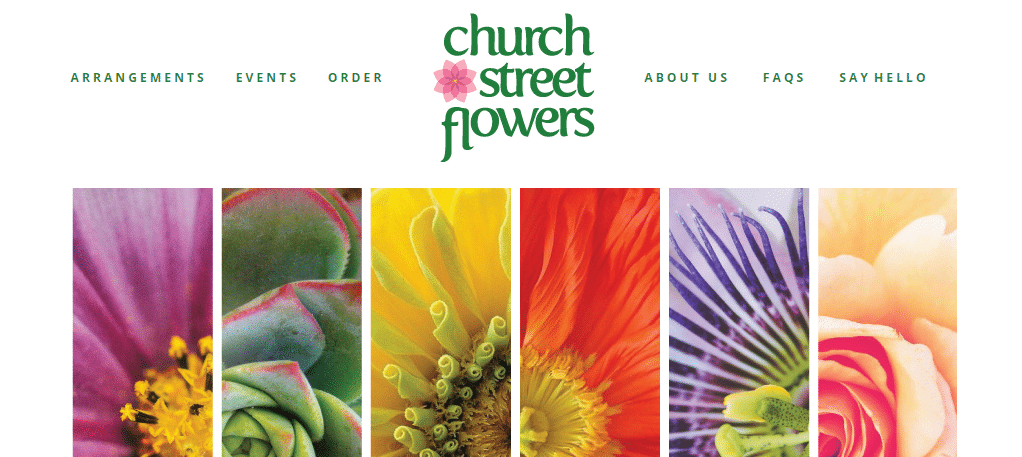 On this website, floral patterns are used only on a logo and as a photo background but still, those are flower images. The design of the site is minimalistic but thanks to the flower photos it looks bright. I like websites like that – there's nothing redundant, only the information you need for making a decision or ordering service.
Joby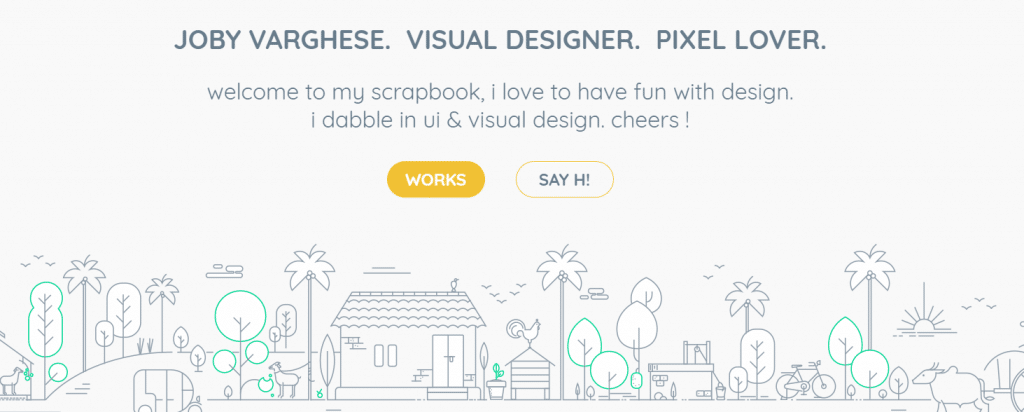 This is a personal portfolio website of a designer and it is decorated with not only floral patter but also with a hand-drawn nature picture. However, there are trees and flowers on that image so it could be considered as a floral pattern. The picture is drawn in a modern minimalistic way which is extremely popular nowadays. And in general, the website looks very modern.
Angie Makes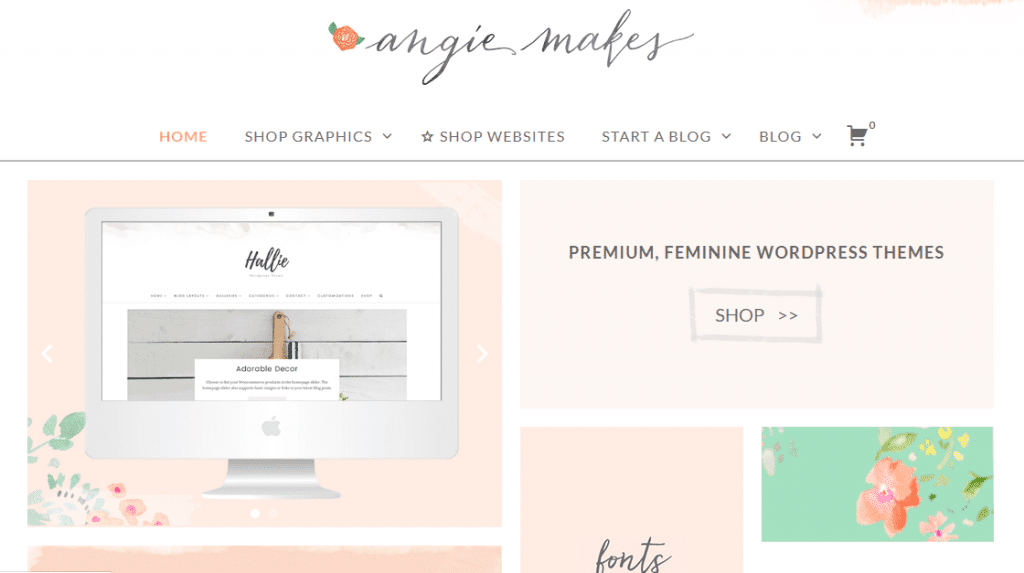 The artist who owns this website uses watercolor floral patterns she painted to highlight her works and make the pages look special. She draws marvelous fonts and for each of them and creates a stunning cover for each of them. You can also use some nice pictures to decorate the tiles and windows.
How to create your own repeating floral pattern in Photoshop?
If you want to place a custom floral pattern wallpaper to the background of your website, you can create it by yourself without any problems. The process is very simple, I'll show it to you in details, step by step. Go to your Photoshop and click File > Open to open the image you want to transform into a pattern. That could be either a little icon or a bigger picture a part of which you would like to cut off.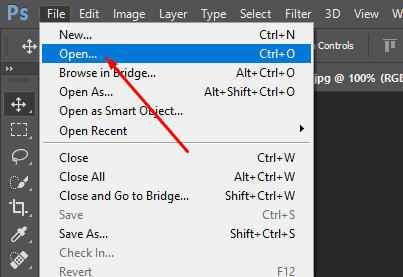 If you have a big picture, mark the piece you would like to use as a pattern with Rectangular Marquee Tool. If you have a little icon click Select > All and it will mark the whole picture area as selected.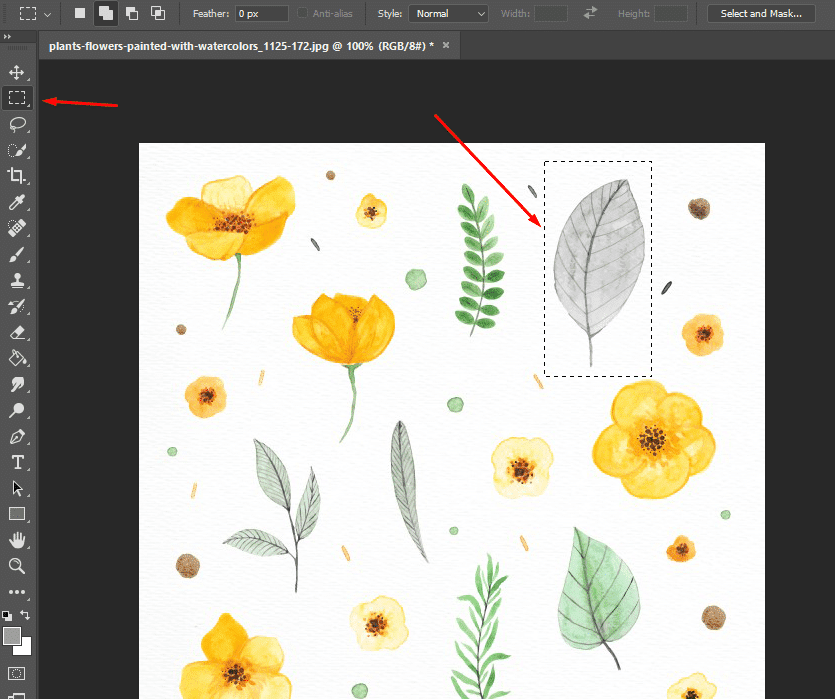 Now open Edit > Define pattern. When a pattern creation window will appear – name the pattern and hit the "OK" button. Congrats, you have your pattern saved!

Open a new file. The size doesn't matter – you can always crop the image to fit the required for your site height and width. Go to Edit > Fill, in the opened window choose "Pattern" in the Contents drop-down menu and choose a saved pattern in the Custom Pattern drop-down. Leave the opacity on 100%.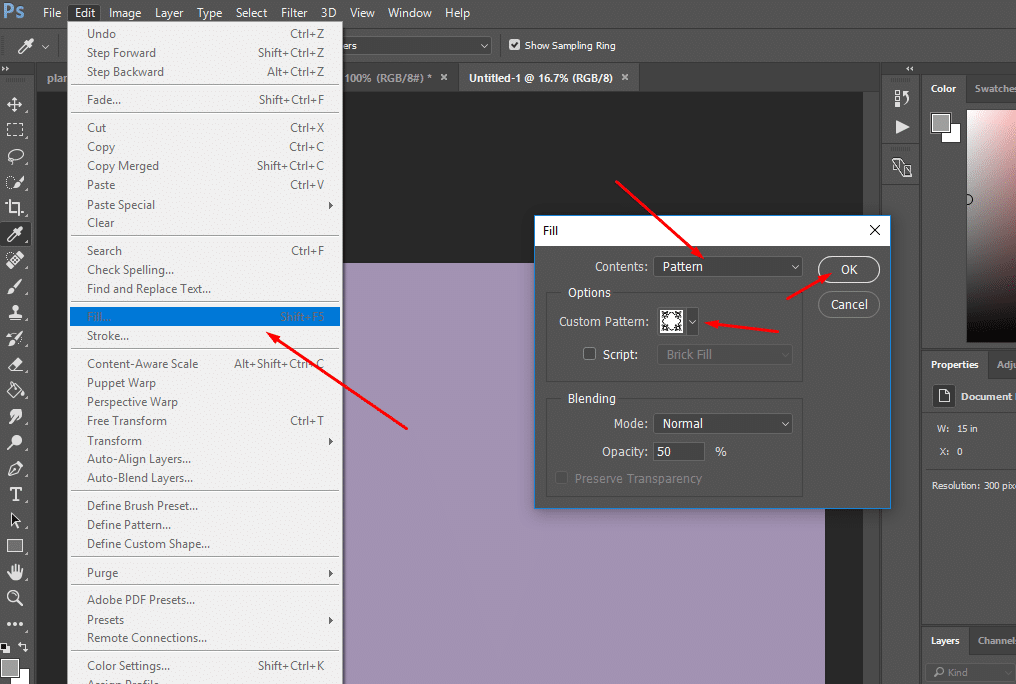 If you will leave "Script" option unmarked, you will have something like that: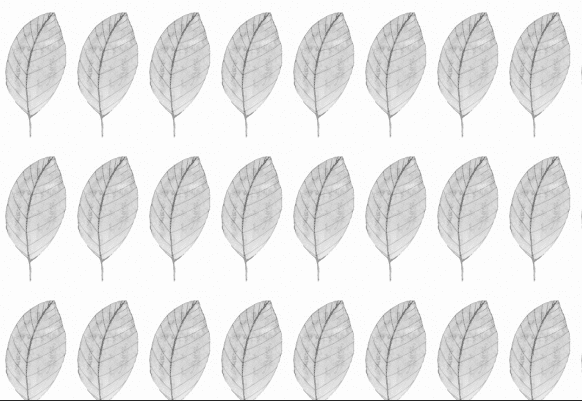 You can also choose a script and try to mix a pattern layout you like. After a few minutes of playing I created this floral pattern: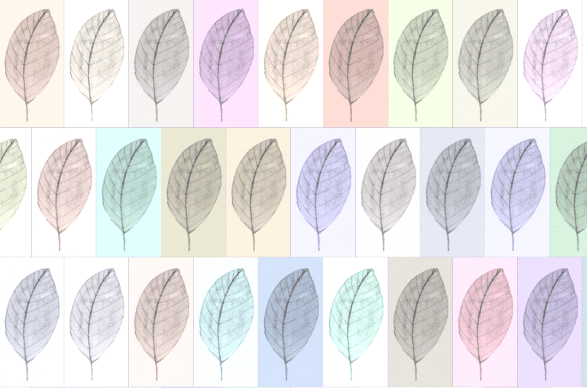 As you can see – there's nothing complicated here. You can create a vivid background for your website really quickly.
Ready-made floral patterns
Despite creating a wallpaper is not a complicated task, a professionally designed floral pattern could make your website look really solid. Buying floral pattern PNG's separately on the stock photo websites will be, obviously, too expensive. However, there's a trick all experienced web designers use in their work to save some money – they buy bundles.
The bundle is a collection of items packed into a "box" and sold as one. Usually, you don't need all the products placed into bundle but they could come in handy in future projects, so that is quite profitable. A cost of a bundle is sufficiently lower than the combined price of all the items in it. If you want to act like a professional designer – go take a look at the MasterBundles library of floral pattern bundles. They contain beautiful and elegant elements you can use to decorate your website. Here are a few examples:
Floral Vintage Vector Illustrations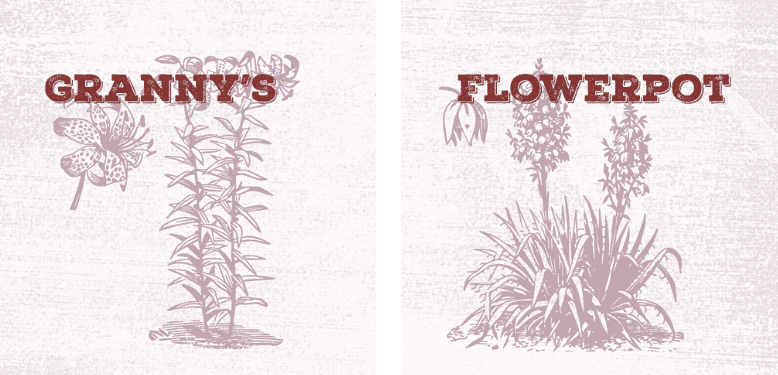 Vintage floral patterns are very popular and they fit perfectly for café websites, photo studios or wedding portals. You can also create posters, invitations or interior design elements with it. The bundle contains 96 .eps and 96 .png files so you can work with them both on Illustrator and Photoshop. This bundle is also versatile; every floral vector pattern could be used endlessly for different purposes.
Autumn Splendor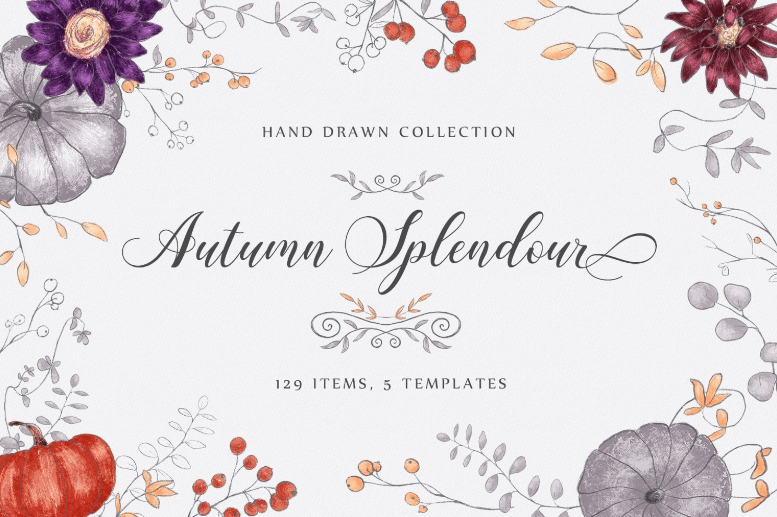 These are exceptionally sophisticated and elegant watercolor floral patterns. I love that bundle very much, that style is my favorite one and it is a top trend of 2019. The bundle contains 129 .png files in high resolution. There are 5 A3 backgrounds and 4 A4 backgrounds that will suit perfectly for the included grey and red floral patterns. Thanks to the included templates you will be able to quickly create a business card, flyer, invitation or Thanksgiving postcard.
Collection of Floristic Cliparts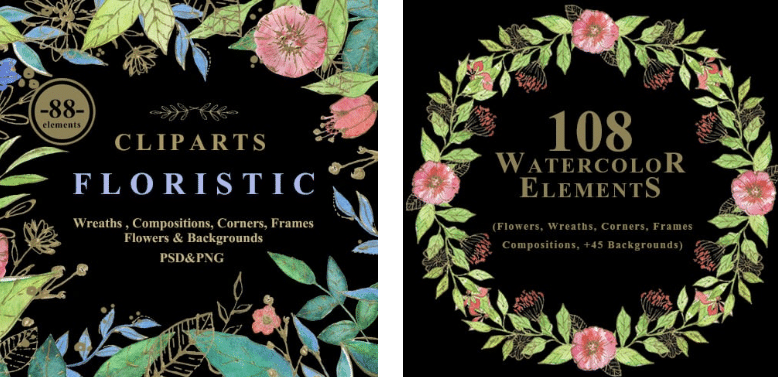 Watercolor design is one of the most frequently used for the websites created in 2018 and 2019. That's why a watercolor floral pattern collection would be an excellent purchase that could help you to build lots of marvelous projects. The bundle includes 88 floral patterns, 20 big wreaths, corners, frames and compositions, and even 25 watercolor backgrounds.
Conclusion
Floral patterns could help you to create a trendy and fashionable look on your website even if you prefer a minimalistic look. Lots of business niches allow web developers to use flowers and leaves in their background or other elements. I'm sure that almost any website will shine if you use a floral pattern in its design but it is only up to you. Good luck!