Watercolor Artistic Bundle with 93% OFF
Speaking of enthusiasm, we're crazy about watercolor resources! That's why today we're so excited to introduce our new high-quality set of 214 watercolor illustrations and 56 patterns.

This bundle includes following products:
Watercolor Enthusiast Graphic Kit
Enchanted Watercolor Kit
Geometry Watercolor Vector Patterns
Watercolor Vision Vector Patterns
Licorice Christmas Watercolor Kit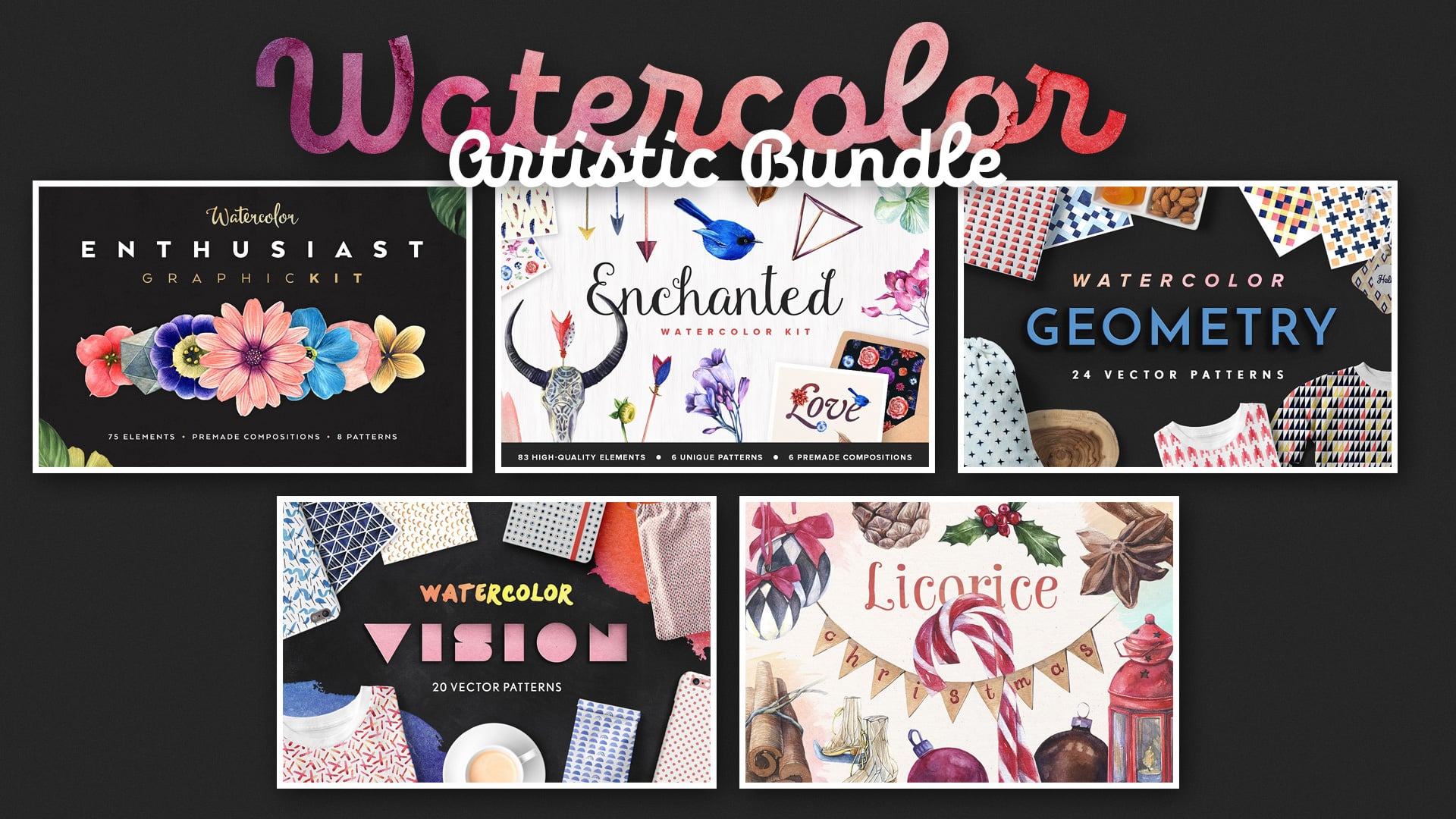 Watercolor Enthusiast Graphic Kit
Watercolor Enthusiast is an incredible collection of watercolors created with a huge passion and attention to the details. Flowers, minerals, leaves, shells, easily adjustable pre-made composition and patterns — everything to give you unlimited freedom to create any design project: wedding invitation, t-shirt, greetings, packaging, stationery, logos, merchandise, posters, websites, digital presentations, etc.
The package includes:
75 Watercolor Elements in PNG and Ai formats;
6 Unique Vector Patterns: AI, PNG, JPG;
13 Pre-Made Compositions in PNG and Ai formats.
We sincerely believe that Watercolor Vision will bring you a bunch of fun and joy during the working process!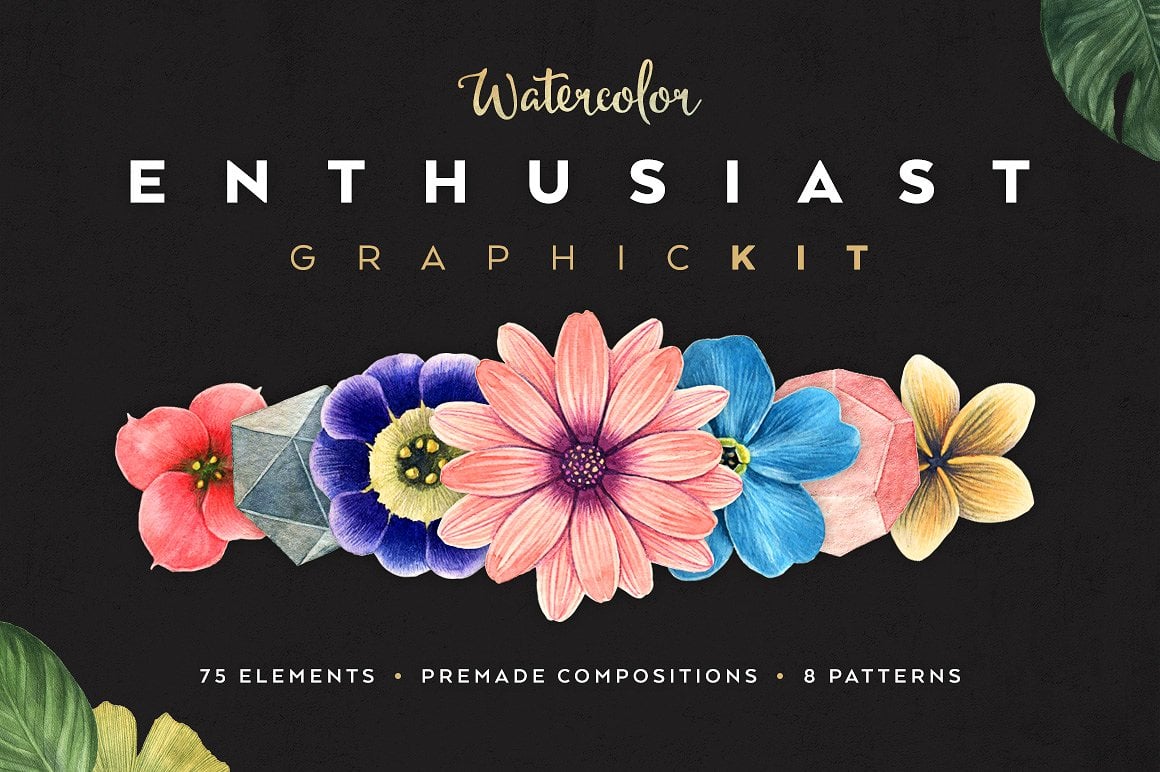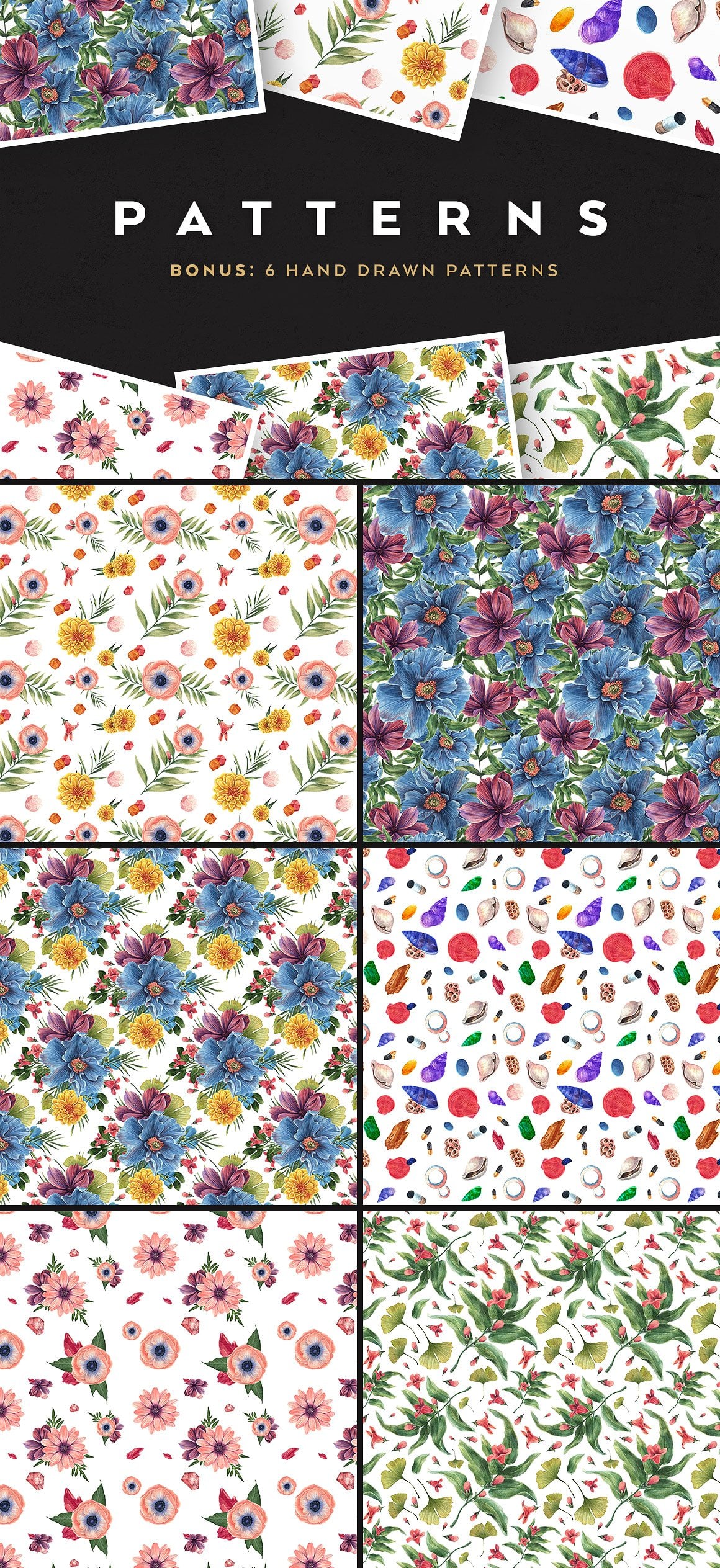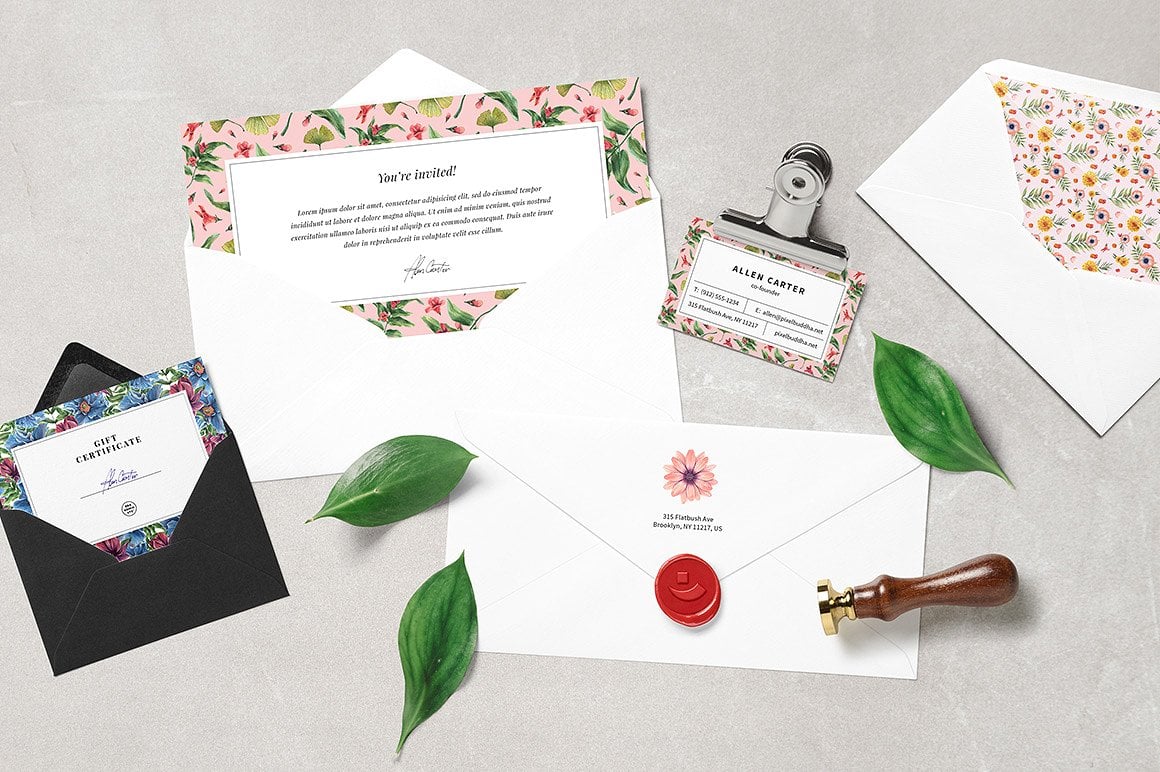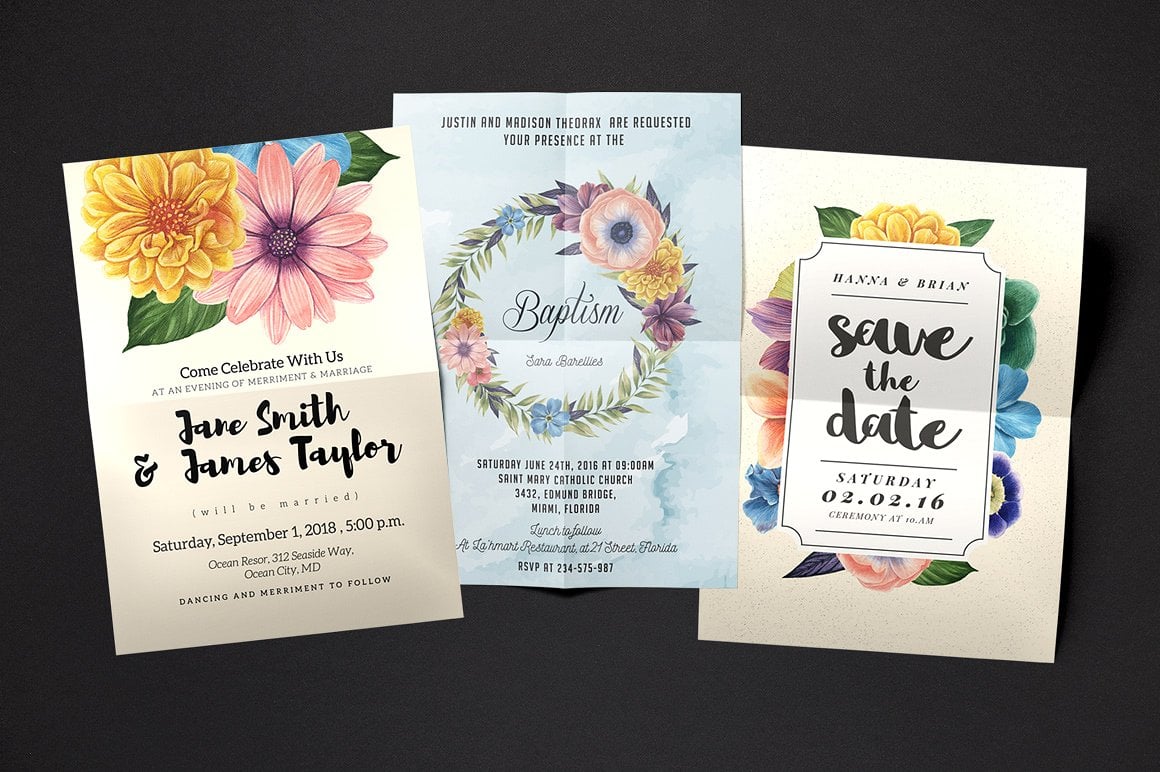 Enchanted Watercolor Kit
What's inside:
83 hi-res isolated watercolor elements (PNG)
6 unique patterns 600×600 (PNG, PAT)
6 pre-made compositions, just to warm up you creativity (PSD)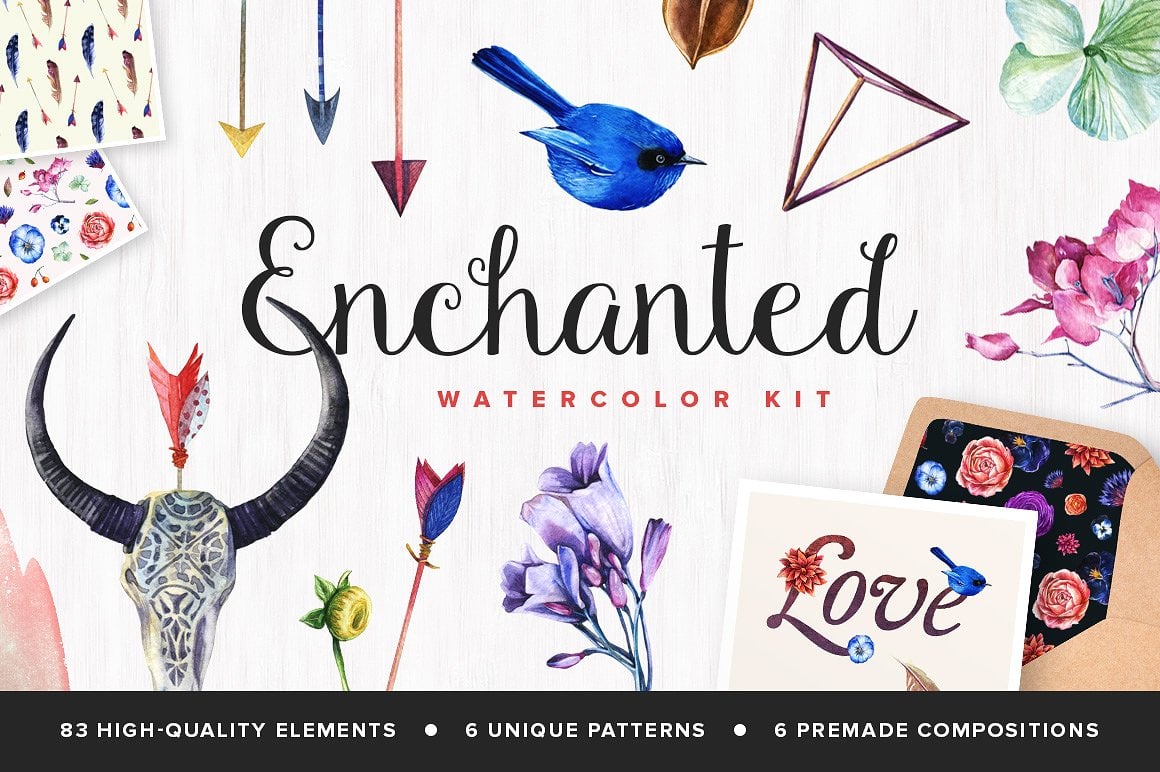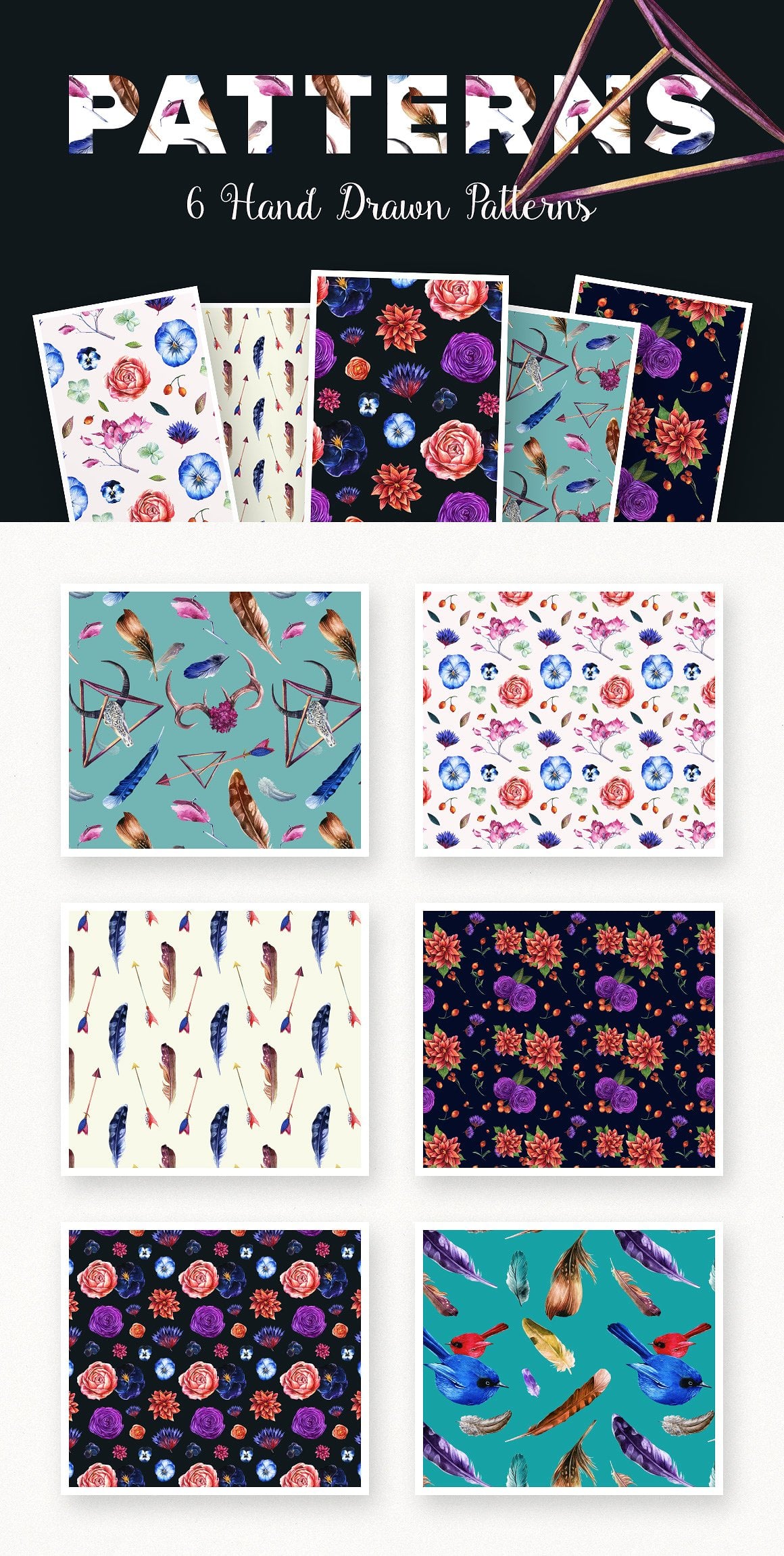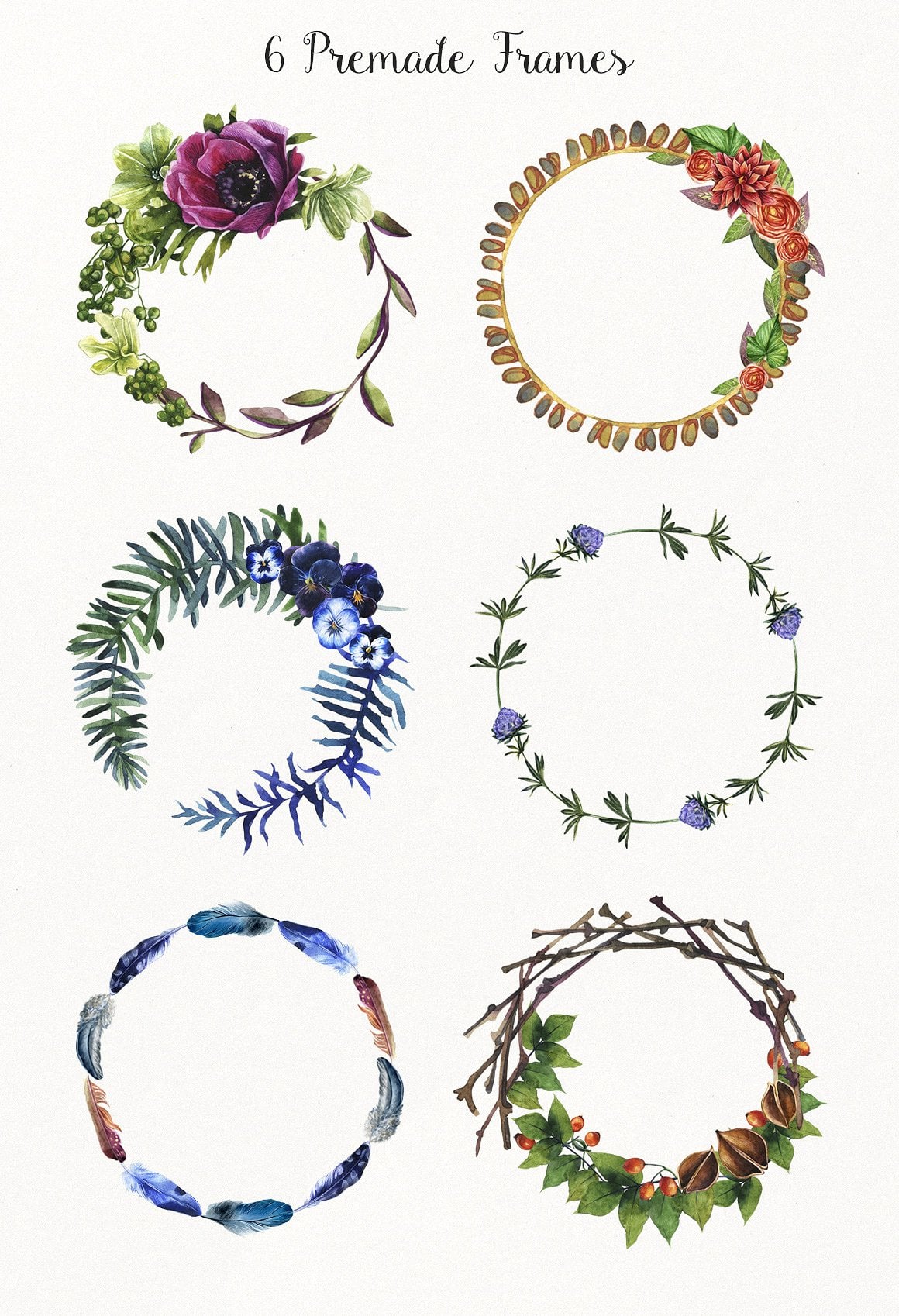 Geometry Watercolor Vector Patterns
We sincerely believe that Geometry Watercolor will bring you a bunch of fun and joy during the working process!
Geometry Watercolor set includes:
24 Seamless Patterns in Vector EPS Format;
24 Seamless Patterns in JPG Format (4000×4000);
24 Seamless Patterns in PNG Format With Transparent Background (4000×4000).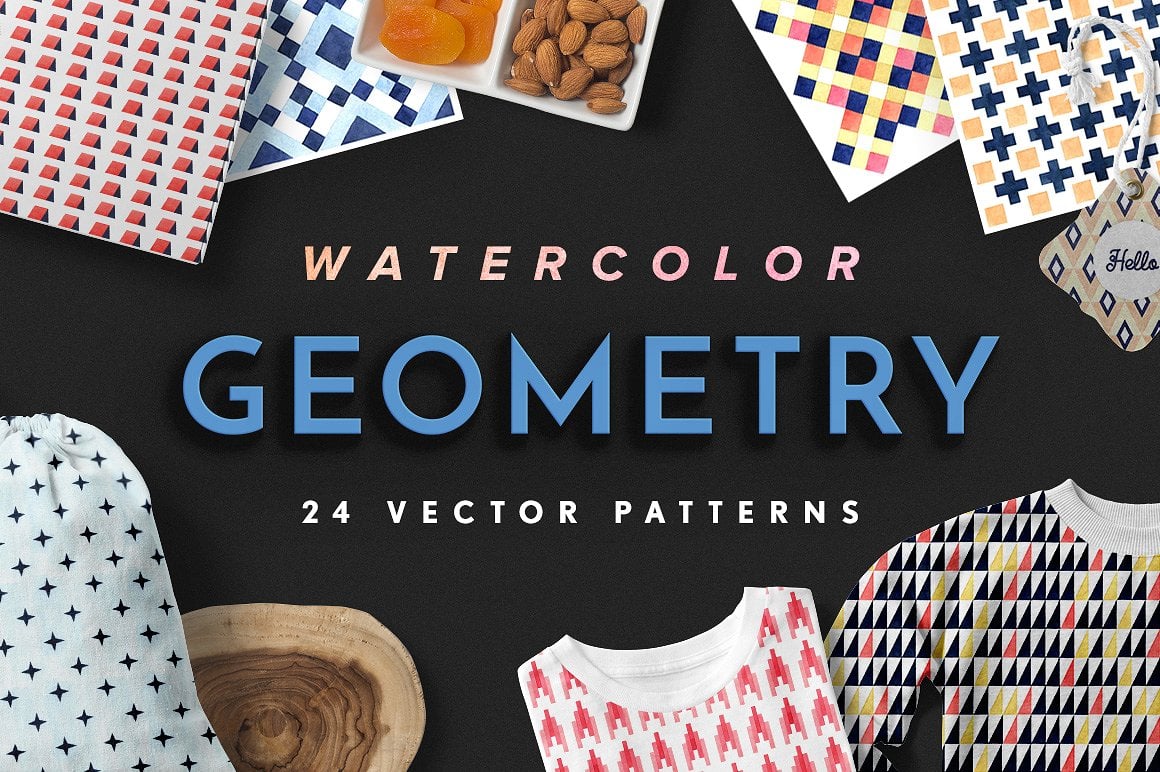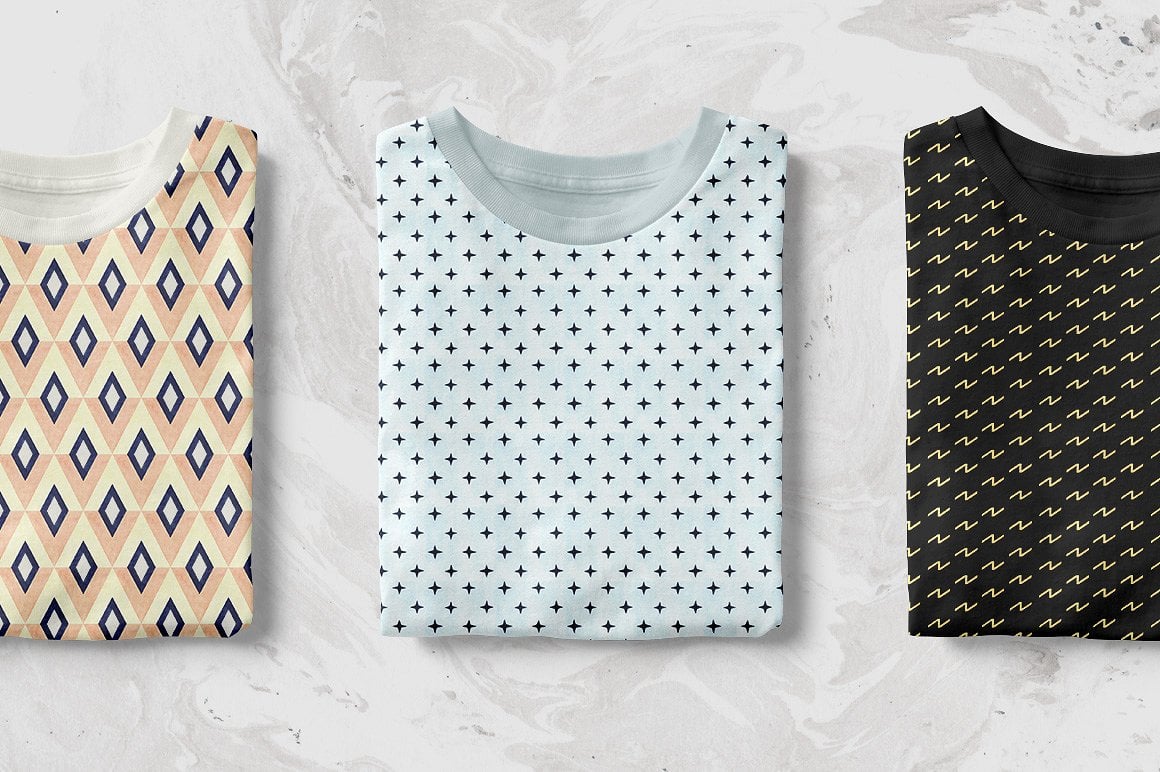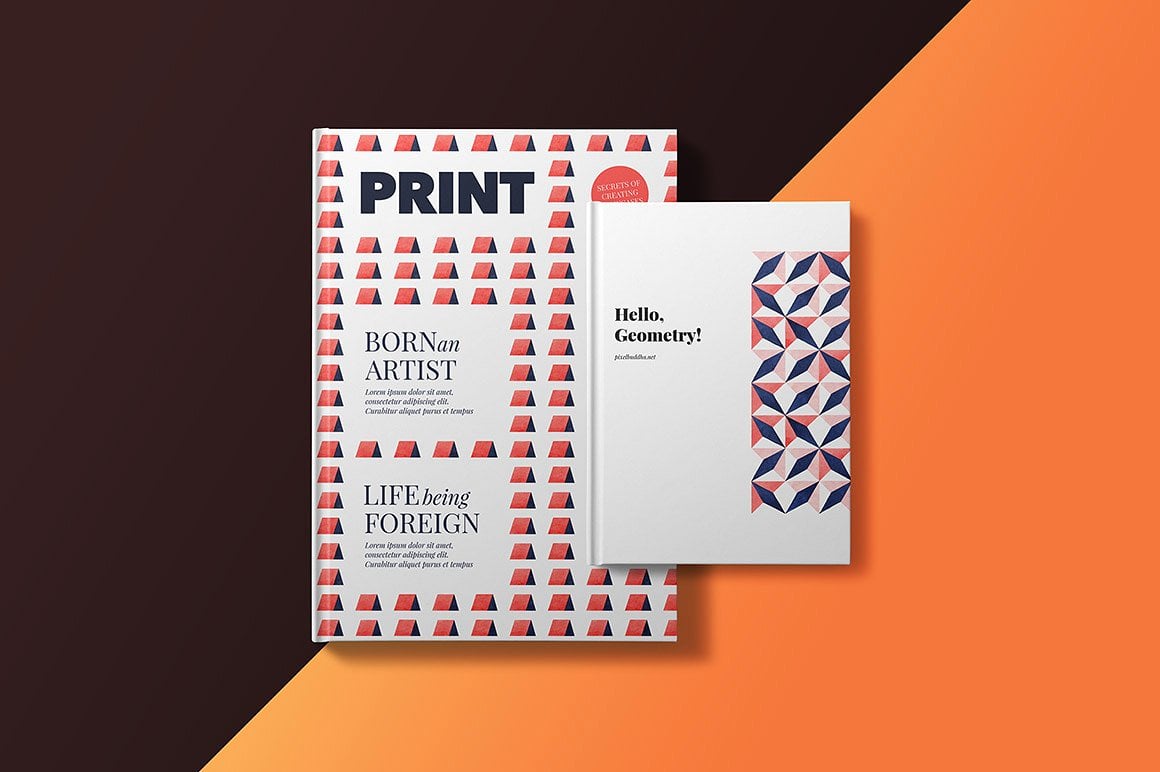 Watercolor Vision Vector Patterns:
20 Seamless Patterns in Vector EPS Format;
20 Seamless Patterns in JPG Format (4000×4000);
20 Seamless Patterns in PNG Format With Transparent Background ( 4000×4000).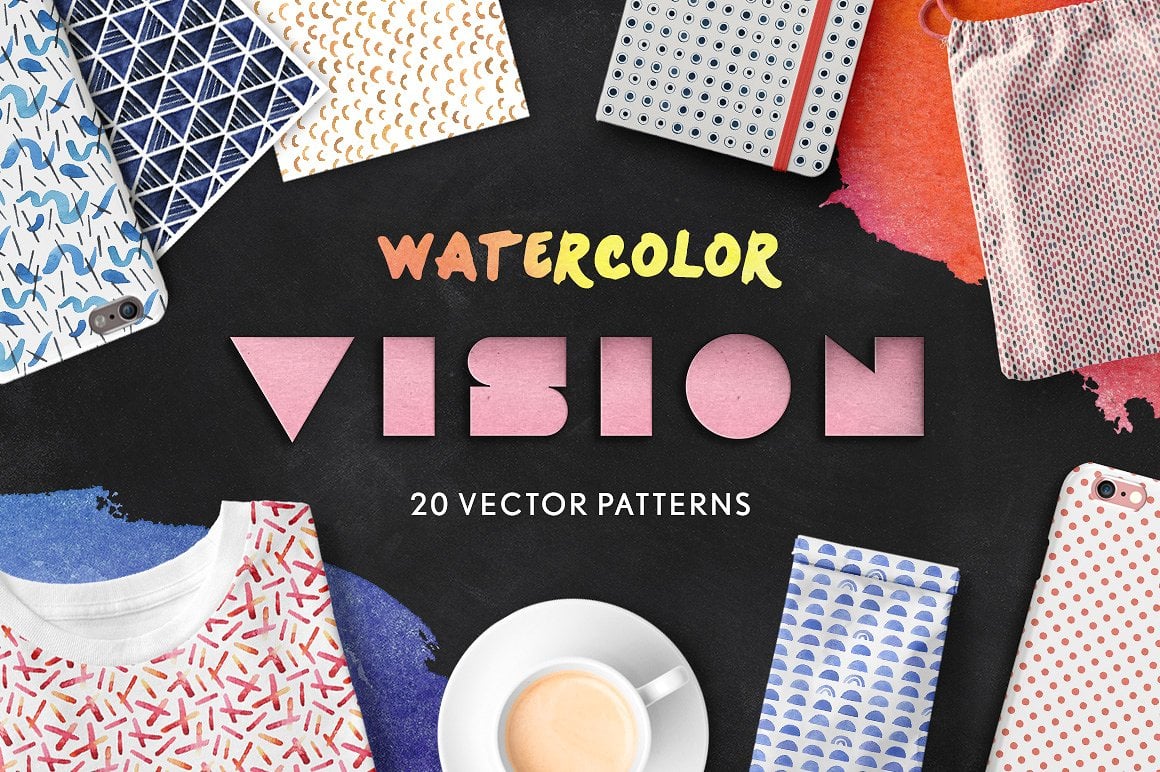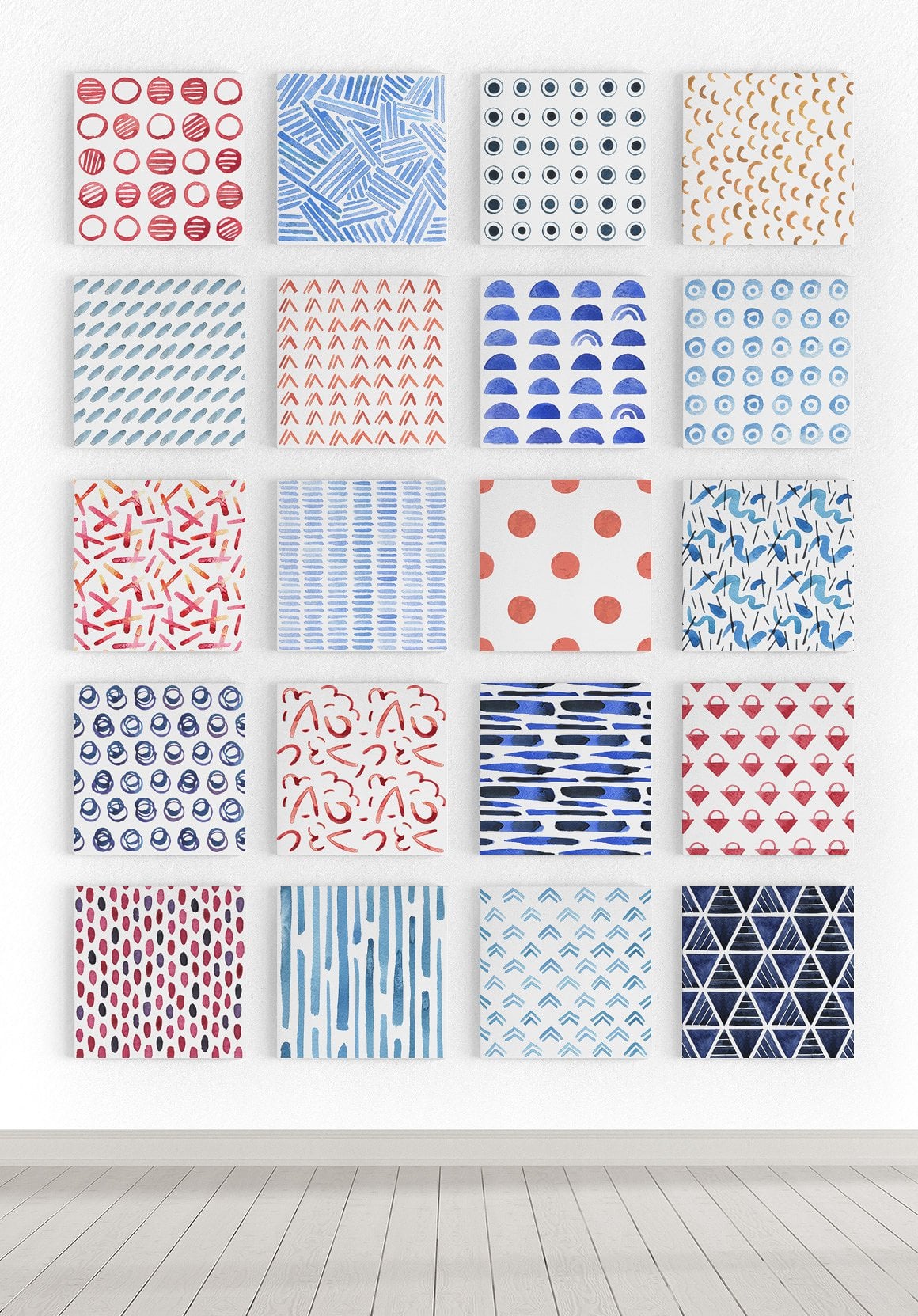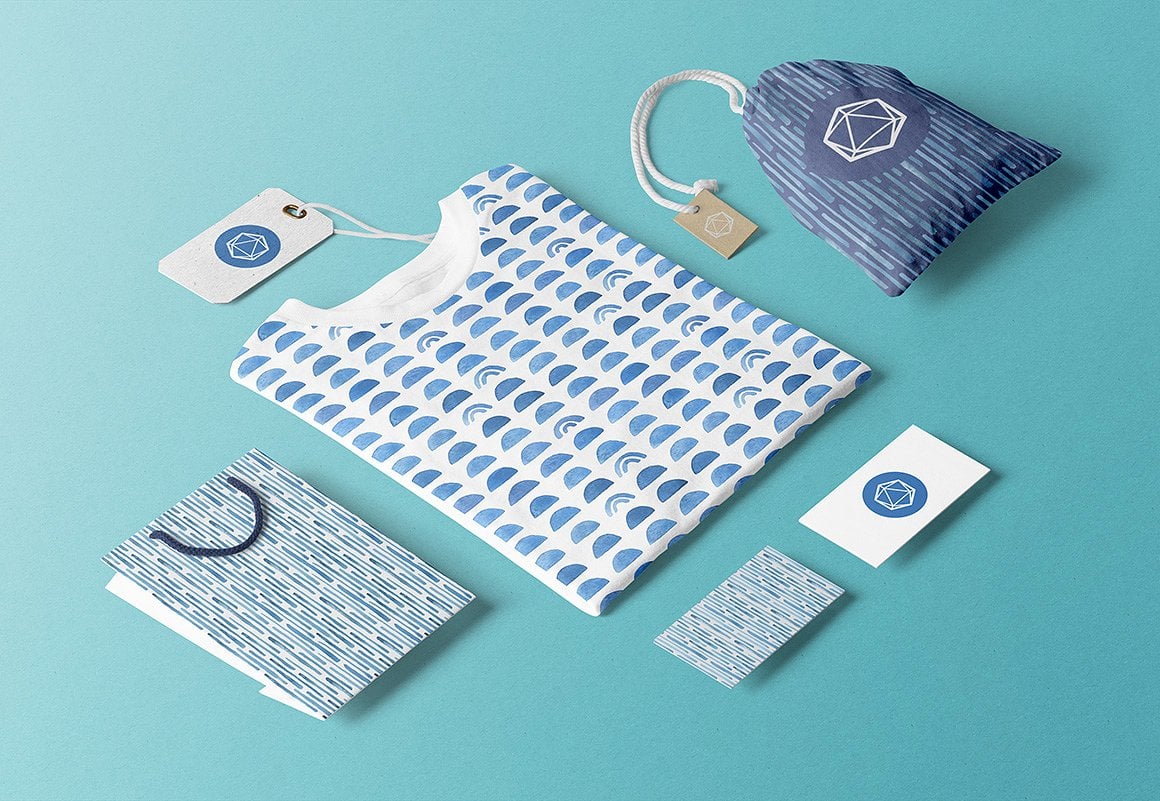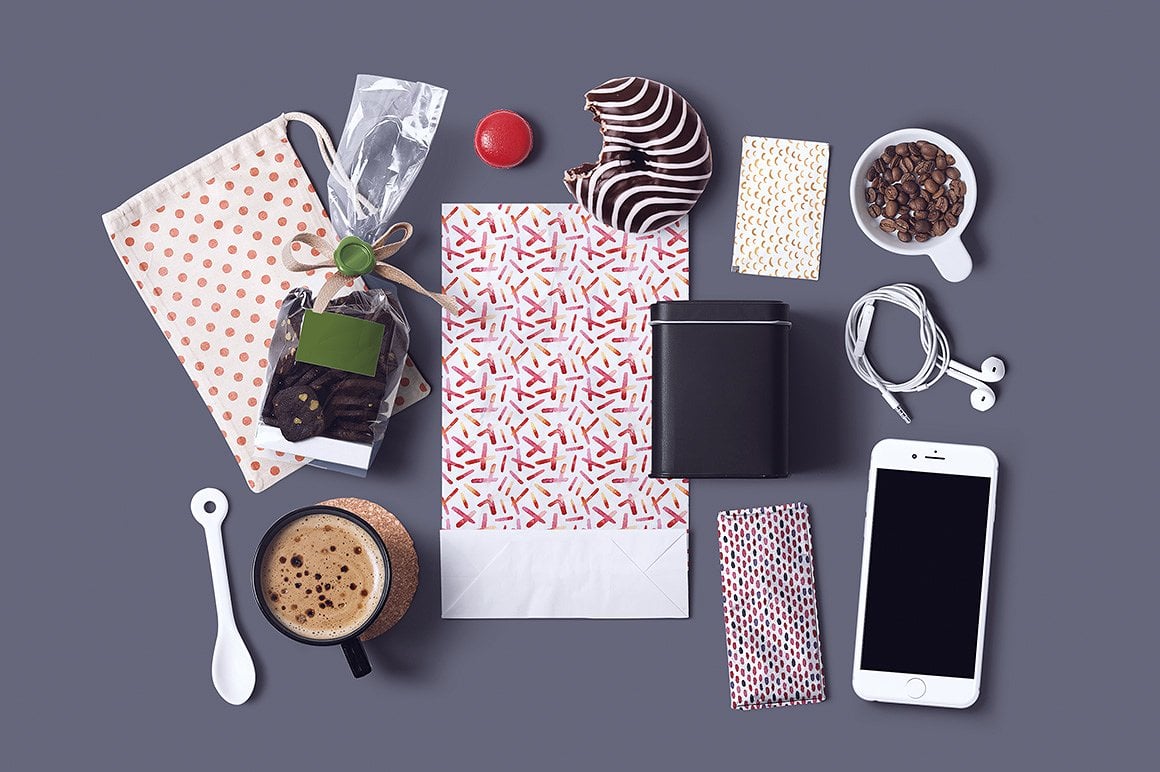 Licorice Christmas Watercolor Kit
This set includes 37 high-quality elements, that will be very helpful in creating gift cards, apparel prints, posters, presentations and so much more! You may also find some inspiration from the ready-made scenes we've prepared.
All elements go in print ready PNG format (300dpi).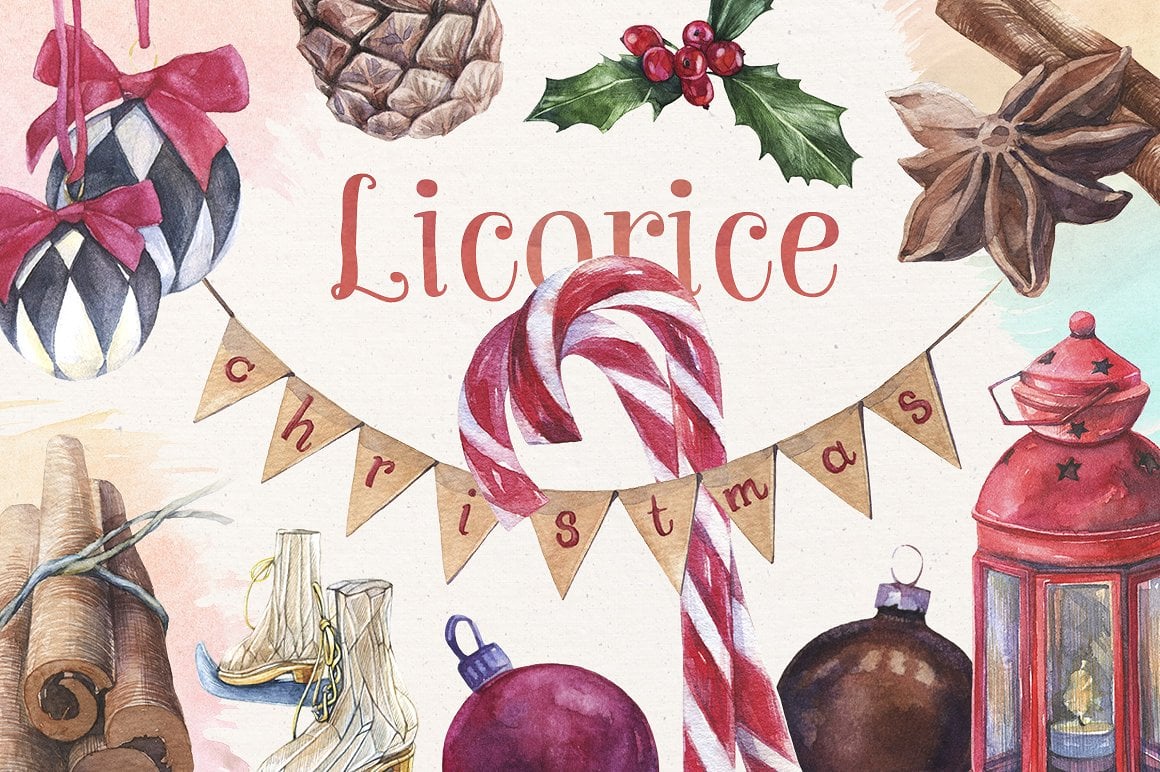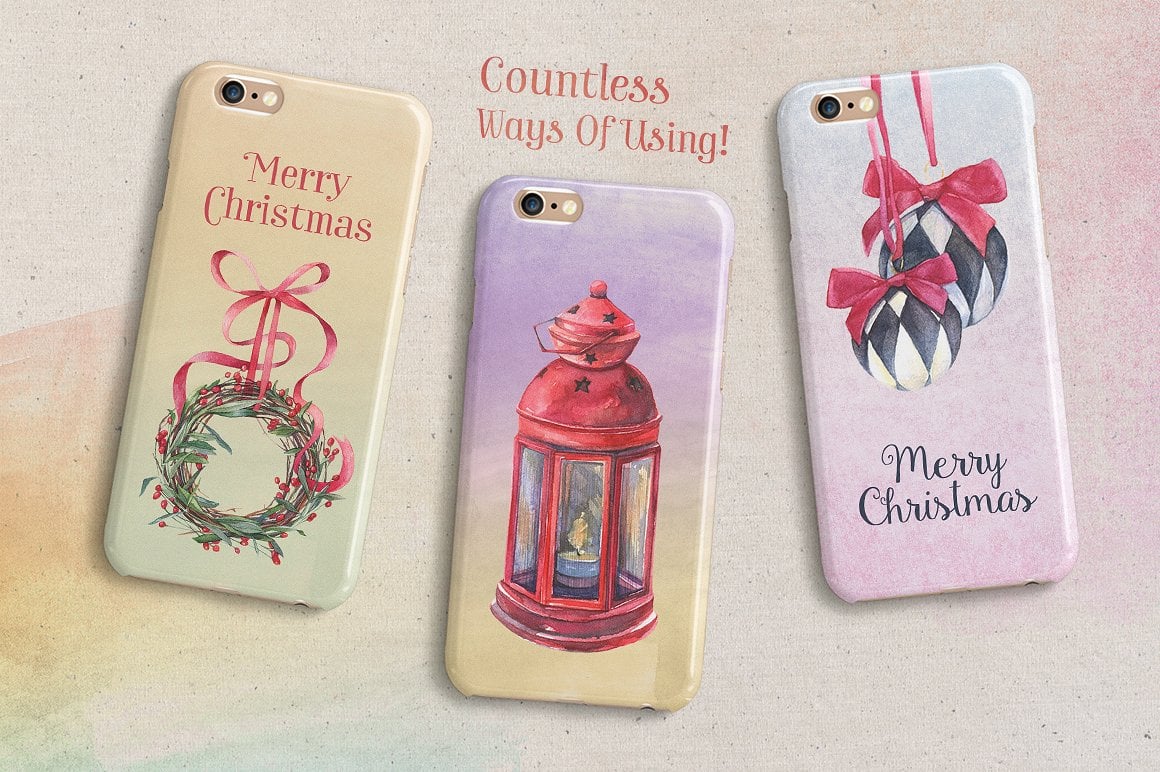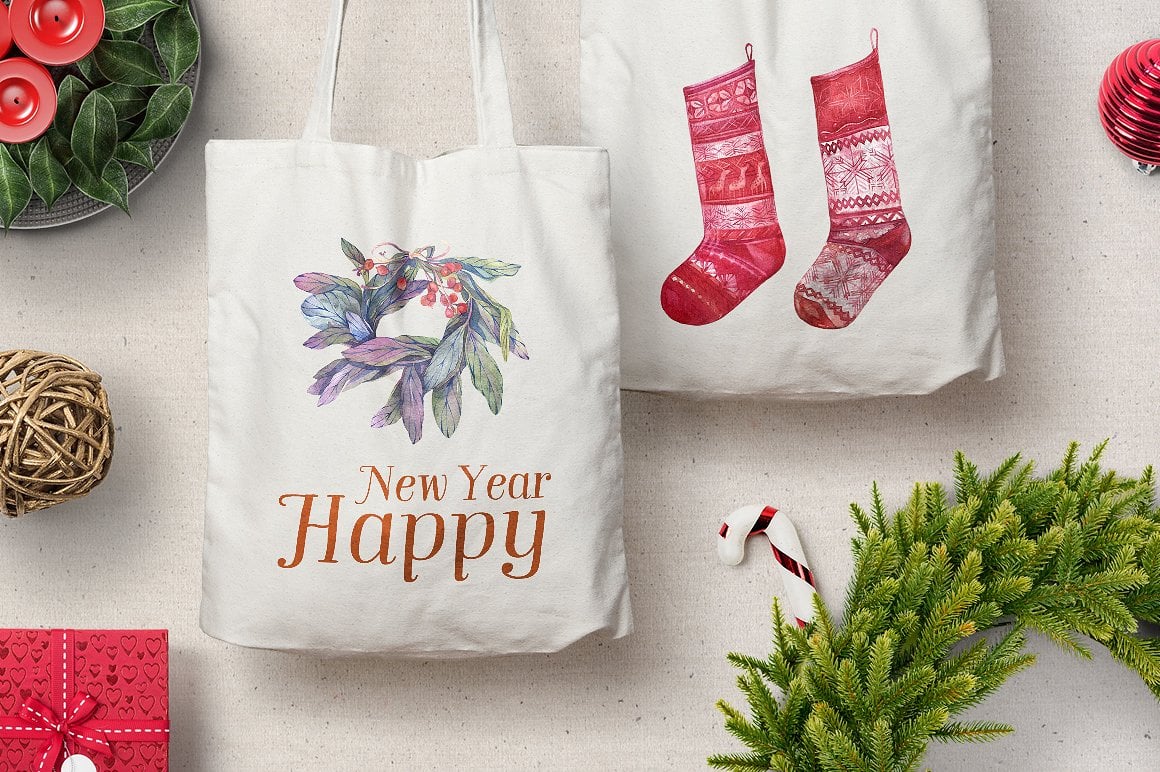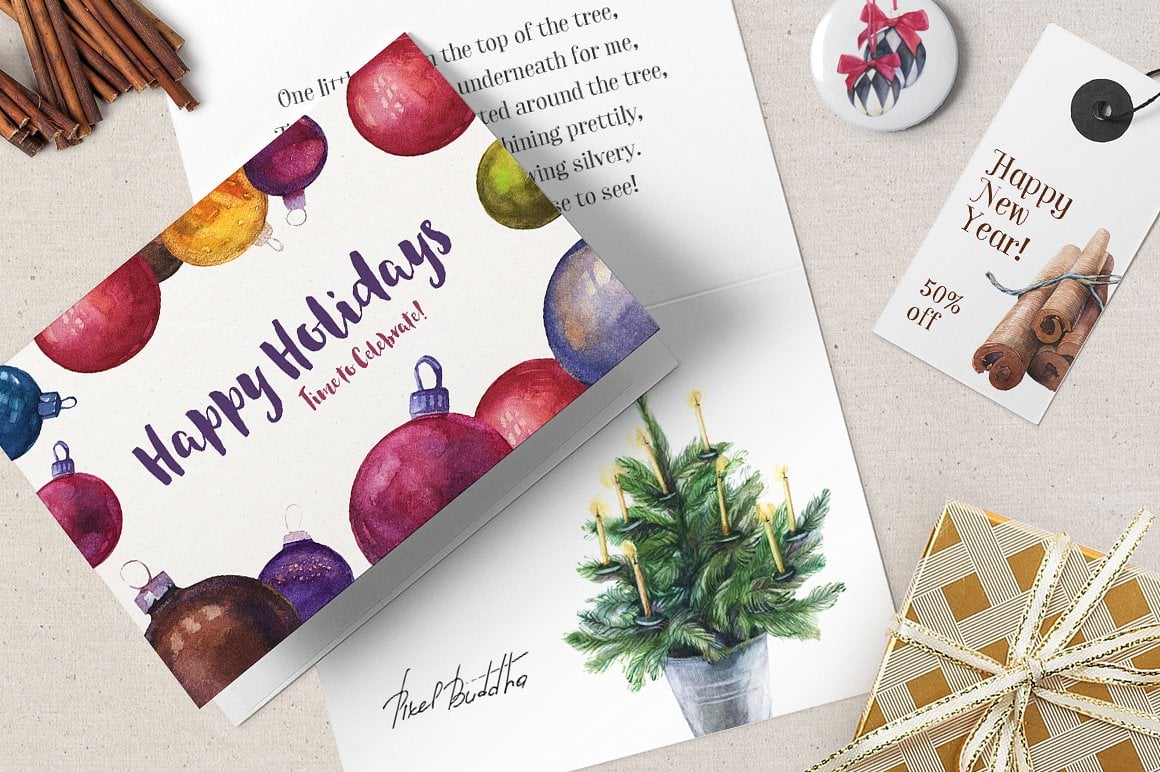 ---
Watercolor Artistic Bundle with 93% OFF
Can an artist draw any graphic from scratch? Typically, yes. Should he? But for the most purposes, it is going to require a lot of time and will never provide sufficient revenue for him. That's the reason many of the graphic designers make use of ready-made graphics elements – mix them, customize them and develop the design . It is ineffective to buy all those components one at a time, that is exactly why they are put into graphic packages and sold as a singular product.
How to spend significantly less money on MasterBundles items?
You can make the MasterBundles bundles more affordable. Share this web page via social networks – you automatically get the 5% discount for the graphic deals that appeals to you. That's a super easy way to get a professionally designed tools for a lower price.
How can you benefit from using bundles?
The pros of graphic packages for graphic designers are quite obvious. But if you are a newcomer to them and still have concerns, the subsequent info will probably be useful for you. Including a large number of the components in a single package, the collection provides you with a chance to use different of them for a number of projects. What's more, the price is typically cut down tremendously which lets you save some dollars, yet get the complete set worth hundreds or thousands of dollars.
Kinds of graphic bundles
The assortments of components compiled into a graphics bundle deal are generally categorized based on their kind or purpose. There might be packages with business card templates, mockups, infographics, wedding invitation templates and icons, etc. You will likely manage to find graphic deals specifically for Christmas, St. Valentine's Day, Christmas or St. Valentine's Day.
Other Deals on MasterBundles
MasterBundles.com could offer you a big selection of unique products. MasterBundles offers not only graphics bundles but additionally about 20 other various kinds of products. Fonts, WordPress themes, mockups, icons, photos, illustrations, presentation templates and much more – on the MasterBundles.com it's possible to locate all of the graphic items, required for a design.
Watercolor bundle
The watercolor bundle is believed to be the prettiest novelty in artistic desgin. Painted by artists on the paper, the images get digitized and included in a bundle as templates for design projects. Watercolor elements are just great for quotes, blogs, posters and wedding invitations.
Meet MasterBundles.com!
If you feel like you have lost track of time while searching for different tools and elements for your current graphic design jobs, it is a high time to learn more about MasterBundles. It is a marketplace offering the most popular tools (graphics, icons, fonts, presentations etc.) for web designers, online marketers, and web developers at a reasonable price for a limited time. What's more, you can use coupons and promo codes for specific offers. To not miss important updates about the upcoming promotions, we advise following our blog and subscribing to the email newsletter.