Description
Get NLP Tools for Real Life, Introduction to Neuro-Linguistic Programming, Communication Strategies, Managing Difficult Conversations, and Active Listening in this Bundle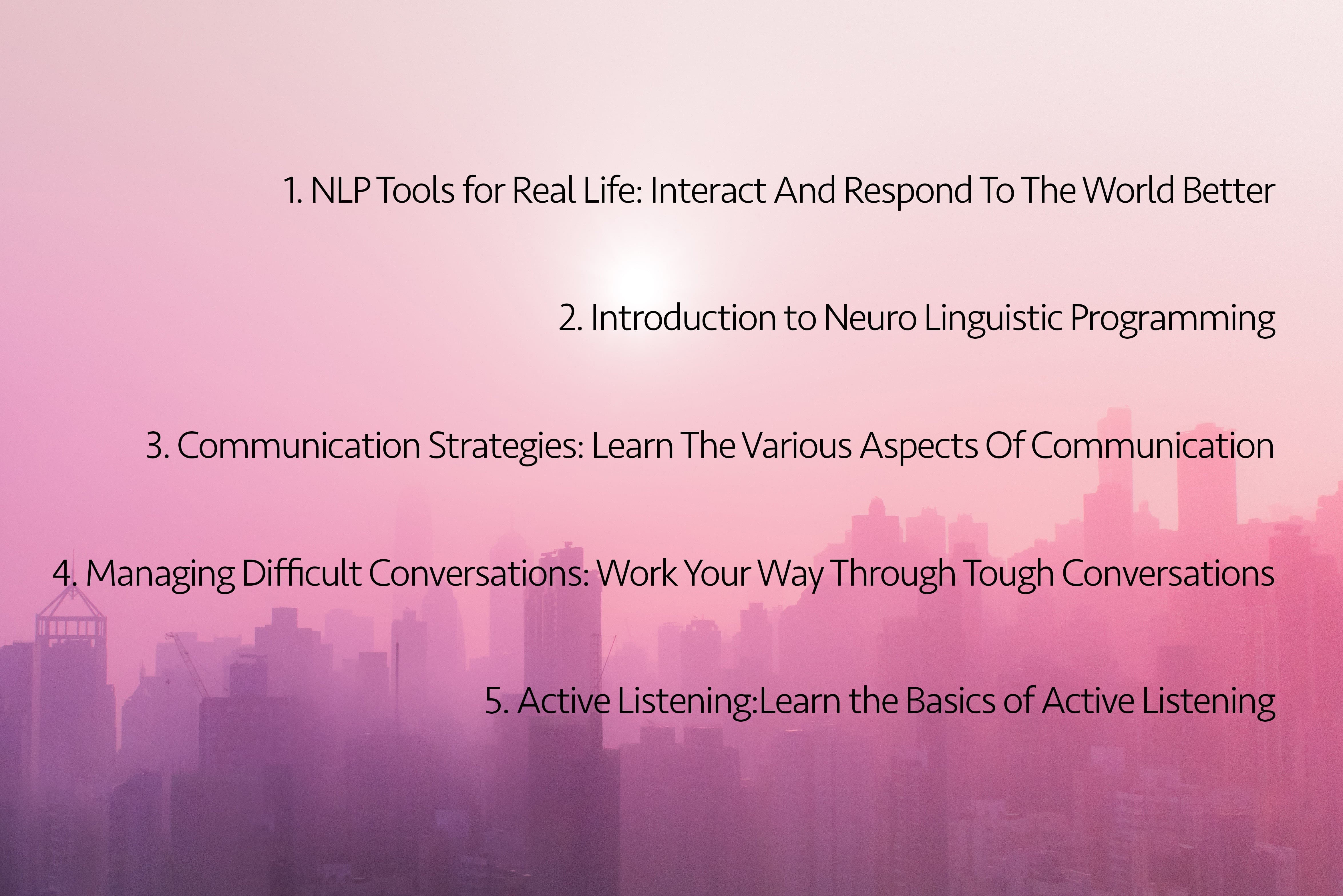 1. NLP Tools for Real Life: Interact And Respond To The World Better
Neuro linguistic programming (NLP for short) is all about bringing your unconscious thoughts to the surface so that you can have real choice over how you interact with and respond to the world. Once you have completed "Introduction to Neuro Linguistic Programming," take this course and learn how you can do more with NLP.
This course will teach you about anchoring, establishing congruency, developing rapport, creating outcomes, interpreting and presenting information efficiently, and self-hypnosis.
2. Introduction to Neuro Linguistic Programming: Bring Your Unconscious Thoughts To The Surface
In order to achieve results, you must master the art of bringing your unconscious thoughts to the surface. This course will give you the skills to do just that through neuro linguistic programming.
This introductory course will teach the basics of neuro linguistic programming (NLP). You'll learn about key terms, the NLP presuppositions, the NLP senses, eye cues, enriched language, clean questions, and hypnotic language.
3. Communication Strategies: Learn The Various Aspects Of Communication
Each day, we communicate with others through our spoken words, body language, and written communication. This course can show you how to make sure you're sending the right message.
This course will teach you all about the various aspects of communication. You'll learn about asking questions, probing for information, active listening, and body language. Supporting skills are also covered, such as self-esteem, building relationships with others, and assertiveness.
4. Managing Difficult Conversations: Work Your Way Through Tough Conversations
Whether it's asking about a sensitive subject, telling someone they have broccoli in their teeth, or confronting a co-worker about their rude behavior, we all face difficult conversations from time to time. This course will give you a framework that you can use to help you work through tough situations.
This course will give you an eight-step process for a difficult conversation, as well as some things to consider when deciding to have the conversation (such as your desired outcome, the time and place, and how to stay safe). You'll also learn how to speak persuasively, ask good questions, and listen actively.
5. Active Listening: Learn the Basics of Active Listening
Communication skills are at the heart of everything we do each day, whether at home, at work, or at play. This course focuses on active listening, which encompasses the best of communication.
In this course, you will learn what active listening is and what qualities active listeners have. You'll also learn how to manage your body language, create a positive listening attitude, encourage conversation, build relationships, and get over listening roadblocks.
Receive Lifetime Access to Course Materials, so you can review at any time
For comprehensive information on units of study click the units of study tab above.
This is an incredible opportunity to invest in yourself and your future, sharpen your training skills and learn what it takes to create your own success with Courses For Success Today!
Course Fast Facts:
All courses are easy to follow and understand
Only 6 to 8 hours of study is required per course
Unlimited lifetime access to course materials
Study as many courses as you want
Delivered 100% on-line and accessible 24/7 from any computer or smartphone
You can study from home or at work, at your own pace, in your own time
Certificates
Course Delivery
Courses are accessed online via our learning management system by any device including PC, MAC, tablet or Smart Phone.
Recognition & Accreditation
These courses are internationally recognized and accredited by the International Association of Online Training Standards (IAOTS). The courses offered by Courses For Success are unique as they are taught in a step by step process enabling students to complete them quickly and easily, so that you can obtain your qualification sooner. All students who complete the course receive a certificate of completion. Courses For Success is committed to high completion rates and therefore 100% student satisfaction.