Description
Golden Bloom is watercolor&ink hand painted set.
Stylish watercolor monograms are suitable for branding and wedding designs. It looks rich and exquisite. Additional elements open endless possibilities for drawing up cards and invitations, as well as for creating stationary designs in a single style.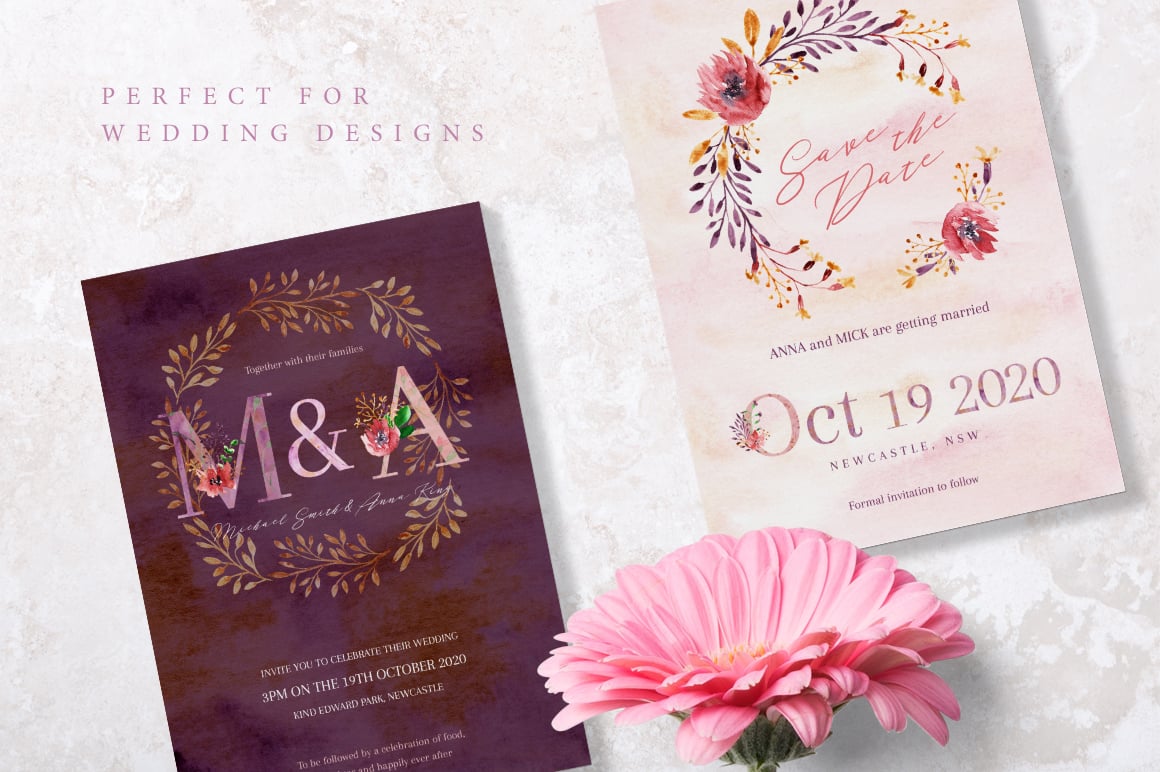 What inside?
26 x Uppercase watercolor alphabet in PNG+layered PSD 4000x4000px
26 x Lowercase watercolor alphabet in PNG 2000x2000px
10 x watercolor numbers + 2 variants of ampersand in PNG
15 x wreaths in PNG 4000x4000px
Set includes 85 watercolor elements in PNG, 300 DPI:
63 x floral elements
4 x large backgrounds approx. 2000×2500 px, 2000×2000 px
9 x smaller backgrounds approx. 1000×1000 px, 600×600 px
9 watercolor strokes
Ready-to-Use designs in full-layered PSD, 300 DPI (+JPG):
2 x wedding template A6 format
2 x business card template 2.25×3.75 inches
2 x tag template 2×2 inches, 2×6 inches 1 x TXT file with links to download used free fonts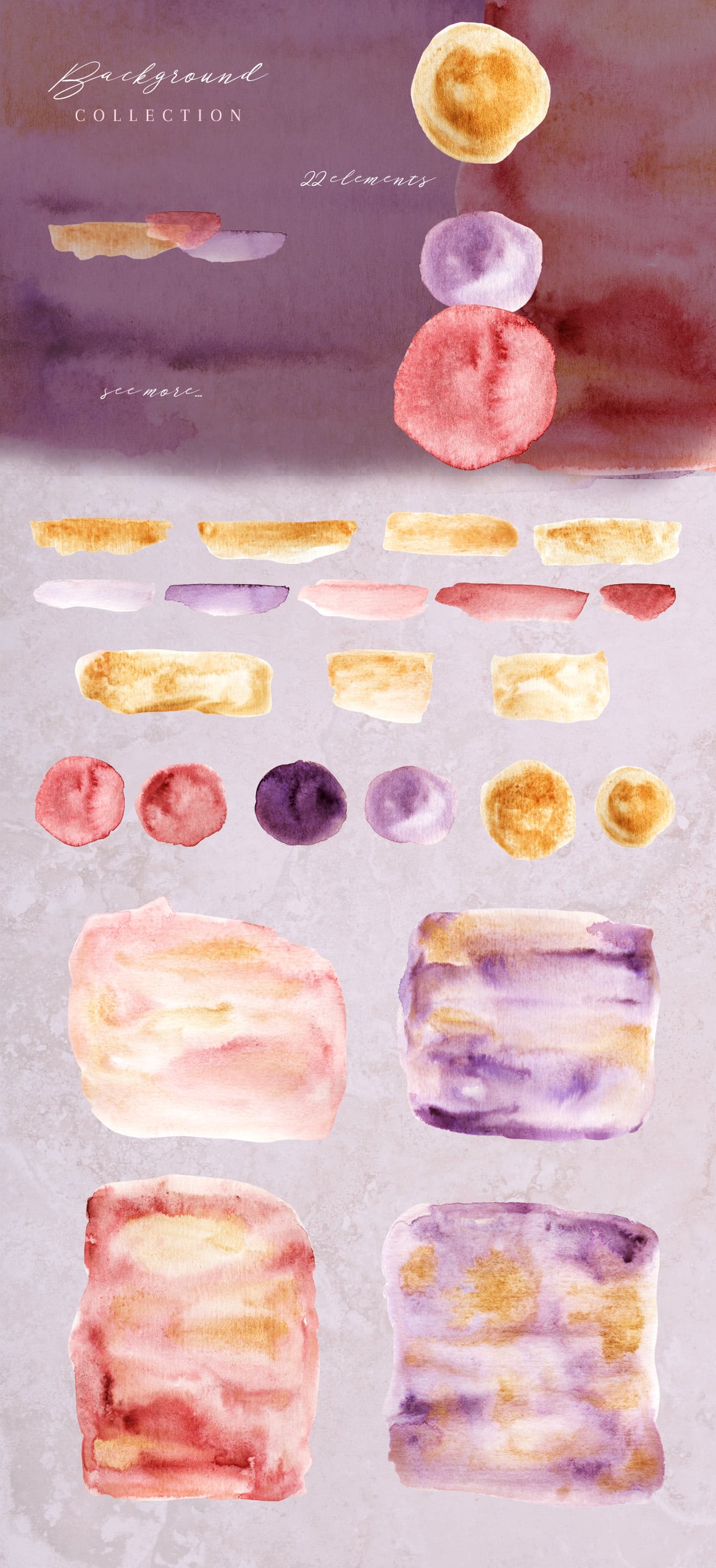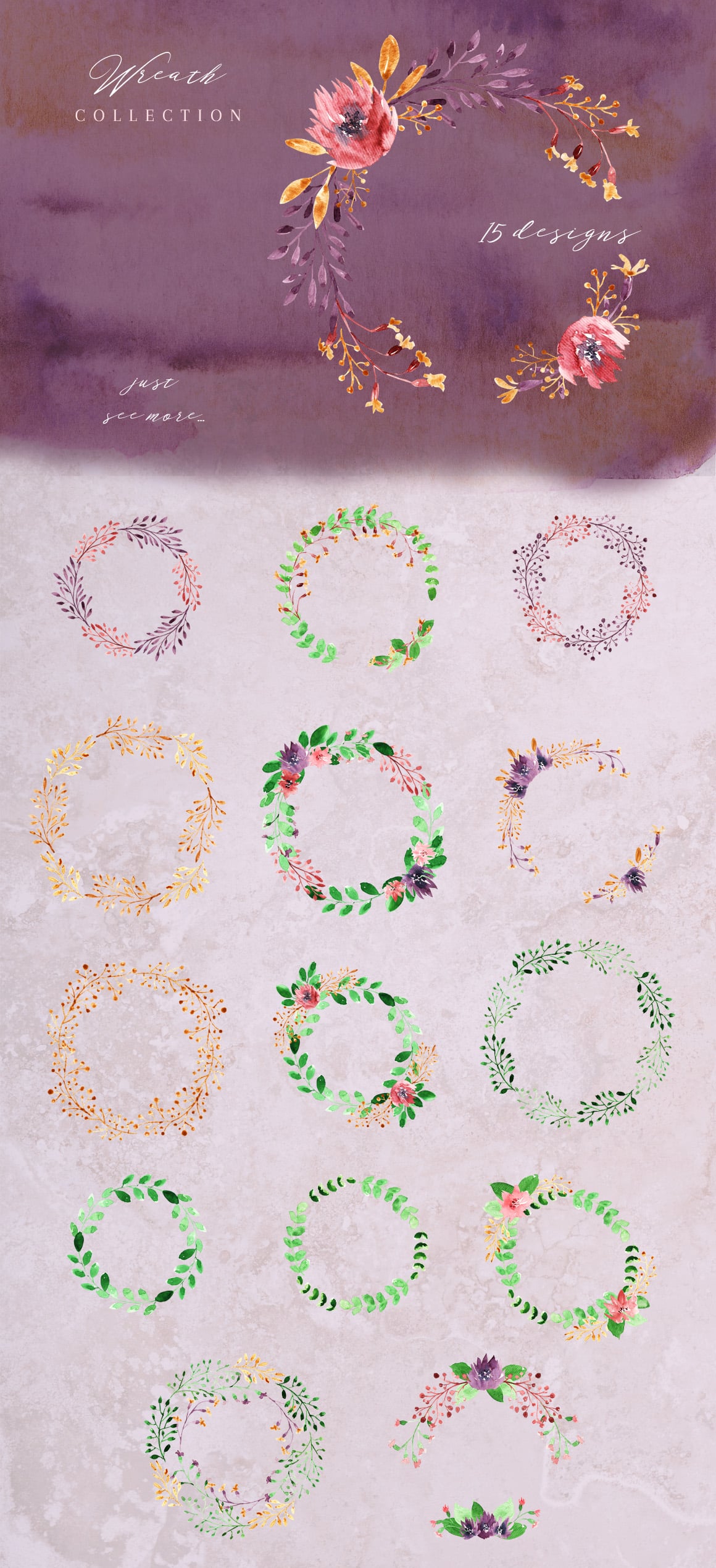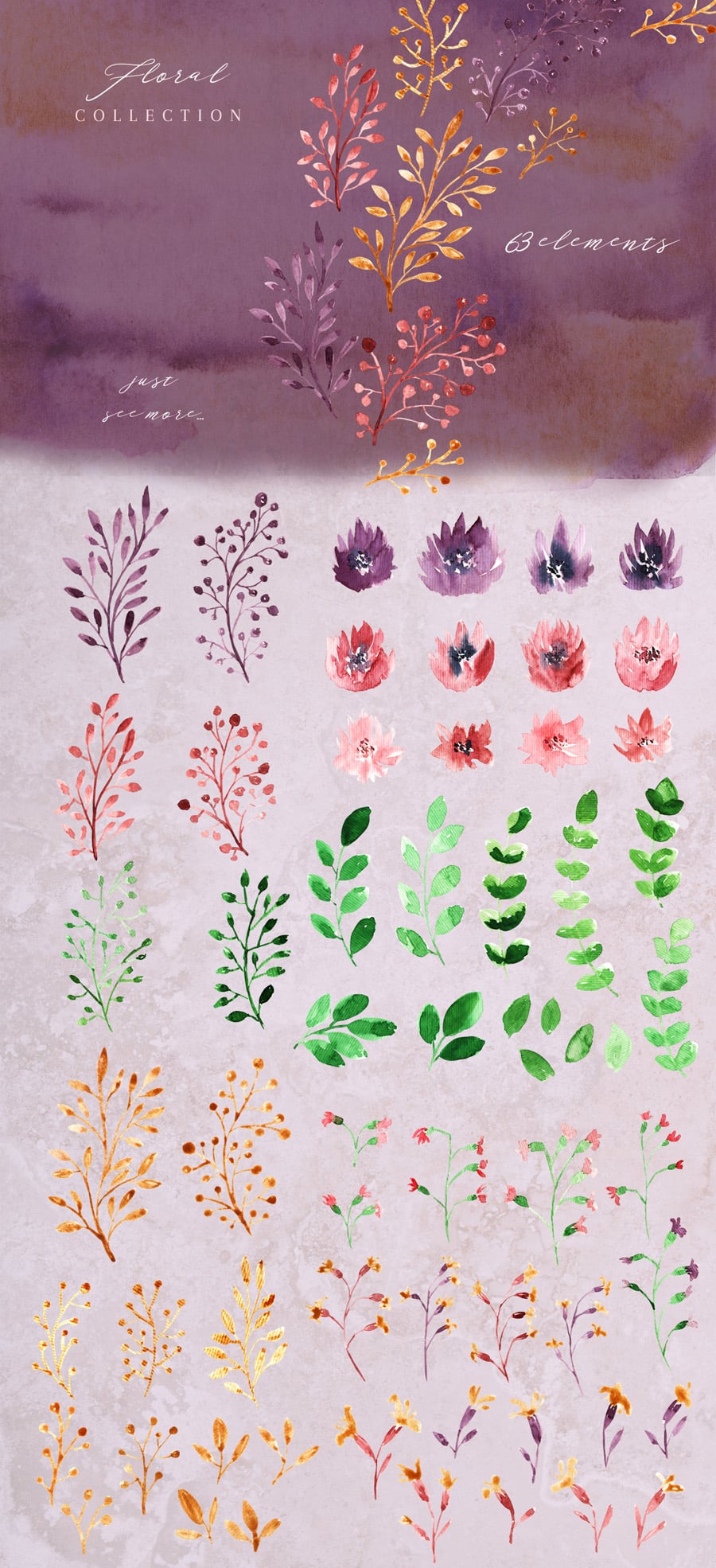 File format
All the elements are supplied in raster PNG, 300 dpi format. PNG files can be opened with most photo editing software, but for designing Adobe Photoshop is required. For opening PSD files Adobe Photoshop CS5 is required.
Definition of a graphic bundle deal?
Can a pro designer sketch any graphic from scratch? Typically, yes. Should he? It can be counterproductive, will take too much unnecessary time. This is why the vast majority of web designers use pre-made visual elements – combine them, adjust them and create the design . Noone is going to purchase all those elements separately, that's exactly why they are put together into graphic deals and offered as a singular solution.
How do you save on bundle deals?
Are you interested in a 5% extra price cut on any deal from MasterBundles.com? What you need to do is merely share the web page with a package on social media (Facebook).
What types of graphic bundles are there?
The collections of components compiled into a graphics package deal are often sorted based on their type and/or purpose. There might be deals with business card templates, mockups, wedding invitation templates, infographics and icons, etc. You may also manage to find graphic packages specifically for Halloween, Christmas or St. Valentine's Day.
How can you benefit from using bundle deals?
The benefits of graphic packages for designers are pretty obvious. But if you are a newcomer to those elements and now have concerns, the subsequent information and facts will be useful for you. Including a multitude of the elements in a single bundle, the collection gives you an opportunity to use different of them for a number of tasks. On top of that, the cost is often greatly reduced which lets you stretch your budget, yet get the entire set priced at hundreds of dollars.
Other bundles on masterbundles.com you may use
Aside from graphic design bundles, you may find a limitless range of alternative deals on MasterBundles. The packages of stock photos, fonts and logo templates are out there for your use. They deliver unlimited opportunities for the design of various web projects. On top of that, you'll find the full packages of WordPress design templates, training and ebooks, cv templates, presentations, and other elements.
Exactly what is infographics bundle?
If you need infographics for the future presentation in any kind of industries from social networking and marketing and advertising to medical care and schooling, the package is just the thing you have been looking for. Using the infographics package you'll find yourself saving your time which can be important in terms of productivity.
Precisely what is Instagram themes bundles?
You thought all you need to create a popular and prosperous Instagram account is simply to submit some attractive photographs? To bring in fans, your Instagram feed should look gorgeous . Instagram themes will assist you to reach that objective and help to make your Instagram posts eye-catching and familiar. Collected into packages they are often purchased for a lower price, so don't miss it!
The definition of the photo overlay bundles
The graphic designers who like to utilize photographs are going to be particularly excited about the photo overlays deals. These offers include multiple elements of design that can enhance and customize the photographs. Such type of ornamental components is placed over the photos to produce some new and appealing look. MasterBundles carries a substantial set of bundles, full of photo overlay items.
What's a watercolor graphics package deal?
The watercolor graphics bundle is a package that contains pictures and drawings produced with watercolors. They'll come in handy for a range of companies, such as fashion, cosmetics and food distributors. Cards or wedding invitations is also constructed with this kind of package deal.
Meet MasterBundles!
If you feel as if you've lost track of time when researching various tools and elements for your own design tasks, it is a high time to understand more about MasterBundles.com. It is a website offering the most widely used tools (logos, graphics, presentations, icons, watercolors, fonts etc.) for graphic designers, online marketers, and developers at a reasonable cost for a short period of time. To not miss significant information on the future promos, we recommend reading our blog and signing up for the newsletter.