Proudly introducing 'Etewut bundle!'
It includes 38 font families. There are scripts, sans, slab, serif, blackletter, stencil, hand brushed and display. Fonts have multi language support with foreign characters. Script fonts have alternates, swashes and swooshes that may be chosen from glyph panel. Most families include italic and bold styles.
You can use these fonts:
in e-books
on the web-site
in apps
on a desktop
in product design
for commercial adds
for signing cards
for decorations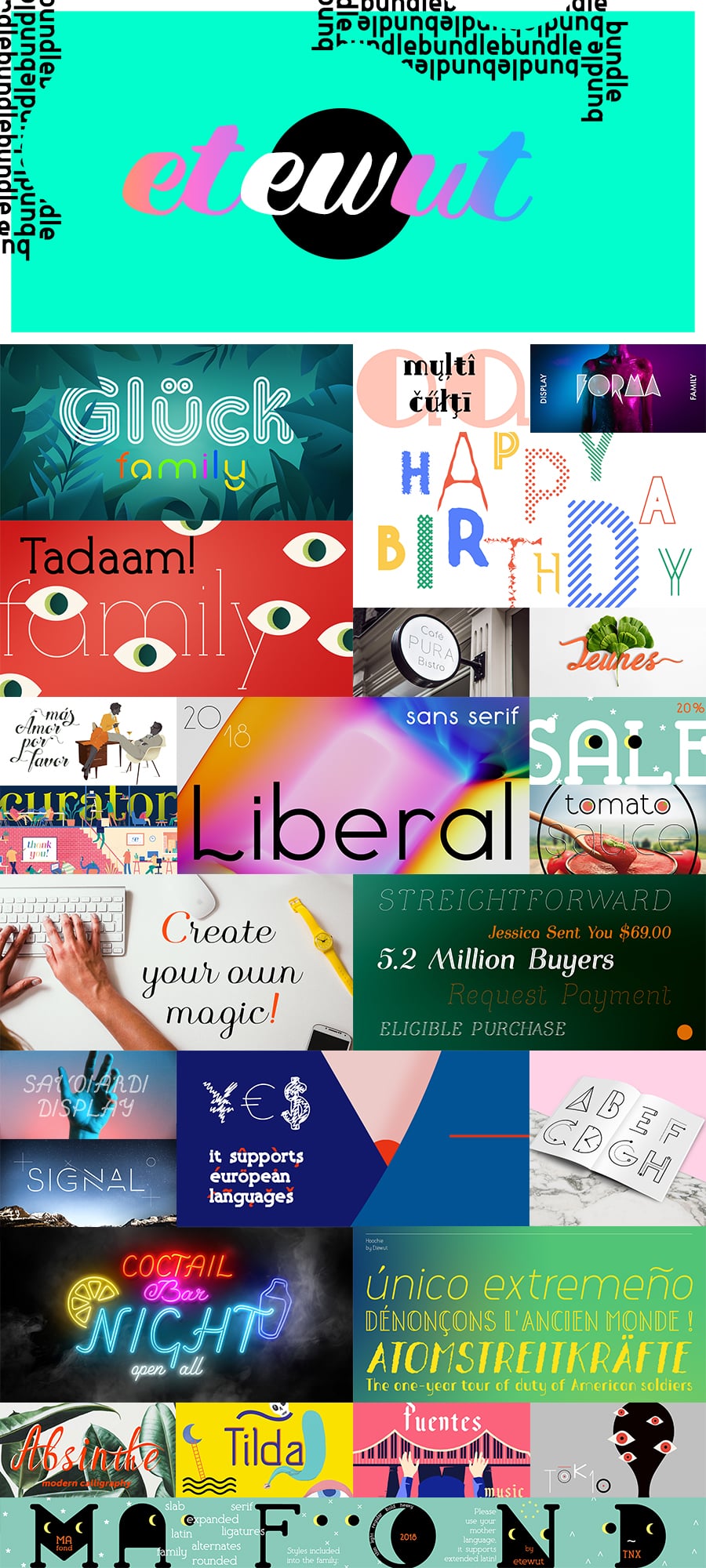 What Are Fonts and What Makes Them Useful?
A font is a set of signs of a particular size and pattern that creates a single stylistic and compositional unit. The primary function of any font is to attract the audience's attention with its design and color and get him to review the written text. A great web font can help to get across not only the text but even a certain atmosphere. Stylish and non-standard web fonts are more powerful and more evident, so every business attempts to regularly work with its unique one as an essential element of their brand identity. The cost of custom-made web fonts usually can vary from zero to over 100 dollars.
What Are The Kinds of Fonts?
Presently there are essentially 5 types of fonts. Serifs are more traditional, they can be easily spotted by small lines placed on letters. Sans-Serifs are modern, and characters don't have tiny "feet" . Slab-serifs look and feel blocky and chunky, they add substance to the overall design. Script fonts look like handwriting and also have interweaved letters. Stencils have curved edges and narrow strokes, one can use them to produce a creative statement.
Can Fonts Have An Effect On The Perception of the Product or Service?
When talking about creating banner ads, one needs to choose a font really carefully. Advertising banner developers should choose those types of fonts that will correspond to the feeling of their advertising campaign.
The web font itself does not simply carry data but also fills it emotionally, if one is used properly. Usually, the promo text shows the person an outline of the company's service, which means a well-chosen font will only help with needed visual impact.
If the font pattern corresponds to the text and is additionally combined well with the picture, it will help with the success of your promo campaign. For that reason, one should not skimp on buying unique and tasteful fonts.
What Exactly Are Font Sets and What Is Their Price?
Font bundle deals have become the desired offers for pro designers. A bundle is a collection of a number of premium fonts. A package deal costs you considerably less as compared to the prices of all these fonts on their own. It allows saving anywhere up to 99%. On Masterbundles, you can get font deals in the range of $4- $50, based on the size. If you happen to search for discounts, it can save you even more and grab superb fonts for professional use.
I Have Not Found Any Suitable Web Fonts in This Bundle. What to Do?
If you haven't found a suitable font in this bundle, don't give up hope! There are a huge selection of product bundles provided by the greatest graphic designers on our site. Take time to browse them all and you may find the best suited deal! It is so rewarding to at last unearth the offer that fits your artistic and professional needs.
What Other Web Bundles Do You Offer on Master Bundles?
In addition to web font packages, we have plenty of helpful web design and development kits to present. Those can have an incredible influence on your productivity if you are a graphic designer or artist. Those are ready-made sets with high quality icons, patterns, WP web templates, and overall, web units with various solutions combined. All of those kits are very affordable during the promo period, so it's better if you monitor those offers before time runs out!
What is Master Bundles?
MasterBundles.com is an internet marketplace. On our resource, expert web designers market their designs at the best prices. This site offers the best design bundles out there, and our products are highly reviewed by clients. Go and visit our blog, it really is loaded with valuable and inspiring articles for pro web designers. Furthermore, for those who subscribe to our newsletter, you'll be the first to be informed on our special discounts. There's always coupons and promo codes offered to chop the prices to a bare minimum.