Cyber Monday deal
Cyber Monday deal 2020 from MasterBundles is waiting for you here which includes 16 incredible products in 1 super, mega-sized, ginormous bundle.
MasterBundles features these products for the magically low price of just $39!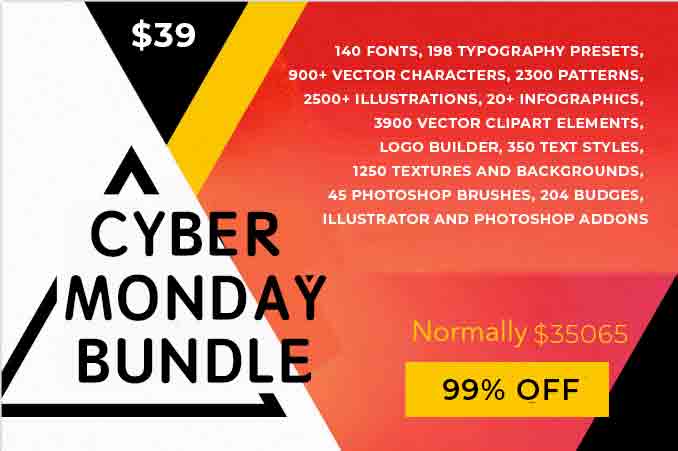 You'll get: 140 fonts, 198 typography presets, 900+ vector characters, 2300 patterns, 2500+ illustrations, 20+ infographics, 3900 vector clipart elements, logo builder, 350 text styles, 1250 textures and backgrounds, 45 Photoshop brushes, 204 budges, illustrator and photoshop addons and so on
Included:
What is a graphic bundle deal?
Every pro designer, being a competent specialist, undoubtedly should be able to draw any graphic from scratch. But for the most objectives, it is going to require too much effort and time and won't bring adequate revenue for him or her. That's why most of the designers use ready-made graphics components – blend them, modify them and develop the design . Nobody is going to purchase those components separately, that's exactly why they are put into graphic deals and offered as a single product.
So why are graphic bundles profitable?
For a design job, you will need lots of components – a font, a few pictures, a few icons, etc .. If you'd want to shop for every one of them separately it will cost you lots of money! So, for this reason skilled web designers always look for graphic packages to purchase.
What types of graphic packages are there?
Given that all the package deals differ from one to another, almost every graphic designer will discover the needed collection for a unique project. Researching them you will uncover the selections including social media infographics, PPT templates, business cards, UI kits, and much more. At MasterBundles marketplace, you can find more than 450 graphic bundles from which to choose.
The best ways to spend significantly less money on MasterBundles items?
Are you looking for a 5% extra price reduction on any deal from MasterBundles? Well, it is not that hard. All you have to do is simply share the web page with a package deal on social media (Facebook). When completed, the discount is going to be automatically included in your current cart.
Packages on MasterBundles.com
The bundles of fonts, icons, stock photos, logo templates, textures and patterns are out there for your use. Furthermore, you'll find deals of WordPress design templates, training and e-books, cv templates, slides, and other components.
Watercolor package
The watercolor bundle is considered to be the most beautiful trend in design. Painted by painters on the paper, the wonderful pictures get scanned and included in a package deal as design templates for design projects. Watercolor components are perfect for posters, DIY and wedding invitations. All of the images are highly detailed and prepared for print or digital use.
Exactly what are photo tools packages?
The designers who like to use photos will be especially excited about the photo overlays graphic packages. These bundles consist of sets of elements of design intended to spruce up and customize the photos. Such sort of visual components is often laid over the photographs to create some fresh look.
Instagram design templates
Living in the online era, we spend practically one half of our lives within social platforms such as Instagram. No matter what objective we strive to achieve using this platform, we wish to be noticeable in a giant crowd amid countless similar accounts. With premium Instagram design templates sold at MasterBundles.com, you won't need to spend eternity building the outstanding appearance of your Instagram page.
How can you define a an infographics bundle?
If you require infographics for the upcoming presentation in any kind of industries from social networking and advertising and marketing to medicine and education, the package deal is just the thing you were looking for. Using the infographics bundle you'll find yourself saving time which is important in terms of efficiency. Each element comes in an independent file which may be edited in Illustrator, Keynote, Powerpoint or Photoshop.
Meet MasterBundles!
MasterBundles is a site that collects best deals from over the web and lets you purchase the design components you need in your design business for a cheaper price .. Packages this excellent website sells are limited in time, and that is the answer why they are so low-priced. MasterBundles also has a big blog with the useful design news and features explained. Should you be hunting for a useful website full of great deals – MasterBundles.com is there for you!