Product description:
Defrozo is an ultimate way for a photographer of any level to get a fascinating website launched in a few simple steps. This creative portfolio website design looks stunning powered with an incredible functionality of MotoCMS. Check out its benefits below.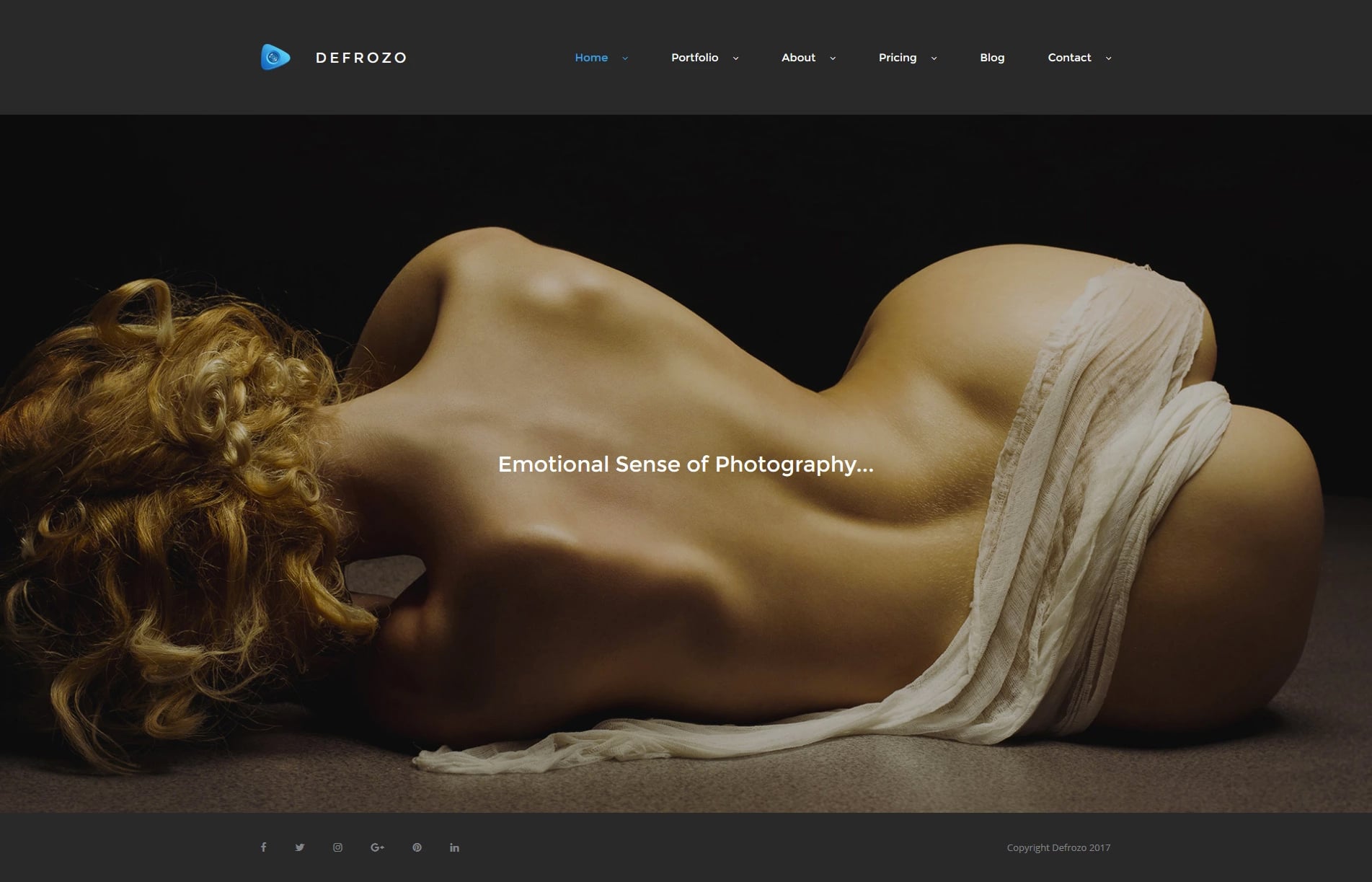 Now you have a chance to get this portfolio website template with a 60% discount! Don't think twice, buy it now and create your portfolio website today!
Features:
– 4 Templates in 1 Theme
– Fascinating Widgets for Photographers
– Aviary Photo Editor
– SEO Integration
– 24/7 Professional Support
– 14-days free trial period
Please, read more detailed description here.
MasterBundles coupon codes
By the way,we have amazing coupon codes on MotoCMS and TemplateMonster products. 30% OFF on ALL MotoCMS templates and 15% OFF on All TemplateMonster products 🙂
Happy buying!
What Is Website Design Template?
Probably you have realized, in 2019, site templates are just about everywhere. Moreover, major names prefer to set up their sites with these well-liked products. That being said, what is web template and why do you might need it? First of all, site template (or website theme) is a collection of pages, modules, and UI elements. Every one of the pages a theme has are pre-developed and well functioning. Additionally, these ready-to-create products are flexible, therefore it is easy to tweak every single page, every color scheme, as well as every pixel very easily.
Speaking about the quality web page templates, they are free of code as well. Therefore, a user gets their design right out of the box without touching any code. In addition, the product contains all of the important options and the stylish web design elements (counters, Parallax backgrounds, accordions, and many others) all at once. Additionally, opening the pack of a professionally developed web theme, a user will find there high quality plugins. And these are just to mention a few!
To summarize, a first-rate web theme is your chance to launch the project quickly and without running out of the budget. Remember that these templates are a lot more than the boring layouts with a poorly created navigation!
Frankly speaking, such products are exceptional because of an integral editor that allows you to manage the website up to your branding or individual preference. If you are looking for a trouble-free way to start a modern site, here's what you really need!
What Is Premium Theme?

For starters, premium Website Templates are generally known as themes. Actually, the biggest part of such products is multifunctional. It means that you can easily set up a lot of websites for different businesses only using a single skin. It can be helpful not just for site owners but for web designers too for the reason that it is possible to make as many websites as you want. Referring to the technical aspect, premium WordPress theme are easy to work with, fully user-friendly and really simple in editing. That being said, which functions you can find downloading the pack of a premium WordPress theme?
Needless to say, the download pack of a thoroughly selected WordPress web theme consists of all the must-have features. For starters, there's a responsive design that makes your site operate awesome on any device no matter which display dimensions it comes with. In addition, there has to be a mobile-friendly design to make all the necessary areas scrollable from smartphones. Thirdly, take into account that your site definitely needs such vital features as crossbrowser compatibility and search engine-friendly program code. Because of the inbuilt SEO, Google along with other search engines will quickly discover your website among competitors. And finally, included in the pack of WordPress theme, you will find different styles for blog and portfolio to choose from. For extra interaction from clients, you should think about making a blog page. With it, you can share all the information such as upcoming sales and new products. Moreover, you will find newsletter membership option to keep your visitors engaged. Needless to say, you'll receive a lot of easy to read web fonts and eye-friendly icons to improve your content and these are just a small part!
Certainly, this year, you need to have a couple of trendy options to stay ahead of the competition. Due to these basic reasons, these WordPress themes contain various stylish functions. For example, there are numerous counters, (including Countdown Timer which is a great way to showcase a deal or sale) graphs, accordions, progress bars, and more. Not to mention, WP templates contain fabulous visual effects. There's a favored Parallax Scrolling, which lets you generate appealing and sleek backgrounds. By using the feature, you will lead website visitors through the articles and other content of the website in an engaging way.
Moreover, all the premium WordPress web templates are packed with cool plugins inside. They supply a website with pleasant and intuitive interface. It's a fundamental point if you want the site to be a popular destination. There's MagaMenu plugin, that enables website owner constructing attractive menus of any complexity. Managing the feature, you can separate the objects or webpages using categories and subcategories if necessary. Among the some other characteristics that will improve the navigation of the site, there are such things as dropdown menu, sticky menu, back-to-top button, widgets, Ajax-powered search, etc. Actually, nowadays, most of the WordPress designs have their previews, so you're able to view them to find out how a theme looks in real time.
What's The Price of Web Templates ?
Normally, a WordPress web template with a single site license will cost you approximately $60. Of course, the final price tag always is defined by the feature, UI components, and plugins that the theme comes with. On the subject of multipurpose WP themes, each one will cost you $90 or more. Although these prices seem reasonable, you can spend less on purchasing a WordPress theme. How? For these simple purposes, consider modern bundles.
What Is Bundle?
In short, item bundling refers to providing multiple services or products with a discount. With it, bundle is a pack that contains a handful of different products designed for one purpose. For instance, if you are going to launch a web project, there are digital bundles that already include such things as templates, web typography, premium extensions, high-res stock photos, and more.
Another visible advantage of selecting bundle is its cost. Basically, bundle costs like a couple of products it includes. That's the reason many folks may think that comparing to the cost of some other products and services the price tag looks questionable. What's the secret? Basically, bundle is at all times a limited time offer which is the reason it's so inexpensive!
The Reason Why It's Better To Purchase WordPress Themes Bundles?
Basically, purchasing a bundle can be a time saver. On top of that, it is certainly convenient for web designers since they will get all the needed goods just out of the box! Consequently, you won't need to spend your time on hunting for every product individually. Making use of these essentials, you will quickly make the needed web project.
Where To Find More Products?
If perhaps you didn't find the needed goods within this bundle, don't hesitate to visit the gallery, since there are many other bundles. For instance, you can opt for things like CrocoBlock bundle, high quality WordPress bundles, or mega bundles. Moreover, MasterBundles collection also contains bundles with graphics, textures, patterns, social media products, infographics, images, and vectors.
What's MasterBundles?
As the title of the company states, MasterBundles is a cutting-edge website that offers different ready-made solutions for website owners. Browsing the collection of the company, you will see a number of products that are available in a form of a bundle. Thanks to that, it is easy to build the website of your dream without running out of the budget.
Furthermore, MB offers their clients to take advantage of exclusive discount coupons. Feel free to make use of them in order to get a discount! You can save up to 30%! MasterBundles has an active blog, which would be useful for anybody who needs to learn about up to date information about web design resources, the newest trends, etc. On top of that, MB crew put up all of the hot deals in the blog, so don't miss your chance! There's a simple registration form in the bottom of the blog page. Make sure you add your email address and be the first person to learn about future discounts and promotions.