Product Description:
Black Friday Deal: MotoCMS Promo Code – 30% OFF
If you're wondering about to build a website, this deal will be helpful for you. For most people (including us a few years ago), creating a website is something that only IT geeks are capable of doing.
Today to create a website you don't have to be a tech geek at all!
Take a look at a new Spectrum MotoCMS website theme! Spectrum is a unique theme that offers your business not just a simple template, but a fully-functional admin panel with drag-and-drop functionality. It allows you to create a website quickly with no coding or programming needed.
What you get with the purchase: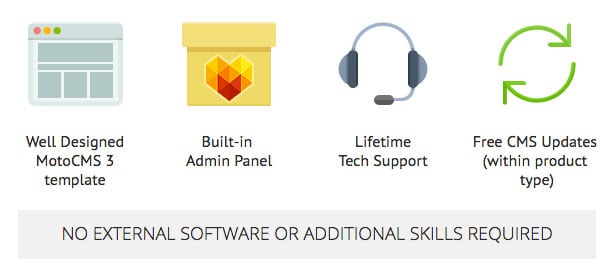 Highlights:
Unique Design

Spectrum has a user-friendly and at the same time conversion-oriented design.

Full-Throttle Admin Panel

Spectrum is built upon a revolutionary MotoCMS 3 website builder. Widgets include: Grid Gallery; Slider; Carousel Gallery; Social buttons; Video; Audio Player; Google Maps; Disqus; Contact Form etc.

Mobile-Friendliness
17 Premade Pages

Spectrum offers 17 pre-designed pages to match all your website's needs including: Home Page with unique design; About Us and About me pages; Services; Careers; News; Contact page; Pre-designed pages for 404 and 503 errors, etc.

2 Child Pages

Drag-and-Drop Functionality

Limitless Functionality
Constant Theme Updates

Handy Presets Builder, Color Picker etc.

White Label License

Tech Support Anytime You Need
Features: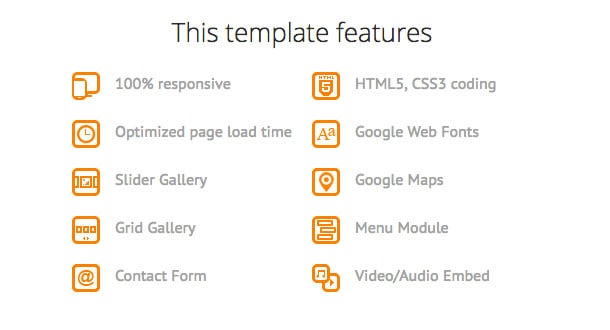 Eager to learn more? Check out the demo. Achieve your success right now!
What Is Web Template?
As you can notice, in 2019, site themes are all over the place. Even major corporations prefer to make their webpages with these popular solutions. So, what is site theme and why do you actually want it? Firstly, web template is a group of pages, modules, and UI kits. All of the layouts a theme comes with are pre-designed and well featured. In addition, these ready-to-create products are adaptable, so you are able to edit each and every page, each color, as well as every pixel effortlessly.
Speaking of the worthy website themes, they are code-free as well. As a result, a user gets his web-based project right out of the box without the need to code. Furthermore, the product contains all of the crucial features and the trendy design elements (counters, video backgrounds, accordions, and so forth) simultaneously. Besides, opening the pack of a professionally created site theme, a user will discover there advanced plugins. And these are just among other things!
To summarize, a first-rate website template is your chance to create the project quickly and without wasting all of the finances. Bear in mind that these themes are a lot more than the boring layouts with a poorly created navigation!
Truthfully speaking, this kind of solutions are one of a kind because of a built-in editor that lets you manage the web pages up to your branding or individual taste. If you're in need of an easy way to release a modern site, here's what you need!
What IsWeb Template?
To begin with, high-qualityWeb Templates are commonly known as themes. In actual fact, the largest part of this products is multifunctional. It means that you are able to build a lot of online projects for several purposes applying only a single theme. It can be helpful not just for website owners but also for website developers as well for the reason that it is possible to make as many websites as you require. Referring to the technical aspect, WordPress web themes are easy-to-use, fully intuitive and really uncomplicated in editing. So which functions you can find downloading the bundle of a WP template?
Without a doubt, the download pack of a thoroughly selected WP theme contains all the must-have features. To begin with, your website must look correctly on all devices, particularly mobile phones, considering that a growing number of users surf the internet on the go. For this reason a theme must be responsive which means it's adjustable to any screen dimensions. Additionally, there has to be a mobile-friendly design to make all the needed areas scrollable from mobiles. Furthermore, remember that your site definitely requires such important capabilities as crossbrowser compatibility and SEO-friendly program code. A result of the integrated Search Engines Optimization, Google, Yahoo, and other engines will promptly discover your site among competitor's projects. At last, contained in the pack of WordPress template, you will find various styles for blog and portfolio to choose from. To get more engagement from users, consider making a blog page. With its help, you can promote all the news like approaching giveaways and new arrivals. Moreover, you will find newsletter subscription possibility to keep your viewers engaged. Needless to say, you'll receive lots of readable web typography and easy on the eyes icons to improve your textual content and these are just a tiny part!
Undoubtedly, this year, you need to have a couple of cool options to stick out from the competition. Due to these basic reasons, these WordPress themes contain various tasteful characteristics. For example, there are many counters, (like Countdown Timer that is a marvelous way to point out a deal or promotion) graphs, accordions, progress bars, and much more. As a bonus, WP themes contain gorgeous graphic effects. There's a well-liked Parallax Scrolling effect, which lets you create eye-catching and minimalist backgrounds. Working with the feature, you will guide readers through the information of the site in an interactive way.
Moreover, all the premium WordPress web templates are packed with cool plugins . They provide a site with pleasant and user-friendly interface. It's an essential point assuming you want the site to be a well-known destination. There's MagaMenu plugin, that allows webmasters setting up nice-looking menus of any complexity. Managing the feature, you can the products or webpages using categories and subcategories if necessary. Among the some other capabilities that will improve the navigation of the website, there are such things as sliders, custom sidebars, back-to-top button, CTA buttons, Ajax-based page transitions, and many other things. And in case you would like to find out how a template looks before buying it, there's always demo available on the product description page..
What Is The Cost of WordPress Themes ?
On average, a WordPress template with a single site license will cost you nearly $60. Naturally, the final price tag normally depends on the characteristics, user interface kits, and extensions that are in the theme's pack. In the case of multipurpose WordPress themes, each one will be priced at ninety dollars or more. Even though these pricings seem fair, you can spend less on buying a WP theme. How? For these very simple purposes, have a look at modern bundles.
What Is Bundle?
Currently, product combining is a widespread thing, so a lot of famous vendors start providing their goods in bundles. So what is bundle? In short, item bundling means providing several goods and services with a discount. With it, bundle is a pack consisting of a handful of (or multiple) various items created for one purpose. For example, if you are going to install a web project, there are ready-made bundles that already come with such things as themes, web typography, premium plugins, high-res photos, etc.
One more visible benefit of choosing bundle is its cost. Simply speaking, bundle costs like a few objects it includes. That is why some users may think that as opposed to the price of some other items the purchase price looks questionable. What's the key? Basically, bundle is usually a limited time offer and that's why it's so cheap!
Why It's Best To Buy WordPress Themes Bundles?
As you can see, purchasing a bundle can be a time saver. On top of that, it's really comfortable for web designers and developers considering they will receive all the essential products just off the shelf! Consequently, you won't have to spend your time on searching for each and every piece separately. With such essentials, you will quickly develop the needed web project.
Where To Get More Products?
In case you didn't discover the needed items within this bundle, make sure you view the gallery, since there are many other bundles. For instance, you can select from items like CrocoBlock bundle, high quality WP bundles, or mega bundles. Anyhow, MasterBundles collection also includes bundles with graphics, icons, patterns, social media products, presentations, images, and psd.
What's MasterBundles?
As the name of the company suggests, MasterBundles is a cutting-edge website that provides a variety of premium digital goods for web designers and developers. Checking out the gallery of the company, you will come across a lot of elements that are available in a form of a bundle. Due to this fact, you can easily create the website of your dream without wasting all your money.
What is more, MB offers their customers to use exclusive promo codes. Don't hesitate to use them to recieve a price reduction! It can be up to 30% ! MasterBundles has an entertaining blog, which would be helpful for anyone who likes to learn about latest news about digital solutions, the hottest trends, etc. At the same time, MB crew publish all the hot deals in the blog page, so don't miss out! There's a quick subscription form in the footer of the blog. Make sure you include your email address and be the first to know about upcoming sales and special offers.