Acethinker Music Recorder allows you to record any audio from web in high quality, convert any audio for other devices and download free music. Here is the link of the product details: https://acethinker.com/music-recorder.

Record audio in high-quality
Search and acquire music
Identify music with ID3 tag automatically
Manage music files with ease
Nowadays, one of the best ways to listen to music is to stream it. But there are times when you just can't connect to the internet. If that happens, you have to figure out a way to eliminate the issue.
But while we can stream music, the reality is that when you are on the go you don't want to waste your data plan on that. So, it's a much better idea to download music or record it with your favorite tool.
AceThinker Music Recorder is one of the best, latest solutions on the market that will help you record music fast and easy. Plus, you can also use it to create your own music collection if you want!
All music streaming from any platform can be recorded and used in no time with help from this wonderful tool. The great thing about using a tool to record streaming music is that you never have to worry about finding that stream ever again. You have all the content downloaded without any issue.
What type of features can you expect within AceThinker Music Recorder?
AceThinker Music Recorder is an application focused on making music recording very easy. It's a rather distinct and unique experience mainly because it combines a plethora of audio-related features into a single package. That alone manages to make the software more comprehensive and distinct than what you could ever imagine.
The way you use AceThinker Music Recorder is very easy. You just have to install and start the app, then start your audio stream. Once that is done, go to the Record tab and press the record button. The idea is that you just have to press Record one time when you want to start and again when you want to finish recording. You can record each song without a problem.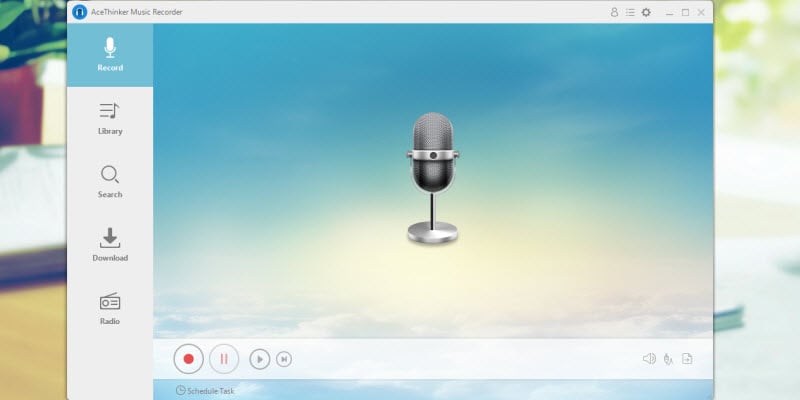 A thing to keep in mind here is that you need to leave the track in record mode for at least 10-15 seconds for AceThinker Music Recorder to detect the filename. So, you don't have to add the filename.
Record music stream or any audio
Right off the bat, this is the best thing about AceThinker Music Recorder. You have the sheer ability to record from any streaming platform. Spotify, YouTube, and many others are just the tip of the iceberg here. As long as it runs on your computer, you will be able to stream it without any hassle. The interface is extremely easy to use, and you will be able to see how many tracks you downloaded as well!
AceThinker Music Recorder allows you to select the audio source and you can even turn the volume down if you want a better recording quality. You have all the options you may need, and the experience you get here is downright distinct.
Manage audio clips in library


Once you have all your files, you can visit the Library. Here you can transfer music to iTunes, not to mention you can also rename files. You can even add tags as well as delete items from the recording list. If you always wanted to manage your music with ease and make it easier to find, then the Library included in AceThinker Music Recorder is all you need. Plus, you can also listen to each file in here if you want, which is extremely helpful.
Search and download music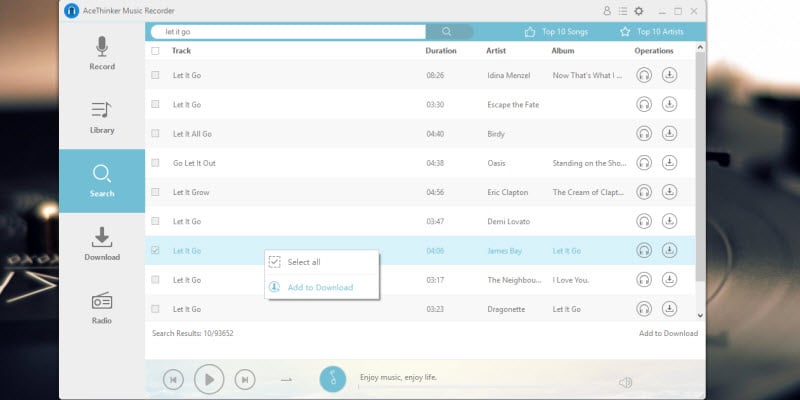 AceThinker Music Recorder comes with a search button where you can easily insert the desired band or song name and find it. Then you can listen to the song and even download it. So yes, AceThinker Music Recorder is going to offer you a wonderful way to improve and increase your music collection. As long as you know the name of the song or the artist, you can easily find what you want. The download process is fast, secure and legal as well.
Stream radio and record it at the same time
Maybe the best thing about AceThinker Music Recorder is that you can also complete other tasks. For example, you have the ability to stream radio and record it at the same time. This means you will always get to come back to your favorite recordings whenever you want. It really impresses you a lot, so you should consider giving that a shot!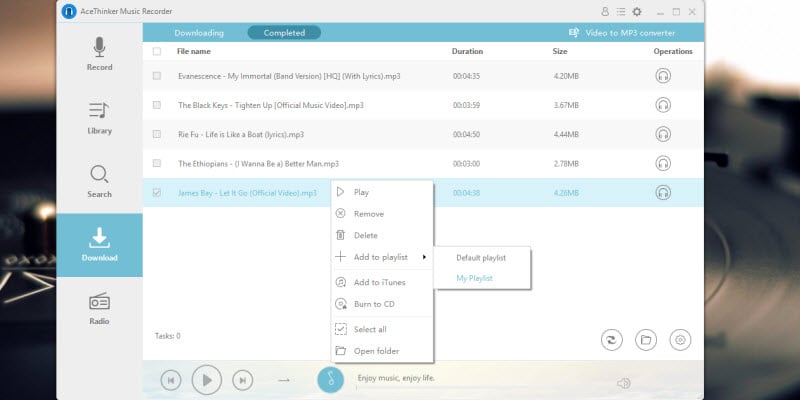 Conclusion
If you are an avid music fan, then using AceThinker Music Recorder is right up your alley. The app allows you to record virtually any music or song that you may want and which runs online. This way you will never have to worry about lacking a massive music collection. All you have to do is to download and use AceThinker Music Recorder; then you can grow your music collection on the spot. It's by far one of the best investments if you stream music often and you would like to download it!