DESCRIPTION:
This is a set of over 600 vector & png format icons clipart. Perfect for making calendars, stickers, decorating notebooks, scrapbooking, anything you can come up with! It's easy to change the colors in any vector software and also comes with transparent PNG files. This megapack includes 6 icons sets including:
• Everyday tasks & chores icons plus a black and white version
• Business icons
• Blogger and web icons
• Food and drink icons
• Kids chores icons plus a black and white version
• Wedding and love icons
All icons are in the following file formats:
• Vector AI format
• Vector EPS format
• Individual transparent PNG file format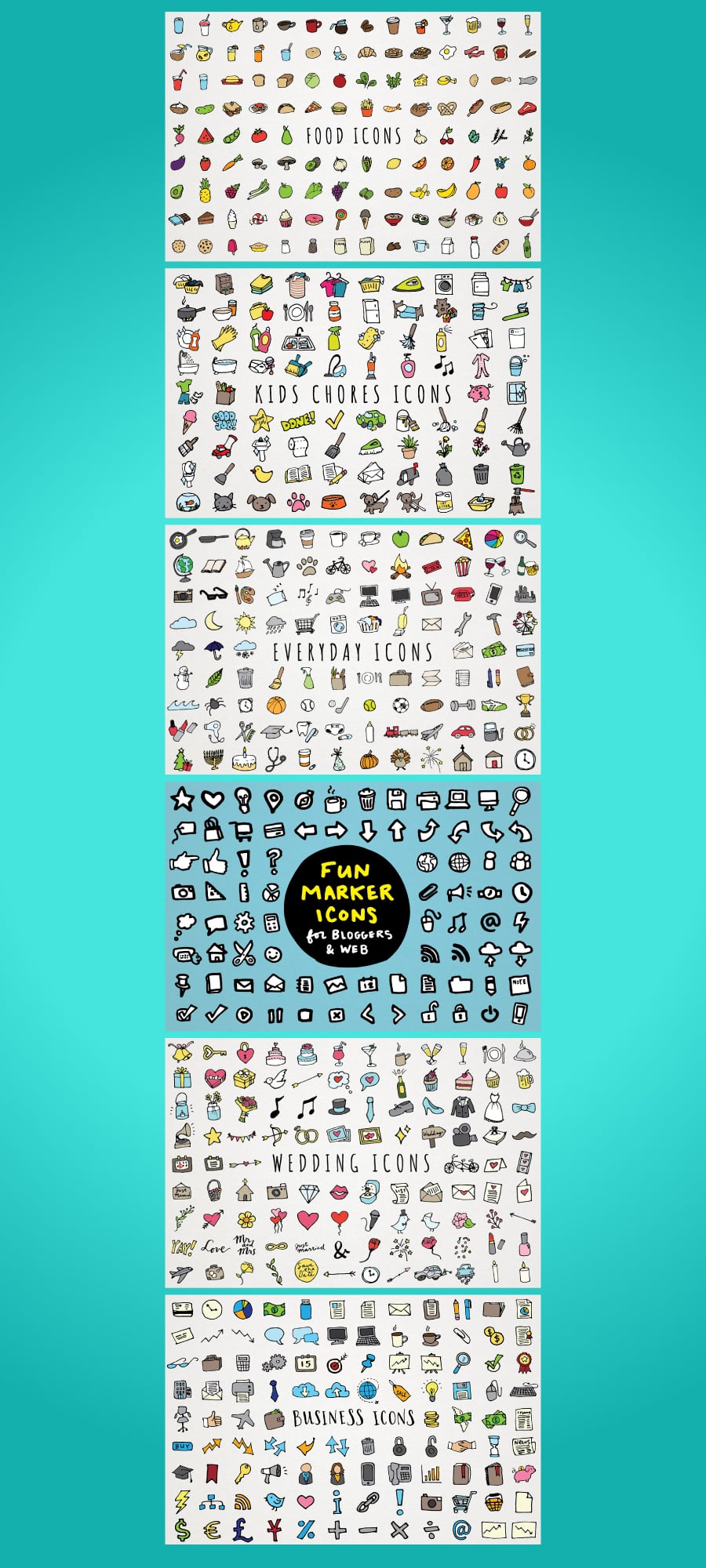 Graphic package: 600+ Hand Drawn Icons Megapack
If you're a graphic designer working on many assignments at the same time, you, like no others, understand the need for the whole pack of design components available at hand. Trying to find them one at a time, you may spend much time and cash as a result. To obtain every one of the needed components in one pack, we recommend trying graphic bundles. A bundle is actually a assortment of design elements needed for graphic design, priced at a large amount of money, however offered at a significantly reduced price tag for a short time.
The best way to spend less money on MasterBundles.com 600+ Hand Drawn Icons Megapack?
Ok, I am aware they are already affordable, however, there is still some place for saving. Just share this web page via social websites – you automatically receive the 5% discount for any of the graphic packages you like. That is a quite simple way of getting an expertly developed tools cheaper.
What types of graphic deals are there?
The collections of components gathered into a graphics package deal are typically categorized according to their type or purpose. There might be bundles with mockups, wedding invitation templates and infographics, etc. You may also be able to find graphic deals tailored for Halloween, Christmas, Halloween or Christmas.
So why are 600+ Hand Drawn Icons Megapack profitable?
For any single design project, you will need lots of elements – a few icons, a handful of photos, a font, and so on. In case you would want to shop for every one of them one at a time it will cost you a lot of money! So, that's the reason expert web designers look for graphic bundles to buy. They allow obtaining a huge selection of various elements for a very modest price.
Any other packages on MasterBundles.com?
The packages of logo templates, icons, patterns and fonts are available at your disposal. Additionally, you may find offers of WordPress themes, courses and ebooks, resume templates, presentations, and other components.
What is a watercolor graphics package deal?
The watercolor package is believed to be the most beautiful trend in creative desgin. Hand crafted by designers on the a piece of paper, the pictures get digitized and added in a bundle as design templates for design projects. Watercolor components are just great for posters, DIY, wedding invitations, blogs, greeting cards and quotes.
Photo tools
The creative designers who choose to work with photographs are going to be especially excited about the photo overlays graphic deals. These bundles include sets of elements of design that can enhance and customize the photographs. Such type of graphical components can be laid across the pics to produce some fresh and interesting look.
Instagram design templates
Being the children of the digital and online age, all of us spend practically half our lives within social media networks like Instagram. It doesn't matter what objective we strive to achieve using this network, we would like to stick out in a giant crowd among thousands of identical profiles. Fortunately, with high quality Instagram templates offered by MasterBundles, you won't need to spend eternity developing the outstanding look of your page. One of many packages will definitely let you highlight the aesthetic appearance of your Instagram profile.
What is infographics package deal?
Articles on blogs that have infographics are usually more readable and popular than those that do not. Thus, infographics tend to be a fairly popular item each and every designer has to be qualified to create. A special bundle for infographics is handy given it gives an almost ready option. The web designer has only to combine the pictures and voila! The infographic is all set.
If you feel like you've lost track of time while looking for various tools and components for your current graphic design projects, it is high time to understand more about MasterBundles. It is a platform offering the most in-demand instruments (graphics, logos, presentations, fonts etc.) for graphic designers, marketers, and developers at a reasonable cost for a very limited time. To not miss out on important information about the forthcoming promotions, we recommend following our blog and signing up for the newsletter.