35 Fantasy Hand-Painted Watercolor Snowflakes
They're wonderful for your winter or holiday projects. Monochrome files included. Easily create your own snowflakes with custom watercolor textures!
Use these elements for digital scrapbooking, winter event invitations, greeting cards, Holiday gift tags, Christmas party supplies, web sites, labels, patterns and so much more!
Now you can buy this set at very good winter price – only $5!
This set includes:
– 1x EPS file with snowflakes and separate 35x JPEG, PNG files 2000*2000 px in black and watercolor variants
– 8x bonus PNG watercolor illustrations in hi-res approx 2000 px
– 2x layered PSD with elements and black snowflakes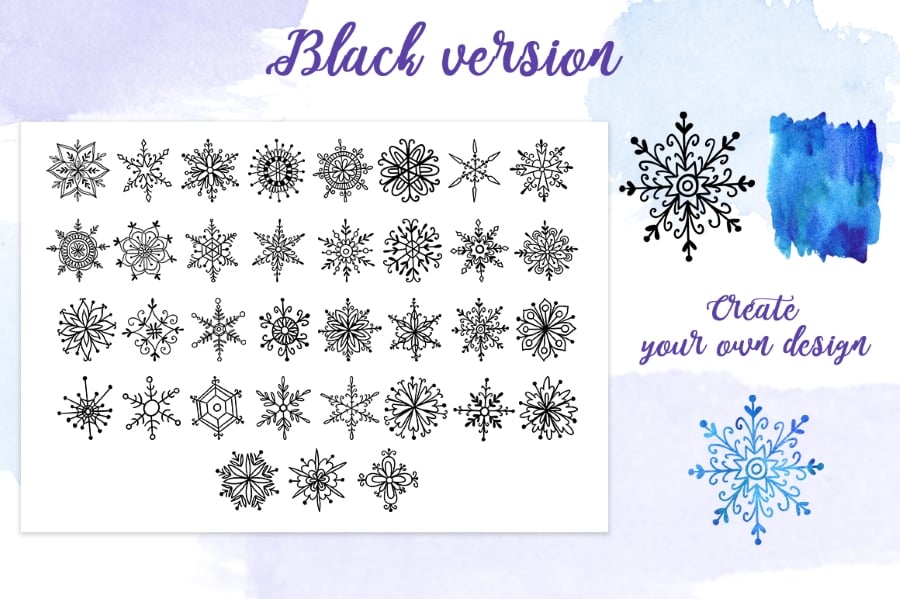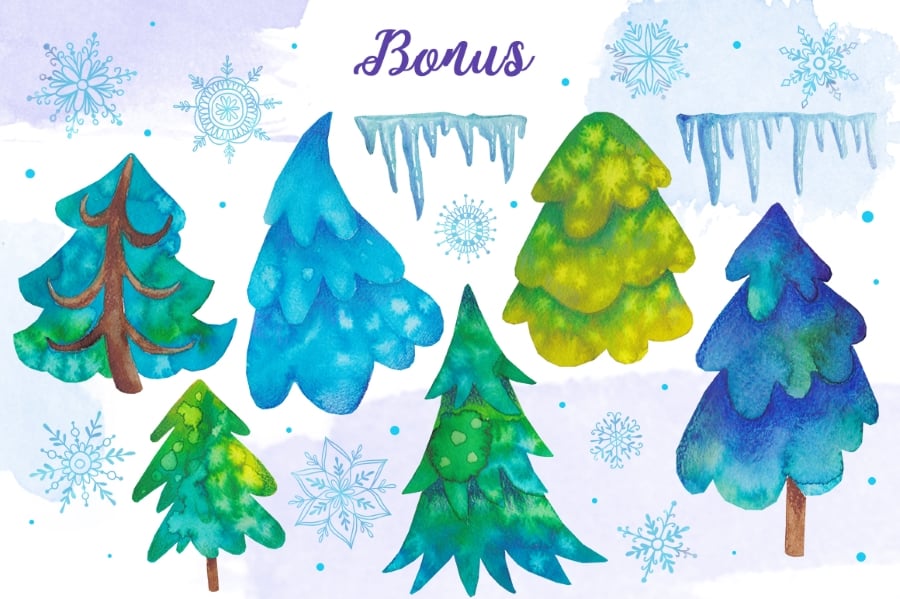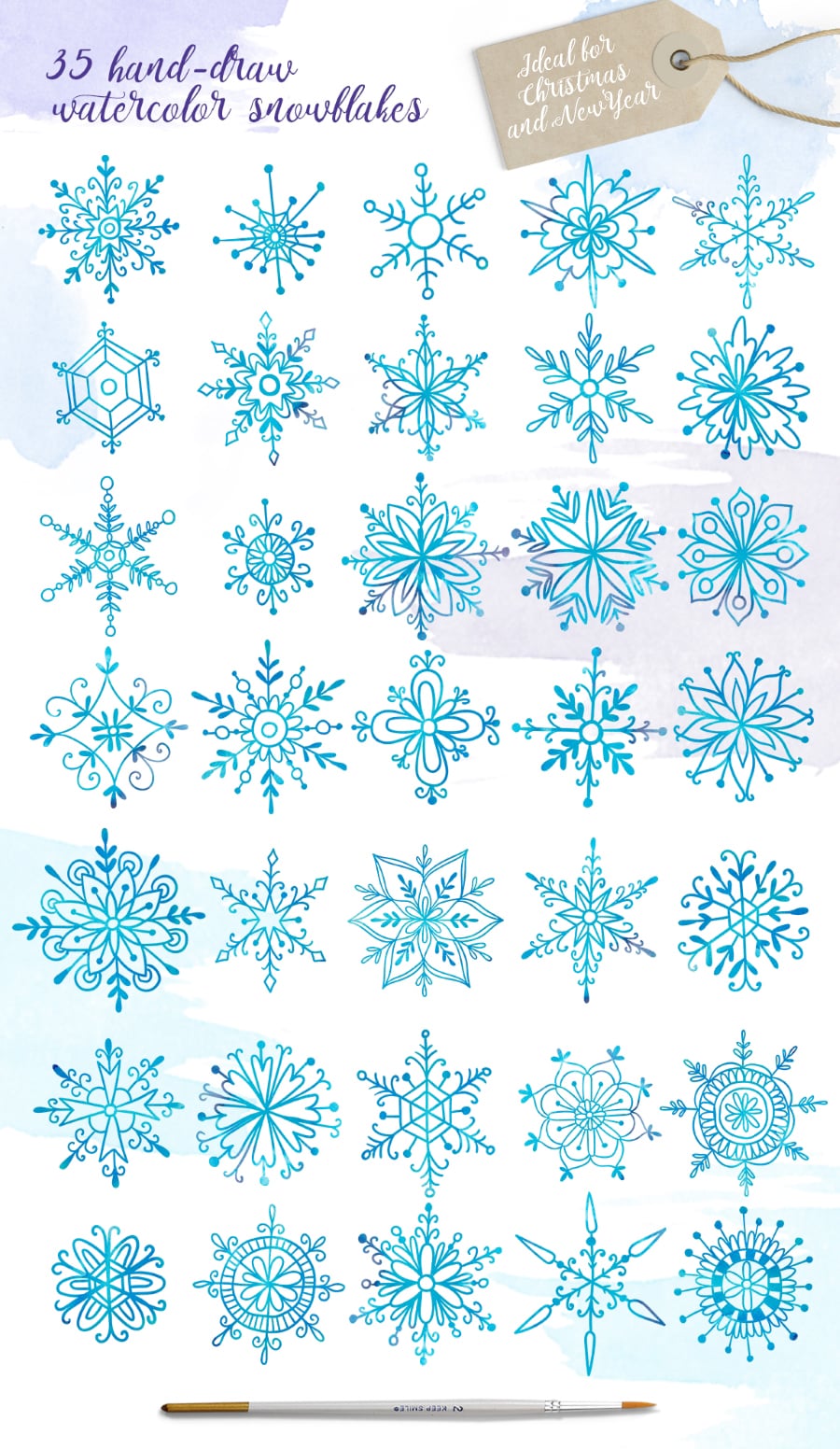 Video About 35 Fantasy Hand-Painted Watercolor Snowflakes
Precisely what is graphic package deal?
If you are a graphic graphic designer working on several assignments simultaneously, you, like no other people, see the importance of the whole bunch of design elements available at hands. Hunting for them separately, you spend much time and money . To get all of the desired components in one pack, we highly recommend trying graphic packages. A bundle can be described as a selection of design components required for graphic design, priced at thousands of dollars, however sold at a bargain price tag for a very limited time.
Kinds of graphic bundles
Due to the fact all of the deals differ from one to another, each individual graphic designer will discover the needed collection for any unique project. Researching them you will uncover the selections including social media infographics, UI kits, business cards, illustration swatches, PPT templates, plus much more. At MasterBundles.com , there are actually in excess of 450 graphic package deals to pick from. That said, you'll not have even a chance to get away from the site empty-handed.
Why are graphic packages cost-effective?
The advantages of graphic packages for web designers are pretty evident. But if you are new to them and now have concerns, the following information and facts is going to be helpful for you. Including a multitude of the elements within a single package, the selection provides you with a chance to use several of them for a number of tasks. Besides, the price is often cut down tremendously which allows you to save some dollars, yet receive the complete set worth hundreds of dollars.
Any ways to make bundle deals even more cost-effective?
If you will share this webpage via social networks – you get the 5% discount for any of the graphic packages you prefer. That is a very easy way to get a professionally developed tools for less money.
Other collections on masterbundles you may use
MasterBundles.com could offer you a big variety of unique items. MasterBundles.com markets not only graphics bundles but additionally roughly 20 other different types of items. Fonts, WordPress themes, mockups, icons, photos, illustrations, presentation templates and a great deal more – on the MasterBundles you will be able to find all of the items, required for a design project development.
What's a watercolor graphics package? 35 Fantasy Hand-Painted Watercolor Snowflakes
The watercolor graphics bundle can be described as a package that contains pictures and illustrations designed with watercolors. They'll fit for a range of businesses, such as fashion, cosmetics, perfume and food distributors. Themed wedding invitations or cards may be made using this package.
MasterBundles as an all-in-one solution
MasterBundles is a marketplace that collects top rated design products from the internet and lets you purchase the components you'll need in your design business for a lower price. Bundles this site carries are restricted in time, and that's the reason why they are so low-cost. To prevent missing out on the deal you will be really excited about – sign up for the weekly email newsletter, revealing the newest deals. MasterBundles.com boasts a big blog with the unique design features described. Should you be trying to find a handy website full of great offers – MasterBundles.com is there for you!