Product description:
You'll get 300 hi-res images of some of the most delicious ingredients and foods around. With a variety of backgrounds from vintage to colorfully modern, these food-filled photos feature selective focus, close-ups and even leave room for copy.
Highlights:
150 high-quality food photos.
High resolution: 8688×5792 or 5616x3744pixels, at 300 DPI.
Delicious ingredients – soups, cake, fruit, salad, dessert.
Variety of backgrounds – rustic wooden, vintage, modern, colorful.
Perfect for magazine layouts, posters, covers, books.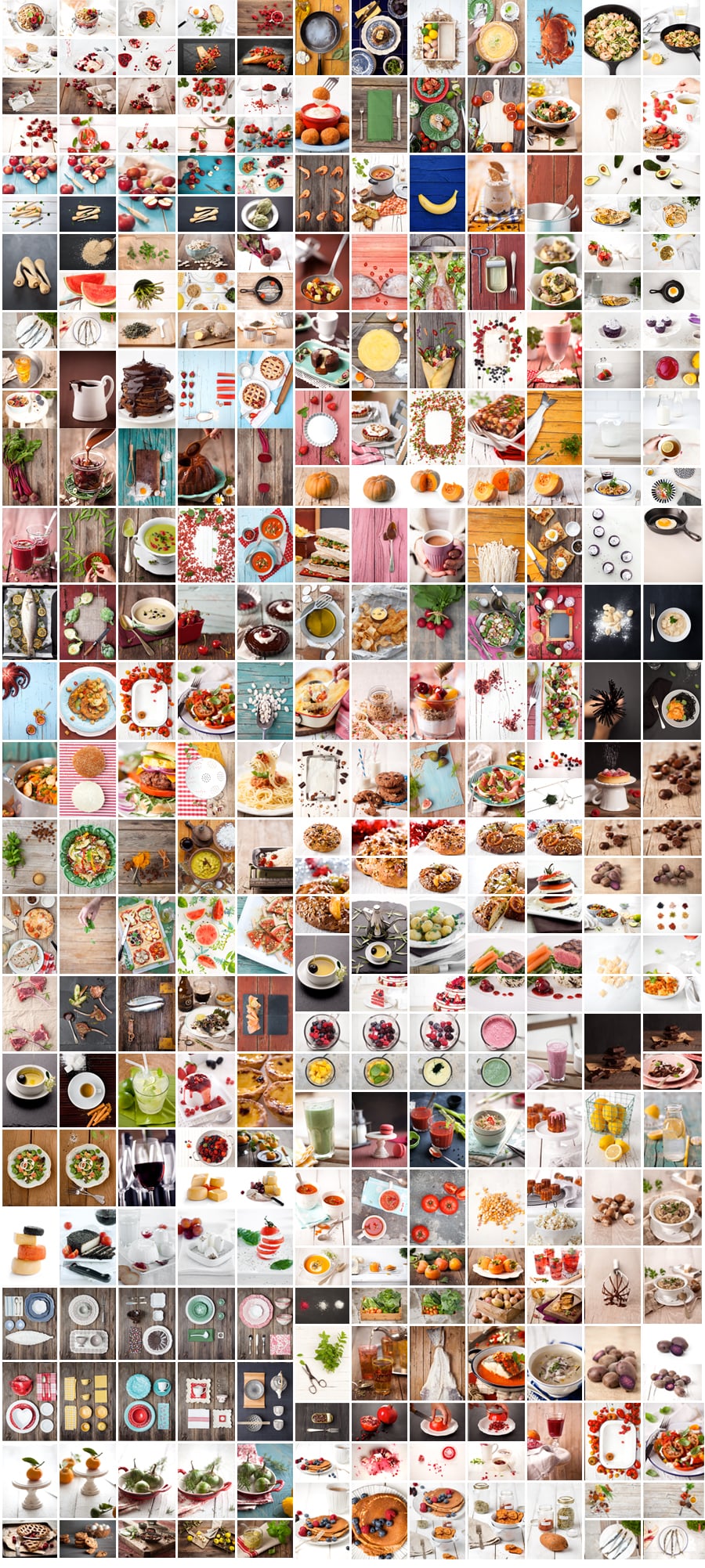 The Definition of Stock Photography. Why Are They Used?
Stock pictures are pre-shot images gathered at special online platforms which anyone can pick and use for a personal or business project. Instead of working with expert photographer, one can check out picture stocks and browse for an appropriate photo for a job. Putting up pictures at photo stocks photographers have a chance to secure a steady income for his or her graphics.
Should you be still unsure concerning stock pictures, the following listed below are the arguments that will explain to you why it is always good to give them a go. Above all, being already photographed, edited and prepared for download stock photographs save your time. All you need to do is just buy an image, download it and use it as part of your project.
Even though stock photos are suitable for a variety of tasks, their usage is still limited. Prior to opting for a photo for your job, check out the reasons against of its use. Royalty-free photography usually are not exclusive and is seen on other sites or print merchandise.
What Are The Areas Of Use Of Stock Images? Just How Much Do Stock Photos Cost?
The application range of stock photos is fairly extensive, however it can be reduced to two specific areas: commercial and editorial. When it comes to internet marketing, social media marketing, branding, and artistic projects, stock photography can become important. The visuals can be used for a company pitch deck, advertising campaign, advertising banners, and paper prints and so on. Furthermore, if you manufacture and distribute t-shirts at your shop, go ahead and take advantage of stock photography for a print pattern.
Regarding editorial use, the stock photos contribute to an illustration or backing of blog post. One could use the pictures for newspaper or periodical, author columns etc. Moreover, the stock pictures are good for content illustration at blog posts, guides, and magazine reports. Keep in mind editorial photographs should not be used for a commercial purpose even though the reverse is true.
The price tag of a stock photograph will directly be based upon the provider and licensing plan you select. One can find photo stock sites which fix a higher price tag, while the others are oriented at business owners with a limited budget. Besides, virtually all image stocks provide various membership options that'll be reasonably priced for everybody. Yet, if you pick the most extended subscription you might end up getting the pictures cheaper like shown in the prices comparison that follows.
Read More About Product Bundle Deals
A bundle is a collection of digital products wrapped within a single pack and purchased at a discount. In its essence, product combining is often a marketing ploy. The vendors package up a lot of items and deliver them as a package proposal to mark an alternative price bracket. This way, you will enjoy even more involved customers are looking to get a deal.
You also get good results in this case. By offering more items you end up with an increased average size without the need of raising the operational costs. Besides, by packing goods into packages and offering these products at a discounted price you distinguish yourself from competition. At last, buying product bundles the prospects uncover unknown or lesser-known products and produce the boost in sales.
You could possibly wonder how come the package pricing is so low. Like any other deal, this one has limited time when the discount is actual. Therefore, as soon as the package deal ends, you'll have to pay 100 % price for a bundle. That's why we advise never missing an opportunity and getting the package at the best cost ever.
The Reasons You Shouldn't Be Cheap On High Res Photographs?
You might be convinced that there are lots of other important matters except photos that need financing, all your competitors have already opted for using high quality photography for their websites and these days benefit from their decision. Actually, high quality pictures are assets that may help you to achieve success. That's why high quality images has to be ranked on the top in terms of corporate costs.
You may hire a pro digital photographer that will shoot pictures of your corporation, goods or services you offer. Or else you might go to photo agencies and go for stock pictures most suitable for your project. Actually, it doesn't really matter what alternative you'll prefer. They are both well worth the investment and will bring your business up to a new level.
Let's say you sell any kind of items via site, the photographs can show your customers what you sell. Given that most people prefer to see the merchandise before going to check-out, the photography are often more helpful as opposed to written text. Considering that the pictures are the number one element the targeted visitors pay attention to, these graphics should produce a superior initial impression. This is why you as a company owner shouldn't take photographs without hiring somebody if you want your website to properly stand for your company.
Optimized photos may help you keep visible in google search results. They may also make it easier to keep your website visitors interested and get them to stay at your website for longer. Being a part of content the photos can be used in social networks and for advertising campaign materials introducing your business. Now, we believe that you realize the significance of premium photos at your online business site.
Digital Photography Bundles For Any Purpose
At MasterBundles, we've wrapped an unlimited variety of stock photography from all over the Internet. They are organized into lots based on categories and subjects and are meant to to meet any kind of your content marketing and advertising needs. Assuming you've not found the appropriate pictures within a single bundle, make sure to check them out in other ones. At the MasterBundles website, we have three pages of stock photography bundles arranged into different subject areas.
Other Bundles Sold At MasterBundles.com
Besides stock photo bundles, you may also discover a large number of other products and resources. These are good for web designers, online marketing experts, business owners, and web developers. Feel free to browse bundles comprised of fonts, icons, layouts, books, courses, polygraphy, elements etc. To find the desirable bundle, all you have to do is just go to the navigation menu and select what you look for.
The packages are all provided at a low price however they are made available for a limited time . So, take a chance to get as many bundles as possible at the lowest price ever.It's the right occasion to buy some packages that you couldn't obtain before and even reduce your costs.
Exactly What Is MasterBundles?
MasterBundles.com is a targeted market place where you can get numerous product bundles for internet marketers and developers. Pre-compiled kits with fonts, images, pictures, illustrations, and other digital products are available and ready to use. What's more, MasterBundles market place also offers a blog where you may find the information you've been looking for. The details about specific bundles, holiday promotions, notifications about upcoming product sales, and various other info.
At MasterBundles.com, we also provide you with discount coupons for various products and bundles. For instance, you might find discounts on subscription at Depositphotos website, Themify and MotoPress items, MotoCMS builders etc. In case you don't want to miss out on a better price, be sure to subscribe to a newsletter and stay connected. There's the subscription form at the bottom of the page.