The theme selected for your website can make or break it. Thus, it is quite crucial to opt for a high-quality that would correspond to your corporate identity. On the other hand, there are more and more various themes appearing on the web. This tendency makes it challenging to pick the one in short time. One can spend hours or even days analyzing the pros and cons of the themes. If you have a headache discovering the right theme, this post will be useful for you. Because I'm going to present you one of the best resources offering premium WordPress themes. If you are new to Themify, this review is going to be especially helpful for you.
What Is Themify?
First things first, so let's start with what Themify is. It is the oldest and recognized seller of WordPress products. Launched by Nick La and Darcy Clarke in 2010 Themify set a goal to develop high-end WordPress templates and add-ons. Strictly speaking, Themify is considered to be a WP club. This means that you can get the annual membership in exchange for an access to all the products available. This is a great deal for those running numerous web pages.
With no doubts, Themify offers a great number of advantages for both tech geeks and amateur site builders. Being a pro and going ahead with Themify you can provide your clients with a number of options. Meantime, the newbies can try different options for their websites until they pick the favorite one. If you still doubt about using web products at Themify, you can try free themes and plugins from the official storage.
What Does Themify Offer Promo Code 20% Off?
Prior to moving on to Themify themes and plugins, let's start with pricing plans offered at the website. As long as you can get a single theme for $49, there are also Master and Lifetime Club plans at your disposal. Nevertheless, all options come with updates and support while membership is lasting along with a 30-day refund. Additionally, you can use the themes on the infinite number of websites, be they personal, commercial, or client's pages. Further, you may the detailed info on each plan.

Alright, since you are already aware of pricing offers, we can move on further to Themify themes. As already mentioned, Themify offers a collection of WordPress themes. Whilst all of them come with a unique range of functionalities, some features are still versatile for each.
The first thing I would like to talk about is demo import. If you start with demo version prior to using the theme, bear in mind that your website can look identically. Thanks to extensive settings including Themify Builder, you can customize the web page on the fly. You can control all the edits through the admin panel changing the color, typography, icons with just a few clicks.
Besides, Themify can boast with a rich collection of integrated shortcodes. Using them you can easily apply a top-notch, engaging content to your website. In the meantime, available as a free add-on the shortcodes can be used at the sites built on different templates. Last but not least, Themify ensures complete compatibility with WPML, WooCommerce, and the latest release of WordPress.
The other products offered at Themify are premium plugins and plugin add-ons. This selection contains both paid and free plugins. The set of premium web products consists of Themify and Post Type builders, WooCommerce Shopdock, Tiles, and Announcement Bar plugins. The collection of free plugins is more extended and includes Conditional Menus, Shopify Buy Button, Event Post, and others.
Besides the vast collection of products, Themify is famous for its high-class support. In case you experience any issue while installing or using the theme, detailed documentation will become your first stop. Except for multiple guides including video tutorials, you'll also find FAQ section which is going to answer many of your questions. At last, Themify provides forums and email support aimed to assist you with any issue.
Summing up, Themify provides everything one may need from WP club – membership, extensive products collection, and top quality of the items.
Comparison Of Themify And Visual Composer Page Builders [Spreadsheet]
It is actually hard to overestimate the importance of page builders when it comes to creating a website. Using page builders even non-techies can build the site without touching a single line of code. Yet, web users get confused about what builder to select. If you are one of them, this comparison will help you decide on the right page builder.
Criteria

Themify Builder

Visual Composer Page Builder

Usability

Easy to work. The animation included in builder pack may be helpful for your projects.

Difficult to use for people with less technical experience. It is recommended to get acquainted with built-in documentation and tutorials.

Price

$39 for Themify builder if you want to use it for different templates. Yet, it is already available with all Themify themes for free.

$34 for Visual Composer + $11.25 for a 12-month support

Features

Front-end & back-end editing
40+ pre-made layouts & 15+ modules
Ready to use with other templates
Comprehensible

Front-end & back-end editing
40+ web elements
Offered with various default themes
Operates well with WP themes
No coding required

Cons

Limited settings for each element
In the case of deactivation, the content region is filled with shortcodes
Front-end builder is a bit crowded with the options

In the event of page builder deactivation, the content region is filled with shortcodes
Additional JS and CSS files on all pages. Even if you don't use a page builder over there. The site needs to be optimized to keep boot time untouched.
In the event of page builder deactivation, the content region is filled with shortcodes
Additional JS and CSS files on all pages. Even if you don't use a page builder over there. The site needs to be optimized to keep boot time untouched.
Brand Promo Code Themify And How To Use It?
If you've reached this paragraph, then you've decided on purchase one of Themify products. Here at MasterBundles, you may find a brand coupon that gives you 20% off on all WordPress themes, plugins, and builder. All you have to do is just click on the image you'll see below and follow the instructions:
1. Open Themify website and opt for a product you want to get.
2. On the product, page push Buy Now button and choose the plan. Once done, you'll be redirected to a checkout page.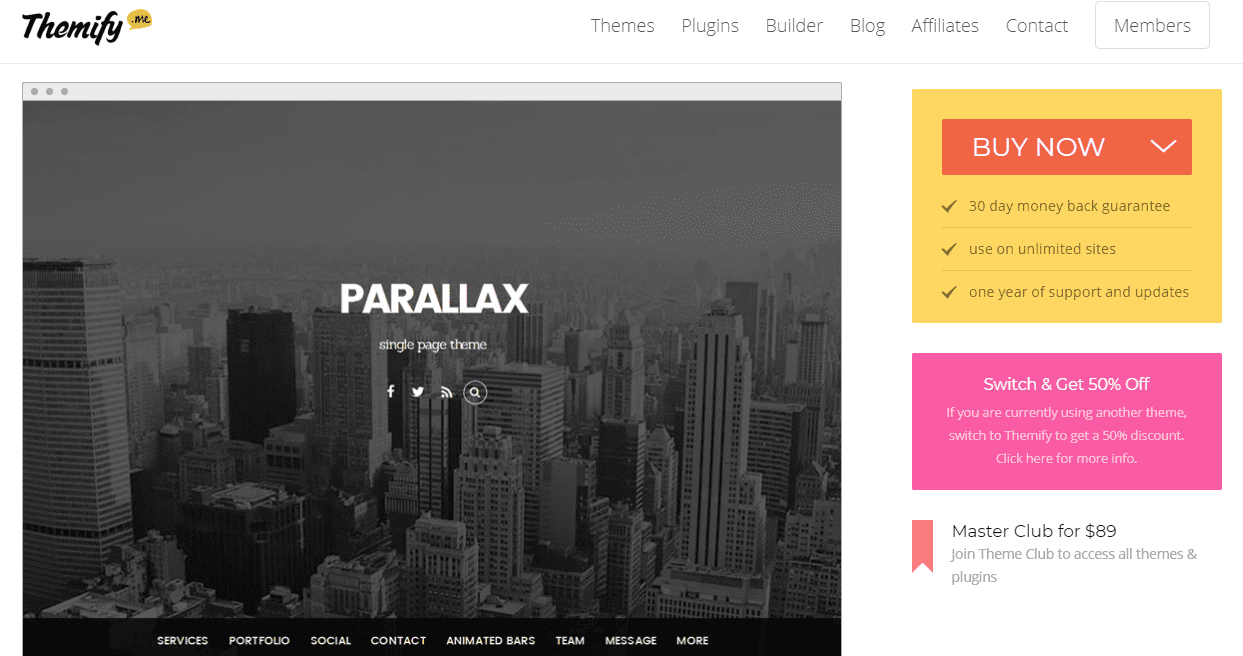 3. After entering personal and contact information, go to the bottom of the page. Enter brand promo code TWENTYOFF in the corresponding area and get a brand discount by hitting Next button and proceeding to PayPal payment.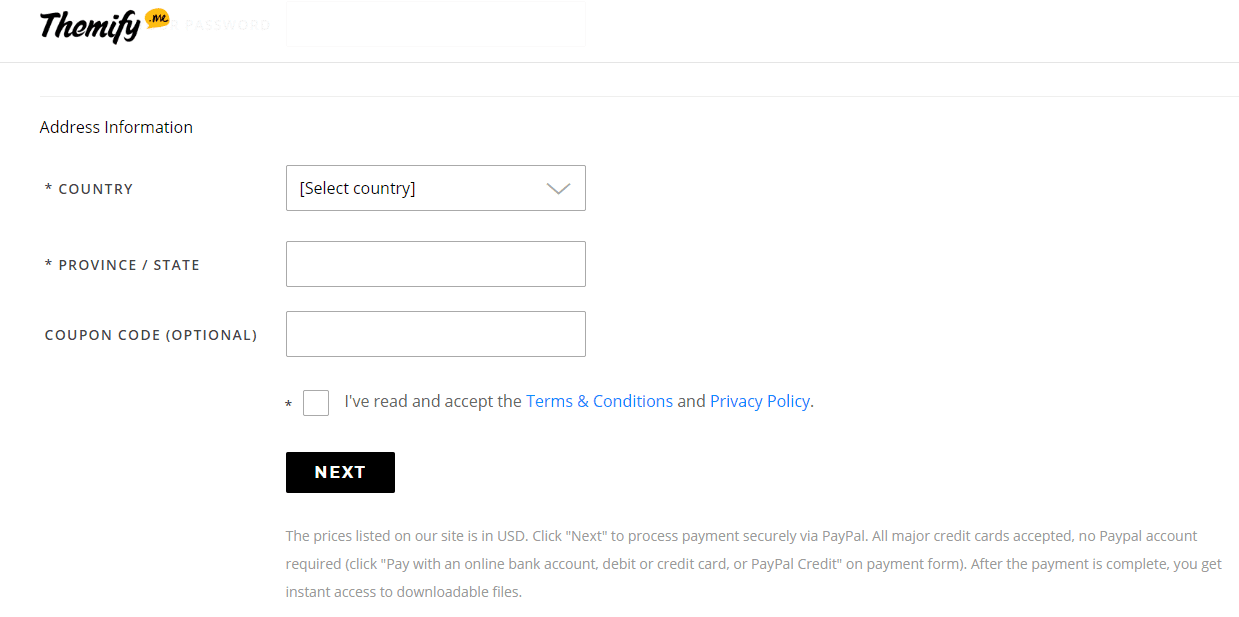 Here at MasterBundles, we do our best to provide you with the hottest deals on the Internet. You may also discover more brand sales on the page with coupon codes.